Ideas for Keeping Kids Entertained on Long Days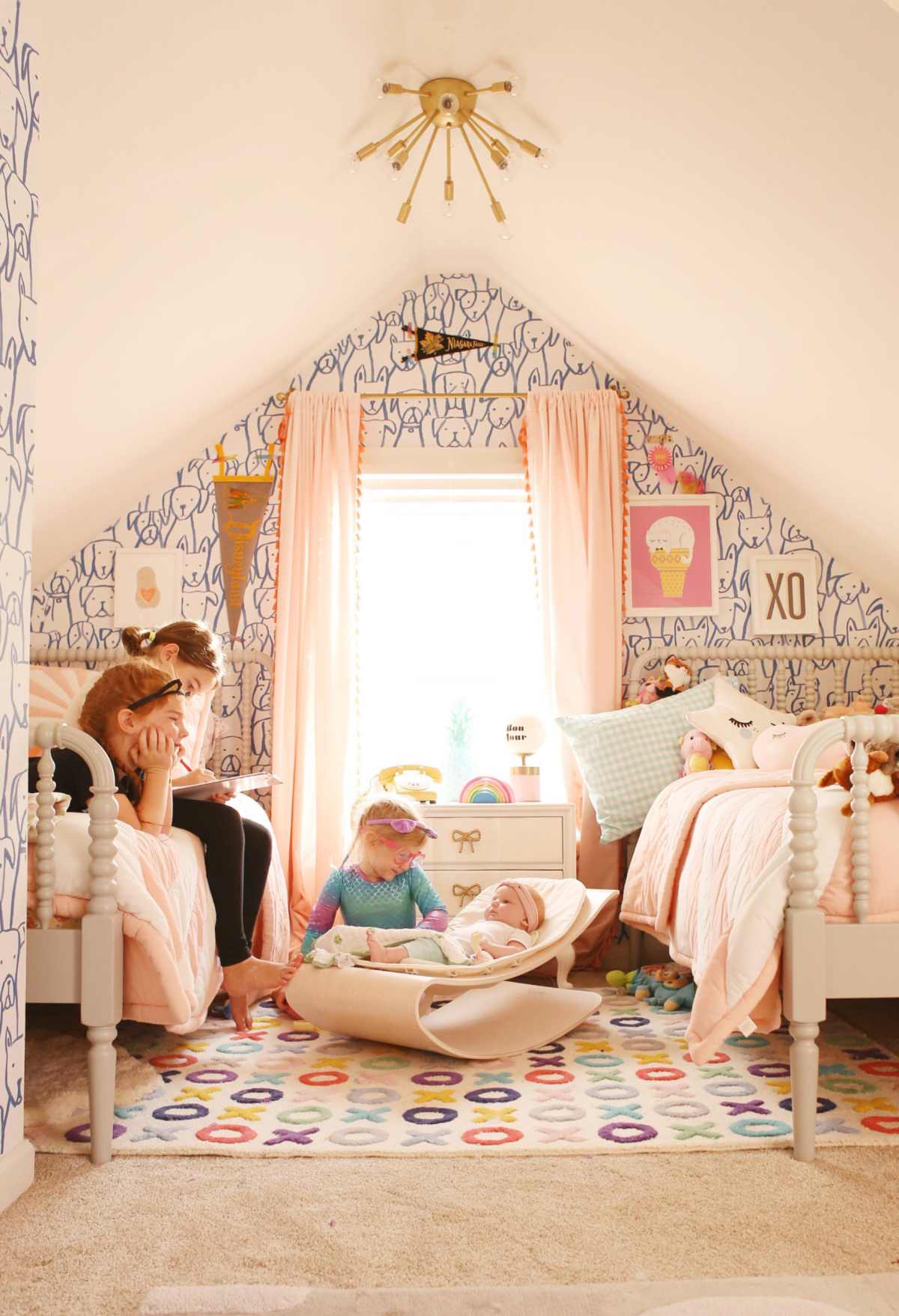 I'm teaming up with Nesting With Grace, Shades of Blue Interiors, Craftberry Bush, and Zevy Joy to bring y'all a huge list of things we can do while we are at home. The walls are going to be closing in, and it's going to be challenging for sure to maintain sanity, especially with little ones at home that will be looking for things to do. I'm hoping this will be helpful to all of us to pool our resources and creativity to find ways to make these long days sweeter and memorable in good ways!
Here is a roundup of some of the things that we love doing, and that I'm looking forward to doing with my girls, with some details and links below: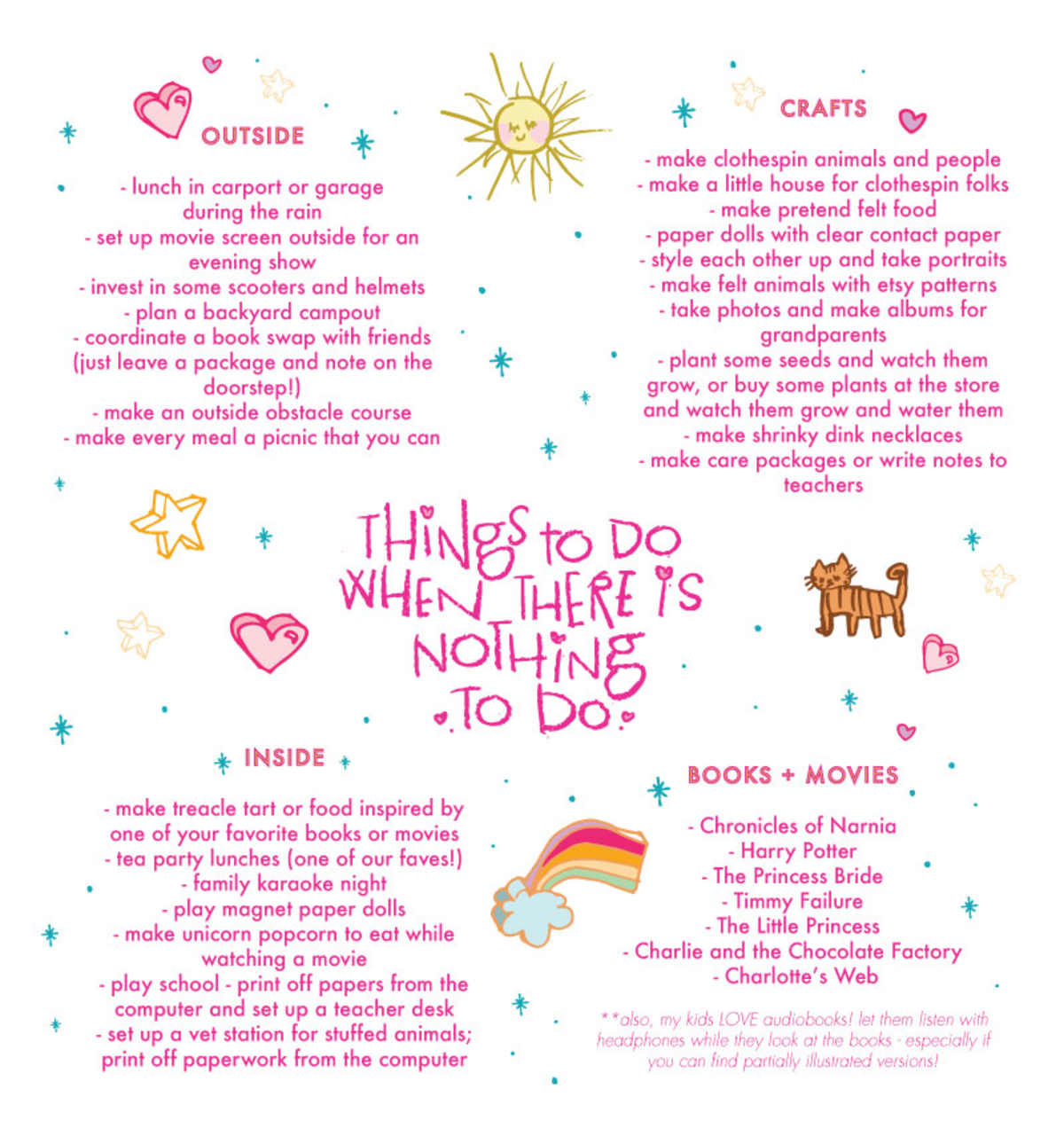 Outside:
(1) Serve lunch or snacks in the carport or garage if it's raining (we have had so much rain here this year!). I like to open the garage doors and put a kids' table out there, and it's pretty magical to dine/snack while the rain pours outside. And playing in the garage can be equally fun if it's raining.
(2) Set up a movie screen for an outdoor evening movie. Here is a post with some details on how we do this, or you can get one of those simple cinemood projectors to make any spot a magical movie theater!
(3) If you don't have scooters and helmets, now might be a good time to get some! Our girls get endless fun from scootering in the cul de sac, and Vivi has light up inline skates that she looooves.
(4) Plan a backyard campout. If you have a tent, plan a night to spend the evening outdoors. Just getting ready for it can take up some time during the day!
(5) Coordinate a book swap with friends. Vivi is a bookworm, and it would be so fun to plan dropping off or picking up books on friends' doorsteps! Just be sure to use caution with sanitizing things.
(6) Make an outside obstacle course for bikes, scooters, or just running.
(7) Make every meal a picnic that you can. We have this mat that is easy to wipe down, and the girls love laying it out on the grass or driveway for a meal. Eating outside always makes things more fun, and it tends to make meals last longer for us.
Crafts:
**Quick note: If you want to try any craft kits, I'd recommend the Klutz brand. We have tried a ton of different kinds, and I've been most impressed with theirs.
(1) Make clothespin dolls and people. I have a stash of wooden clothespins, and my girls love painting and decorating them! Felt is handy to have on hand, and this style is their favorite to make. These paint pens work super great for drawing faces, too.
(2) Make a little house for the clothespin dolls. I'm sure we all have lots of cardboard on hand, and some hot glue or duct tape, paint, and cardboard can create something awesome!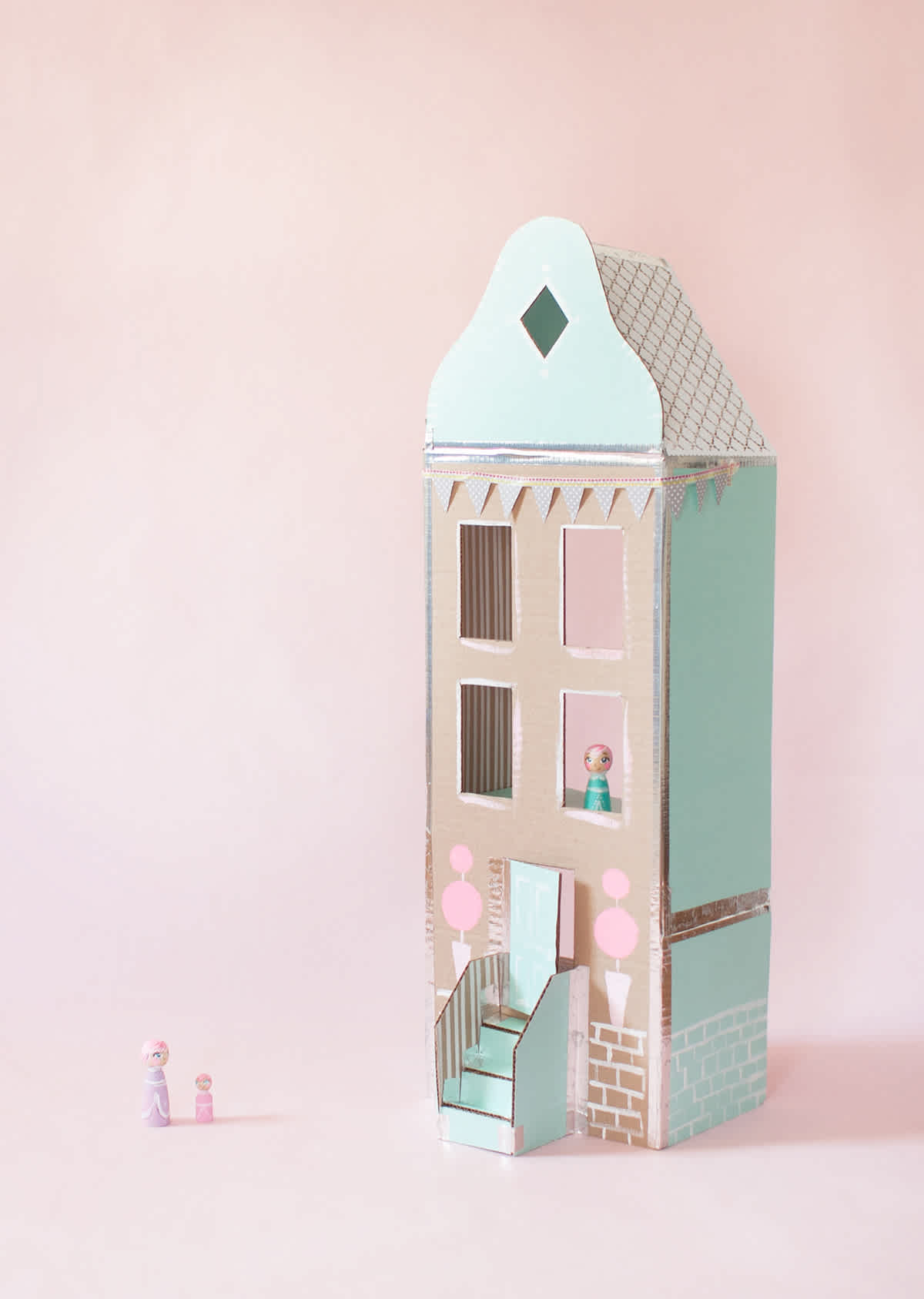 (3) Style each other up and take some portraits. My girls love doing this, and I have some tips here! You might end up with something awesome you'd like to hang up. Let them style you, too!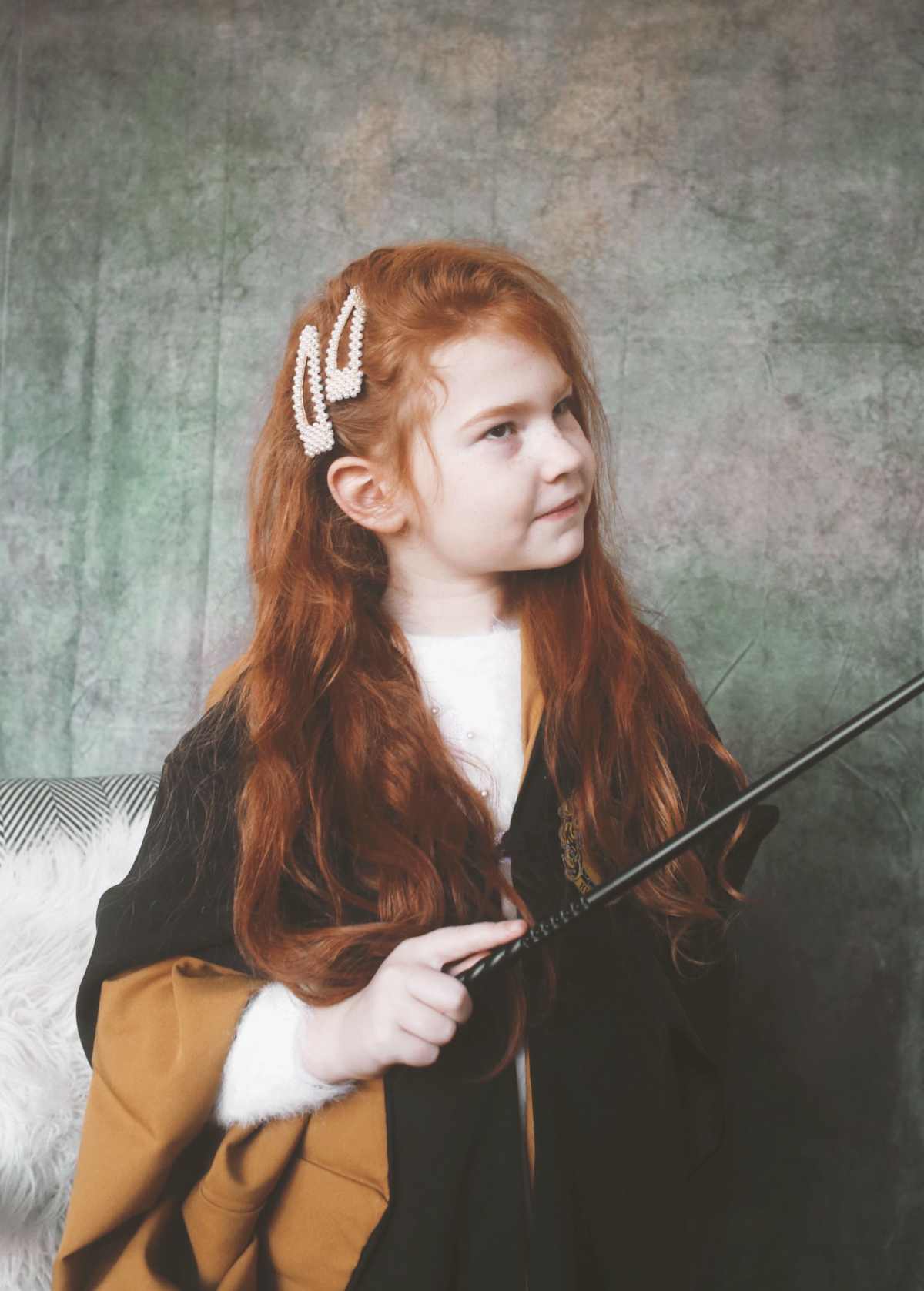 (4) Make felt animals with etsy patterns. Working with felt is always fun and easy, and I have a ton of these Gingermelon patterns pinned that I know my girls will love. Can't wait to try them!
(5) Take photos and make albums to send to the grandparents. I have a feeling that correspondence will be high on our list of things to do as this whole situation is very isolating.
(6) Plant some seeds and watch them grow, or pick up some plants at Home Depot, and let your kids paint some small pots or bowls to put them in. We have some plants from Brigie's birthday party, and the girls love caring for them and checking on them! They are thriving in the window sill. (On that note, we also bought this butterfly kit and this tadpole kit, both of which have been so fun to watch and care for!)
(7) Make shrinky dink necklaces. Love these, and seems like something fun my girls will love making and also sending to friends and relatives!
(8) Make care packages or letters to send to teachers. I have a feeling our teachers will need lots of love over these next few uncertain weeks, and we are so grateful for all they are doing!
Inside:
(1) Make treacle tart or other food inspired by a favorite book or movie. My girls love doing this, and we had so much fun sampling some of Harry's favorite things!
(2) Tea party lunches. This is the MOST fun, and a great way to spice up a long day. My girls always flip out over it. Really, it's all in the presentation: cut up sandwiches to be tiny, dip the edges of PB & J's into sprinkles (so magical!), cut up fruit to make fruit salad, make scones if you want, and serve them warm tea. Present everything on cake platters or fancy dishes, and they will think you are the best ever.
(3) Magnet paper dolls: I'm just putting this in here, because my girls have these sets, and they are the best. They will play with them for forever.
(4) Make unicorn popcorn to eat while watching a movie.
(5) Play school. My girls love doing this! Other Goose is offering their curriculum for free for the next three weeks; let older siblings enjoy doing the projects with younger ones (it's for ages 2-7), or search for free printable for them to do "homework." This always works well at our house, because Vivi loves being in charge, and the younger ones love having her attention. They will take forever setting things up, and then take forever playing. Serve them lunch on trays like they are at the school cafeteria.
(6) Play vet. Help them set up a doctor office for their stuffed animals. There are so many cute printable vet paperwork sheets they can use! My girls love doing this - let them borrow some of your first aid stuff so it feels super official.
Books + Movies:
We love reading books and watching the movies. This is super fun, because it's something you can all do together and look forward to. Read a chapter or two a night, with the promise that when it's done, they can stay up late and watch the movie. Also, my girls love audible - Harry Potter is especially fun! If you have the illustrated version of the books, let them listen and read along with headphones. My girls will stay entertained with that for quite awhile. (Note: I let them read one Harry Potter book a year, starting with first grade - Vivi is on book three, in case you are wondering how I do that.)
(1) Chronicles of Narnia: We have this book, and it has a few illustrations in it, which makes it super fun. We have watched the first two movies (they are on Disney+!), and we are finishing the Voyage of the Dawn Treader currently, and my girls can't wait to watch it.
(2) Harry Potter: Always a favorite, and never gets old. Vivi has seen and read the first three movies, and Brigie has read and watched the first.
(3) The Princess Bride: Have you read this book? I seriously had to research it after reading it, because he makes it all sound so real! It's a really fun read, and it's fun to watch the movie after.
(4) Timmy Failure: This book is a funny, quick read, and the movie on Disney+ is super touching and a good one to watch and talk about together.
(5) The Little Princess: We haven't done this one yet, but I read it recently (it's so good!), and I think it would be really fun to read and watch together.
(6) Charlie and the Chocolate Factory: We haven't done this one yet, either, but it's on my list to do next! And maybe the BFG.
(7) Charlotte's Web: This one is always a classic!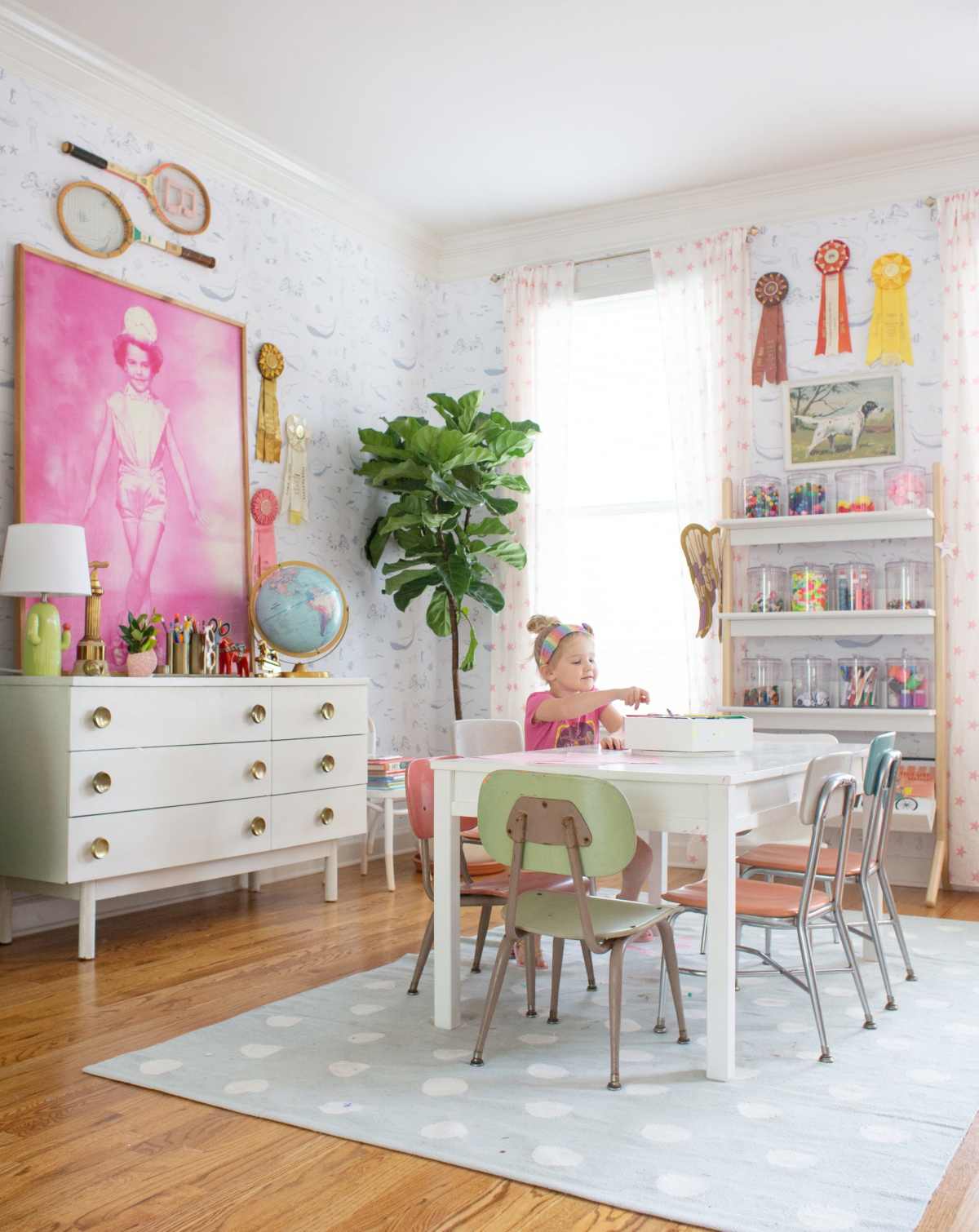 I hope this helps! Also, here is a tour of our craft room with some details about what we keep stocked for random craft projects. Hugs to all of you as we navigate an uncertain time with our littles. So grateful we can be connected! Be sure to check out these ladies and their ideas for making the time pass more quickly: Nesting With Grace, Shades of Blue Interiors, Craftberry Bush, and Zevy Joy!