Nancy Drew Mystery Birthday Party Ideas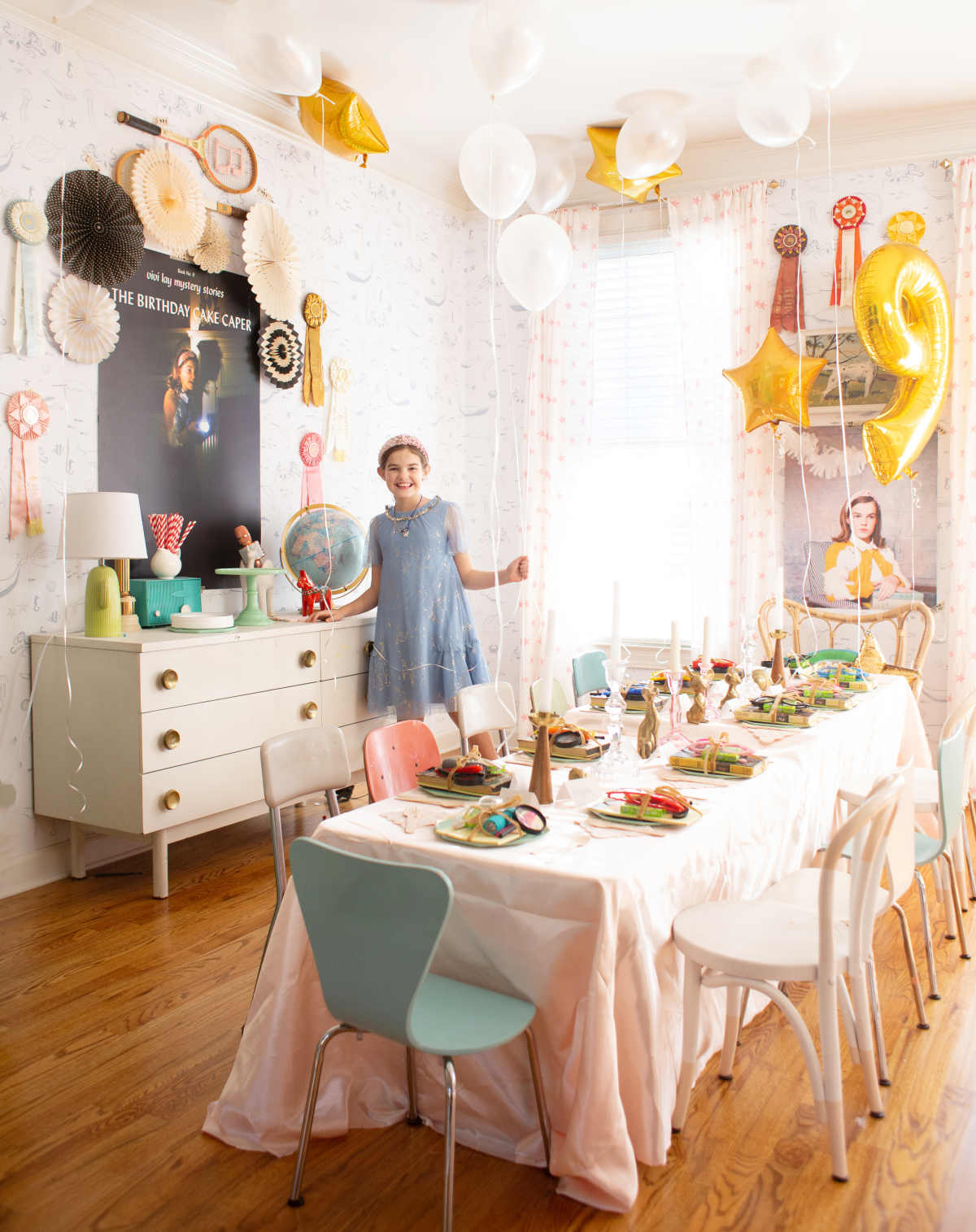 My oldest, Vivi, turned 9 this week, and to celebrate, we threw her a Nancy Drew birthday party. She told Chip last summer that she thought it would be fun if her party involved some kind of mystery to solve, and I thought Nancy Drew would be a really fun and fitting theme for the whole event.
(Pictured above: Vivi's Dress, Vivi's headband, Paper fans on the wall, pink satin tablecloth, Cherry Napkins, mint blue plates, )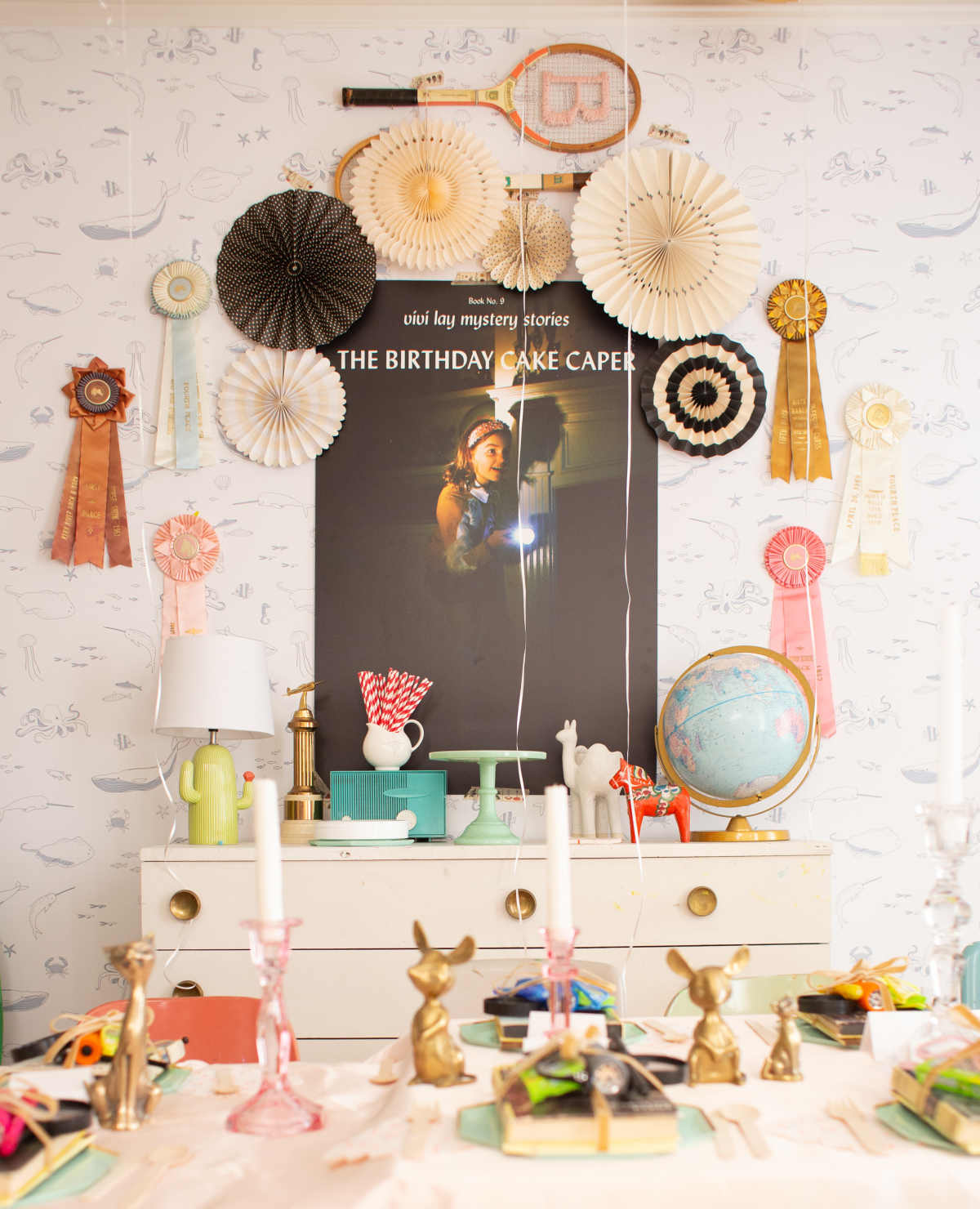 It was SO much fun to put together, and honestly, it wasn't that hard. I have an intense love for printed goods, so I couldn't resist making some fun posters inspired by the super sleuth herself. When I posted about these on instagram, I got a lot of questions about how exactly to do this, so I'm working on a separate post to attempt to give you some tips. I tried including it all here, but it was just too much!
(to see more about this room, check out this post!)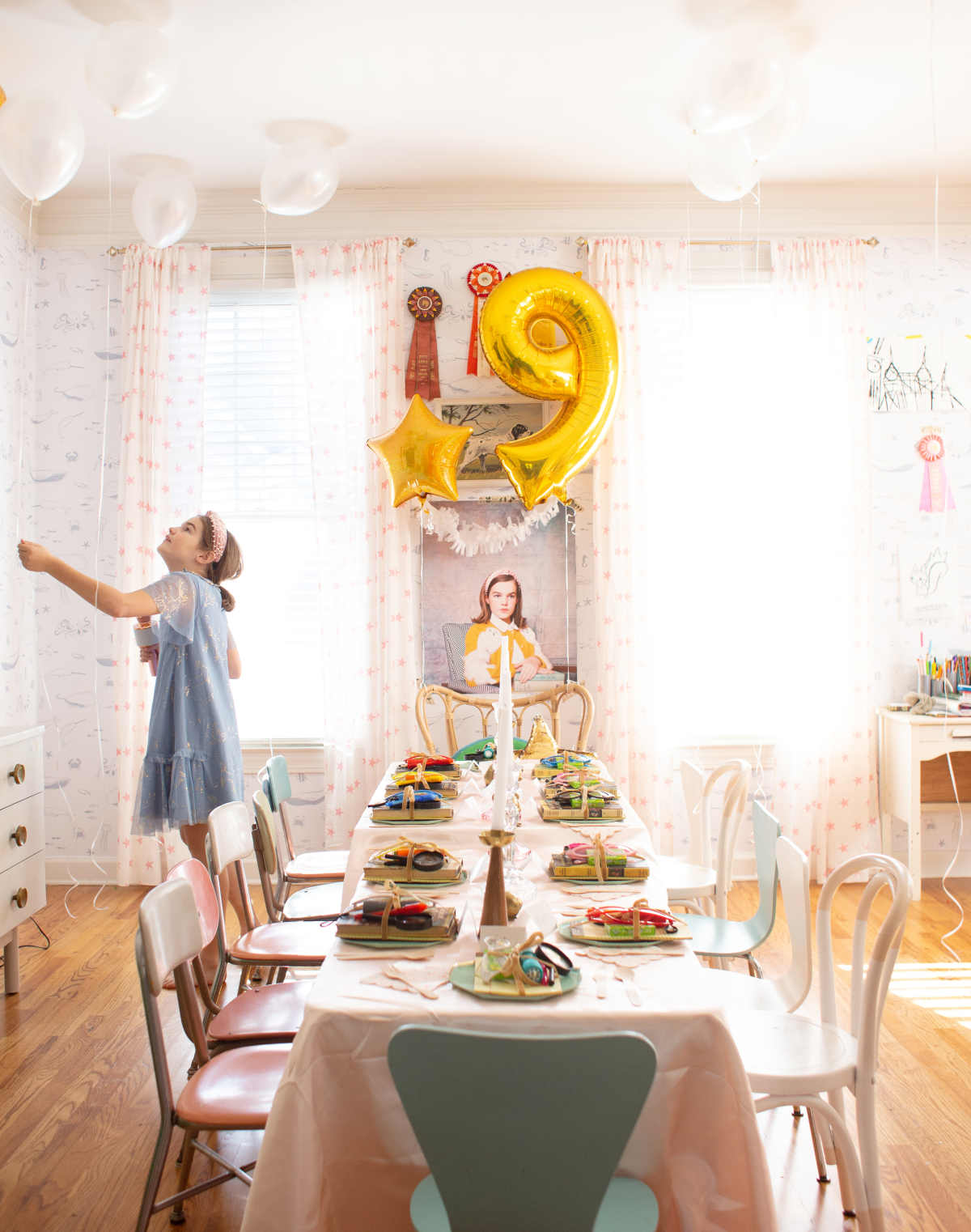 Since I have quite a collection of vintage items, it was easy to pull fun pieces to decorate the table. I had some quirky old candlesticks and brass animals, and used a pink satin tablecloth. Also - the tables here are our craft table paired with this folding table. They aren't exactly the same height, but it works fine!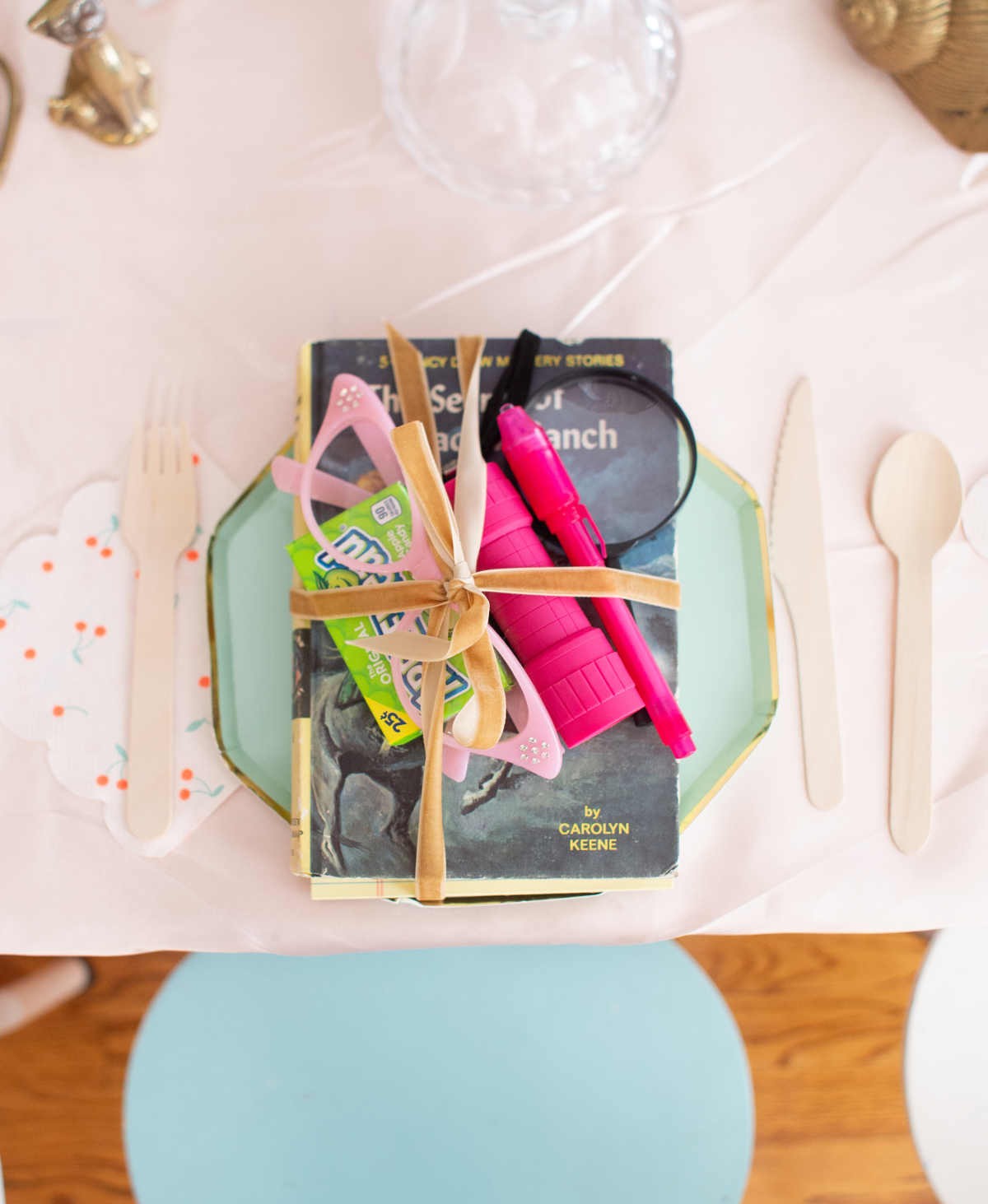 I love how the party favors turned out; I wanted to put together a little spy kit for the girls. I bought a bunch of vintage Nancy Drew books from eBay, some yellow legal pads, spy pens, a magnifying glass, cat eye glasses, flashlights, and candies and tied it all together with a velvet ribbon.
(also pictured above: cherry napkins, mint blue plates, wooden cutlery)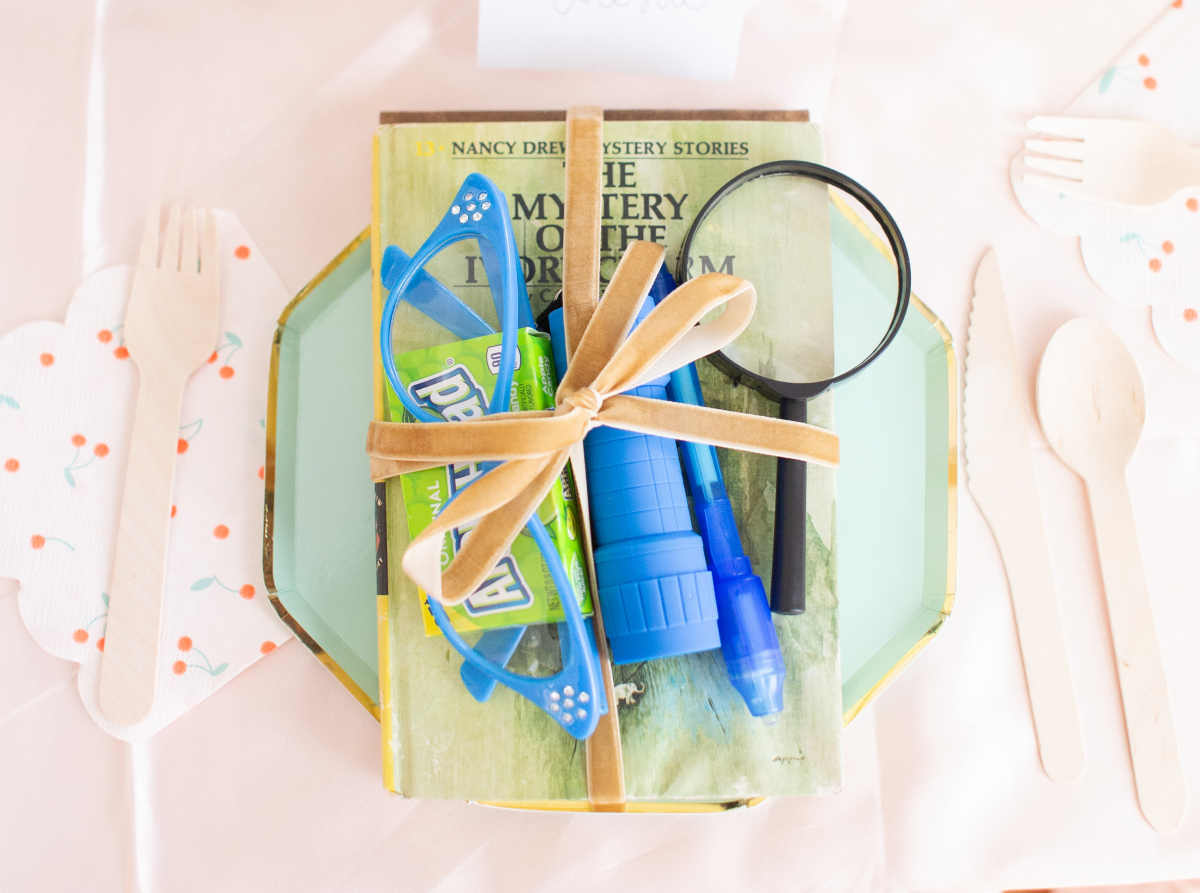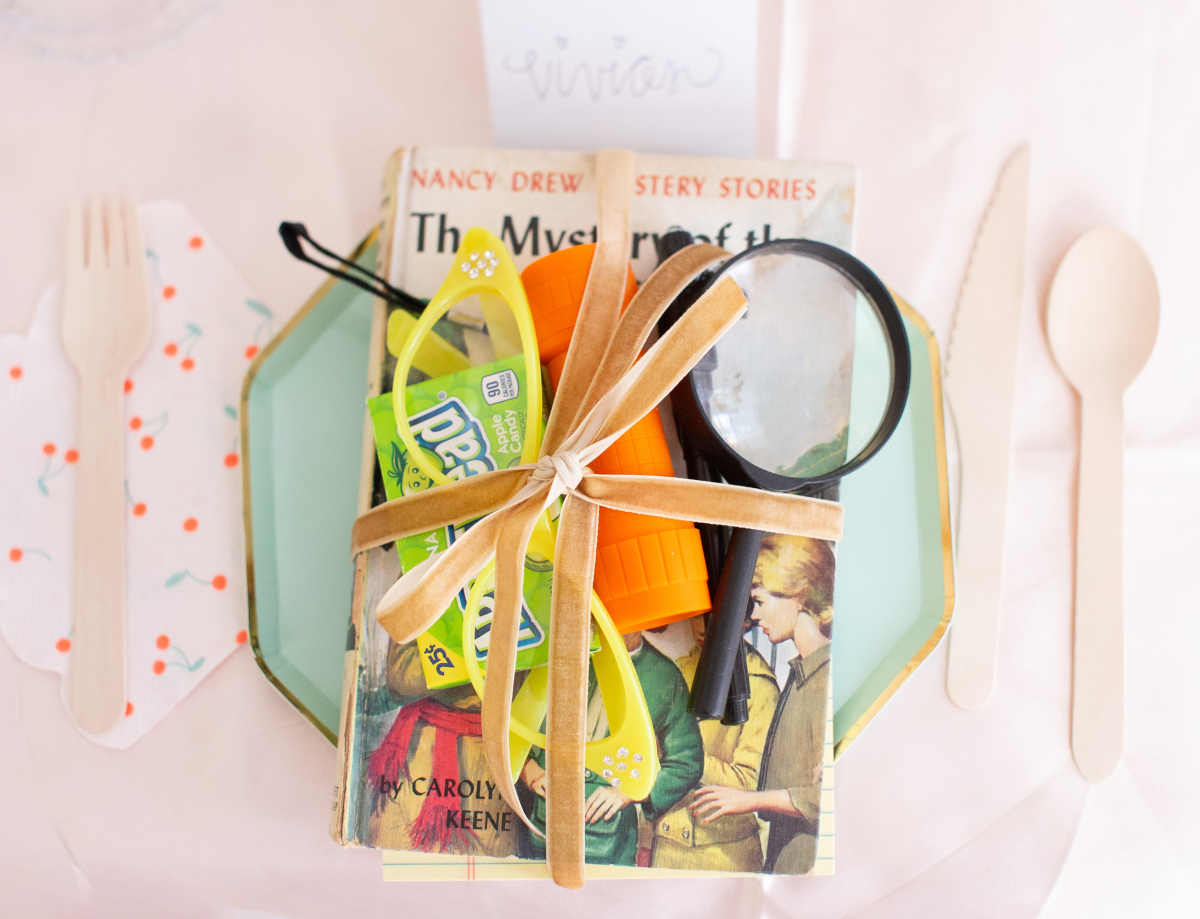 Vivi helped me put together all the items, and she cleverly sorted them by color, which ended up looking really adorable.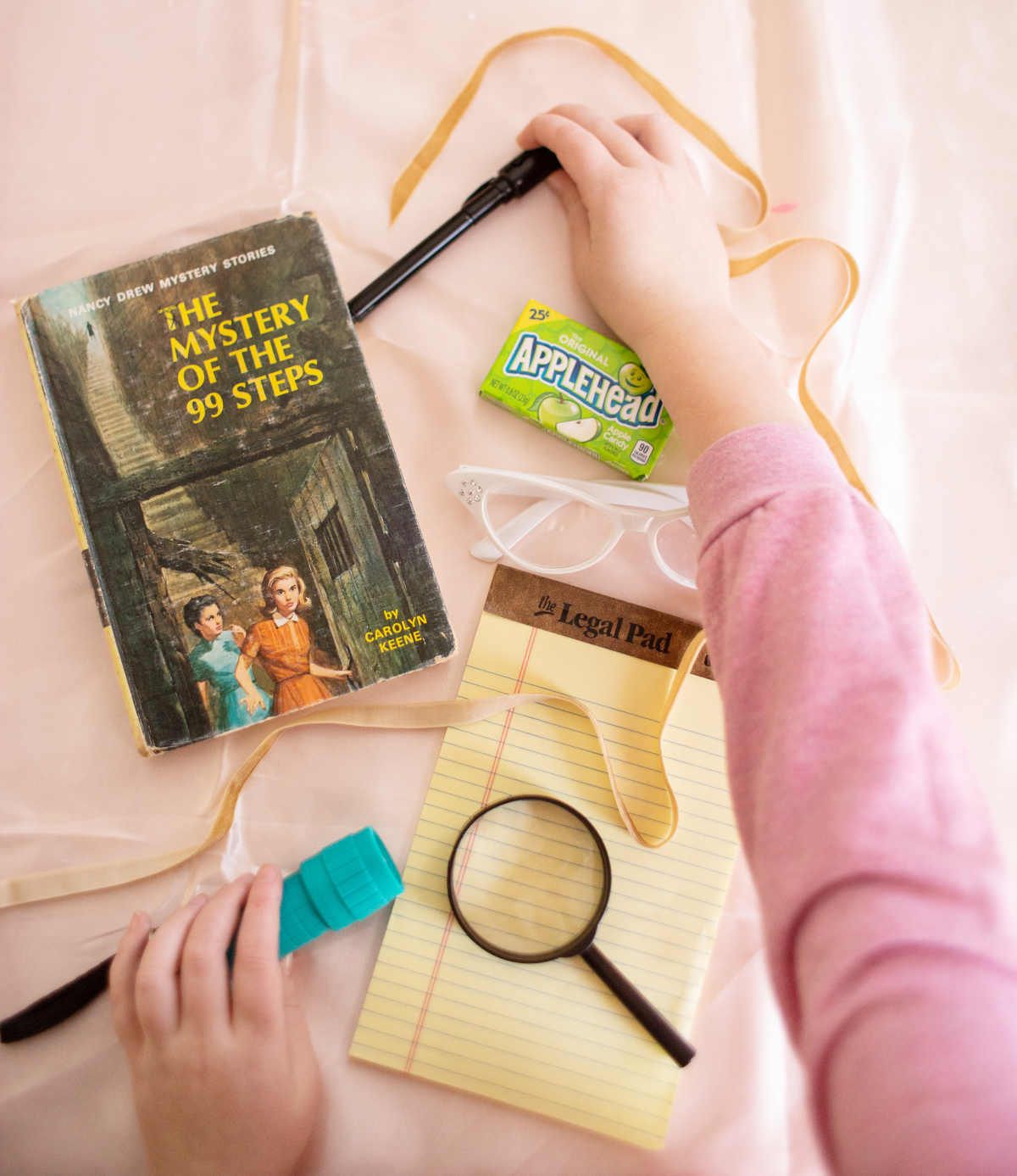 Of course, the critical part of the whole party was a mystery, and it took me little while to come up with a plan. I ended up getting my dad to build an incredible play theater for Vivi (she LOVES performing, making up songs, plays, etc. and I have a separate post coming about that next week!) and we had it hidden in the basement, so I wanted to figure out a fun way to get her down there.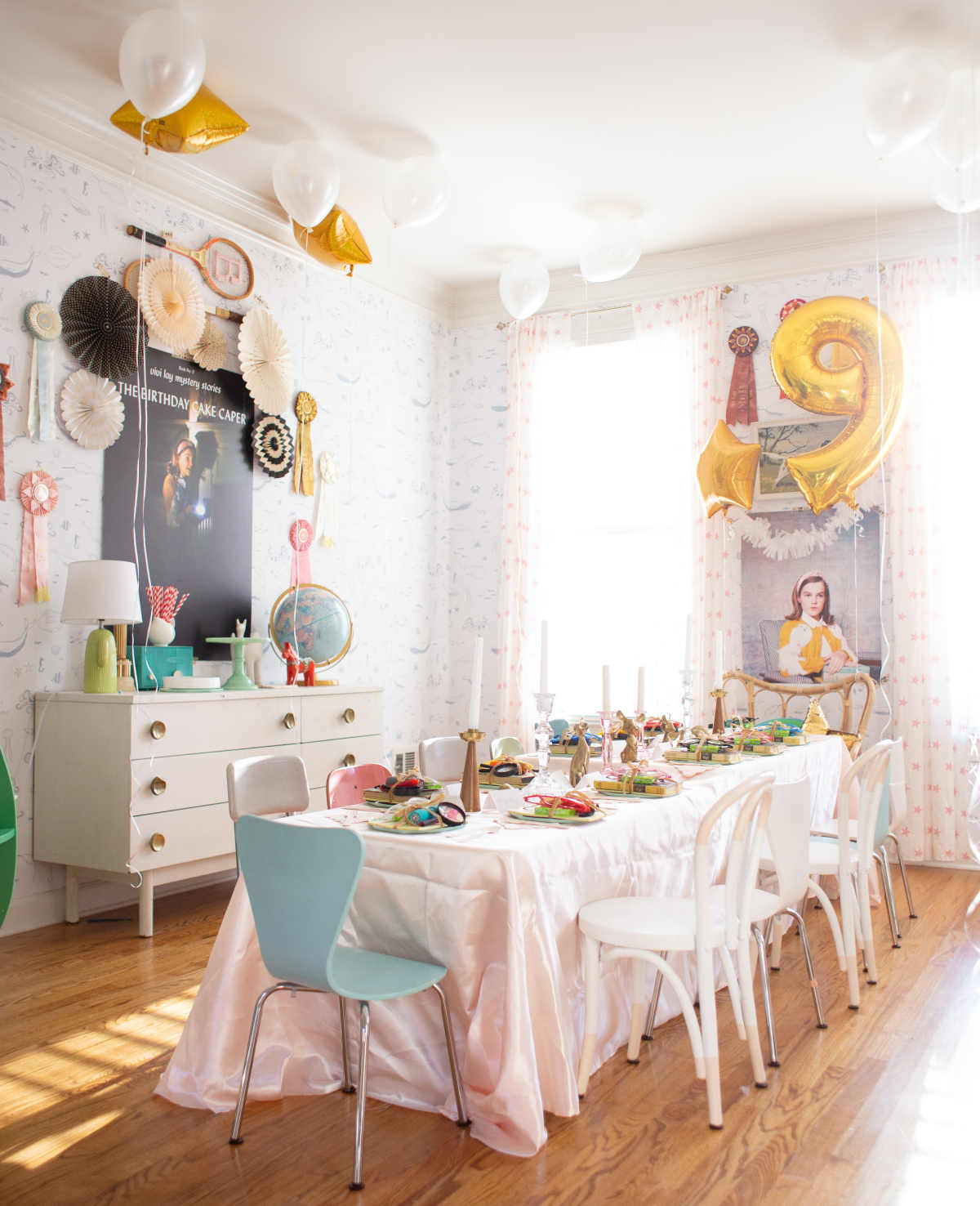 I decided hiding the cake would be fun, and Chip and I worked hard on coming up with some clues that would lead them to it. When the girls arrived at the party, we seated them at the table promptly so they couldn't disturb any clues, and served them dinner. Vivi really wanted Chinese food, which was really fun and also super easy since we just ordered takeout.
And, one thing, before I launch into the mystery: it's good to remember that it doesn't take much to impress 9 year olds. They are more than willing to jump into a make believe mystery, perfect or not. The simplest details will get them so excited, so don't be overwhelmed by putting one together!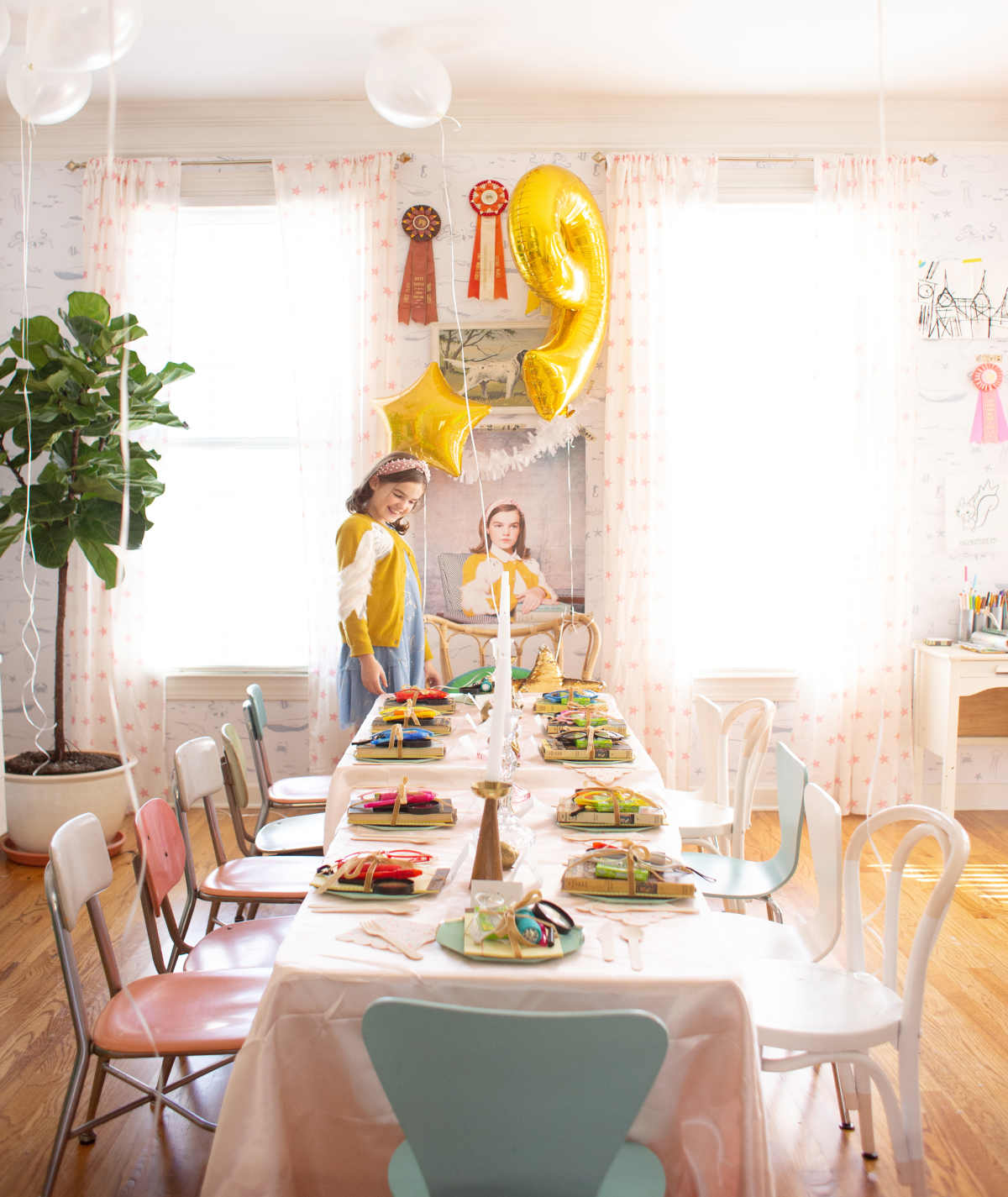 When everyone was done eating, I announced it was time for cake, and I went to the freezer to get it (it was ice cream cake) and shouted "Oh, no, the cake!! It's missing!" I asked Vivi to come look because she saw it in there earlier, and when she did, she discovered a note from the cake bandit. (You can see all the steps in my story highlights on Instagram under "Vivi's Birthday if you want to watch!)
The note had a little poem and told Vivi and her friends to grab their spy supplies and head to the place where Vivi "brushes her teeth and hair," and to "fill the space with steam and look in the mirror to see that all is not as it seems."
(Also, I'm obsessed with Vivi's Hedwig sweater above. Wish it came in my size. The whole collection is amazing.)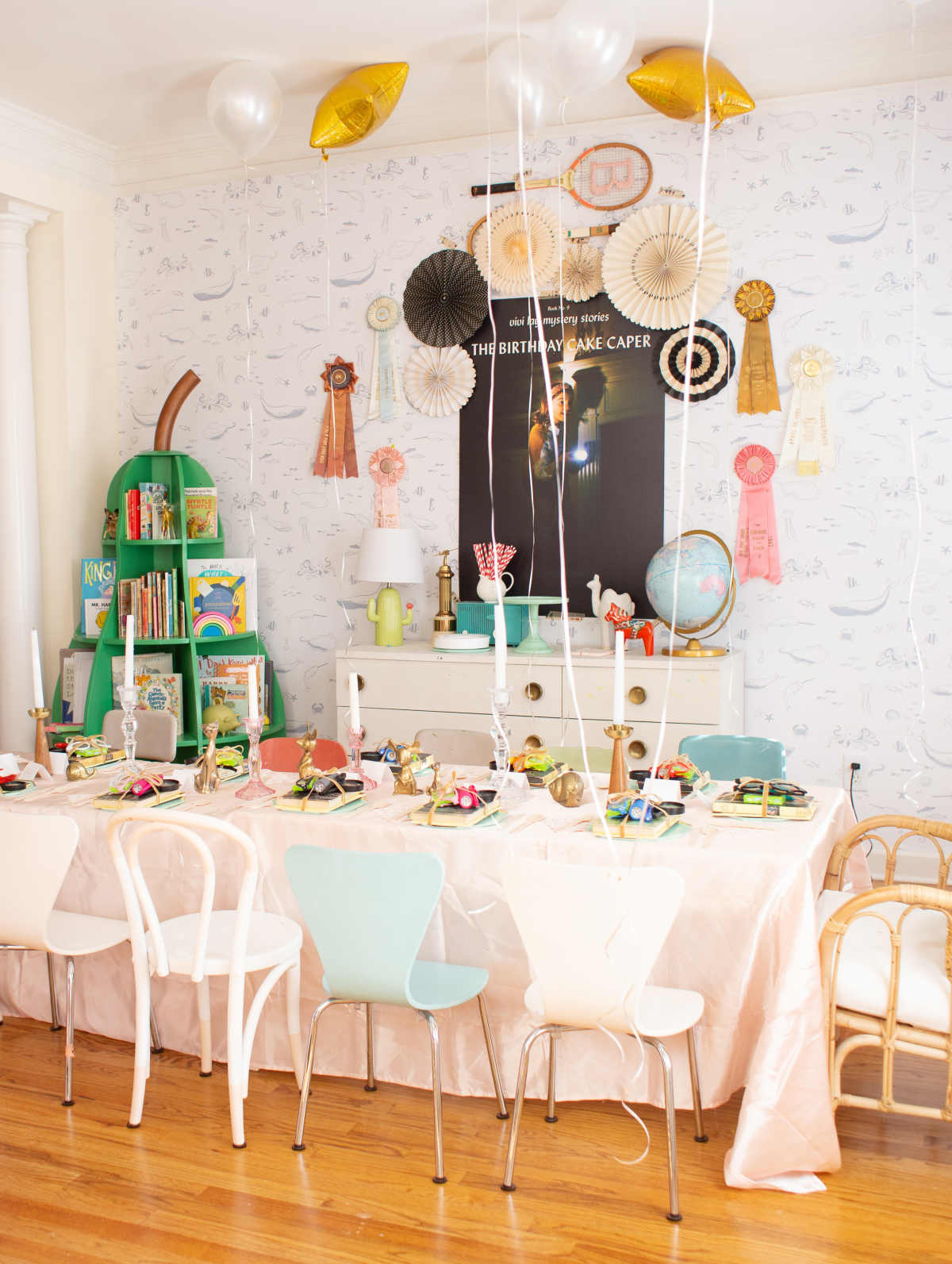 The girls were SO EXCITED. There was so much squealing. They ran up to Vivi's bathroom where they shut the doors and turned on the hot water. Chip had written the next clue on the mirror with a q-tip and soap, which should show up with the steam. It didn't work super great, and also it got super toasty with all those girls in there, ha!, but he had a backup clue tucked into the mouthwash with a little toothpaste arrow pointing to it in case the steam didn't work.
That clue told them to go to the "place where Vivi hits the hay and find a book that isn't a book and there they should take a look." She has a little journal that looks like a book on the outside, but has a secret storage compartment inside. We stacked it with some other books on her nightstand and put a tiny note with very small writing on it so they had to use a magnifying glass.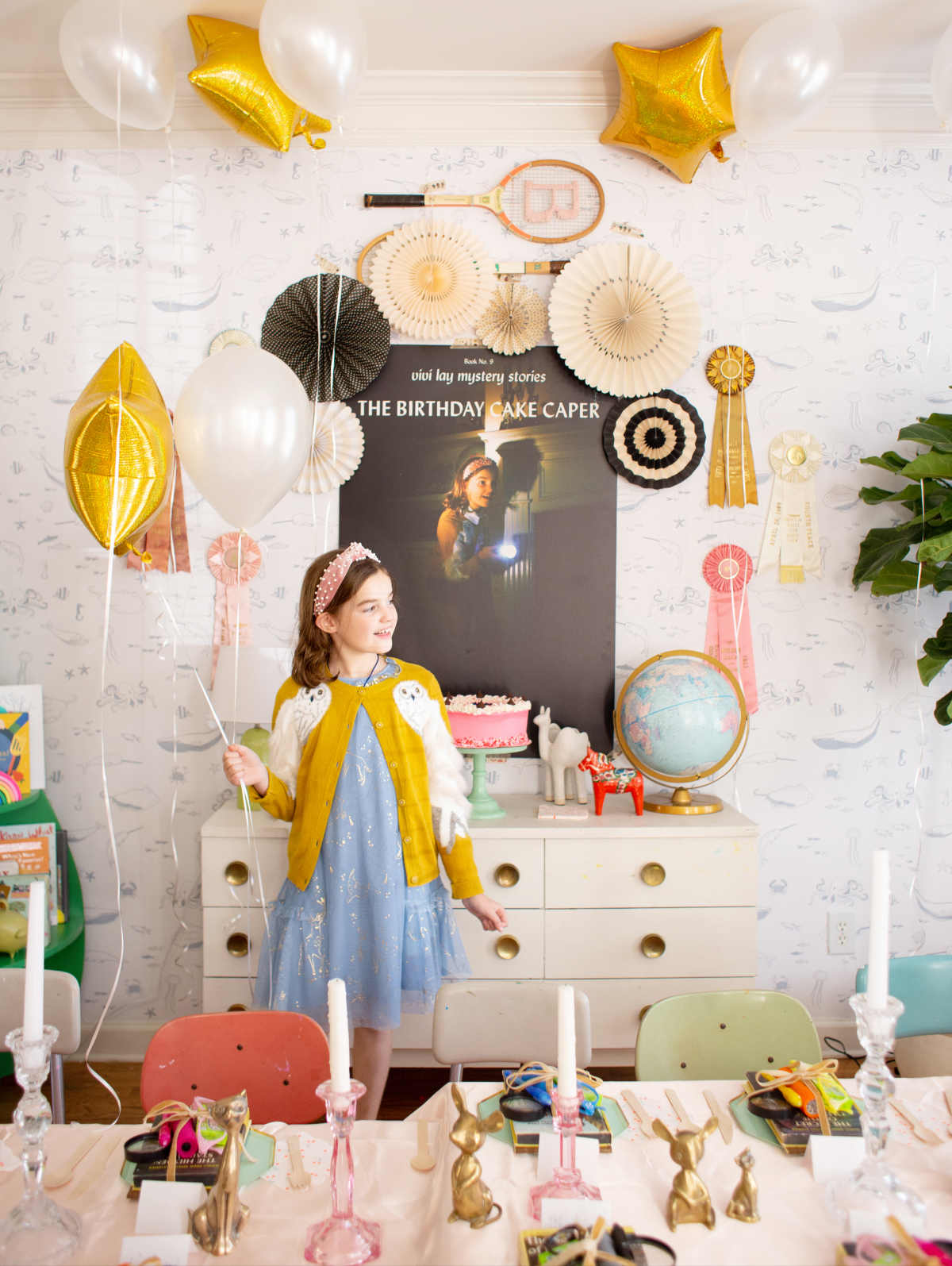 That note led them to the playroom, where a puzzle was left out on the floor, in pieces. Chip had written the next clue on the back, and they had to assemble the message to see what it said. They were getting really keyed up at this point. That clue led them downstairs where the cake bandit had left out a game of "Code Names." The clue said he wanted to "play the game to infinity and beyond" and if they found the right card they could hack into the computer.
They found the Buzz Lightyear card, which said "buzz" on the back, then they ran to the big computer, typed in "buzz," and we had a video message from Vivi's Grandpa on the screen that played and told them to go to the place "where the mail was dropped and then the eating of cake wouldn't be stopped."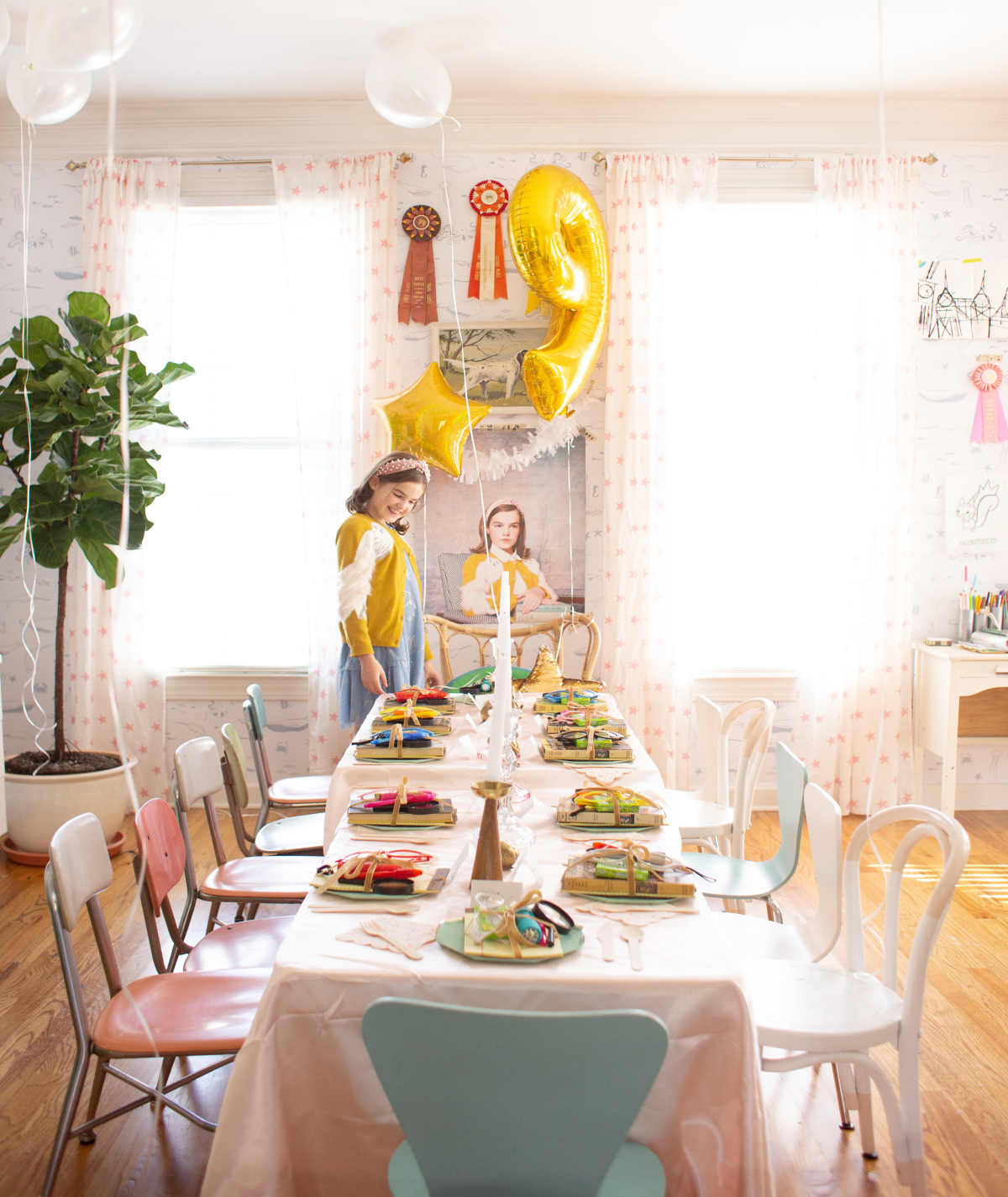 The girls dashed out the door to the mailbox, where I had stashed a note written with invisible ink. It stumped them at first, and then one girl said to try their invisible ink pens (they have a light that makes the ink visible), and they all squealed in unison when the ink appeared. It was really cute - they kind of lost their minds over that one! It led them to the back basement door where Chip had locked the door with a bike lock that had a letter code to unlock it, and then they were IN and discovered the play theater, the cake (that they almost stepped on in their excitement) and Grandpa!
It was seriously so much fun, and I highly recommend trying it for a kid party! There are also tons of kits out there that you can download digitally or purchase, which would make it super easy so you don't have to make clues yourself. I just didn't want to have to theme out the house to something else, so I came up with our own story. It was SUCH a big hit, though, and so perfect for their age group. It was a two hour party, and the eating dinner and then going through the clues took about an hour, so there was an hour left to play, so they had fun making up skits on the play theater.
Please let me know if you have questions - I'd love to answer them! I'll have a post up shortly with details about the posters and pictures and play theater plans!