Refreshing my Teen Bedroom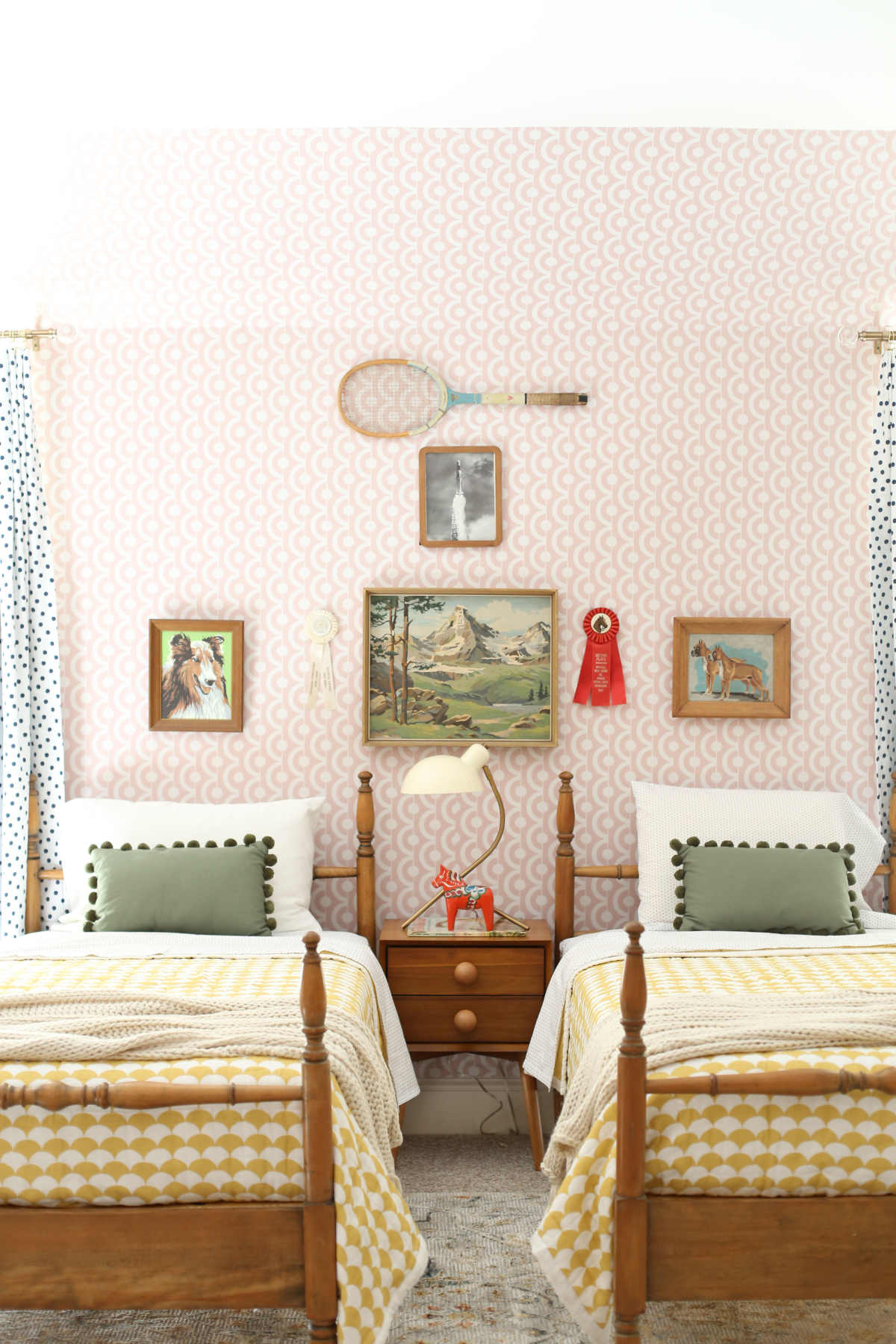 My parents' now have eight grandchildren between my sister and myself, and the sweet bedroom we created for them to use while visiting has been outgrown. I love taking my girls to my hometown for extended visits during the summer, so I wanted to create a space where they could all comfortably sleep. My sister and her kids live in the same town as my parents, but they, too, frequently stay over and needed more bed space.
(sources for above: Wallpaper; Vintage Paint by numbers; Vintage Tennis Racquet; Vintage Horse Ribbons; Table Lamp; Nightstand; Knobs on Nightstand (largest size!); Pom Pom Pillow; Scallop Quilt; Throw Blanket; Curtains; Rug; Similar Twin Beds)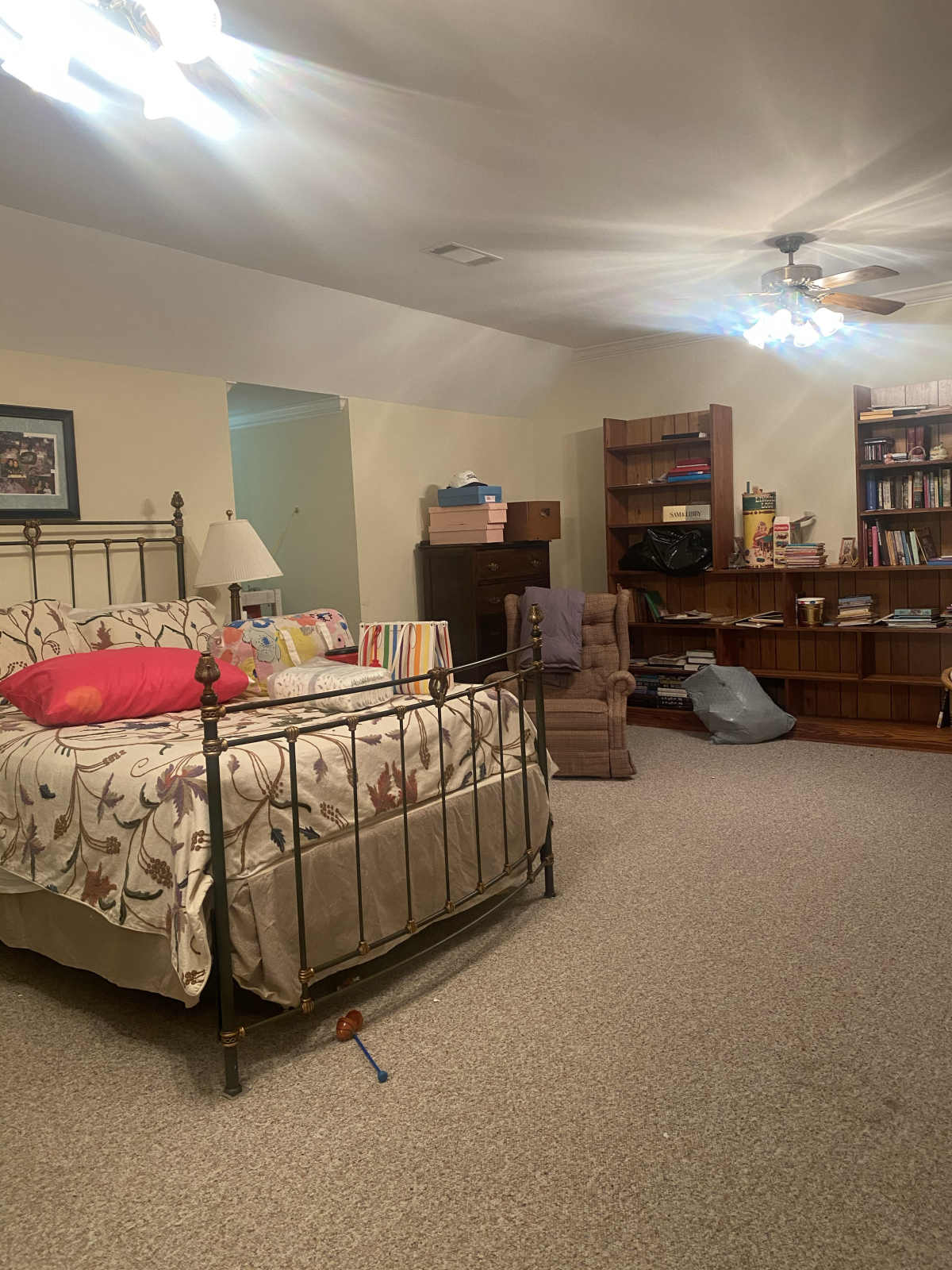 My old bedroom was the perfect candidate for a shared room. With tons and tons of space (before my parents bought this house, it was a big bonus room that wasn't really used), we could fit four twin beds easily, and have lots of open space for sleeping bags for a big cousin sleepover. The above picture is the before, and you can see it had lots of potential!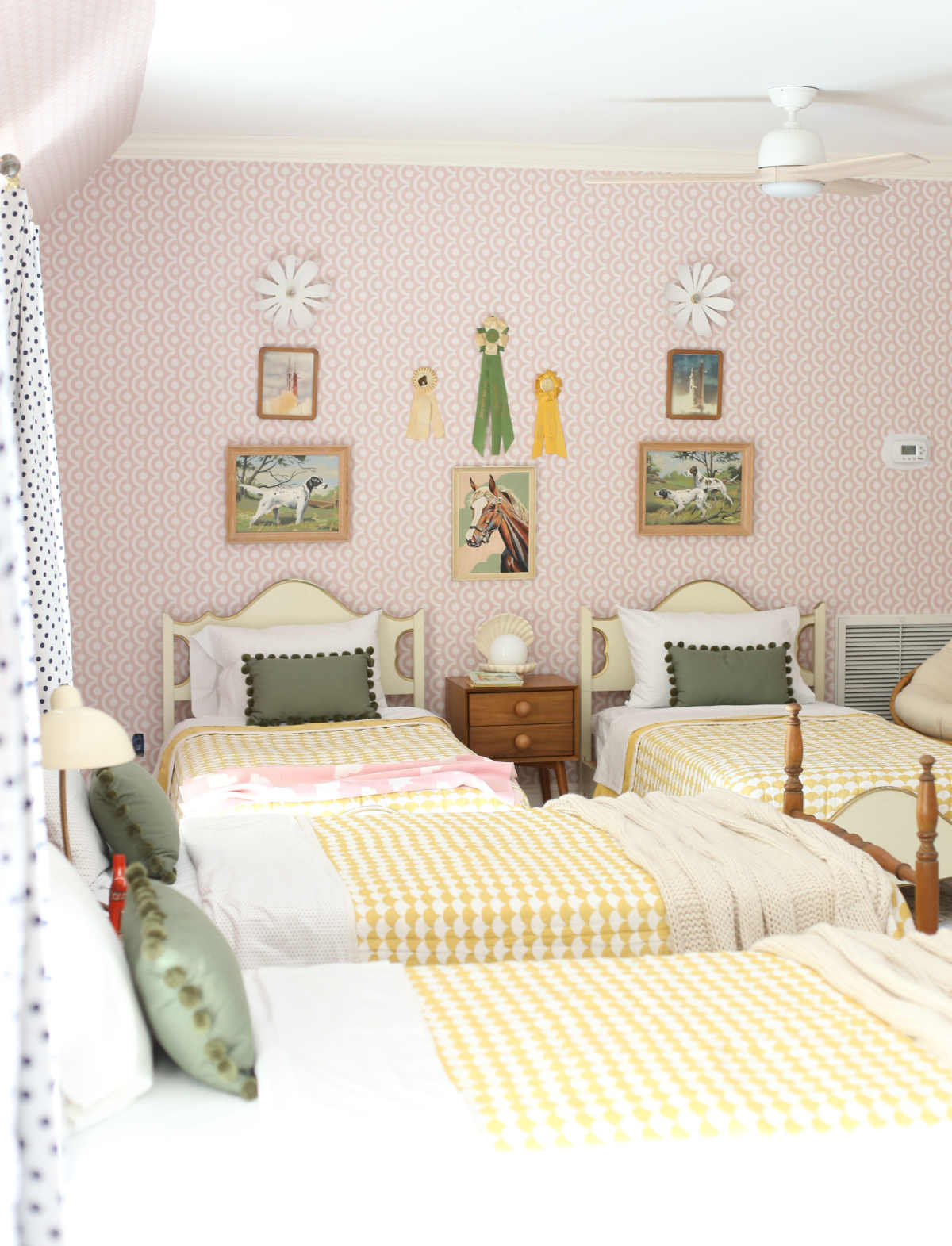 My first task was selecting twin beds. We could certainly fit bunks, but I liked the open feel of the room, and bunk beds can be quite a task to keep neat and change bedding. I didn't want to spend a ton of money on beds, and didn't want to buy new cheap beds. I looked at facebook marketplace, and found two sets of twin beds that were perfect (highly recommend trying it, if you are looking for twin beds! Vintage ones have so much character!). Since we had them on different walls, they didn't need to match, and I love the wooden set for my two nephews to use. I chose some neutral bedding to use on all the beds (which helps tie them together), and I love the punch of green that the pom pom pillows add.
(Sources for above: Ceiling Fan; Similar Vintage White Twin Beds; Similar new white twin beds; Twiggy Sconces; Scallop Quilt; Throw Blanket; Green Pom Pom Pillows; Vintage Horse Ribbons; Shell Lamp; Nightstand; Wallpaper; Knobs on Nightstand (largest size!))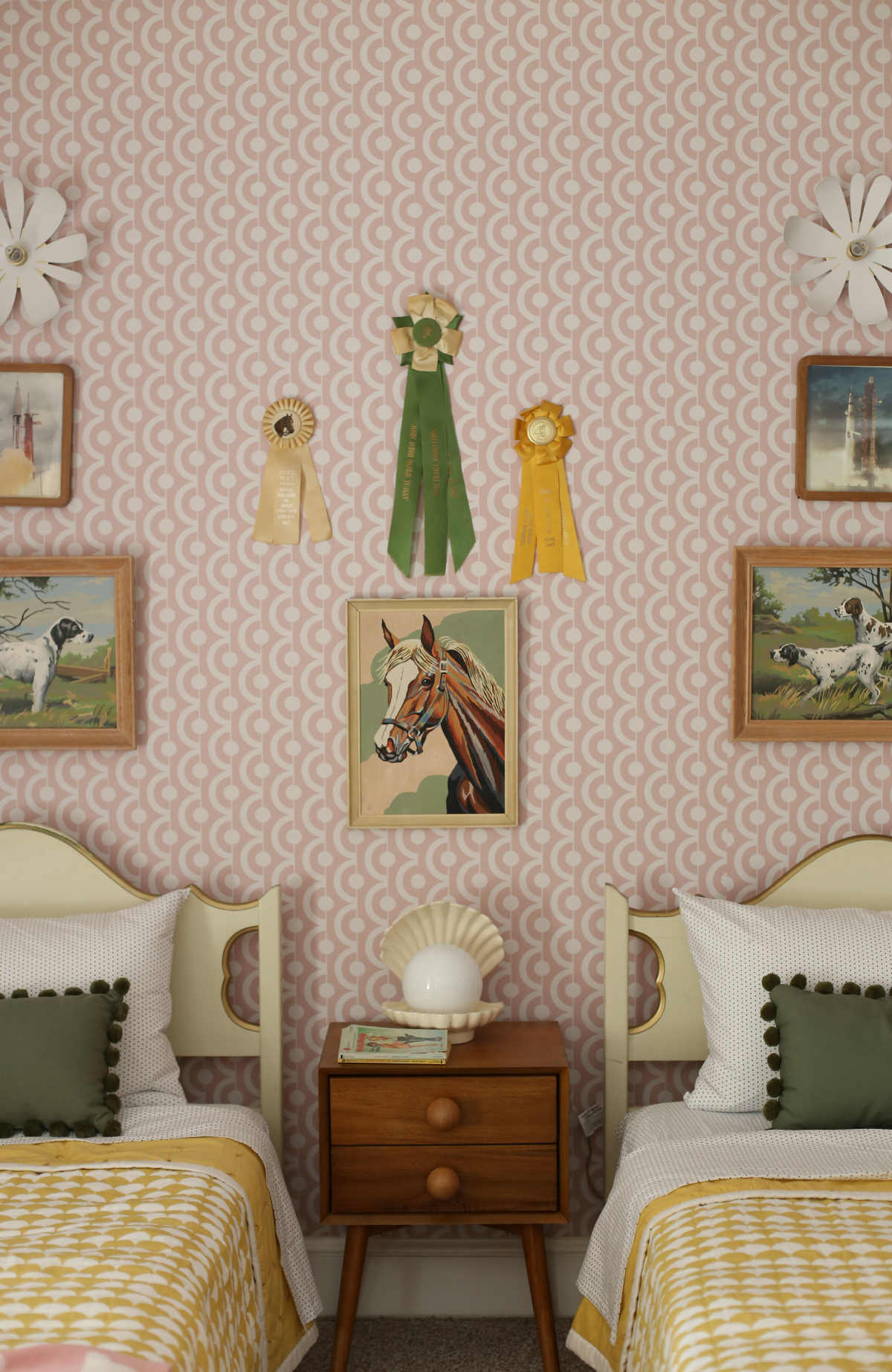 I wanted to also find vintage nightstands, but I was having a hard time finding what I was looking for; also, the nightstand on the wall with the wooden beds needed to be small. I ended up going with this nightstand, and switching out the knobs (these, in the largest size!) for a more custom feel. Can you believe they matched perfectly?
I also LOVE this wallpaper. The pattern feels fresh, and it's not too overwhelming for such a large space. (It does also come in red, which I think would be so fun!) I used a laser level to line up the pieces, which was hugely helpful in keeping the lines straight. It's really easy to get off course with a geometric/linear pattern like this, so I highly recommend it.
(Sources for Above: Wallpaper; Bookshelf)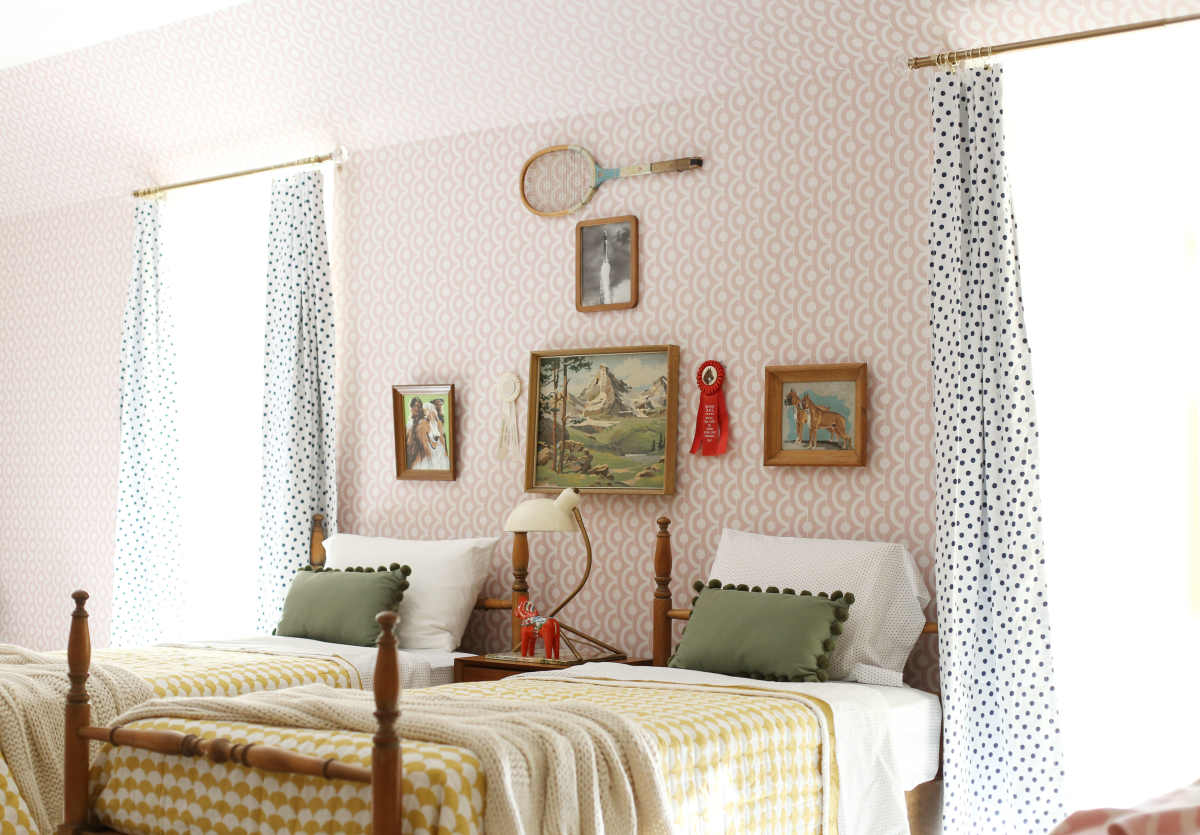 This room has three large dormers that the girls love to play in, and my mom had formerly put up makeshift curtains. I decided to just go with it, and we hung curtain rods and these curtains at the entrance to the dormers, so they can close them and turn them into little hideouts. It's also a really fun detail in the room, and adds some interest and pattern.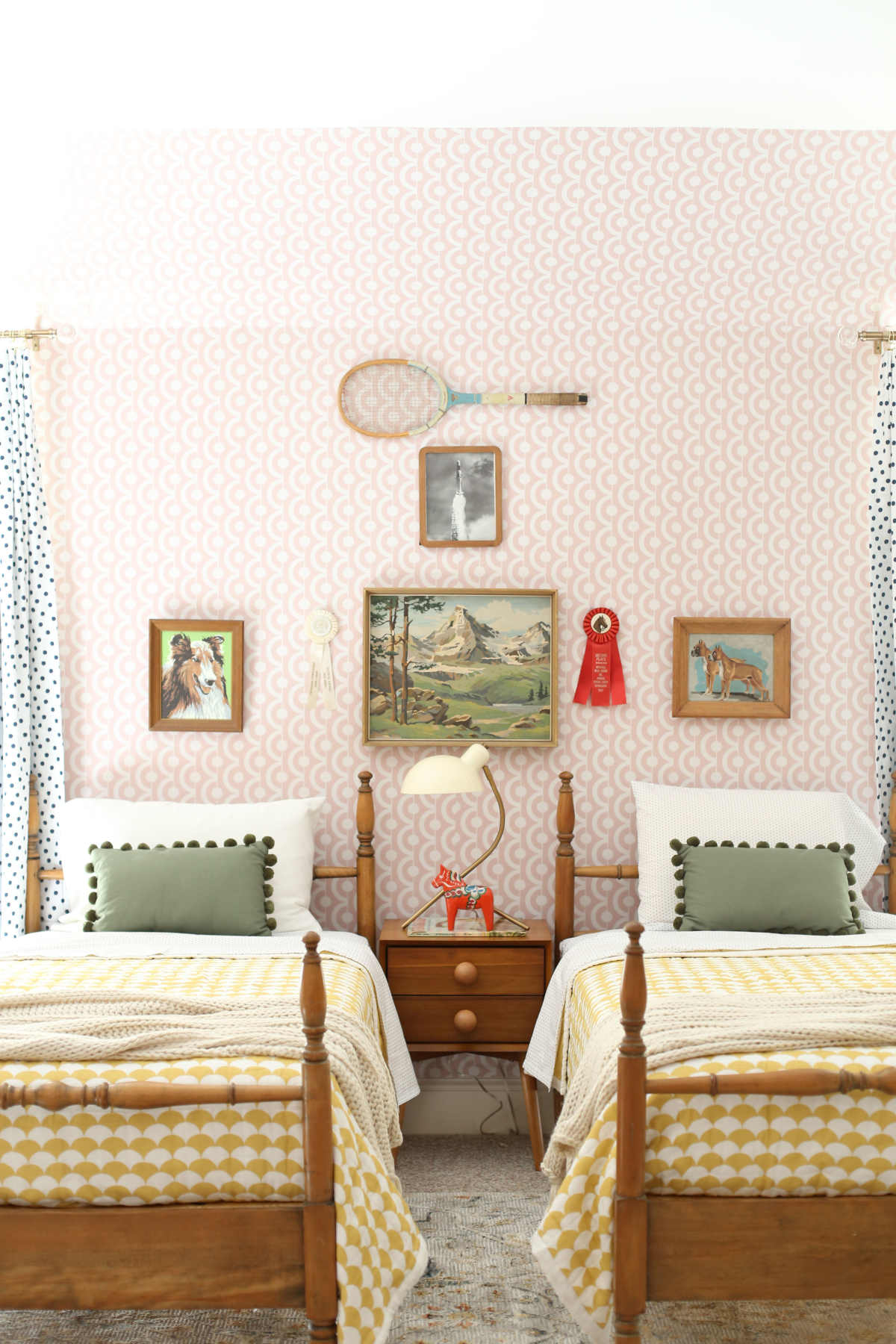 For art, I used vintage paint by numbers (always a favorite!) and these beautiful vintage rocket photographs my great uncle gave to Vivi (he worked for NASA on the Apollo missions!) and I put them in these affordable wooden frames that go nicely with the paint by numbers. As always, the horse ribbons and vintage racquets add great texture to the walls.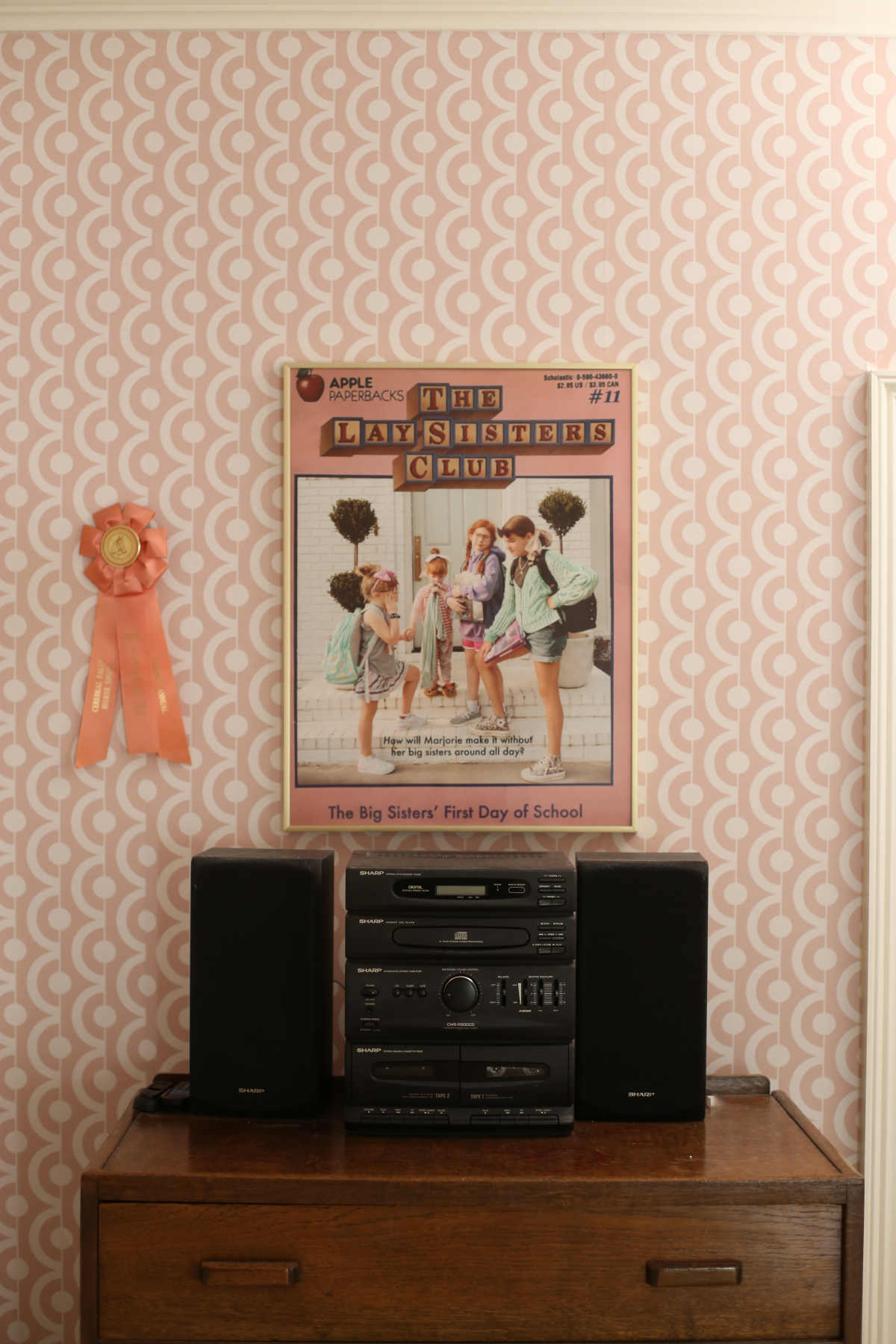 I loved hanging up a few pieces of personal art, too; I included some photos I took of the girls and their cousins, made them look like vintage Apple paperbacks, and they make for great statement art!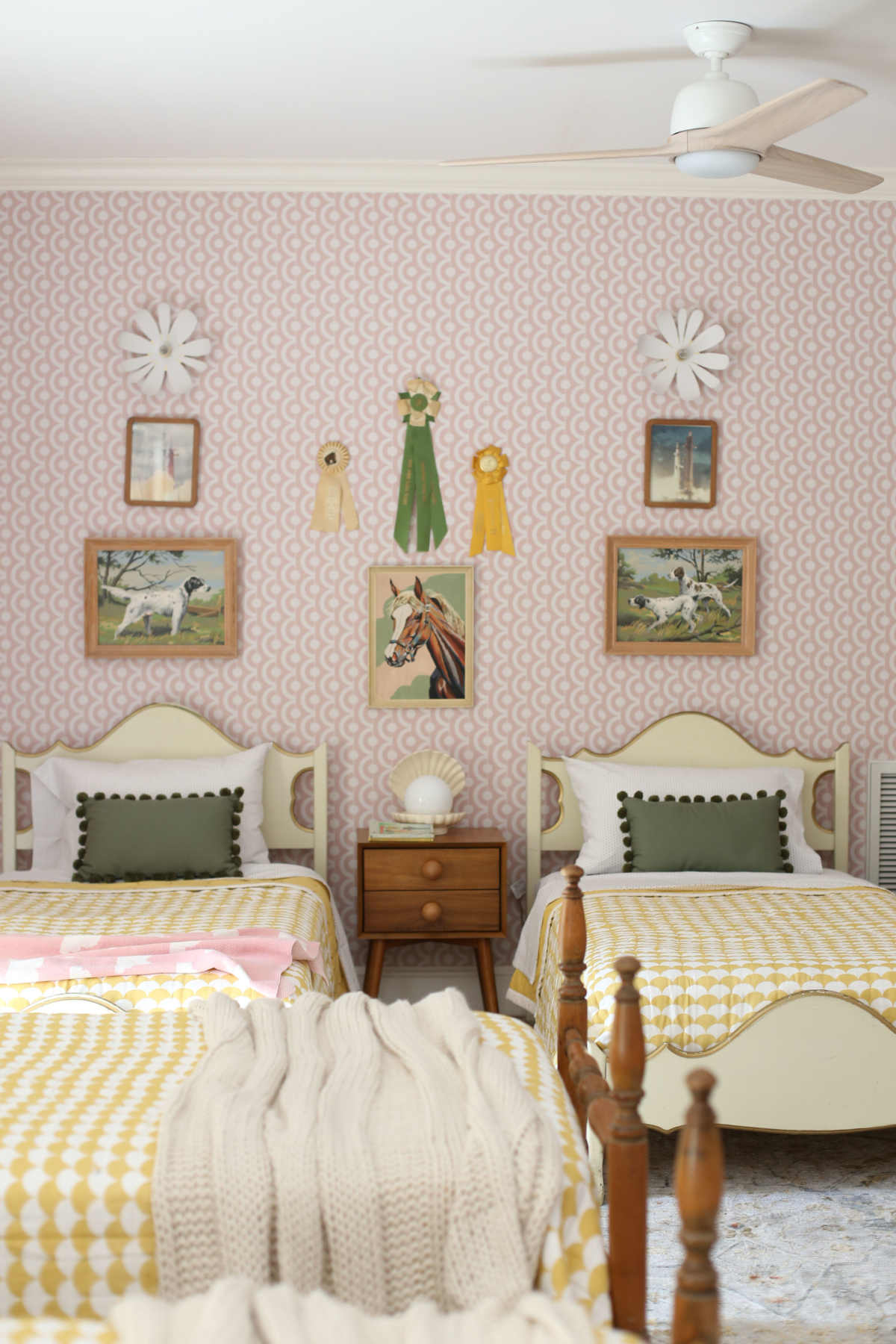 Lastly, because this room is in South Georgia, and it gets quite hot in the summers, ceiling fans were a necessity! I love how these have such a soft, light look! I'll do another post about these, but wanted to give them a call out, because it is such a great detail in the space.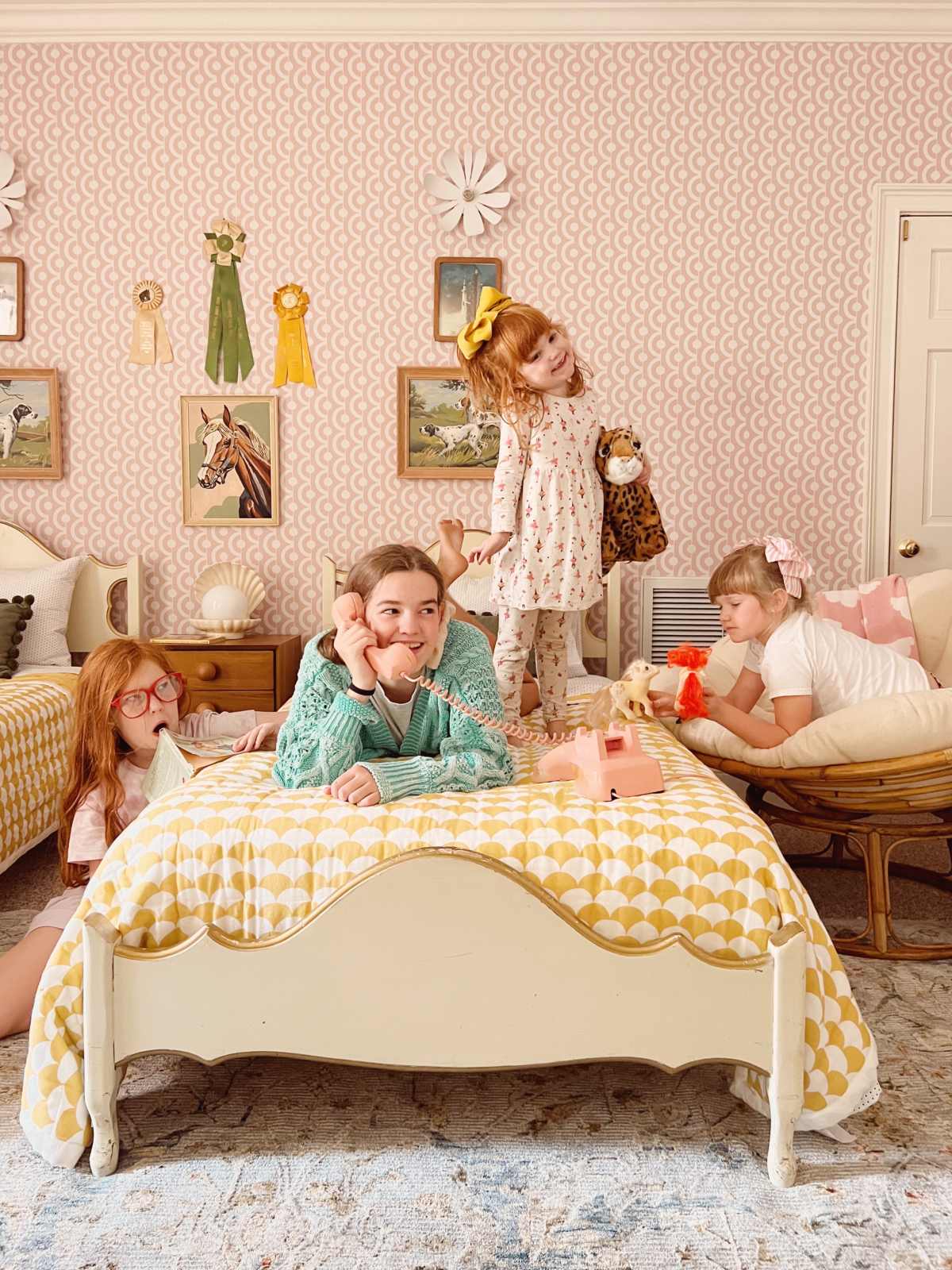 My girls are BIG fans of this room, and I even slept up there with them the first night. It's so cozy in there! They also gush about the rug on top of the carpet - it's so cushy and comfortable and fun to play on!