neutral shared bedroom inspiration
with the land of nod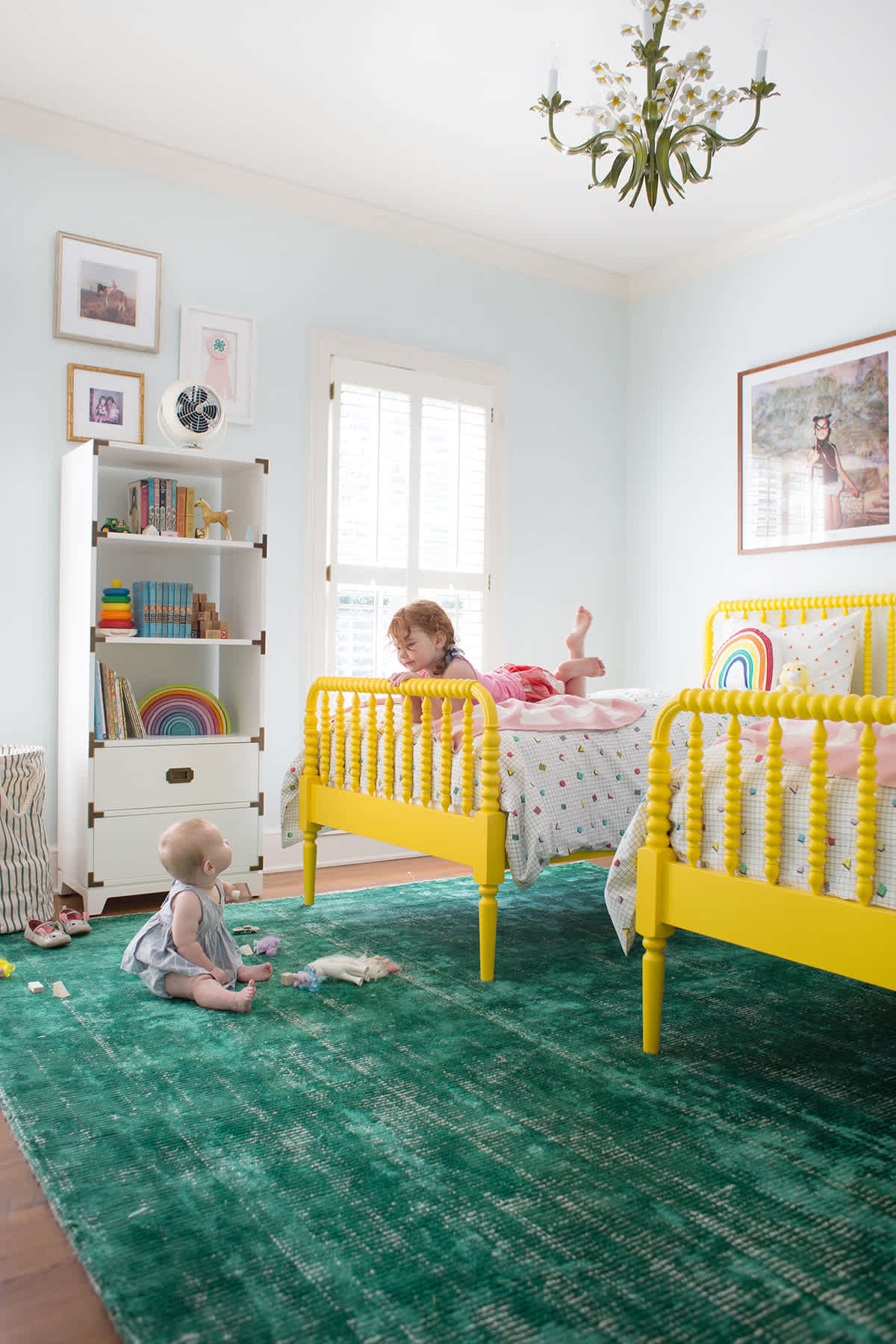 I know putting together a shared room can be a challenge, especially when it needs to be neutral.  I'm hoping today's post will provide some good inspiration for those of you who are attempting a similar project - I love how this came together, and it has been such a fun project!
(sources for above: Campaign Bookcase; Yellow Jenny Lind Beds;  Patina Rug; Rainbow Charm Duvet Covers; Rainbow Pillow;  White Fan; Similar Tole Chandeliers; Pink Cloud Blankets; vintage photos in framebridge frames)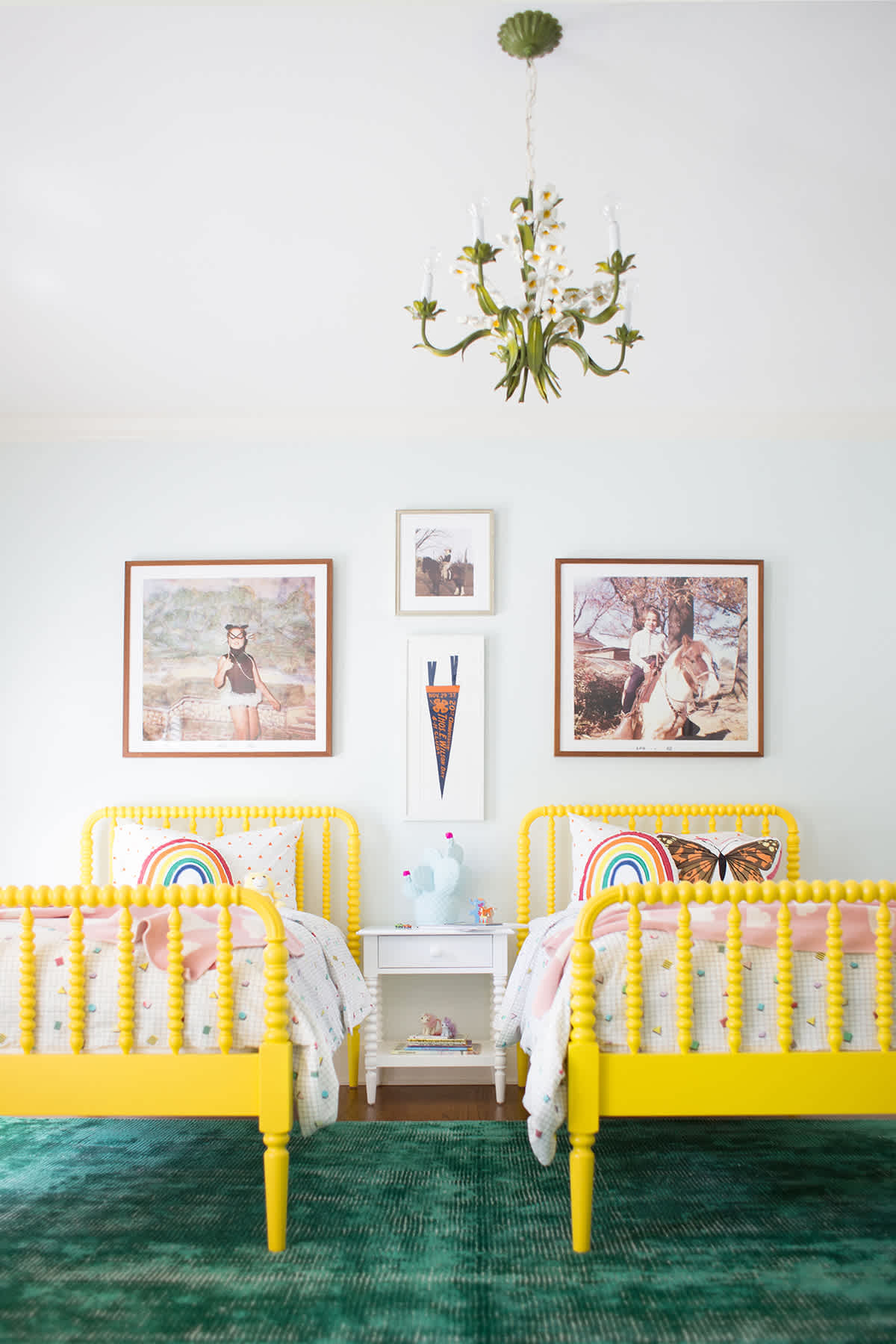 The inspiration behind this room is a combination of my childhood bedroom, and since it's at my parents' house for my girls and their cousins to share, it has a lot of my mother in it, as well.  I loved using a different color scheme; this is much more classic and primary than I usually go for, and it was a fun challenge to make it feel fresh.
(sources for above: Jenny Lind Nightstand; Cactus Goodnight Light; Yellow Jenny Lind Beds;  Patina Rug; Rainbow Pillow;  White Fan; Similar Tole Chandeliers; Pink Cloud Blankets)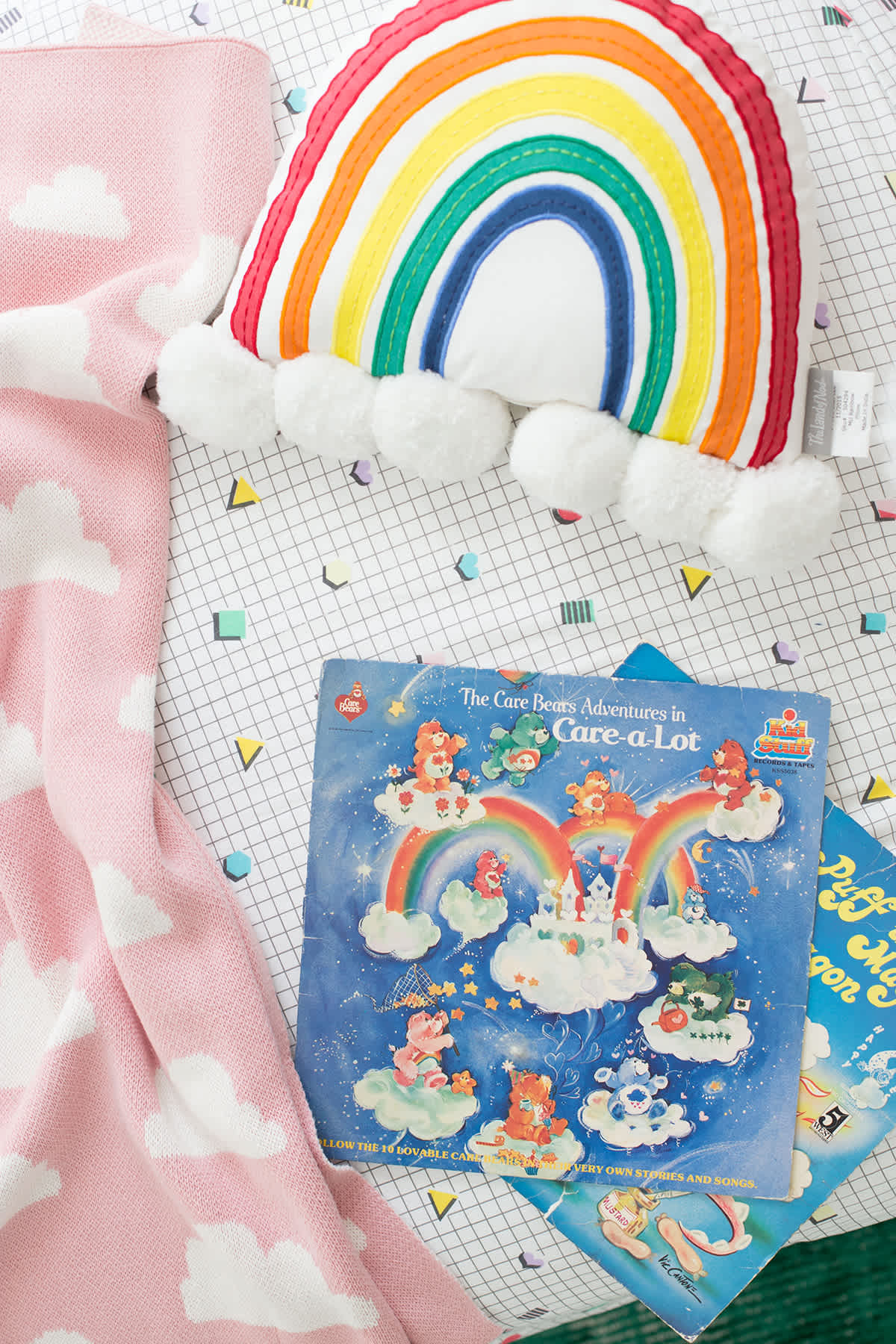 This room feels so nostalgic to me; here are some of my childhood records - doesn't the room feel just like these?  I loved working with the Land of Nod on this, as their collection is so whimsical and colorful.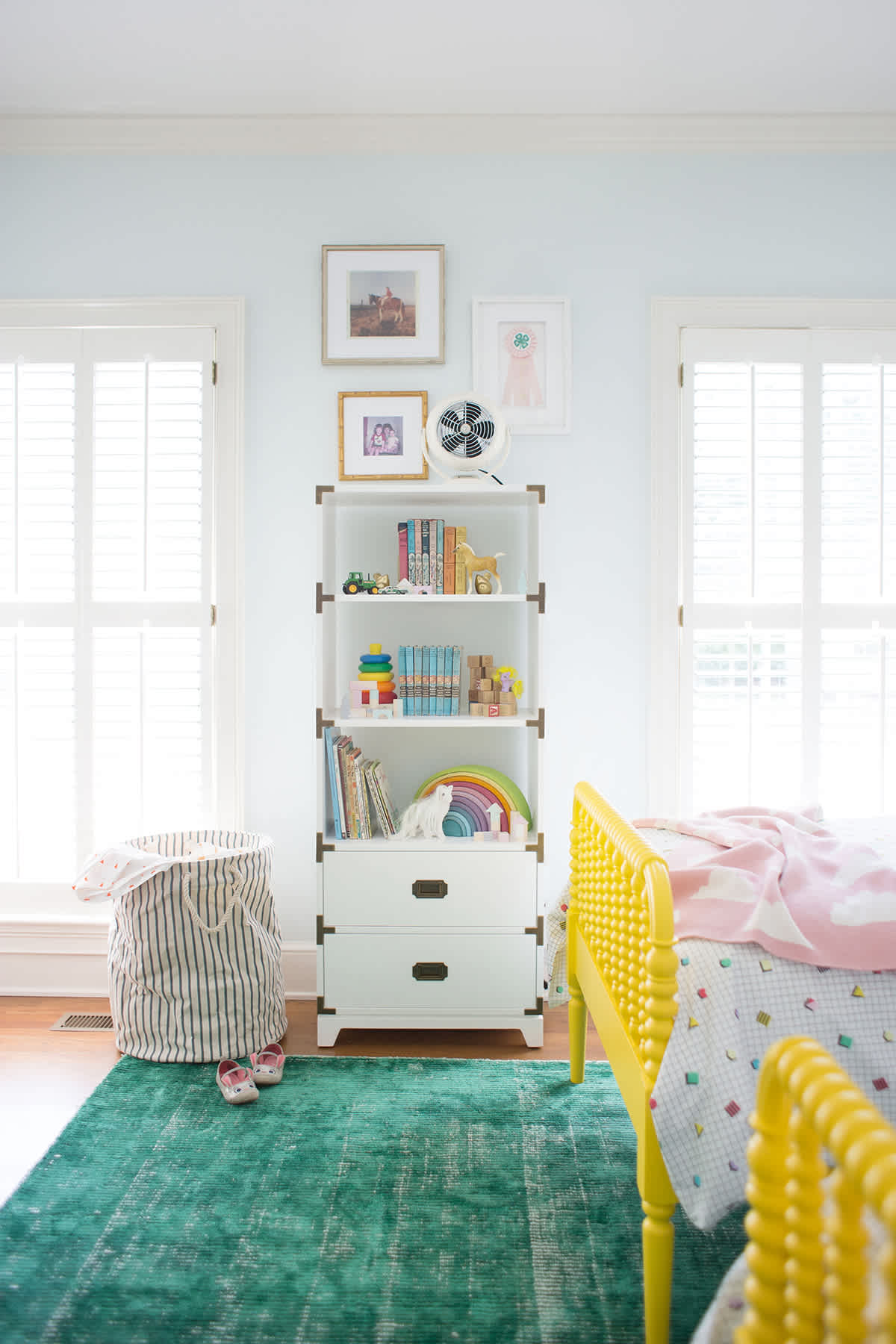 I'll be sharing more about the photos and and art tomorrow (thanks to Framebridge), so stay posted!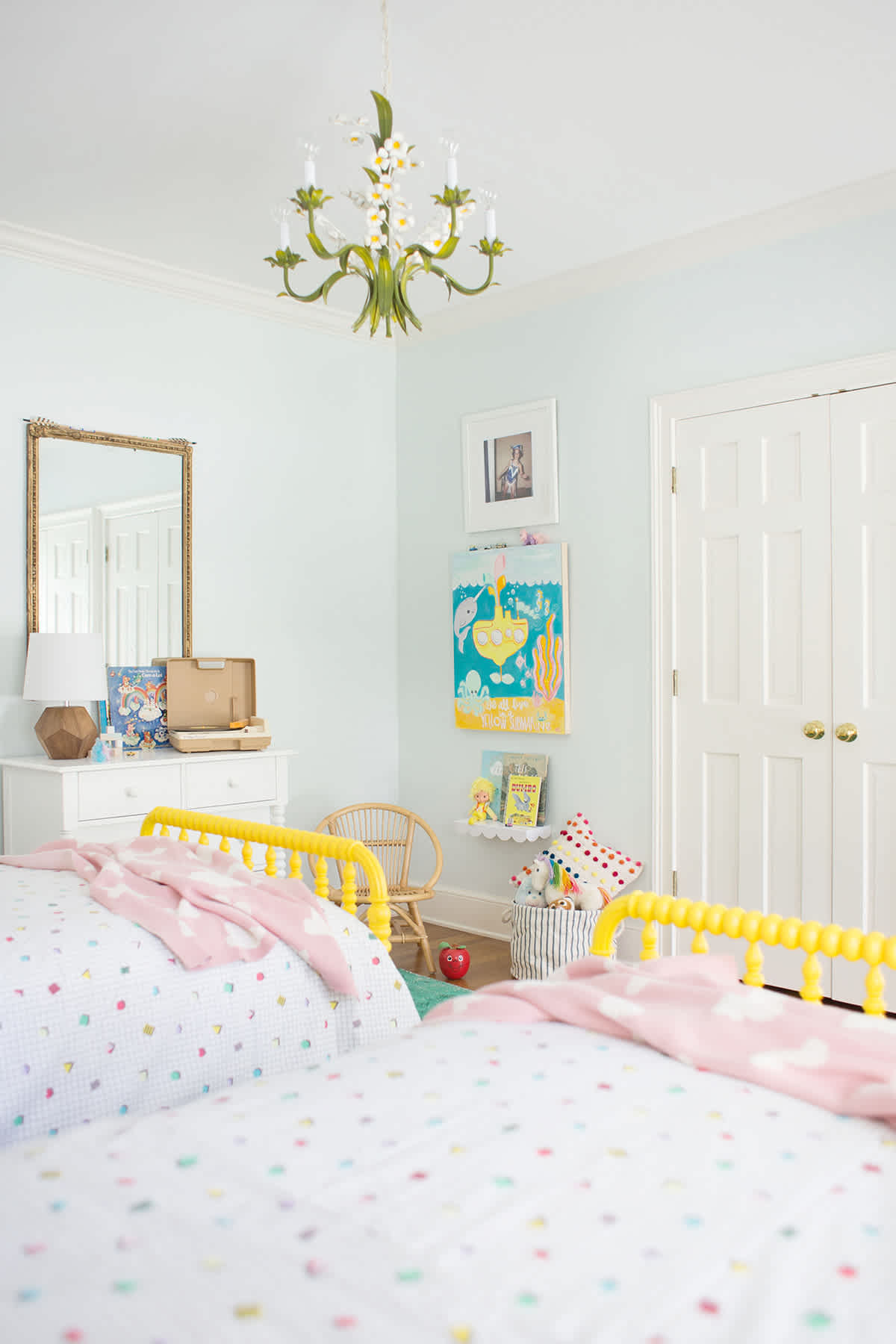 I wanted a wall color that would brighten up the space, but I didn't want to go with white as I felt that would be too stark, and I didn't want something with too much color because I didn't want it to compete too much with the other colors in the room.  I finally decided on "Glimmer" by Sherwin Williams, and it's the perfect barely there shade of minty green.  It really makes those beds really pop, and is perfectly calming in the middle of all those bold hues.
(sources for above: Walnut Lamp; Jenny Lind Dresser)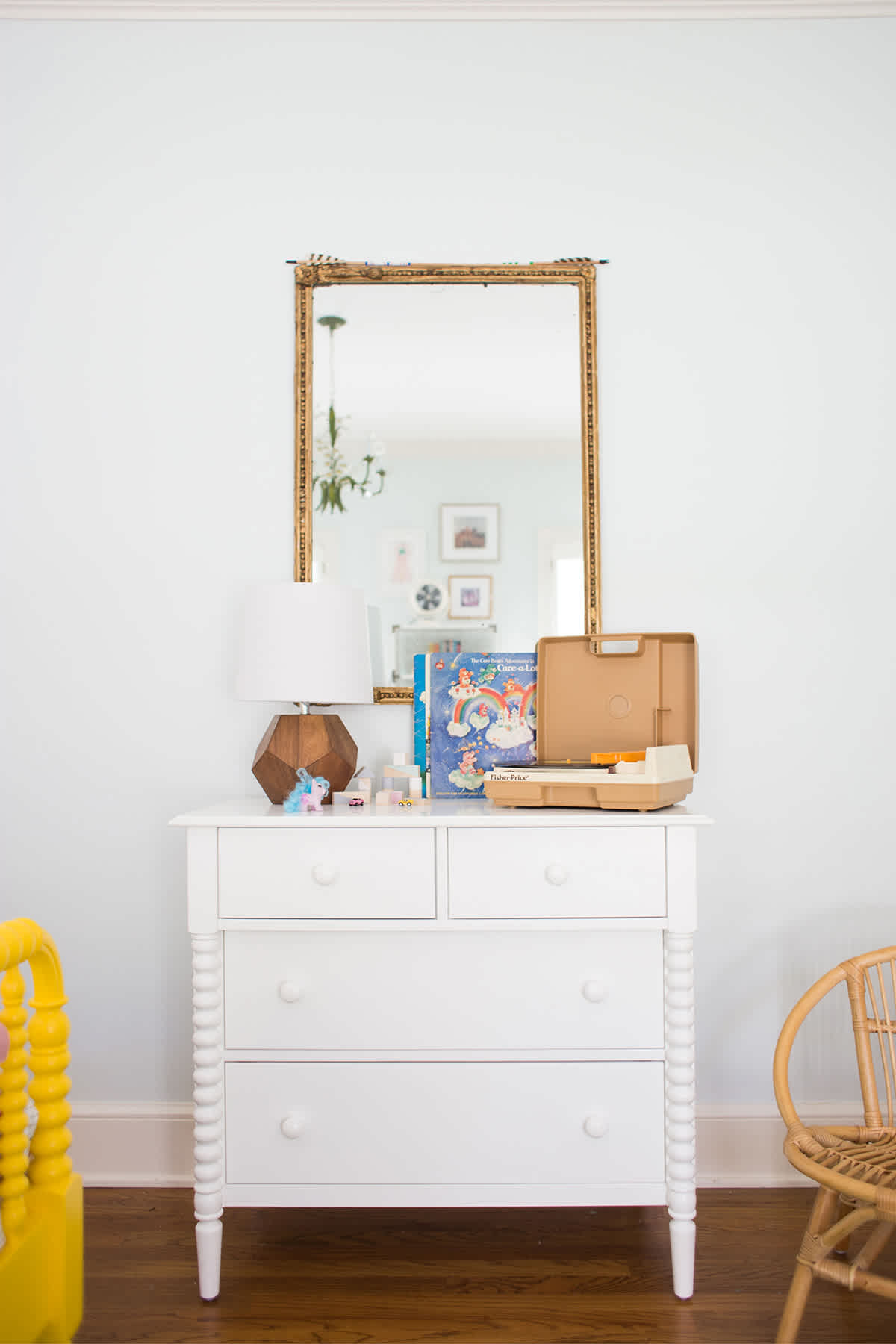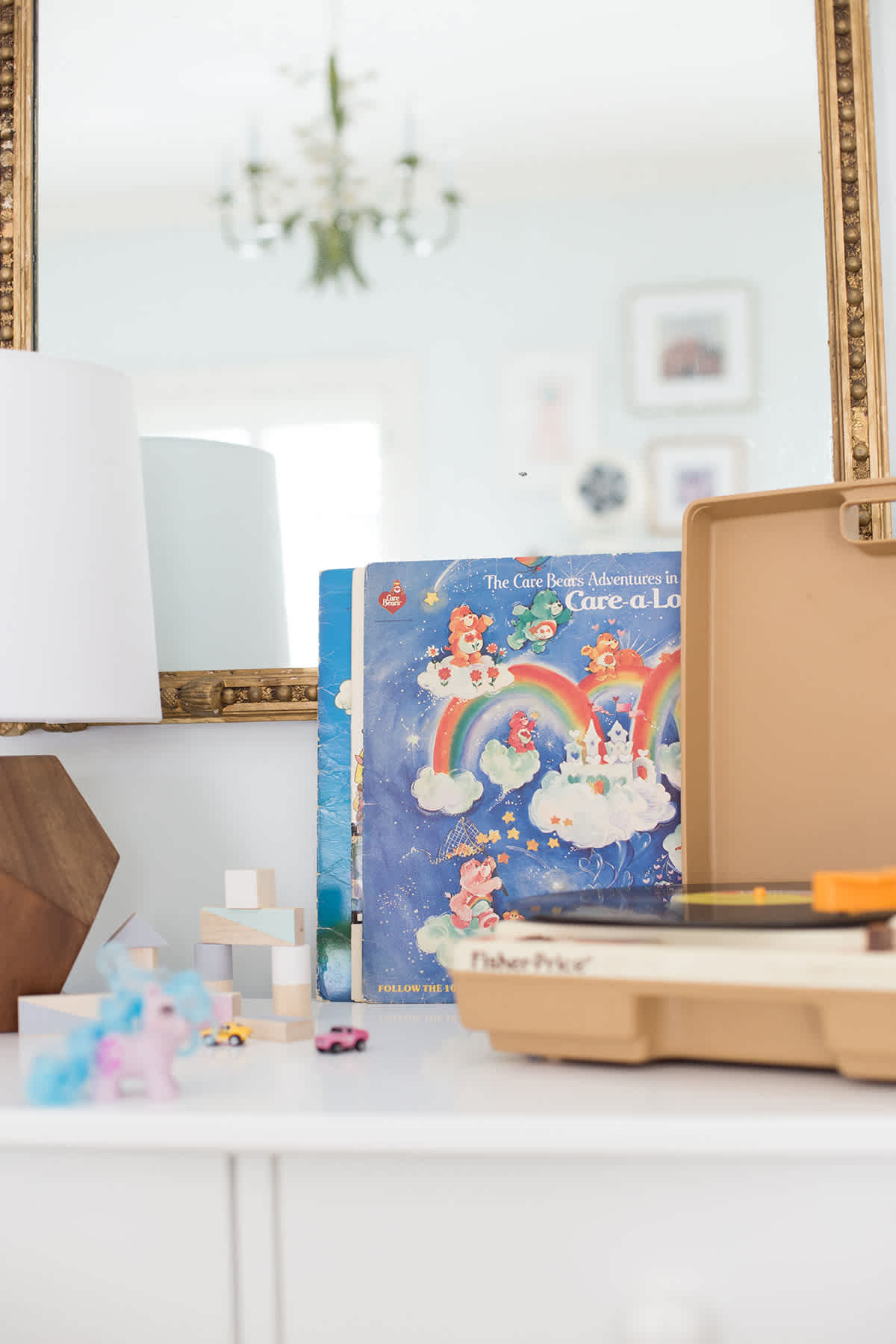 My mom has kept so many things from our childhood, which makes it extra fun for my girls.  It's pretty magical, and I loved putting together a room where there is a place for everything, especially my beloved record player.  I distinctly remember wearing that thing out with my favorite albums.  I paired that sweet Jenny Lind dresser with a vintage mirror, and I love how it adds some texture to the space.
(sources for above:Walnut Lamp; Jenny Lind Dresser; Vintage Record Player; Care Bear Album; Blocks)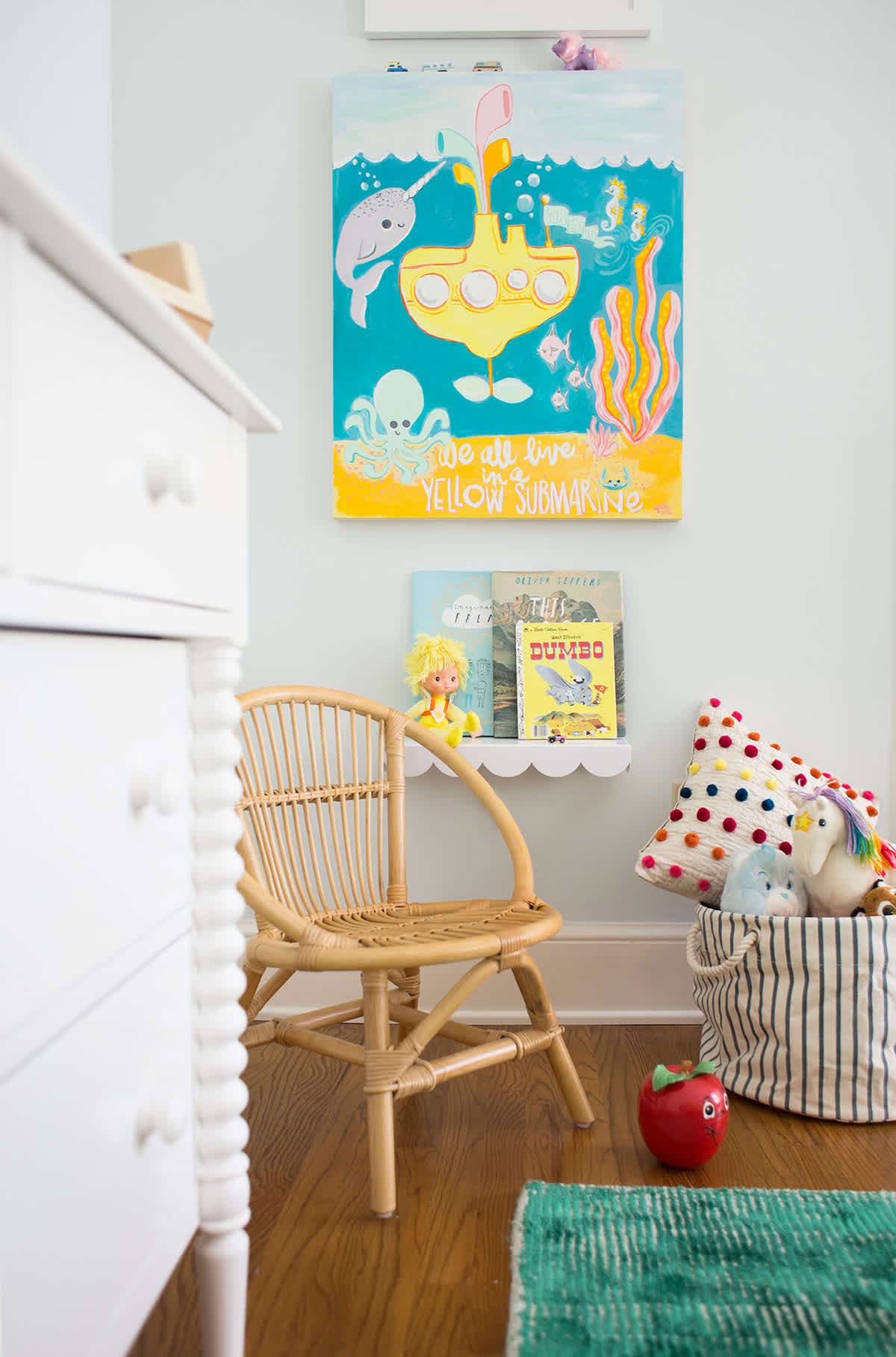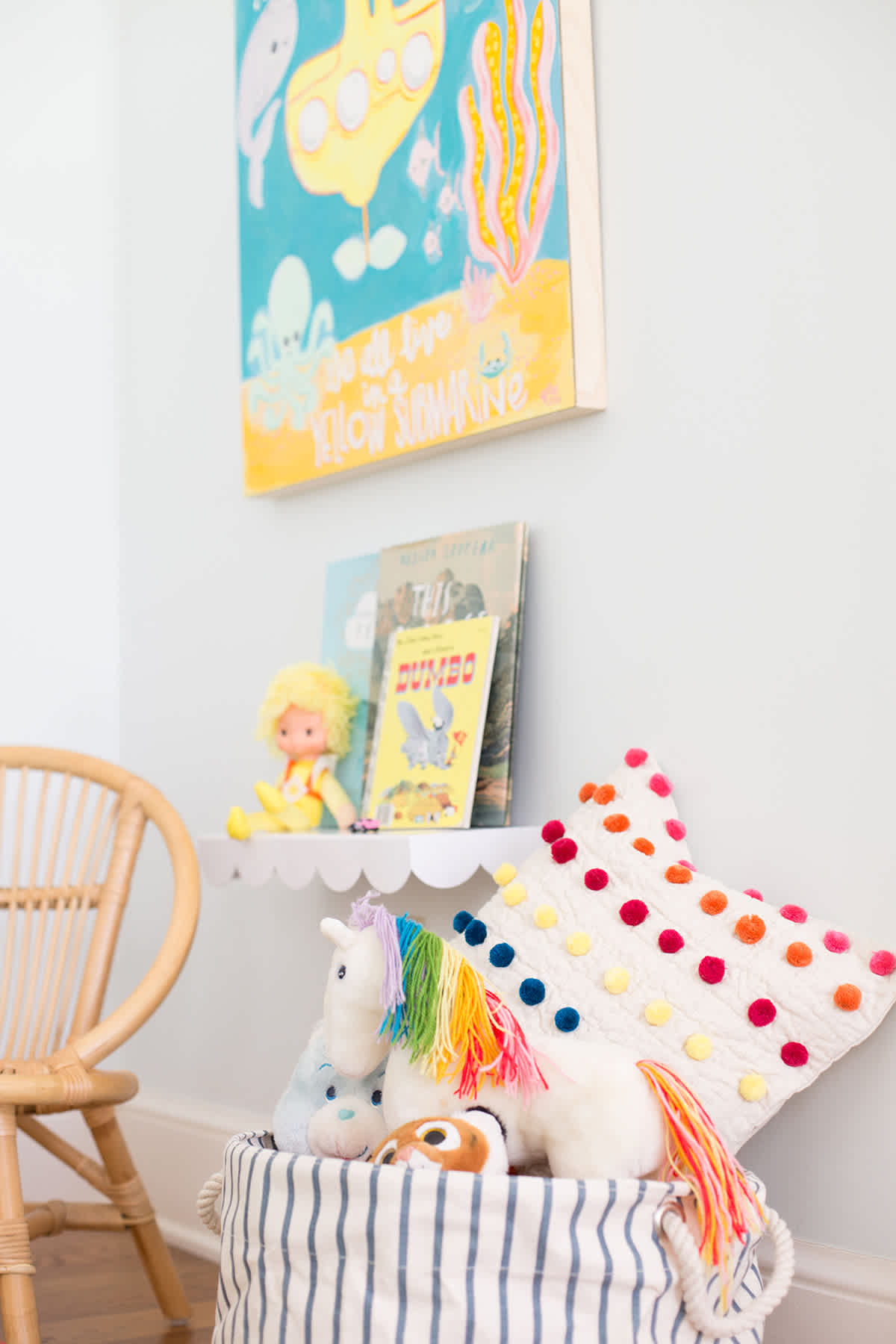 That little chair and low shelf make for the perfect little reading nook, and I had so much fun painting that Yellow Submarine piece.  The girls love talking about the little animals in it!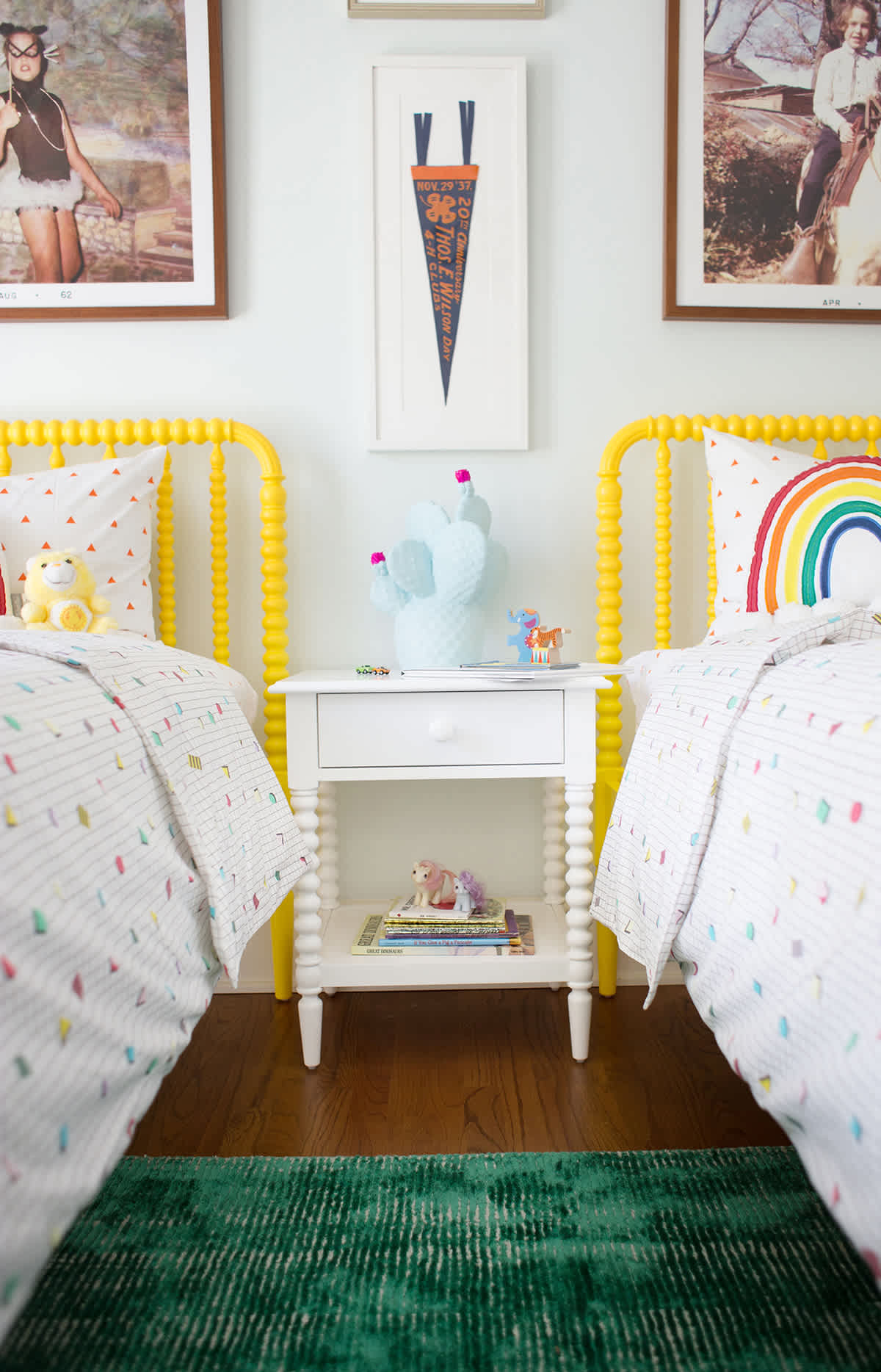 The girls have really taken to having a nightlight lately, and that sweet Goodnight Light is perfect for making the room feel cozy and familiar at night.  And seriously, I adore these beds.  The yellow color is so beautiful, and they are so cheery and happy.  You can't help but feel better if it's been a long day!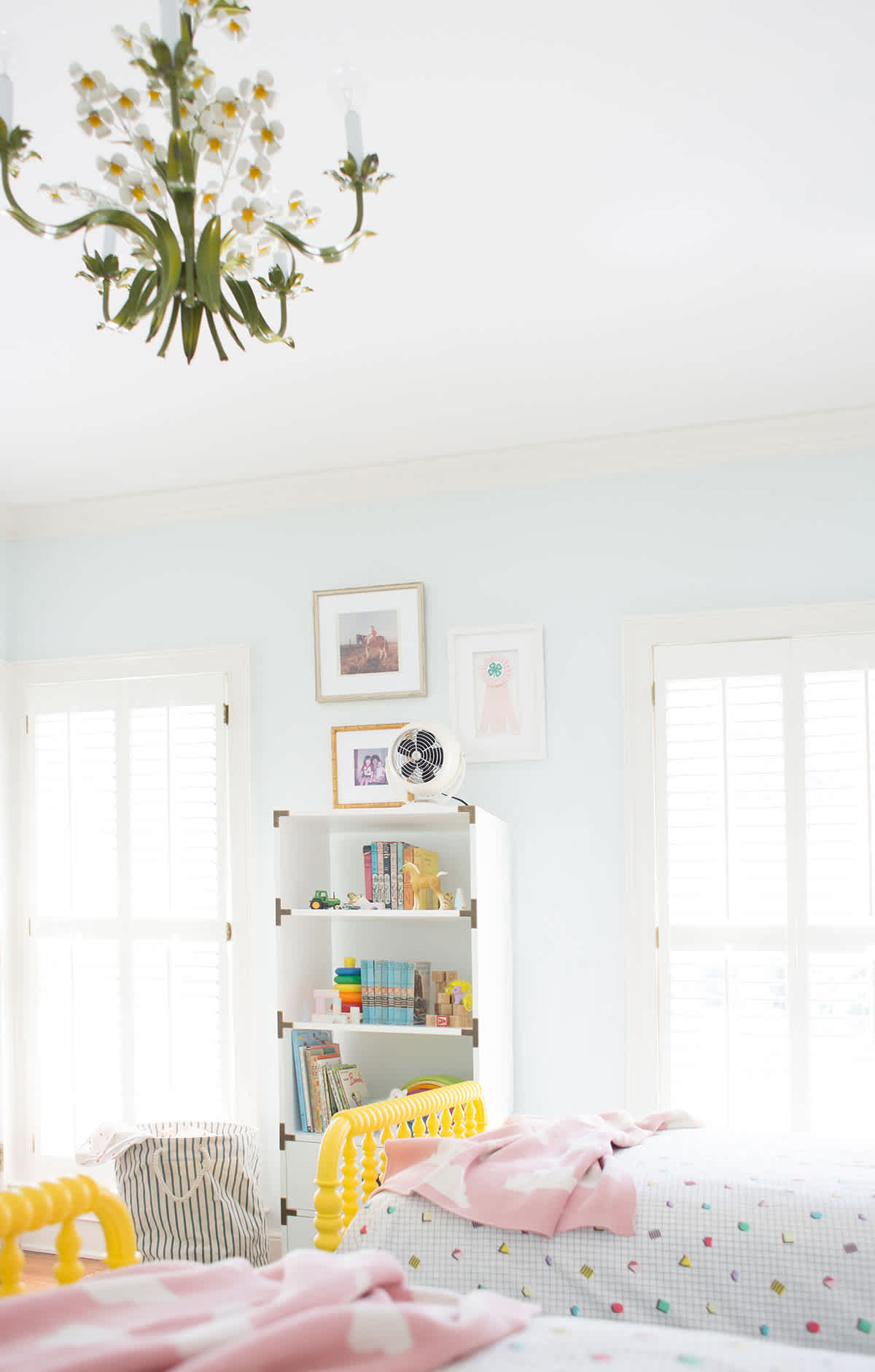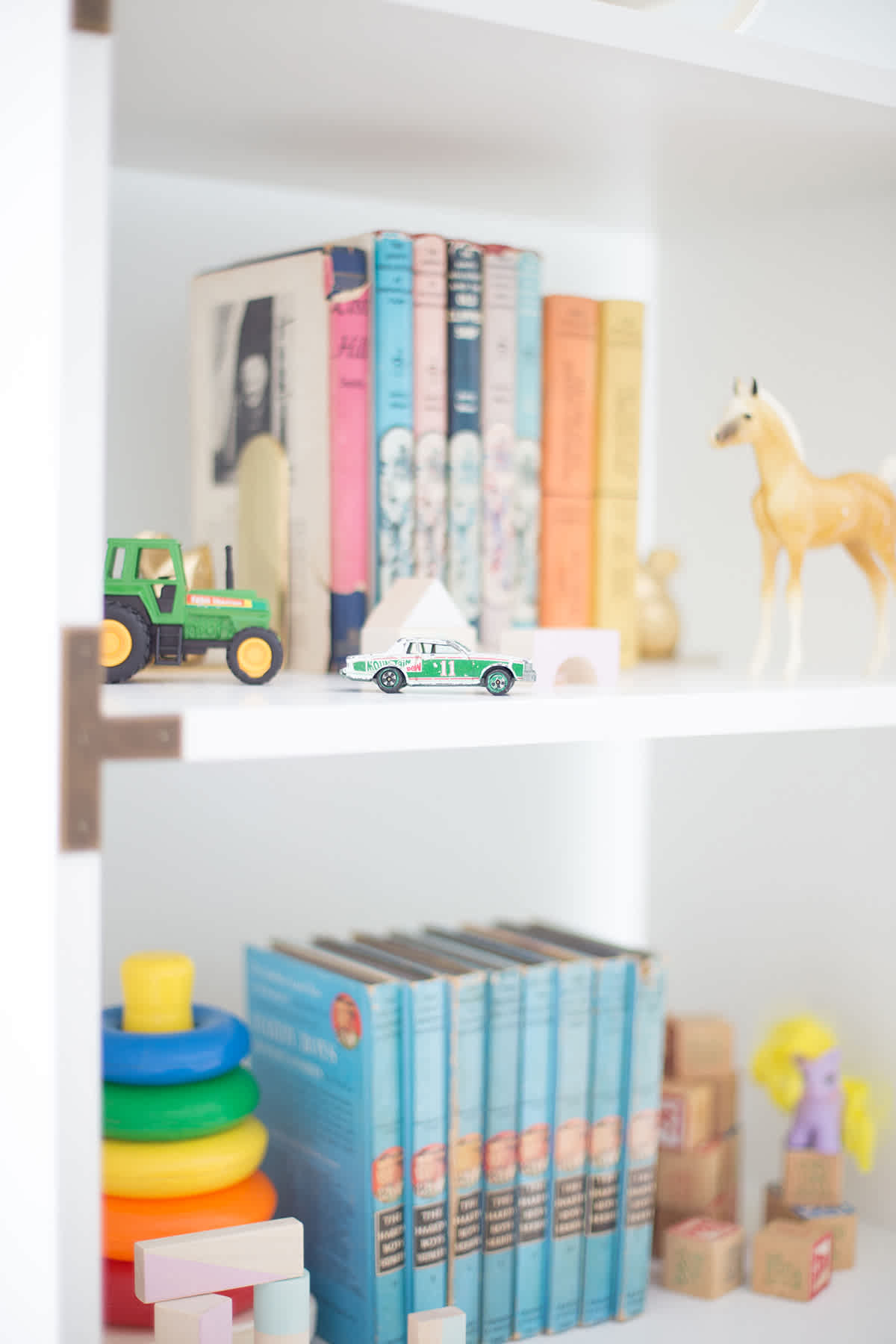 This campaign bookcase is the perfect place for displaying and storing treasures, and I love that it has two drawers for easy hidden storage, and plenty of shelving for books.  It's slim proportions also make it easy to fit in smaller spaces, such as between these two windows.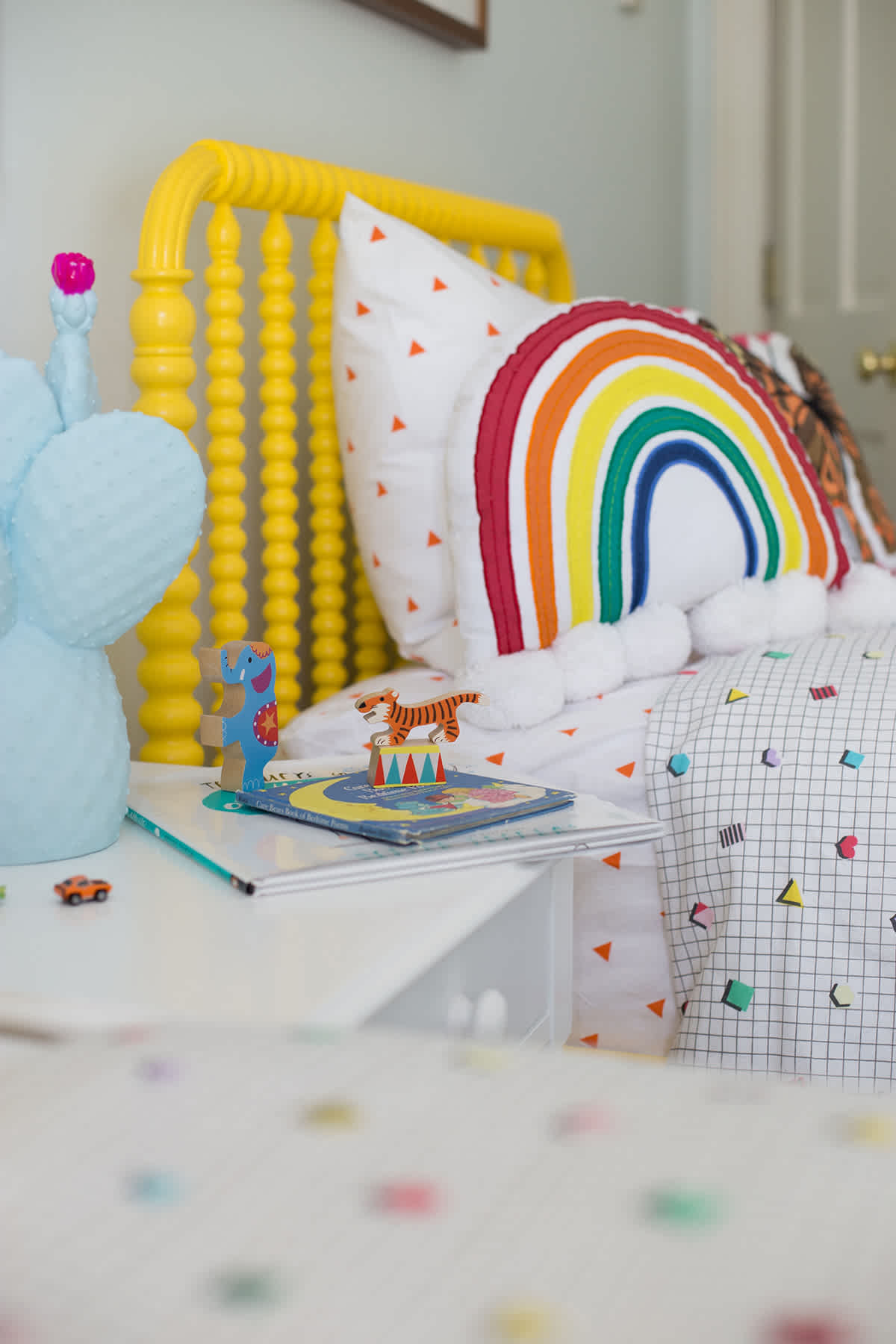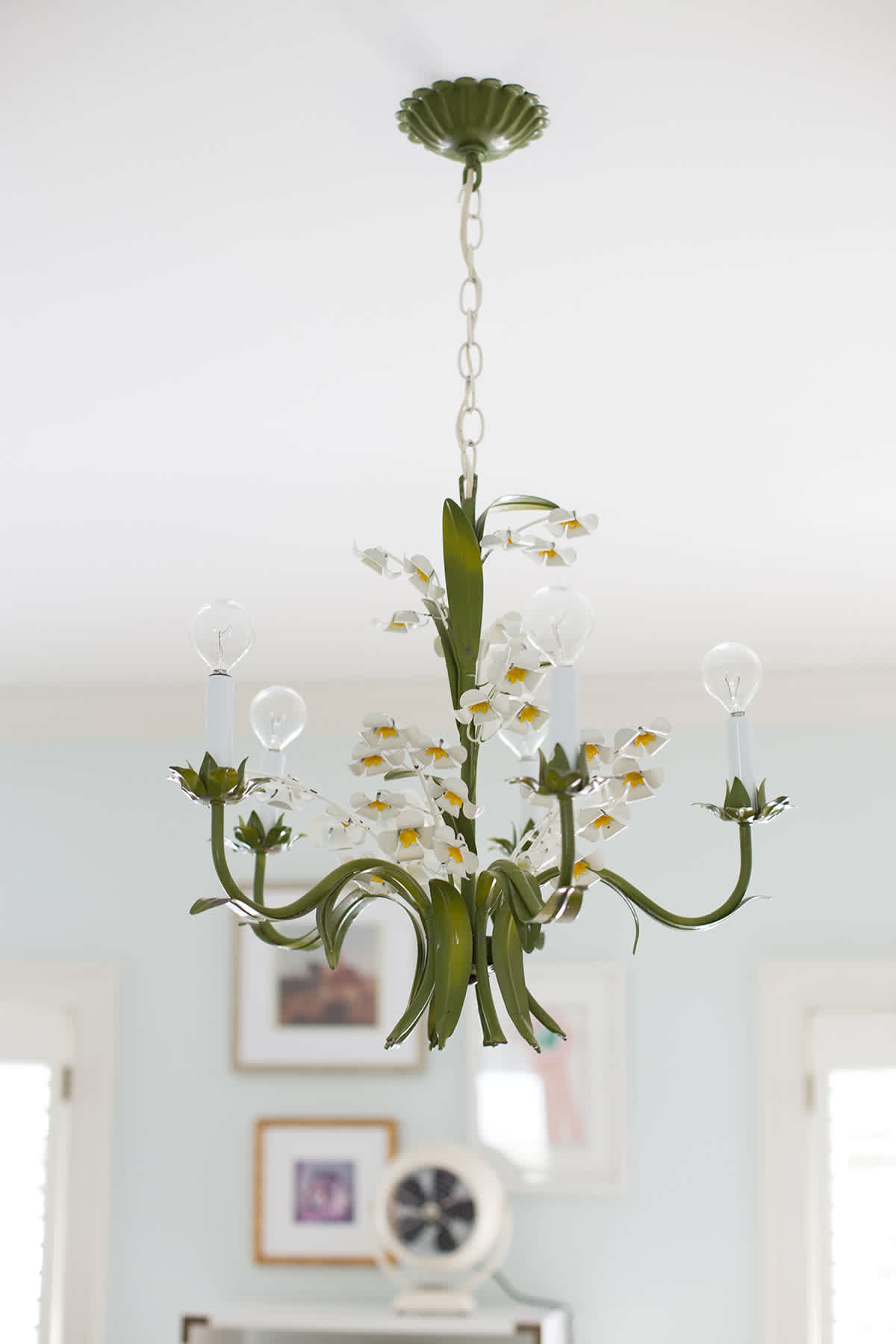 And I love love love this vintage tole chandelier.  I know it skews a little more girly, perhaps, but the bright green color keeps it from being too sweet and ties in well with the rug.  It's called a tole chandelier, and you can often find them at thrift stores and such for pretty reasonable prices (often around $75 or so, which is pretty great for such a large chandelier, I think! There are a bunch on etsy.).  This one reminds me of the lamps in my mother's childhood bedroom, so I thought it was the perfect crowning piece for the room.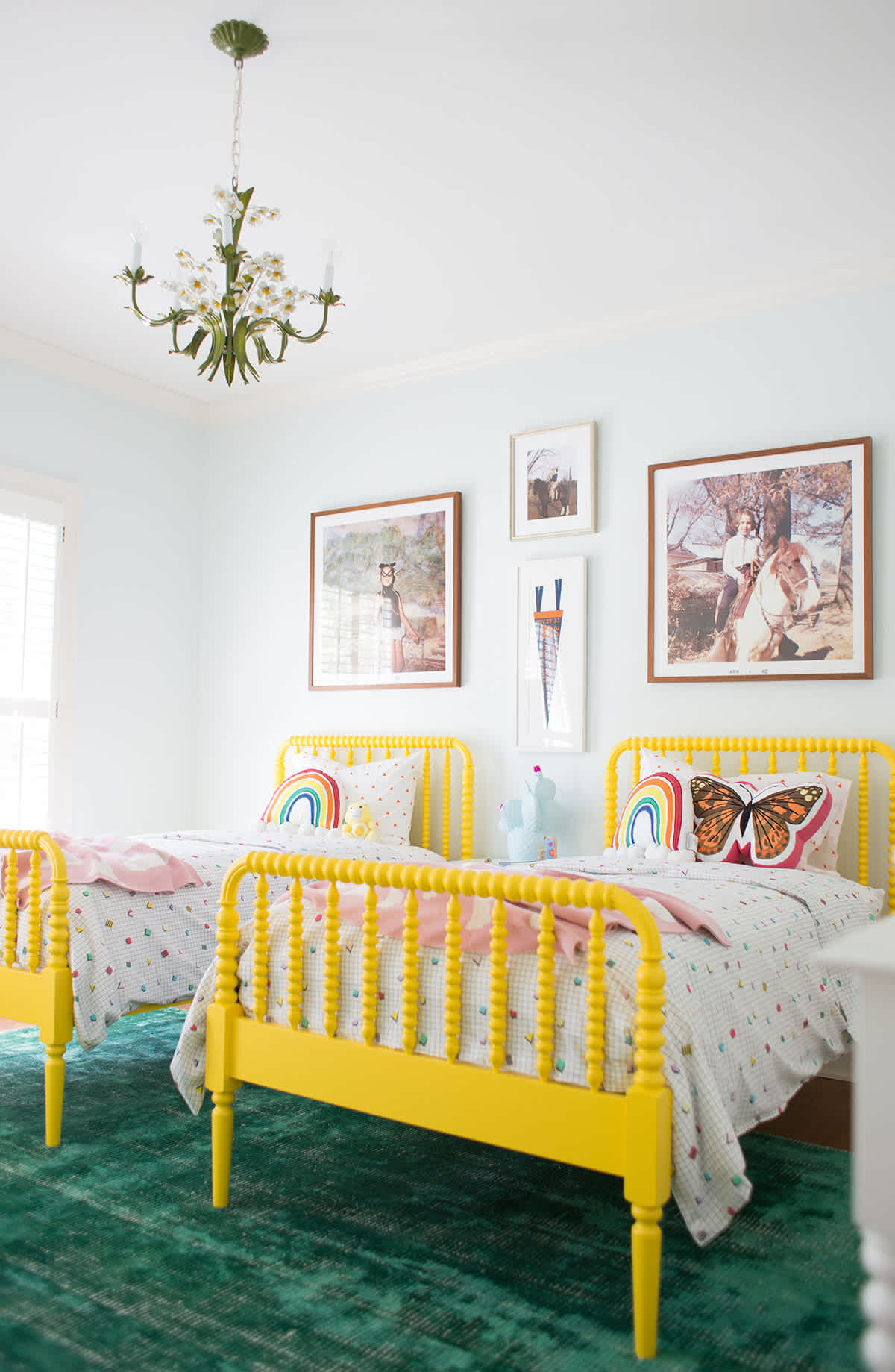 I adore how this room came together; it is such a happy space!  Best of all, the girls and cousin Henry all love it, too.  I am sure there will be many sweet memories made here, and the girls will feel as nostalgic about this room as I already do.  Come back tomorrow to find out more about the photos and other art pieces in this room!  Thanks so much to Crate and Kids for working with me on this, and I hope y'all are inspired!