A Cozy Yellow Reading Nook in a Shared Room for Three Girls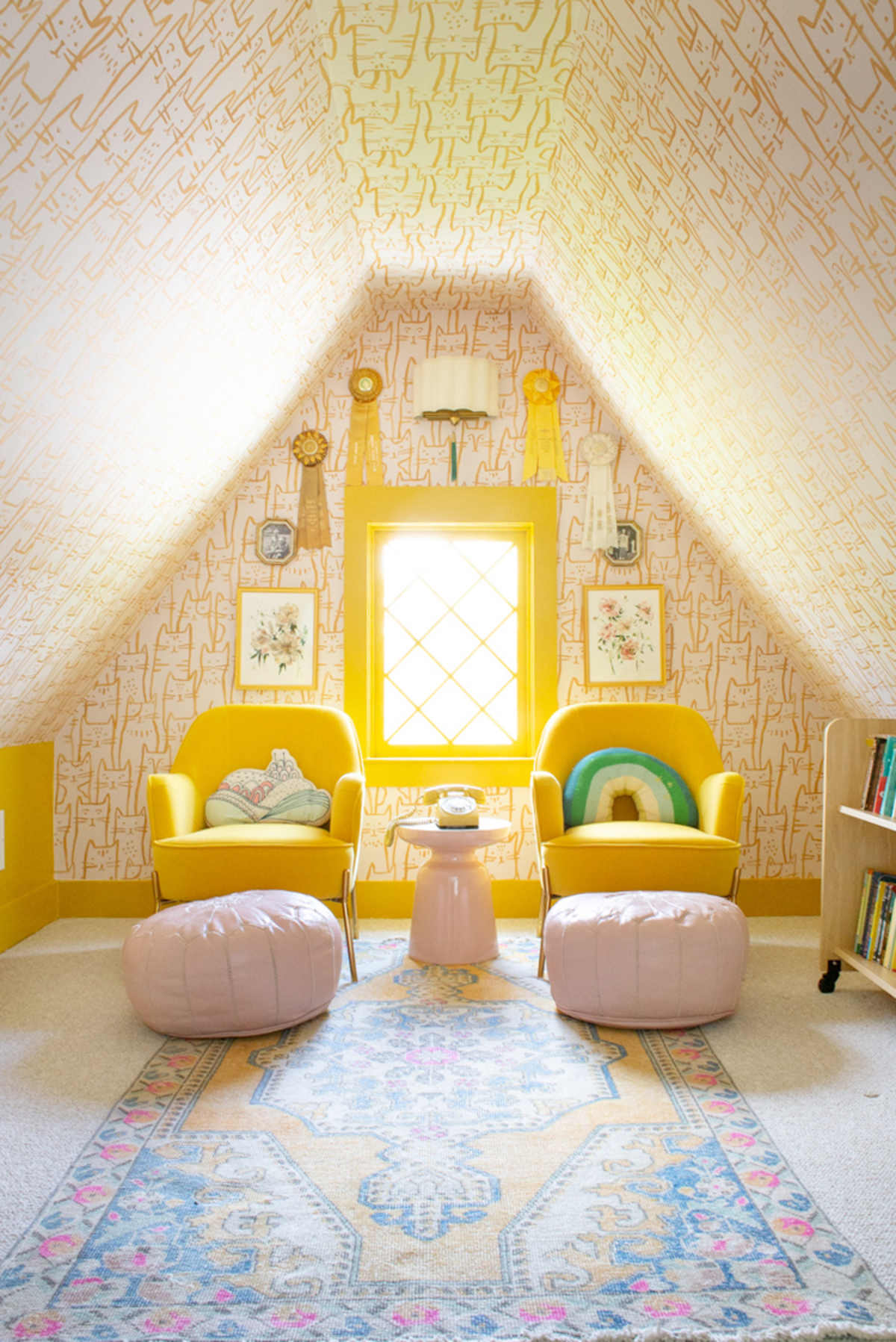 The little nook off to the side of my girls' bedroom is one of my favorite spots in the house; it's like an unexpected surprise, and the dreamiest little place to spend time.
(Pictured Above: Smitten Kitten Wallpaper in Gold; Kelly Ventura Flower Prints; Vintage Horse Ribbons; Dorette Sconce; Yellow Chairs; Pink Poufs; Martini Side Table; Vintage Rotary Phone; Vintage Turkish Rug; Library Cart; Wall Color is Sherwin Williams Glitzy Gold)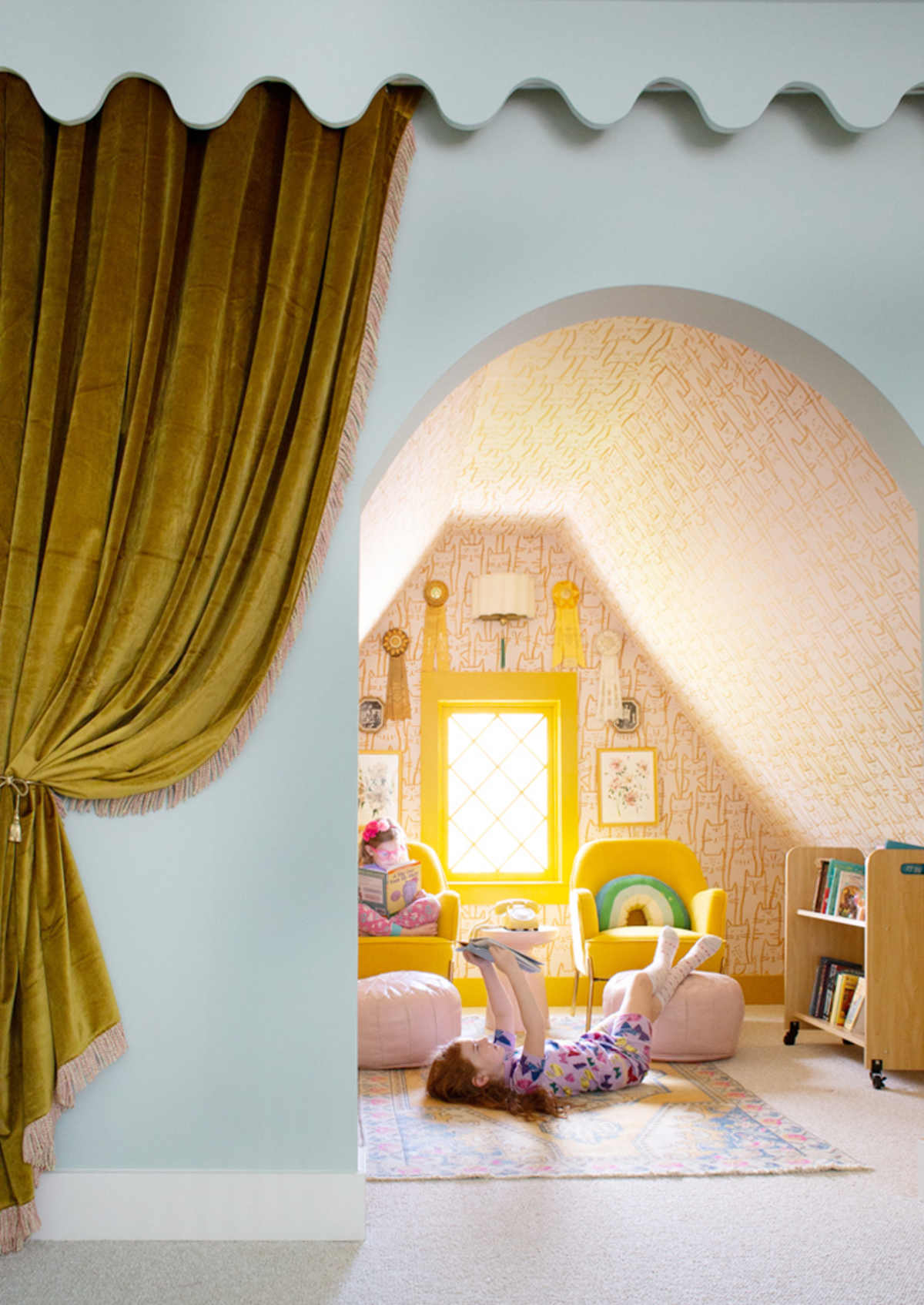 Since our three oldest girls, ages 9, 7, and 4, share this room, it's been especially helpful to have a little space where the two biggest can sneak off to when the youngest falls asleep.
(Pictured Above: Gold Velvet Curtains with Fringe Trim; Blue Wall Color is Copen Blue by Sherwin Williams)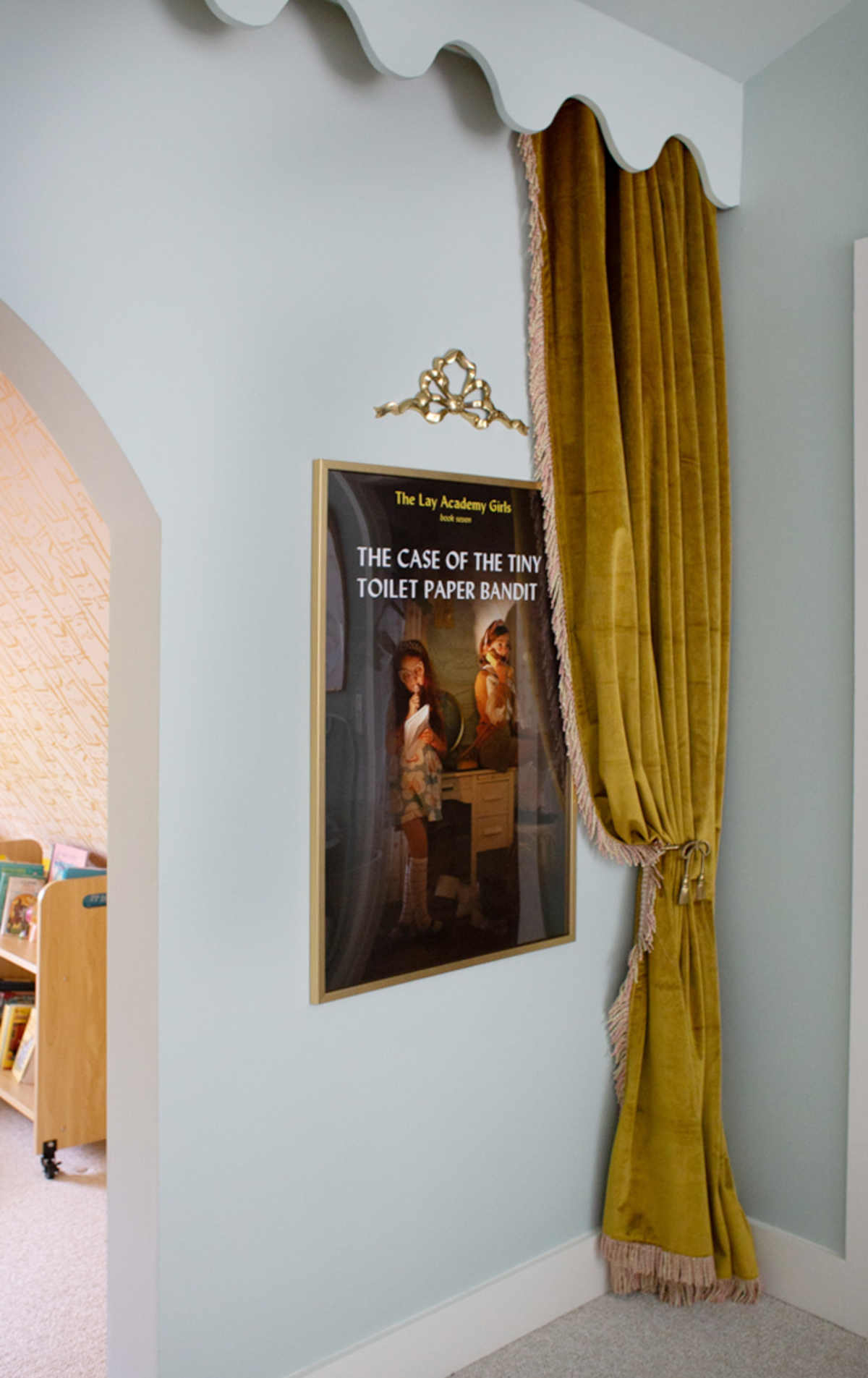 During this crazy quarantine season where we have very little time away from our kids, we've been pretty serious about bedtime, simply because we need a little quiet in the evenings.
(Sources for above: Vintage Brass Curtain Tie Backs; Vintage Brass Bow Wall Hanging; Large Poster Frame)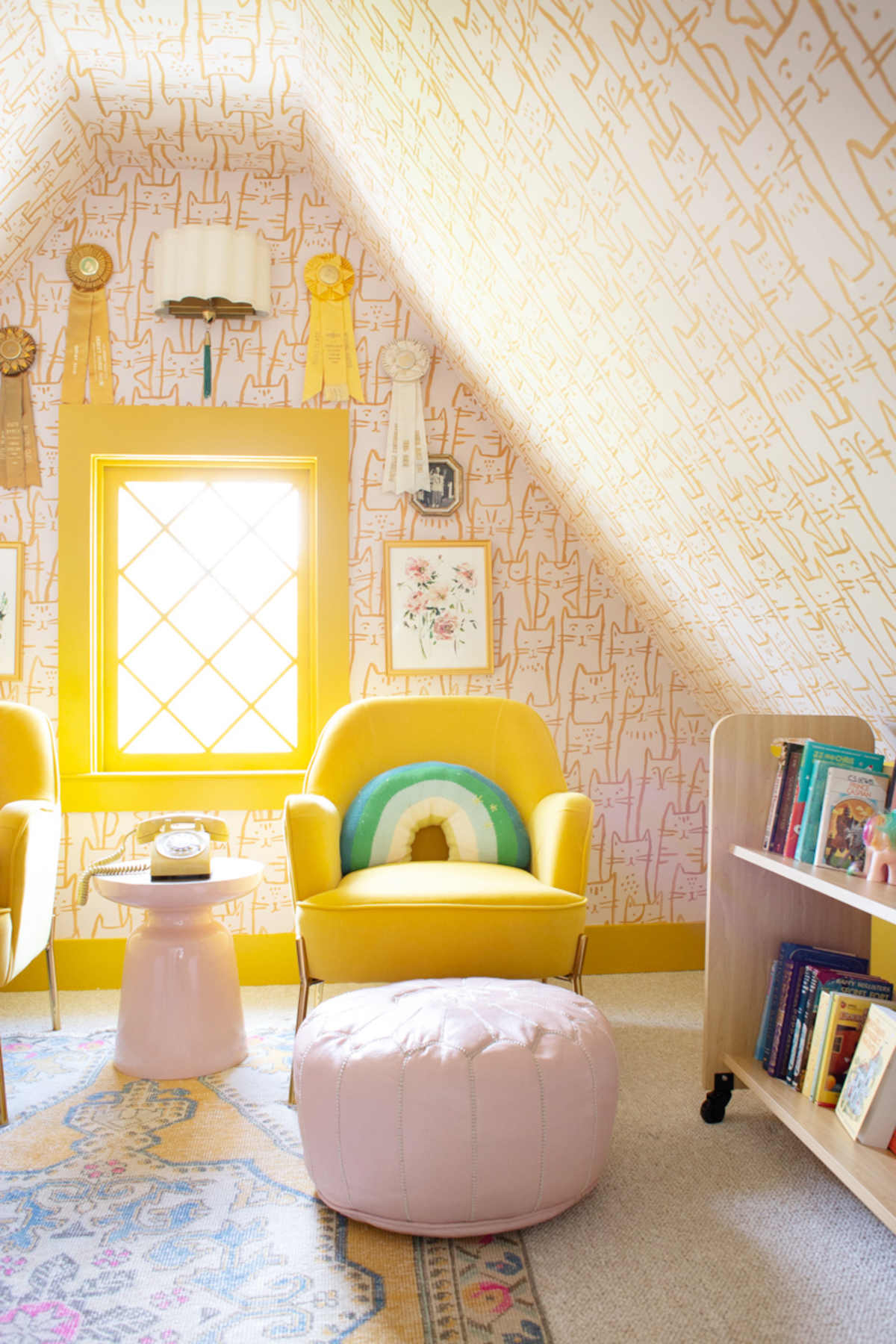 By giving the big girls a dedicated space where they can have fun in their room, we can have some quiet in the evenings to get things done around the house, have a little date night, or just have a moment to replenish our parental sanity.
Because there is no door to this nook, I enlisted the help of my dad to build that custom piece of trim above the arch to hide a very long curtain rod. I bought four panels of these curtains (the same ones we used on the play stage) and stitched two pairs together, so they can be drawn together at night to keep their room dark (plus it makes an extra fun little hideaway in the nook when they are closed!).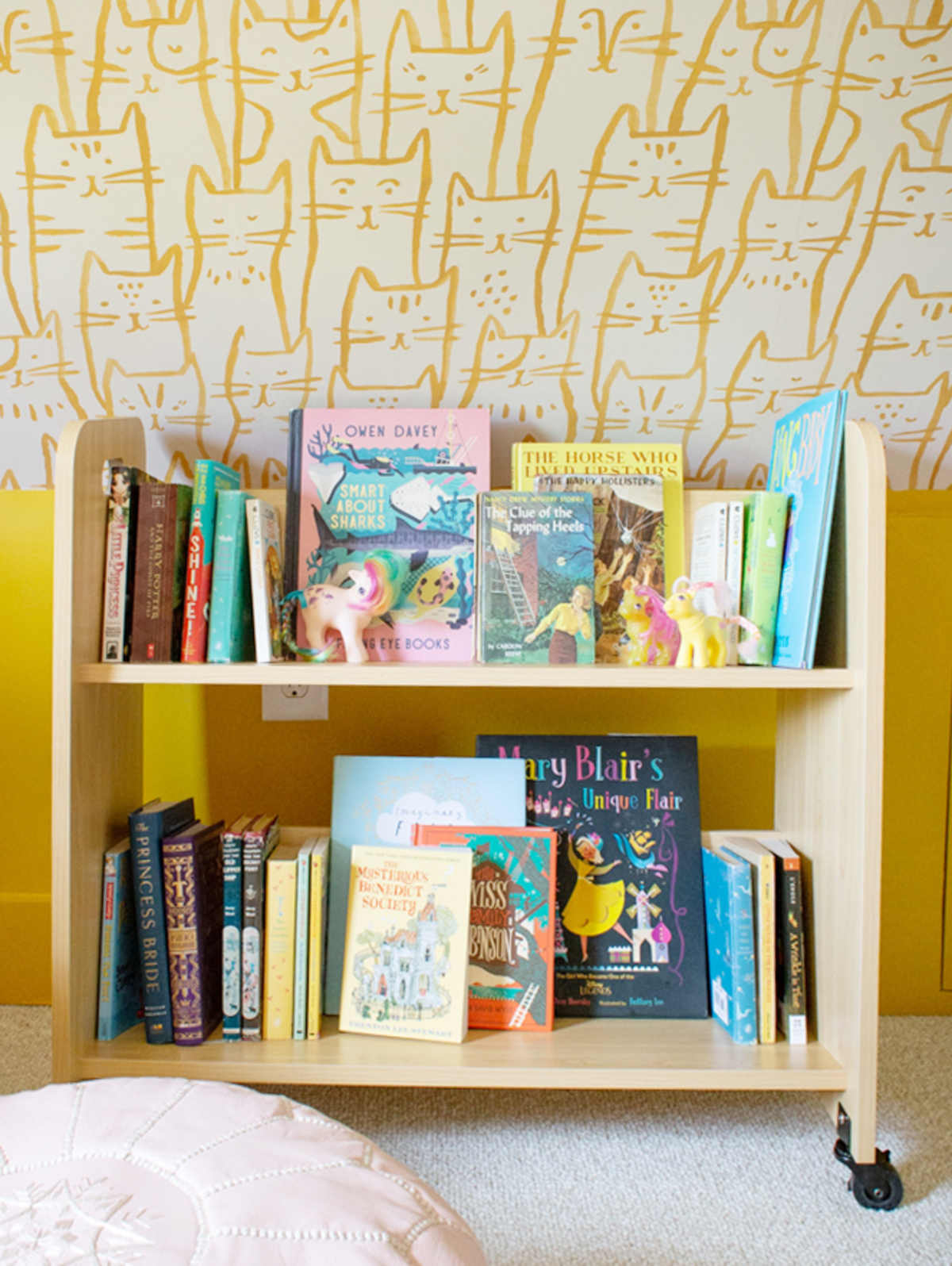 (Books above: Smart About Sharks; King Baby; Mysterious Benedict Society; Imaginary Fred; Mary Blair's Unique Flair; Library Cart)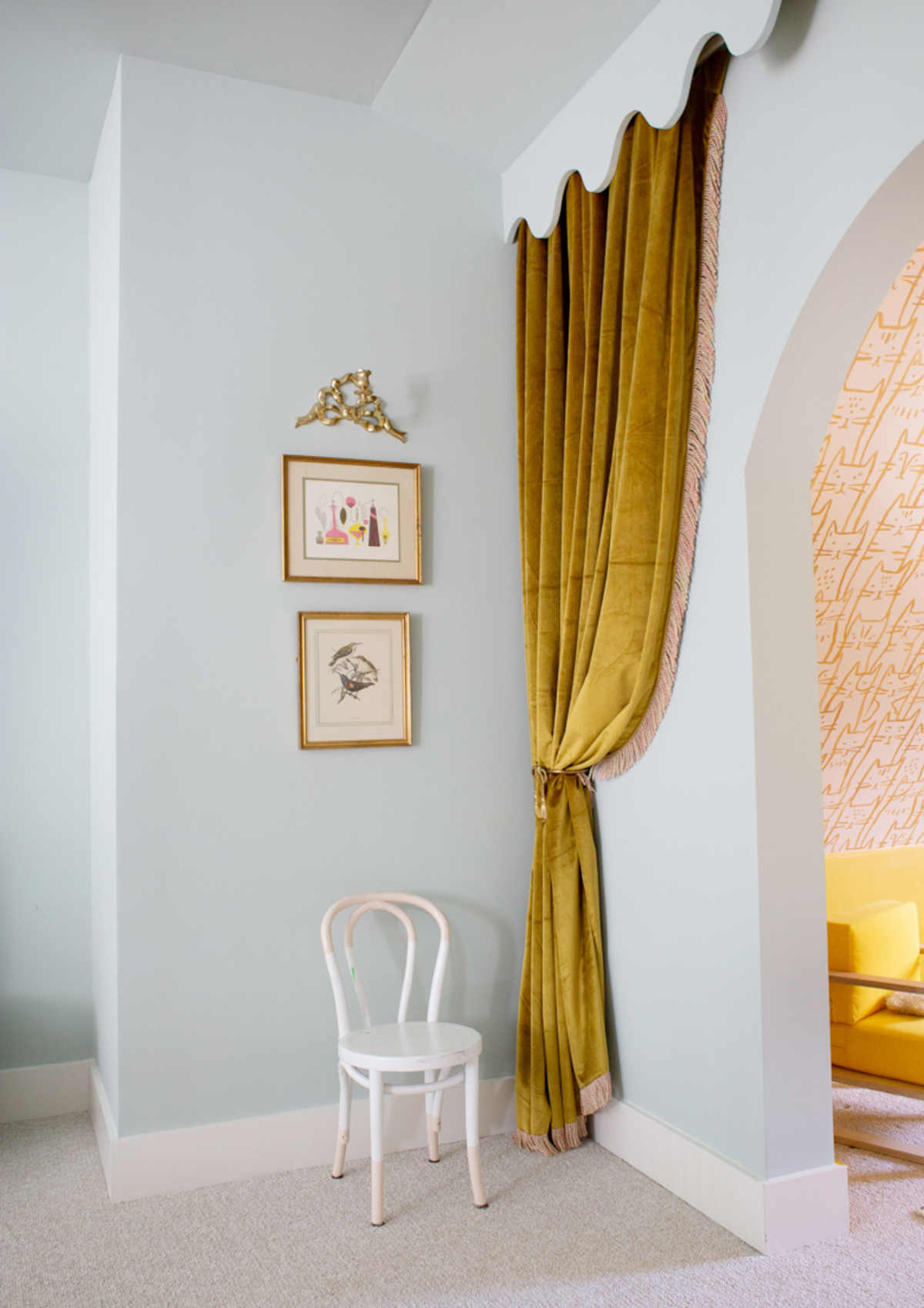 I used this amazing gold Smitten Kitten peel and stick wallpaper (remember the puppy wallpaper I used in the rental house?), which looks fantastic, and painted the trim on the window and baseboards and other parts of the wall in Glitzy Gold by Sherwin Williams. I thought yellow would be a really fun surprise pop of color to contrast with their blue bedroom, and using a pattern makes it a little more subtle than painting all of the walls a solid color.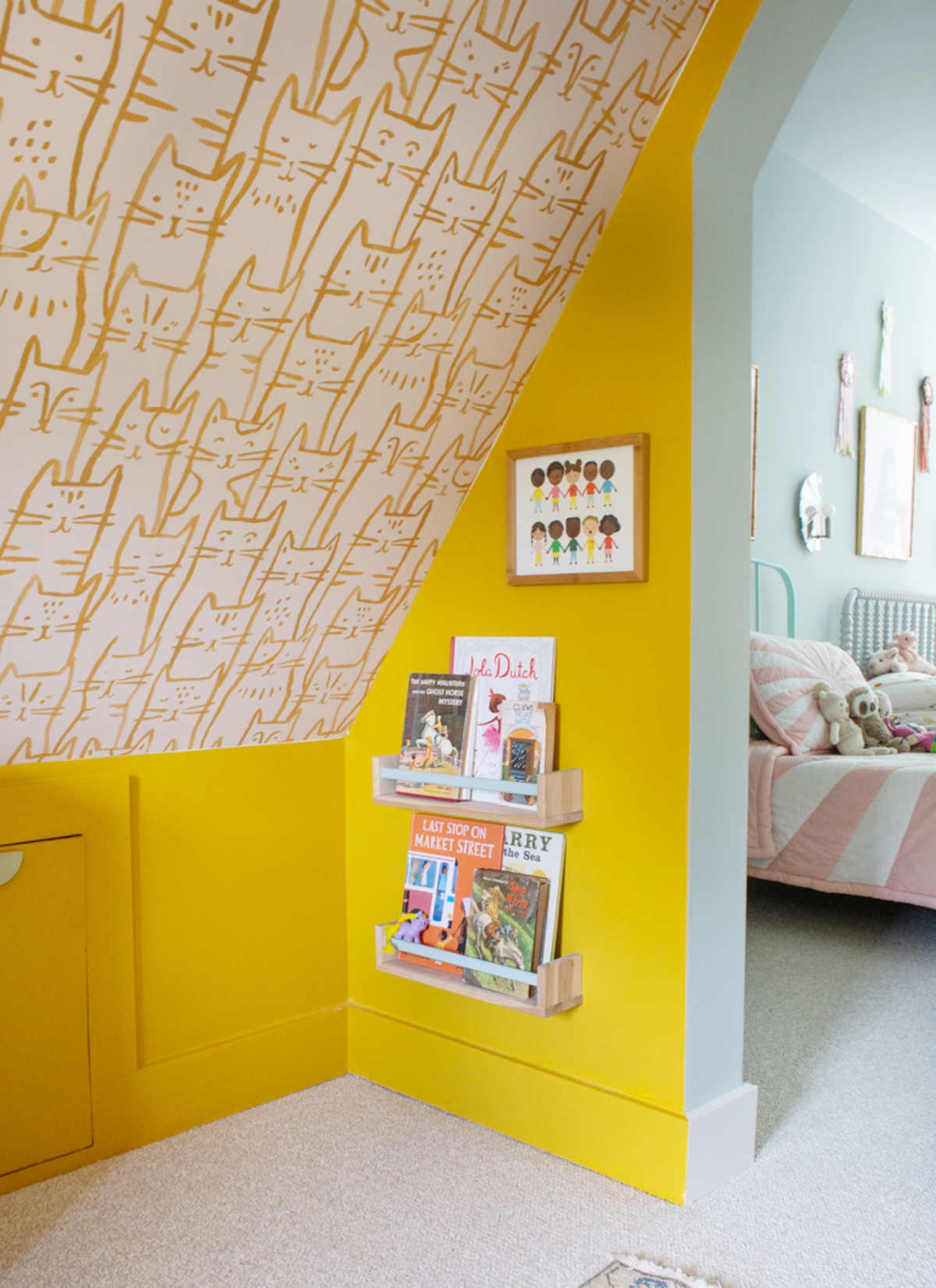 I re-used these IKEA spice shelves from Ellie's nursery for extra book storage on either sides of the arch (see their bedroom peeking through the nook?).
(Pictured Above: See Us, Hear Us, Love Us Print; Lola Dutch; Last Stop on Market Street; Shelves)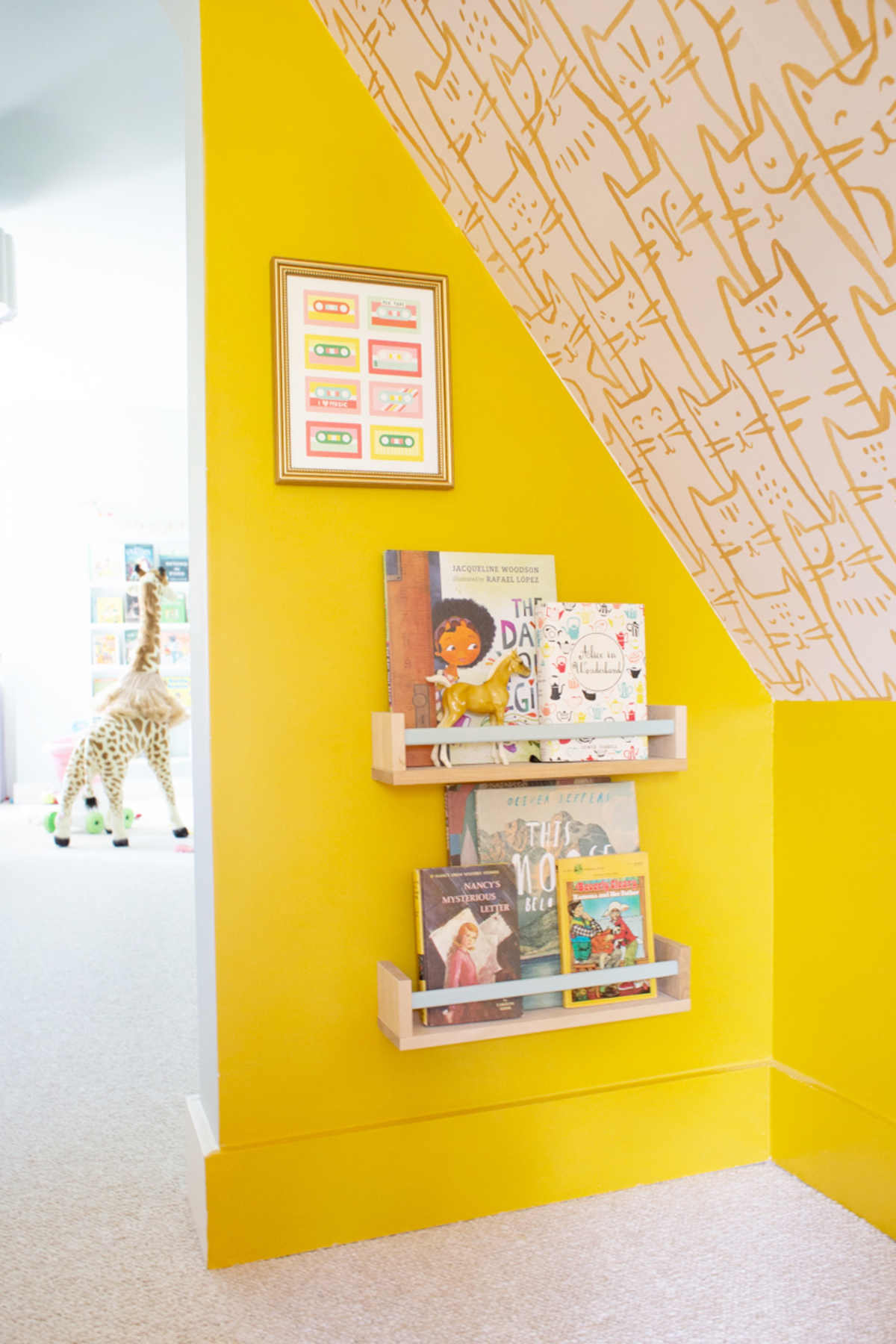 The girls have loved this space as much as I have, and it's been such a fun little room to put together for them. I mentioned this in my post about the house layout, but this was originally in the plans as a closet with the window walled off (???), but after walking the house when it was framed, there was no question as to whether we should make it a part of their bedroom.
(Pictured Above: Mixtapes Print; The Day You Begin; This Moose Belongs to Me)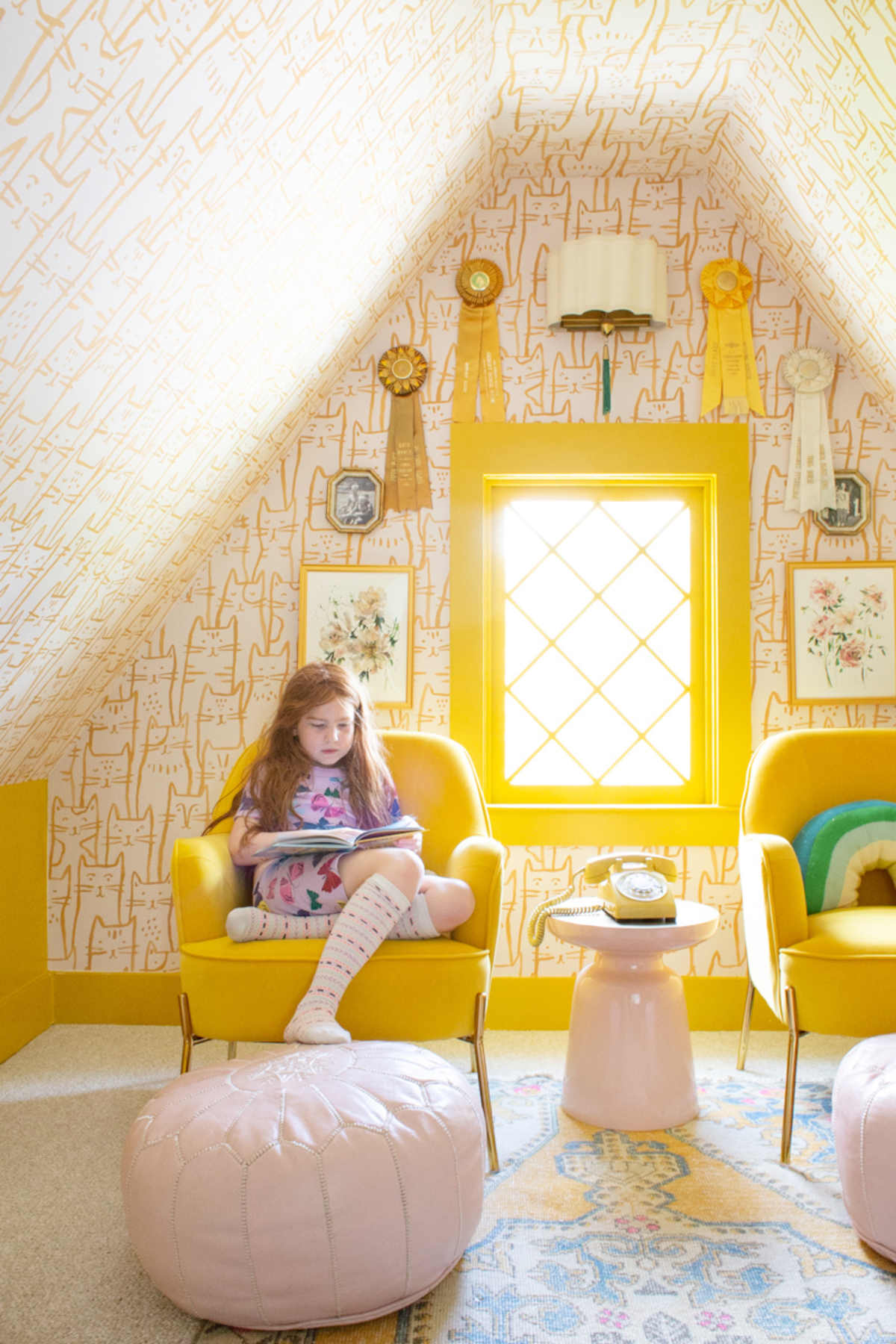 I can't wait to share the rest of their room! I'm still working on a few things in there, but I love having them all share.