A Blue Kitchen Renovation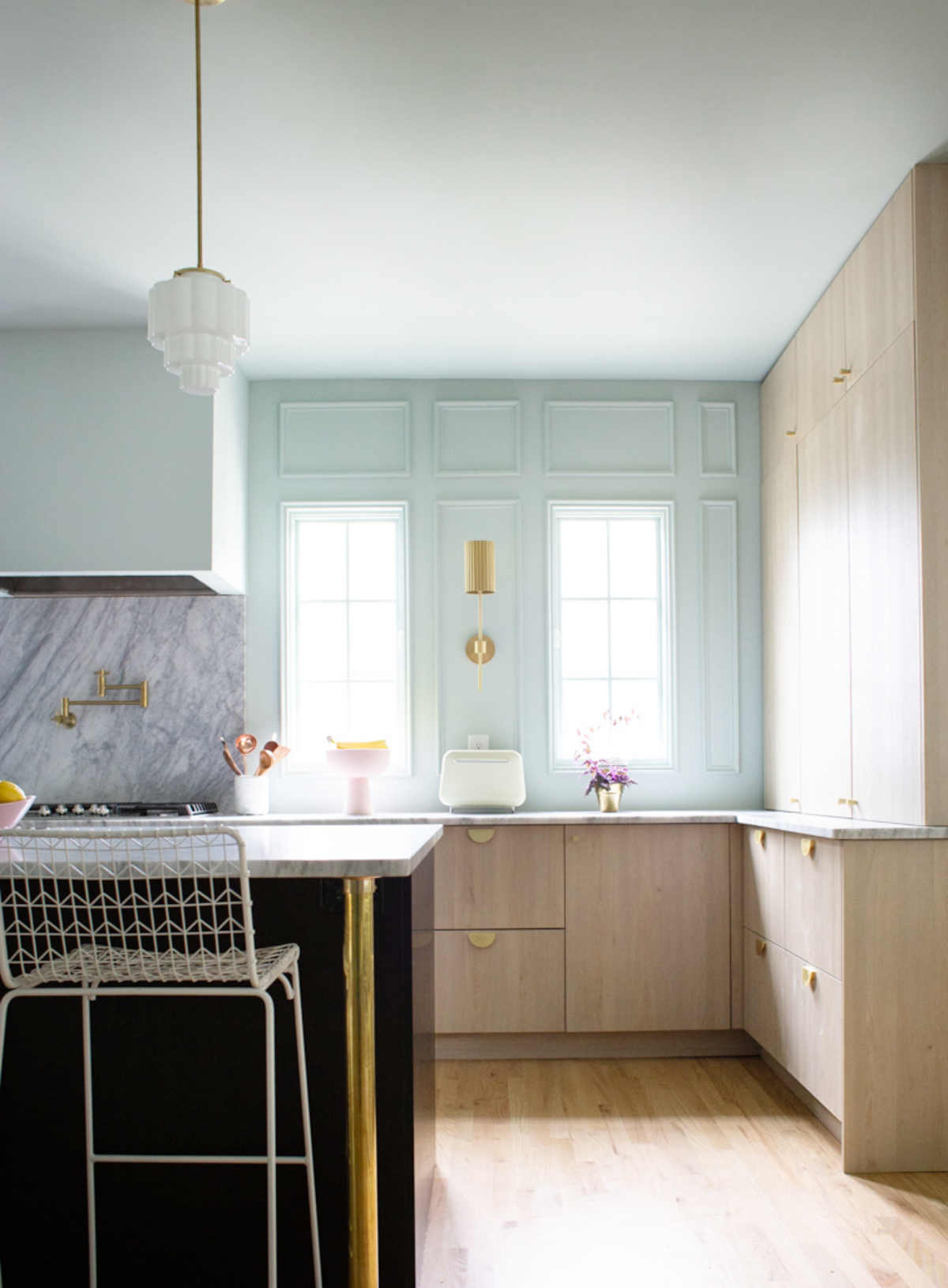 I am so excited to finally be sharing the kitchen in our house with y'all! I love this space so much, and it makes me so so happy. (P.S. Check out this post if you want to hear more about why we went with marble counters - I couldn't fit it all here!)
(A few notes - the stools are too tall for this space; they are inexpensive ones - the barstool version of these in white that we bought for our rental house that had a bar height island, but we are waiting a bit before we buy new ones since these are working okay for the girls right now! I'm planning to get some fun yellow ones! The walls and ceiling are Copen Blue by Sherwin Williams. Also here are some of the sources for the items above: (1) Brass Pole Support; (2) Similar Stools; (3) Brass Drawer Pulls; (4) Brass Knobs; (5) Similar Bread Bin; (6) Similar Pink Vintage Kitchen Dishes; (7) Marble Utensil Organizer; (8) Wedding Cake Pendants; (9) Brass Wall Sconces; (10) Wooden Utensils)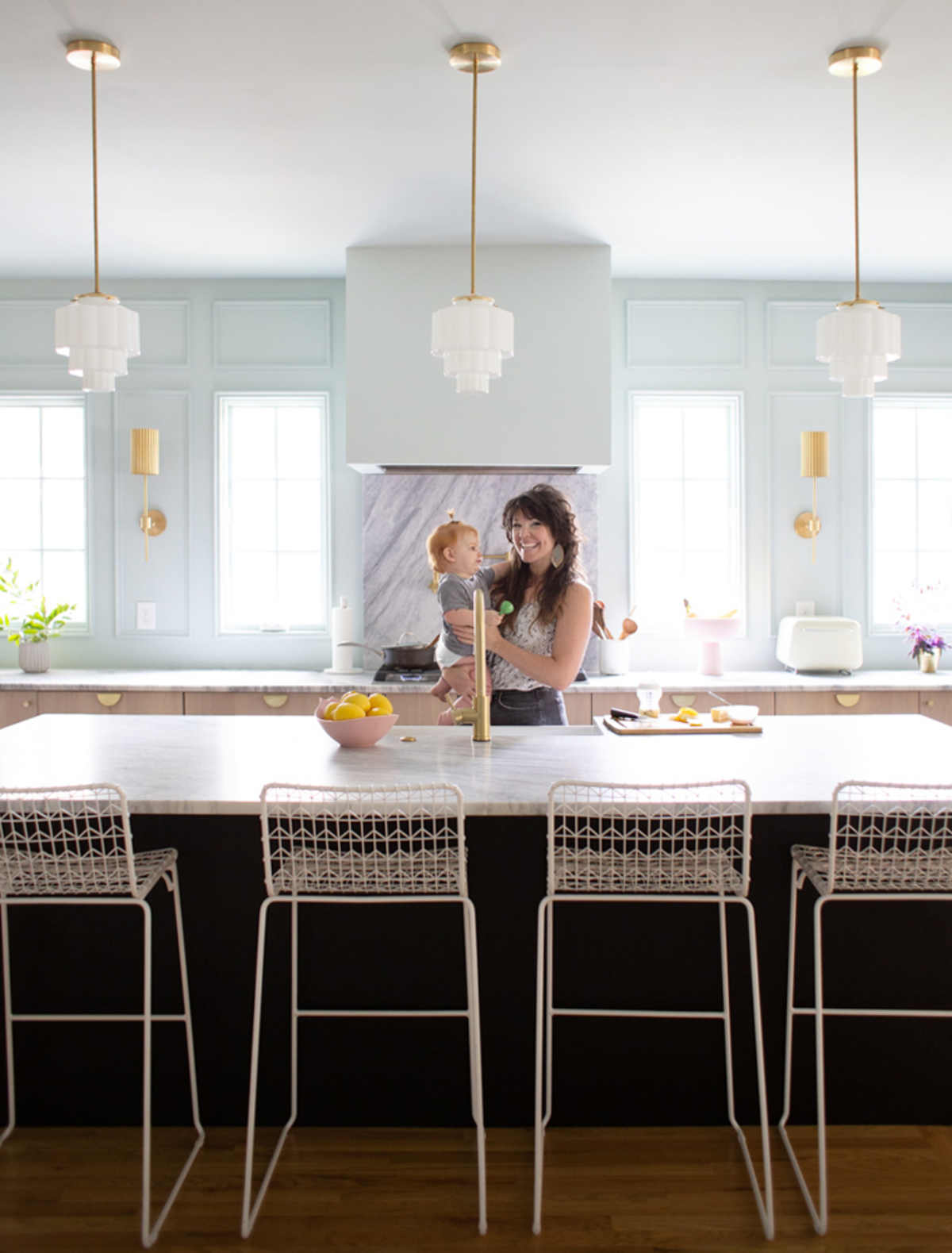 The kitchen is in the middle of our house (you can look at this post to get a better idea of the floor plan and how everything is laid out). Our main floor is very open, so it's connected to the living space, the library space, and we will have a table right in front of that island for dining.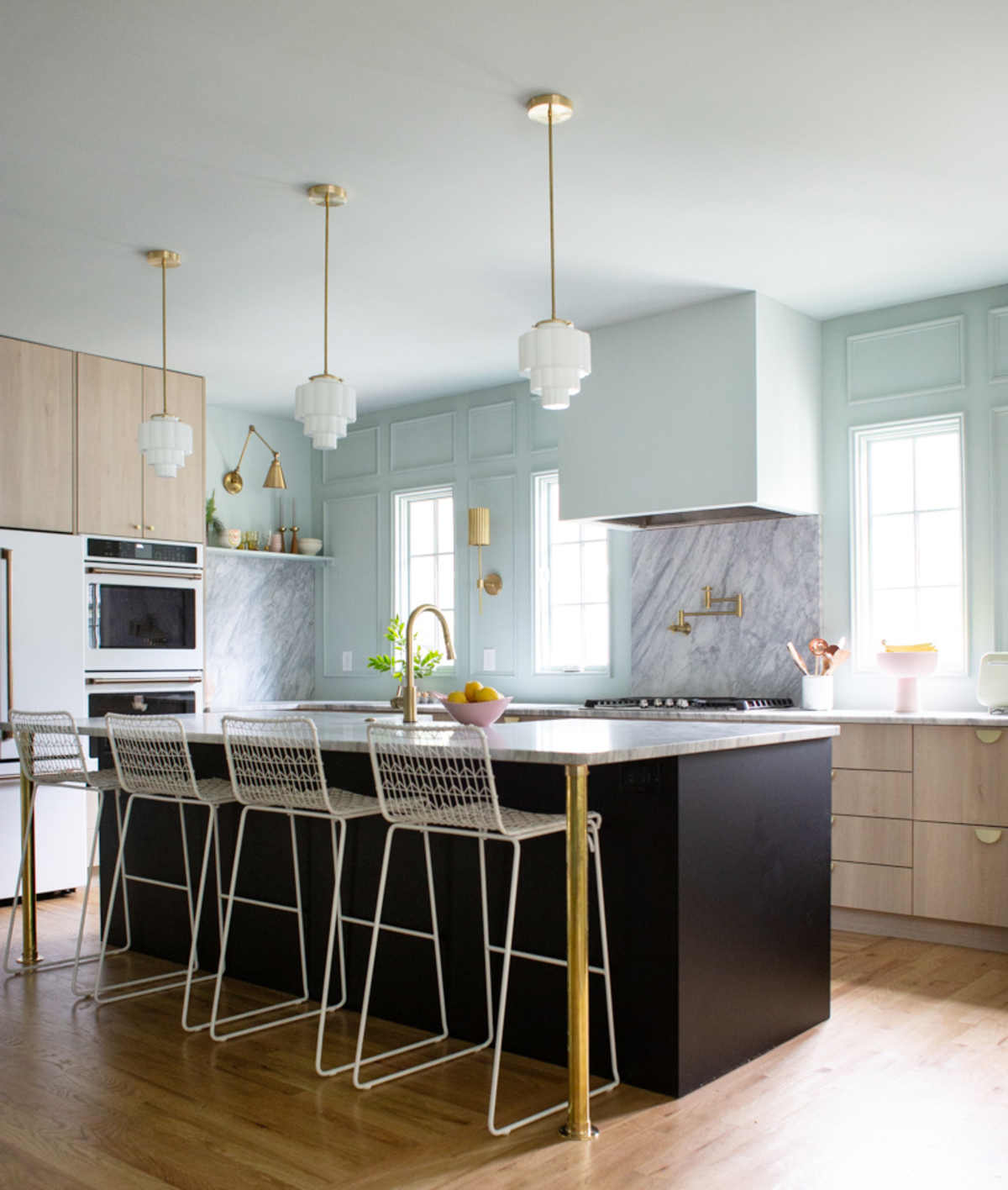 Because of that, I felt a lot of pressure to get it just right. It's very literally the heart of our home, and can be seen from almost anywhere.
One of the biggest reasons we wanted to renovate our home is that we love hosting and having parties, and our house simply couldn't accommodate that very well. Since we now have four girls of our own, our family takes up quite a bit of space when we sit down to eat, and we are outgrowing the little 48" round table we have been using for four years now.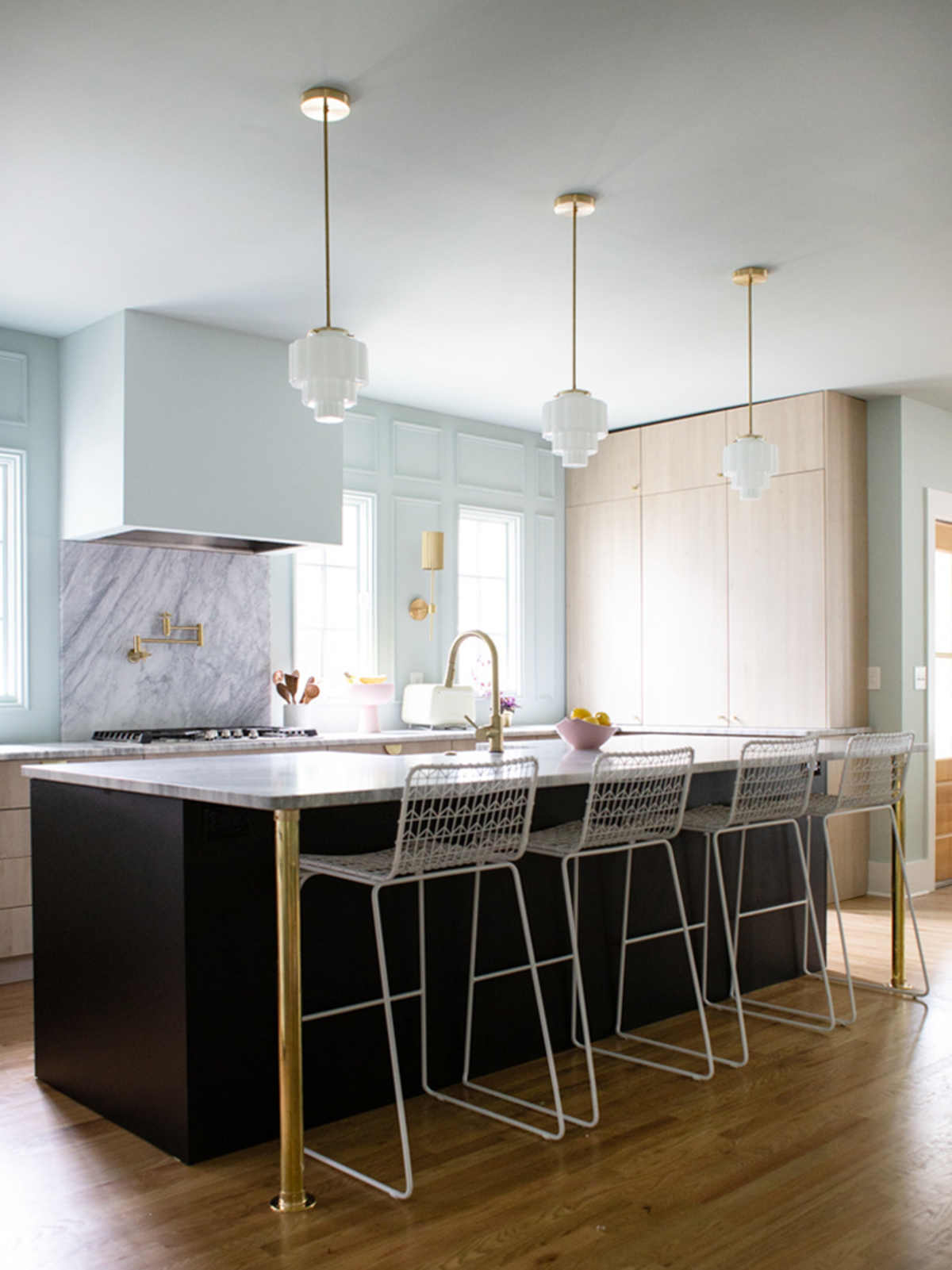 That being said, I kind of wanted the kitchen to feel like a restaurant. In an inviting "I want to stay here and enjoy myself," kind of way. We were so grateful to have the opportunity to renovate our kitchen four years ago, and I loved that kitchen so much, but it was great to have that learning experience to know a little bit about what would work well for us.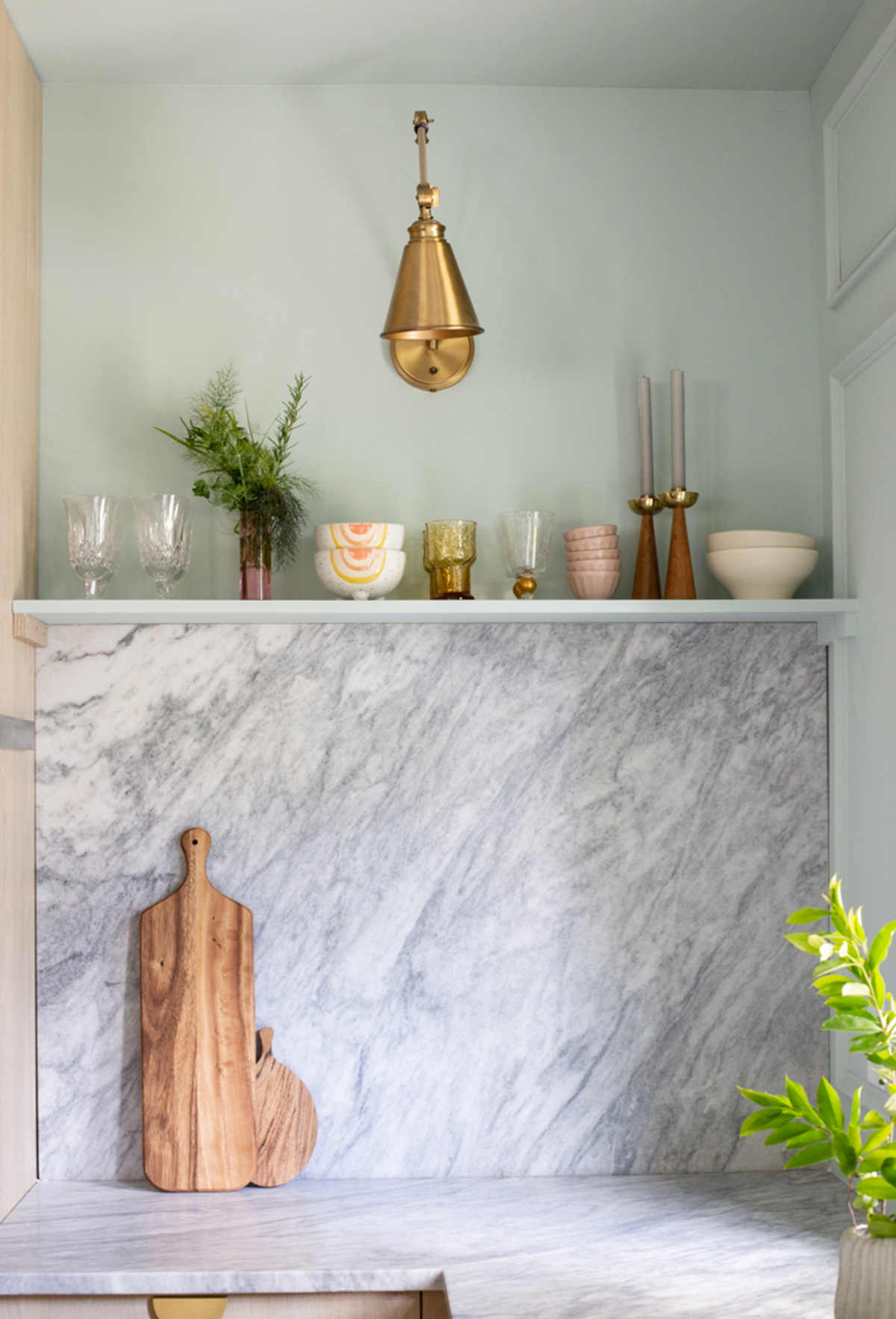 Our former kitchen was also very white and I kept things pretty simple because we were on a tight schedule and I didn't want to do anything I would regret. This time around, I wanted to include a little bit more color and warmth.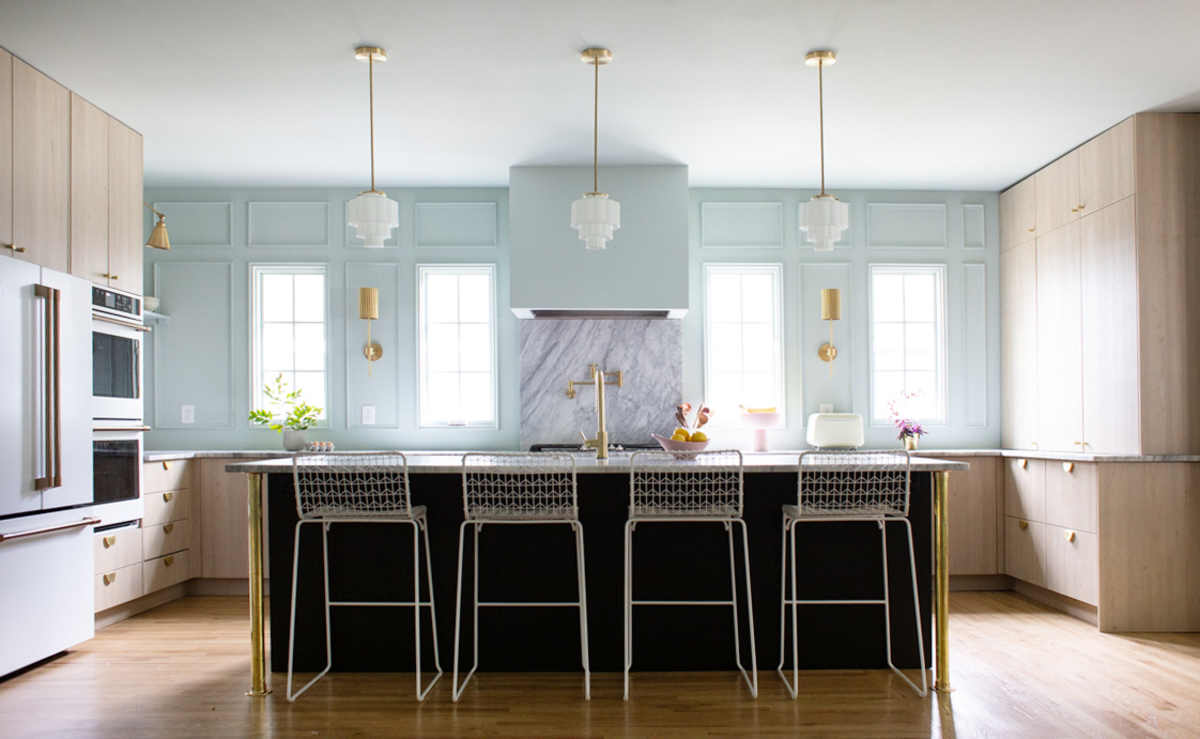 We really really loved the look of these slab front cabinets, which are very modern and simple. We laid out the windows to be all symmetrical, and it worked out that we wouldn't have space for shelves between them. I didn't want the wall to look too blank (some people can pull off minimalism SO well and I can for sure appreciate that aesthetic, but I've realized that I'm not so much a minimalist) so we decided to add that lovely moulding to give the wall some interest, and it frames those dreamy brass sconces so well.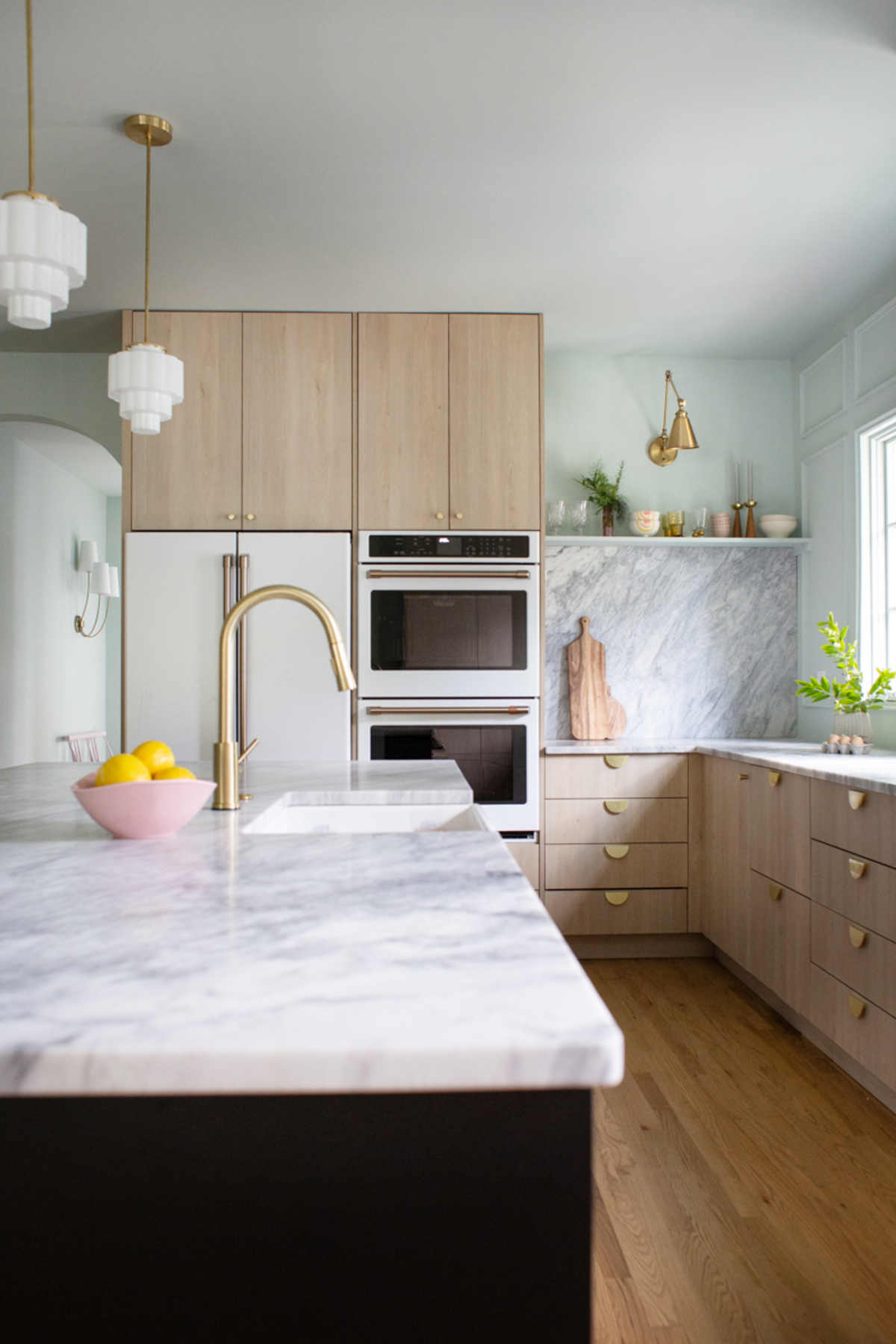 We went with the GE Cafe Appliances, and I'm loving them so much (nothing on here is sponsored, by the way - we just loved them, and they fit our price point!). It's crazy how much appliances change in just a few years. They make the most pleasant sounds when something is done baking, or the refrigerator door is open too long, or the dishwasher is done. It's so fun, and they are also beautiful to look at. We went with white for the refrigerator and ovens, and we have black dishwashers in the island, which you can kind of see below.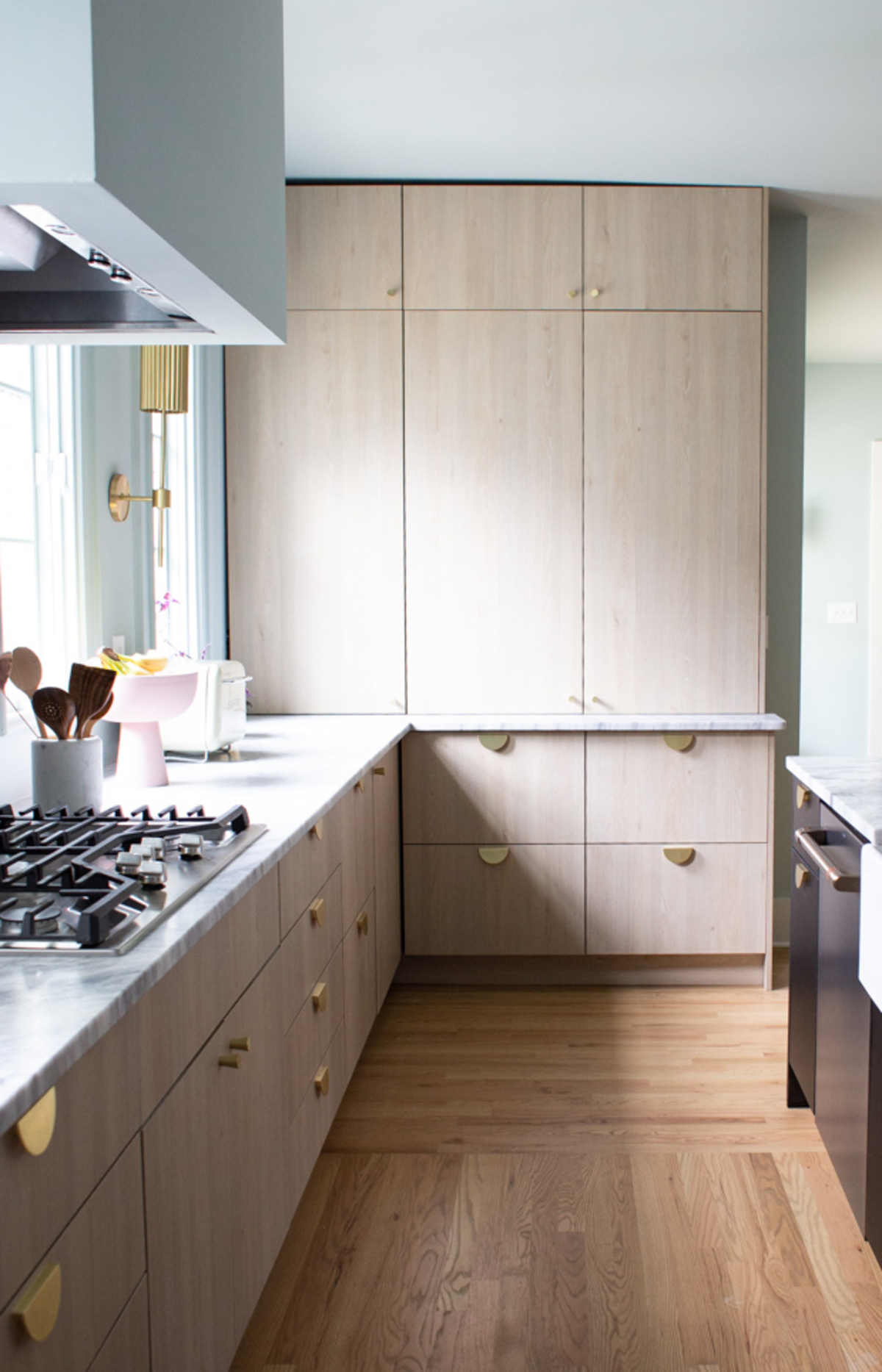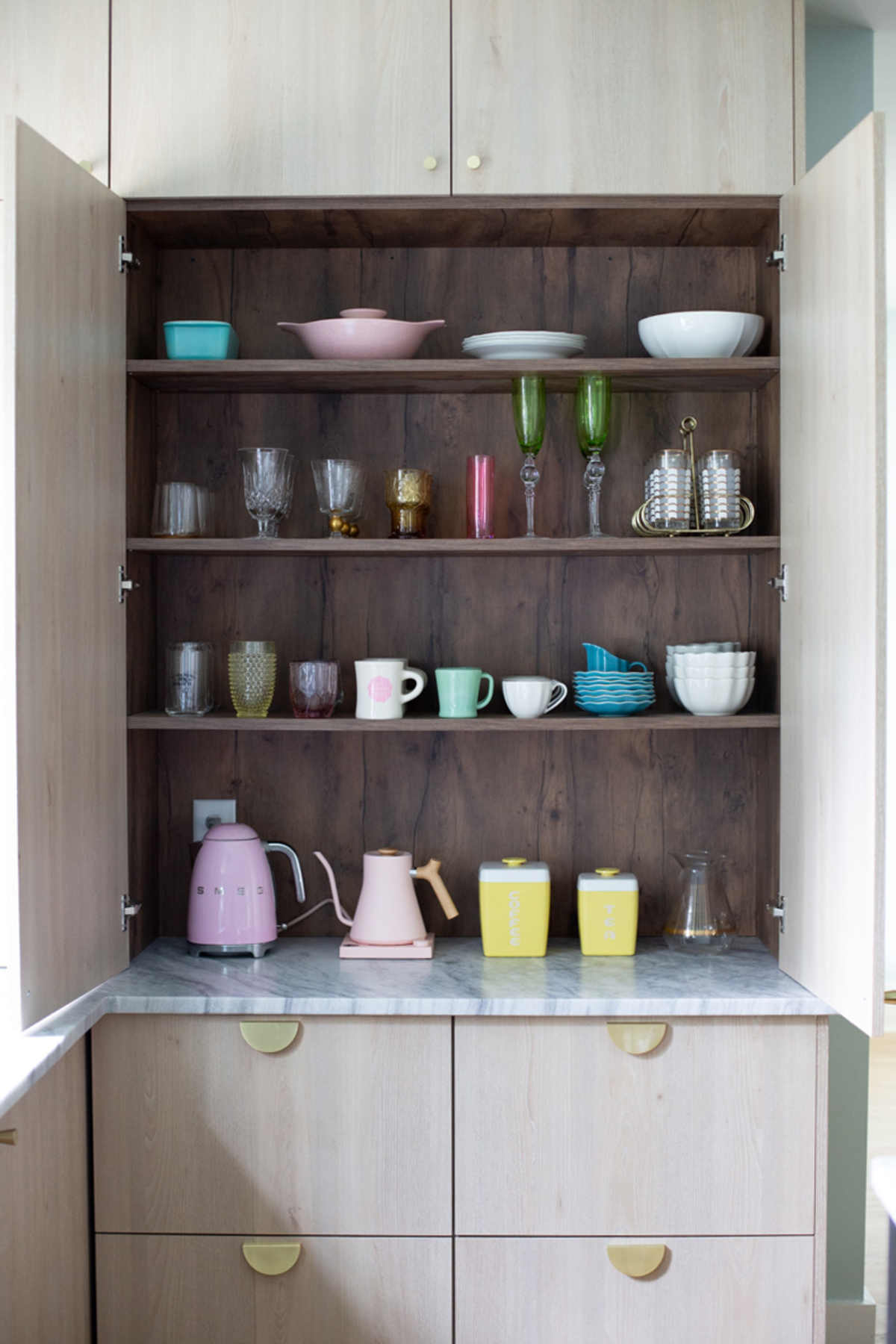 One of my favorite details in the kitchen is this drink cabinet. The counter to ceiling cabinets are so pretty, and make it easy to hide things - a modern "appliance garage". I have much of our glassware on these shelves, and my beloved little tea kettles on the bottom shelf, plugged in and ready for my morning tea next to my little vintage canisters with tea and sugar. It makes me infinitely happy in the mornings to open that cabinet and make the perfect cup of tea.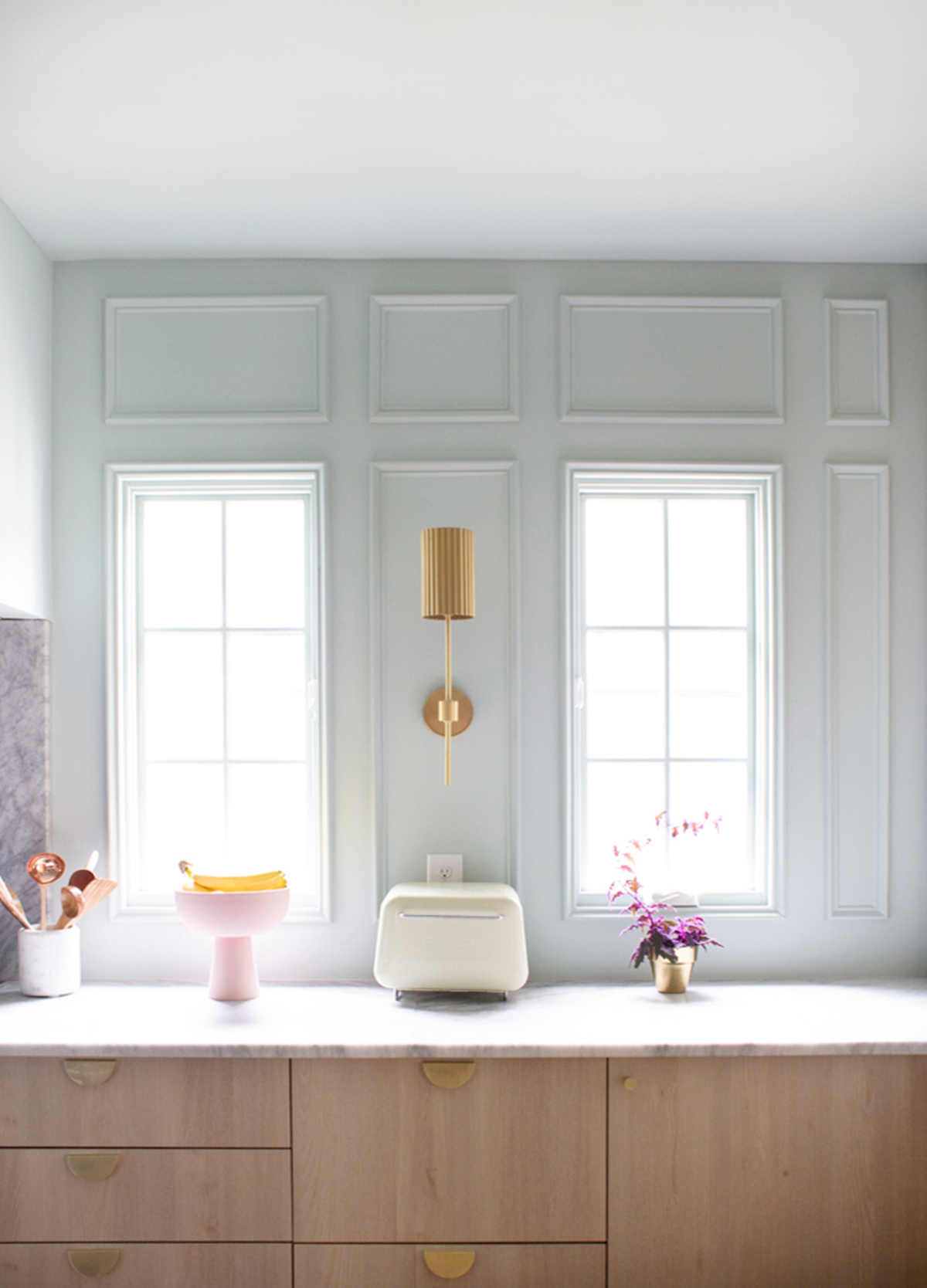 I also love love love love love these brass sconces. I feel like I have looked at every single (remotely affordable) light fixture on the internet trying to find the perfect standout pieces for the kitchen. These are so pretty - they are surprisingly large, and are so glowy and warm in the evenings. Plus, they are very affordable.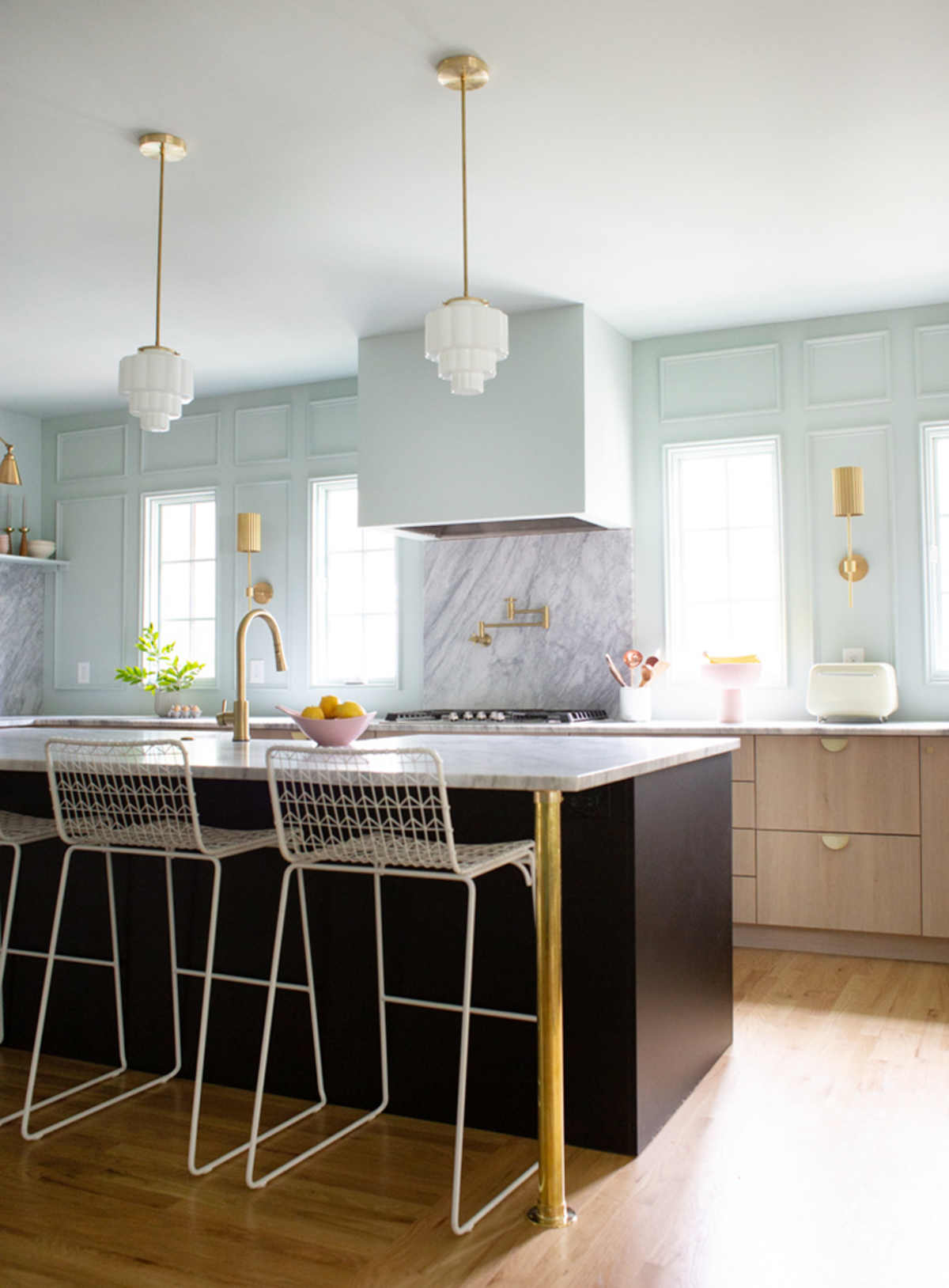 And of course, I can't leave out these gorgeous wedding cake pendants from Sazerac Stitches. We have dimmers on them, so they are also perfectly glowy in the evenings. I love how they look like vintage pieces, and they are just so beautiful.
I was also surprised to find myself leaning towards (and eventually choosing) a wood finish for our cabinets. It just seemed perfect, though, and I love the bit of warmth and texture it brings to the kitchen while also making it feel not too formal.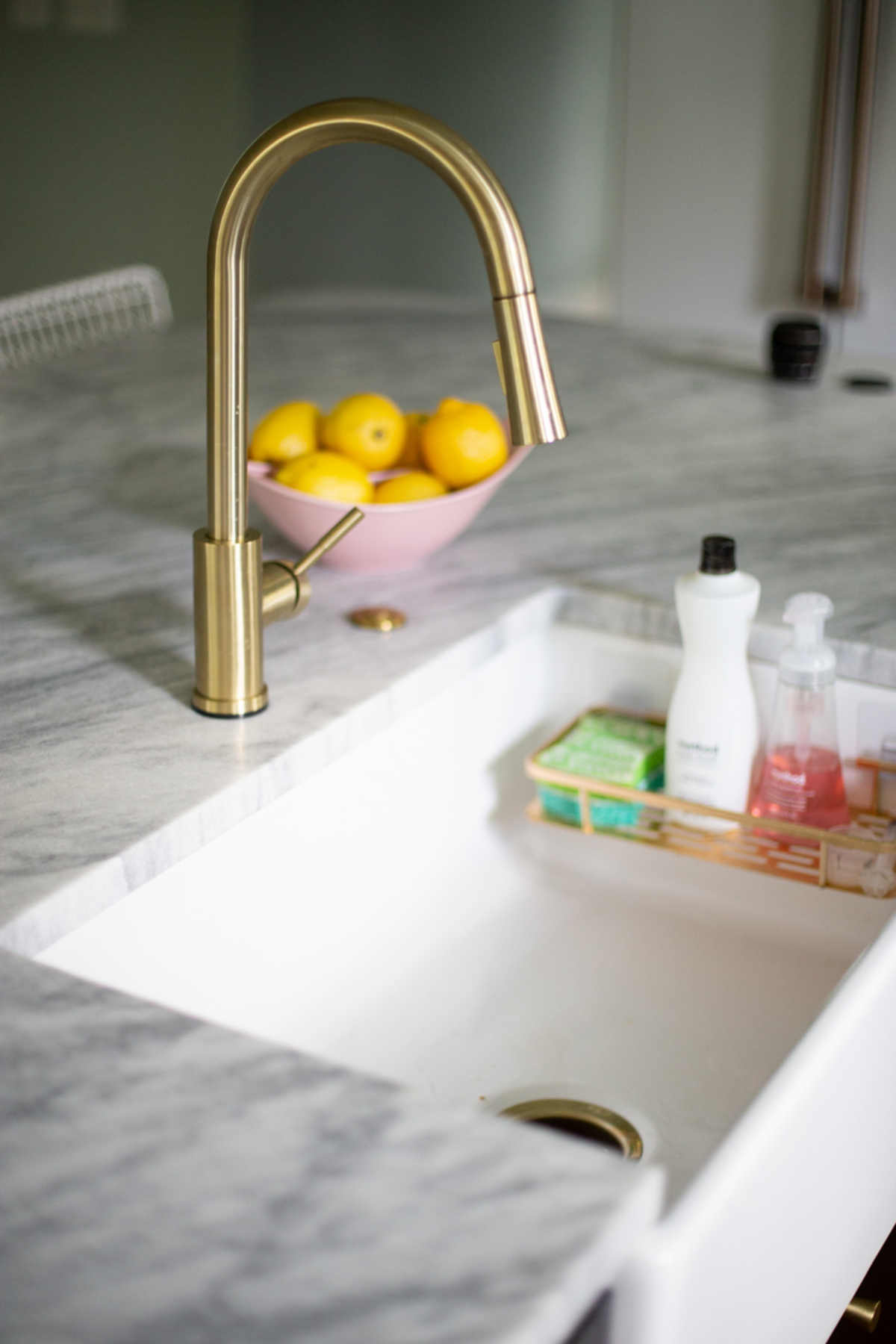 Here is a quick little sink detail. I love this sink - it's a bit larger than the farmhouse sink we had in our kitchen previously, so it's more roomy, and it has a flat front so that (most importantly) water doesn't drip onto the cabinets. The paint was peeling off of our cabinets before because that was an issue, so if you go with an apron front sink, definitely make sure that won't be an issue! Chip found that little shower basket that works perfectly in the sink to hold soap and sponges so they aren't on the counter, and he also found that faucet at an excellent price (the one we really wanted was $$$$, so we figured we would try this one first and upgrade later if it doesn't work.) We also have the garbage disposal button on the counter - we had the same feature previously, and I liked it, so we went with the same thing.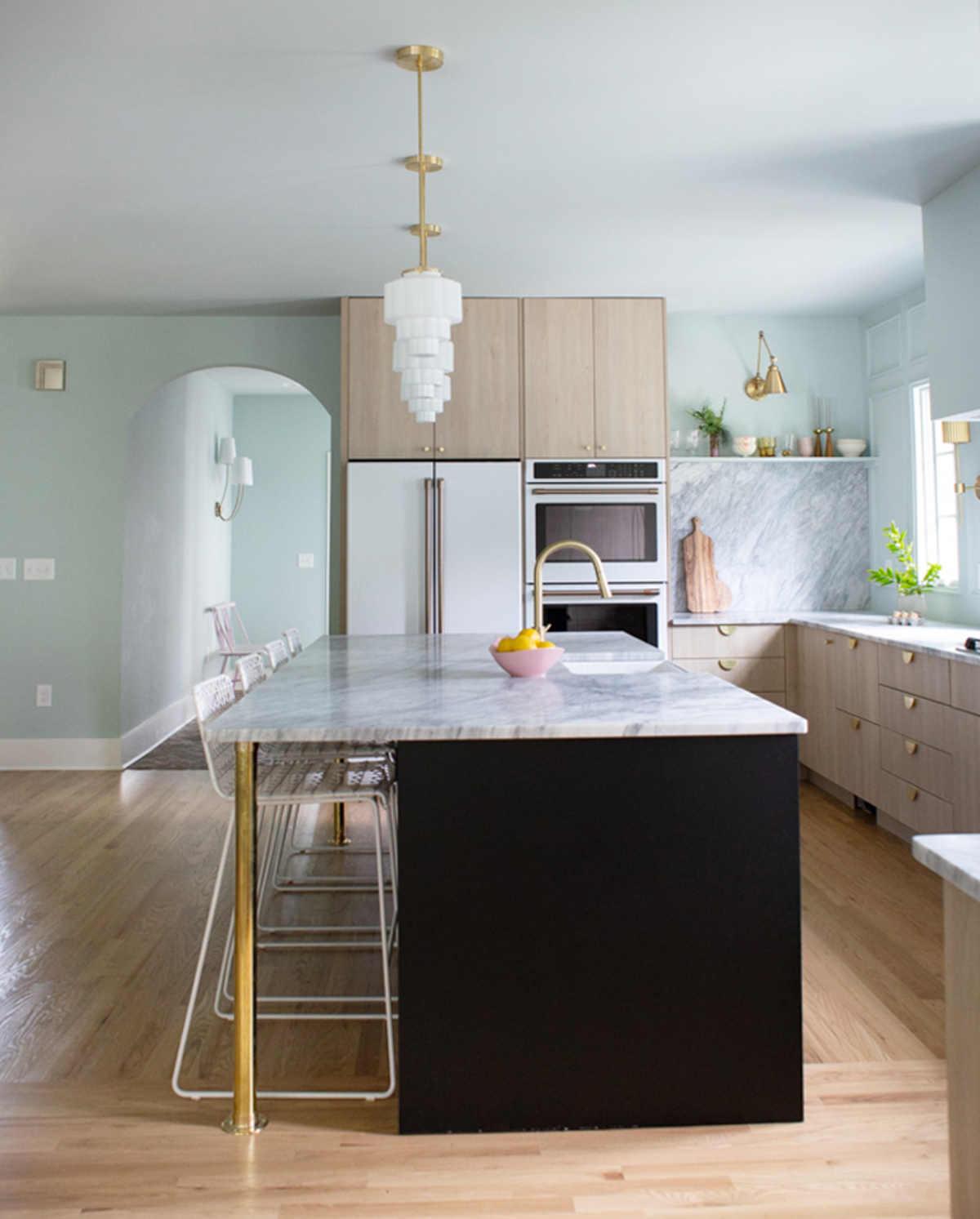 One final note is about the island. Originally, I wanted a waterfall edge (I love the way those look so much!), but it felt like the extra cost was just going to be too much. We decided to do black as we thought the wood would be overwhelming, and I just didn't want to do white. We found these brass pole fixtures for supports for a fun detail to make it still feel light.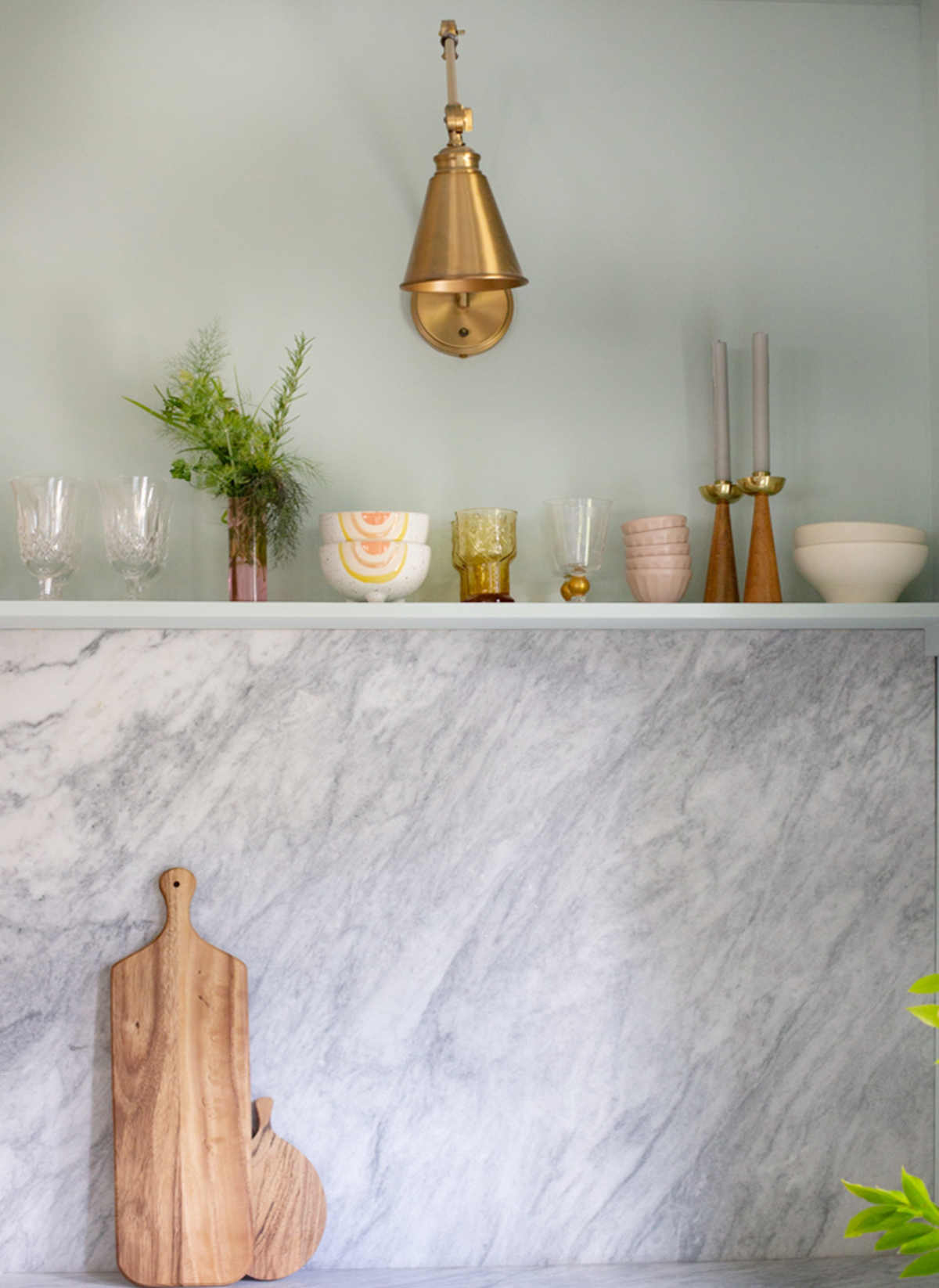 So, there is the kitchen! I'd love to answer any questions if you have any - it's certainly a lot to cover!