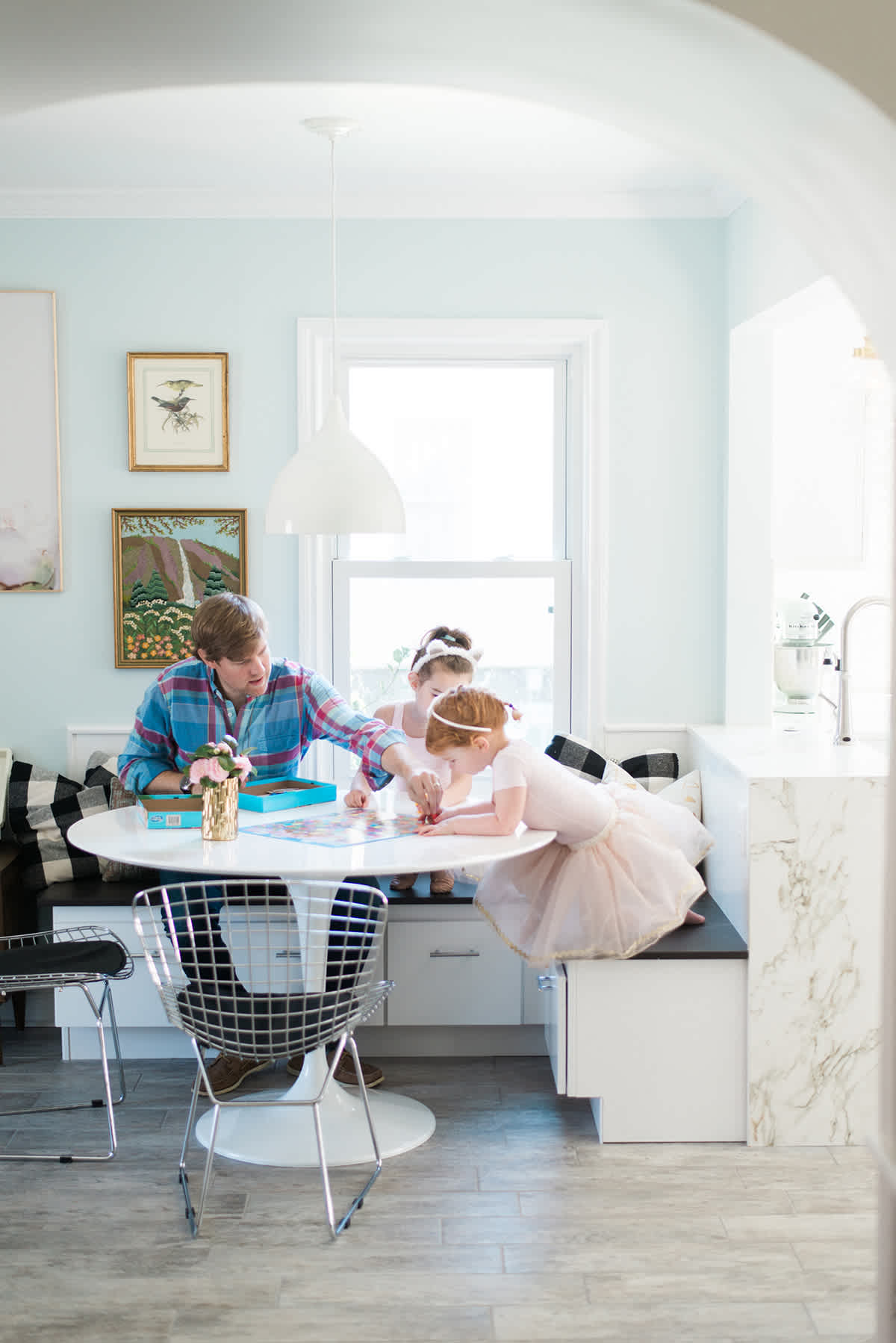 Since we shared the kitchen, I have received several questions about the banquette and how it works for our family.  I figured I'd give a few more details about the dimensions and construction for those of you considering a similar project.  (photos by Alea Moore)
(pictured above: dutch pendant; table; chairs; floor; counter; faucet; wall color is crystalline falls by Behr)
When we were planning our kitchen design, we decided to go with a built in banquette to save space since we weren't able to actually add square footage.
I have also been dreaming about a banquette for awhile now, and it's something we had been wanting to do, but never made time for.  It just seemed like a super cozy way to dine, and kid friendly as well.
(pictured above: camellia print; my top; conrad TV stand)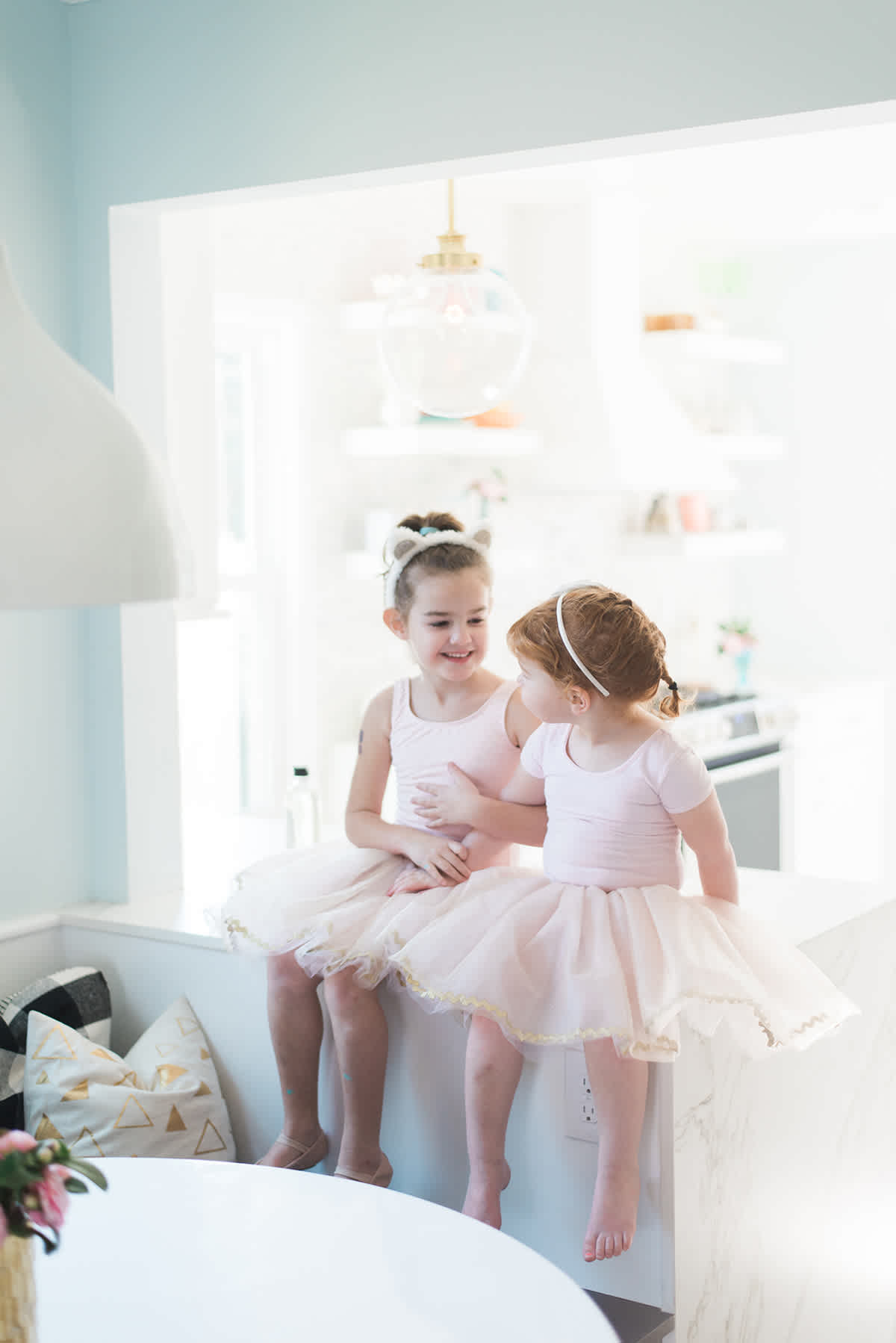 I have to say now that we have been living with it for a couple of months, that I love it.  It was the perfect solution, and has been working really great for both family time and also as a great spot to sit and get some work done or do some art projects with the girls.
I also love that it's so accessible for the littles.  It's so much easier for me to keep snacks and drinks at the table (thus minimizing spills, crumbs, etc.!) because it's next to the TV during afternoon showtime, and also on their route around and around the house while playing, so they can just make a super quick pit stop in between playing pretend.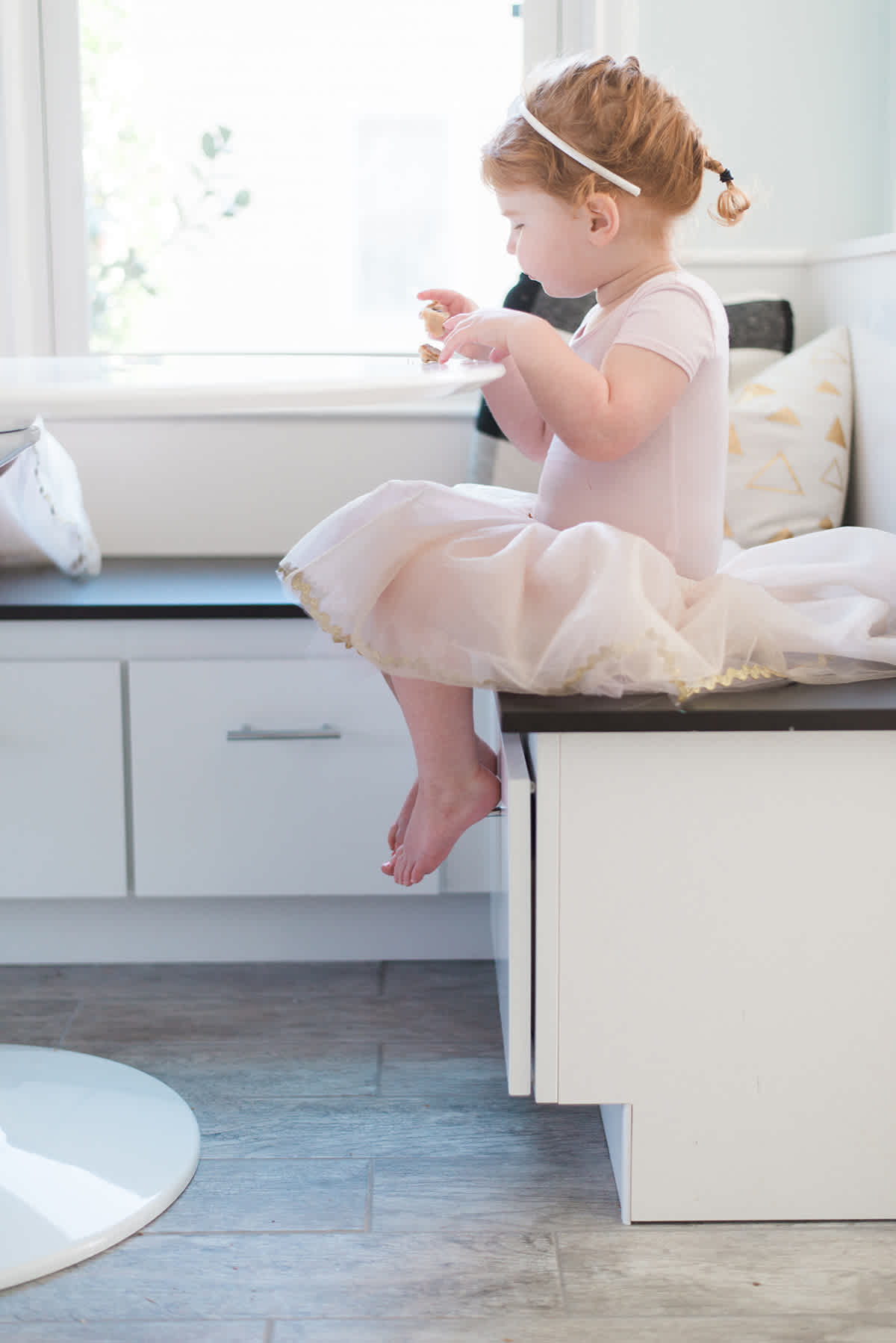 The bench seat itself is actually the same material as our countertops in the kitchen.  It's called Dekton, and is a super strong, super tough composite material that can withstand a lot.  Originally we had planned to use wood, but this is much more kid friendly, since you can't chip paint, dent it, or stain it.  (High fives all around!)
Some of you asked about comfort, and I think it's great.  It's just like sitting on a hard bench, but you can add a cushion or pillows to soften it up if that is your preference.  The girls love it and have no complaints, and it's certainly easy to have just one surface to wipe down after meals, rather than the nooks and crannies of chairs.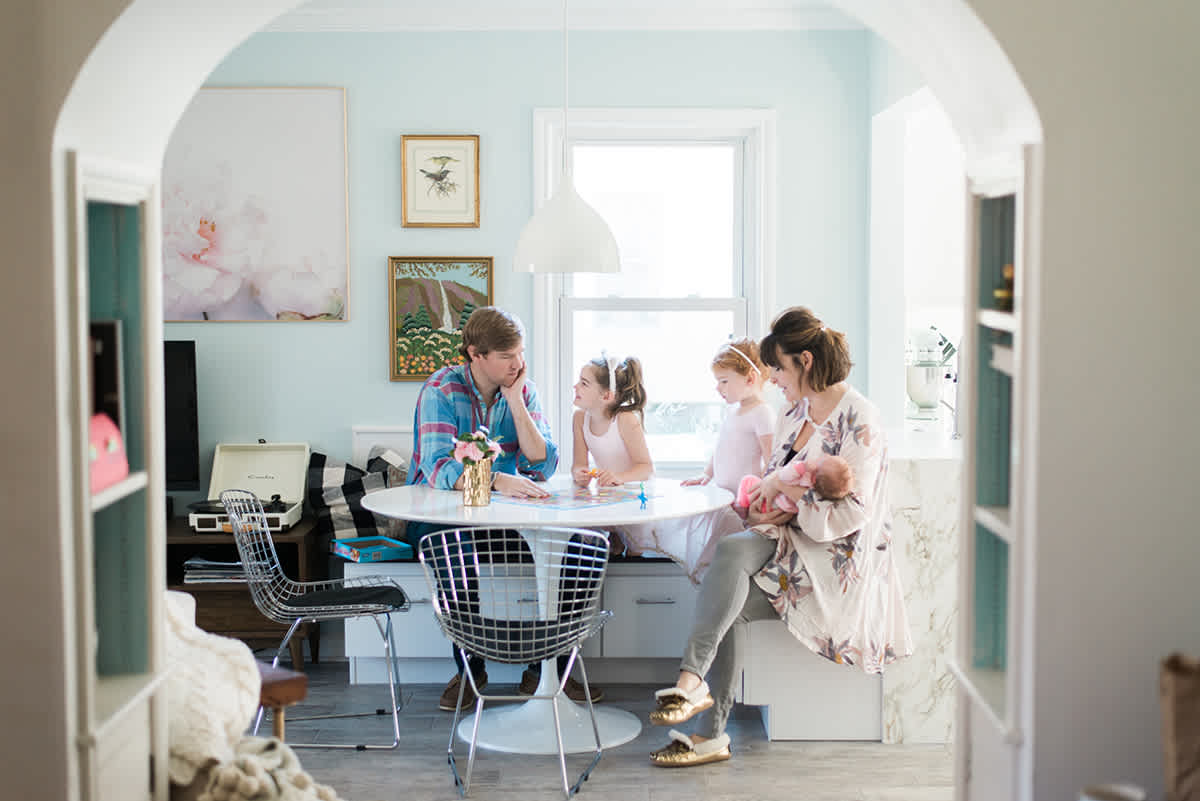 When we have family meals, Chip and I usually sit in the chairs, and the girls sit on the bench.  The 48" round table easily accommodates 4, and Ellie will fit right in, too when she is in a high chair and later on when she is ready to sit at the bench with her sisters.
The bench dimensions are such that we could use a rectangular table later if we want more seating space; You could sit two, maybe three agains the window, one behind the sink, and three more around a larger table, so there really is a lot of space!  The long side of the banquette is 72.5", the short side is 42.5", and the seat is 18.5" deep and 19" high, which fits perfectly into the little nook behind the sink.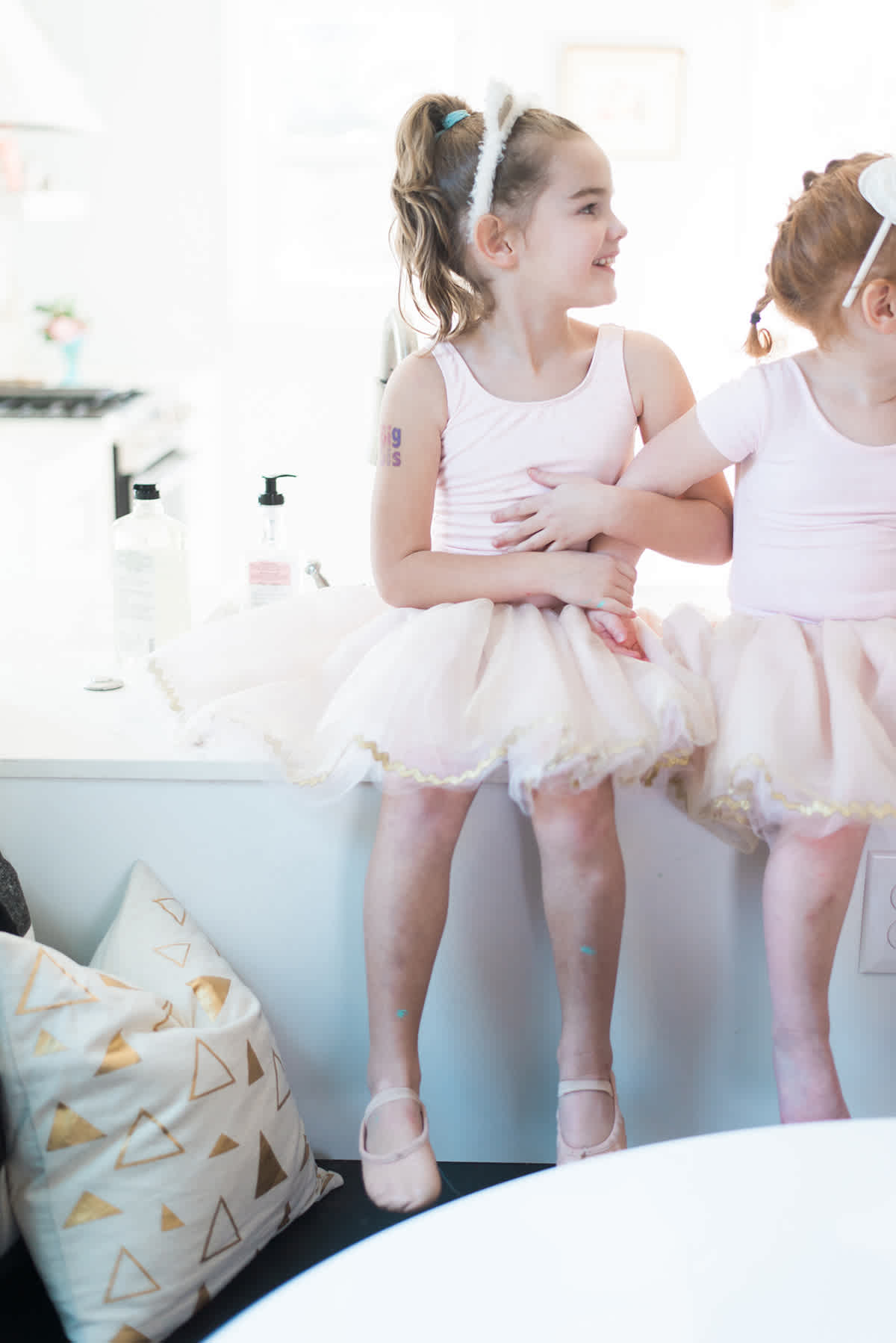 The drawers are by Thomasville (like our cabinets), so they are custom built, but I'm sure this is something you could do yourself or have a carpenter create.  My friend Kristin has a great DIY version here, and I also love her oilcloth cushions that add some warmth to the bench, and are super easy to wipe down.
We have had so much fun spending time around this little table, and it has made life so much easier for us!  I also just love the proximity to the kitchen; it's super close but not actually in it.  It's just plain awesome.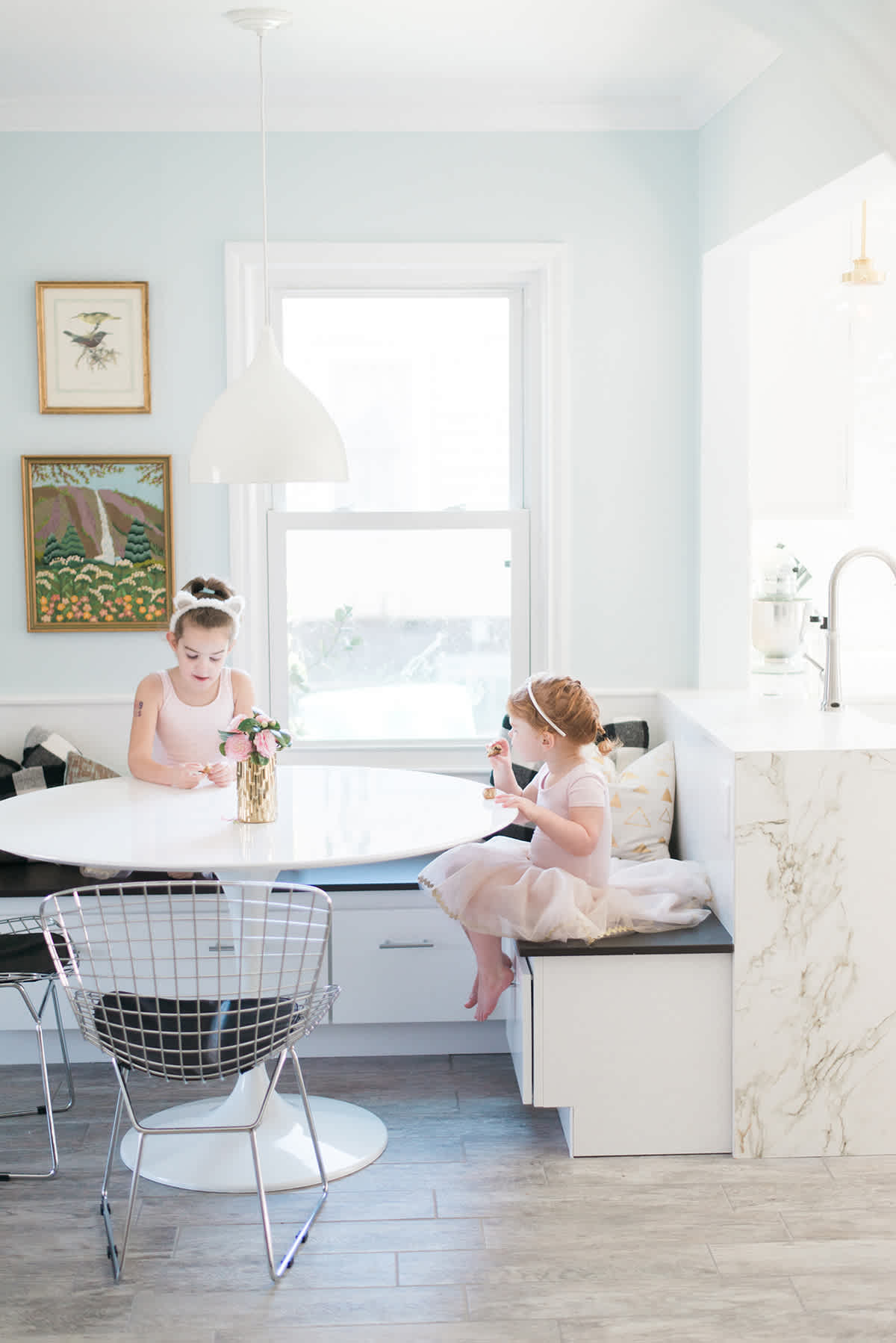 Let me know if you have other questions!  It really is such a fun way to add a dining space without taking up an entire room, or making it feel squished into a corner.  The built in seating makes it appear a little more thoughtful, I think.