How to Throw a Stranger Things Viewing Party
ideas to turn your backyard into Hawkins of Stranger Things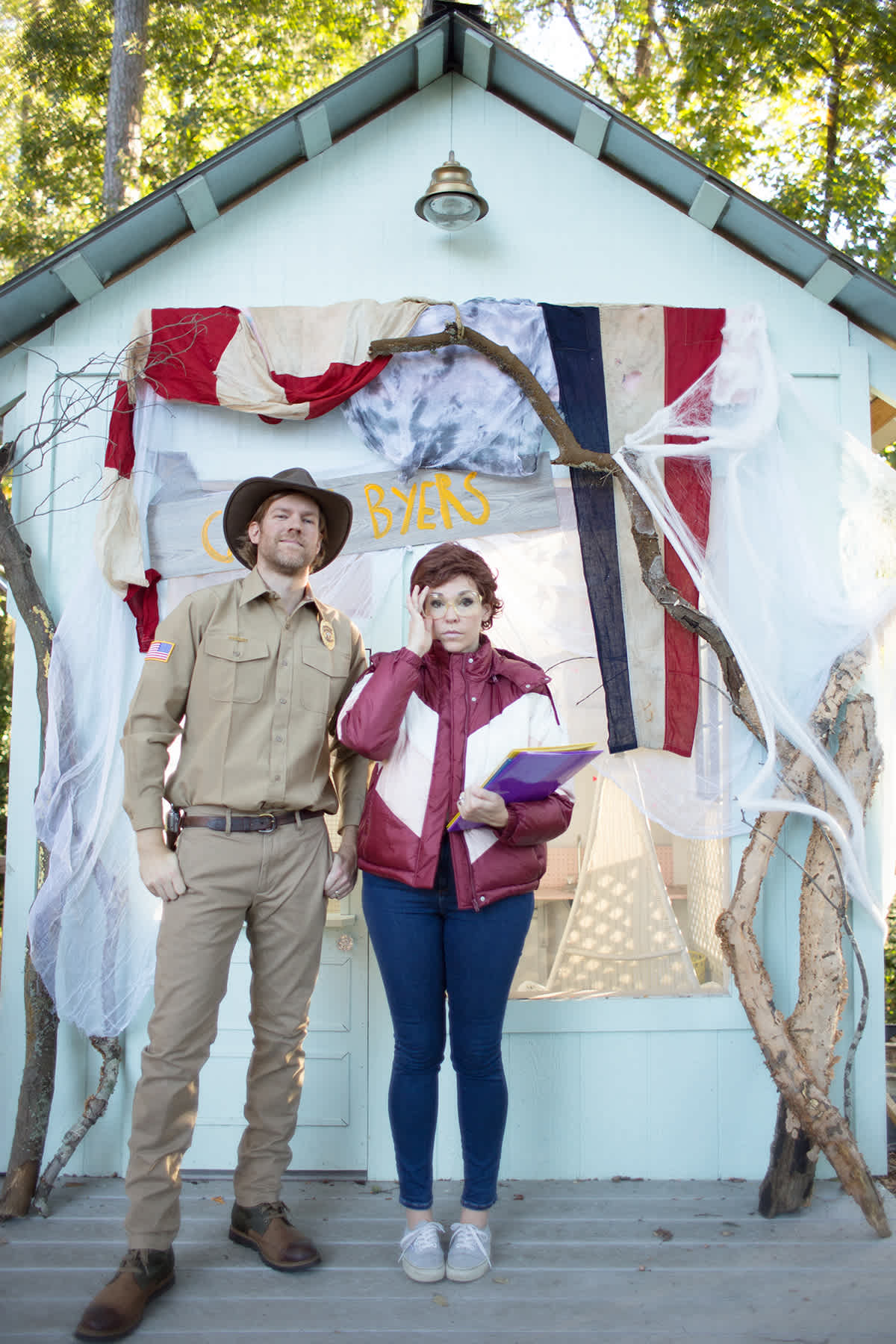 So, season 2 of Stranger Things was released Friday, and Chip and I planned for a marathon viewing party to celebrate the second season.  Because we loved the first season.  And loved might be too mild of a word.  At any rate, We did our best to make it feel like our guests were walking right into the Hawkins, Indiana of Stranger Things, and I'm sharing all our ideas here.
(pictured above, with Castle Byers behind us: Hopper's hat; Hopper's Shirt; Hopper's Badge; Barb's Jacket; Barb's Top; Barb's Glasses; Barb's Wig)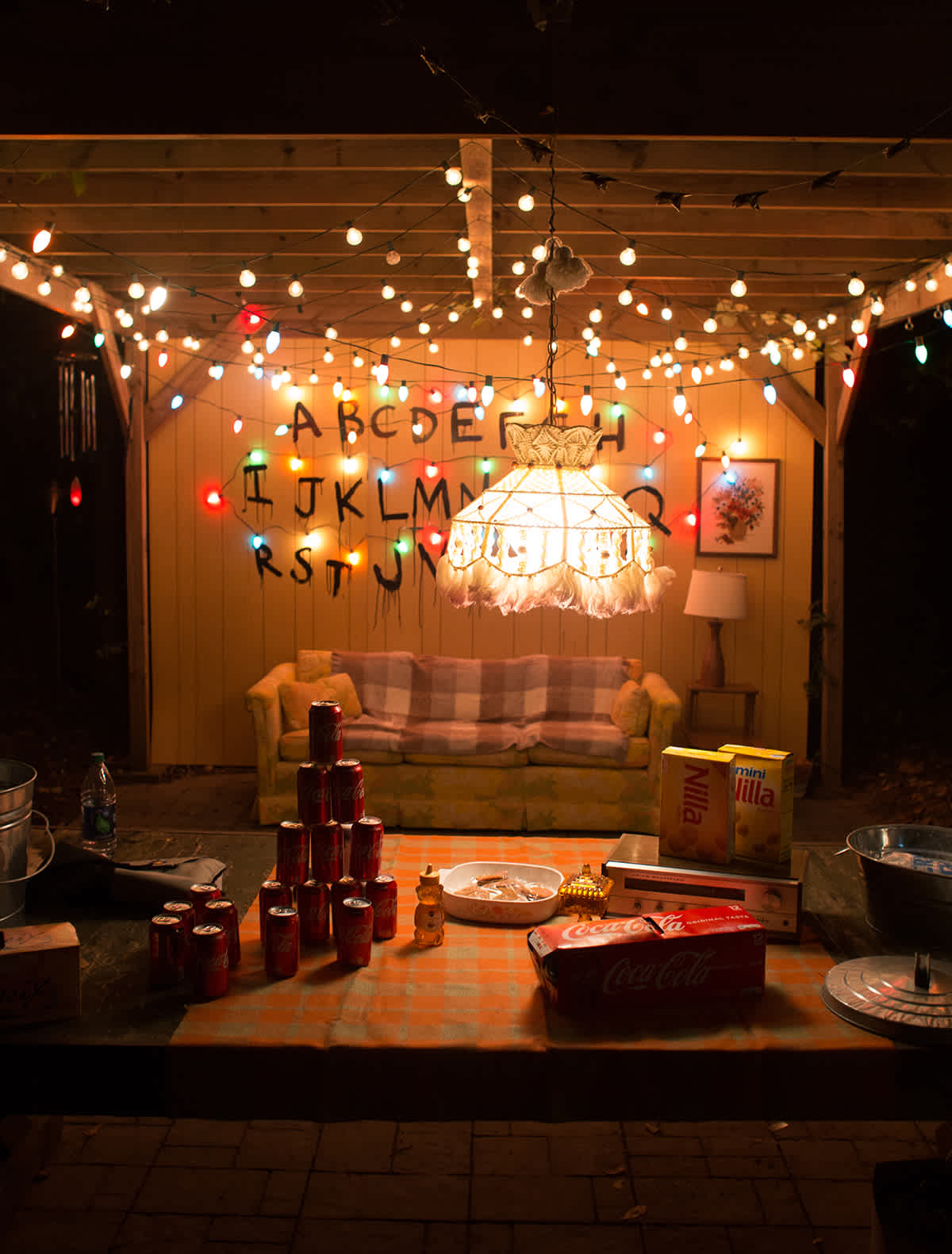 I know the photography here isn't legendary, but between putting kids to bed, getting myself dressed, food ready, and all, this was the best I could do!  Real life, right?   The great thing about a Stranger Things party is that you really don't have to make it look super great.  It's just real - that was the 80's.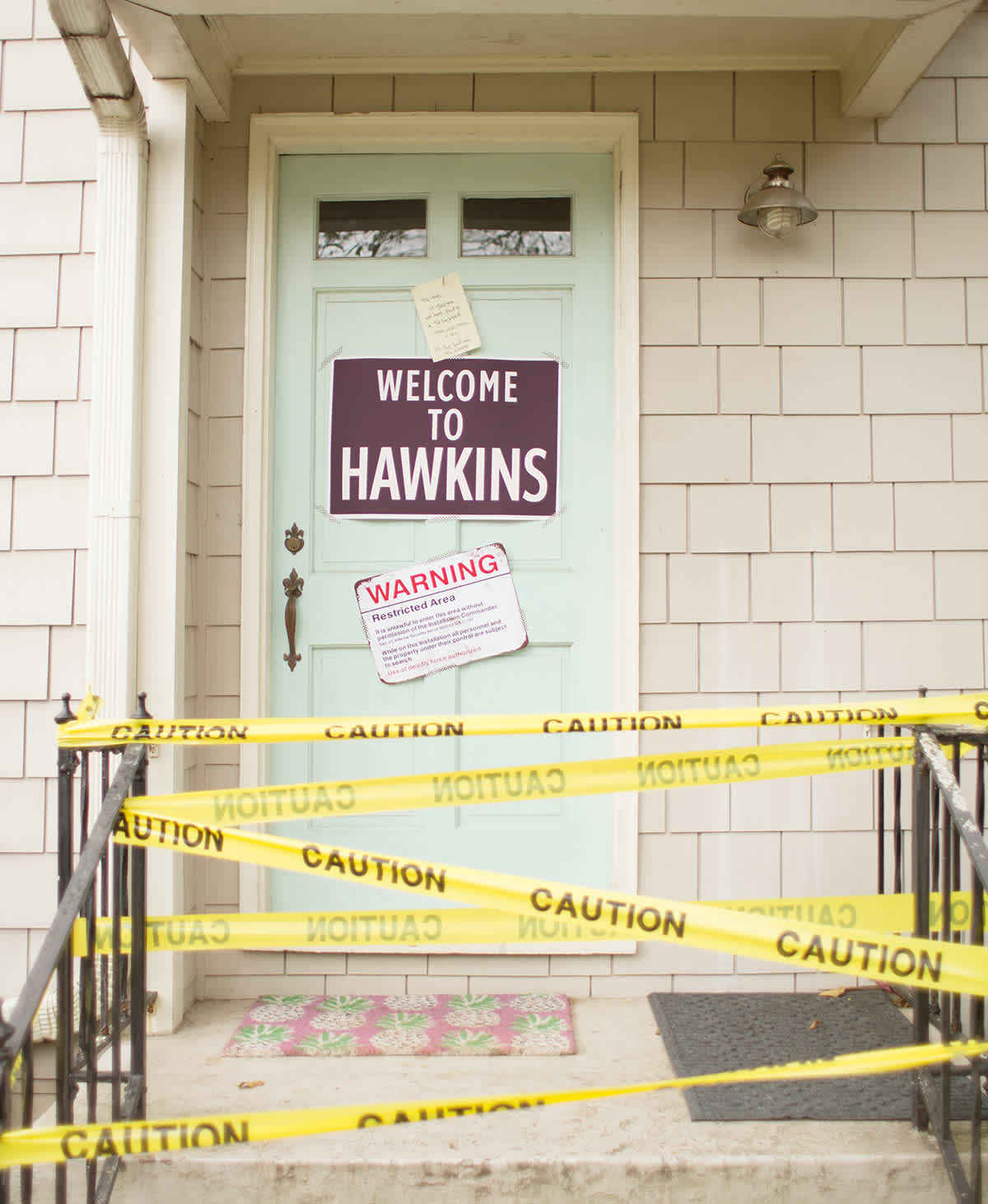 Our party was in the backyard, so to welcome our guests, I put a "Welcome to Hawkins" sign on the front door, a warning sign, and lots of caution tape.  Then I tacked up a handwritten note from Lucas, Dustin, Will, and Mike to let everyone know to meet in the backyard and that "the bad men are coming."  You can find lots of signs already designed - just google, download, and send to print.  I just had these done at Office Depot because it was inexpensive and quick.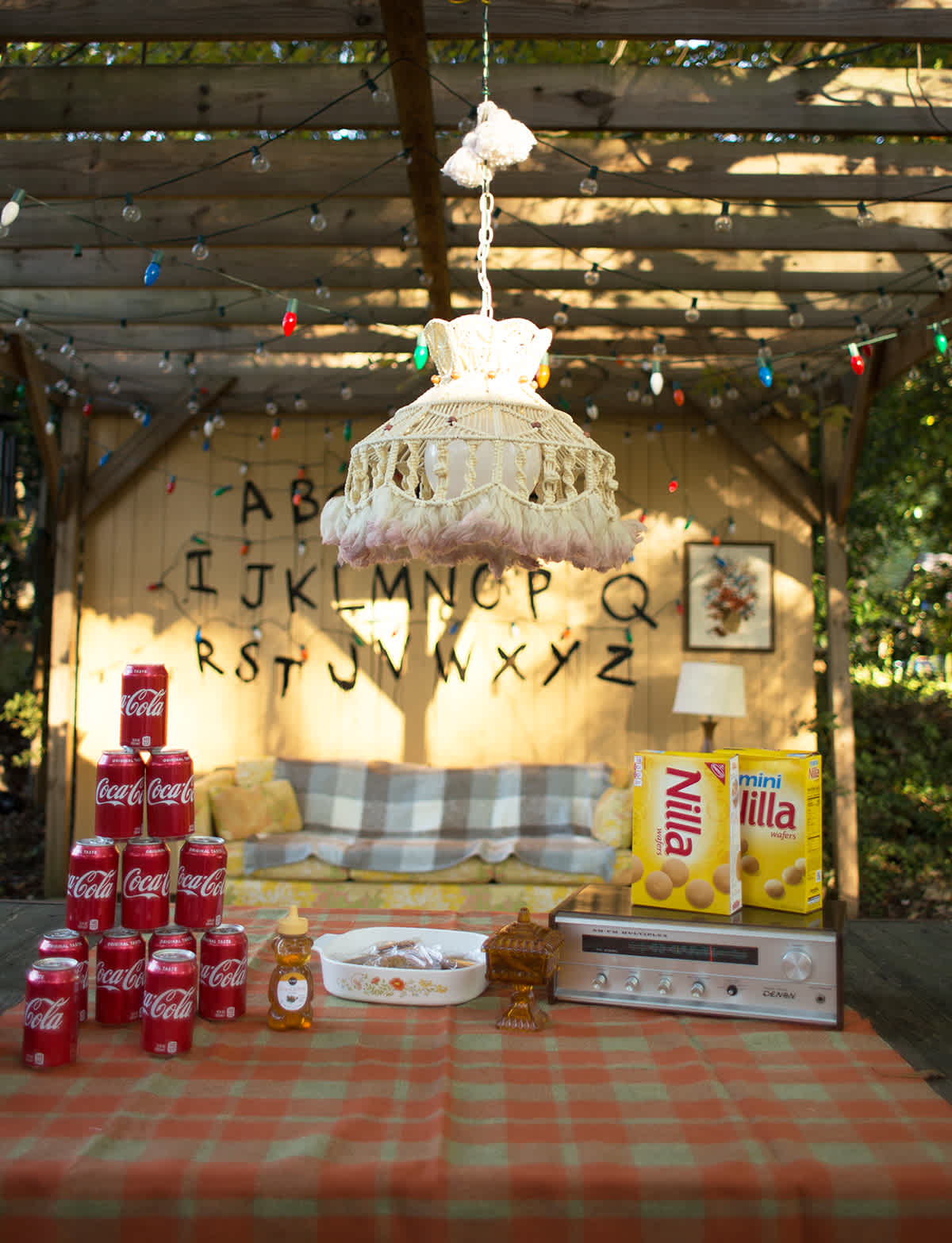 For the food table, I hung this vintage pendant light I had from a party awhile back - love how they have this style light over all the tables in the show!   I put out real cokes, Nilla Wafers, and oatmeal cream pies.  I had this plaid fabric from awhile back that already looked sort of 80's vintage, and worked great as a tablecloth.
The most fun part was that I visited our local thrift shops to pick up some vintage goodies - like the needlepoint picture on the paneled "wall", that radio, and that sofa.  I managed to get all the decor for about $60 - amazing, right?  I had such a good time looking through old junk for the perfect treasures.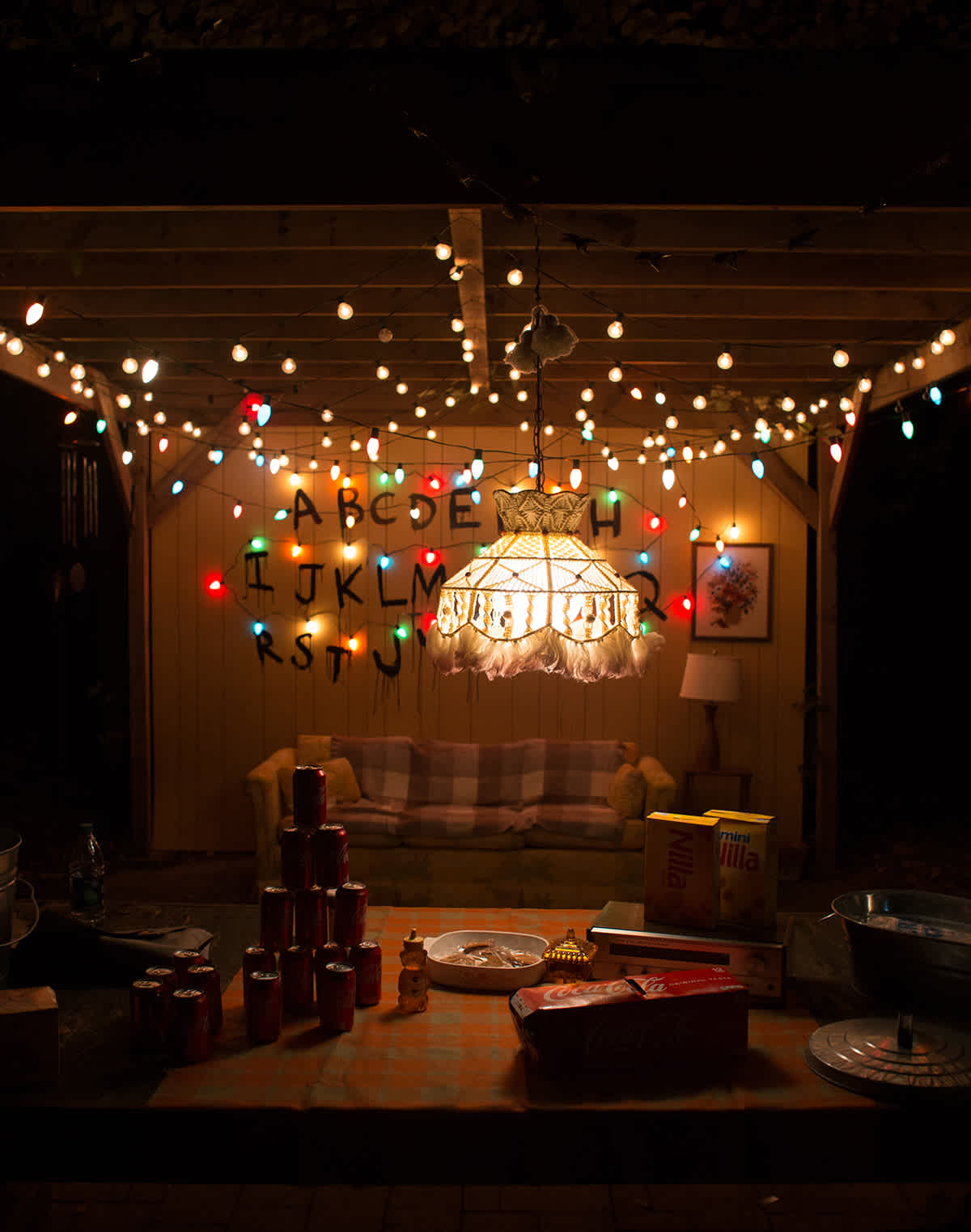 We also had make your own waffles, which was really fun and cozy for a chilly night.  I made some pumpkin waffle batter and poured it into condiment bottles and put them in a bucket of ice, along with a bowl of fresh whipping cream.  We had a platter of Chick Fil A nuggets and honey, so guests could do chicken and waffles.  The condiment bottles worked great for the batter; you had to screw off the top to pour the batter onto the waffle iron (bought this cheap-y one and it worked great!) , but it was super mess free and kept the batter clean.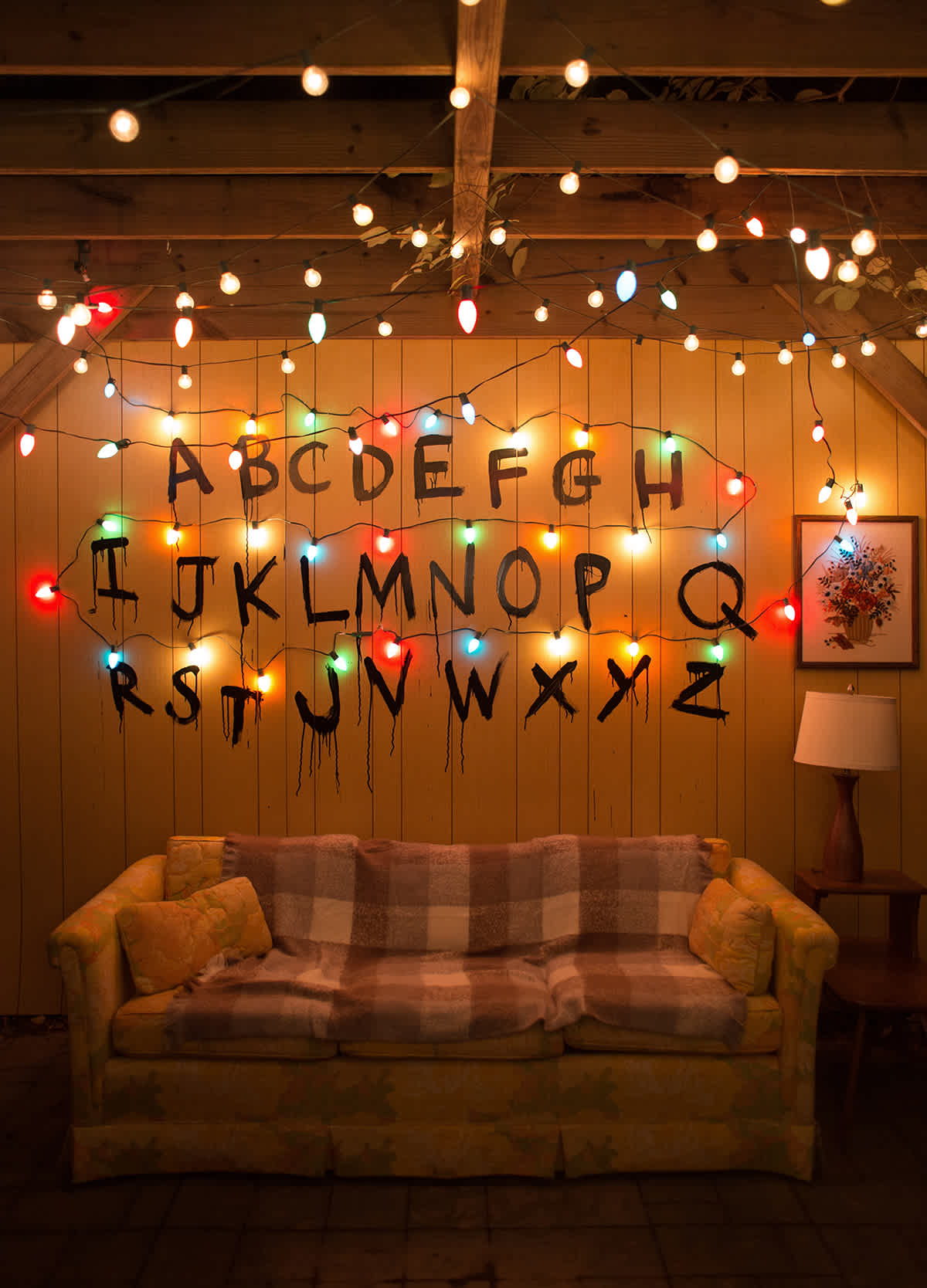 For the famous wall of Christmas lights, I bought this $29 sofa from Goodwill and threw a blanket over it, and paired it with a side table and wooden lamp.  Chip bought the paneling from Home Depot for $10 a panel (we used three of them), screwed them onto the pergola and braced them from the back, so it looks like a wall.  I painted the alphabet up with black paint, letting it get all drippy, and we staple gunned the lights to the wall.
It turned out so well, and guests had a great time snapping photos in front of it!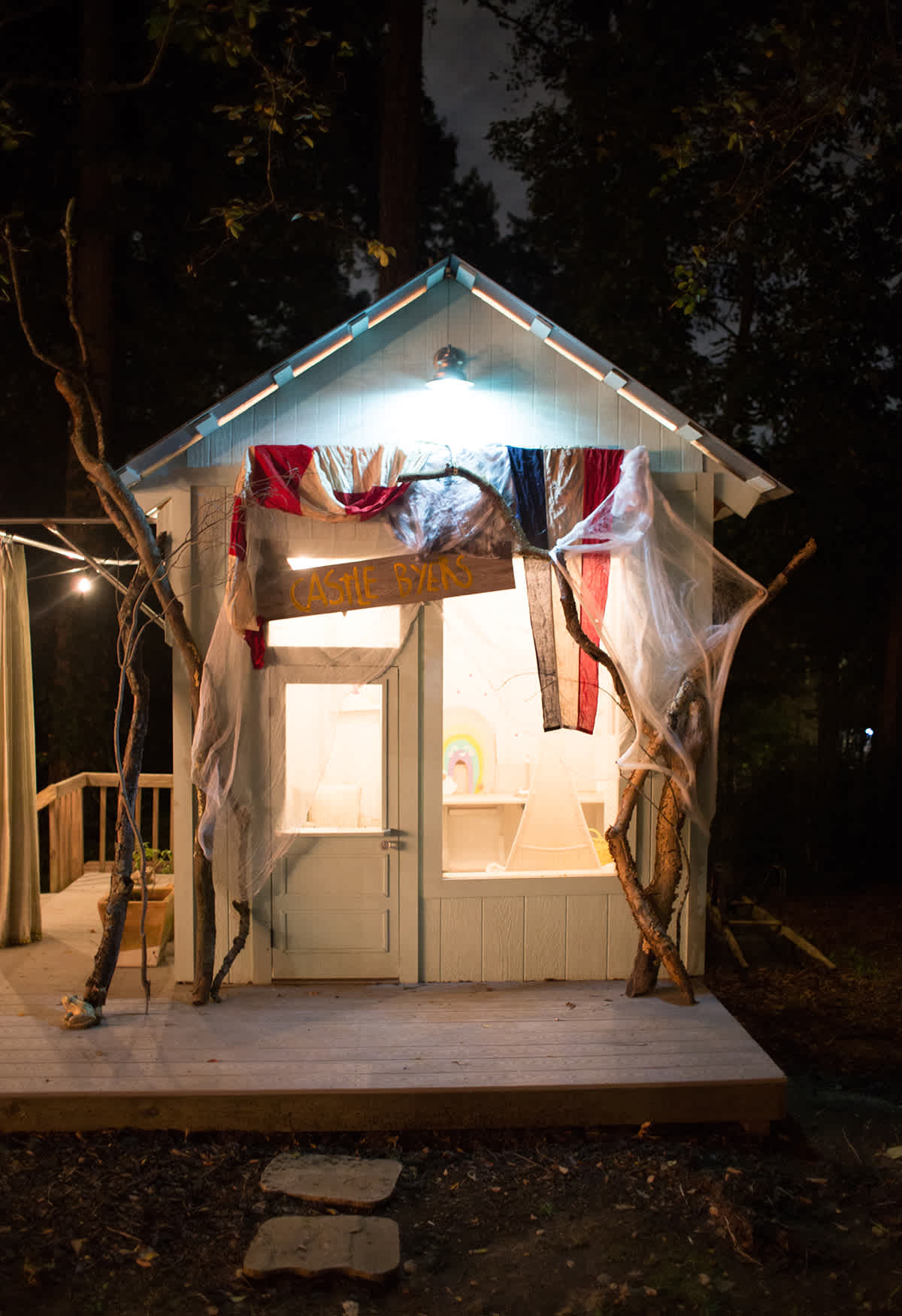 We turned the playhouse into sort of an abstract Castle Byers by propping up large sticks and hanging some nautical flags and spider webbing, along with a sign on the front.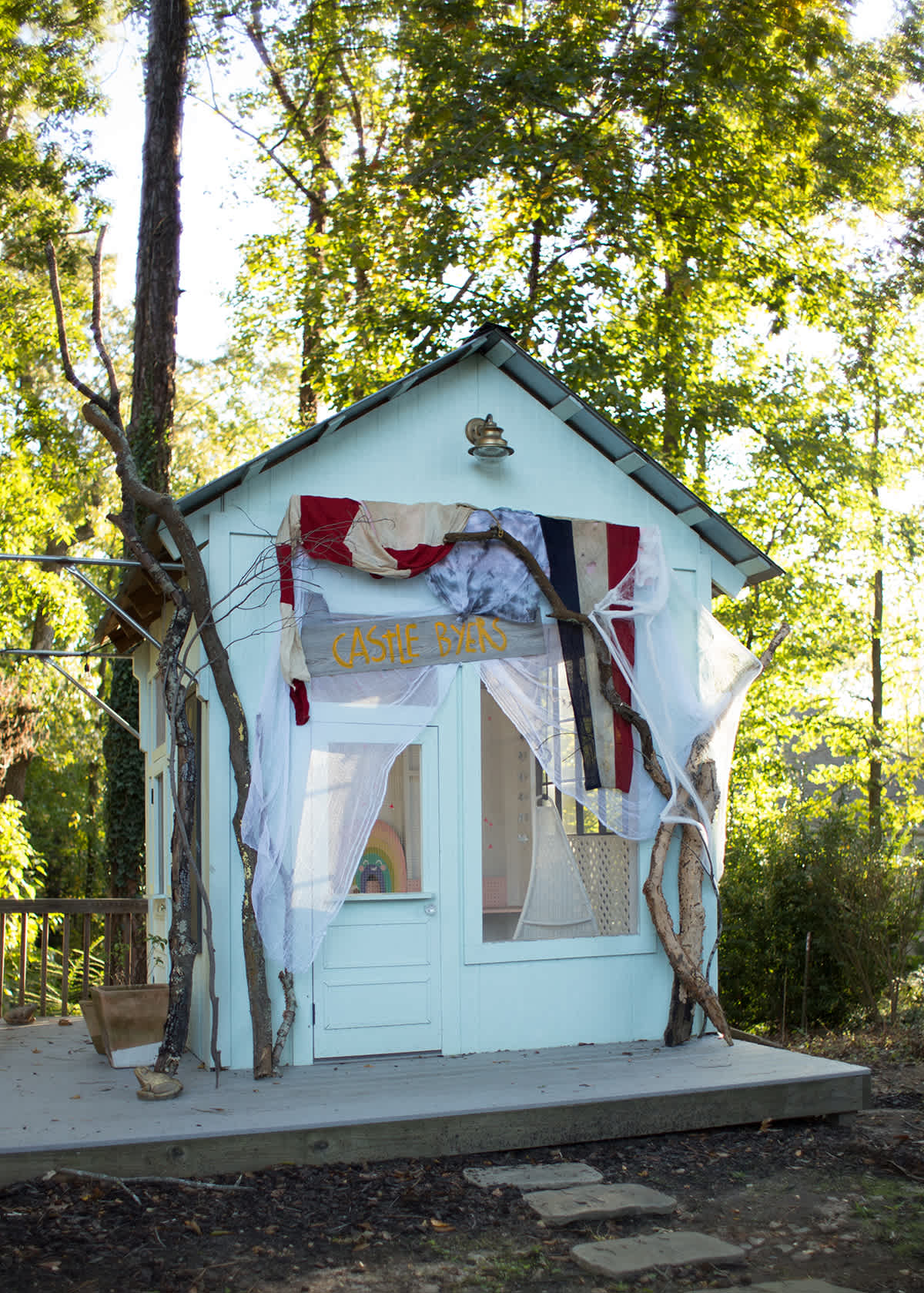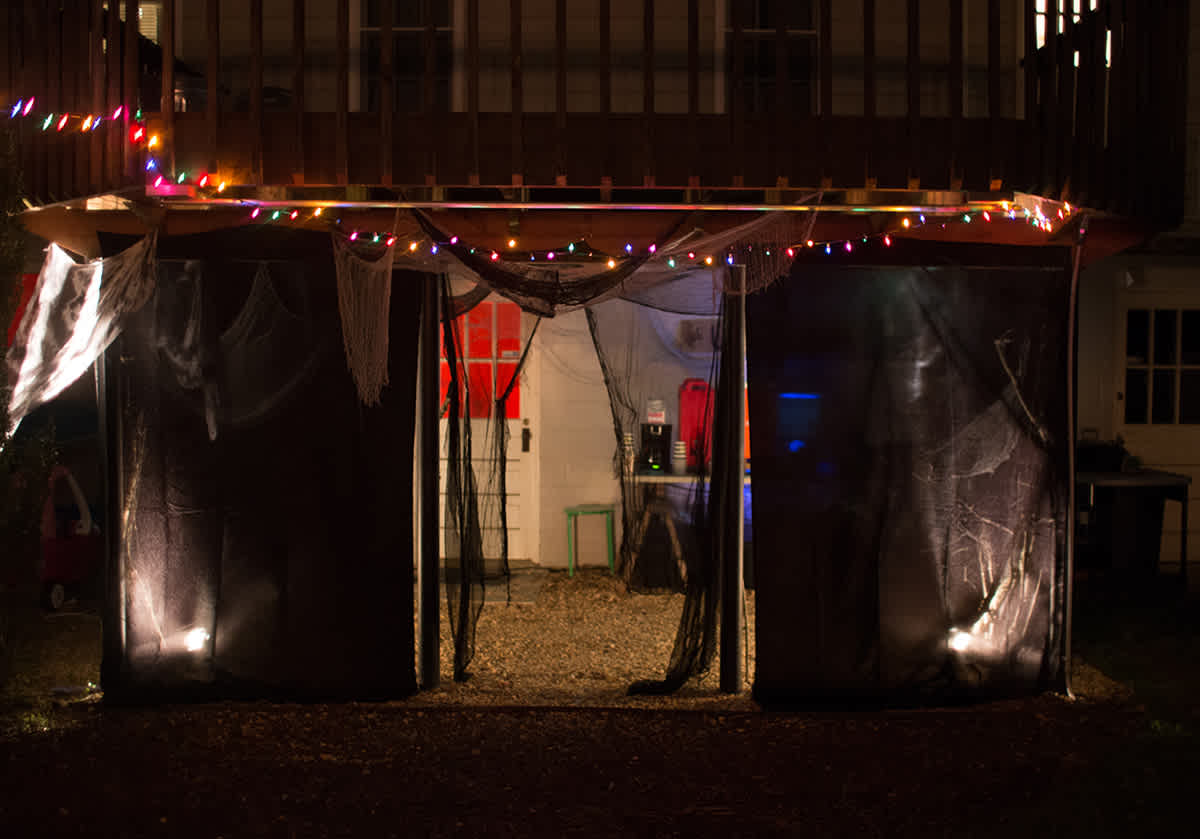 This picture isn't great, but we turned the area under the deck into The Upside Down, using black tablecloths, creepy cloth, and lots of branches, and spider webbing.  It was really creepy and dark, and we had hot apple cider and coffee in there and a fog machine to make it extra Upside Down.  It was hard to get in a photo, but hopefully you get the idea!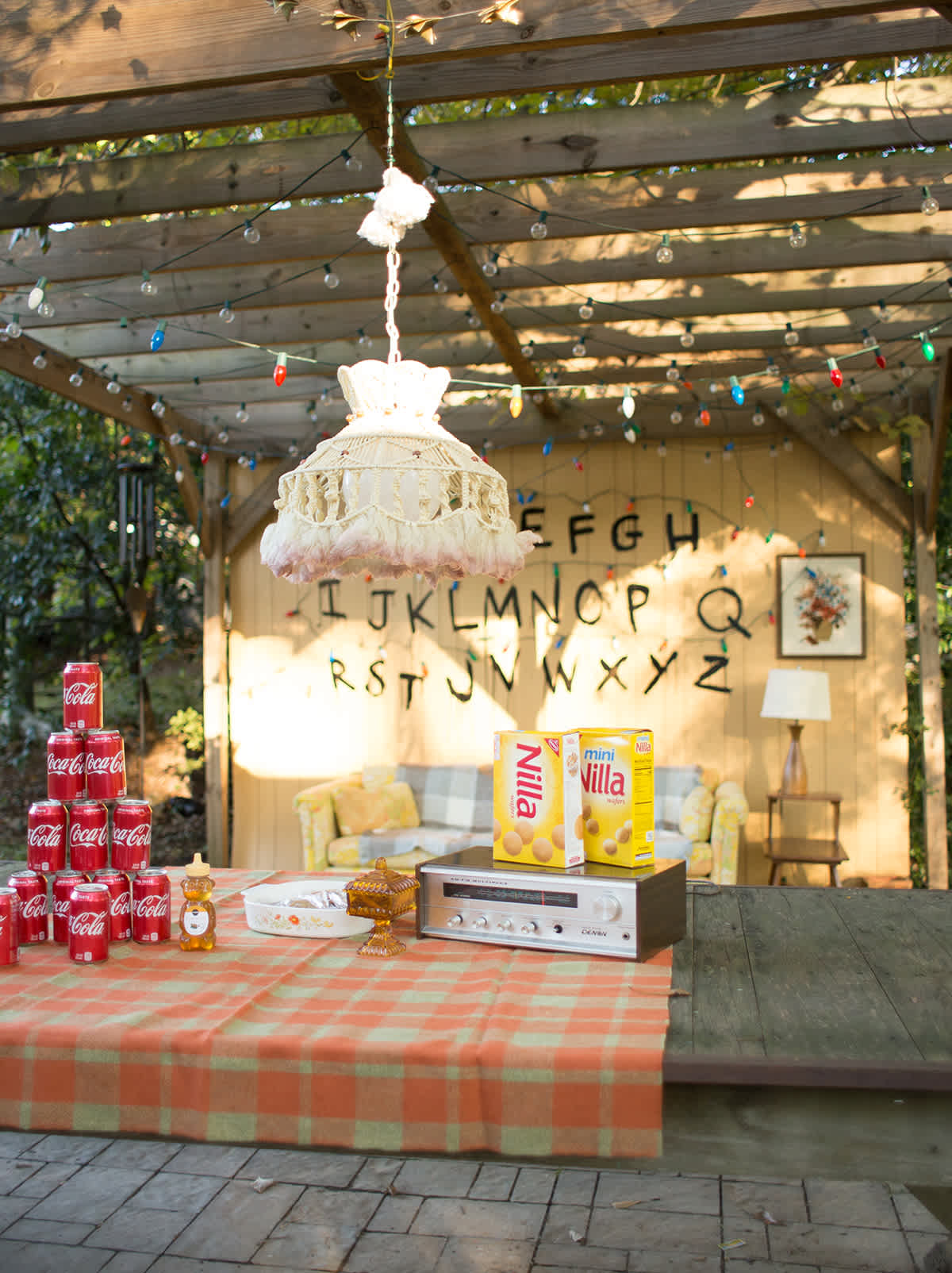 We encouraged everyone to bring chairs and blankets (some brought blow up mattresses!) and we started watching season 2 on the big screen (like this!).  Sorry I don't have a photo - but it was awesome!  We just started playing it and kept it going until everyone left.  Since it was mostly a crowd of parents of small children, we made it through four episodes, but it was so much fun.
**Note, Chip recommends this screen and this projector if you are looking to do a backyard movie setup!  We use ours all the time.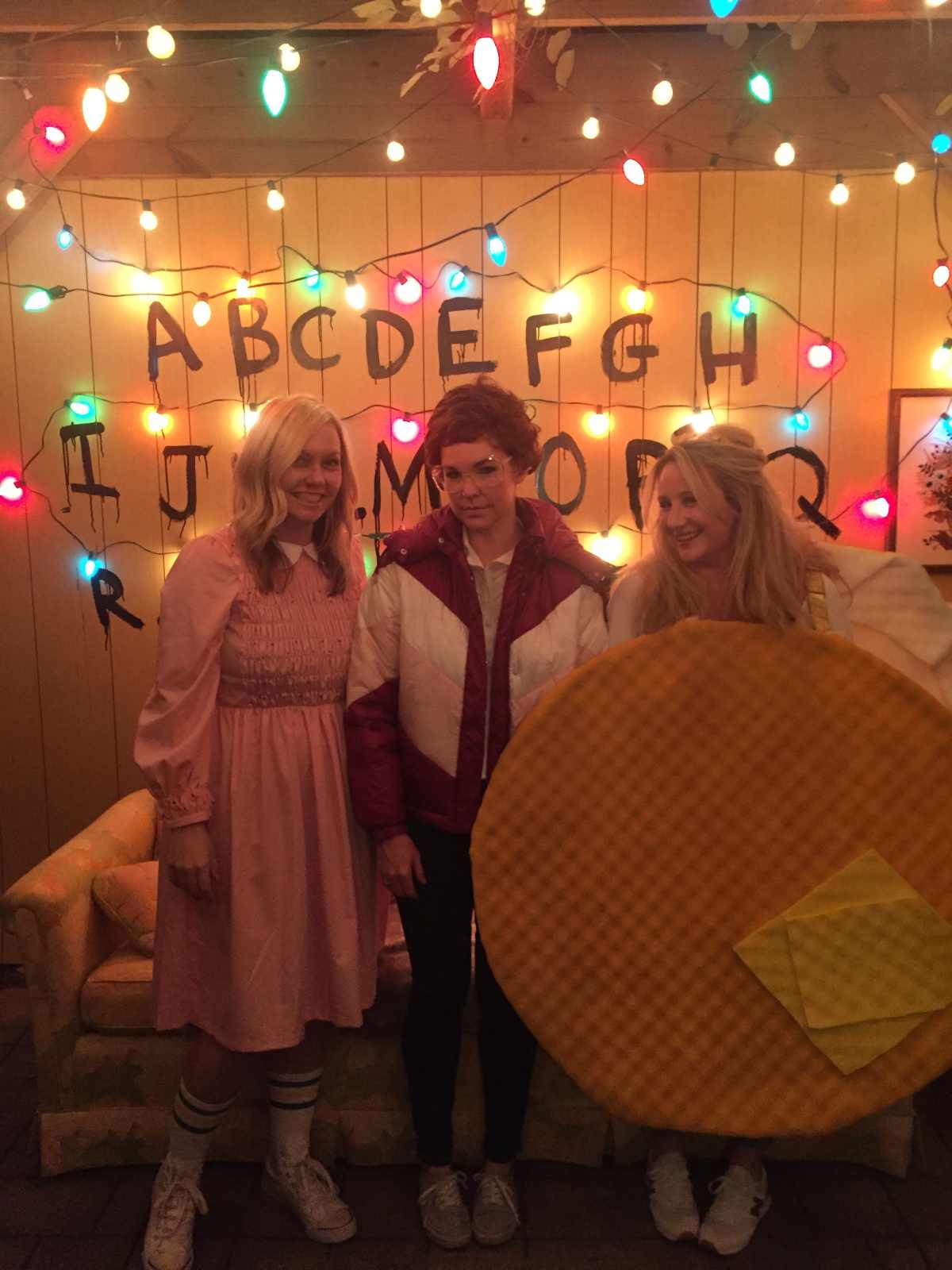 Our guests did an awesome job of dressing up!   I loved season 2 just as much as season 1, and we already have plans for next year's party . . . can't wait!
Also, #teamsteve, am I right?