Our New Kitchen Reveal with the Home Depot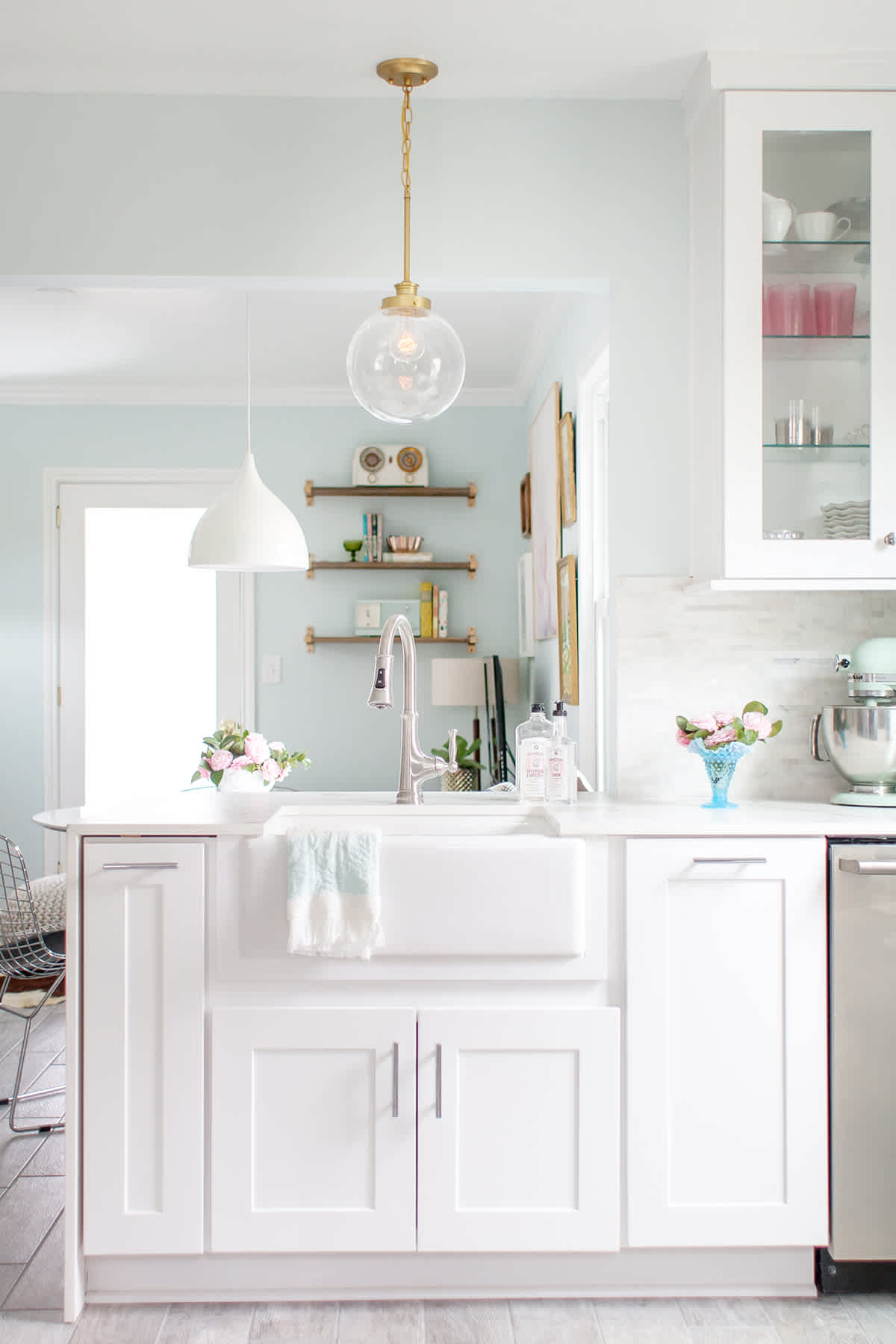 I am beyond excited to be sharing our renovated kitchen today! I could honestly cry thinking about how it has changed our life in this house, and made it so much easier to spend time together!
As I mentioned in a previous post, our former kitchen was beginning to just fall apart, and the lack of storage and inefficient use of space was making things a challenge for our growing family. We didn't have a comfortable place to eat together, and cooking was just plain stressful!
(pictured above: Thomasville Cabinets in Eden White; Kohler Apron Front Sink; Glacier Bay Faucet; Brass Pendant Light; Dutch Pendant; Electrolux Top Control dishwasher; Marazzi Porcelain Tile)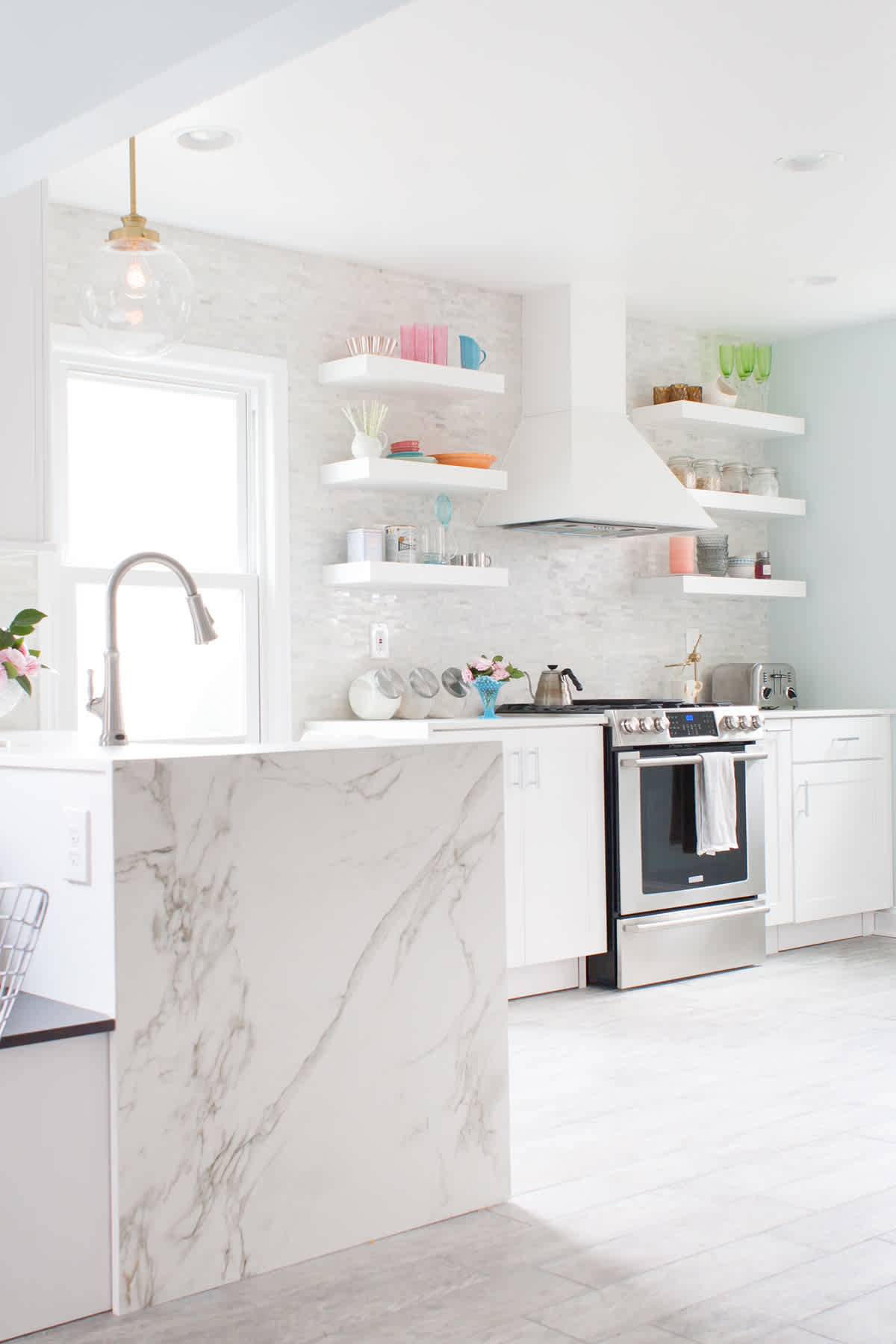 However, after working with the Home Depot Kitchen Remodeling Services, it feels like we live in a completely different house. The space has been entirely transformed, and I have to say it's where we are spending most of our time these days.
I was truly impressed with how smoothly the entire process went, from the design assistance (and reassurance) to the project management to the install of everything.
The Thomasville cabinetry really set the tone for a more organized space. I love how cohesive everything looks now, as the vent hood, open shelving and beautiful cabinets are all custom made for our kitchen. I honestly didn't really "get it" about the difference cabinet organization would make, but we have so much more storage space (in the same amount of square feet!) now and it's amazing.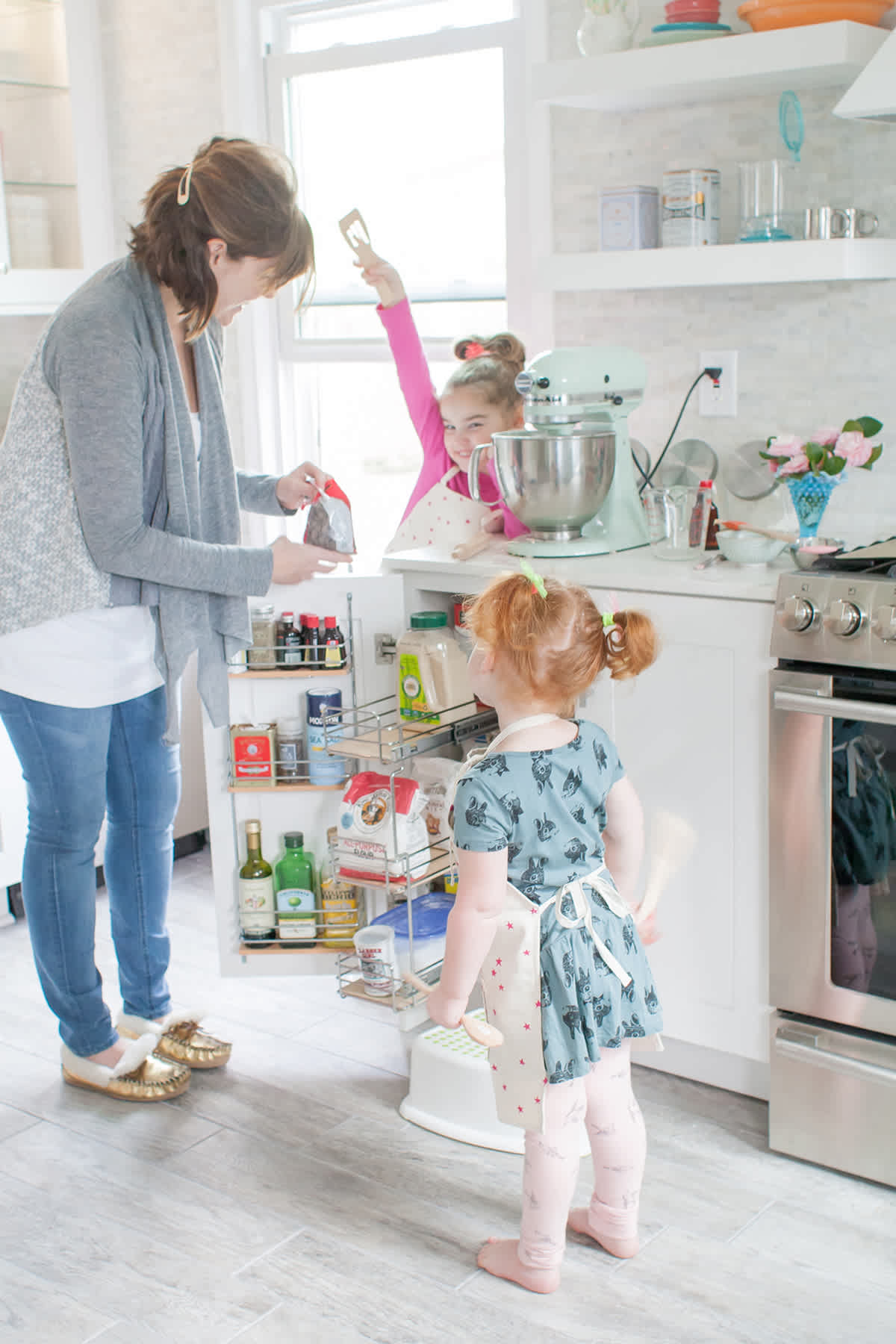 I also love that I can keep so much out of sight, and the pull out drawers in the super cabinet and pots & pans organizer make certain every bit of the space is used. I pretty much never have to bend over or crouch down to pull something out of a corner, but I just simply open the cabinet and pull out a drawer (which is super helpful when you are very pregnant and/or postpartum!).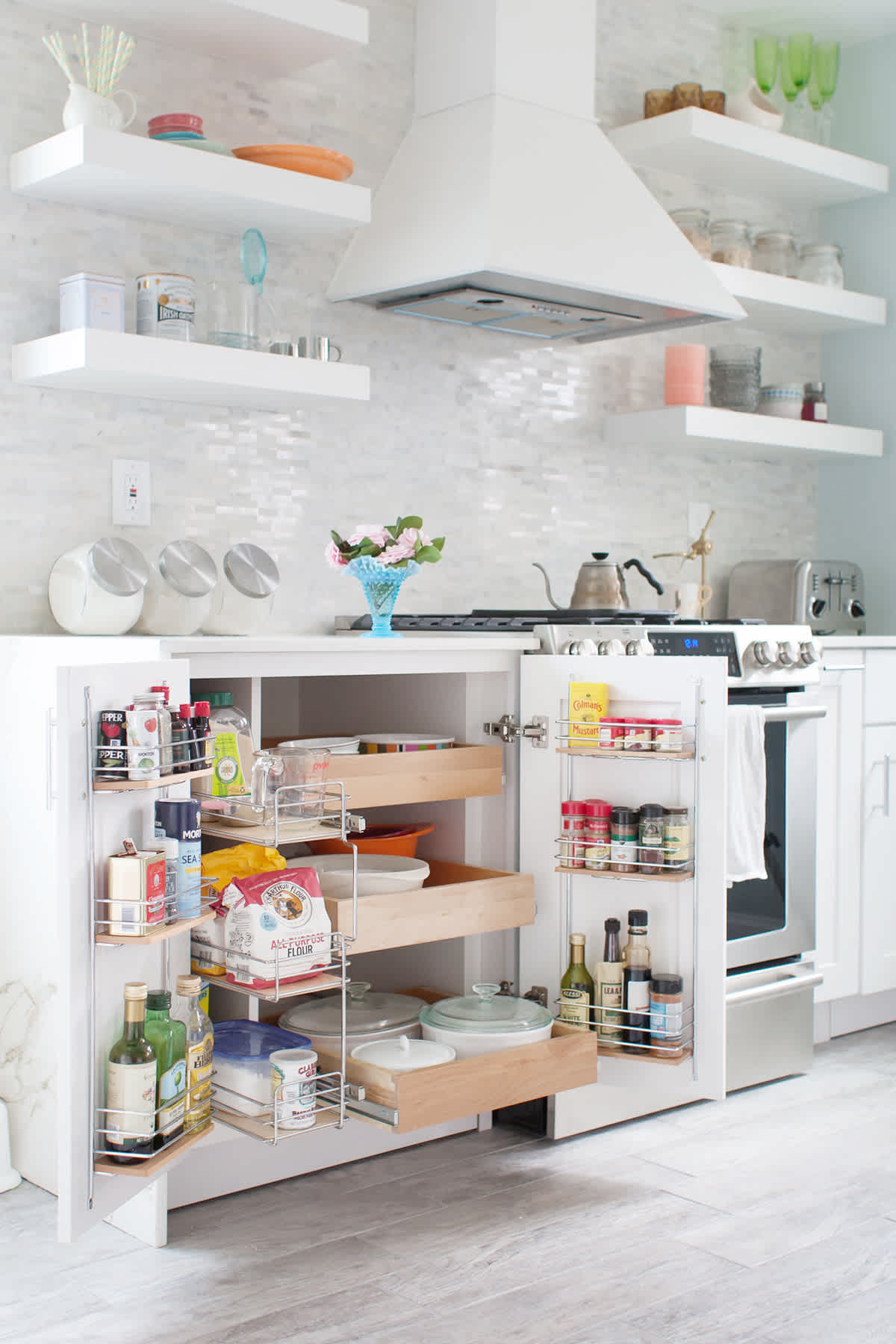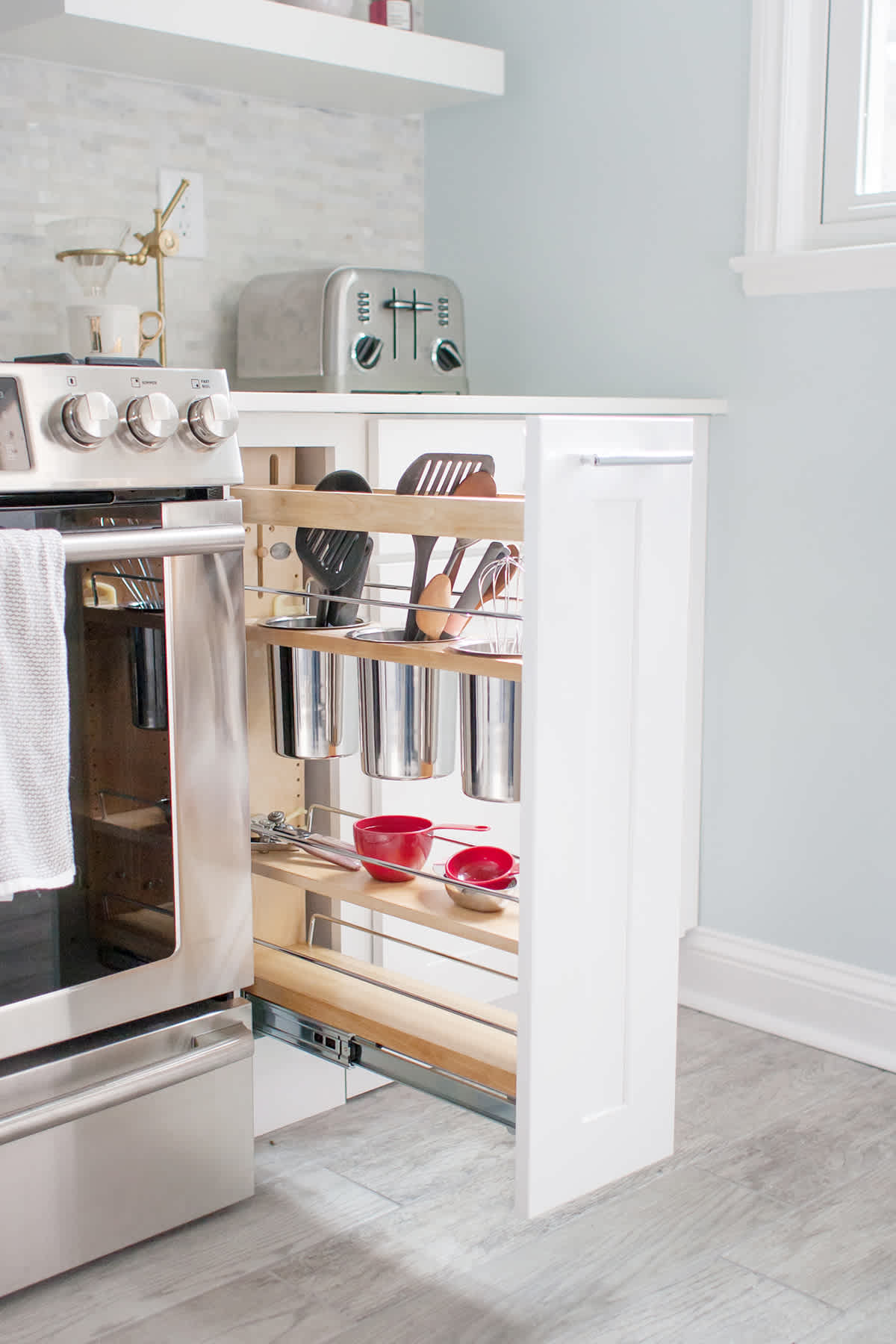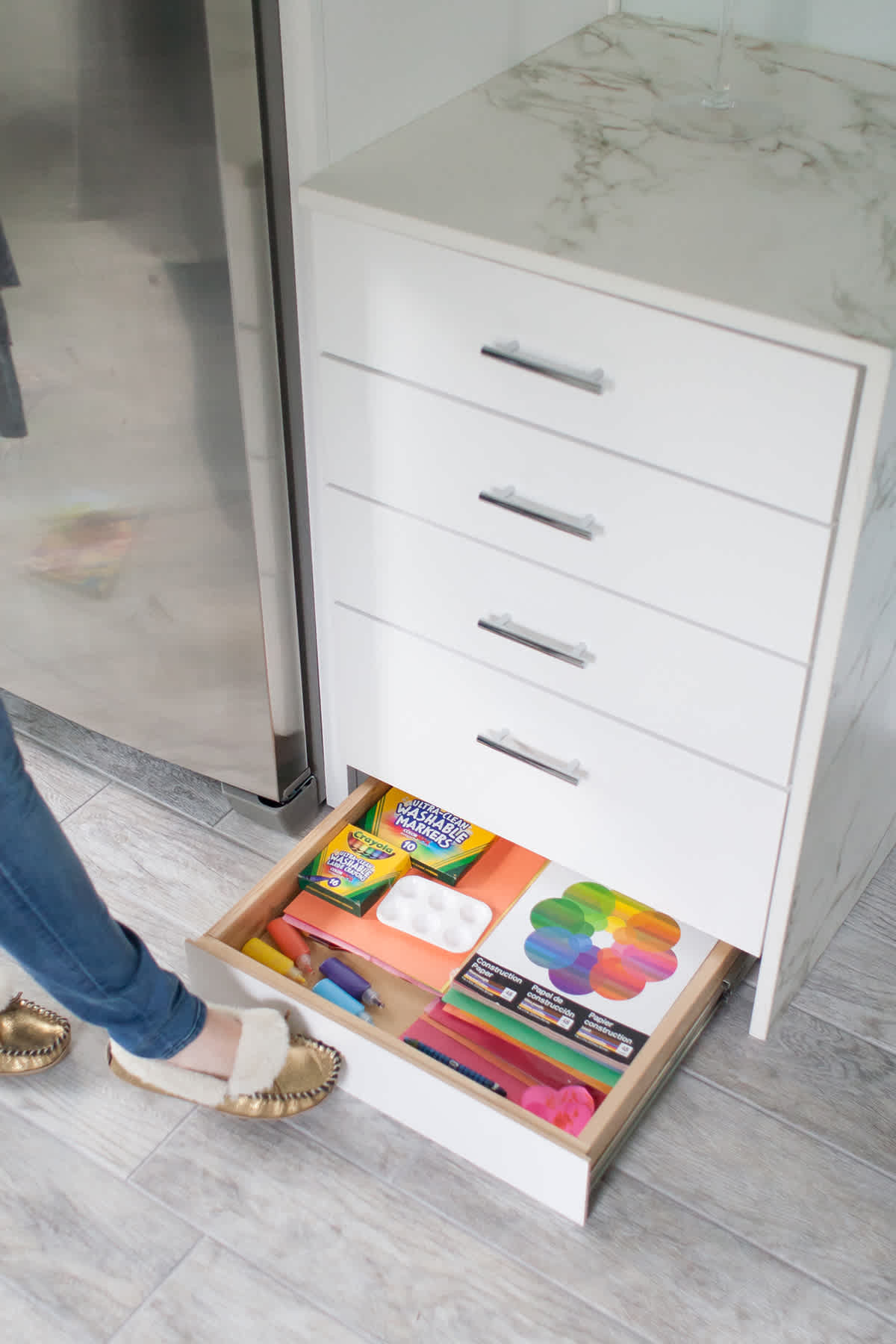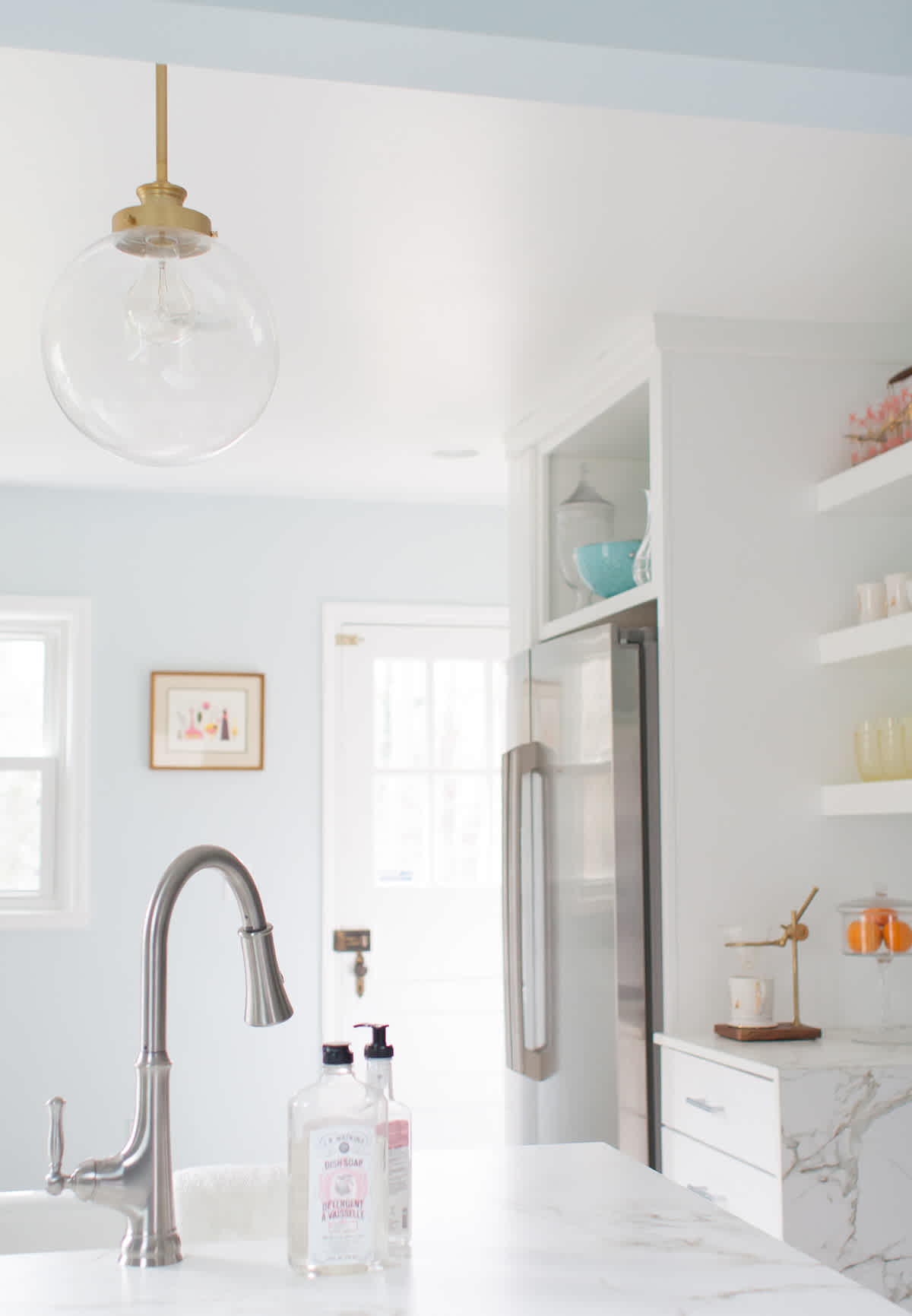 I am also crazy about the Dekton countertops. I was a little uncertain about the Entzo pattern first, because I was afraid the veining would be too much, but I went with my gut (I was also considering the Sirius Black counter because I loved the matte black color, and um, Harry Potter) and they are just gorgeous.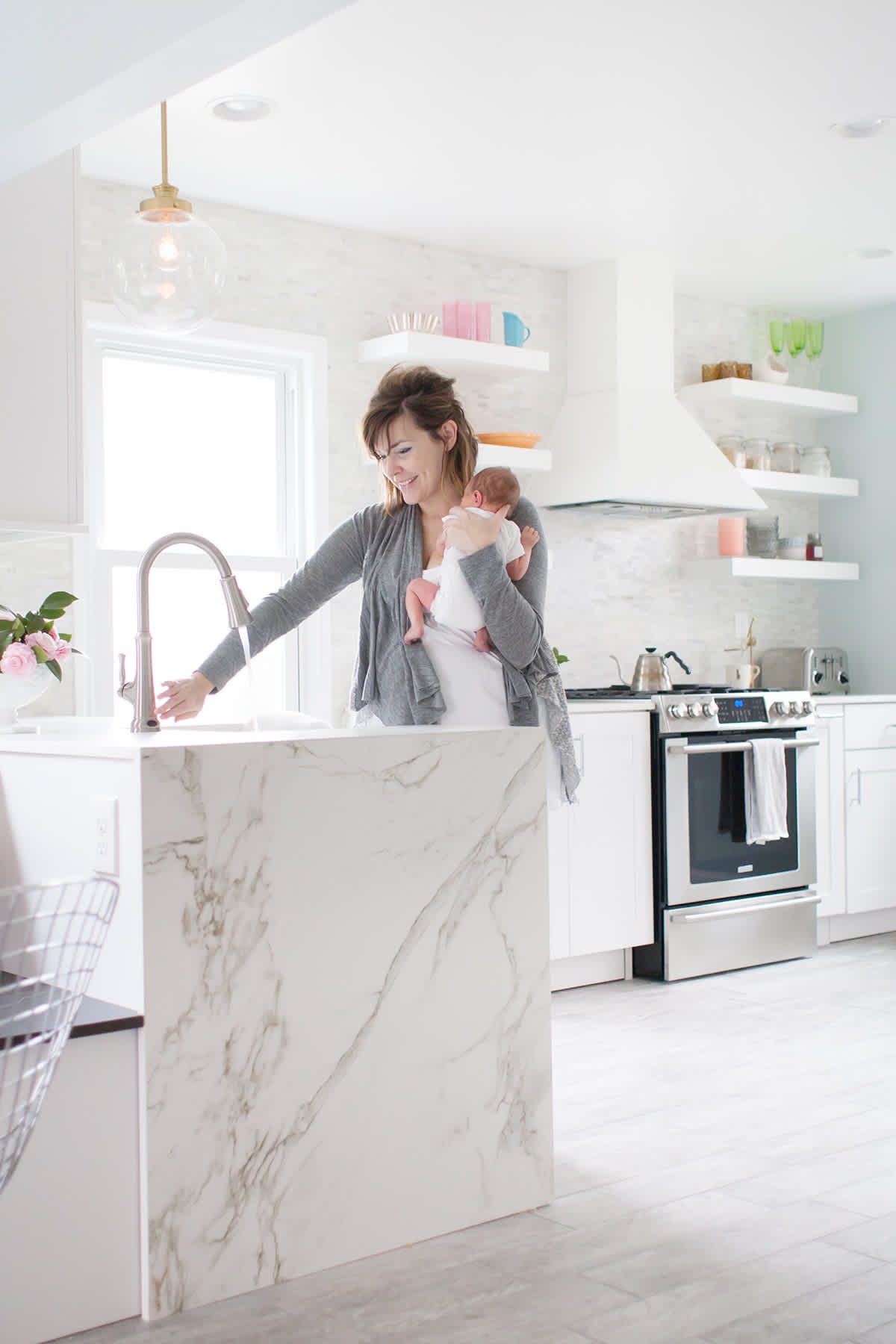 I love how they lighten the look, and the clean, waterfall edges are just the literal icing on the cake. These counters are super easy to clean, and I can cut or chop directly on the surface. They don't stain, and are all around pretty much perfect in a house with little ones, because honestly, I don't need to be babysitting a countertop as well as a newborn! (And that sink!! Can't wait to bathe baby Ellie in it! I'm also positively in love with that touchless faucet, too.)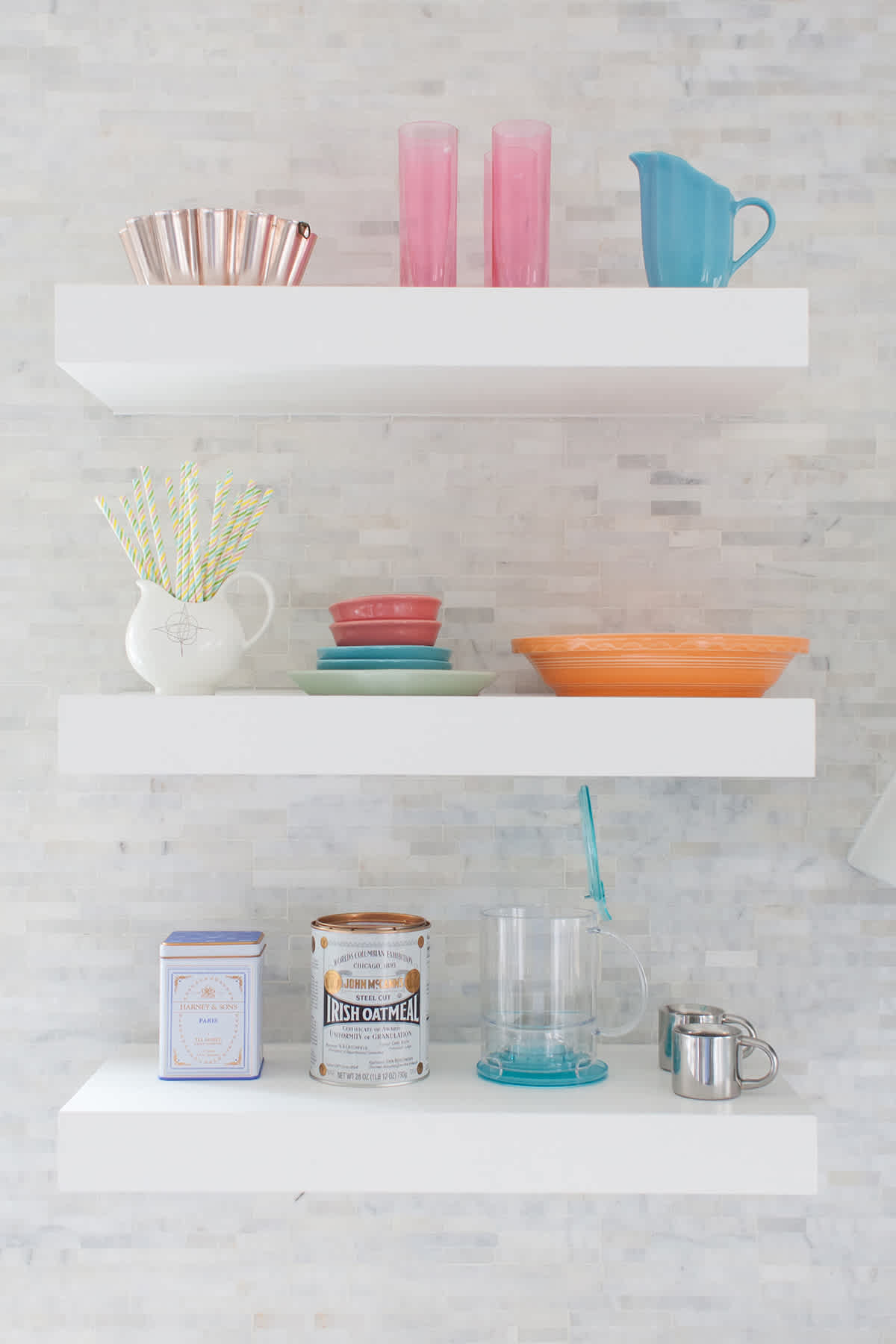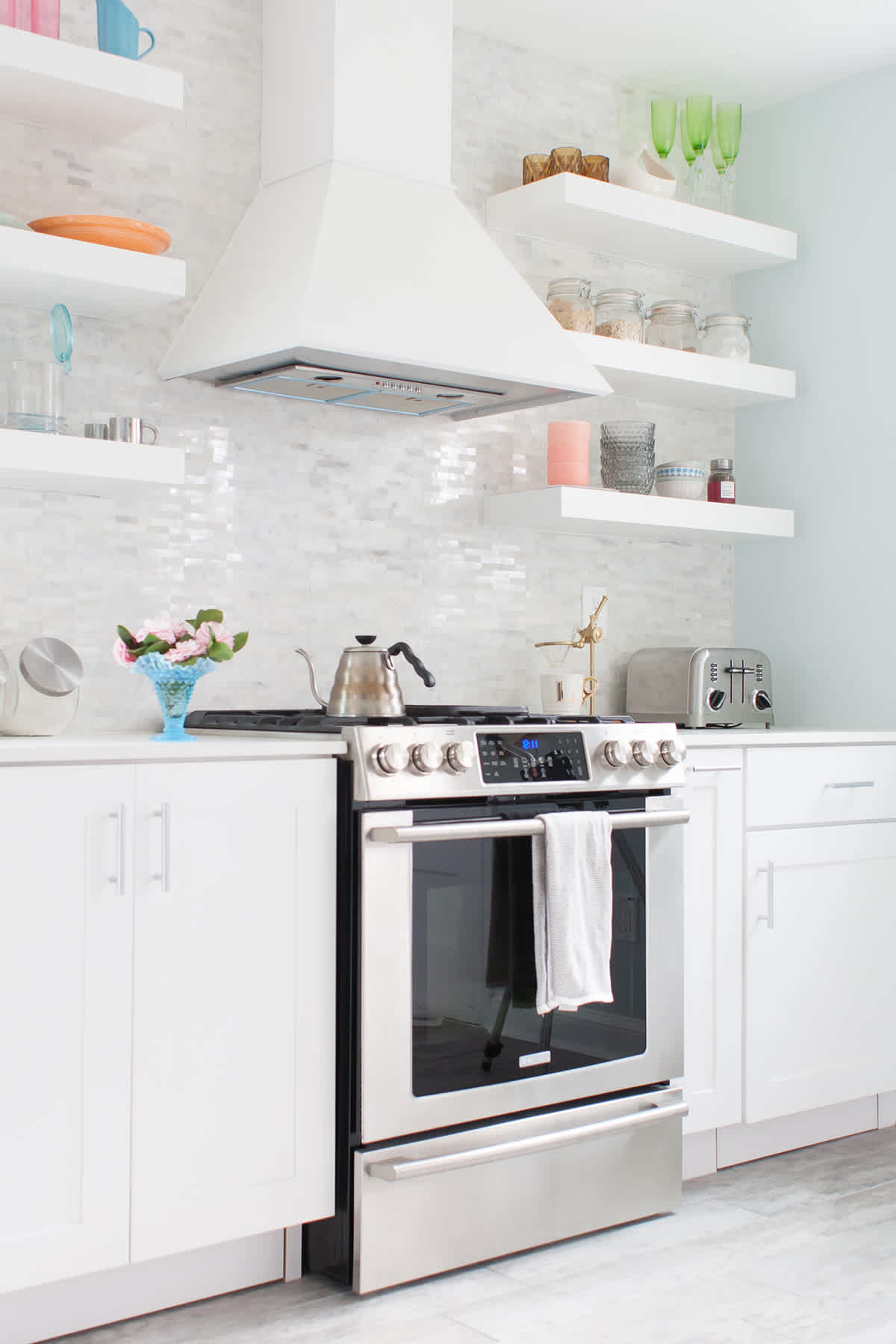 The backsplash is also something I have been dreaming about for years. When we were house hunting as newlyweds, I fell in love with a kitchen in a house (which weirdly enough had no closets, so we had to pass) that I thought was my dream kitchen. It had a sink that overlooked the den and a beautiful mosaic tile backsplash. I love the look of this Venetian Brick mosaic by Jeffrey Court - it just brightens up the whole room and reflects the light in the most beautiful way!
(pictured above: Electrolux Front Control Gas Range; Venetian Brick Backsplash)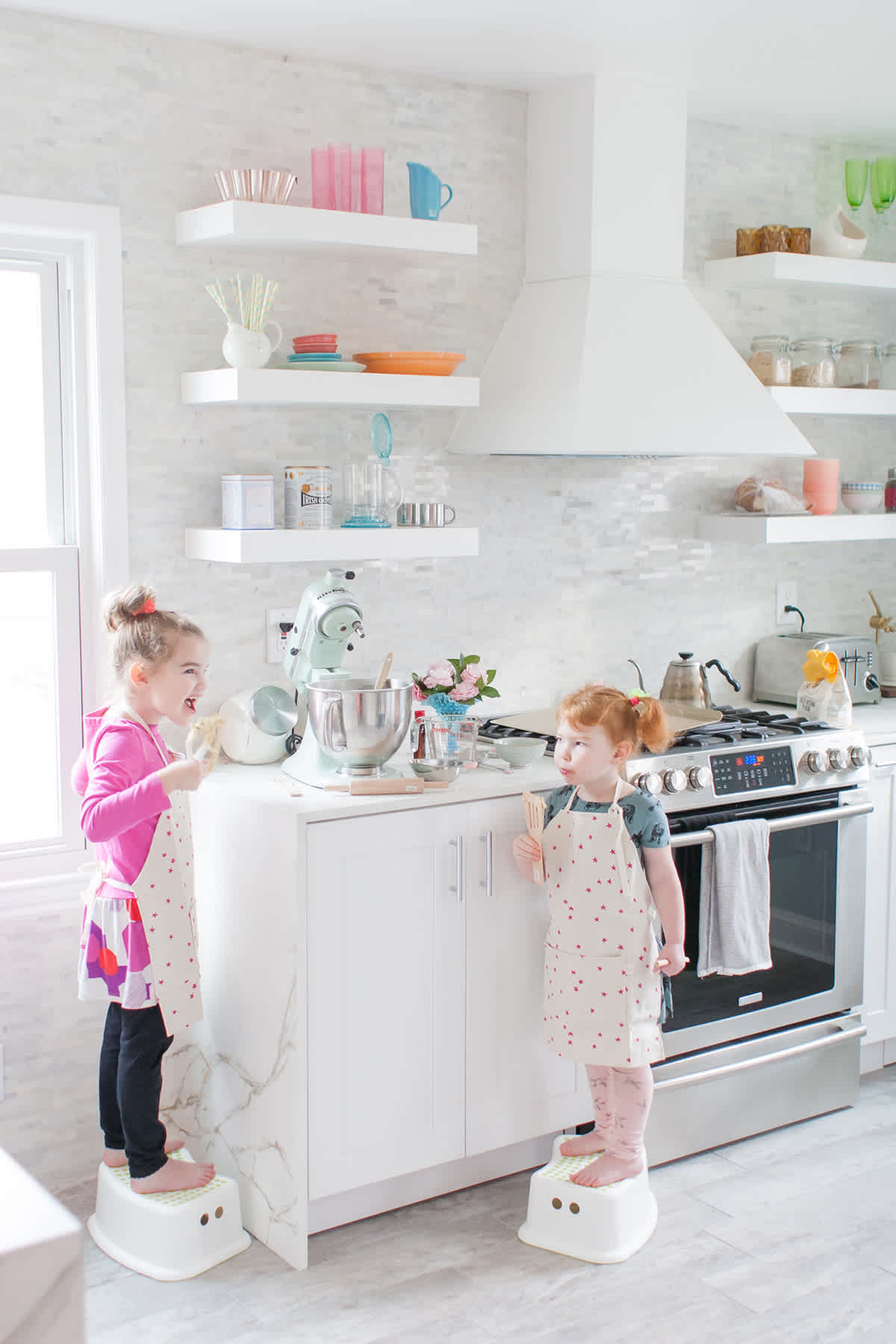 Covering the entire wall also gives it a bit more of a dramatic effect and really makes it a showstopper!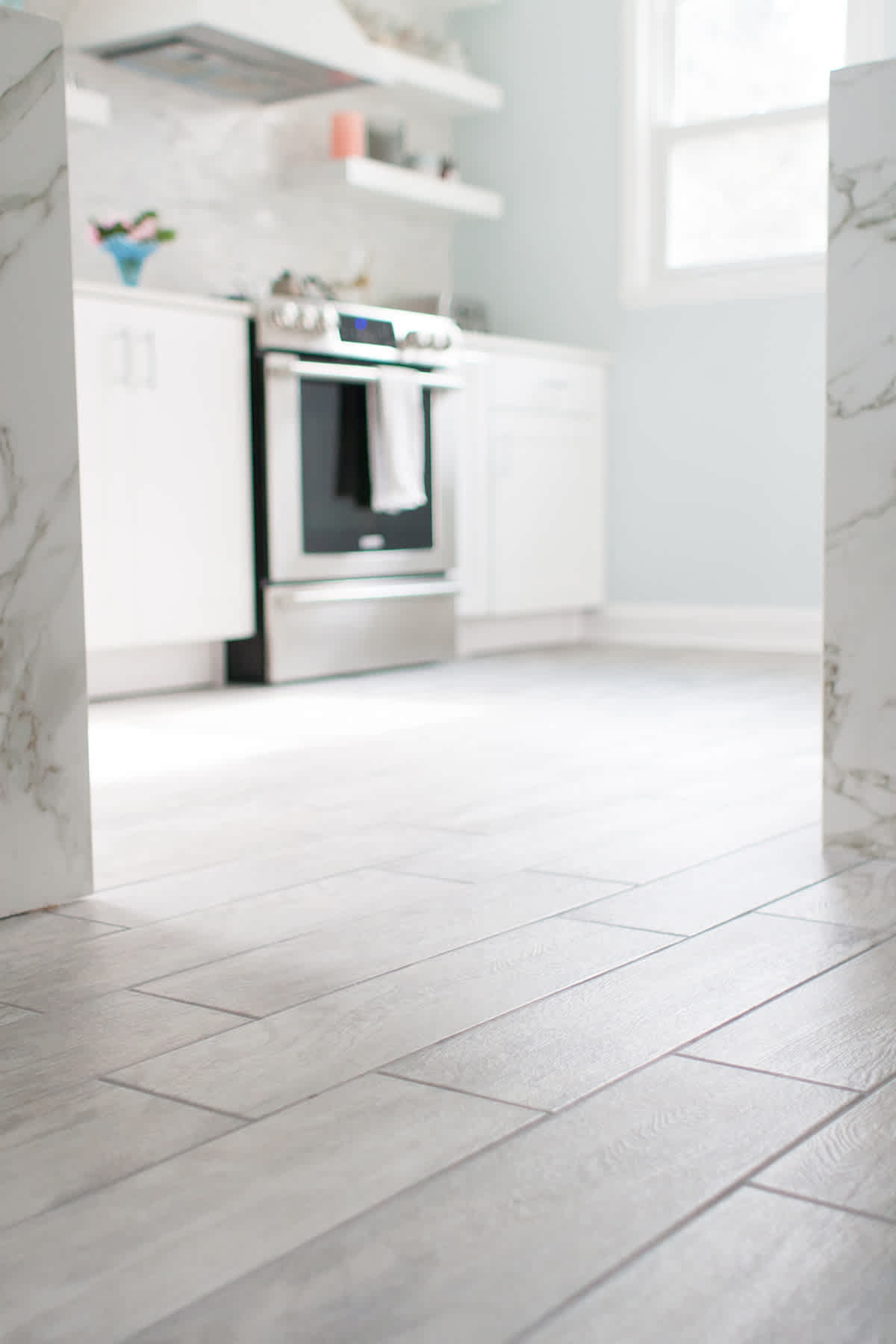 The floors were a huge improvement as well. We knocked out the wall between the kitchen and our little den to make it all one space, and to make everything feel more cohesive, the Home Depot Kitchen Remodeling Services installed the Marazzi porcelain wood look tile throughout the entire space. This tile is another one of those things that you can't really grasp how good it is going to look until it is installed. I love the way it feels, and we went with the dappled gray color, which also helps really brighten the room and makes things feel considerably less busy than the former checkerboard pattern, thus making the entire space feel much larger.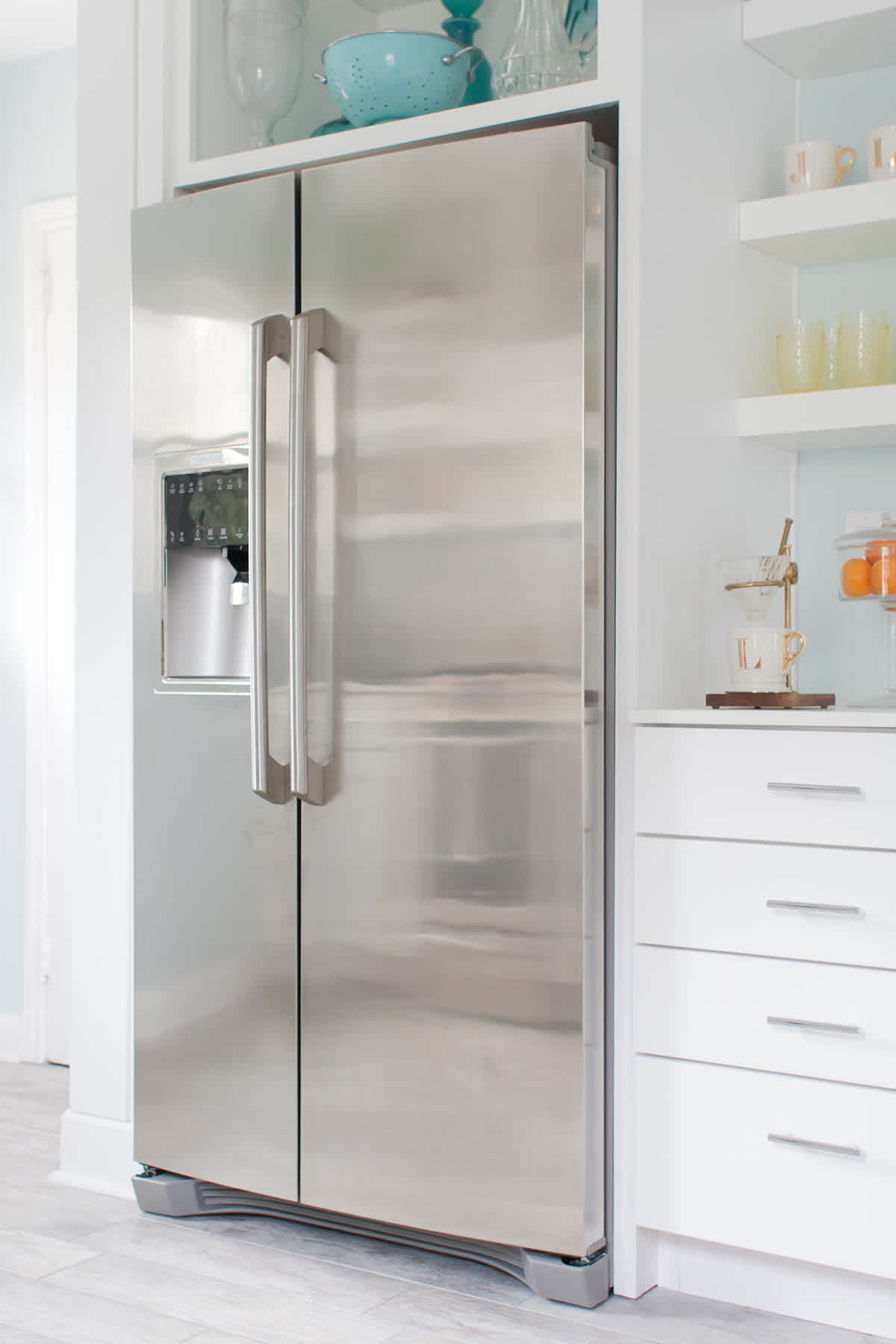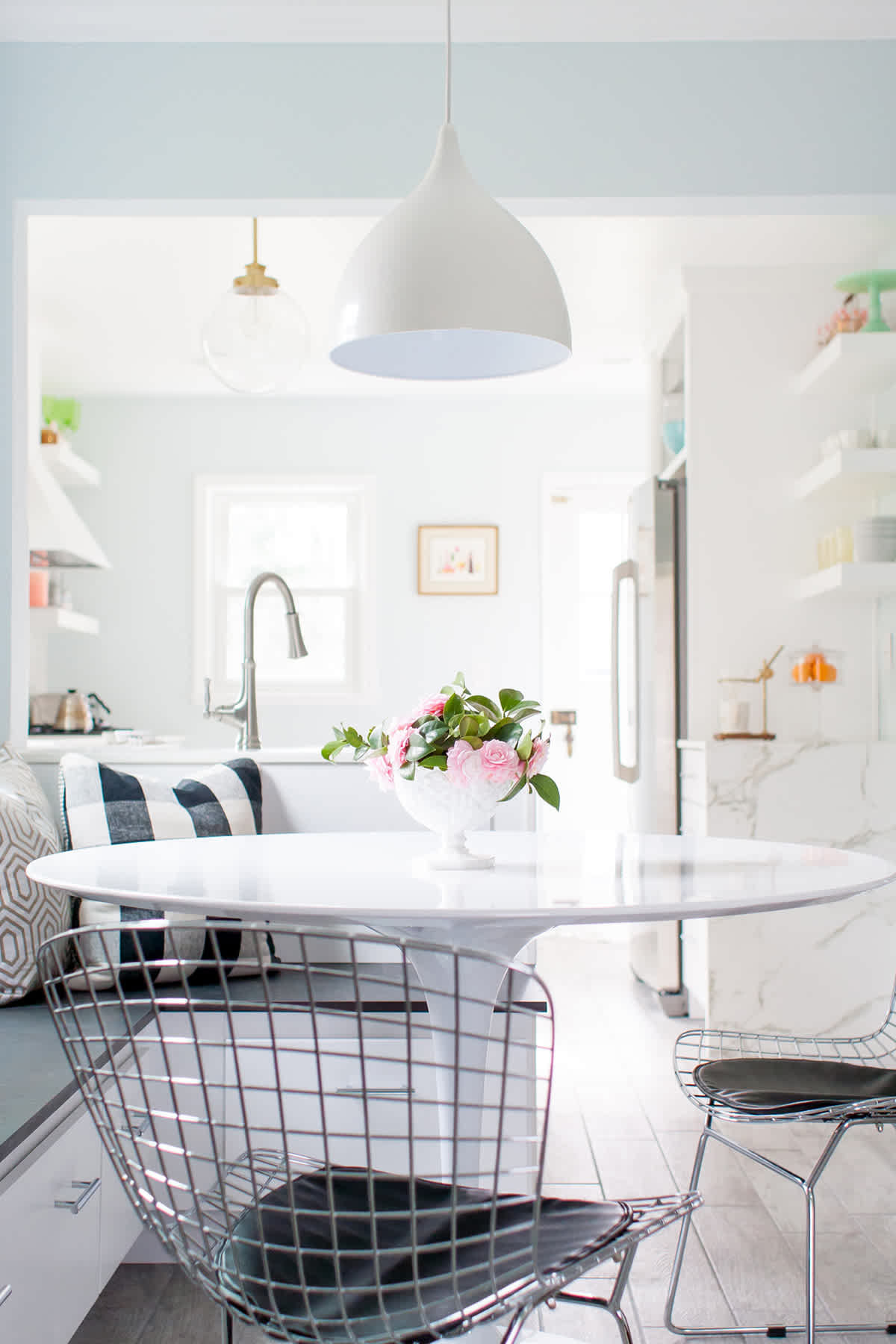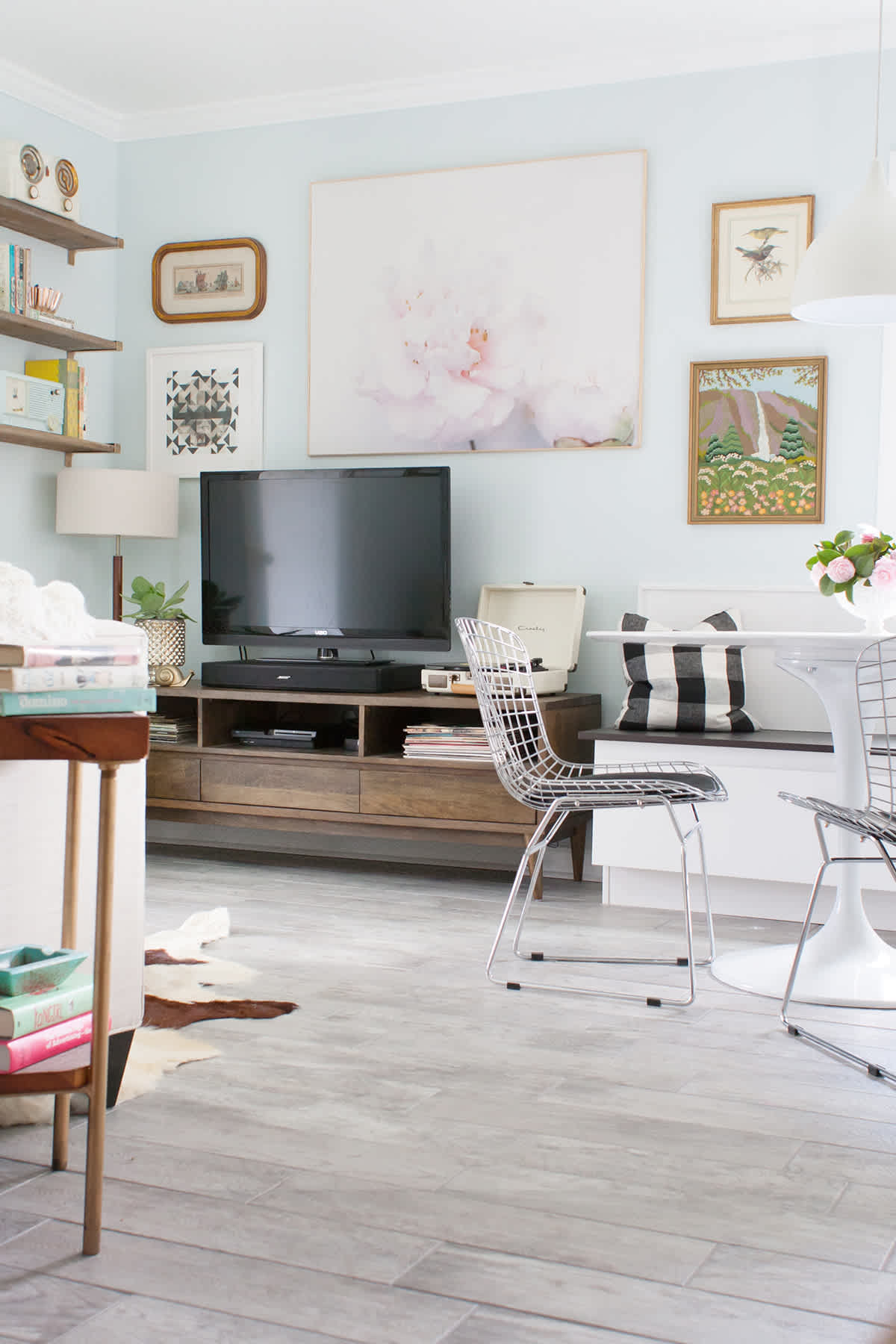 We also designed the space so that we have a little den area, and a built in banquette for dining that flows into the kitchen. Our house isn't that large, so we really needed to make use of all the inches! Chip and I had talked about just turning the den into a dining room, but it felt a little bit like a waste of that room because we really did use our little den a lot (and I love not having a TV in our living room).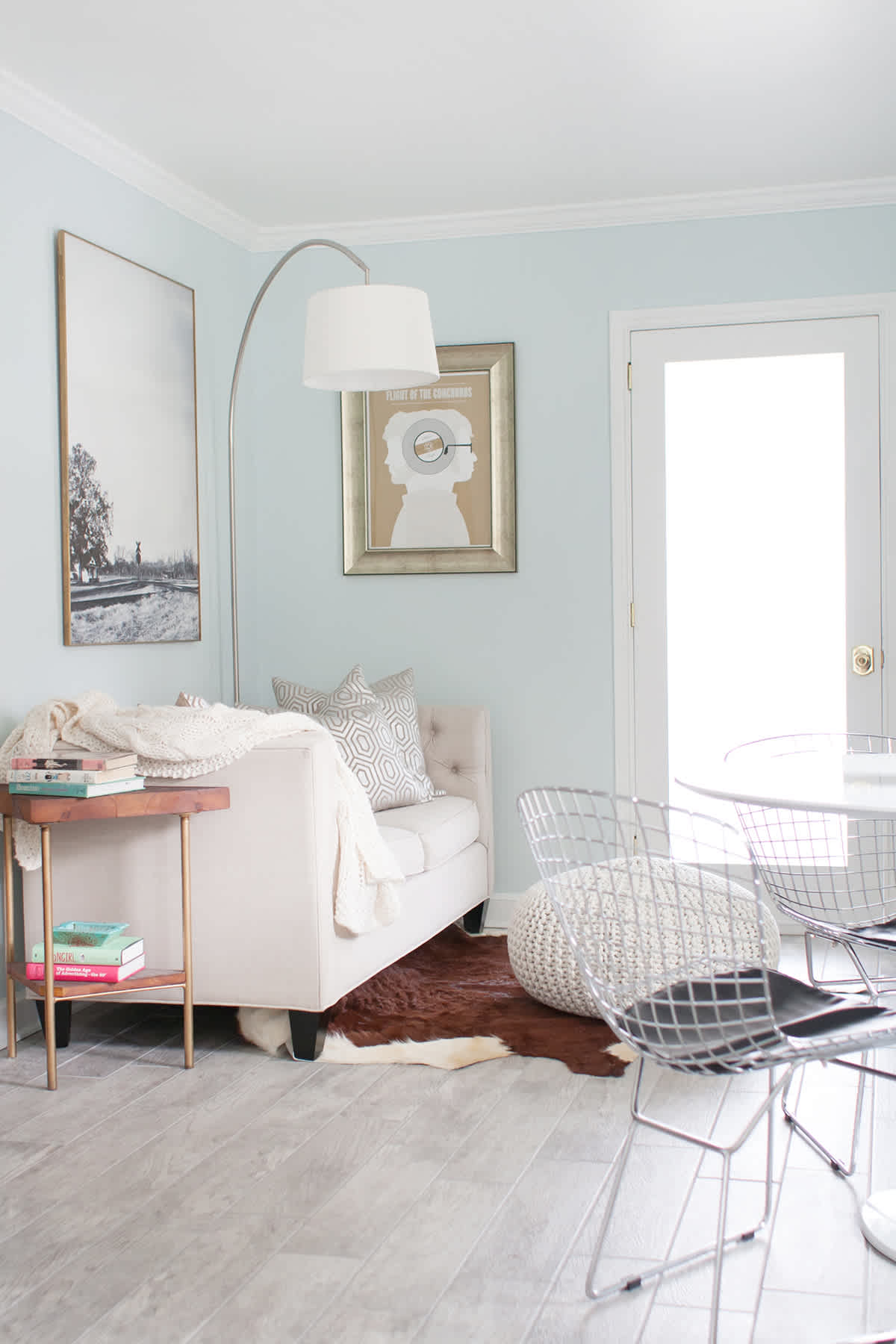 We downsized the sofa a bit and went with this adorable tufted one so the space really works. It has been a lot of fun to spend time in there, and I can cook and keep an eye on the girls while they watch an afternoon show, or color at the table. We have also had quite a few family game nights at our new dining table, (the extra storage under the banquette is so handy for storing games and craft supplies!) which has been so fun!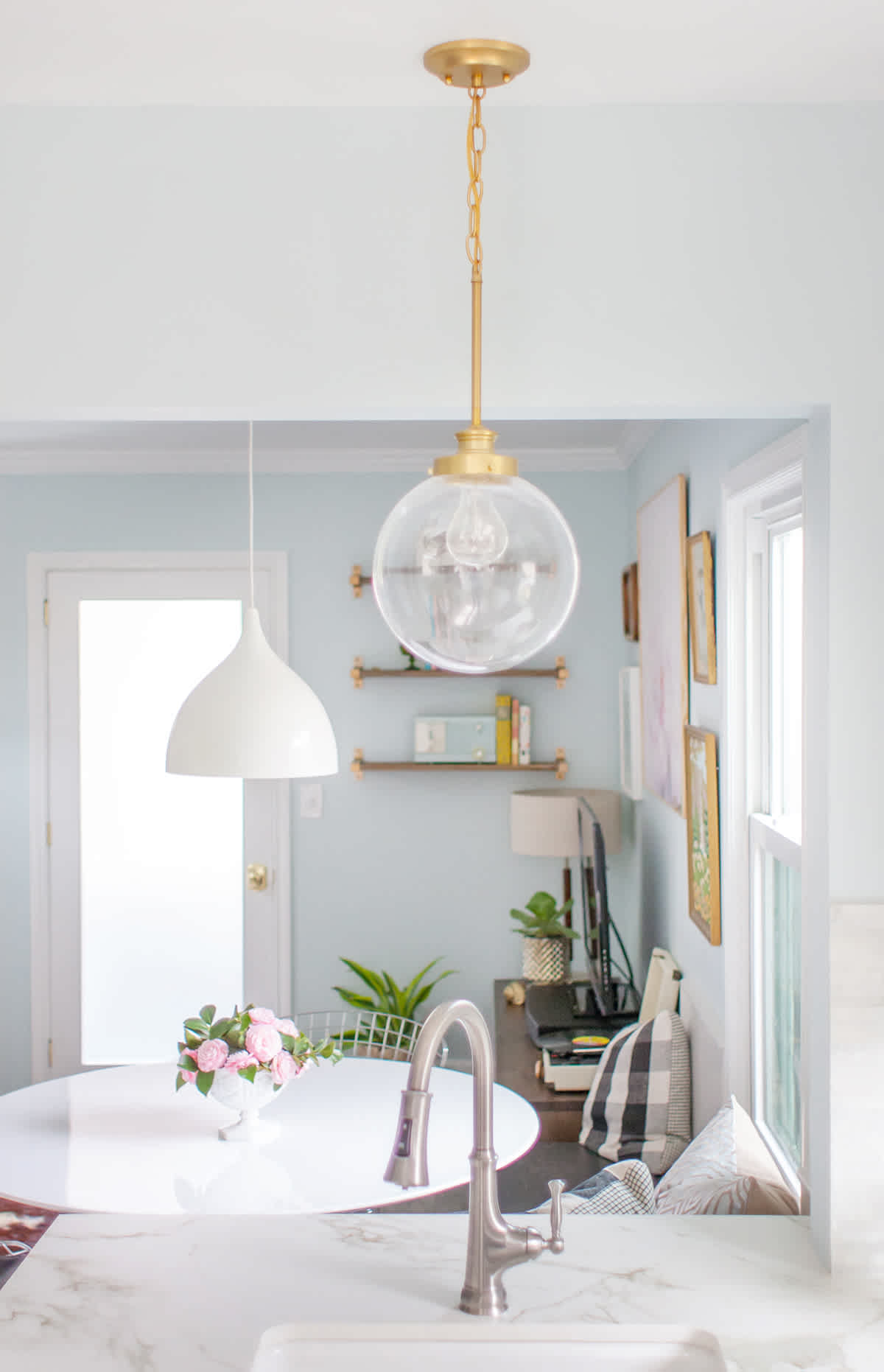 We had a table before, but it was so cramped that we never really wanted to linger, and now we sit longer, and it's also just plain fun to set the table with the girls because it actually looks lovely and inviting now!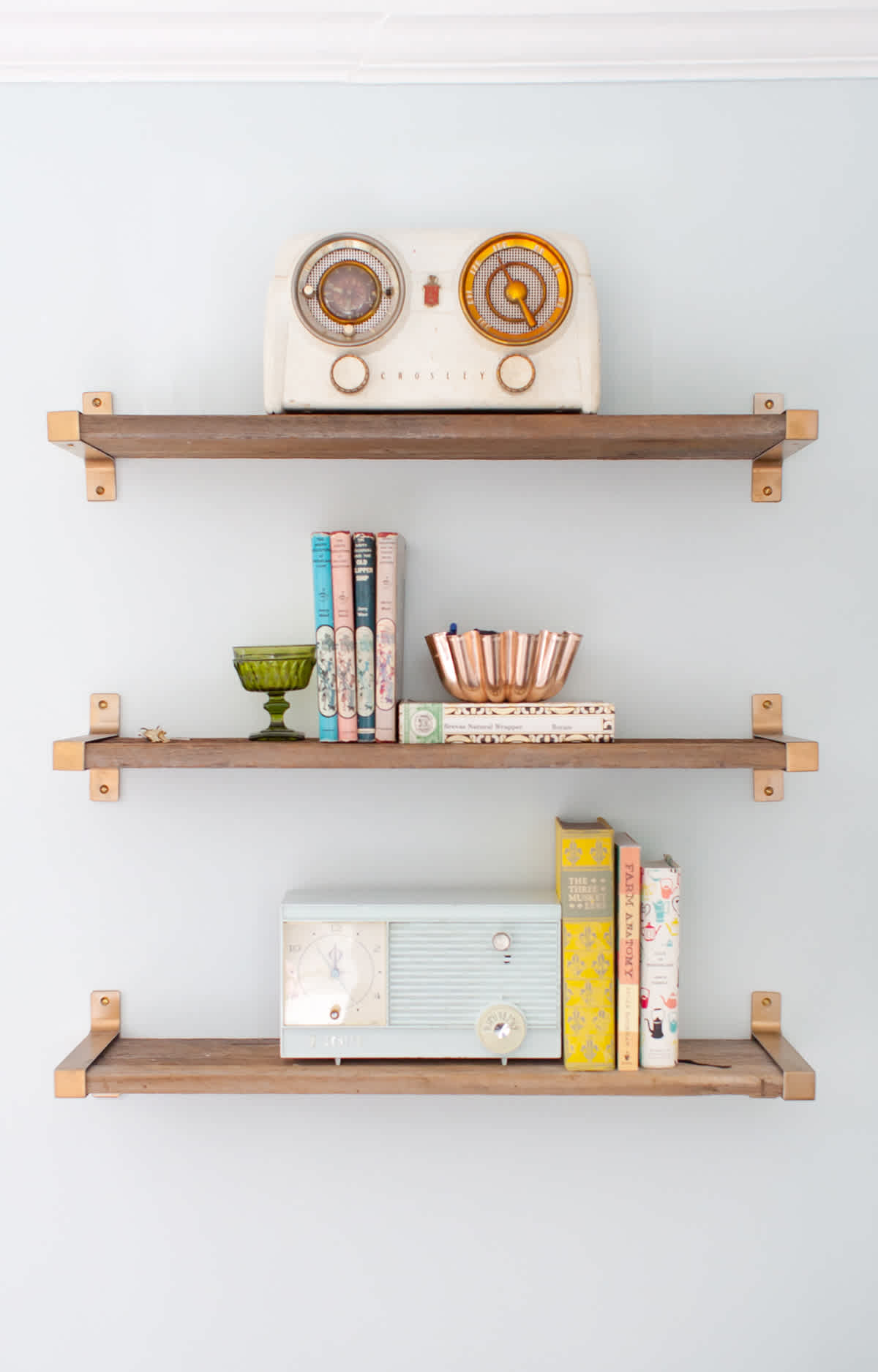 I debated a bit on the wall color. I was thinking about white, but I didn't want it to look too sterile, so I went with a very light powdery blue by Behr, called Crystalline Falls. It's almost a neutral, but it's nice to have a touch of color that keeps the space light. It's also not pink and Chip loves it, so that is an added bonus! Since much of our house is dedicated to little girls, I wanted this new space to feel a little more neutral!
(You can find those brackets at The Home Depot here. I spray painted them gold and paired them with some reclaimed wood from our farm, but they also have white shelves ready to use if you want a more polished look or can't find something similar!)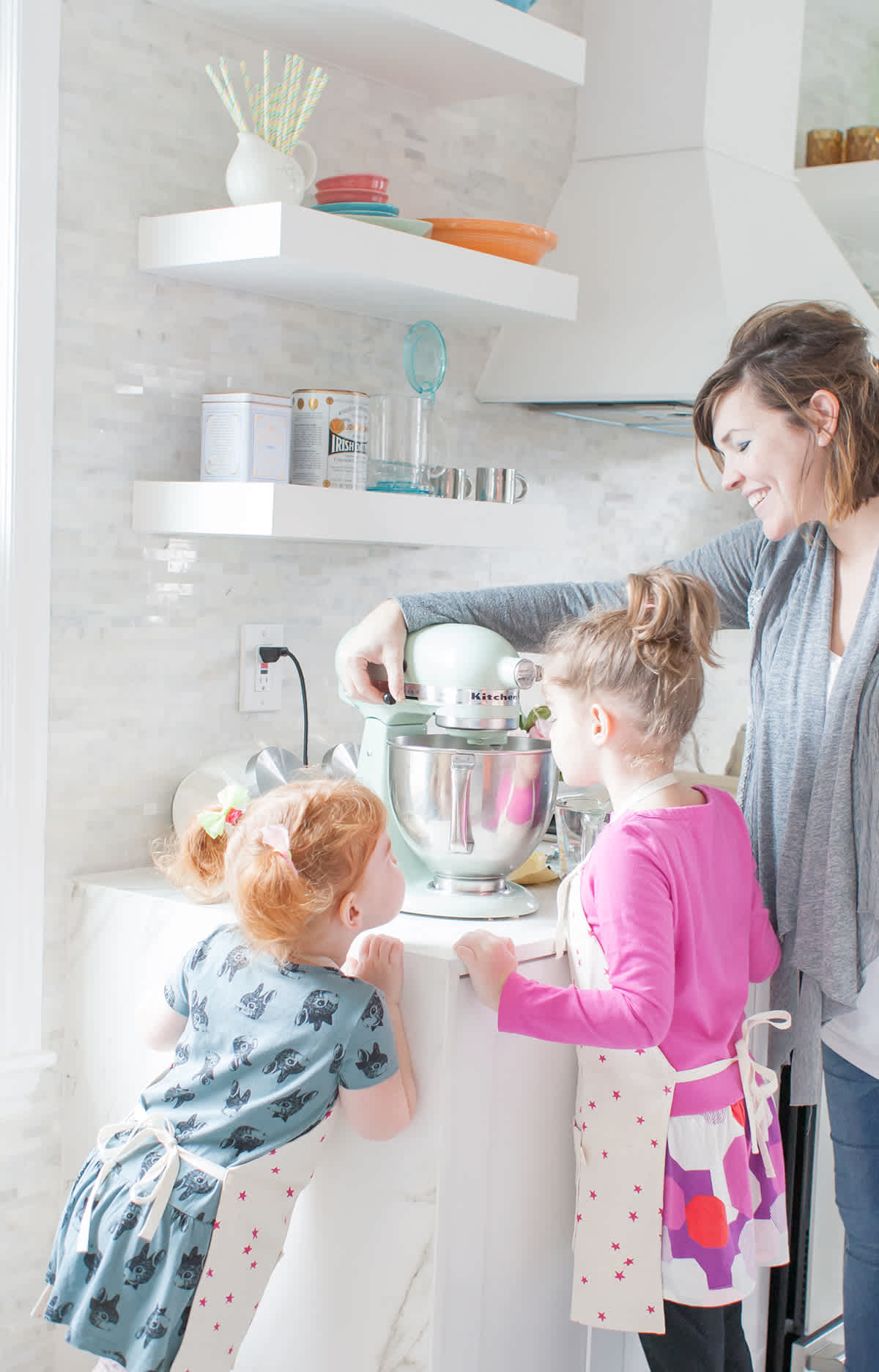 We have only had this kitchen for a short time, but we have already enjoyed making so many memories in it! It has really changed my attitude about cooking and preparing meals for our family, and we are going to be able to stay in this home that we love for many more years because of it.
The girls and I have already cooked countless batches of cookies, cupcakes and too many pancakes to count and we are all just in love with the new space.