yellow and gray neutral nursery ideas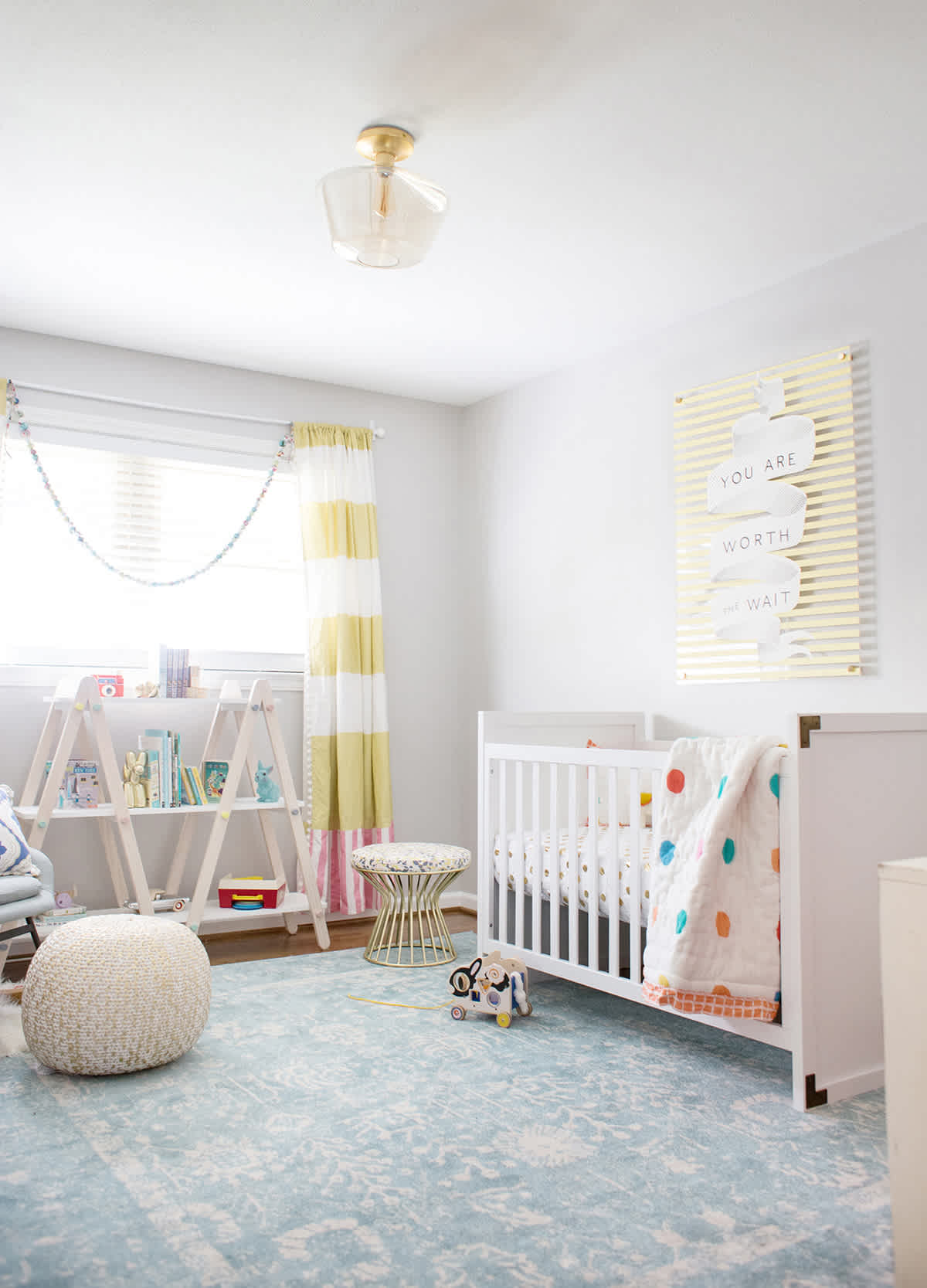 This post is sponsored by the Baby Relax brand from Dorel Living.
I'm so excited to share this sweet nursery with y'all today!  I put together this room for a sweet couple whose story isn't really mine to tell, but I can tell you they have a baby arriving next week - a baby for whom they have been waiting quite awhile.  I am so excited for them, and I feel so privileged to have had a part in putting together this space for this long awaited little one to rest her precious little head.
(Sources for the above: Baby Relax Miles 2-in-1 Convertible Crib; Geo Flushmount Light; Quilt no longer available, but other similar styles are here; Bunny Pull Toy; Freeman Rug; Gold Pouf; Gold Stool; Dottie Bookcase; Gold Dot Crib Sheet; Florasphere Garland)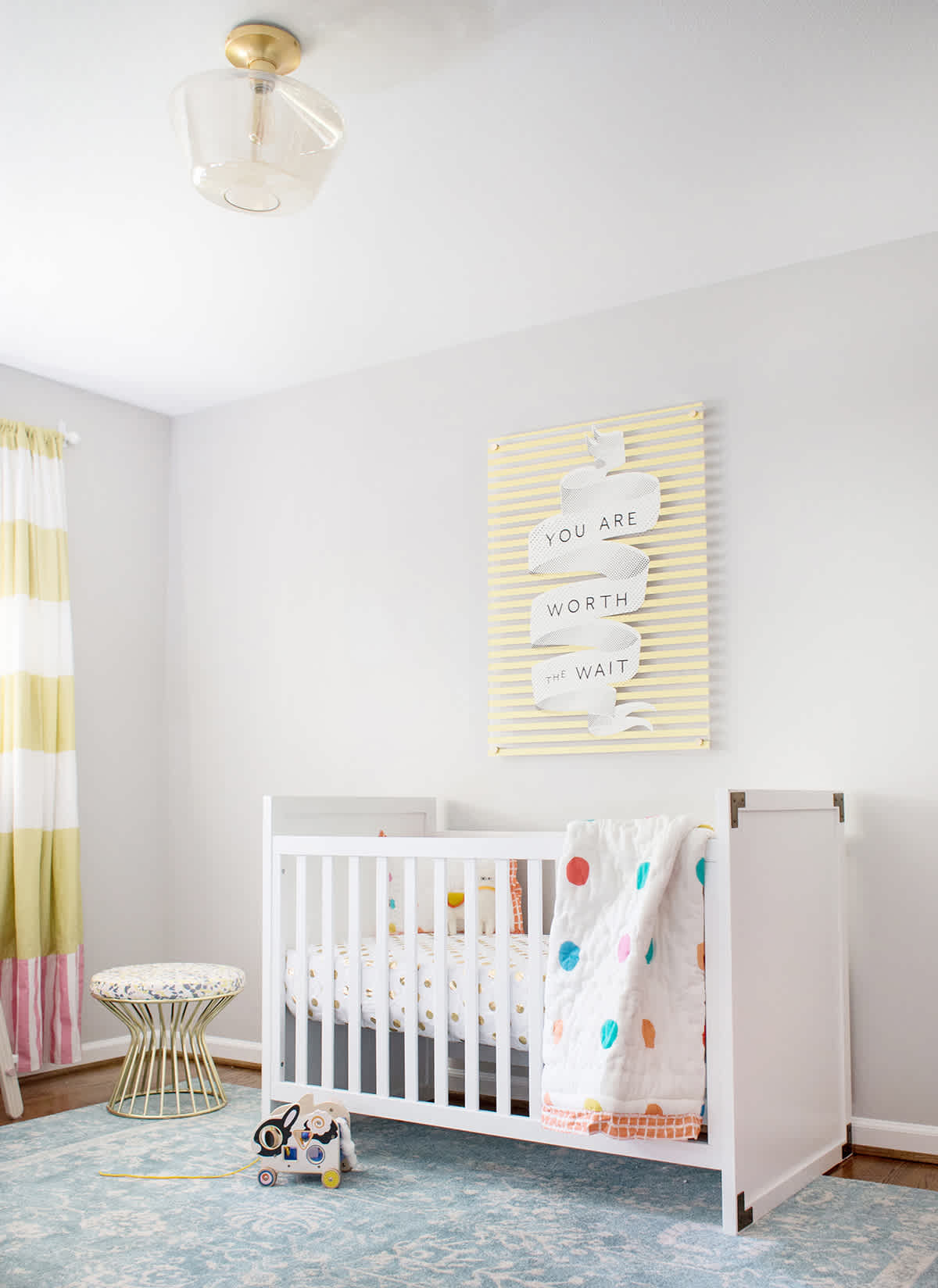 The room started with this white Miles 2-in-1 Convertible Crib by Baby Relax that is part of the Miles Collection.  It has a classic shape, with campaign details that lend itself well to almost any style, and it's perfectly neutral.  It also converts easily to a toddler daybed, as you can remove the front panel. (Check out all the other pieces in the Miles Collection here - all are available at Target!  Also, more details to come later this week on the "you are worth the wait" piece!)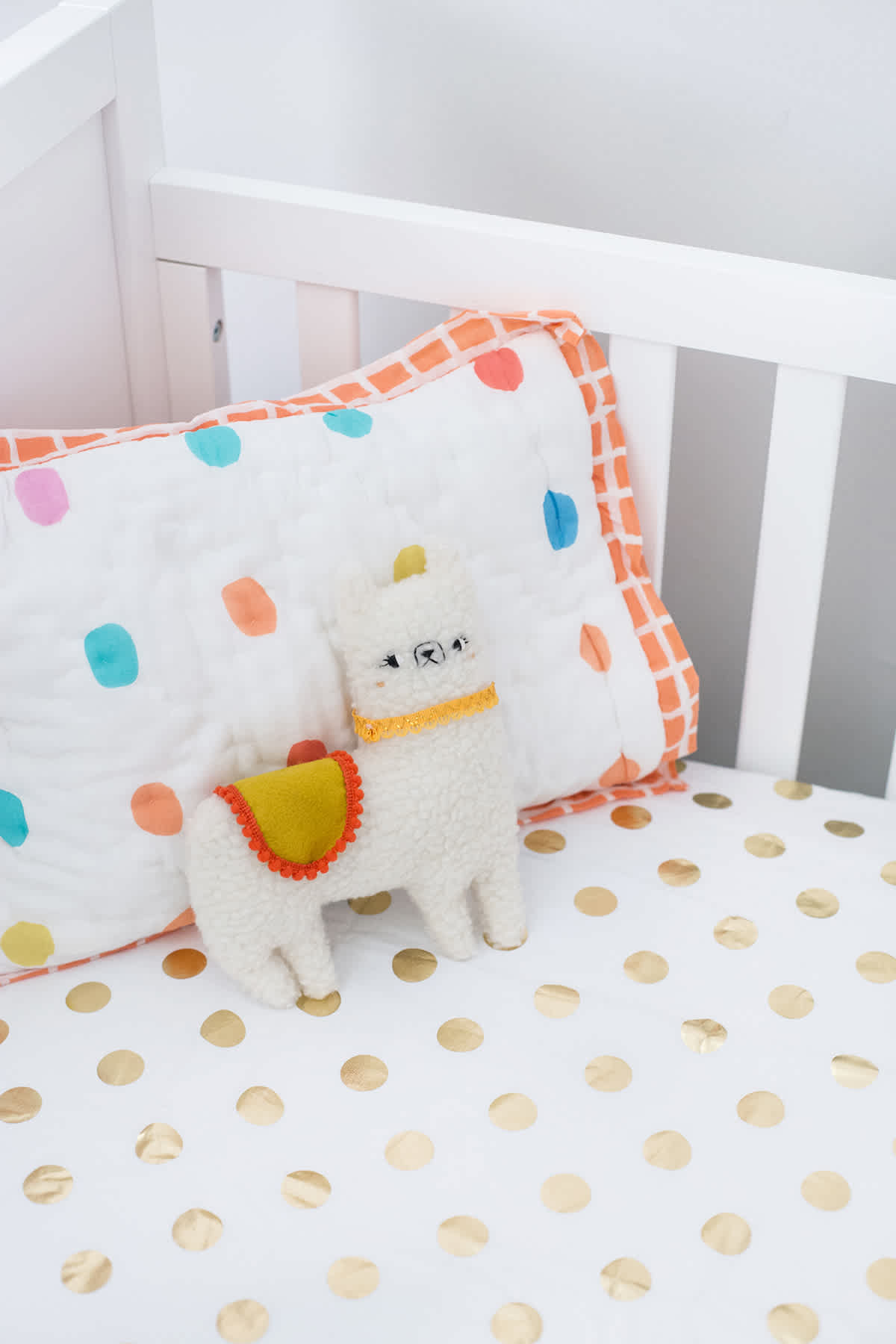 Also, how cute is that little alpaca guy from Sleepy King Handmade?  She makes the sweetest little animals with so much personality! (Gold dot crib sheet)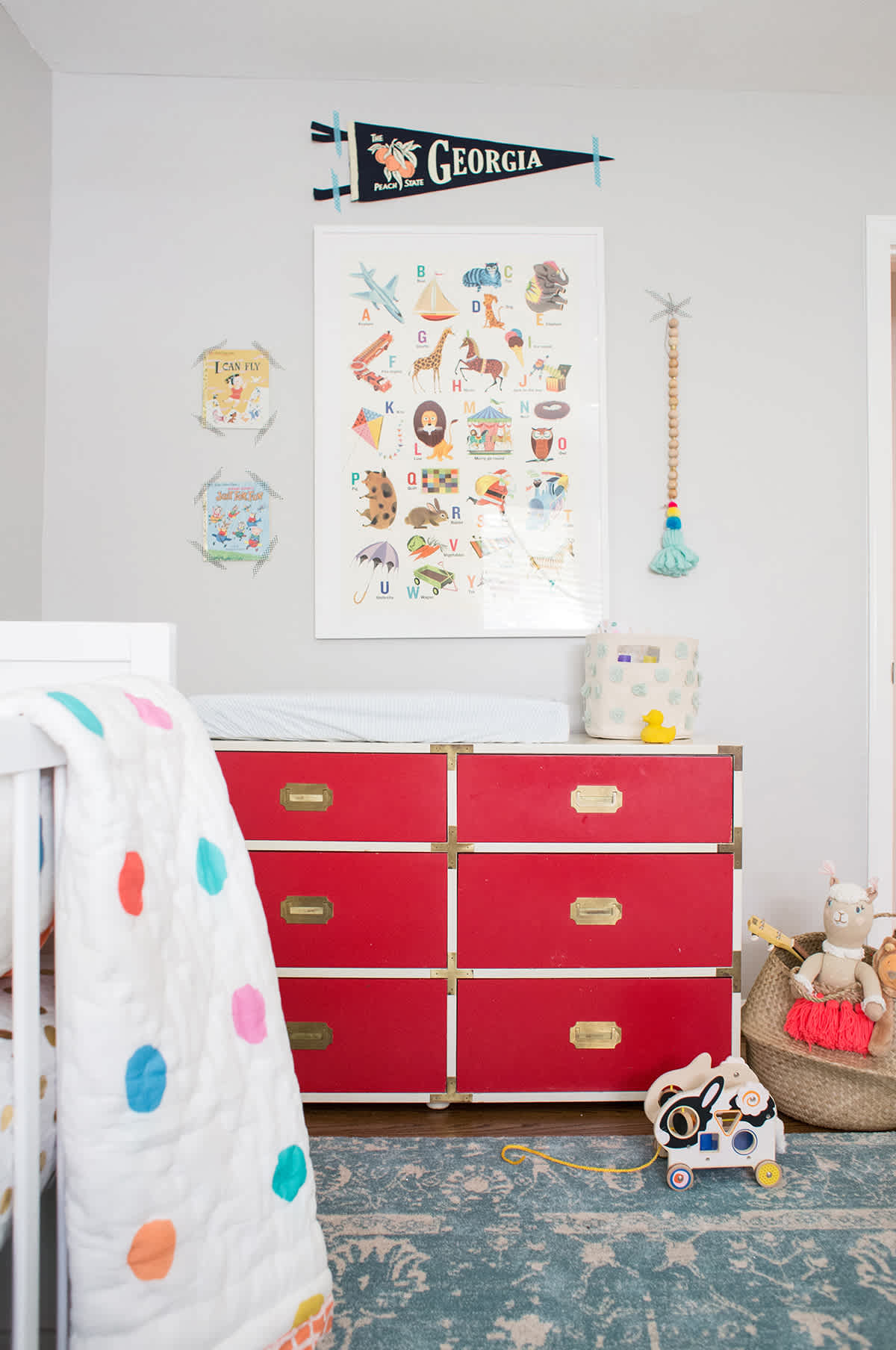 I found this beautiful vintage campaign chest that works really well with the hardware details on the Miles crib.  I don't do much with red, but I really love the pops of color on this dresser! It's so fun, and I love it with that vintage illustration hung above it.  I also love the red, blue, and yellow color scheme in this room.  It's primary and fun, but subtle enough that it isn't too juvenile.  Baby Relax also has a dresser that matches the Miles crib, if you want the campaign look, too, and it's more affordable than most new dressers!
Also - you should note that rug is an 8' x 10', and only $160!
(Sources for above: ABC Print in Irvine Slim Frame; Georgia Pennant; Rug; Mini Pom Pom Bin; Meri Meri Basket; Picchu the Alpaca)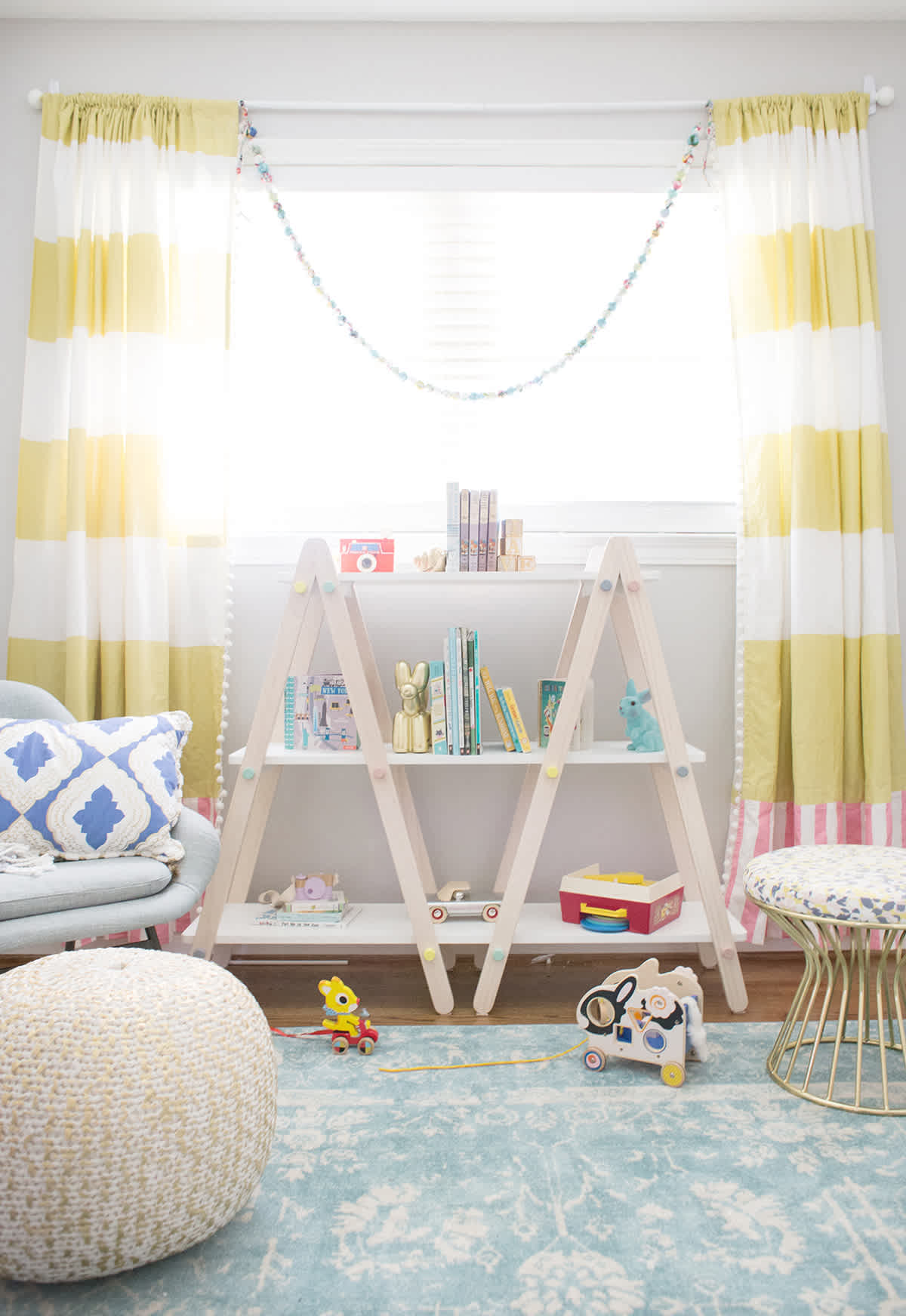 The window in this room is a little higher up on the wall, so I put the Dottie bookcase underneath to fill the space and provide storage for favorite books and toys.  It will be easy for baby to crawl over and play when she is big enough!  I had originally planned on using either the stool or the pouf for the rocker, but once I had them both in the room I ended up keeping them both.  Poufs and stools are great little places for baby to cruise and play on, and these round, friendly shapes will be perfect for her when she is ready.
This curtains are actually from a previous project in the girls' playroom.  They are shower curtains that I turned into window curtains by adding a little extra length at the bottom in pink and white fabric, and stitching pom pom trim along the edge.  Sometimes this can end up being much less expensive than window curtains, especially if you want them longer!  Also - that sweet garland is so cute!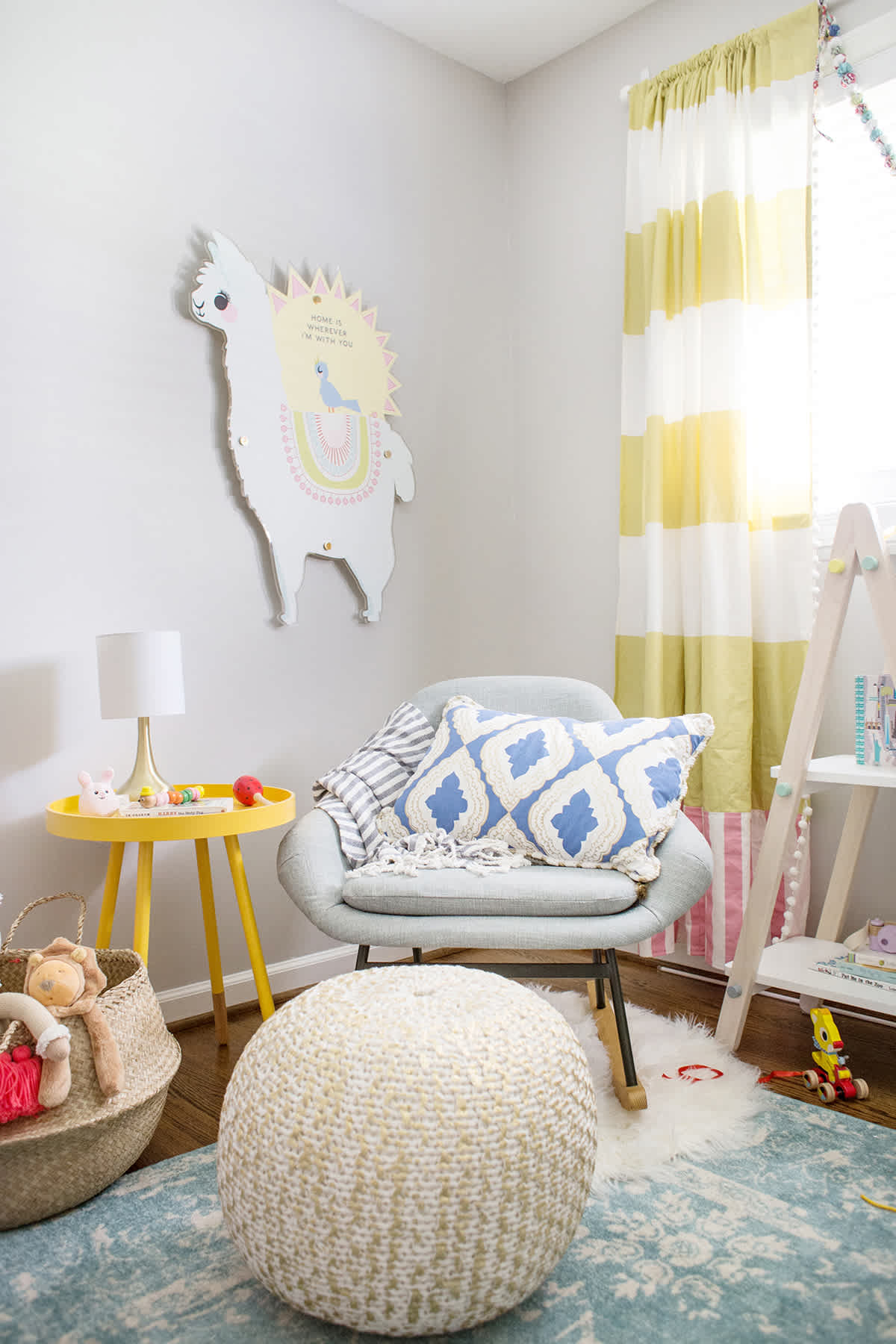 I was working with a budget, so I used this really cute rocker for the room; it's not the cushiest, but it's really sweet!  I snagged it on extra sale a couple of weeks ago.  I also always love having a small table next to the rocker or glider in the nursery.  It's the perfect place for a little lamp and a cup of coffee or tea.
(Sources: Yellow Table; Tiny Lamp; Rocker; Round Flokati; Gold Pouf; Dottie Bookcase)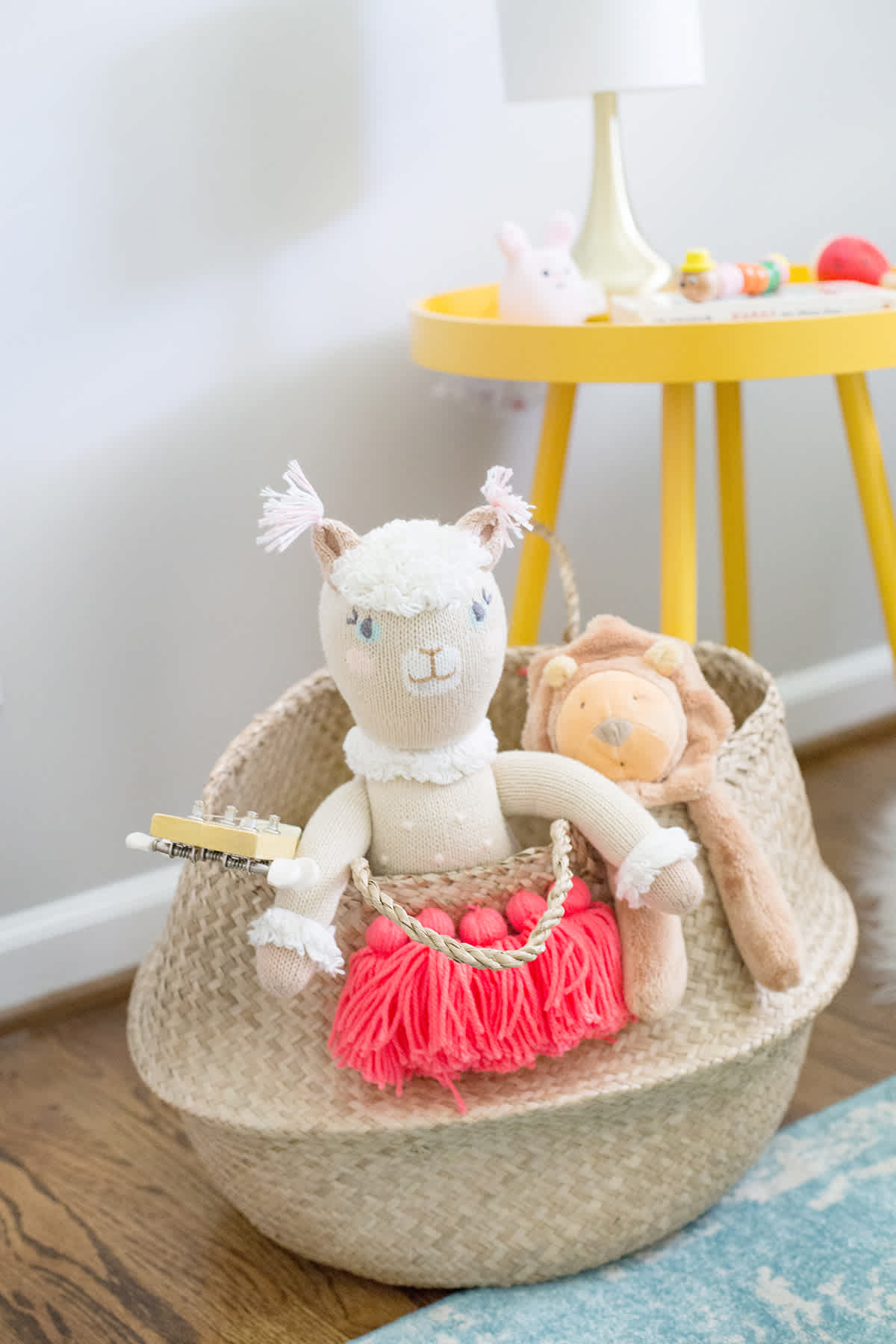 Also - this basket is super cute, and surprisingly affordable!  It's great for quickly stashing away toys at bedtime.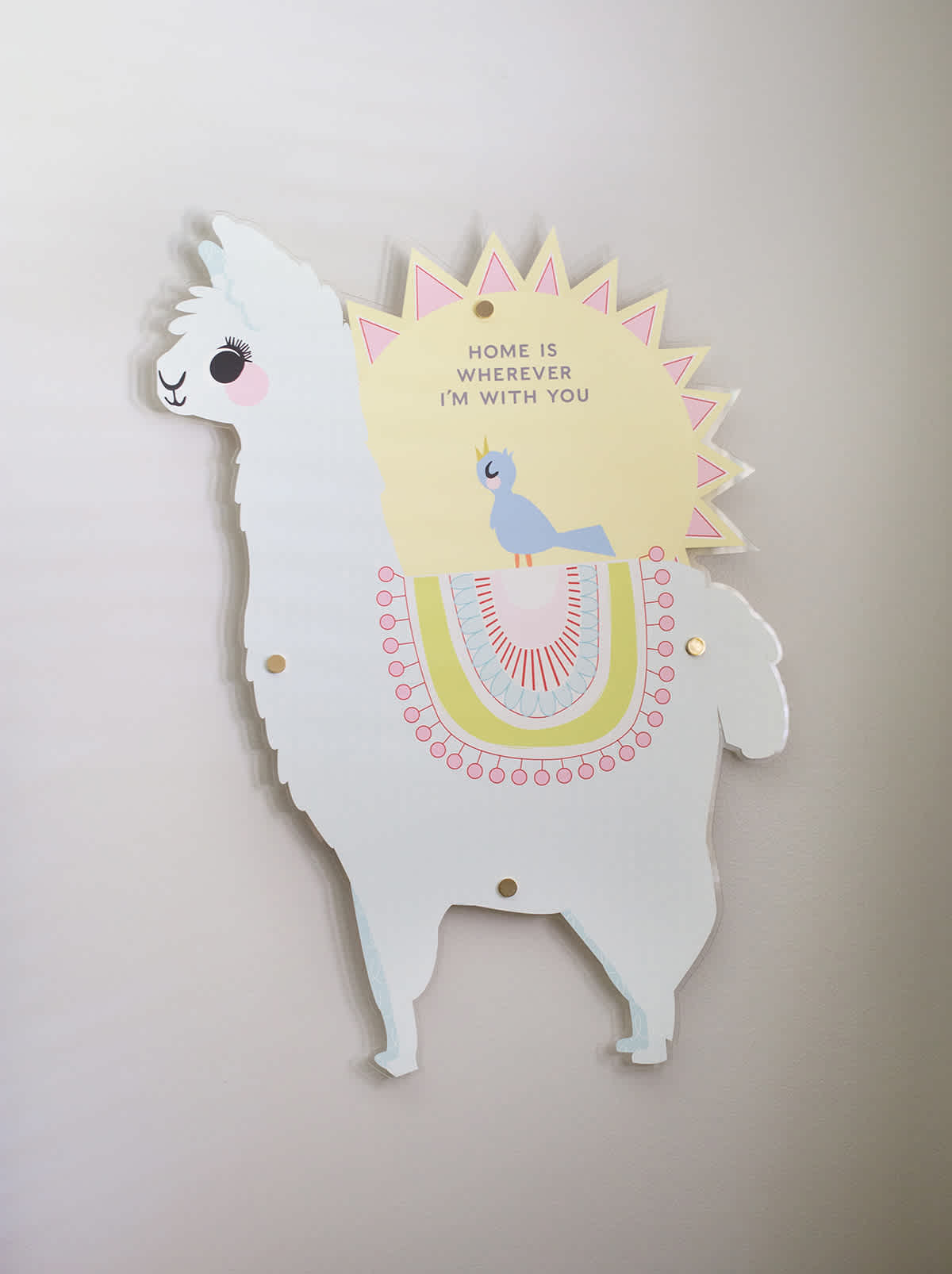 I made this little acrylic alpaca for the room - I'll have more details on him later this week, but isn't he fun?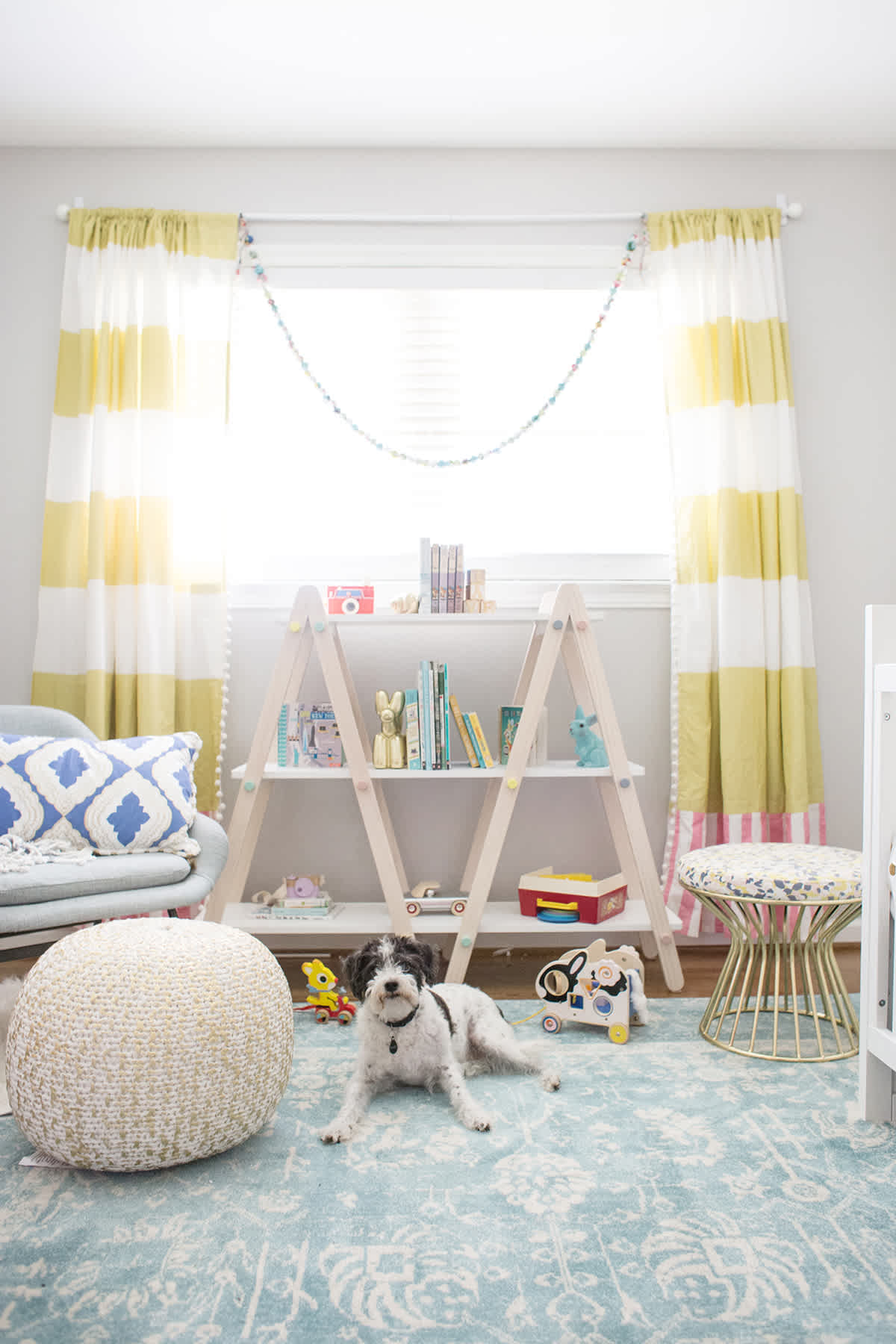 And look how sweet big brother puppy is!!  He looks so ready to meet baby.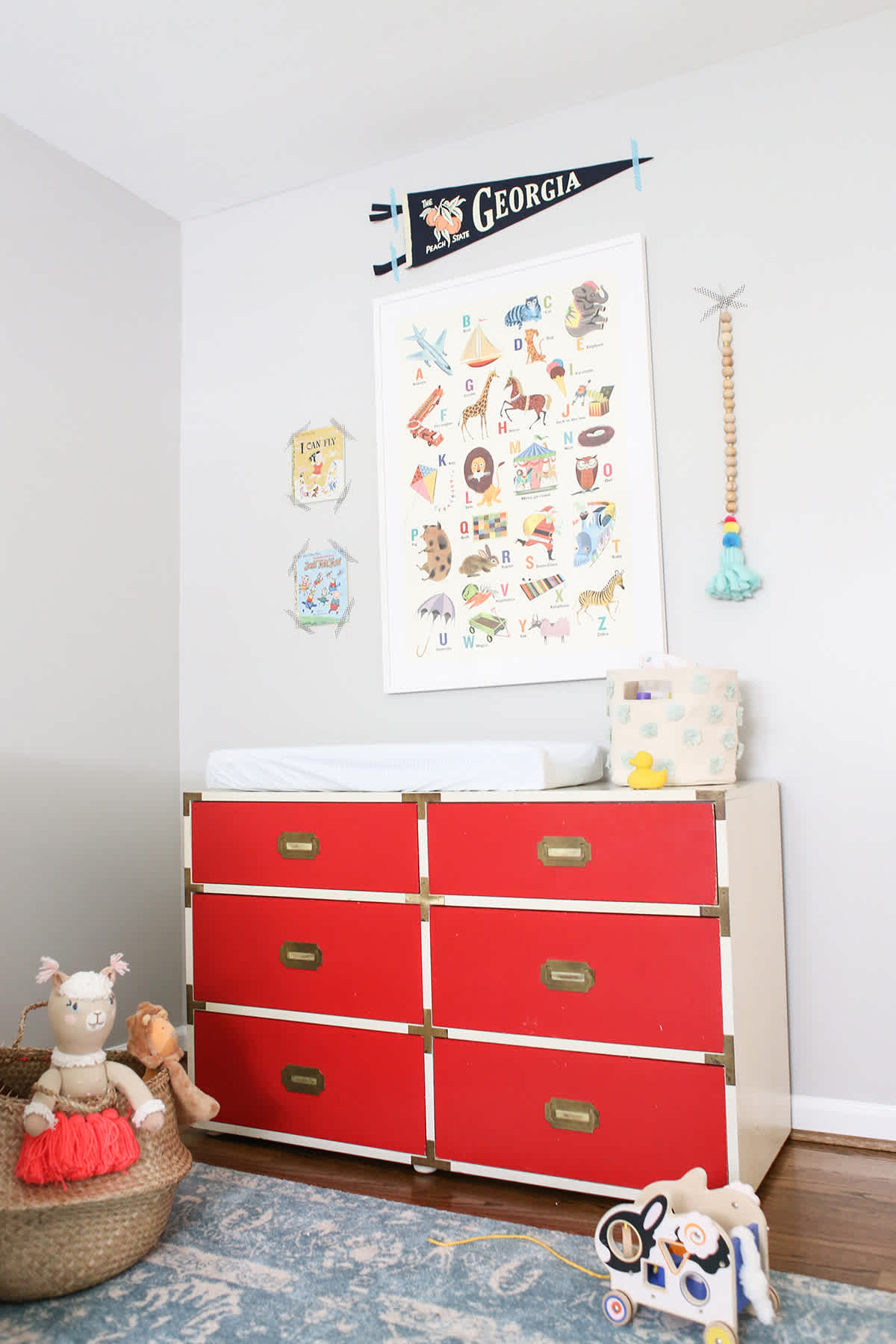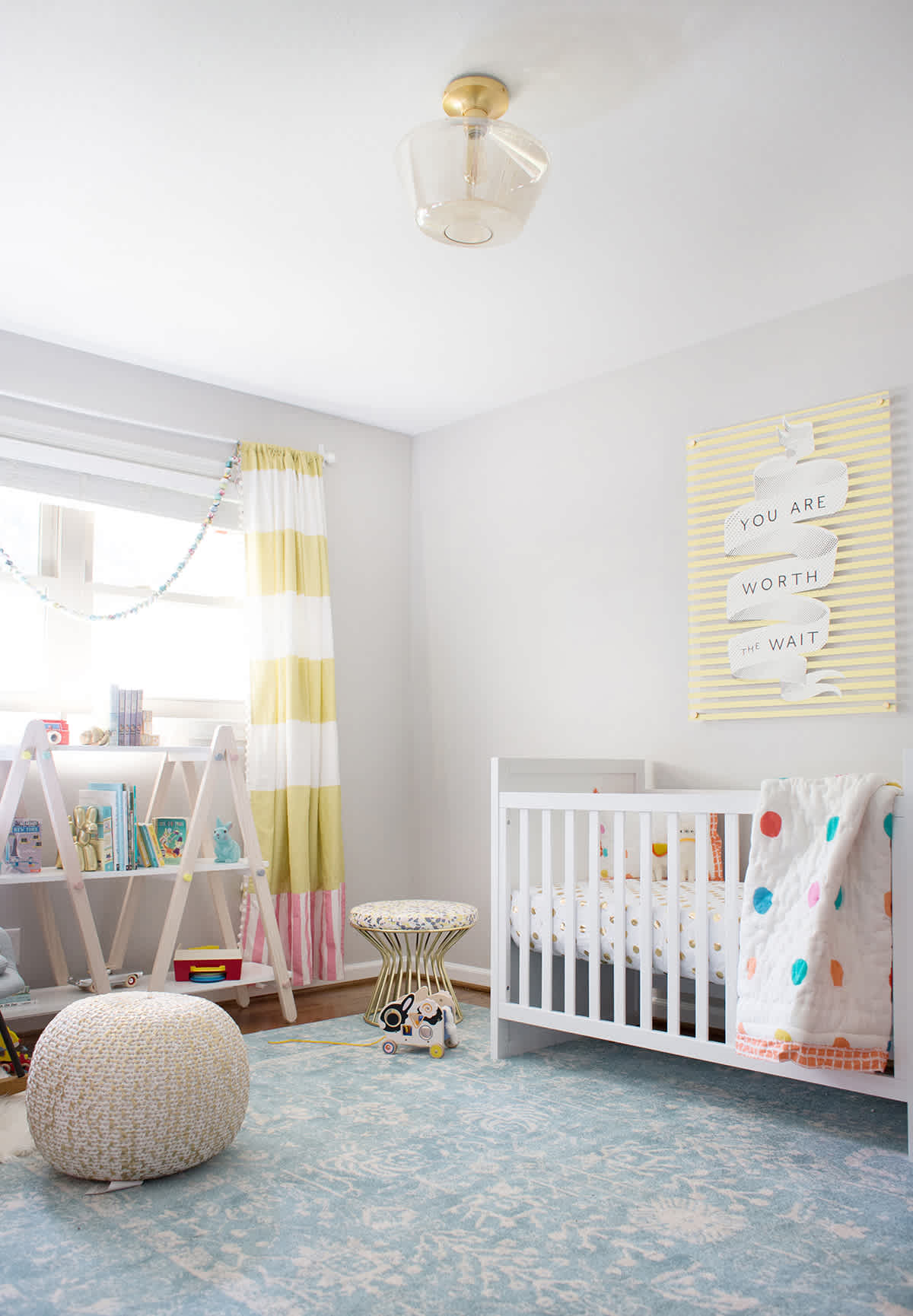 I'm so excited for this sweet family, and their soon to arrive bundle of joy! I loved getting to work on this room for such a precious gift!
Thank you so much to Dorel Living for sponsoring this post! I love working with sponsors who inspire creativity!