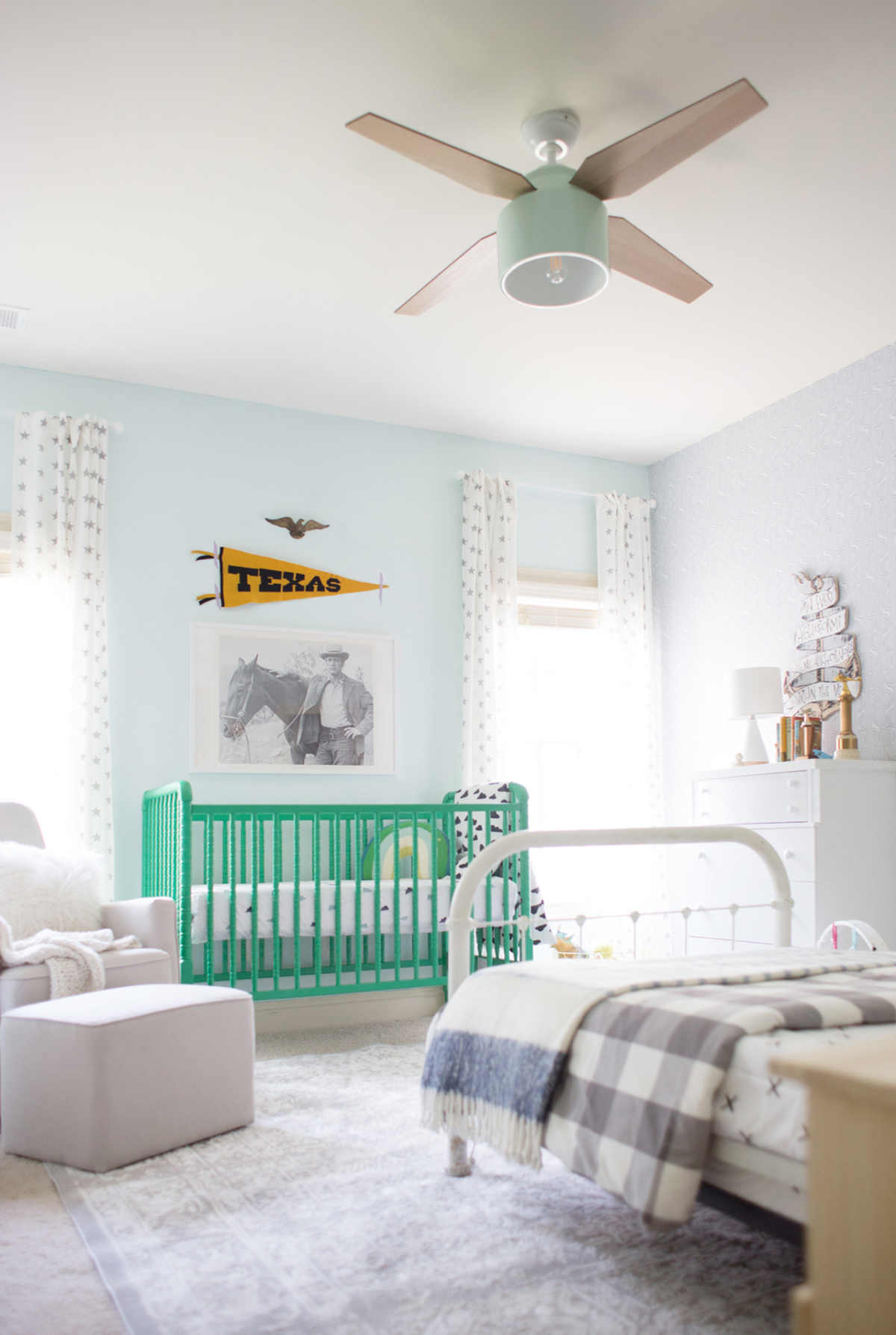 I'm so excited to be sharing some boy inspiration with you today!  We just finished putting this room together for a sweet friend who is expecting baby boy number three!  Her first two little guys share a room already, but she and her husband plan to be a respite foster home, giving short term care to foster children whose parents need temporary help for some time to rest or have a vacation, so this room also has a twin bed as a space for those little ones.
(Sources for above: Green Jenny Lind Crib; Olive Rocker and Ottoman; Cranbrook Fan; Paul Newman Poster; Similar Pennants; Vintage Brass Eagle; Cloud Duvet; Rainbow Pillow; Similar Dresser; Similar Twin Bed; Buffalo Check Bedding; Star Curtain;  X Sheet; Stripe Blanket; Wallpaper; Lamp;)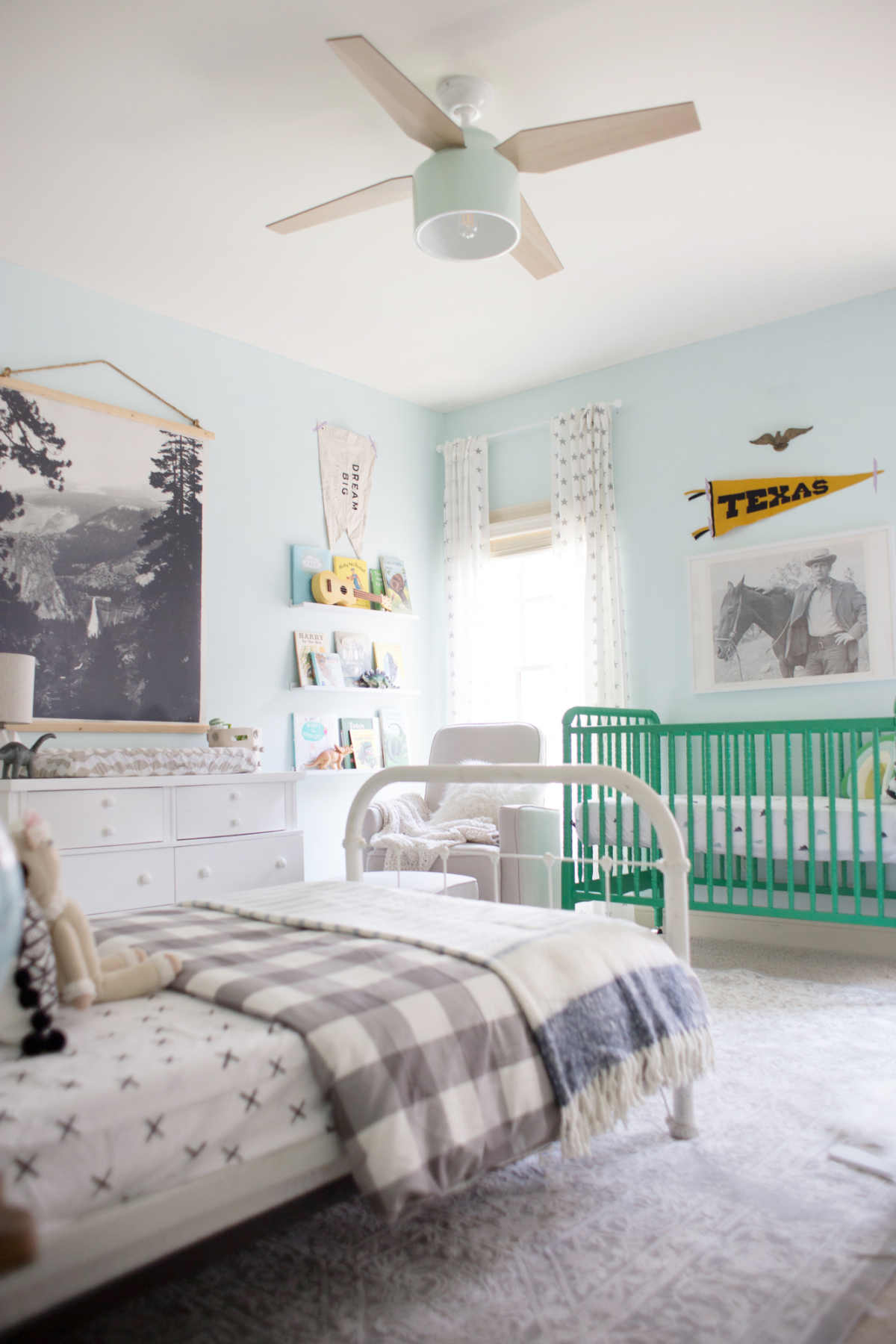 Emily is from Texas, so we had fun adding in a nod to her home state while still keeping it bright and light.  And, y'all, how amazing is that ceiling fan?  They use a fan a lot in this room, and I was so excited to find one that is so cute that it doesn't feel like we're compromising on style to keep that function. The mint green is perfection, and it comes with a remote, so you can sit in the glider and rock baby and adjust the fan or the light without having to get up - so good!
Also, I found that rug from HomeGoods on the cheap.  Don't be afraid to layer a rug over carpet; it can add so much pattern and texture to a space, and really grounds the furniture!  Just try to use a different texture than your carpet; if you have a more flat/berber carpet, use a plushy/tufted rug, and if you have a fluffy carpet, use a more tightly woven/flat rug.  Don't let it scare you - it can add so much to a space!
(Pictured above: Black and White Poster; Changing Pad Cover; Dinosaur; Mini Bin; Book Ledges; Dream Big Banner; Rocker + Ottoman; Dinosaurs; Ukulele; Ceiling Fan)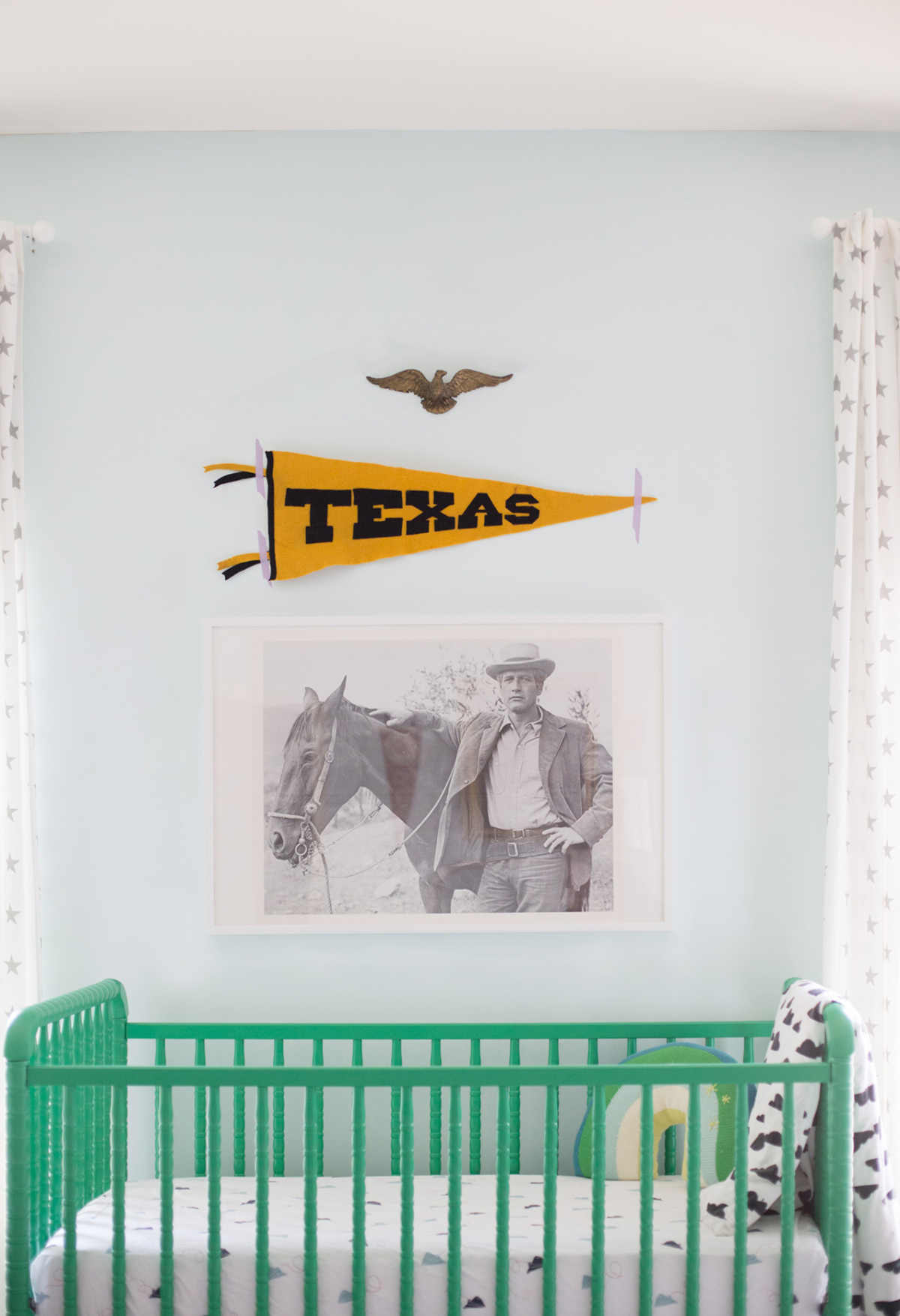 I love this punchy green crib!  It's so much fun, and adds a great pop of color to the room.  And how good is that Paul Newman Cowboy poster? It's a vintage print, and is perfect with that Texas pennant.  I found the pennant here, and they have lots of other vintage gems!
(Pictured above; Vintage Brass Eagle; Texas Pennant; Paul Newman Poster; Green Jenny Lind Crib; Cloud Duvet; Star Curtains)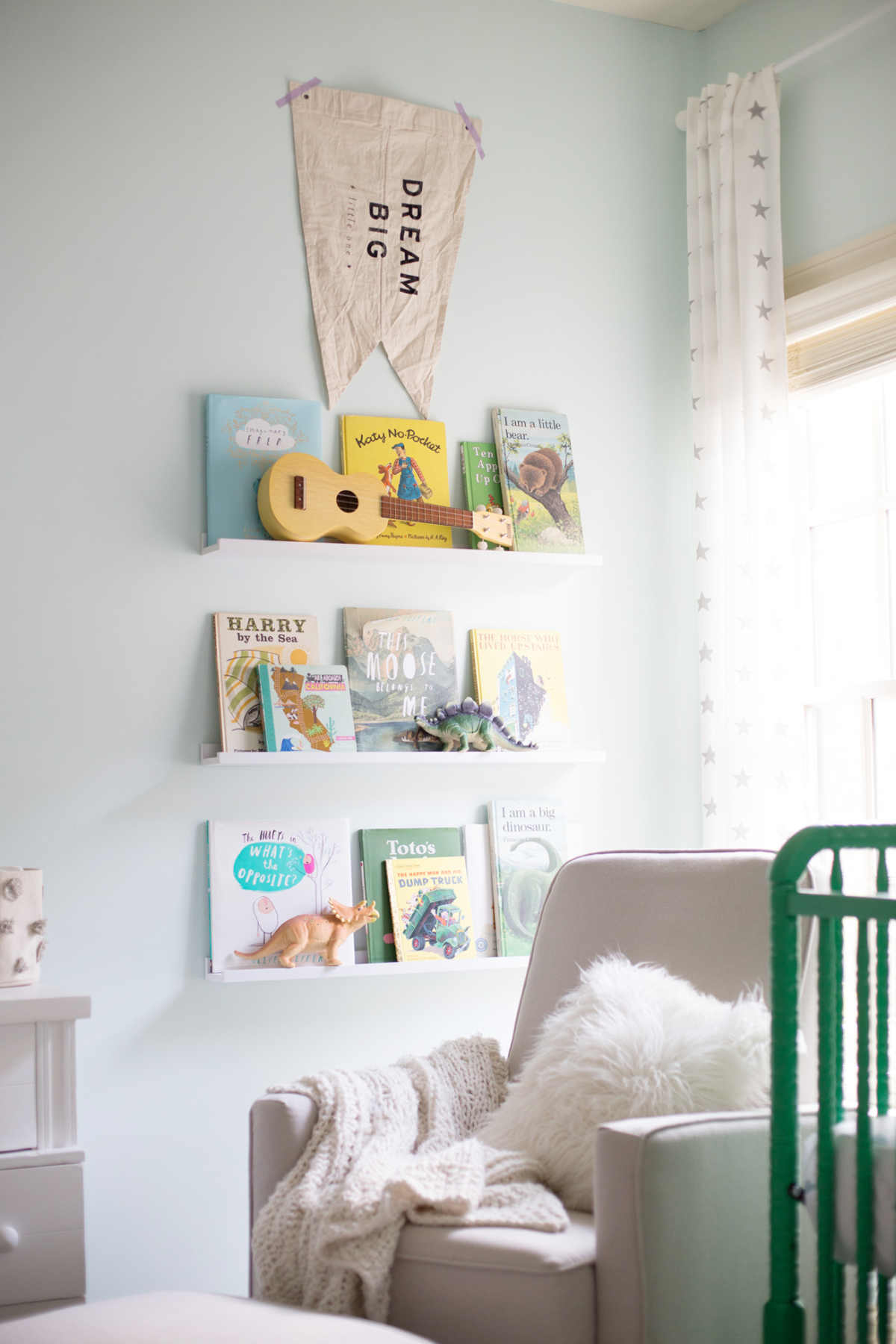 Emily loves to read, so we added in these book ledges within easy reach of the glider for bedtime stories.  That rocker is really comfortable, too, and the price is so good!
(Pictured Above: Dream Big Banner; Book Ledges; Imaginary Fred; Katy No Pocket; Ten Apples Up on Top; I am a Little Bear; Harry By the Sea; California; This Moose Belongs to Me; Dinosaurs; The Horse Who Lived Upstairs; What's the Opposite; Toto's Apple; The Happy Man and His Dump Truck; I am a big Dinosaur)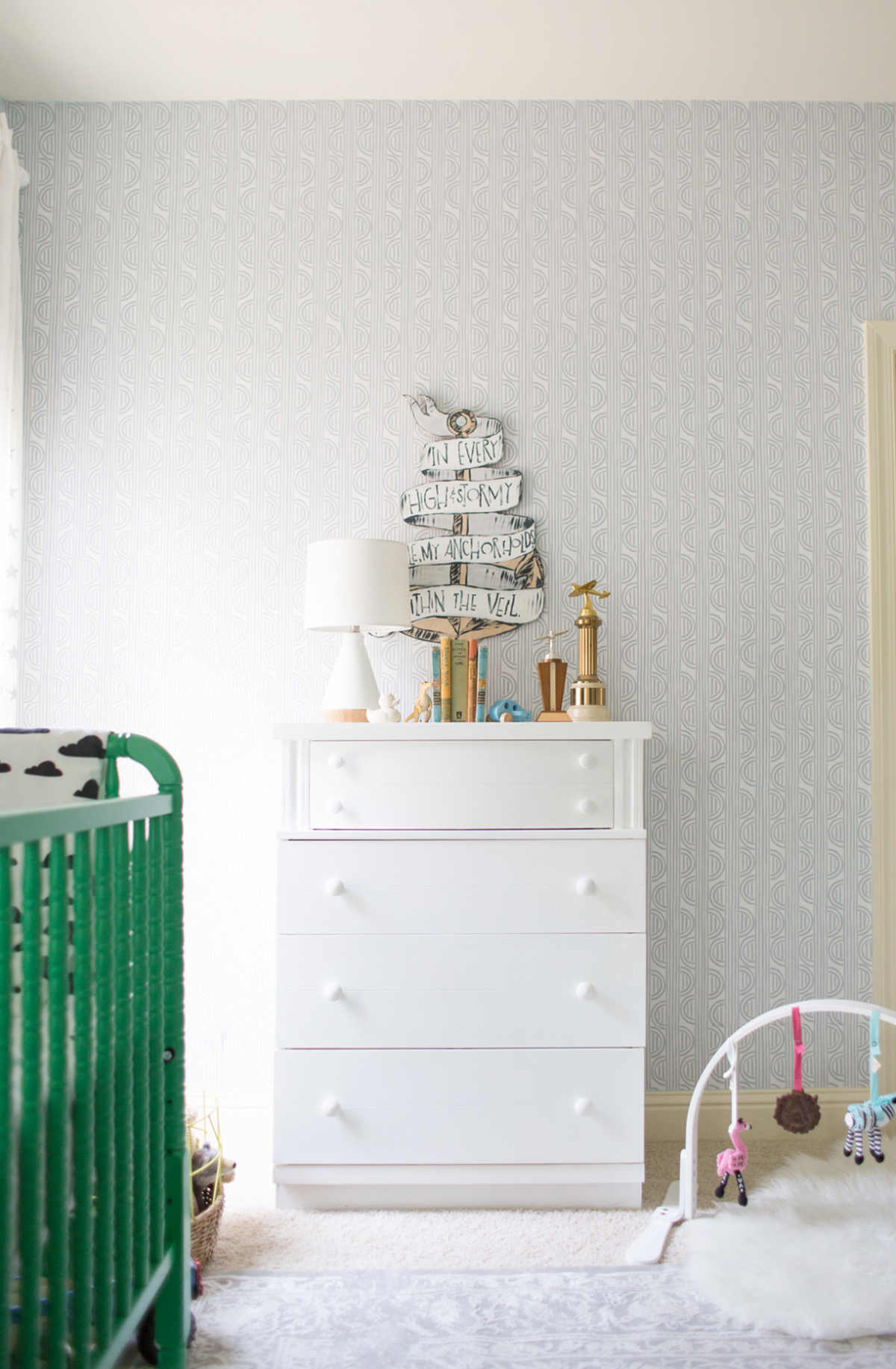 I love love this wallpaper from Chasing Paper.  It's super easy to install, and the pattern is subtle, but still fun.  It also comes in two other shades, and is oh so easy to install!  I found the dresser and chest on Craig's List, but here is a similar one.  The anchor is a custom piece I made from plywood.
(Sources for above: Wallpaper; Lamp; Vintage Airplane Trophies; Finn and Emma Play gym)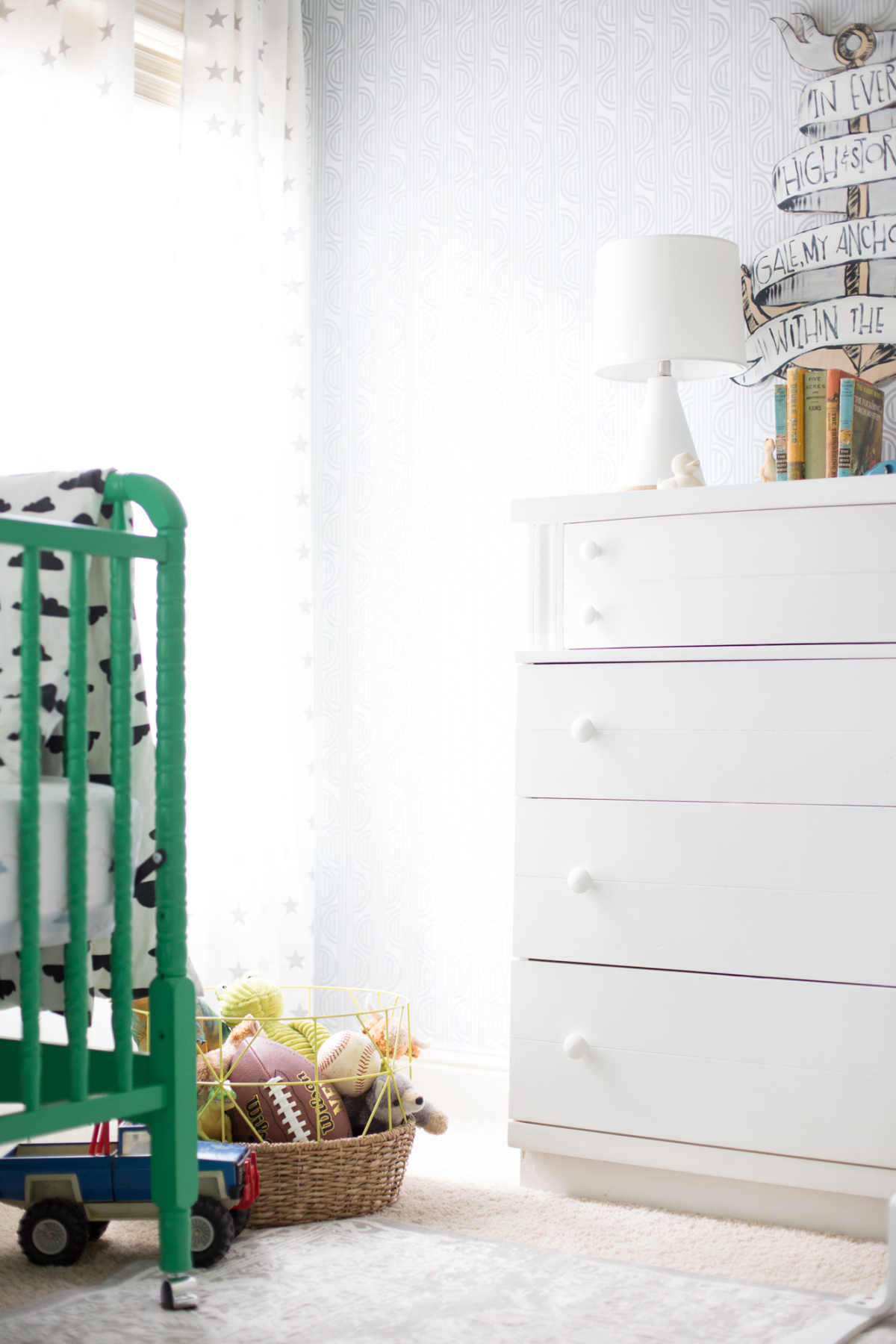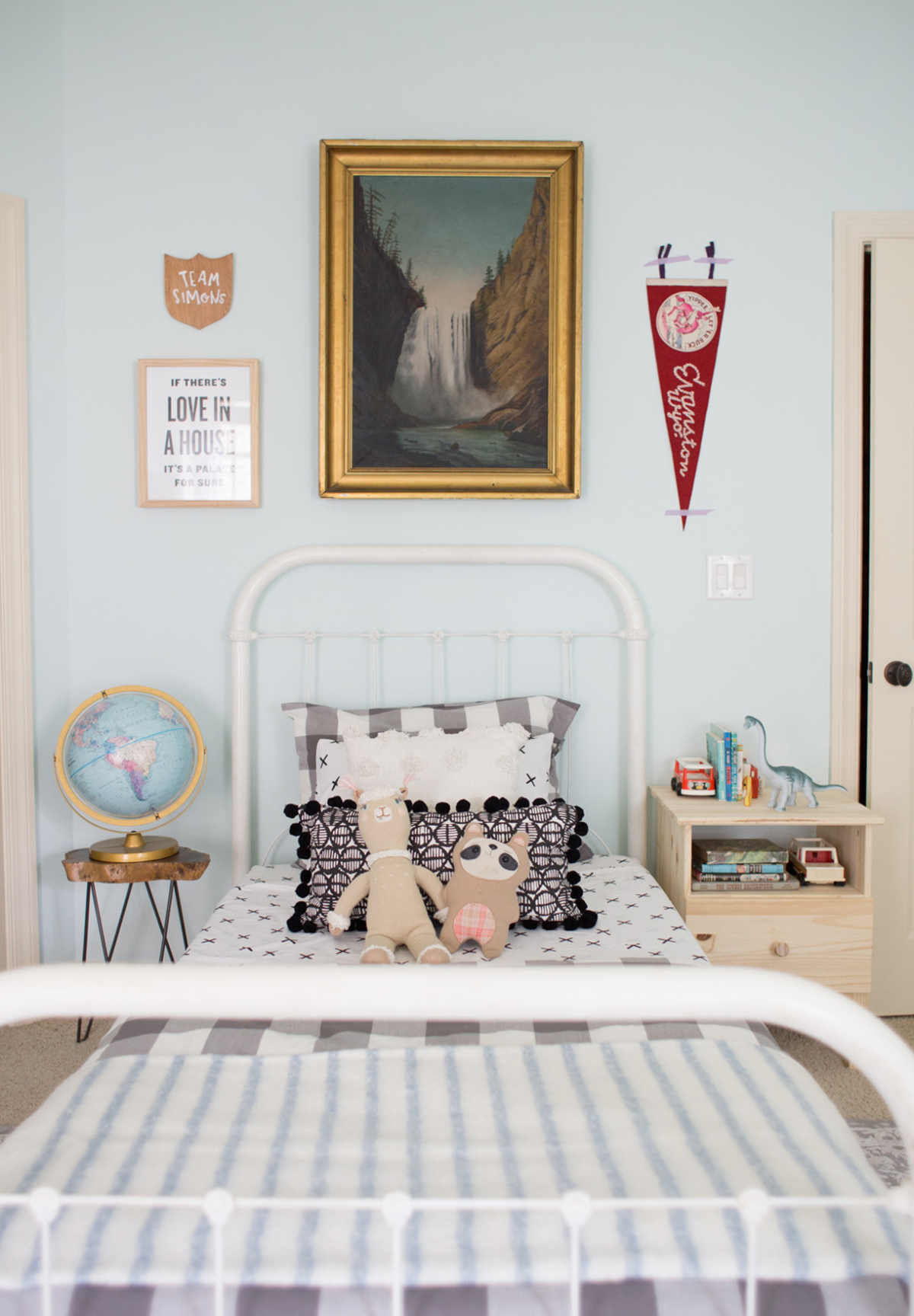 This sweet iron bed is vintage, but here is a similar one.  It has such a classic look, and would work great in a girl room, or a boy room!
(Pictured above: Stripe Blanket; Buffalo Check Bedding; X Sheet; Llama; Ivory Pillow; Live Edge Side Table; Vintage Globe; Tarva Side Table; If there's Love in a House; Vintage Pennant)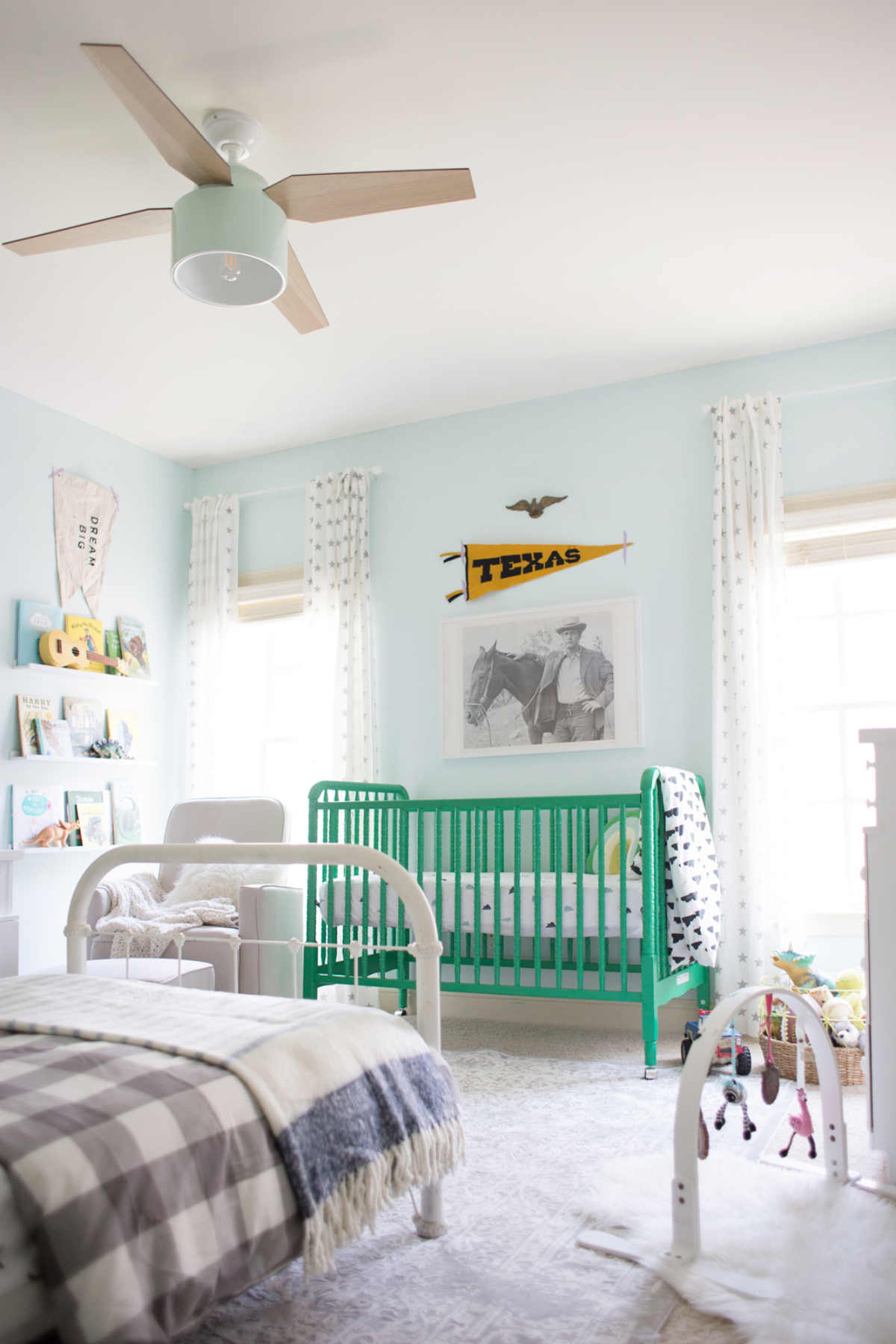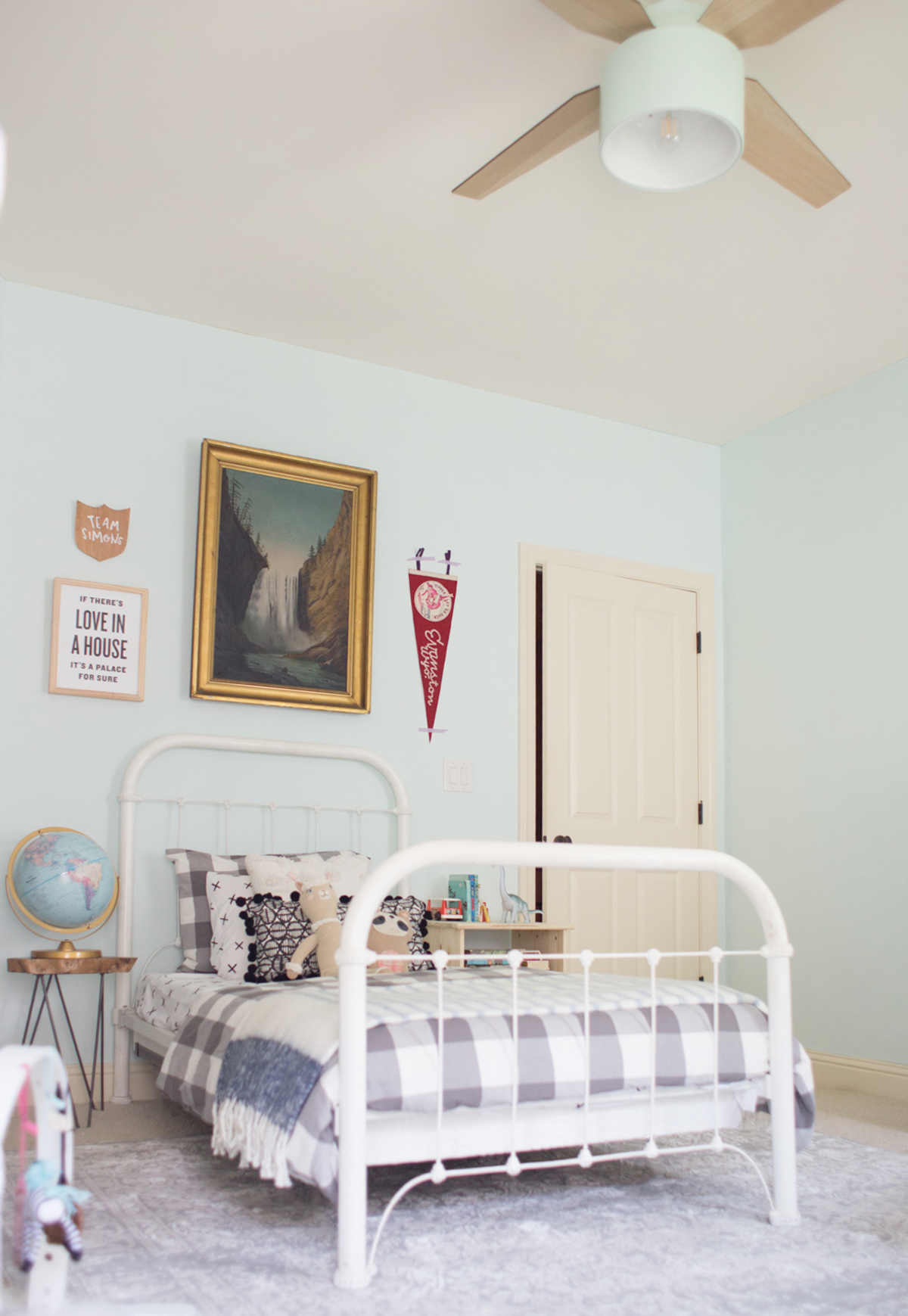 That painting is a fun vintage find, and it's the perfect piece over that bed!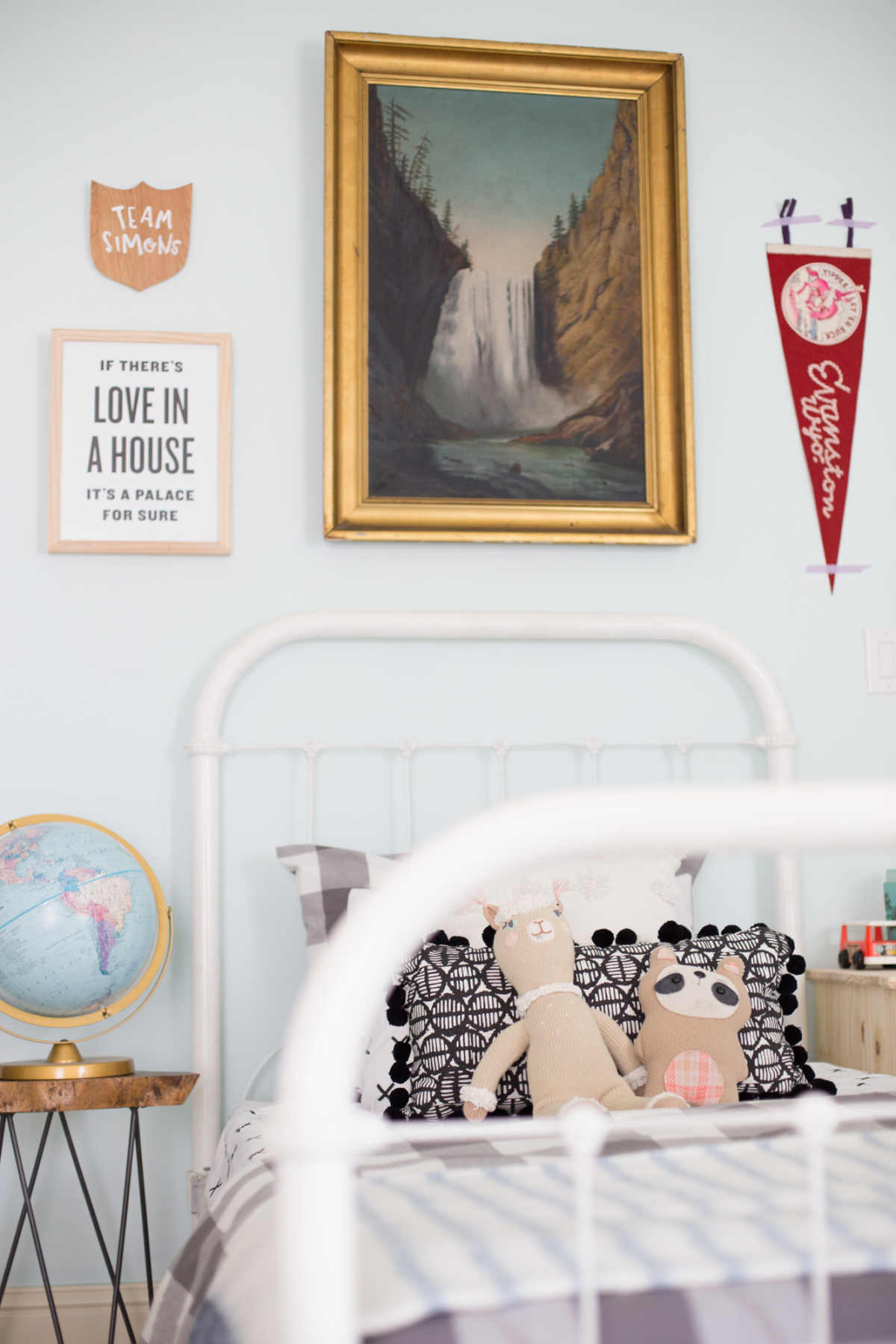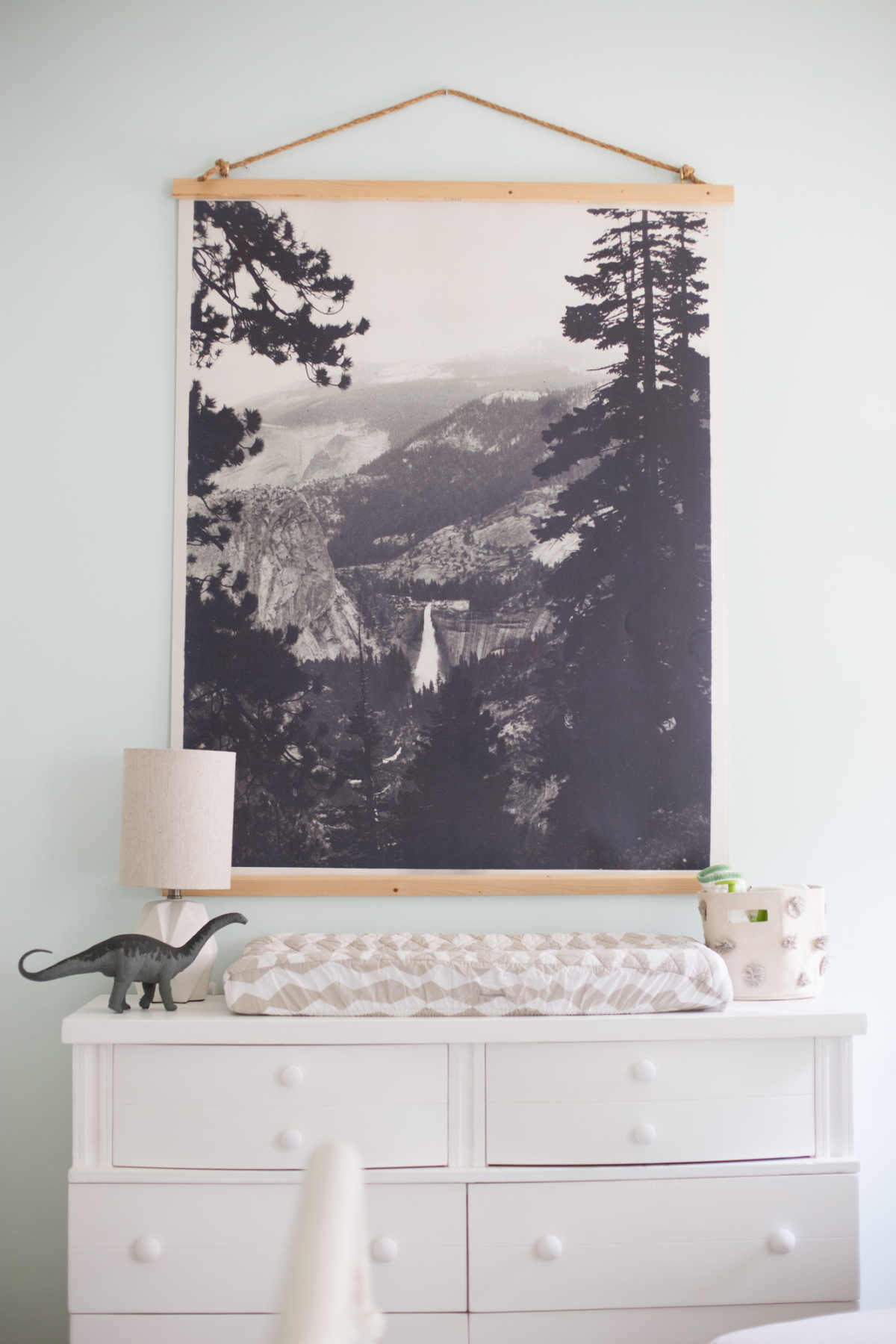 I love how this room came together - it's such a bright and sunny spot to be!  Let me know if you have any questions about it - I'm happy to answer!