bright and rustic little boy room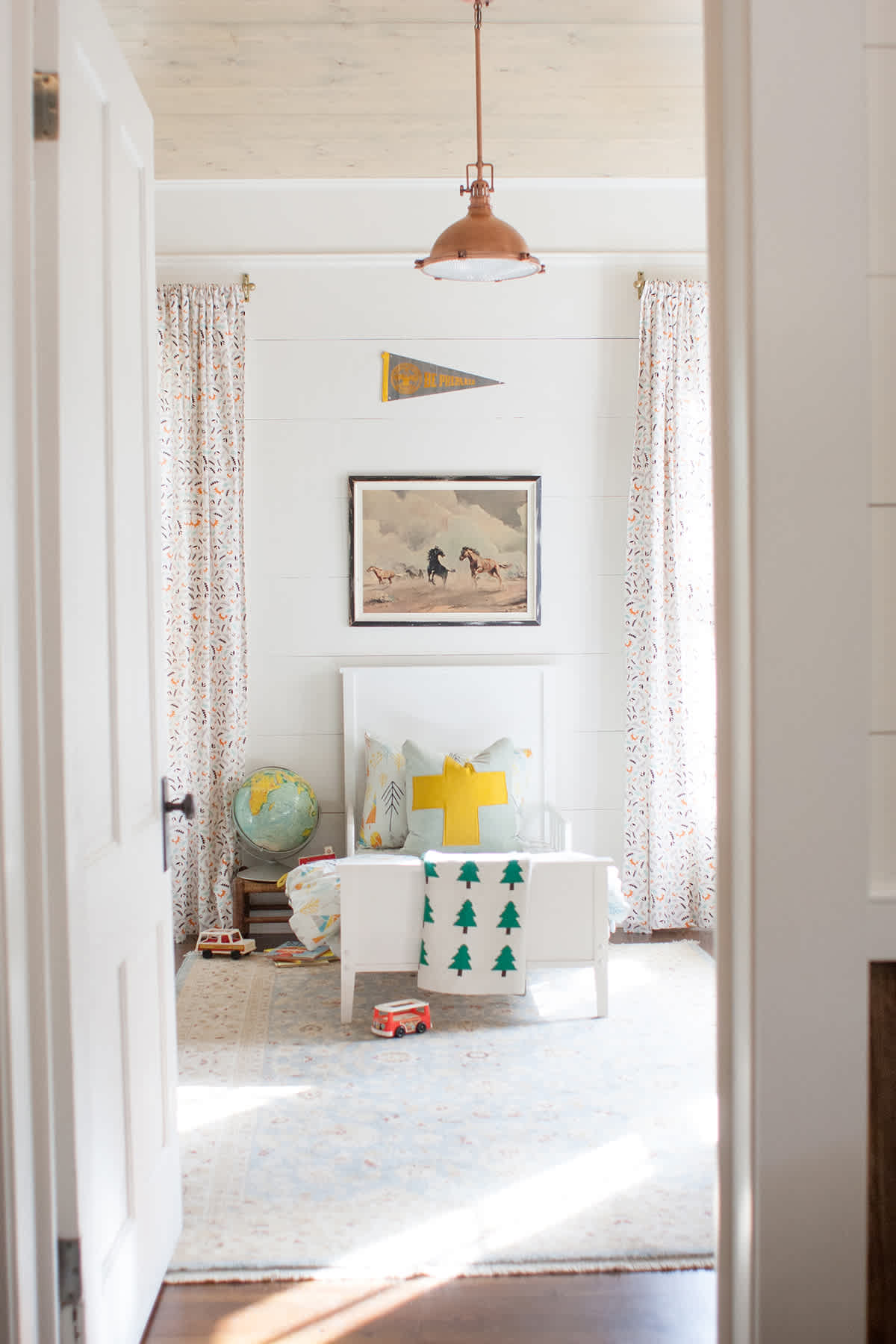 I am so excited to be sharing this room today!  It was such a fun project (kind of a nice break from all the pink!) and I think it's also a great example of how it doesn't always take a ton to re-do a room.  Just some re-arranging, a bit of thrifting, and a fresh coat of paint (see inspiration here!).  (Keep reading for sources).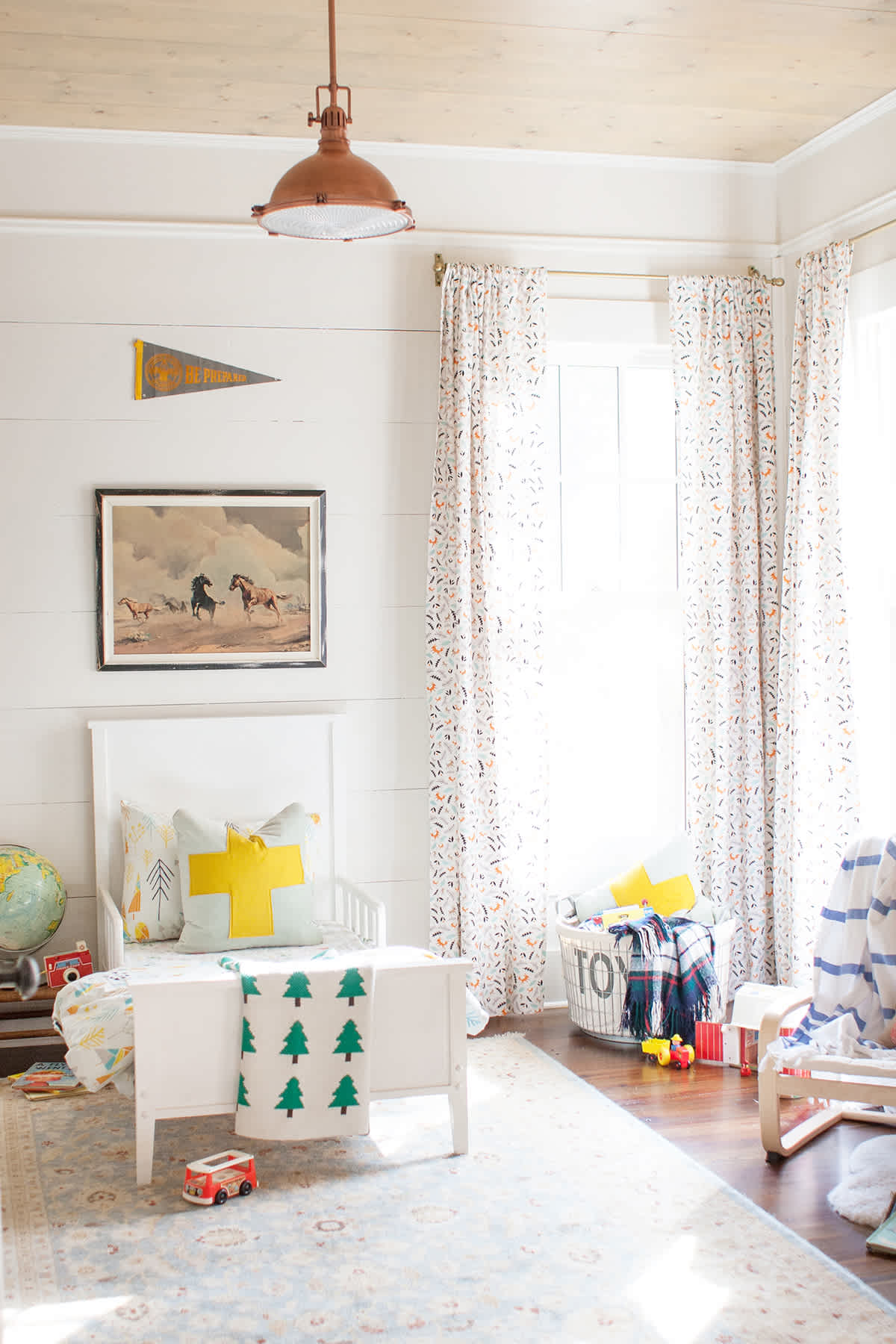 This room is at the farm, across the hall from the girls' room, and this is where my little nephew Henry sleeps.  He has recently made the switch to a big boy bed, and the room was in need of some re-thinking.  We upgraded Brigette to a twin, and I told my sister Henry was welcome to use the adorable toddler bed my dad helped to "renovate" (it was an inexpensive thrift store find!), and with that change we set to work to fix up his room.
Here is a fun little before and after to show the change: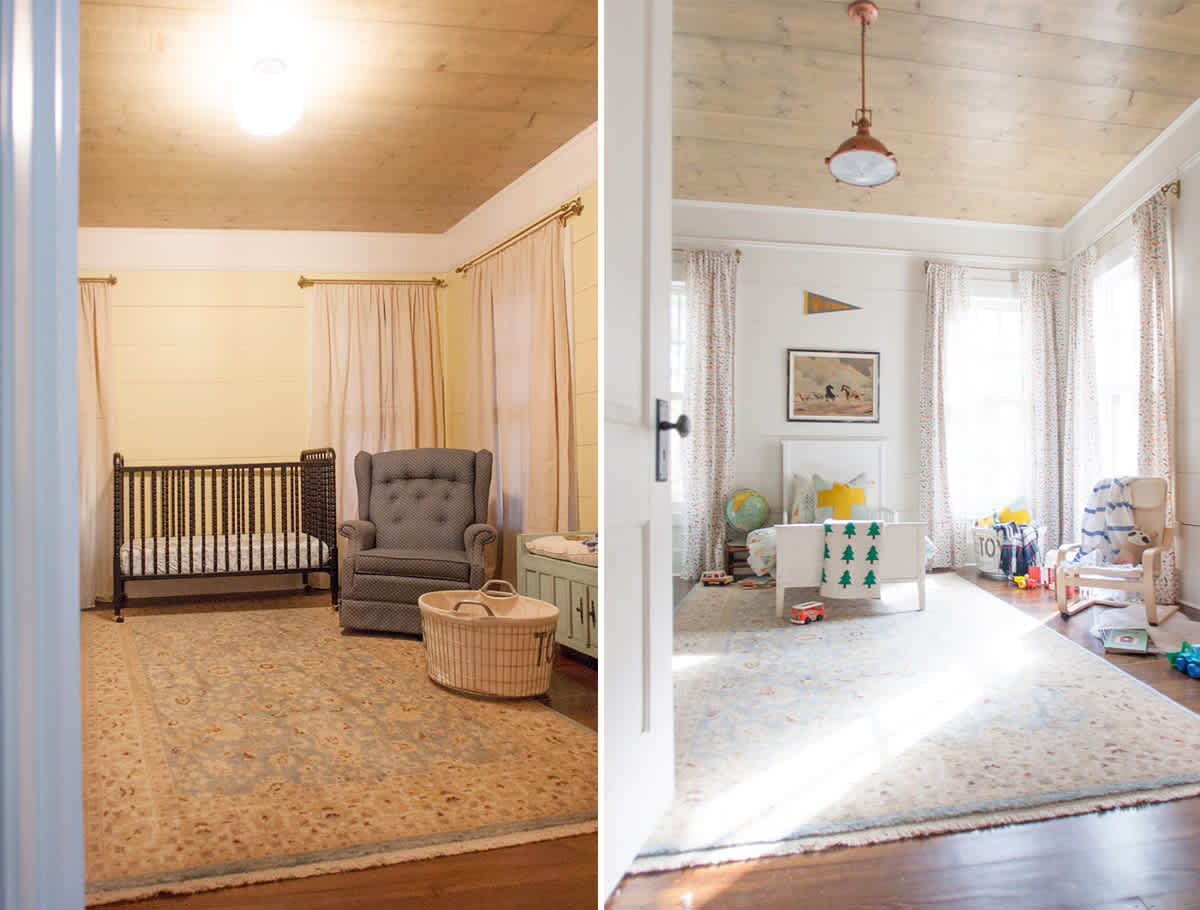 Even though we tried to work within a budget and with what we had, that's not to say the room doesn't have any standout features.  I was excited to work with Del Mar Fans for a new light fixture to really set the tone for the space.  The ceilings are really high in the room, so we went with this beautiful Hatteras Bay pendant in a gorgeous copper finish.  It descends perfectly into the space, and the polished industrial look really complements the little boy feel!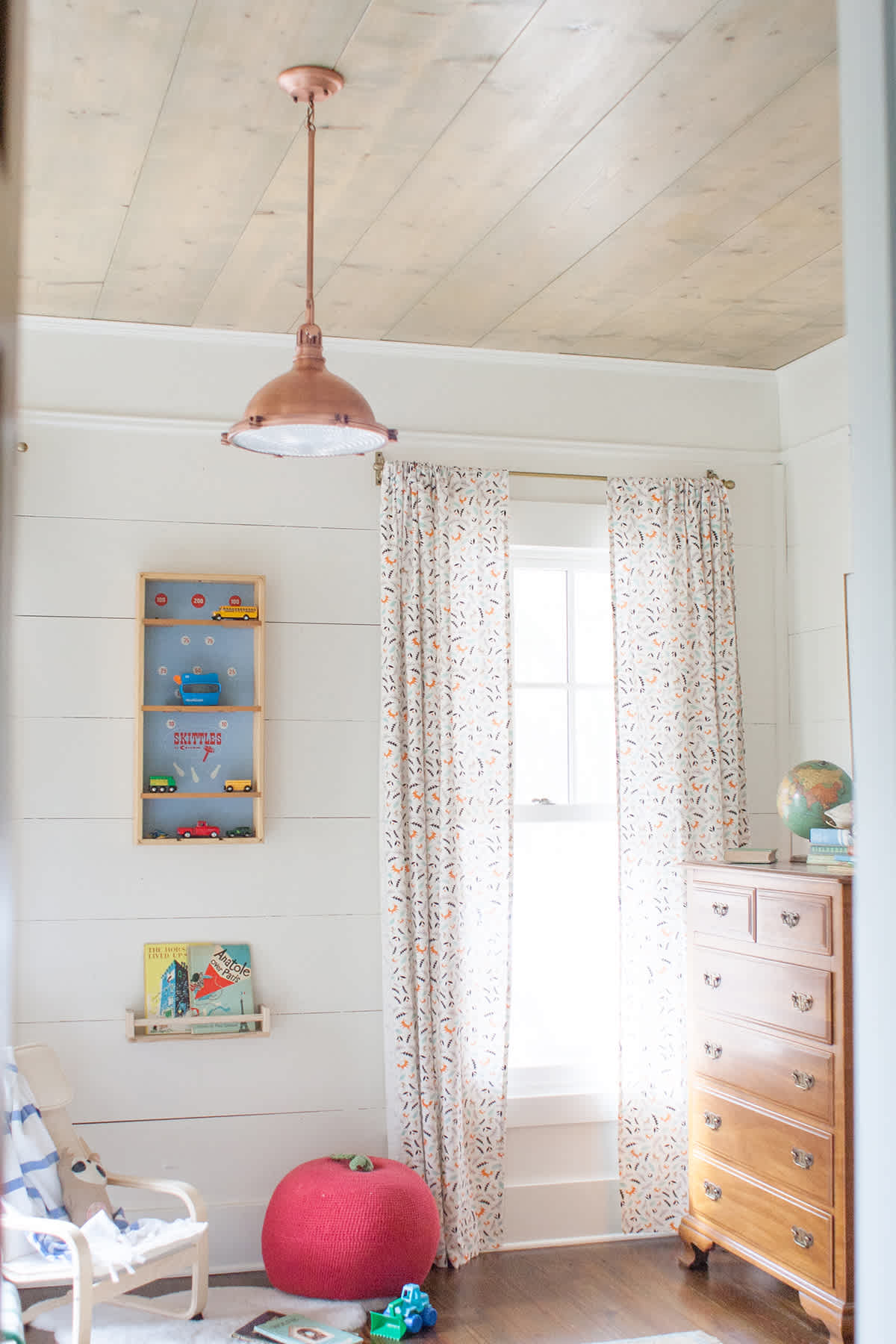 I also love how it pairs so well with the gray stained spruce ceiling!  As you can tell from the photos, we brightened up former yellow walls using Benjamin Moore's Cloud Cover.  It's a gorgeous white that isn't too stark; it still has a bit of warmth.
(sources shown above: Hatteras Bay Pendant; Similar vintage Skittles game on wall or buy it new here; Ikea children's Poang Chair; Scout Blanket; Bekvam rack as bookshelf; Into the Woods Curtains)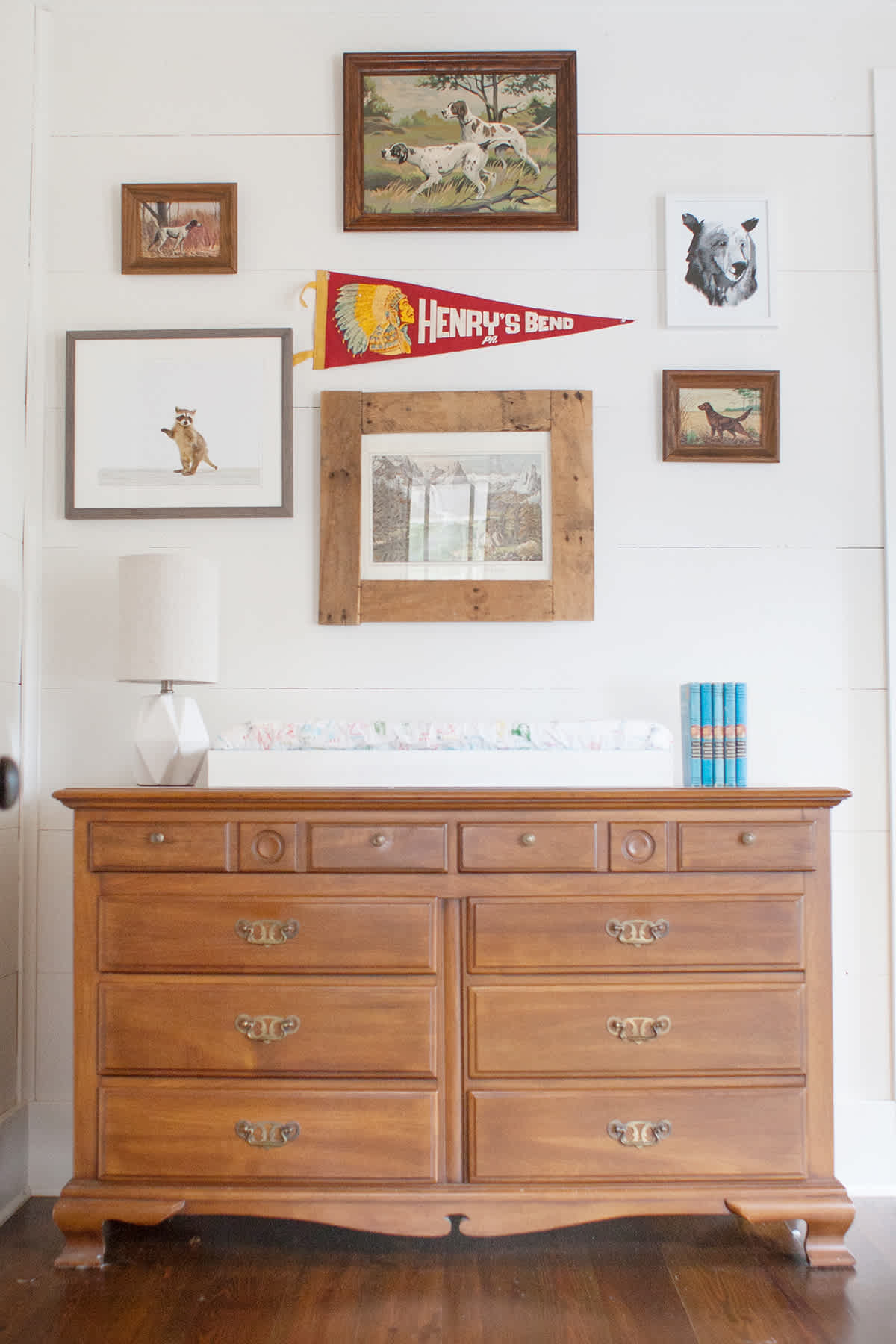 I also think it's so fun to see how this vintage furniture looks so much better with the brightened walls.  I was planning to DIY the pulls to give the dresser and chest a bit of a facelift, but I think they look beautiful as is in the updated space.  These pieces came from my grandmother's house; just goes to show you that there is potential everywhere!  They are really perfect for a rustic little boy room.
(Sources: Faceted Pastel Table Lamp; Similar Vintage Pennants; Vintage Paint by Number Hunting Dogs; Black and White Bear Print; Vintage Hardy Boys Books)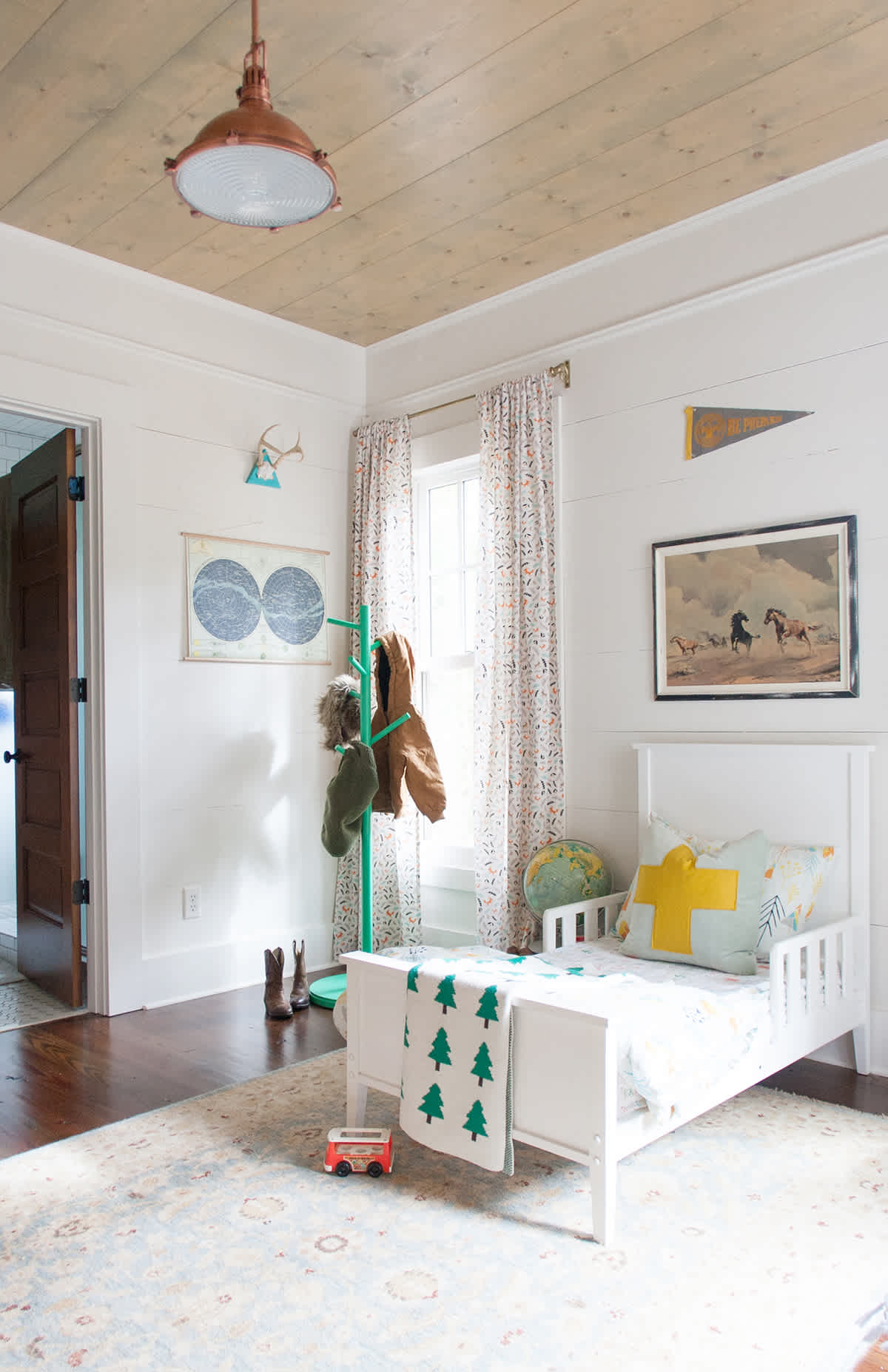 The rug was formerly in my sister's home, but when they moved it didn't really fit anymore.  I was honestly searching for a new one, but really it's perfect in here, and again, the brightened space really makes it look like a whole new piece!
(Sources: Hatteras Bay Pendant; Similar rug - the one above is no longer available; Forest Baby Blanket; Coat rack; Celestial Chart;  the horse painting and boy scout pennant were vintage finds)
Now, for a few details: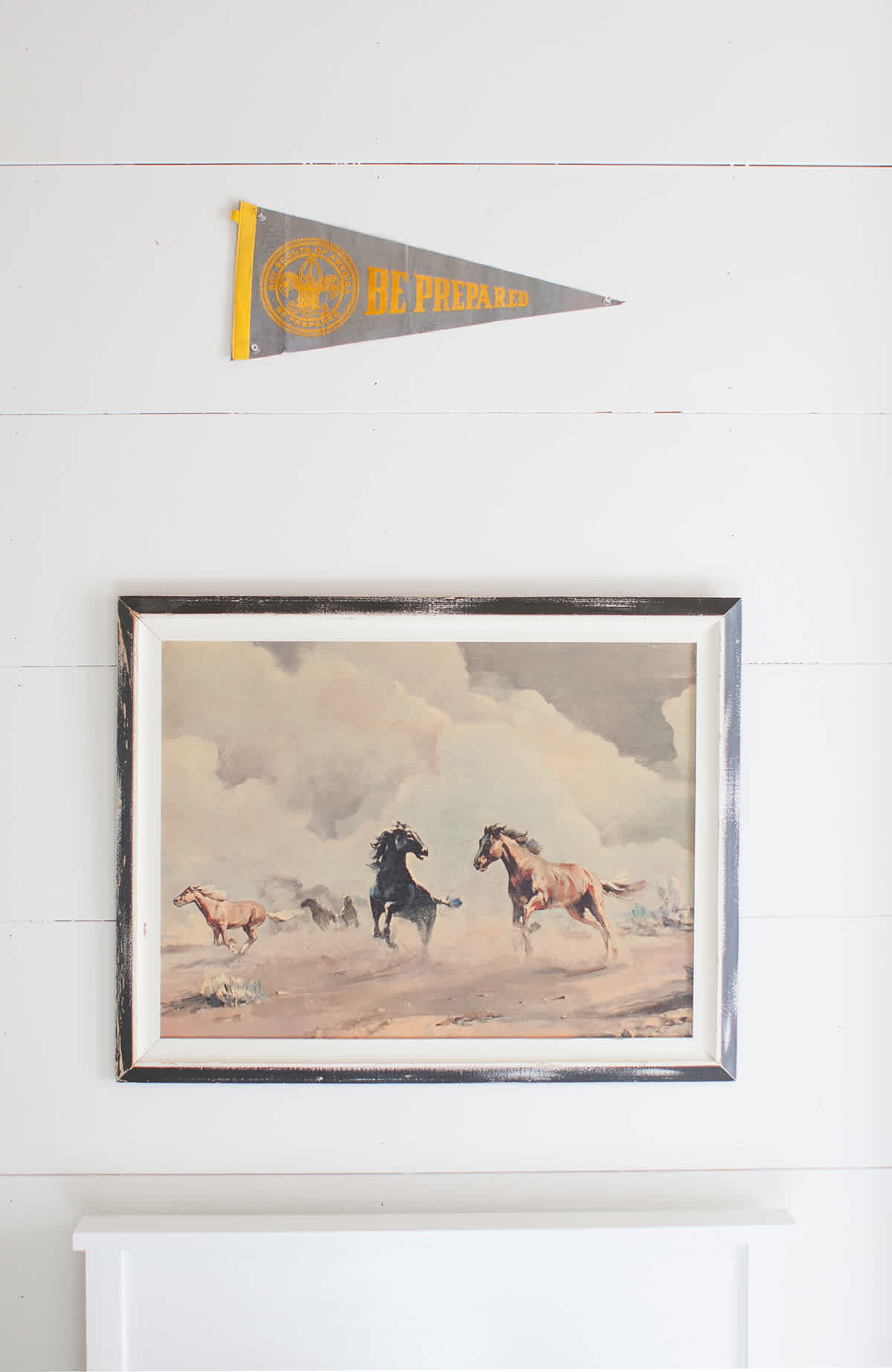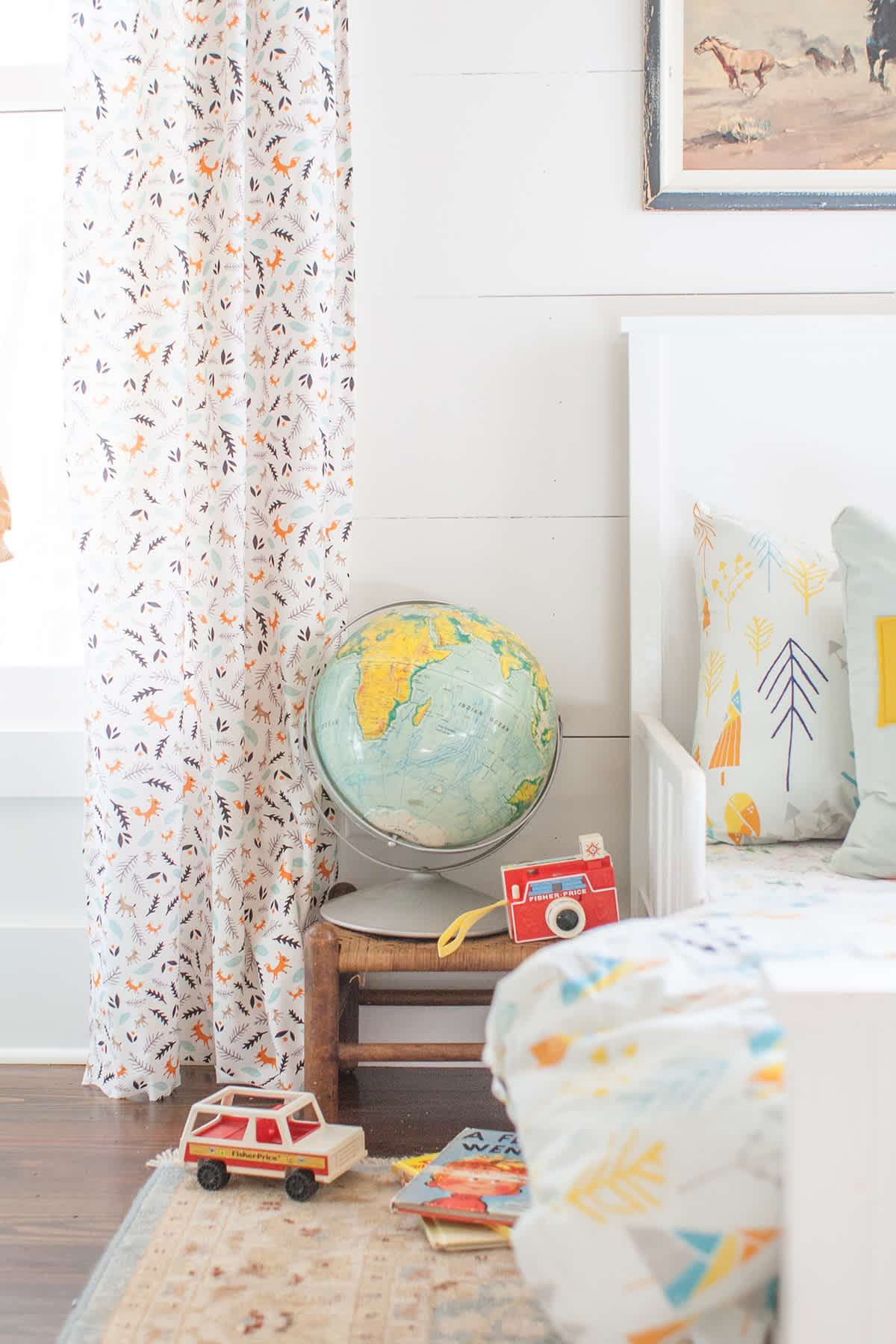 I kind of can't get over those curtains.  They are just the cutest.  I love how it has a fun print, but it doesn't jump out at you too much.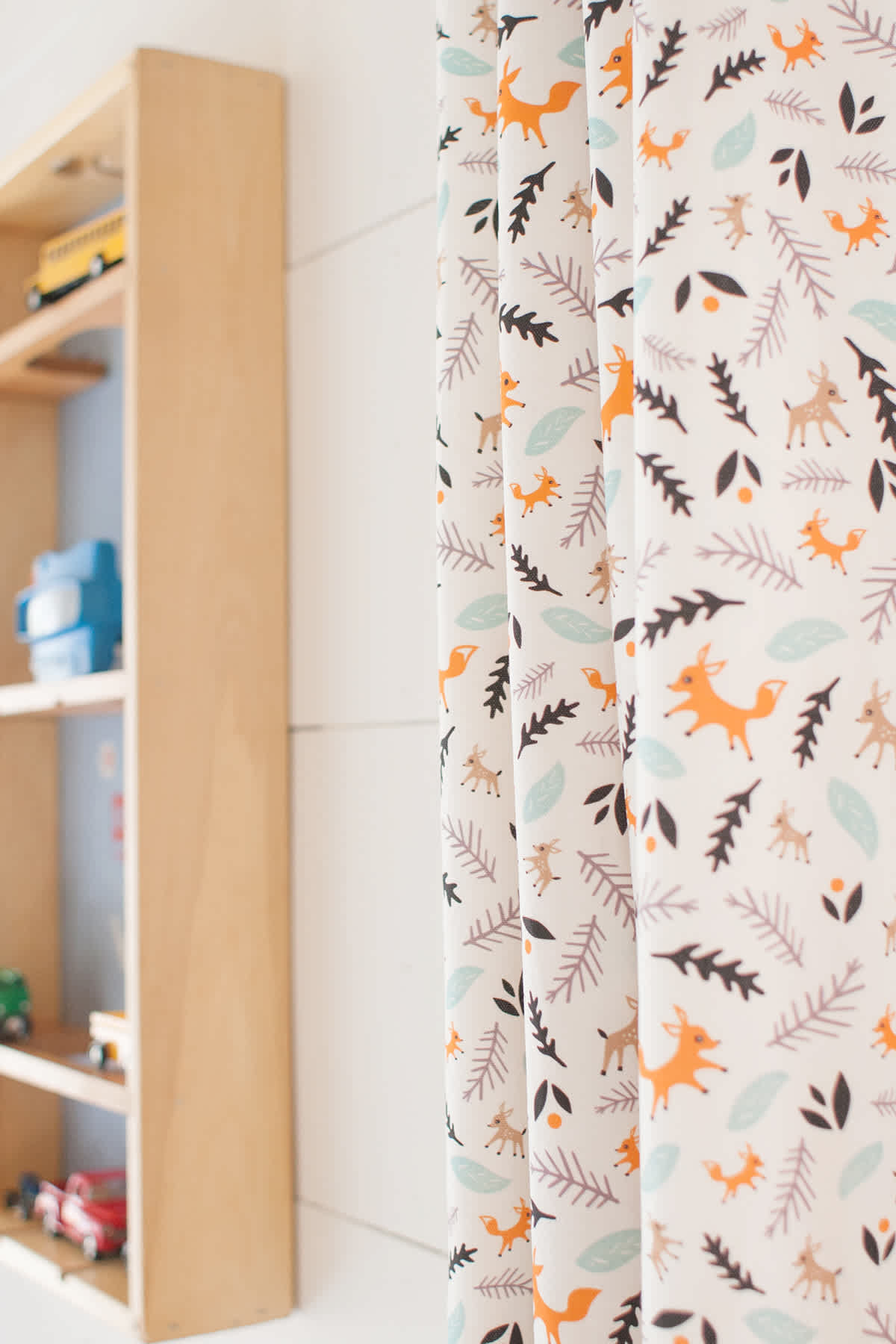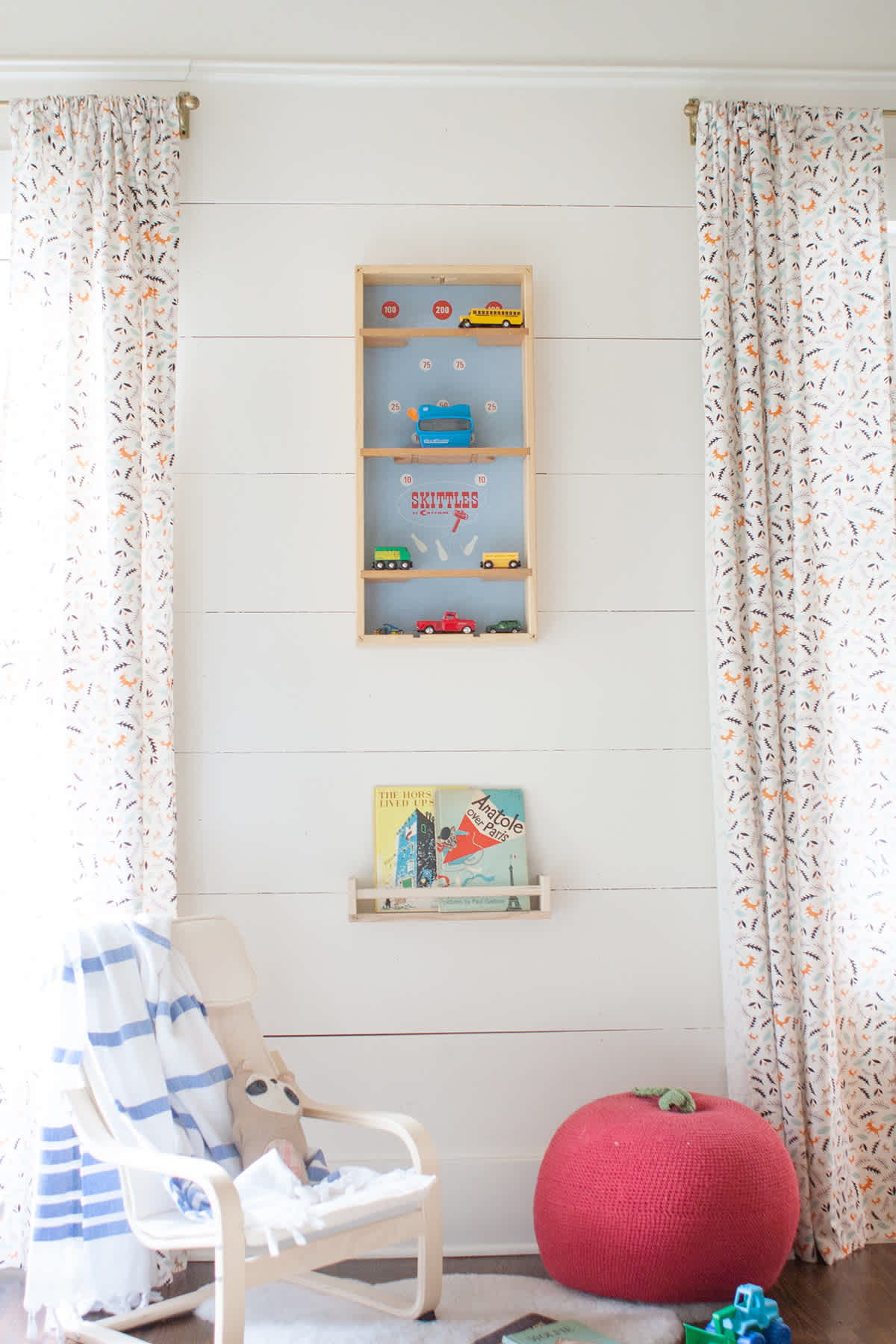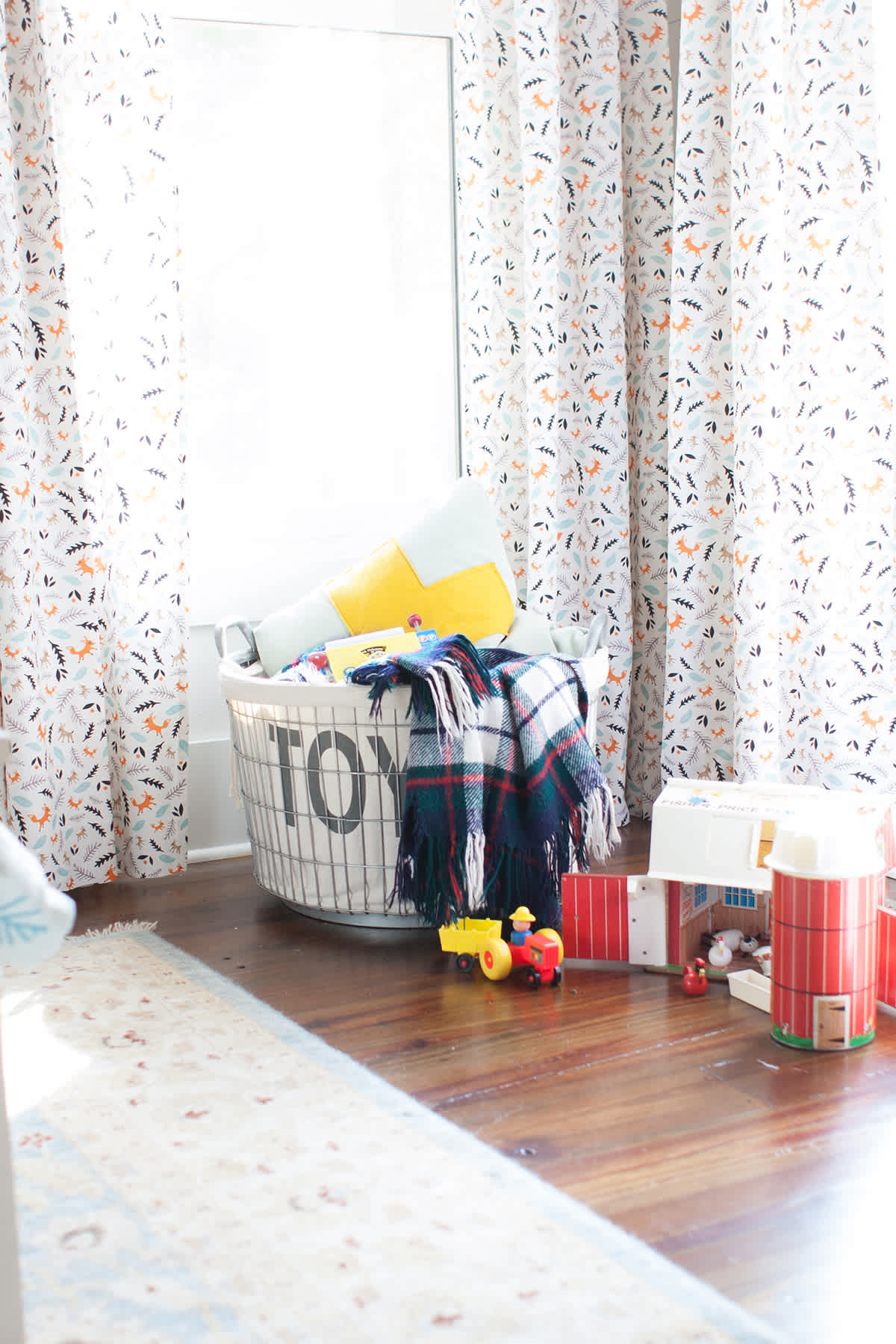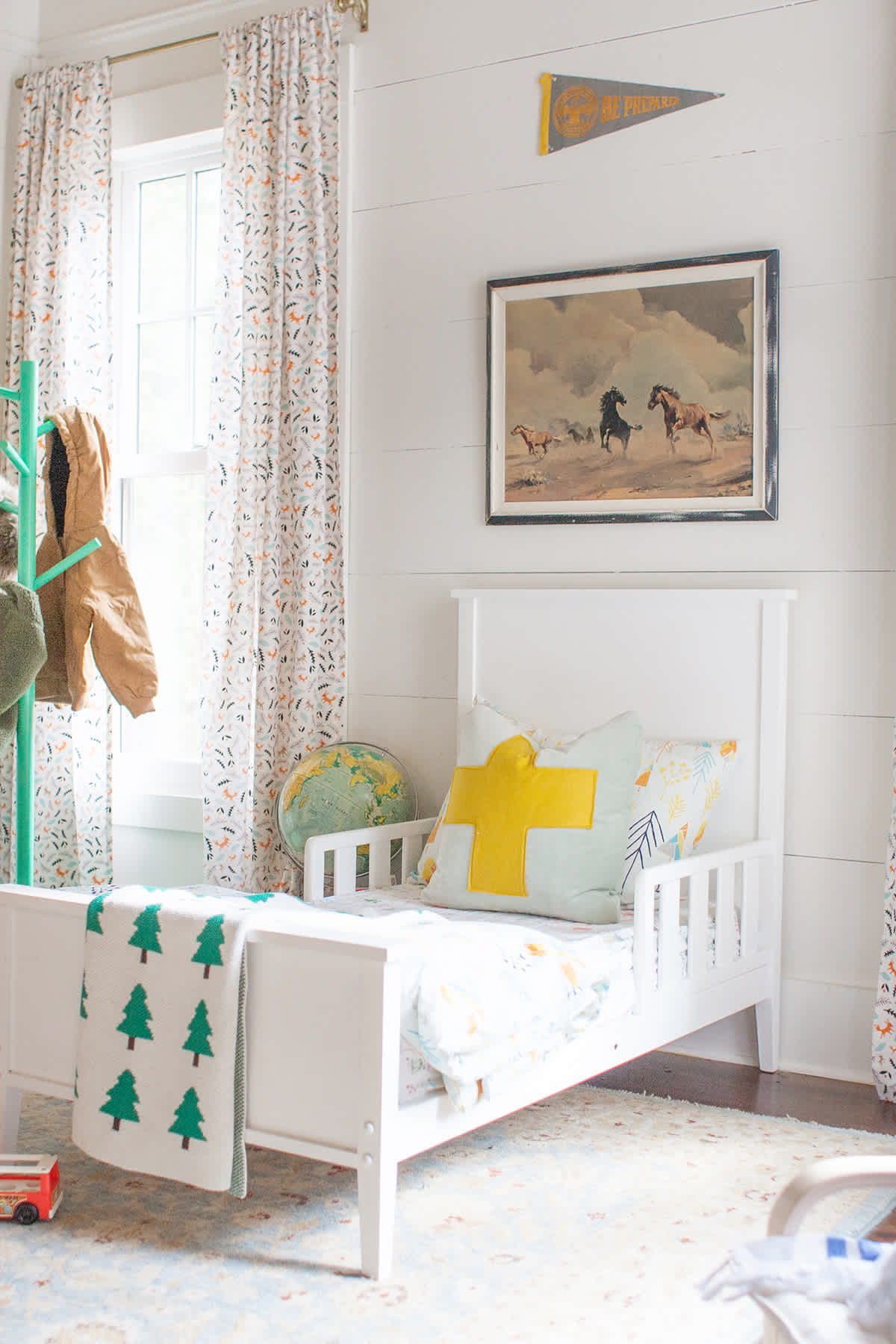 That cross pillow is a little DIY; I used some sage velvet fabric and cut out the cross from some goldenrod colored felt.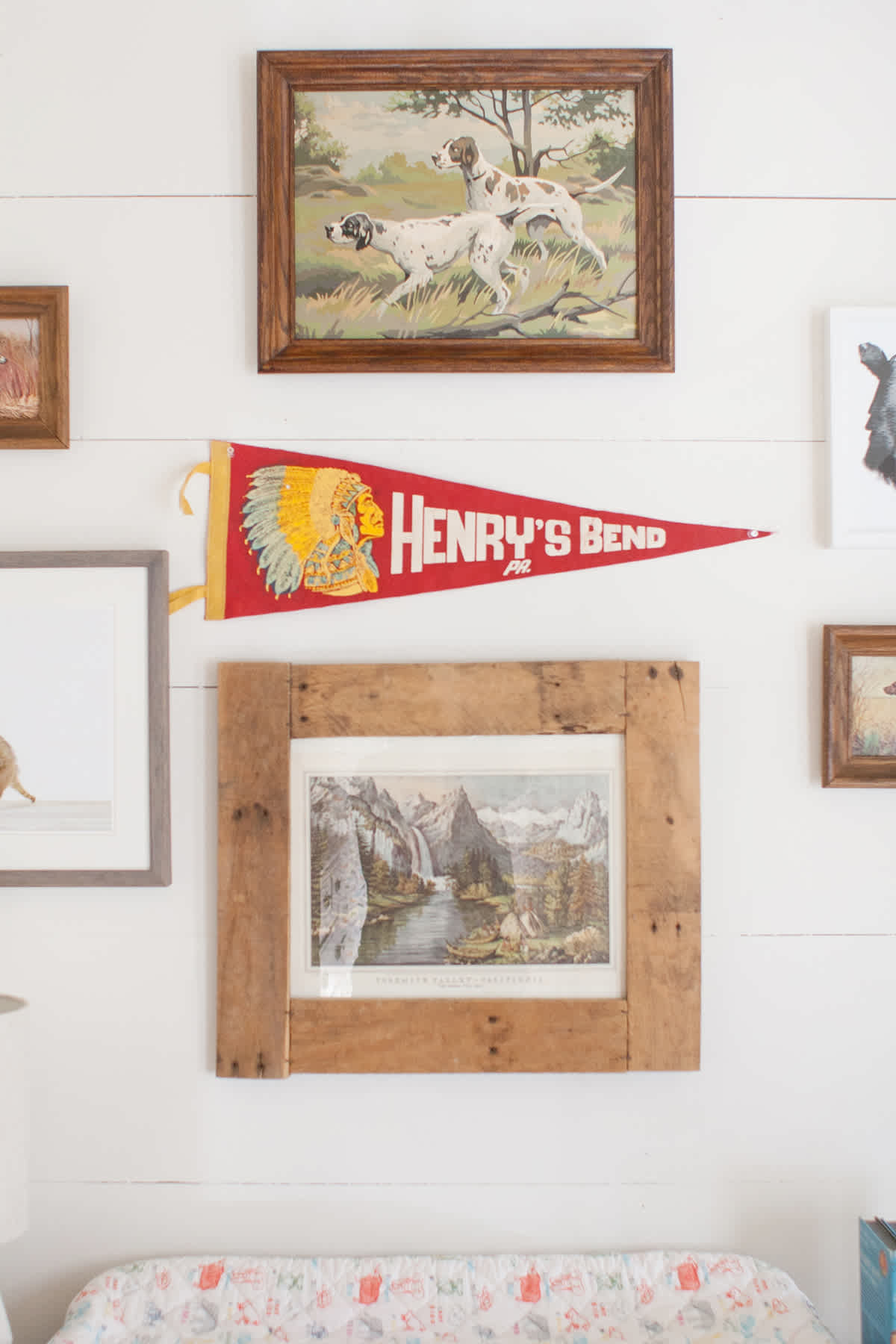 I really love that sweet pennant with Henry's name on it!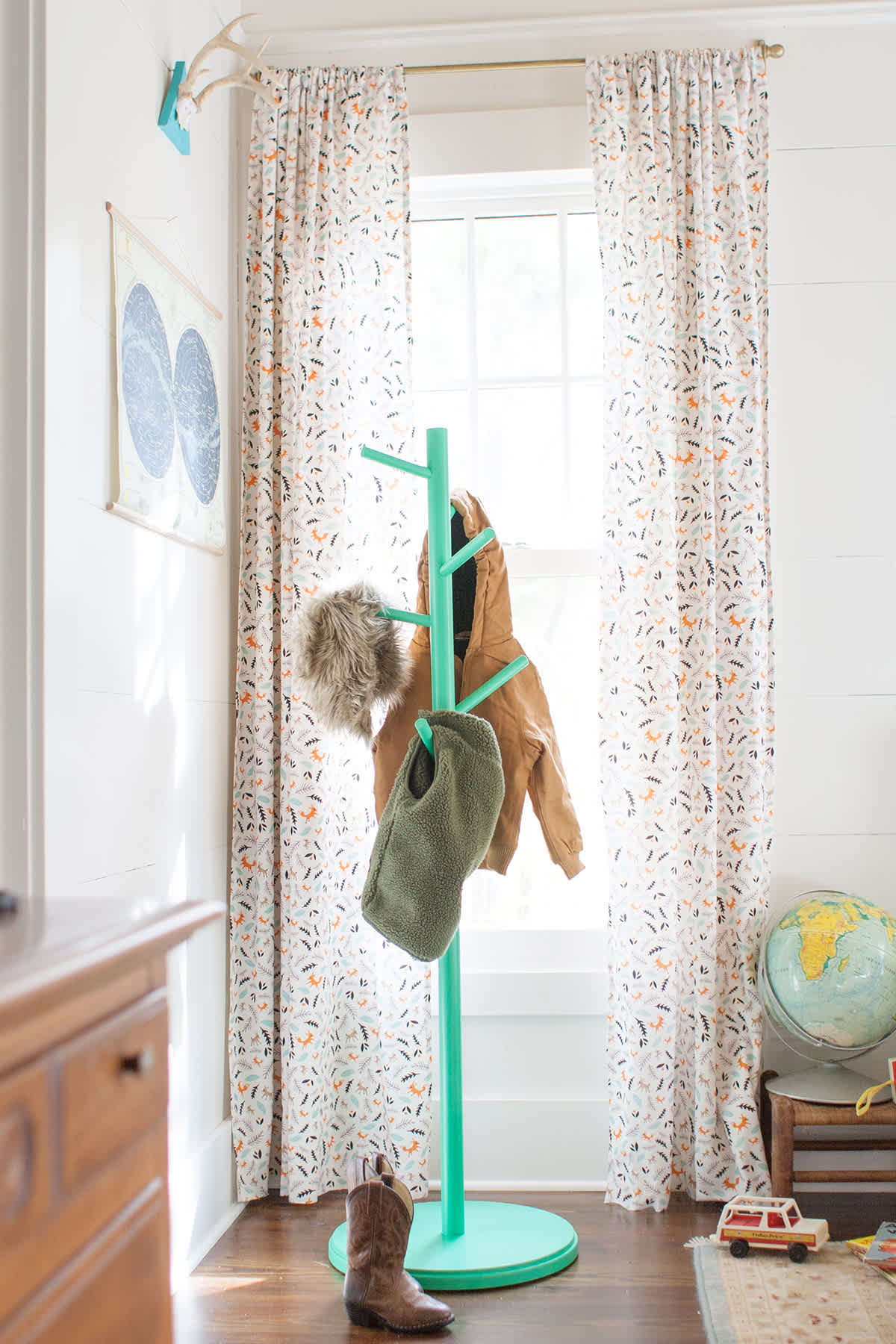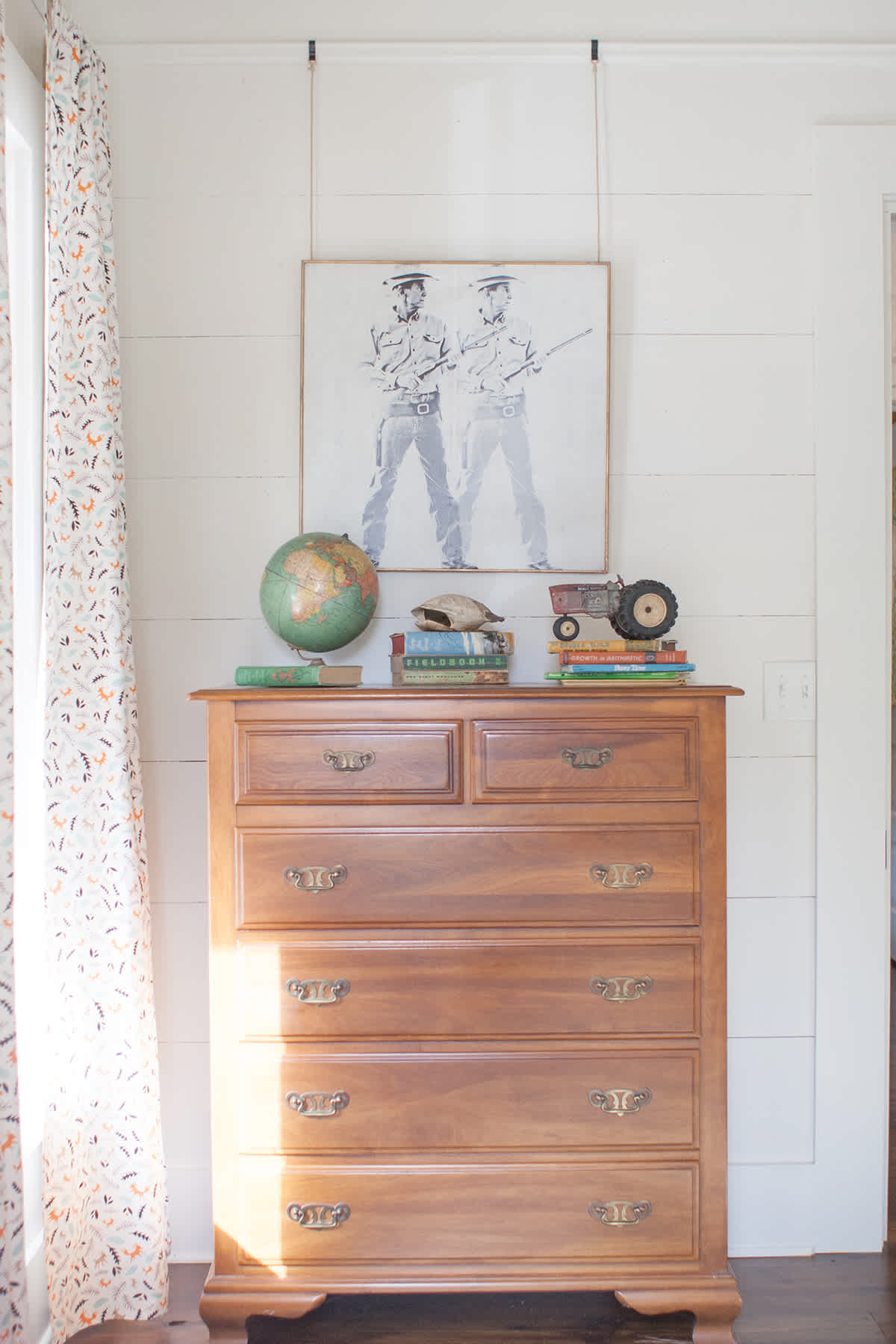 That photo is of my dad (Henry's grandfather), modeled after the style of Warhol's Elvis.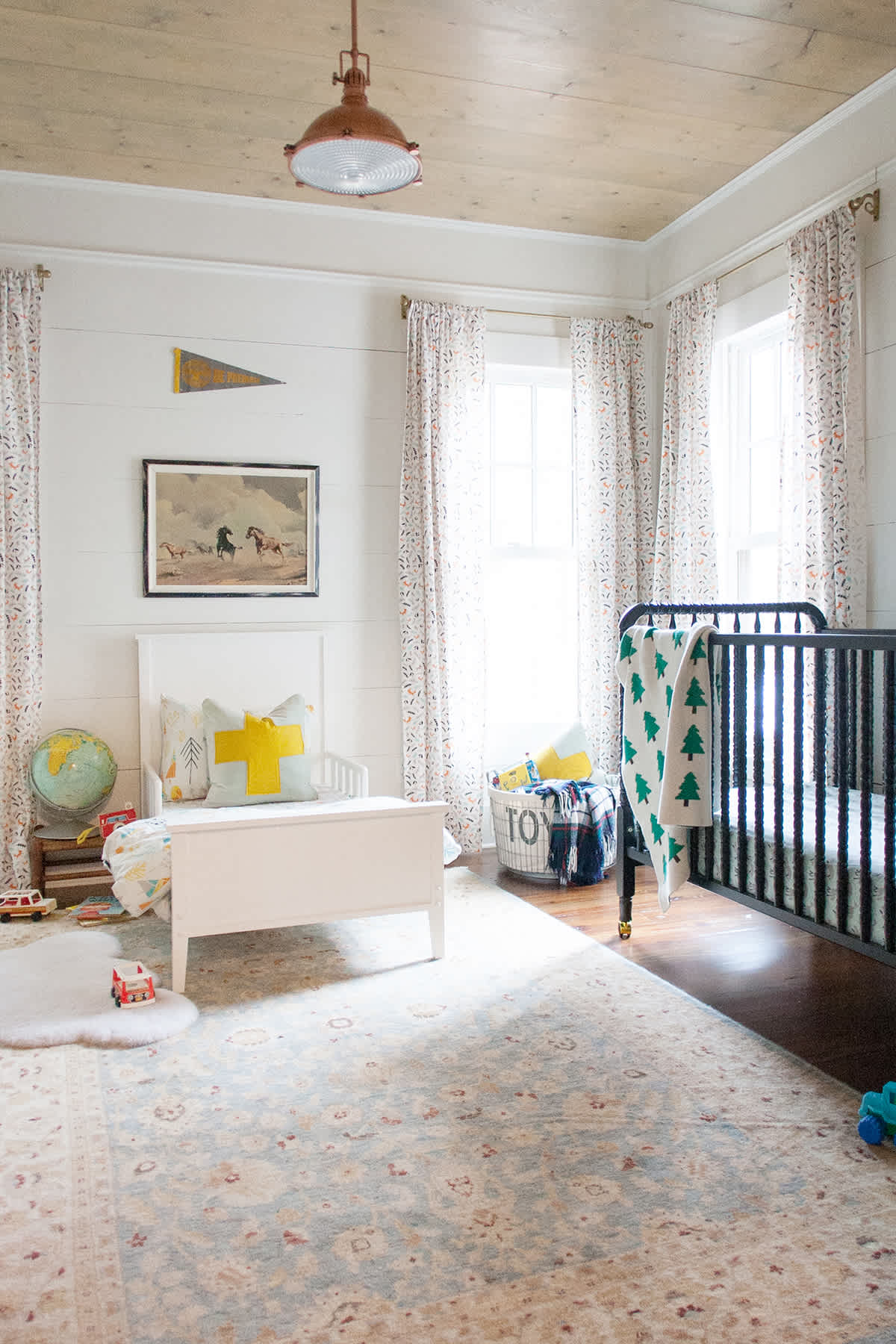 Also, just for fun, here are some photos showing how easy it is to convert the space to a shared room, if needed.  This was Henry's crib, a black Jenny Lind.  I love this crib, for its classic look, and the price.  I know some hesitate to use it in a boy's space, but it works perfectly, in my opinion, and it also goes so well with a variety of styles!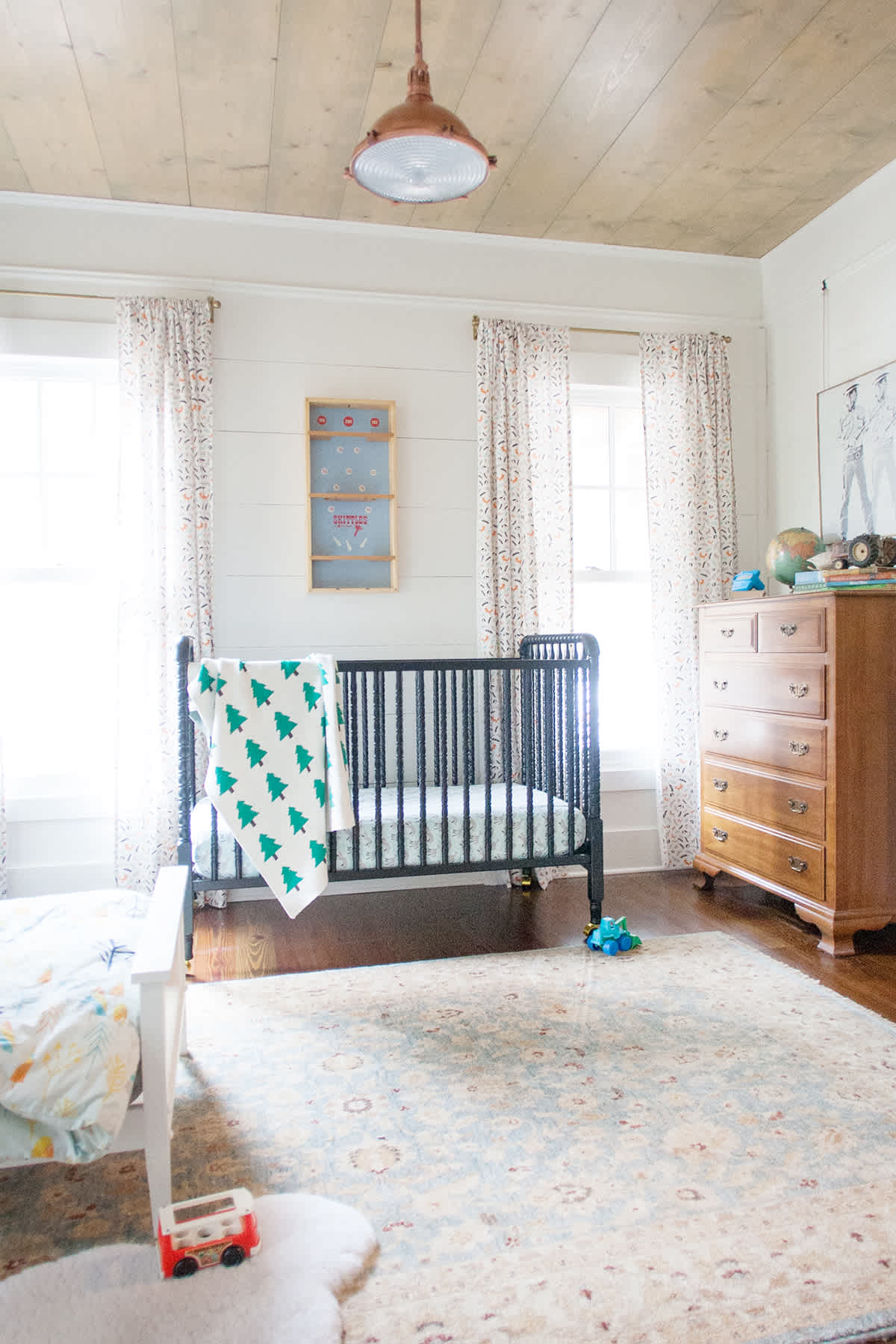 Thanks again so much to Del Mar fans for the absolutely gorgeous light that really completes the room!  There will be a giveaway running on their Facebook page if you want to enter to get one for yourself!
And, just for fun, one more before and after!  It's fun to see how more light and brighter walls can really change things!  We used a lot of the same pieces, but they look so different.