star wars ideas for a boy room
with joss & main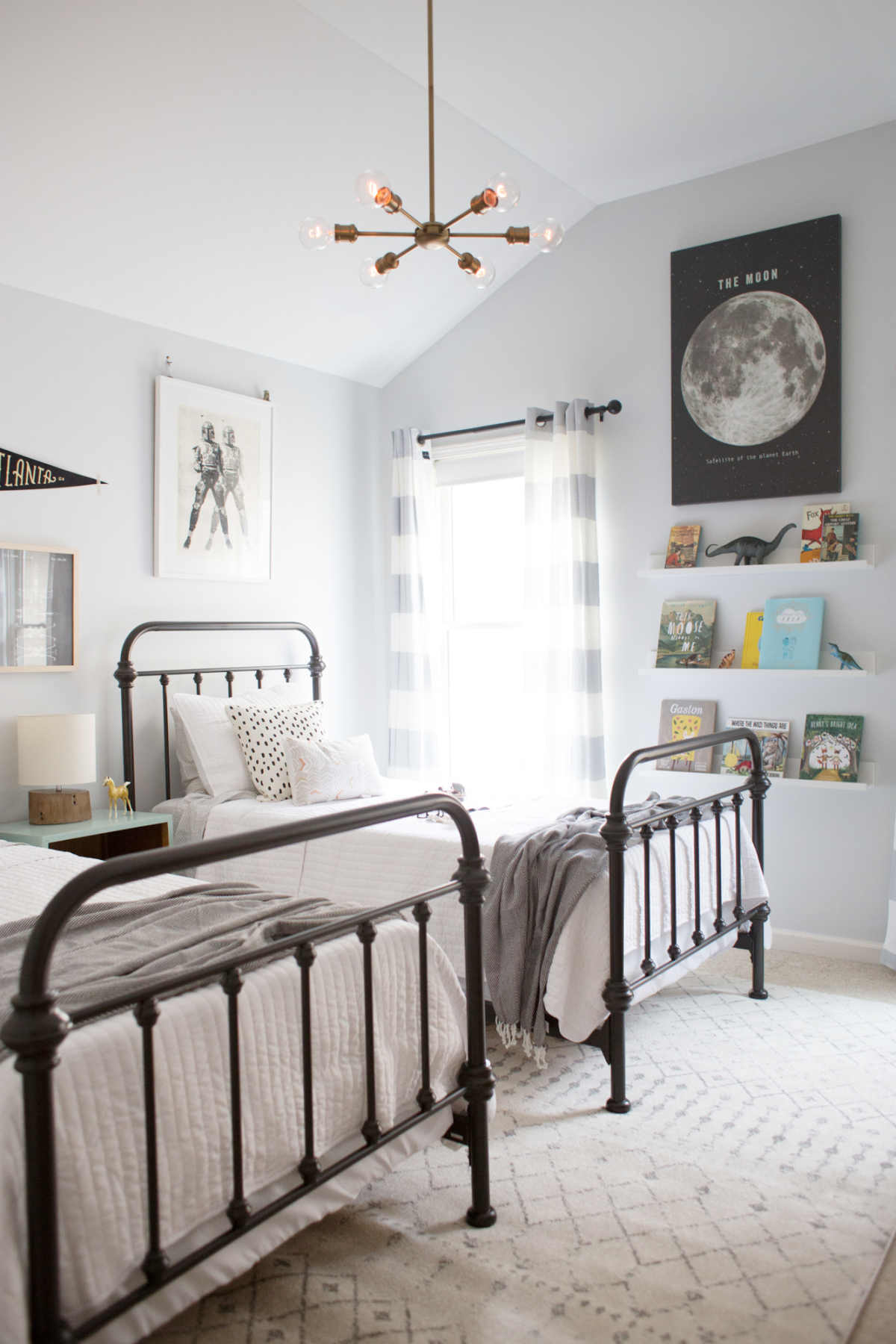 Well, this may just be one of my favorite projects.  Yesterday, I shared the room for Lauren's daughter, Lily, and today we're sharing the room of her twin brother, Jack.  They had been sharing a room up until their sixth birthday, when Lauren decided it was time for them to each have their own space.  I asked Lauren what Jack liked and she said "Star Wars," and I could hardly contain myself.
(Sources for above: X Wing Patent Print; Boba Fett Poster in Irvine White Frame; The moon poster is sold out but this one and this one are similar; Sheet set; Dorian Chandelier; White Coverlets; Cavaillon Panel Beds, Bronze; Kreutzer Rug; Modern Nightstand; Black & White Pillows; Similar Lumbar Pillows; Black Curtain Rods; Table Lamp; Similar Throw Blanket; Light Gray Marina Curtains; Wall Shelves; Dinosaur; Star Wars Figurines)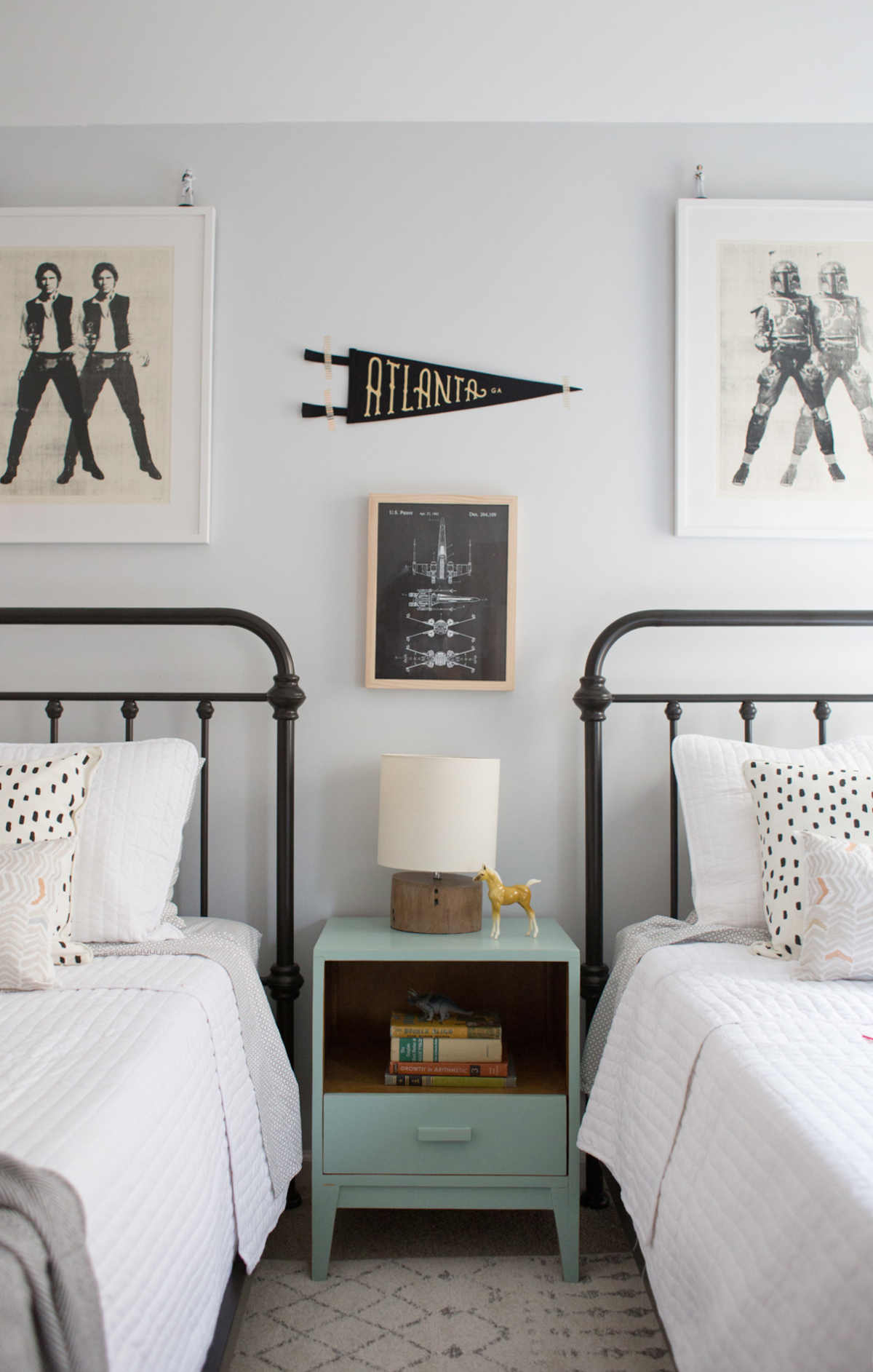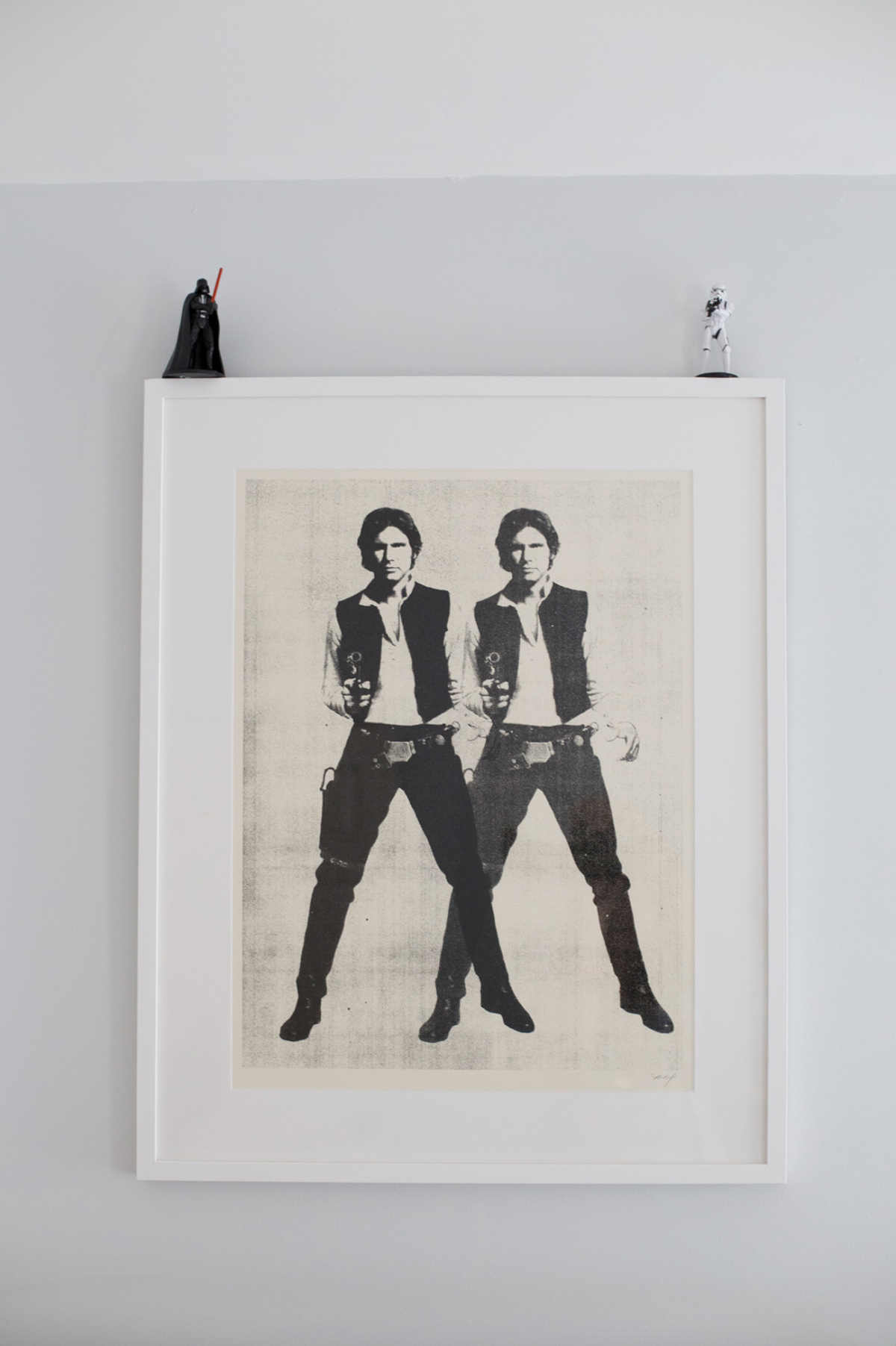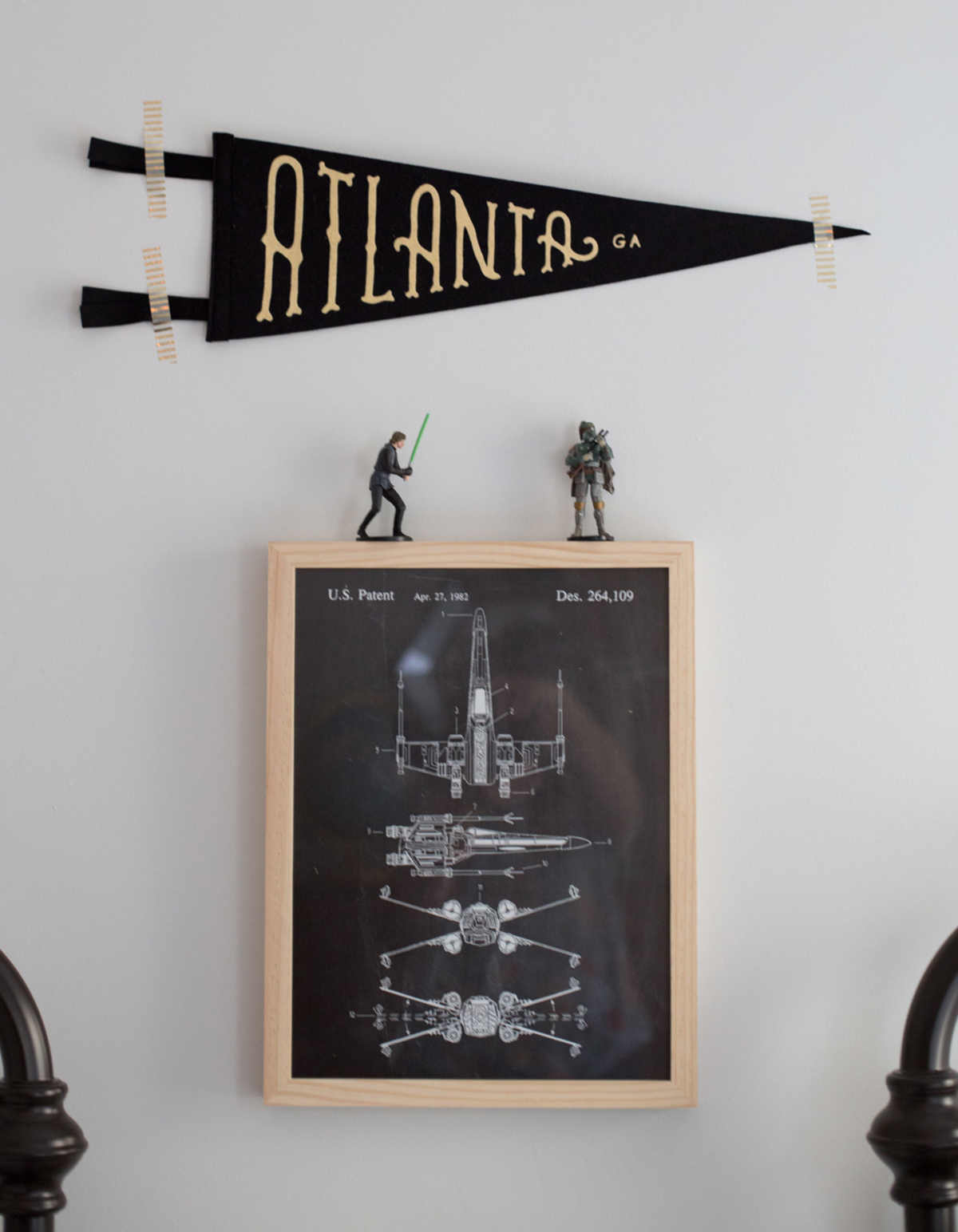 I was so excited to get to use these awesome Star Wars screenprinted posters by Concepcion Studios!  He has so many good ones, so definitely check out his shop.  It's a great way to get the look without making a space feel cartoon-y or merchandised.  Han Solo and Boba look extra good in those Irvine Slim frames from Framebridge, too.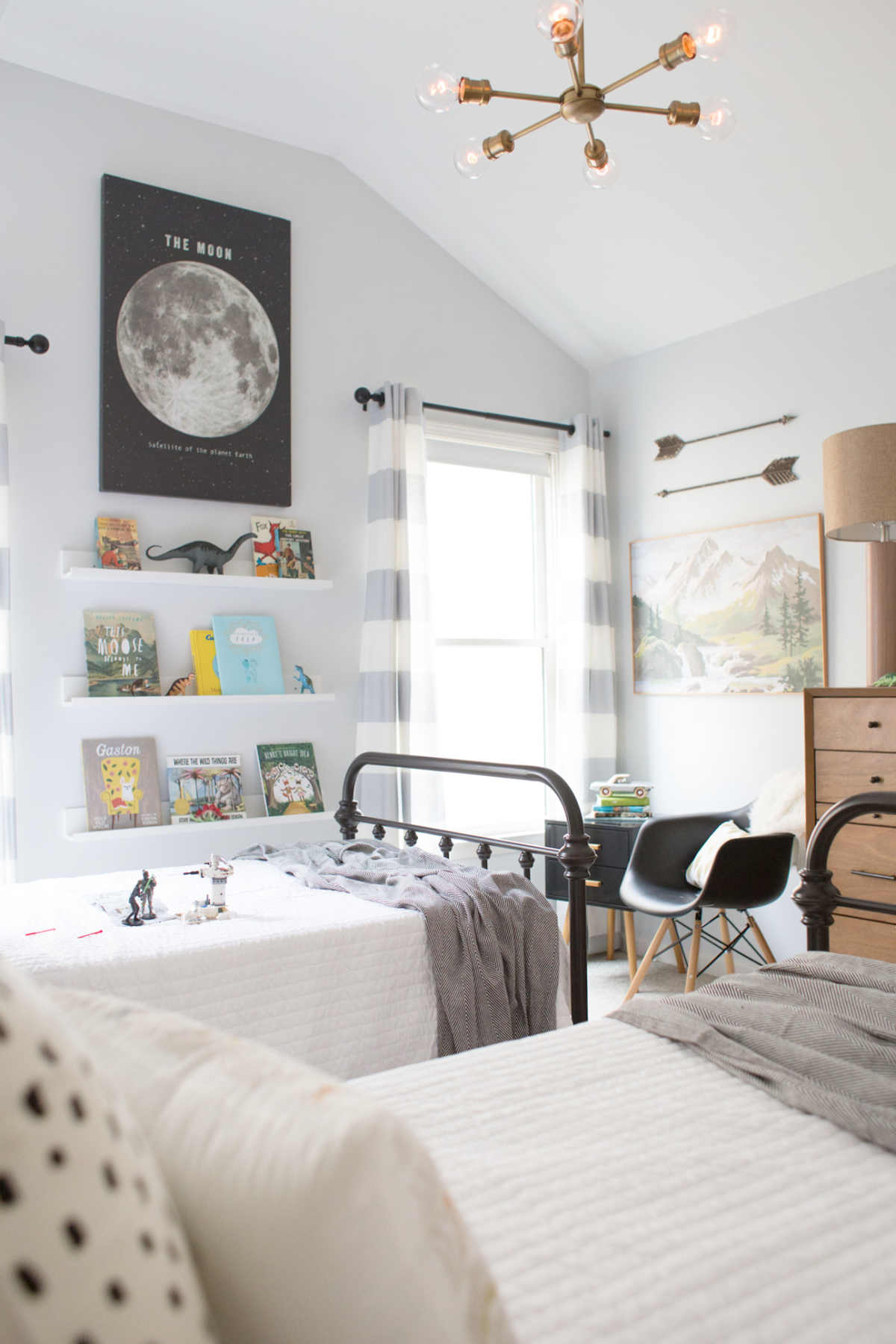 Jack's room has an interesting shape.  It's not very large, but has a high, pitched ceiling.  To draw the eye up and make use of the space, we painted the walls a light, happy gray called "Rock Candy" by Sherwin Williams, and painted the ceiling bright white to accentuate the shape, and then hung The Moon canvas (sadly, no longer available - but this one and this one are similar and can be printed large!) up high and hung the chandelier lower.  It makes the space feel entirely different than it did at first!
(Sources for above: Dresser; Lamp; Mirror; Side Table; Paint by Number; Vintage Globe)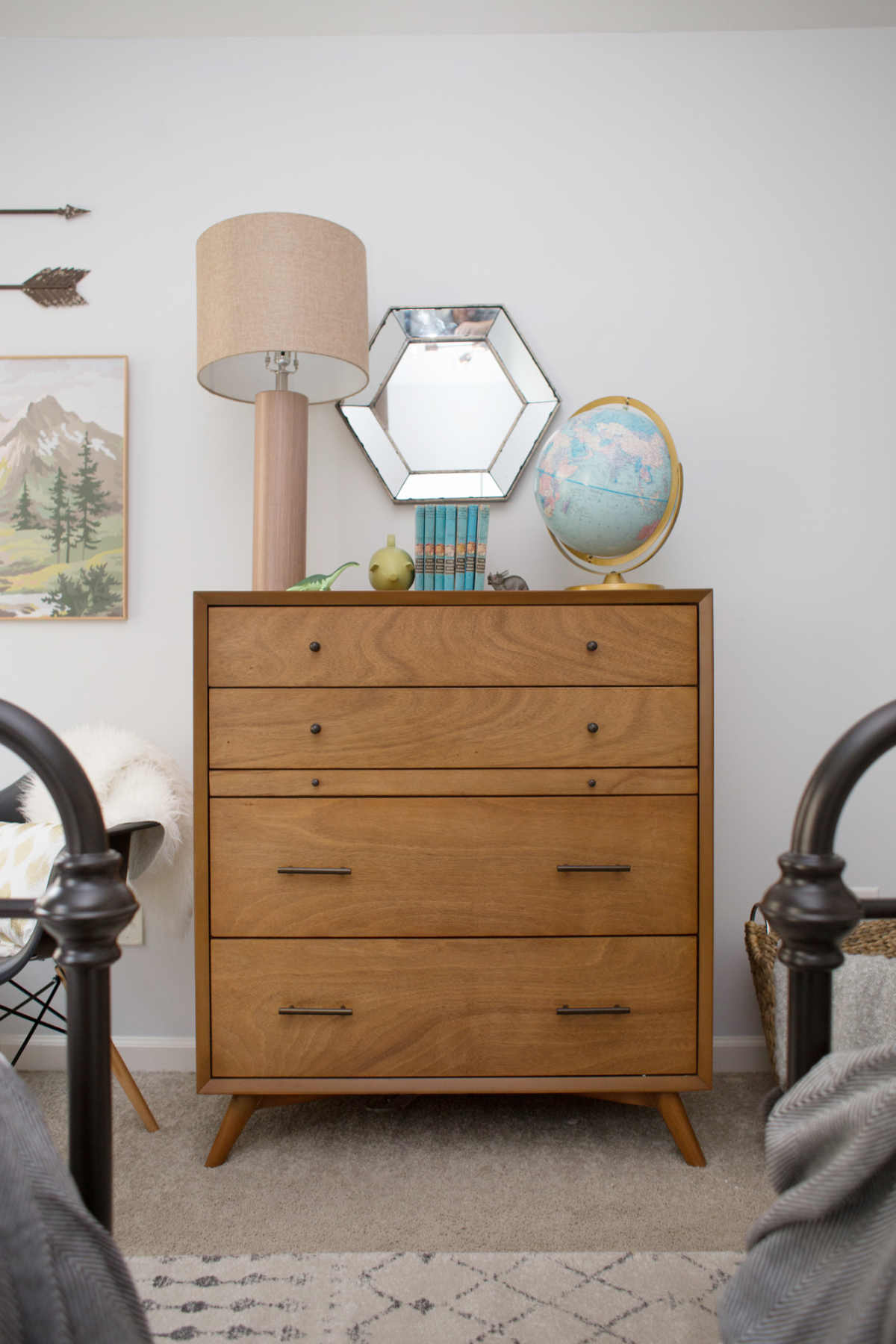 All of these pieces will serve Jack well as he grows.  Lauren can just change around the accessories and art if she wants to make it feel more mature (although many grown up guys love Star Wars!).  This chest is so beautiful!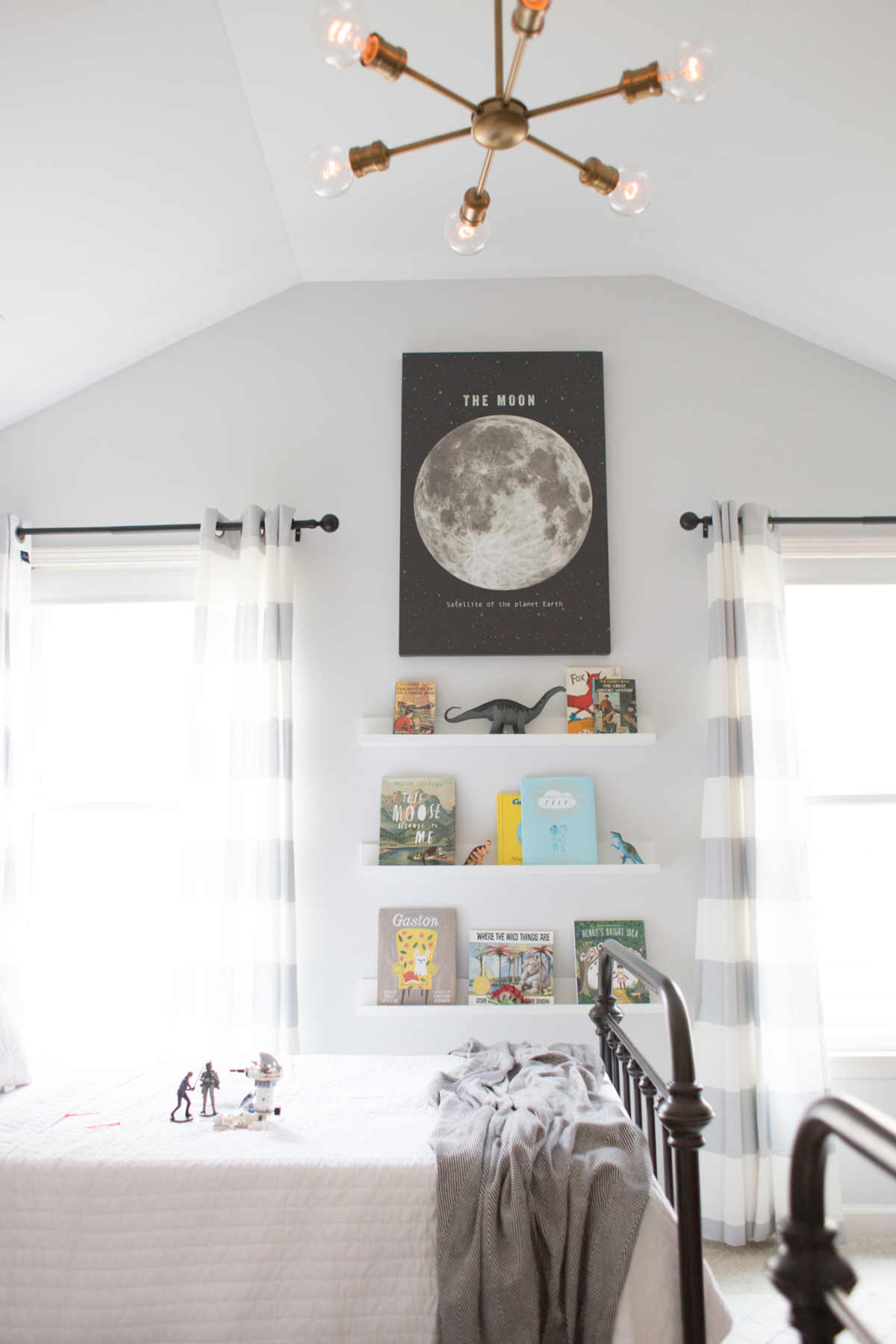 These shelves make a great focal point.  They are perfect for displaying favorite reads, and are deep enough for some toys, which is so fun!  They are affordable and easy to install if you want to get the book shelf look affordably and without too much effort.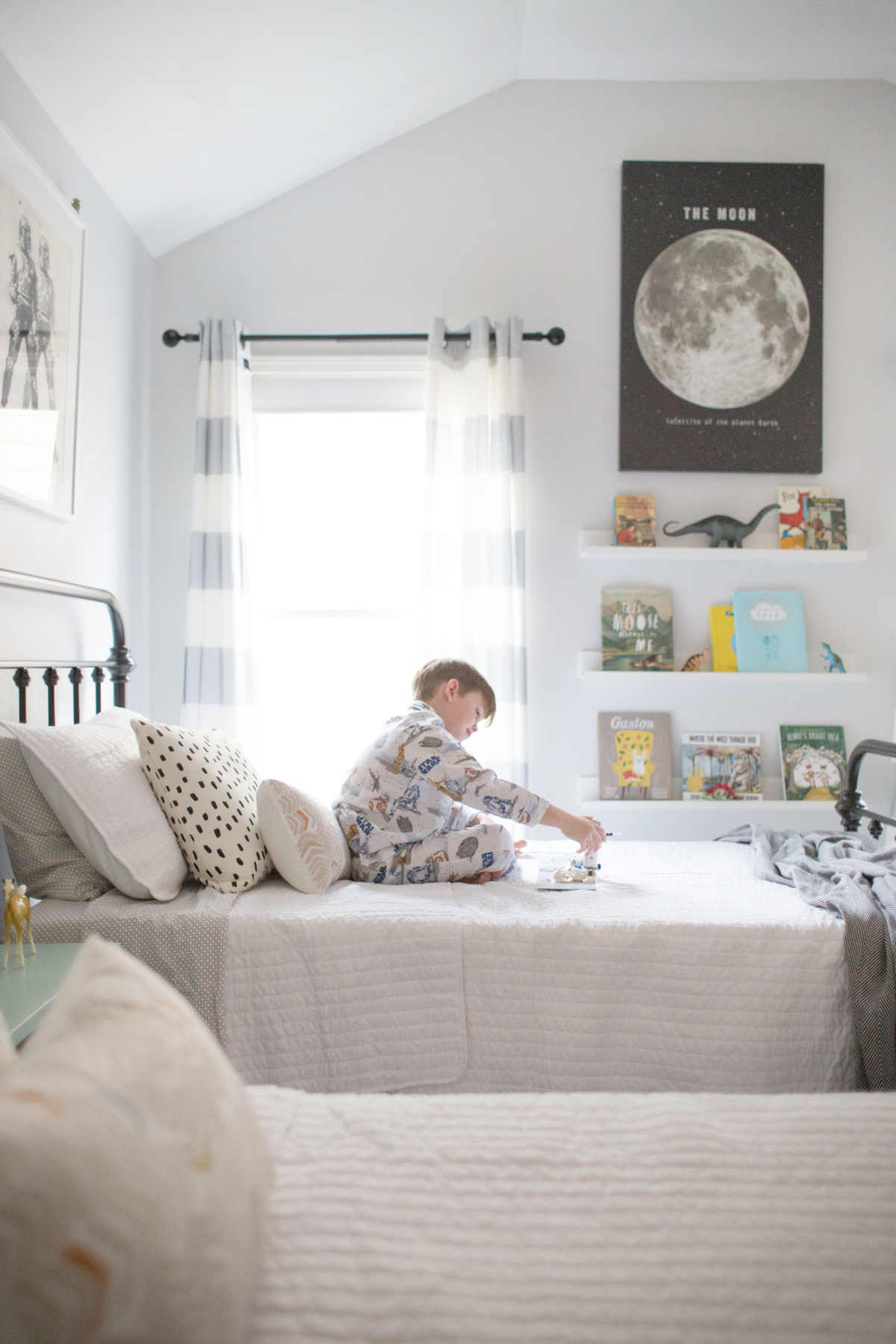 I think it's safe to say Jack is happy with his new room!  He has twin beds since Lily's room will also be a guest room, and they can still bunk together when they want.  Also, check out his adorable Star Wars PJ's!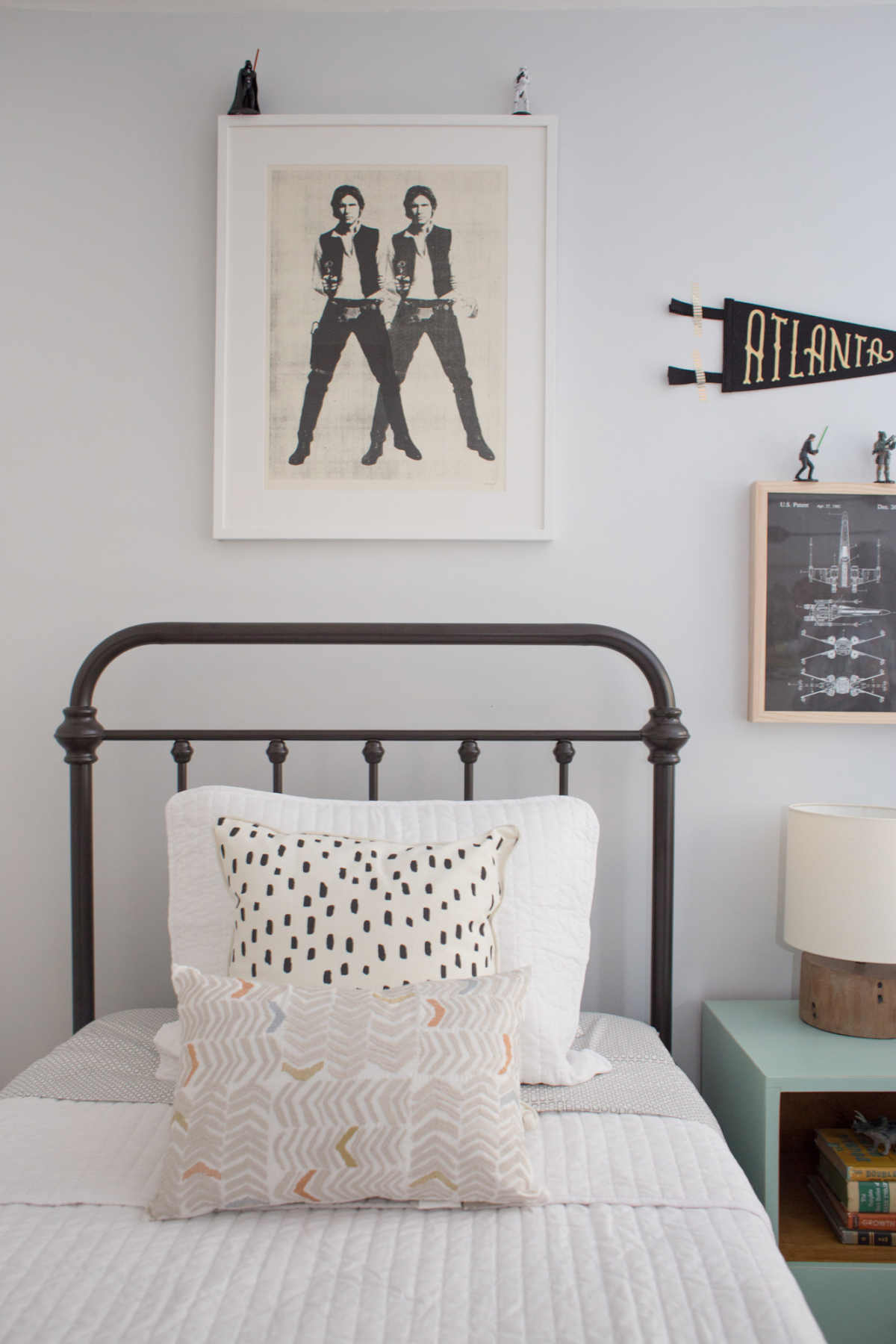 I had such a great time working on a boy space; it's always a fun challenge to show how you can create a room that still feels tasteful even if it has some kid favorites thrown in!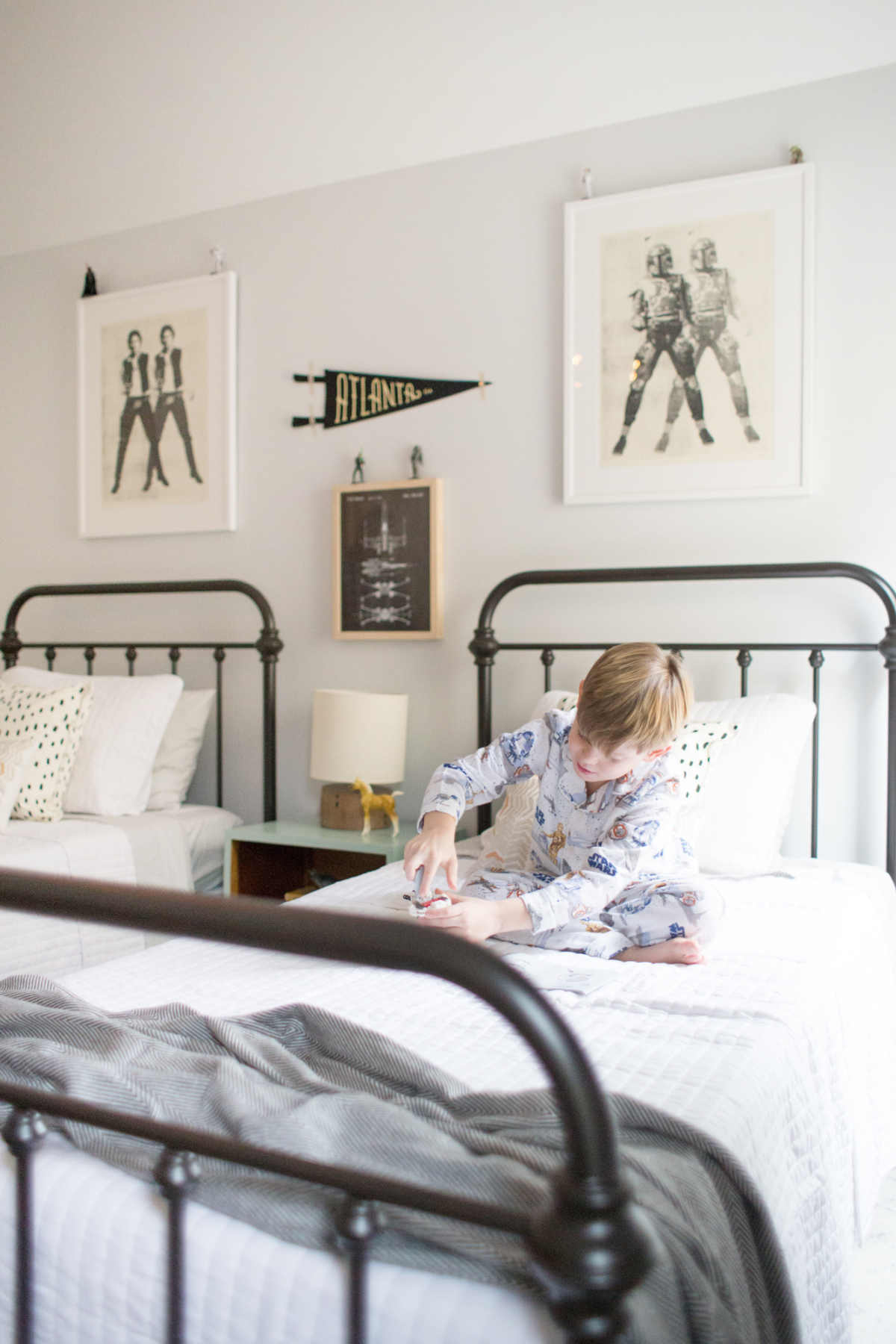 Thank you so much to Joss and Main for working with us on this project!  Be sure to check out Lily's room tour from yesterday!