Simple Fox or Woodland Party Ideas for Kids
Brigette turned six last Saturday, and for her birthday, she requested a fox party. She loves all things foxes (extra adorable with her red hair), so it was fun to find ways to make it work.
(find Brigette's dress here and her headband here. I had matching socks, but she ended up wanting to wear her "snuggly pants.")
I've found the easiest ways for me to make a space feel like a party very quickly and easily are (1) balloons), (2) a fun sign, and (3) table decor that ties into the theme.
I made a big balloon garland to hang from the ceiling - super easy with some string, some inexpensive balloons, this electric balloon pump which makes it a snap, and a little bit of crepe paper streamers included. I went to Party City the morning of the party, and bought a dozen white and coral helium balloons, as well as the blue heart mylar balloons (similar here) and the giant "6" in rose gold.
I made a little fox sign. A lot of you have asked for a tutorial on this. I usually keep a stash of cardboard on hand to use for this kind of thing, and I'll usually pick up some paint while I'm out if I know I don't have the right colors on hand. Acrylics are easy, and this brand works great (you can find it at Target) - I like using foam brushes, too, because they are cheap.
I currently have some of this cardboard on hand, which is thin enough to cut with sharp scissors if you don't feel confident with a utility knife.
I used some cute woodland wrapping paper I found at Target - it has a super cute little fox on it. You could scan him in high resolution, send it to print at Walgreen's, Costco, Office Depot, etc. on posterboard, and then cut it out for a similar look if painting it yourself sounds stressful!
For the cake, I ordered a simple white cake, and sprinkled green sprinkles on top.  I bought some woodland animals to put on top of it, and Brigette added in a few other small animals from her collection, ha!
I wrapped the tables in the woodland wrapping paper I found at Target. It's one of my favorite ways to decorate a kids' table. Just wrap the top like a present, and tape it down underneath. It works so much better than a tablecloth (and it's so inexpensive) because the kids can't wrinkle it or push it around (have you ever eaten at a table with kids and a tablecloth? Inevitably a drink or plate will get pulled off the edge!) .
I cut this grass in half for a fun table runner, and put out these masks, which the kids loved.
We made little terrariums. I don't have photos of the table (it's always hard for me to get all the pictures!), but it went over really well, and a lot of you had questions about it, so here are the details.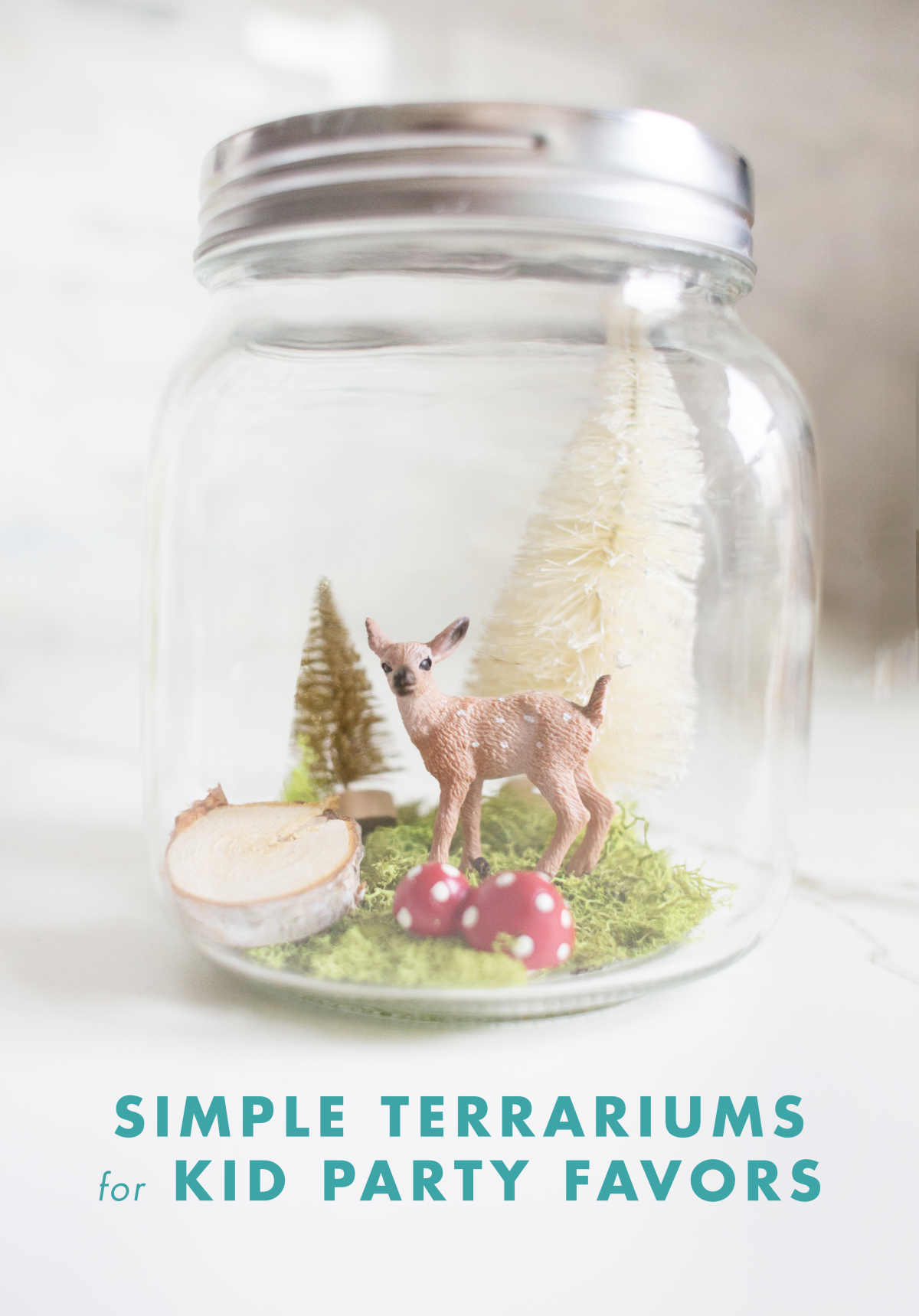 I made these because I have little jars with reindeer in them that I put out for Christmas and Brigette loves playing with them, so I thought it would be fun to make a little favor that felt similar.
What you need:
jars** | self adhesive moss | small bottle brush trees | wood slices | baby deer | tiny mushrooms | masking tape and sharpie for labeling | hot glue gun if you want to glue pieces in place (we didn't)
**I bought these jars at Hobby Lobby when they were having a half off sale, so they were cheaper. All the others I could find were really pricey.
I pre-cut the moss into circles, and gave each kid one each of the items for them to place in the jar. You can hot glue everything down, but I didn't because Brigette likes to take the pieces out and play with them. They don't really stay in place super great if you don't, so it's just up to your preference.
Another option is to use salt - if you put a half cup or more of salt, then it looks like snow, and everything will stay in place better, but then you might also get salt everywhere if you have kindergarteners on your hands . . .
Also, I got a lot of questions about how we kept all these kids entertained. We had 12 kids in all (including our three), and the party was two hours. Chip and I and my friend Caroline were wrangling all the kids. Here is how the time broke down:
4:00-4:40: Play outside. Honestly, if that hadn't been an option, I don't know that we would have survived, ha!
4:40 - 5:00: Eat supper. We made slider burgers (if you are wondering if kindergarteners eat hamburgers, the answer is most don't, but it's Brigette's favorite!), popcorn, fruit, and Honest juice.
5:00 - 5:20 - Watch part of Robinhood (the Disney one with foxes). We played this and then called over kids four at a time to make their terrariums, so it wasn't total chaos.
5:20 - 5:30ish - Sing happy birthday and eat cake.
5:30 - 6:00 - Go outside, open presents, and play some more.
It was honestly a bit crazy, but we made it!
It was a really fun afternoon, and the party girl was pleased, so I'd call it a success! Let me know if you have any questions about it!