Shared Room Ideas for three girls
I'm finally done with updating the girl's room!  (See what it looked like previously here).  The old room was fine, but we are planning to move Ellie in soon, so we needed to make some changes.  Plus, I wanted to move to twin beds for the big girls, and I was a little tired of the pink.  The cheap rug we had was also looking pretty bad, as well.  I was SO excited to work with Crate and Kids on overhauling this space, and love how it all came together.
(**The wall color here is Pale Powder by Farrow and Ball, but you can actually go to Sherwin Williams and ask for the color, just fyi.  That is what I did, and they have all the F & B colors in their system.  The ceiling is a light blue, Embellished Blue by Sherwin Williams.)
(Sources: Gray Jenny Lind Beds; Care Bear bedding from Crate and Kids but not available; Cloud Rug; Bon Jour Lamp; Pineapple Nightlight; Similar Acrylic Shelves; Grilled Cheese Pillow; Rainbow Pillow; Framed girls' artwork via Framebridge; Perla Ceiling Light; Stay Curious Banner (above Lion); Rainbow Stacker)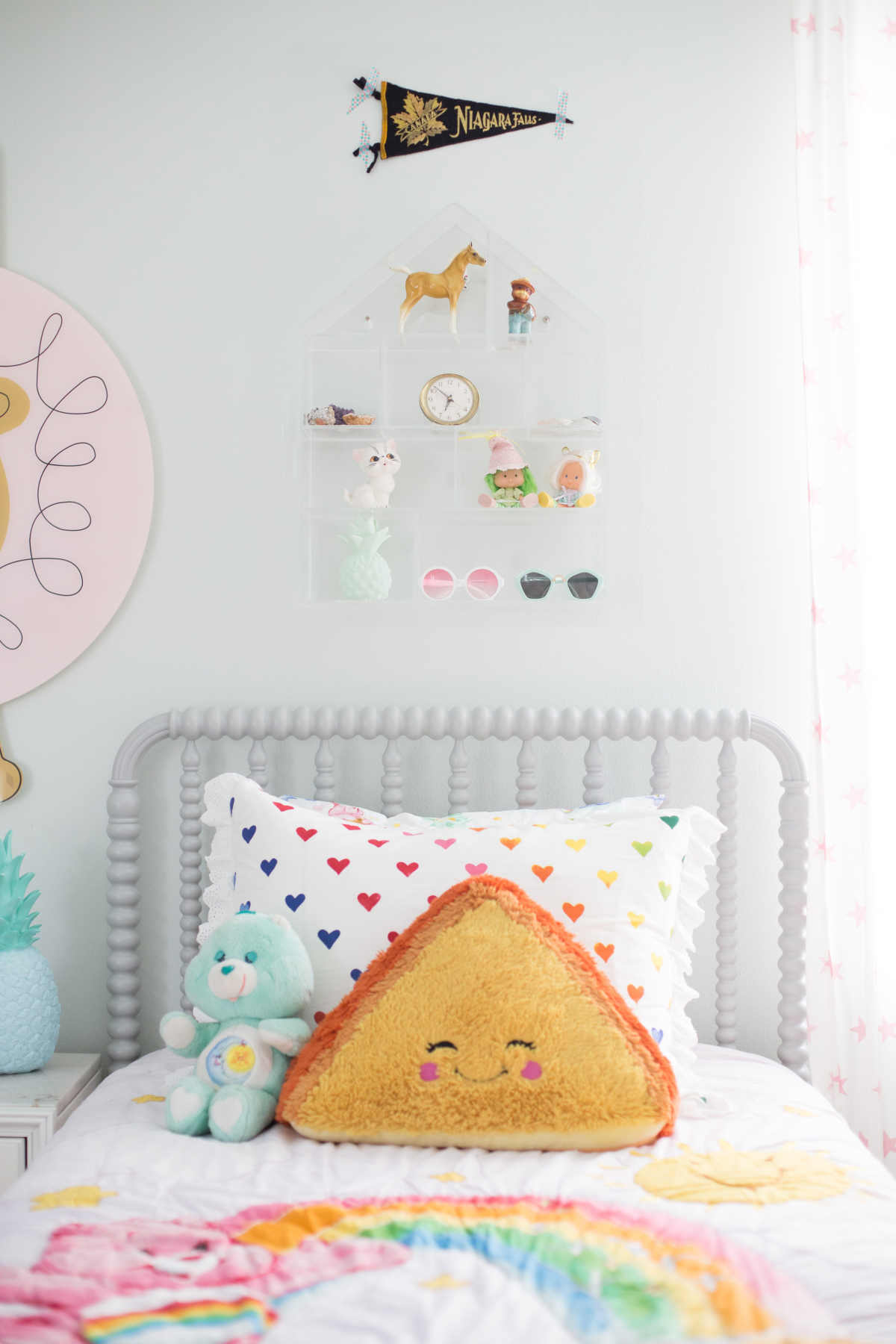 The girls loved the bunk beds, and it was great that they took up less space, but I had two issues with them.  First (as you all predicted), it was really hard to keep the top bunk neat.  It kind of turned into a nest/stash of things that Vivi would squirrel away, and it was really hard to keep it made.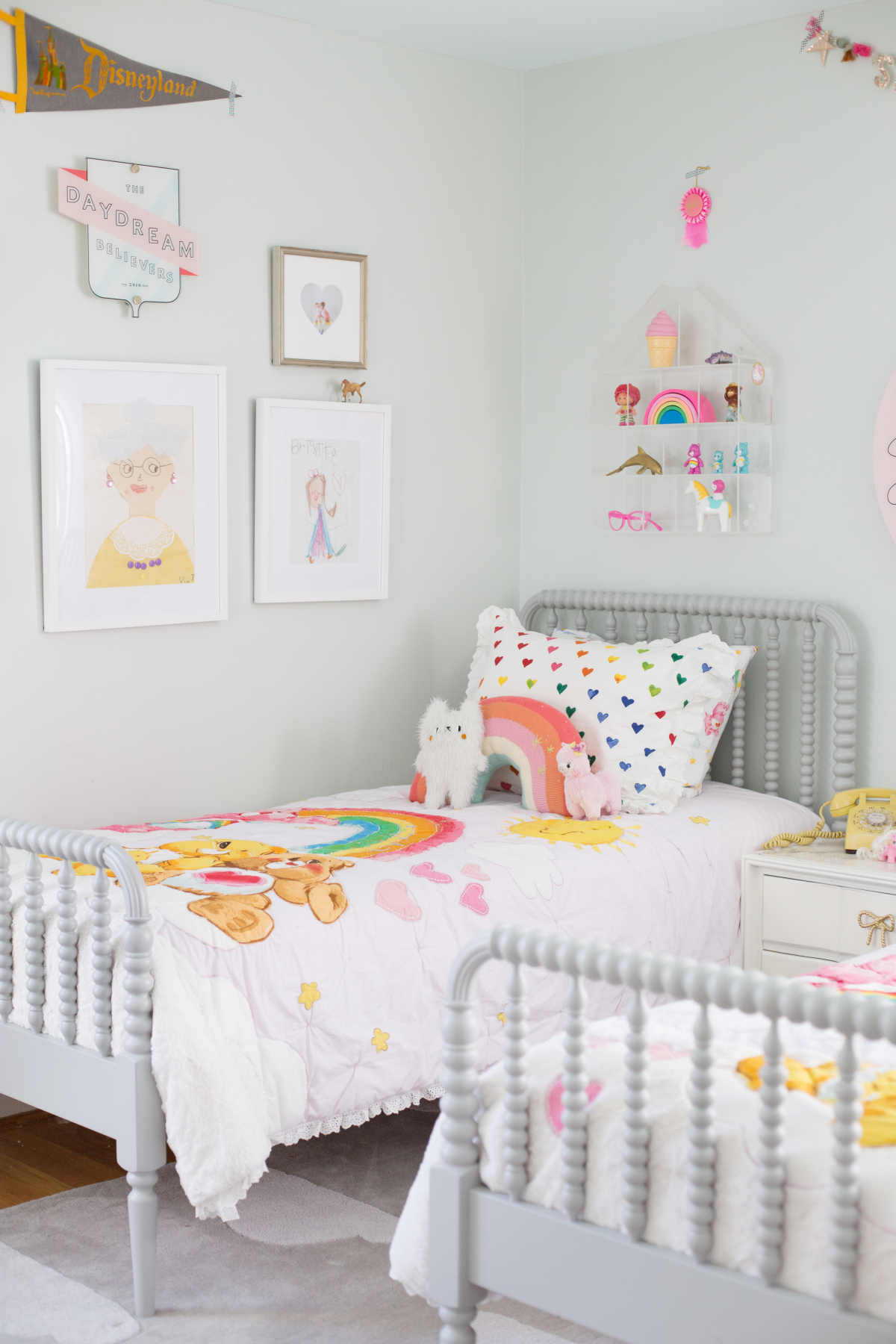 Secondly, it was kind of hard to reach up there and snuggle her at bedtime.  I love so much that they are both within arms reach, and I can even climb easily into their beds if they are sick or just need some extra comfort.  They are still so little - and I don't want to miss out on this time when they still love all the cuddles and snuggles!  Plus, we are going to turn Ellie's room into a play space once she moves in here, so we will have some more play space.
(Sources for above: Gray Jenny Lind Beds; Rainbow Pillow; Nightstand from MegMade; Vintage Disneyland Pennant; artwork framed via Framebridge; Vintage Brass dolphin from LBFinds; Ice Cream Nightlight)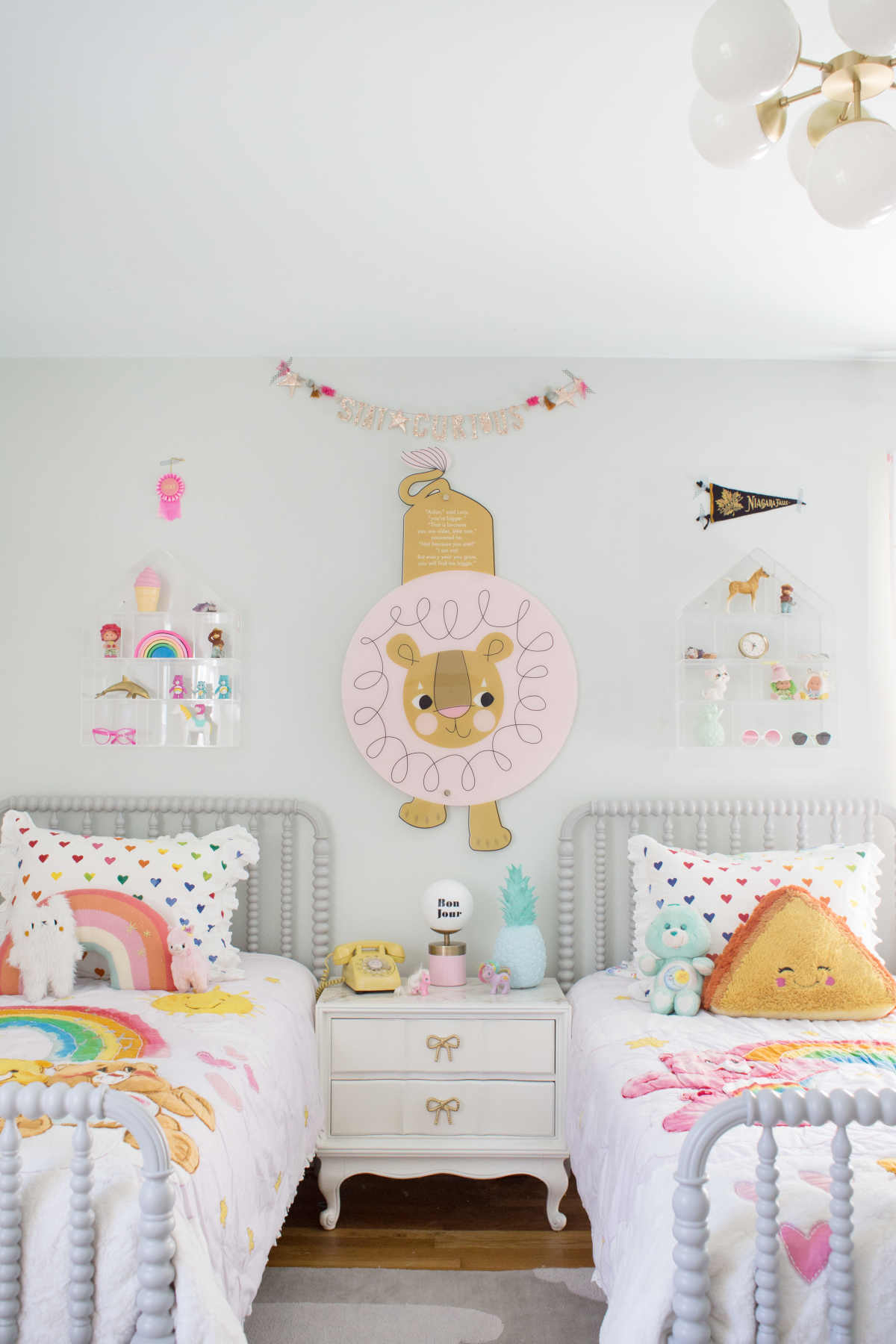 I made that lion for the girls with my one of my favorite lines from Prince Caspian; it's been in their room in some form since Vivi was born!  I think the newest version is extra fun - it's like the lion is keeping watch over them.  Also, I can't say enough good things about that pineapple night light; I've mentioned it before, but the girls love it so much.  We even travel with it.  Sometimes we put a little shirt on it, so it's not too bright.  And how cute is that bonjour lamp?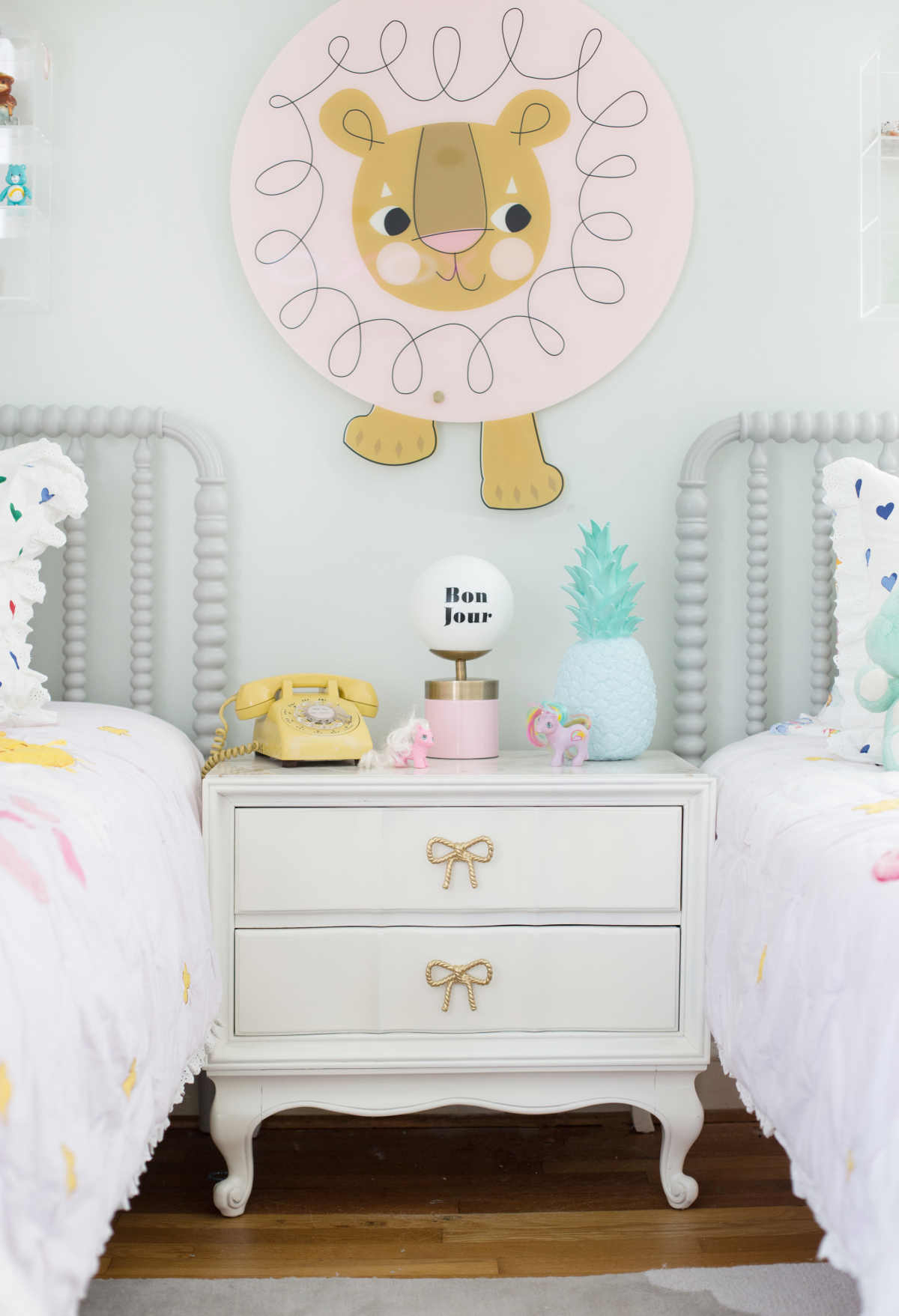 The nightstand is from MegMade.  Isn't it the sweetest?  It's a vintage piece that matches the sweet dresser on the other side.  She has quite the collection of of vintage pieces that you can custom order in any finish/color you want - pretty amazing!!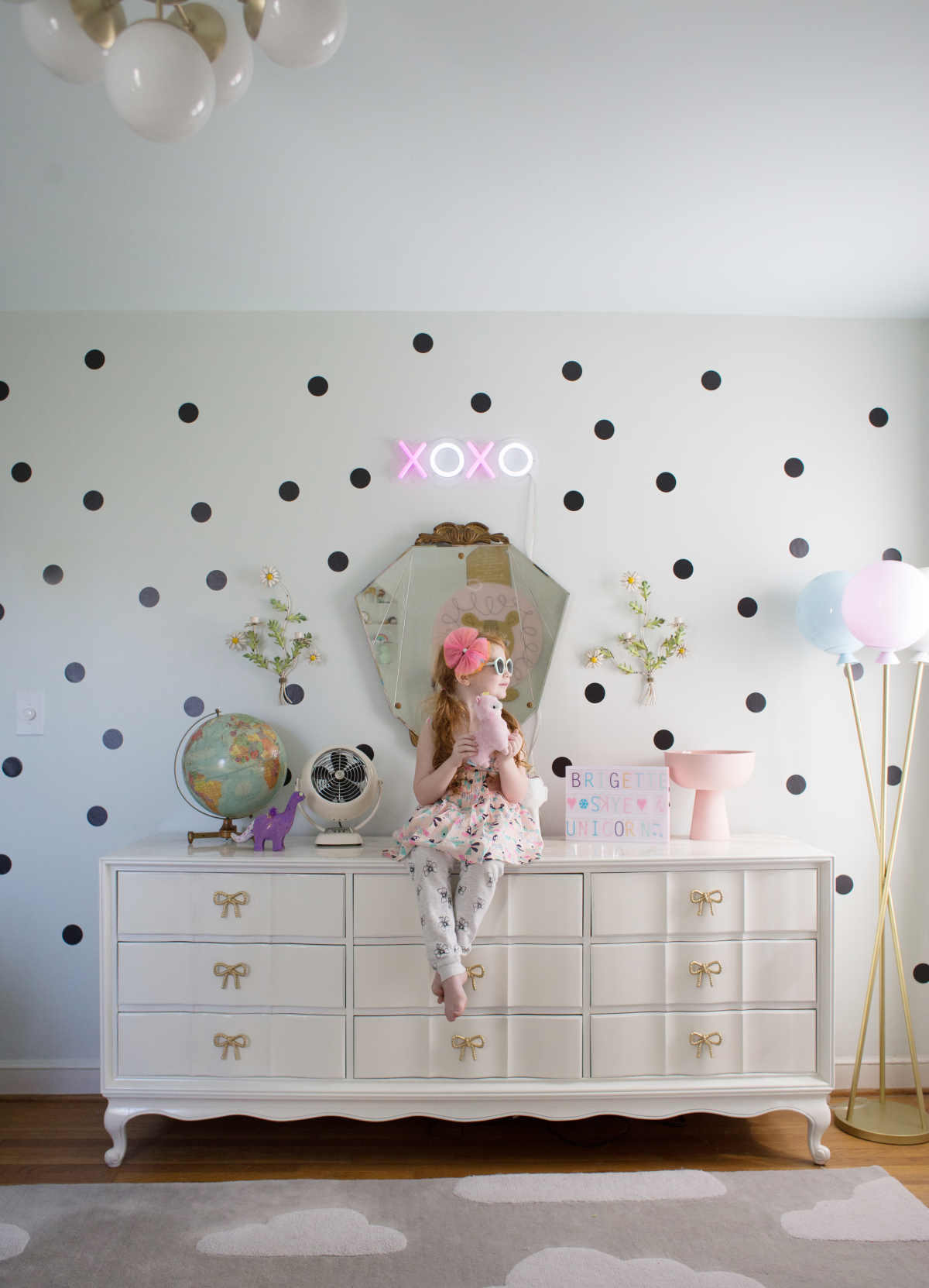 This dresser is a bit wider than the old one, so Vivi, Brigie, and Ellie can have their own trio of drawers.  It's SO pretty!  The dots are from Made of Sundays, and add so much punch to the wall. They were super easy to install.
I also ADORE that balloon lamp!  It's the cutest.  It reminds me of those little plastic balloon cupcake toppers, which makes me so happy.
(from above: vintage globe, dinosaur, fan, tole sconces, lightbox, pink footed bowl, XOXO light)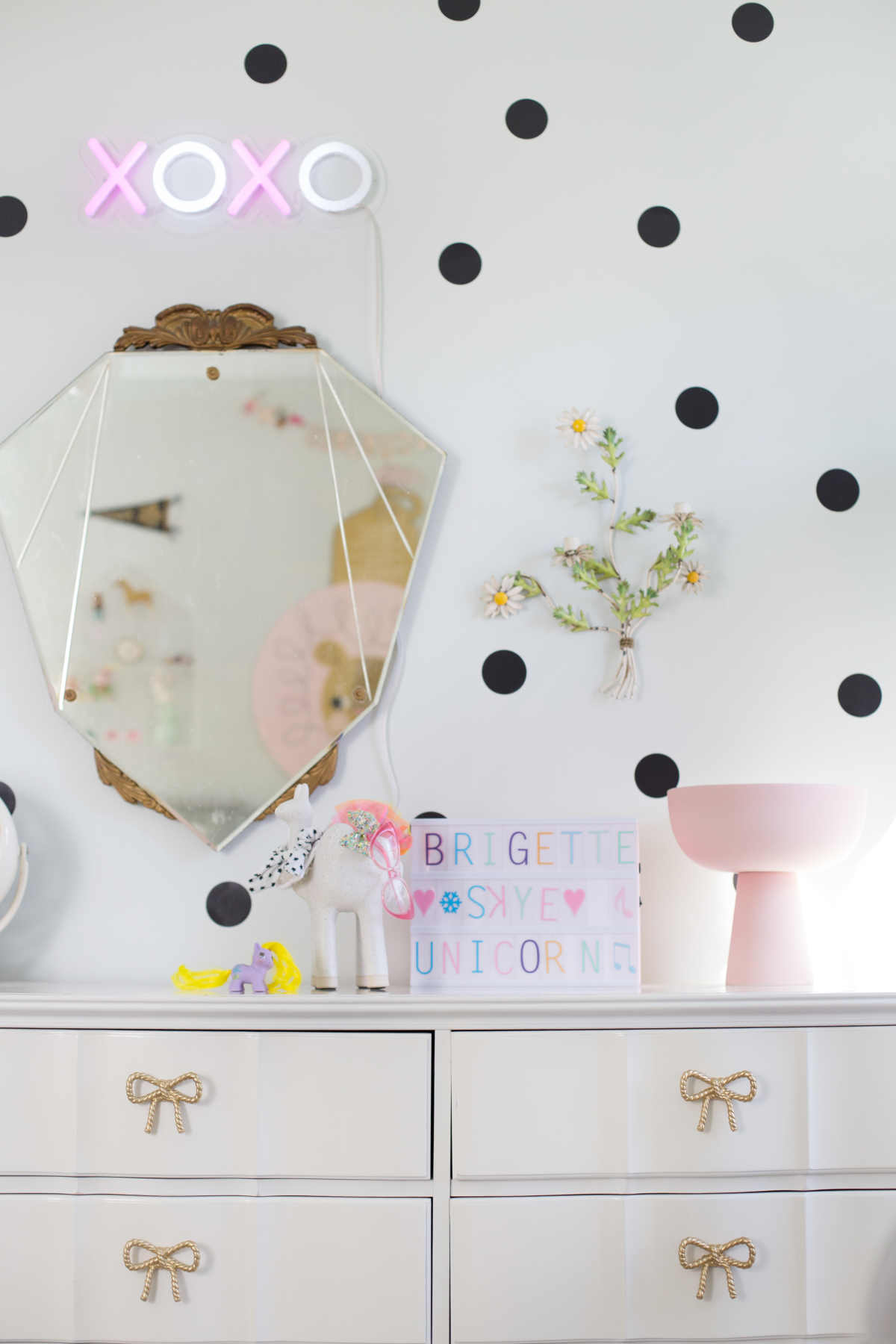 I love that sweet lightbox!  The girls love to decorate it, and Lisa of Brite Lite Tribe is offering 25% off pink lightboxes with code PINK25!  That little gazelle guy also makes the perfect accessory holder for the girls!
The sconces are called tole, and you can find pretty, one-of-a-kind ones on etsy.  Some are pricier, but with a little looking, you can find some affordable ones!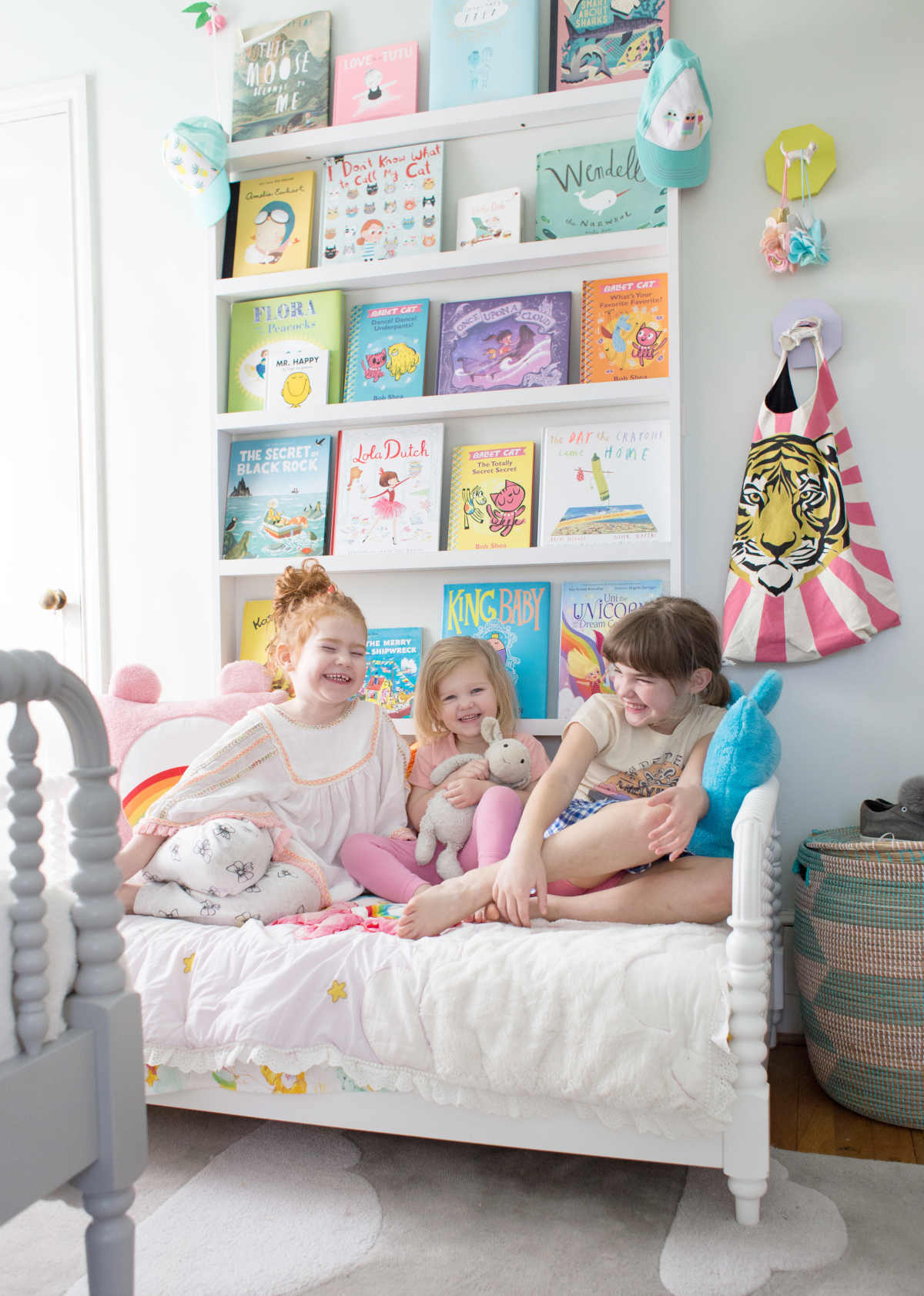 We have a little toddler Jenny Lind bed for Ellie.  We plan to move her in here soon!  And above her bed we have my favorite book display my dad made.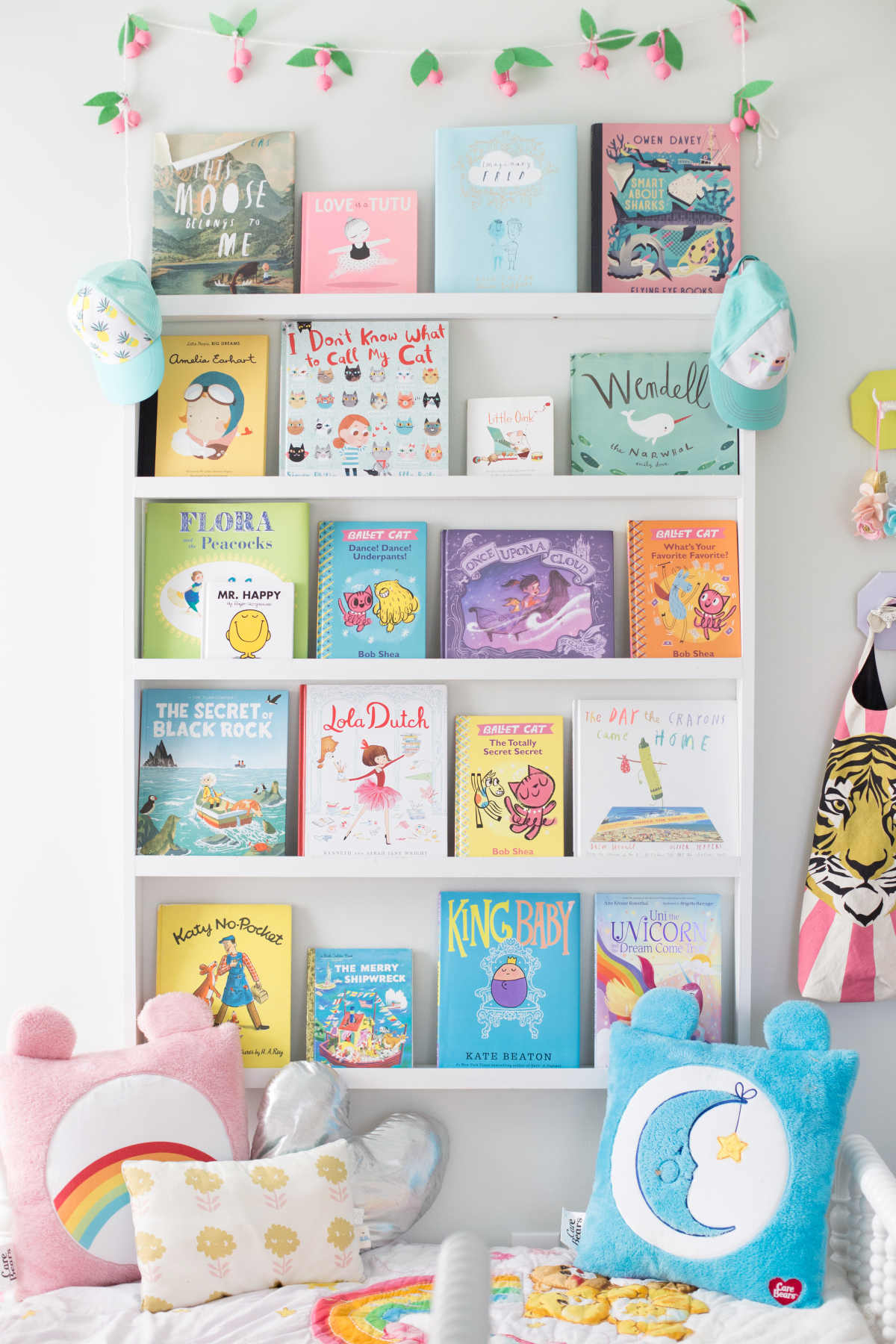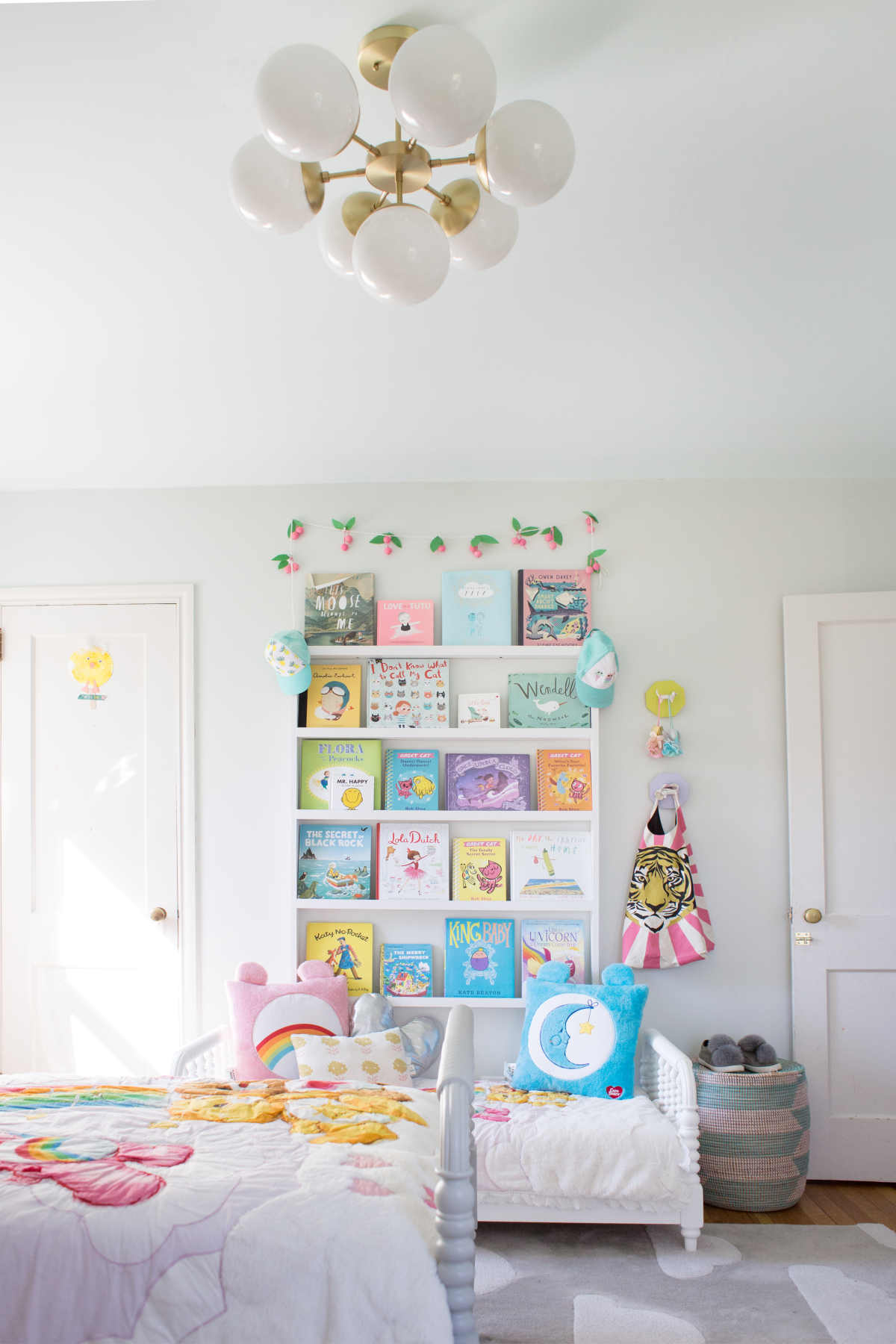 On the other wall, I displayed some of the girls' artwork.  I used Framebridge to frame it all, and it's so fun to have a little gallery dedicated to their handiwork!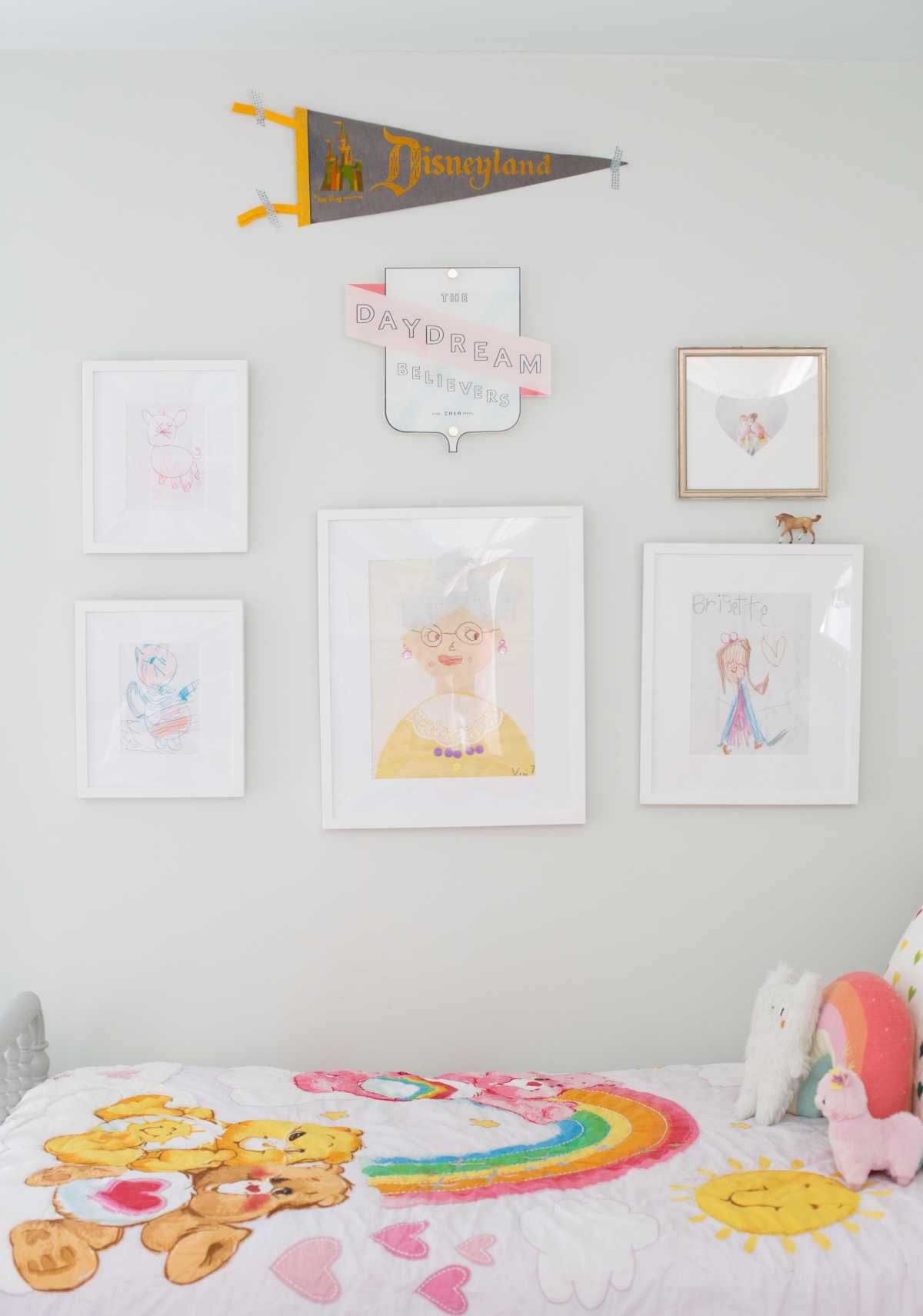 I chose the Irvine Slim Frame to show off their work, and I love the bright, modern look.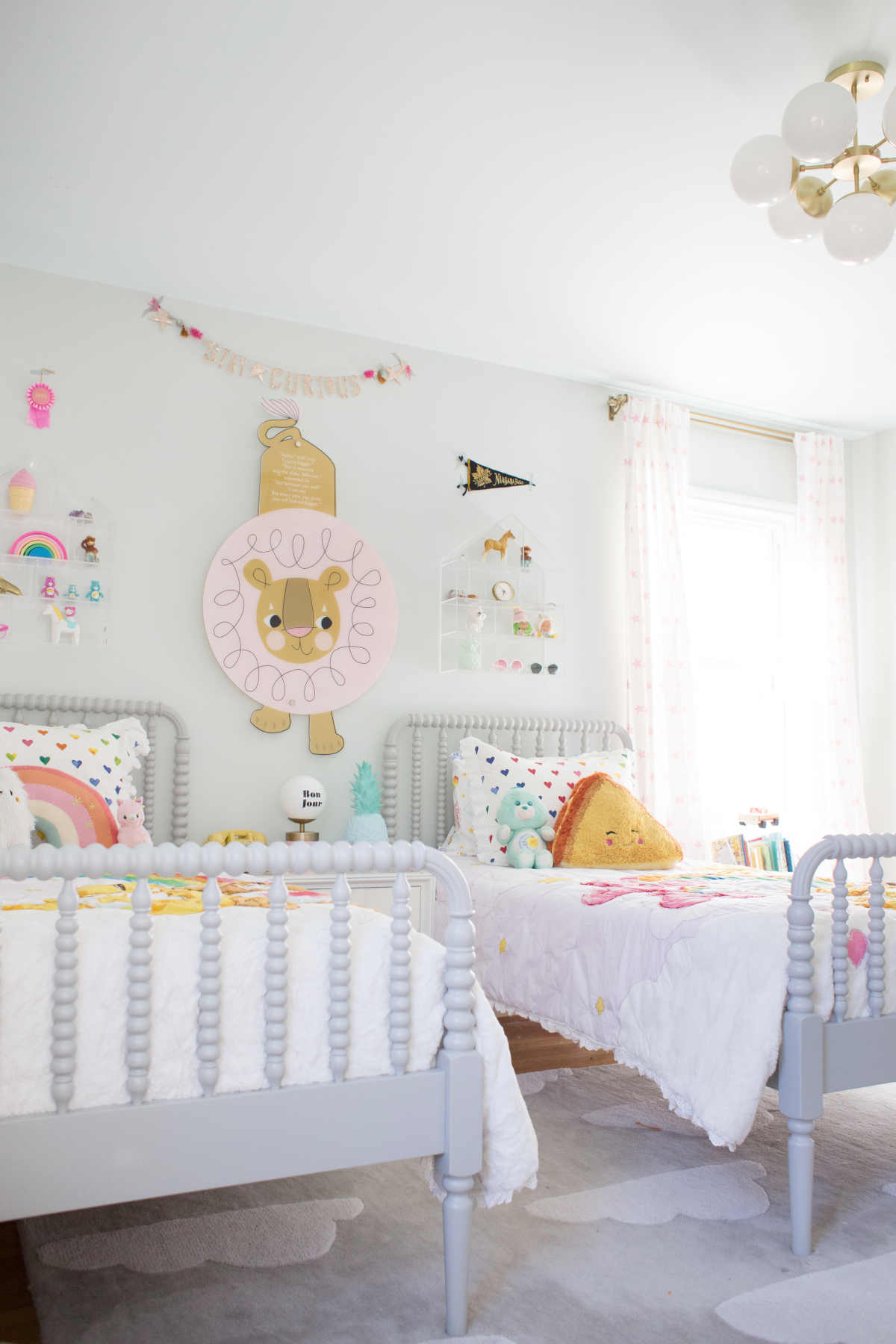 Here is the source for the curtains.  They were super inexpensive, but look super cute!  The pink stars aren't available any more, but the newer version is really fun, too!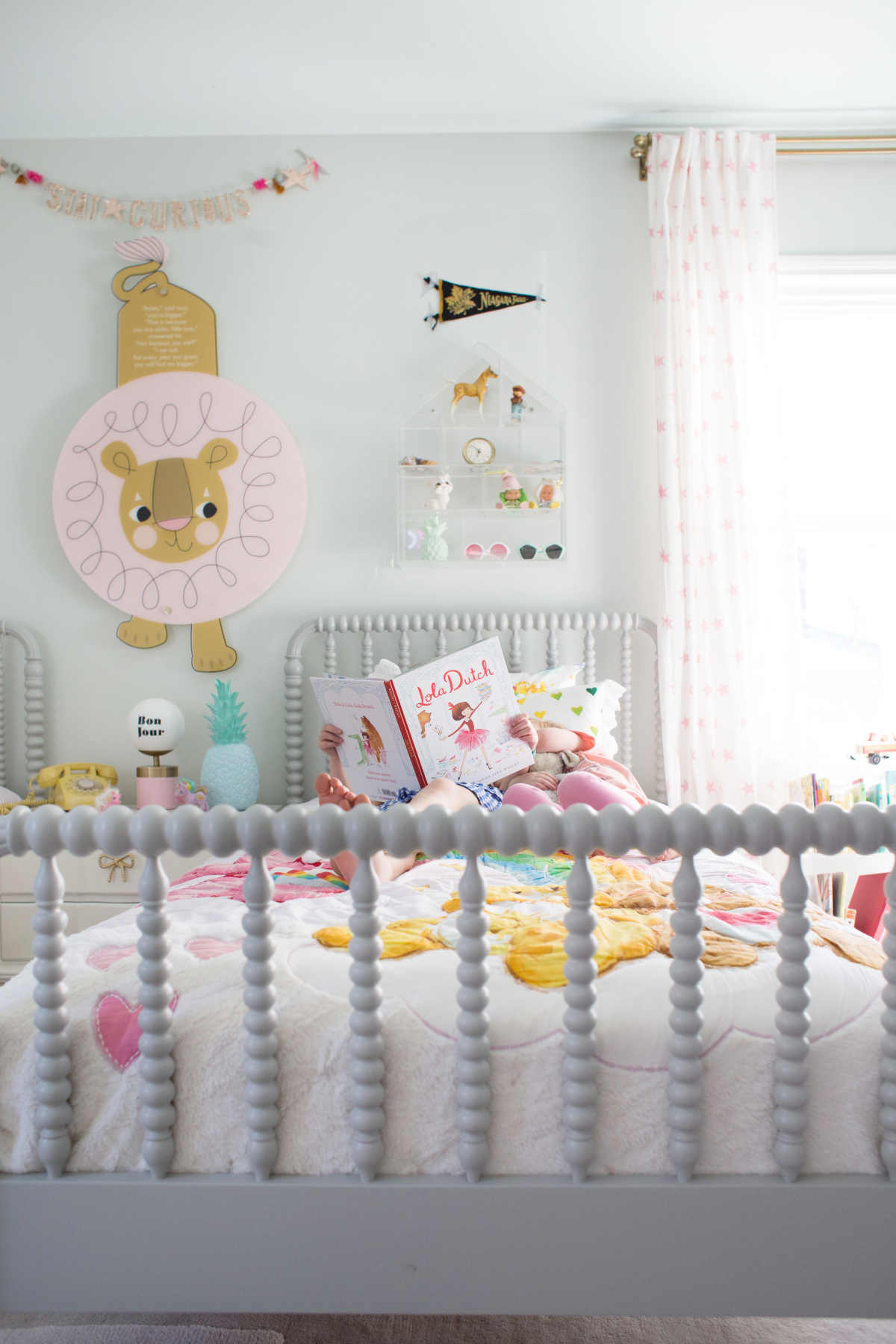 The girls are really happy with their new room.  Brigette can be averse to change (I used to be!) and she was a little sad about the loss of the bunk beds, but once she saw the whole room put together, she was really happy about it.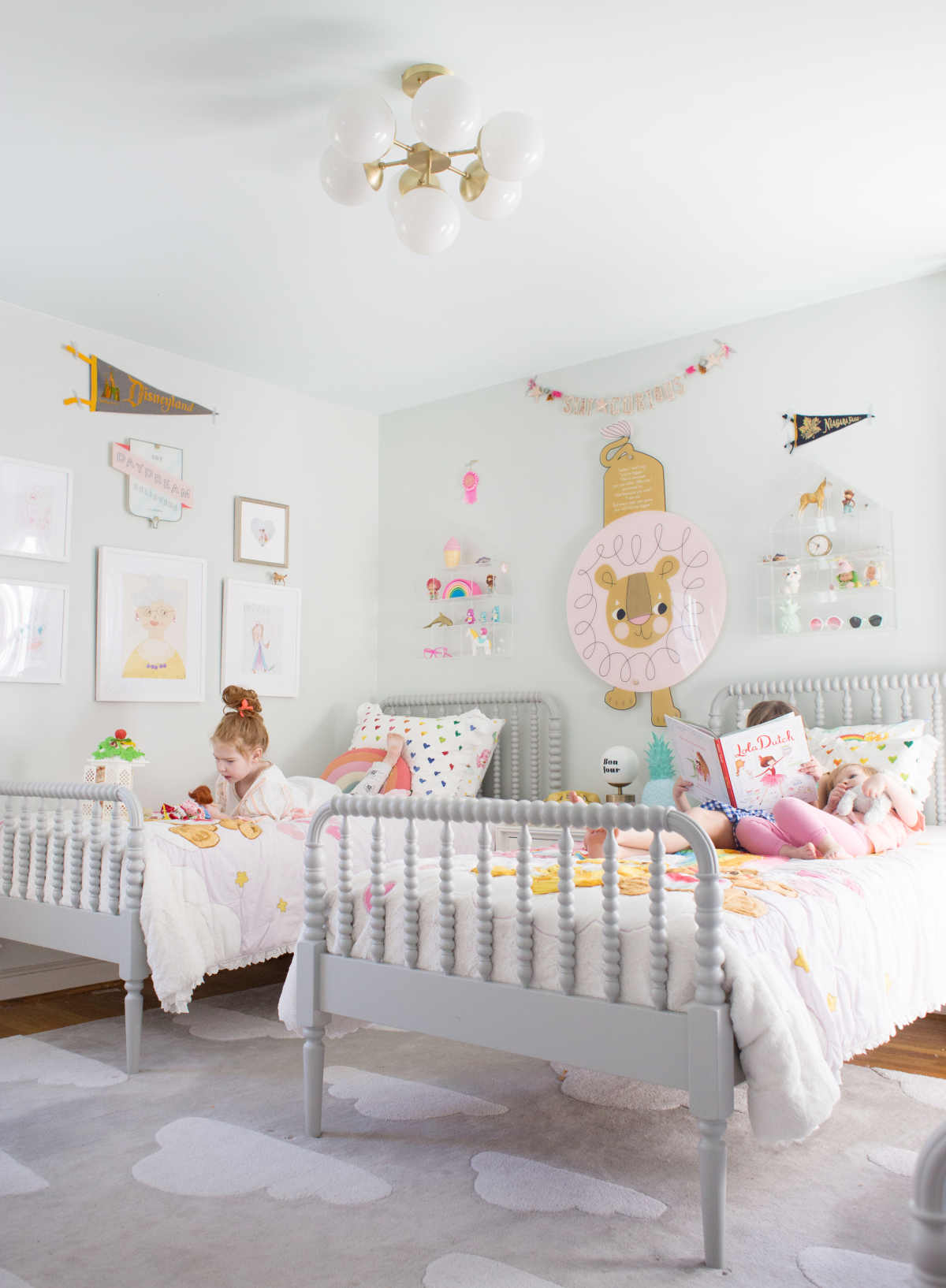 I'm really excited about all the memories that will be made in this sweet space!   Let me know if you have any questions about it, and I'll be happy to answer them!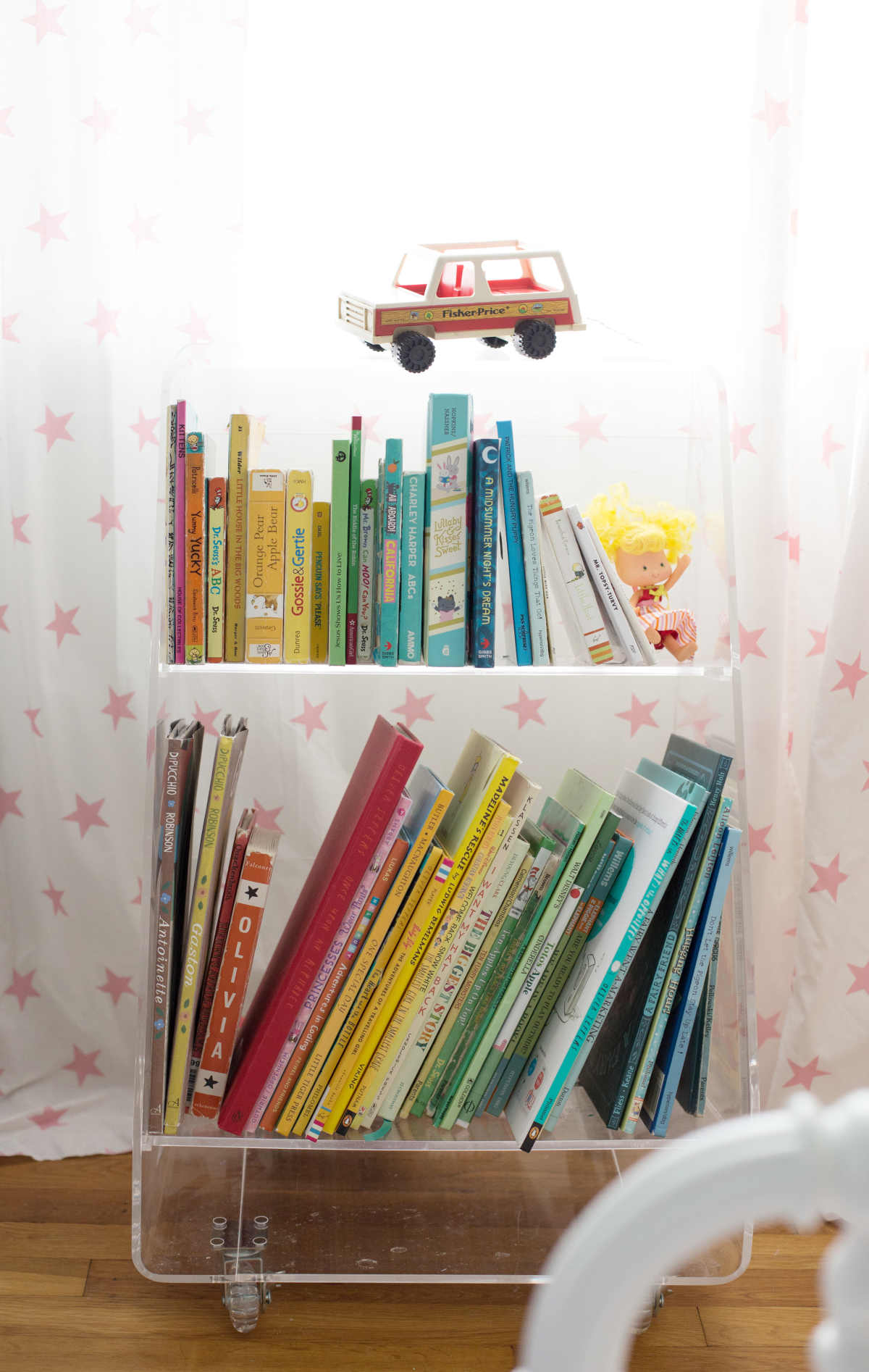 (Favorite acrylic book cart from here).