If you have been following along on Instagram, then you know we recently moved into a rental house (about a month before Marjorie was born).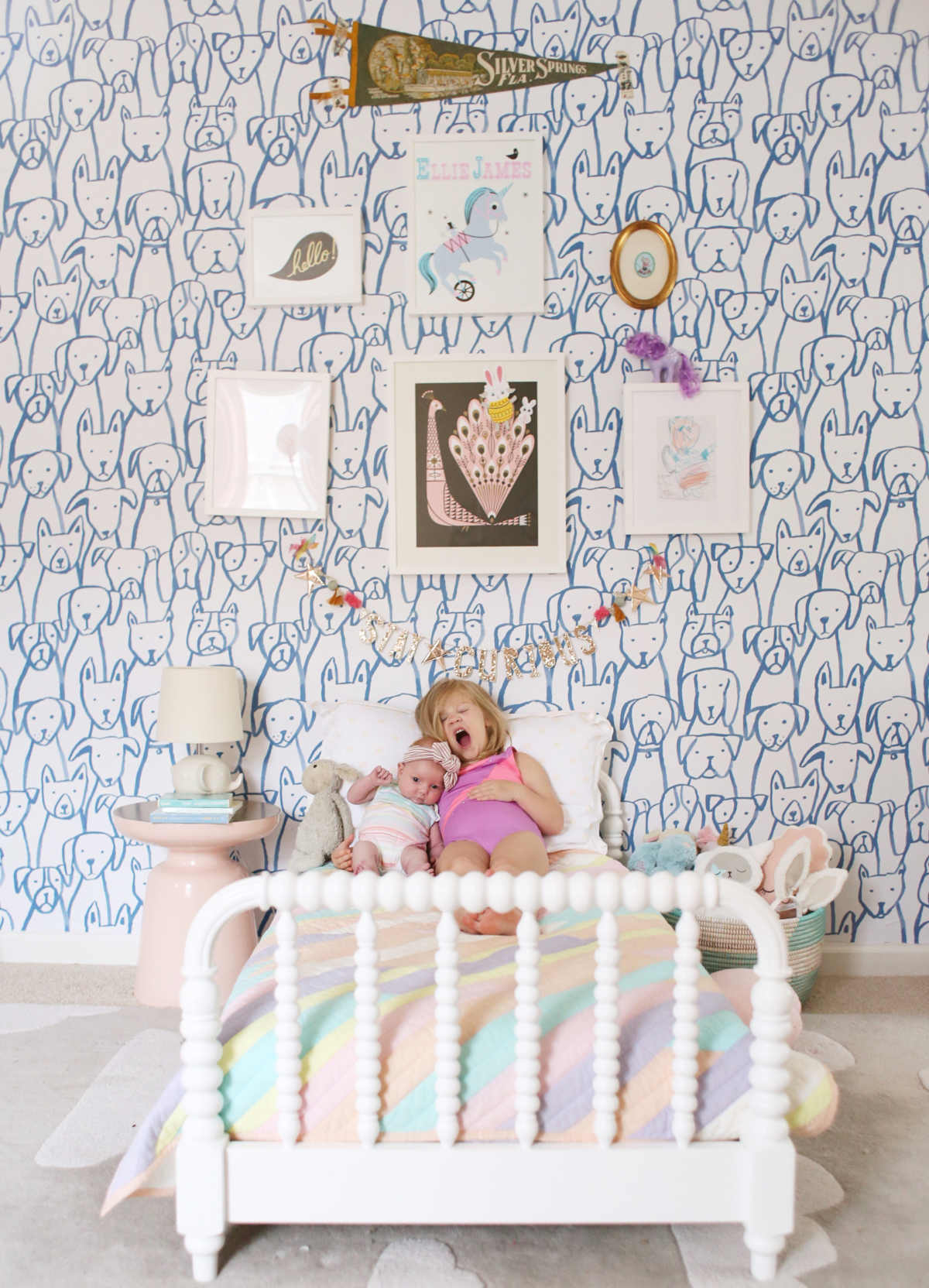 I was so anxious about moving to a place that wouldn't feel like "home," but ended up so grateful and surprised that we found a house that is suiting us just perfectly for this season.
(Sources for above: Puppy Pile Wallpaper; Martini Table; Cloud Rug; Jenny Lind Toddler Bed; another rainbow quilt; peacock print; Garland Source)
I know, it may seem like I went overboard putting this place together when we are here for such a short period of time, but it's my thing (and also everything is from their old room, except for the wallpaper!). And I was nesting. And I really wanted it to be as happy and bright as possible during a season of big change for my girls. (and to give a little perspective on what I was starting with, below is a "before" pic of this room that I snapped with my phone!)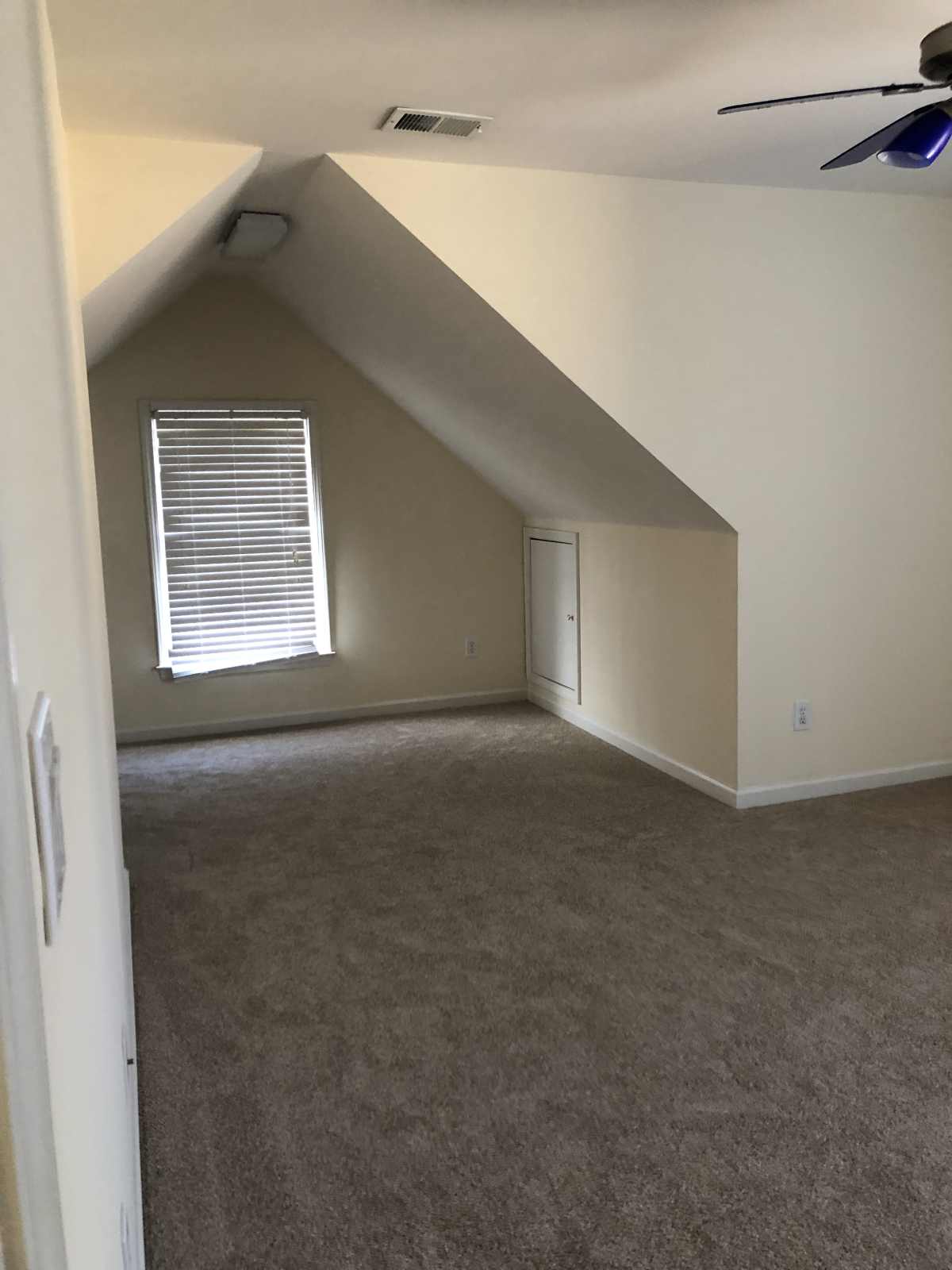 (And below is the after!)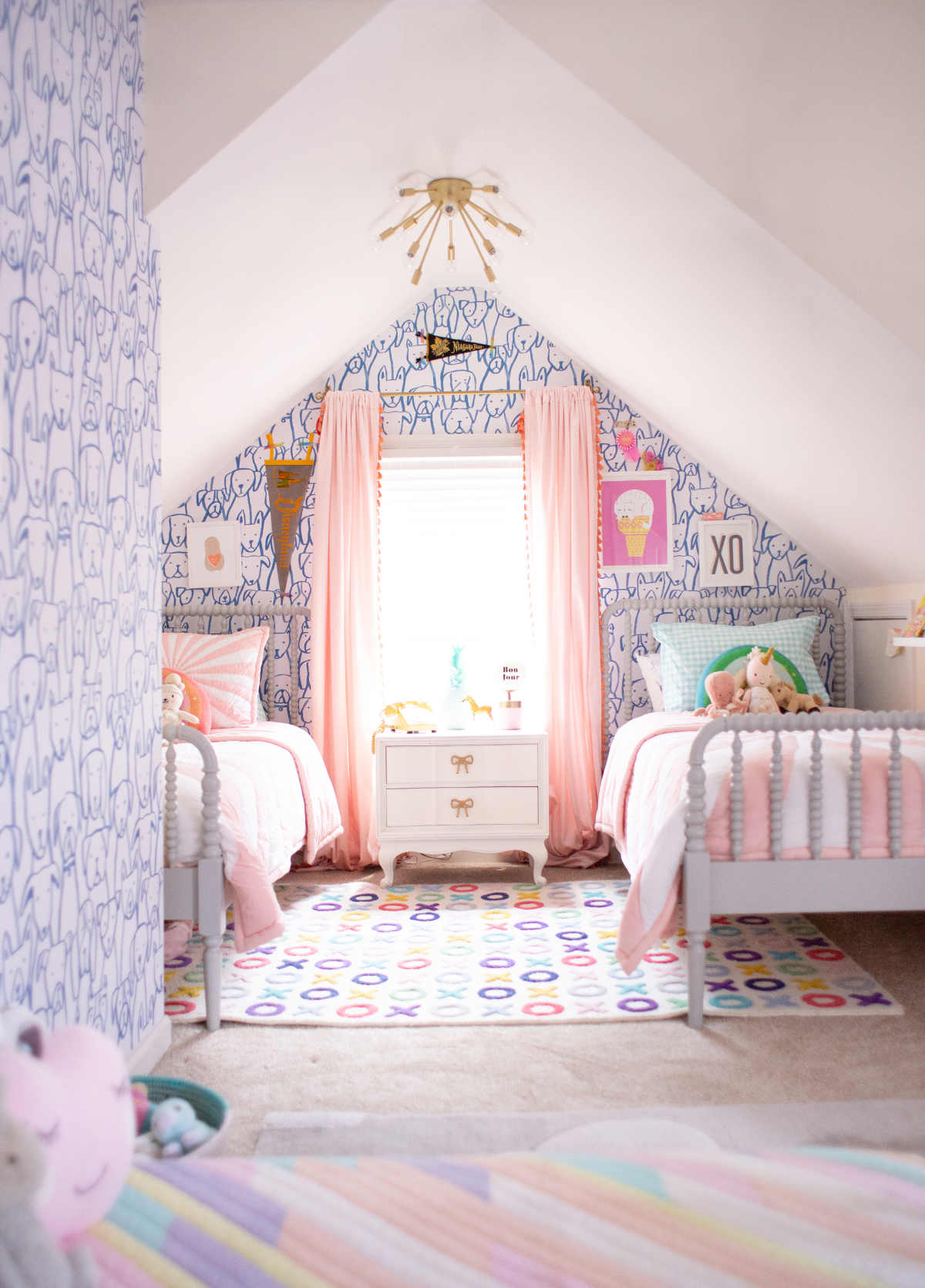 When I mentioned on IG stories for advice about going through the change of moving, and the emotions it brings, one of you mentioned that moving is one of the most traumatic things a kid can go through, right up there with divorce (I'm sure it depends on the kid!). I remember moving when I was in third grade, and I was extremely upset about it.
(Sources for above: Jenny Lind Twin Beds; Nightstand from MegMade; BonJour Lamp; Velvet Tassel Curtains; Sputnik Light; similar rainbow colored rug; Puppy Pile Wallpaper)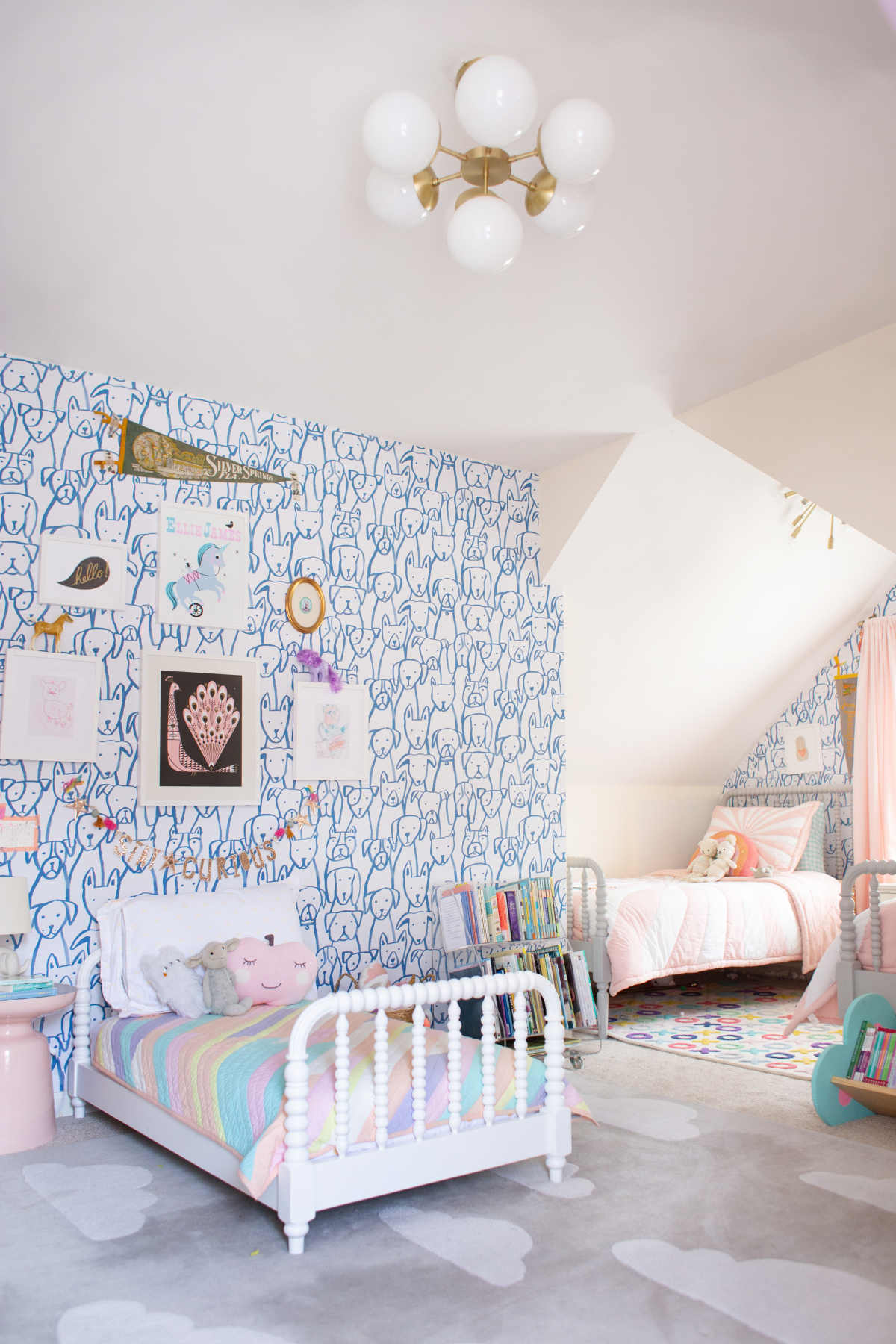 I figured that this move, on top of getting a new sibling while watching their home get torn apart and put back together in an entirely different way would elicit quite a bit of emotions and feelings, and I've been trying my best to make it feel like a fun adventure (which, of course, it is, but sometimes it's hard to see the adventure part when your routine feels upside down!).
(Sources for above: Perla Chandelier; Sputnik Light; Puppy Pile Paper; Jenny Lind Toddler Bed; Cloud Rug; Martini Side Table; Acrylic Book case; Bedding; rainbow colored rug (similar); Jenny Lind Twin Beds)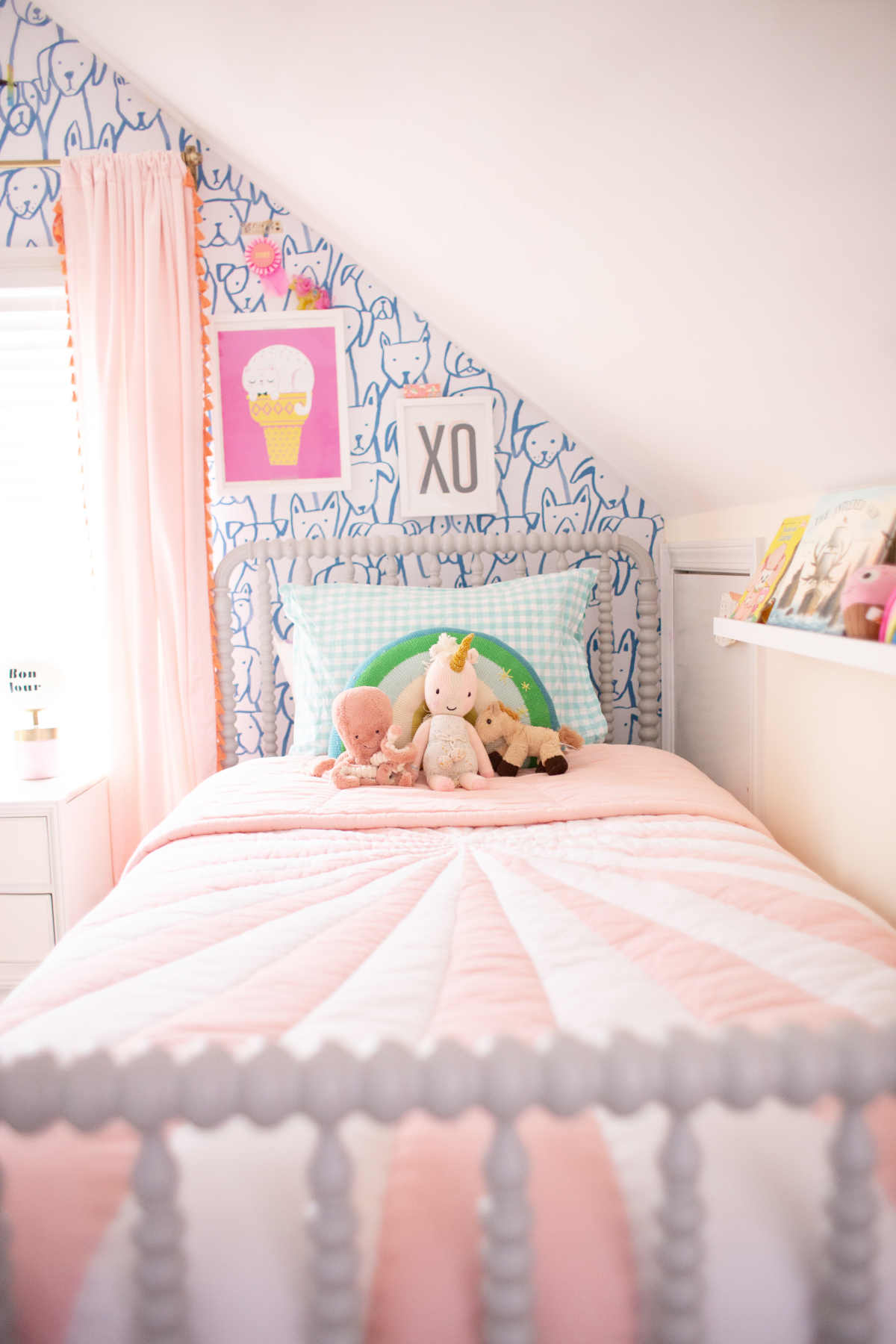 Anyway, I was relieved this house had a room large enough for the girls to share. It's really fun that this room has a little nook with those sloped ceilings where their twin beds cozy in just perfectly.
Our lease agreement states that we can't do any painting, but all the walls in the house are the same exact shade of not white but not yellow. I call it "butter," although that's not exactly what it is. It could certainly be SO much worse, so I'm not complaining, but I was so excited to work with Chasing Paper on some super cute paper for some of the walls to break up that butter.
(Sources for above: Kitty Cone Print; Rainbow Pillow; Unicorn; Octopus Stuffy; Velvet Tassel Curtain)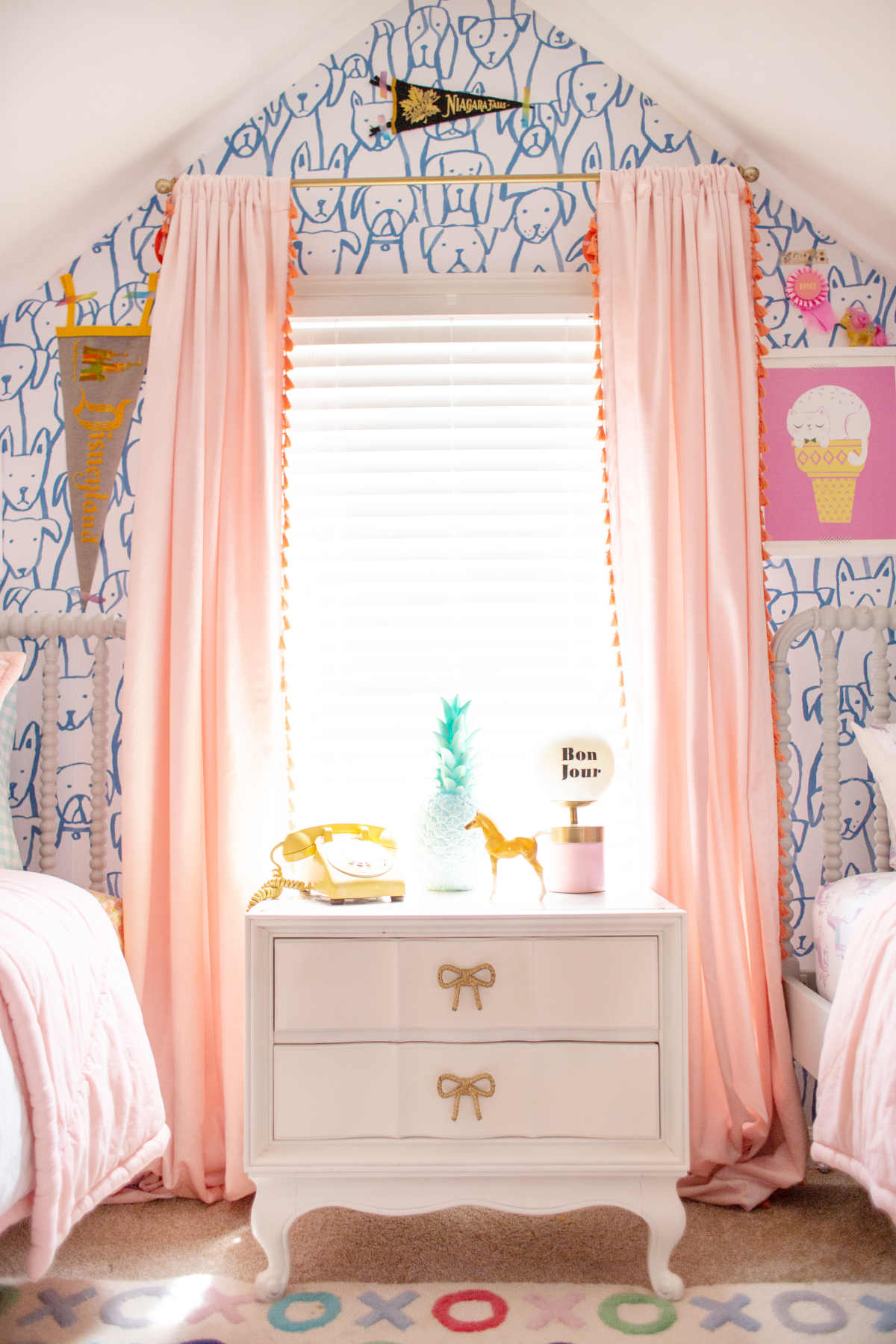 I covered two of the walls in Chasing Paper's Puppy Pile pattern in blue (it also comes in pink and gold!), and it's the perfect accent. Removable wallpaper is SUCH a great and easy way to customize a place - it goes up easily, and comes down without any damage, which is amazing.
(Sources for above: BonJour Lamp; Velvet Tassel Curtains)
(Also, p.s., how fun are those curtains? They are also SUPER affordable with a velvety feel and tassel trim!)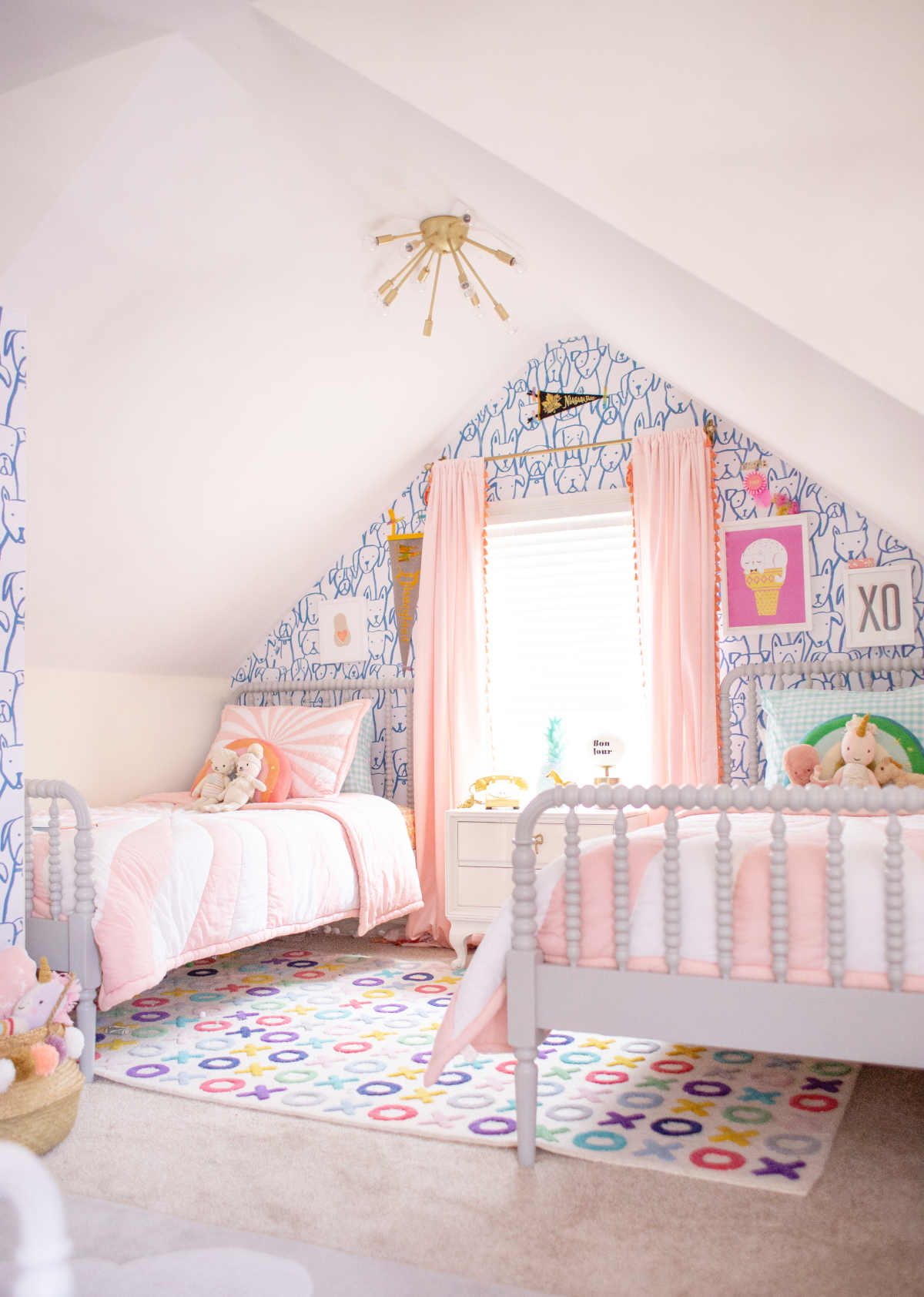 Little Ellie has her toddler bed. She feels like it's a bit far away from her big sisters, and has asked multiple times if she can put her little bed between their big ones, but she is ok with it now. (And really, it's not that far away at all!)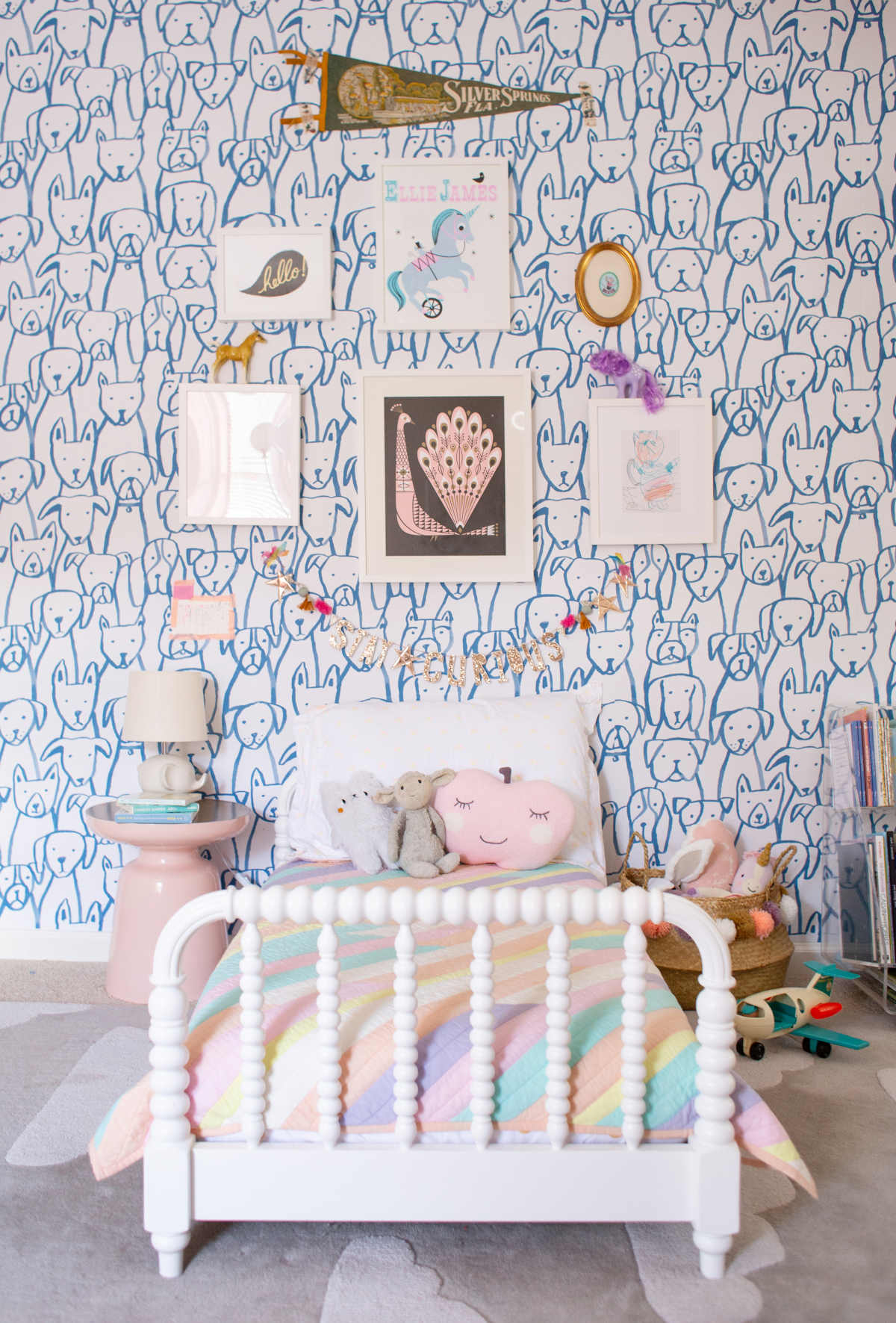 On the other side of the room is the dresser (each sibling gets 1/3 of it), and it's set up just like it was in their old room, so it feels very familiar.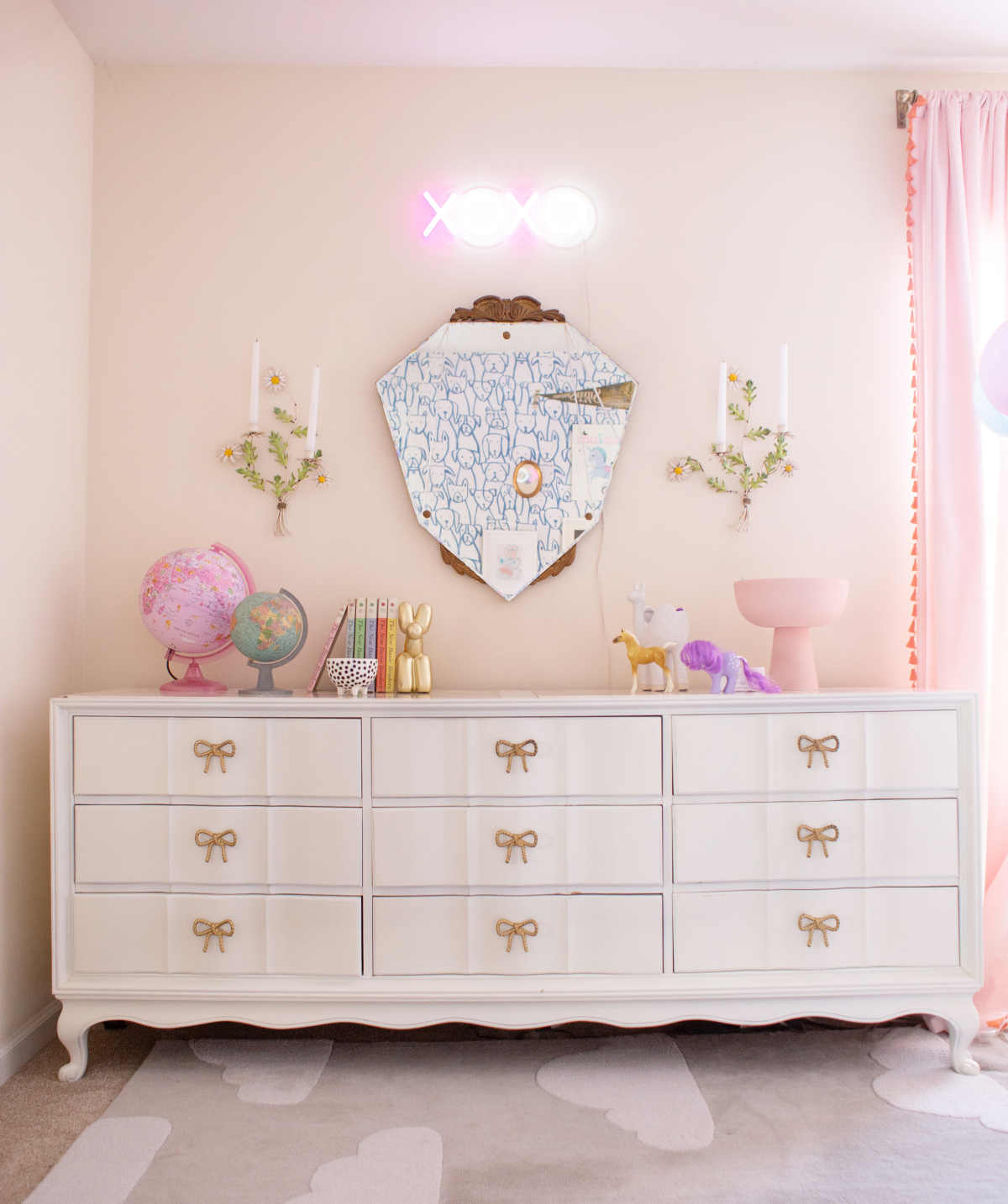 With two windows, this room also gets a ton of light, which is so nice!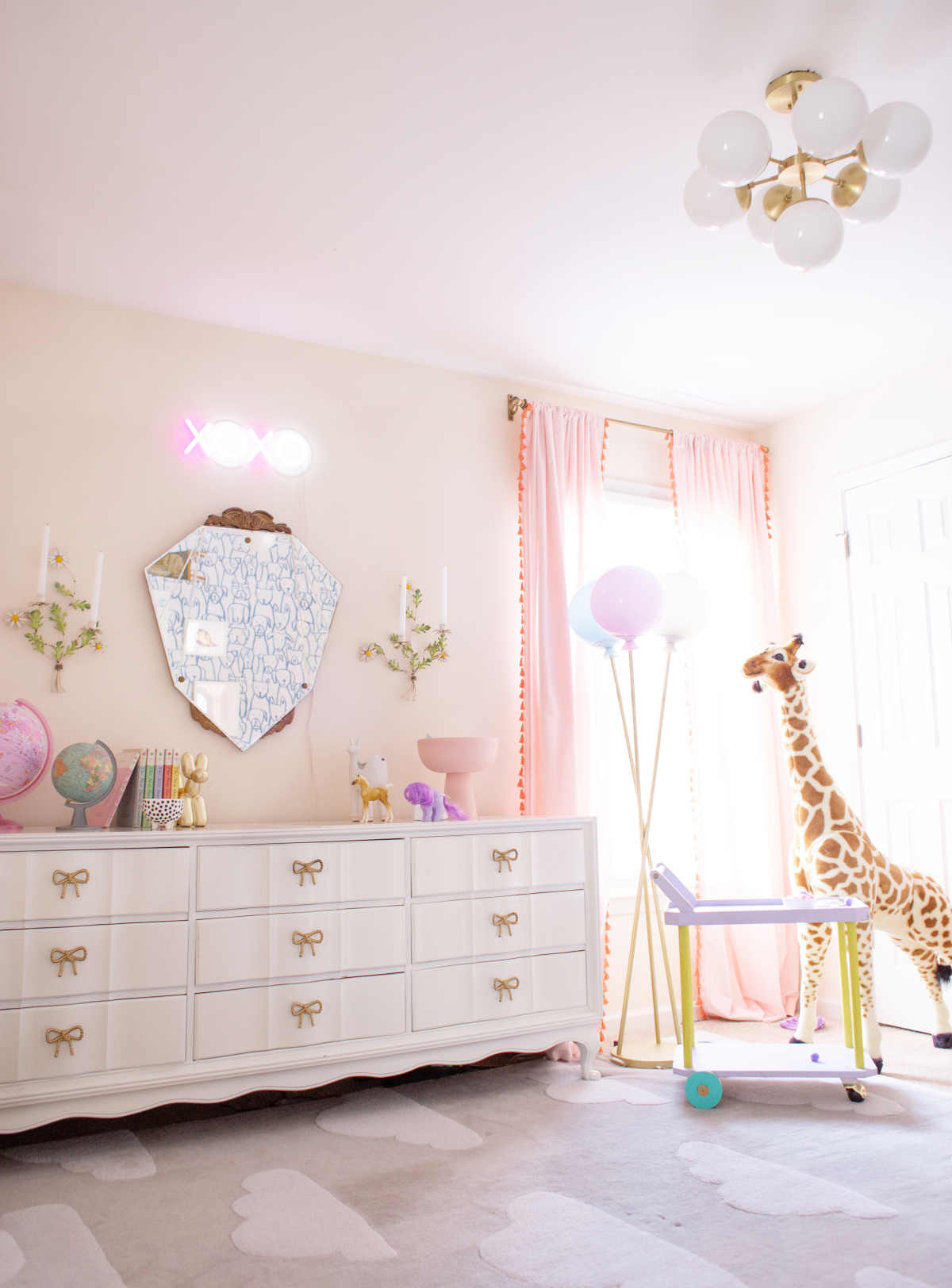 So, that is their new space! I'd love to hear any questions you have! I'll be doing a post soon with some tips on how to make a rental house feel more like home, but I'm happy to answer any questions in the meantime!
(Sources for above: Perla Chandelier; Similar Mirror; XOXO neon light; dresser from MegMade; Balloon Lamp; Cloud Rug; Tole Sconces; Giraffe)