Rustic Big Kid Bedroom Ideas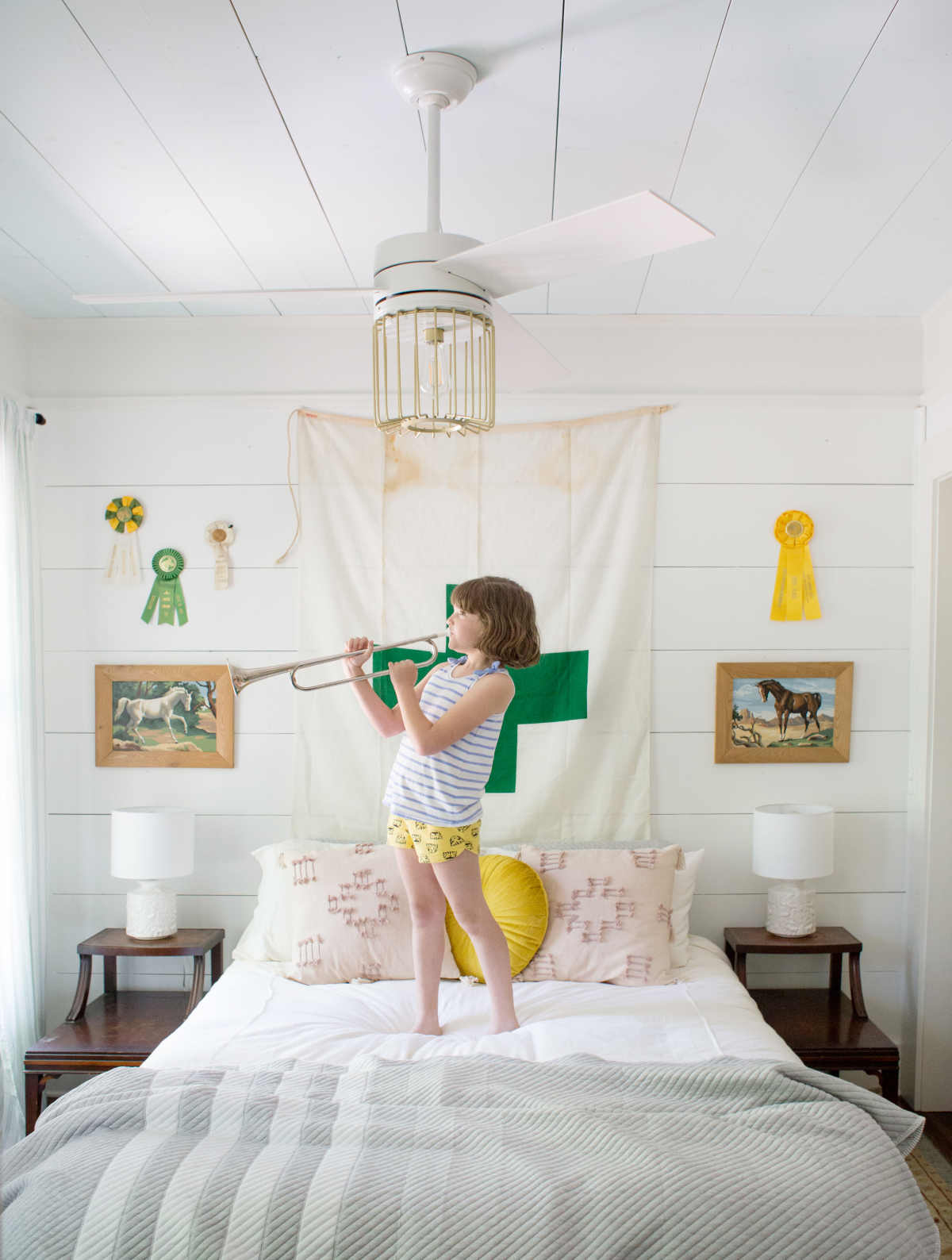 We just finished updating our bedroom at the farm.  The kids' spaces always get lots of attention, but I was excited to get our grown-up room a little more together.  I love how this room has turned into a bright retreat for us, and the girls all love snuggling on the bed with us to read books at night.
Sources for above: Ronan Fan; Similar paint by number horses; horse ribbons; Ceramic Lamps; Green Stripe Curtains; Peach Pillows; Gold Pillow; Vintage Nautical Flags, Leesa Blanket, Leesa Mattress, Wooden Bed Frame 
(wall color is Benjamin Moore Simply White and ceiling is Embellished Blue by Sherwin Williams)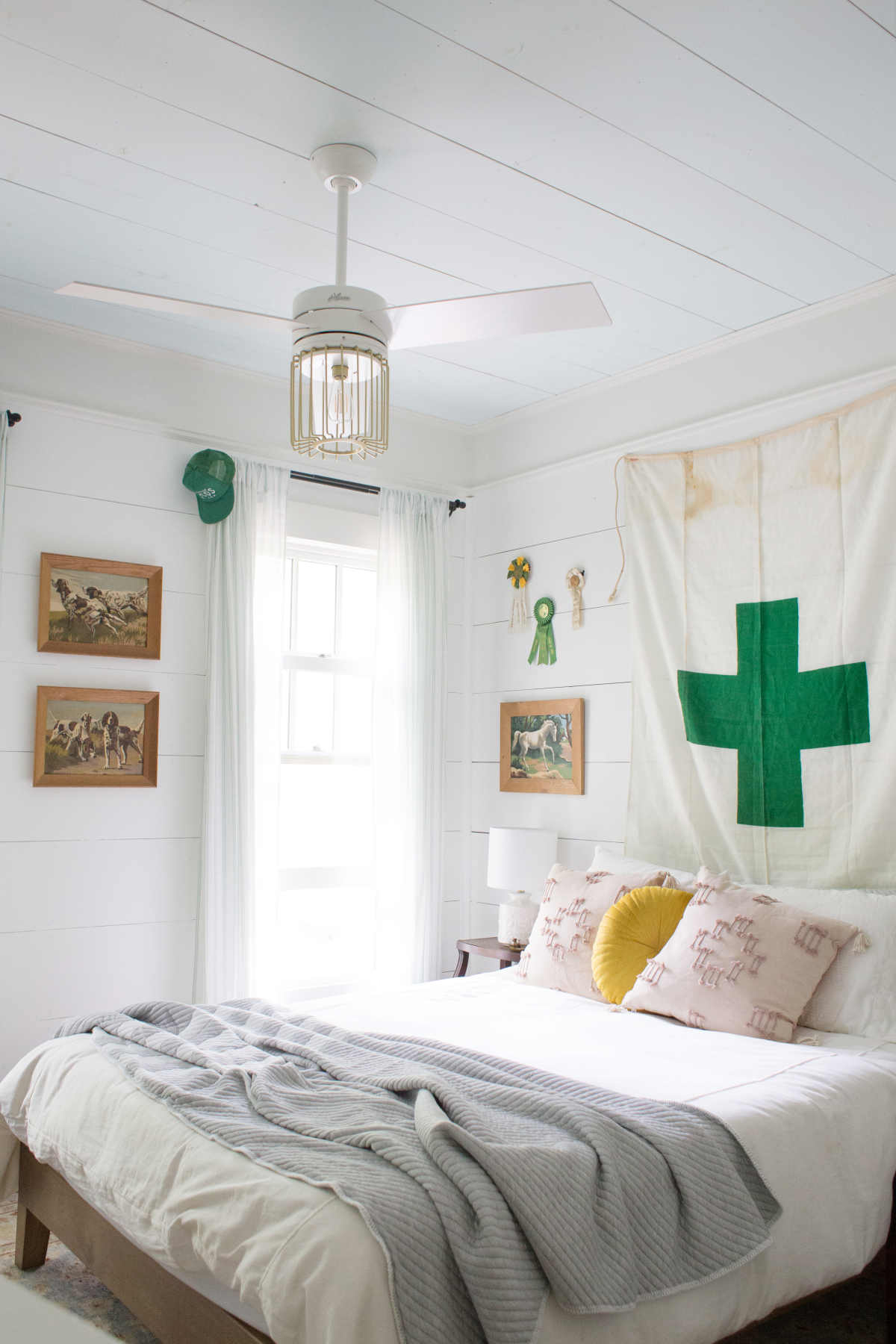 I was really drawn to the pops of green for this space; I found that vintage nautical flag on Etsy.  There are often lots of fun ones on there; you just have to keep checking back - this one is really great.  With the large size, it makes for a great headboard, and this wooden bed frame was super inexpensive, and makes the bed look more polished.  We are also loving our Leesa mattress - it's so super comfy, and I can't recommend it enough!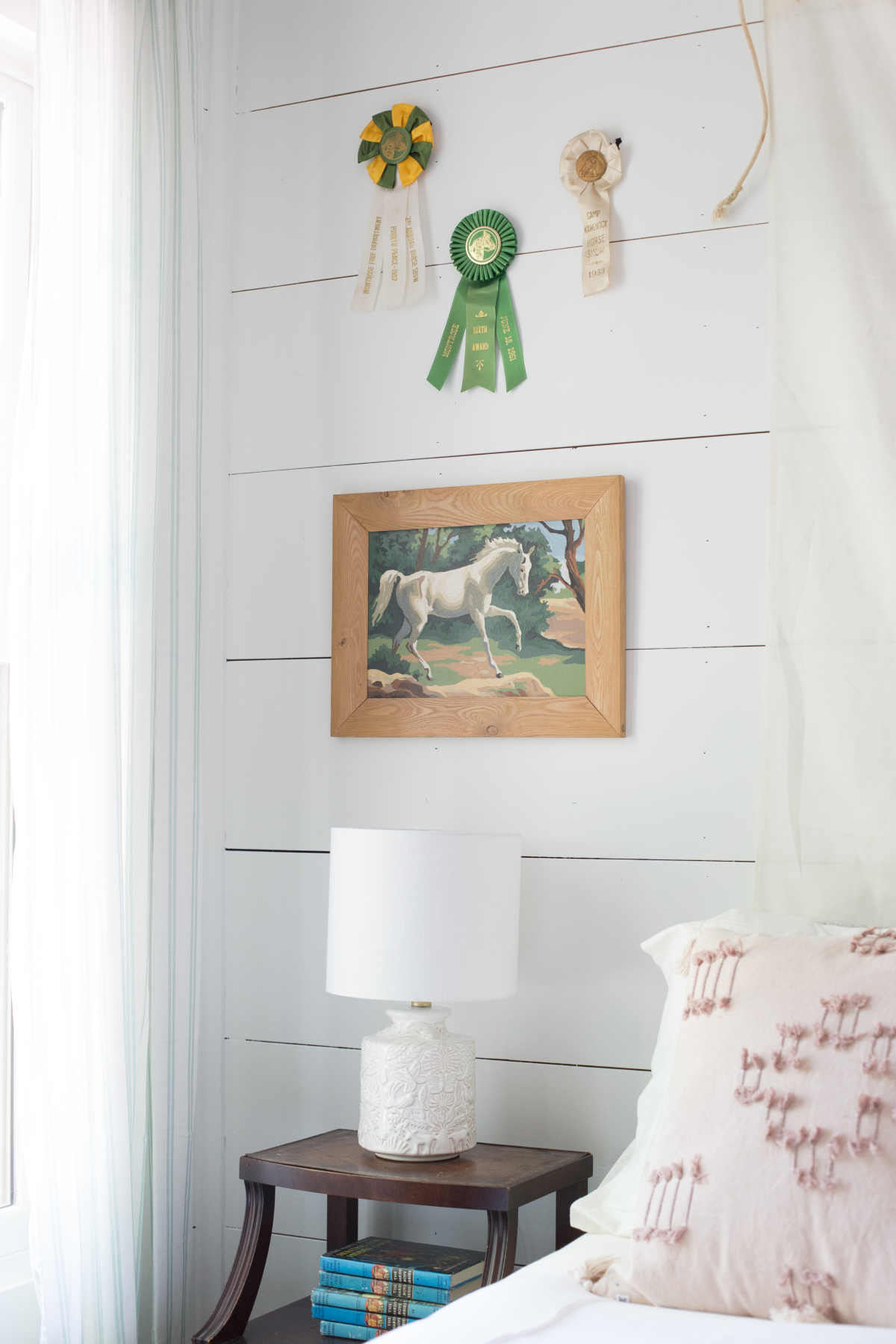 Those vintage horse ribbons complement the paint by number horses so perfectly.  One great thing about vintage paint by numbers is that they often come in their frames, so it's a good way to go for some real paintings with lots of character.  The colors are usually really great, too.
I found the end tables at an antique shop for $15 apiece, and they are perfect for this room.
sources: Green Stripe Curtains; Vintage Hardy Boys Books; Ceramic Lamps; Peach Pillows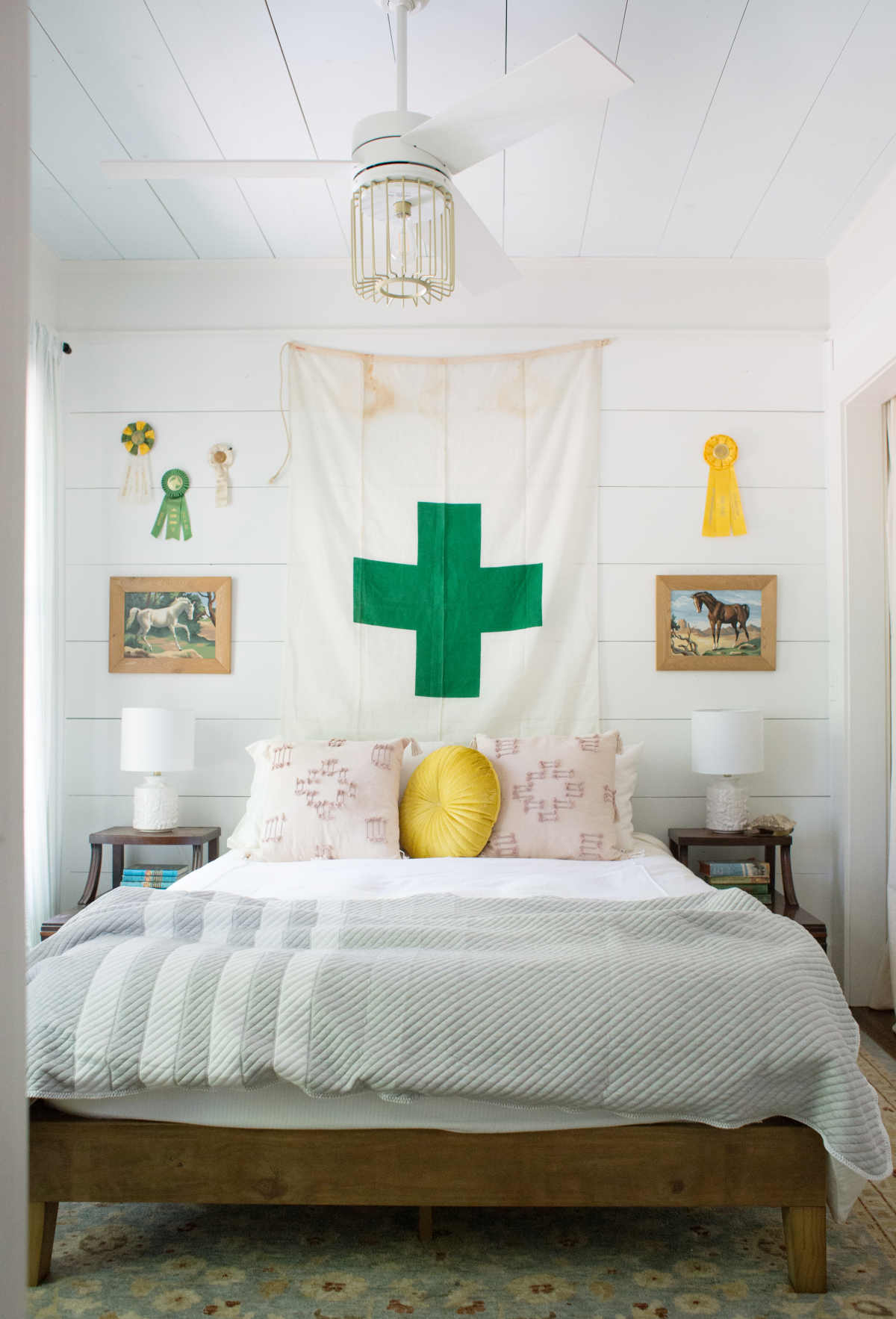 I also LOVE this ceiling fan.  I'm usually not that into ceiling fans, but this house is in South Georgia, and they can come in super handy during long , hot summers.  It comes with a cute little remote, and I love the streamlined look.  (see this post for another Hunter Fan in a space!  They have done such good things with their designs lately!)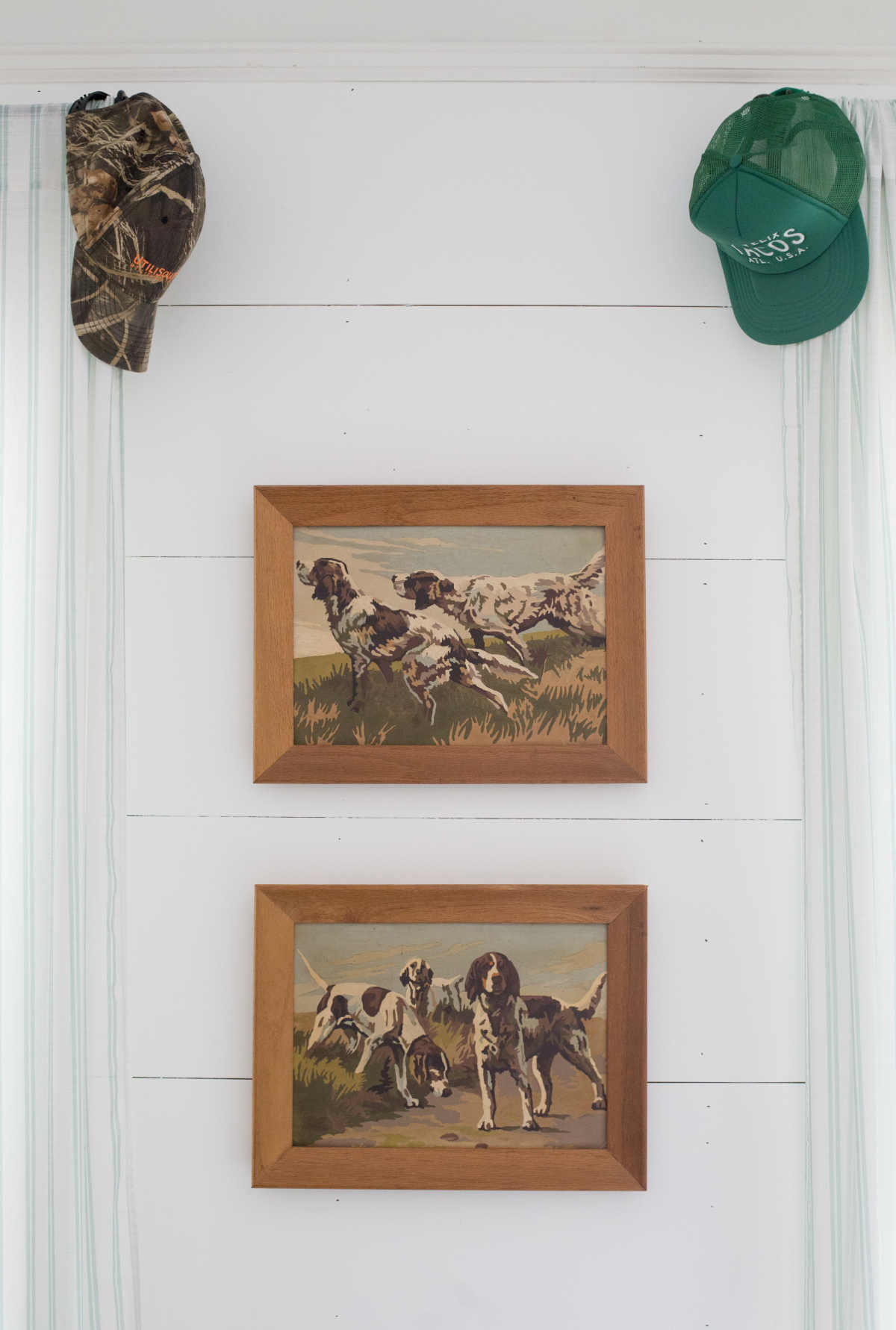 These little guys are also perfect for this farm space.  They are vintage paint by numbers, too, and I love the frames they came with.  Those curtains are super inexpensive, as well, and are a great option if you are on a budget!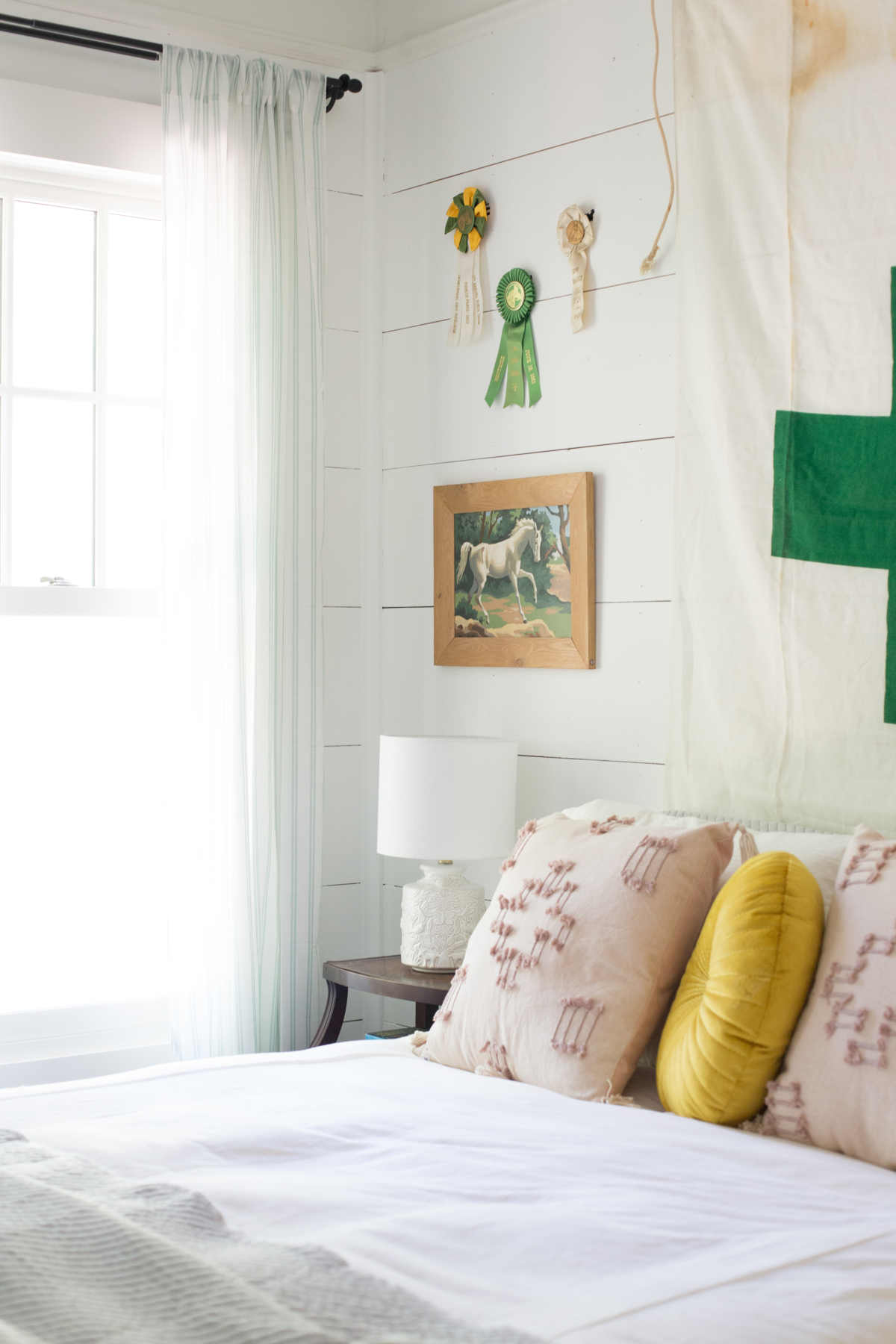 Let me know if you have any questions!