rocker reviews: pottery barn kids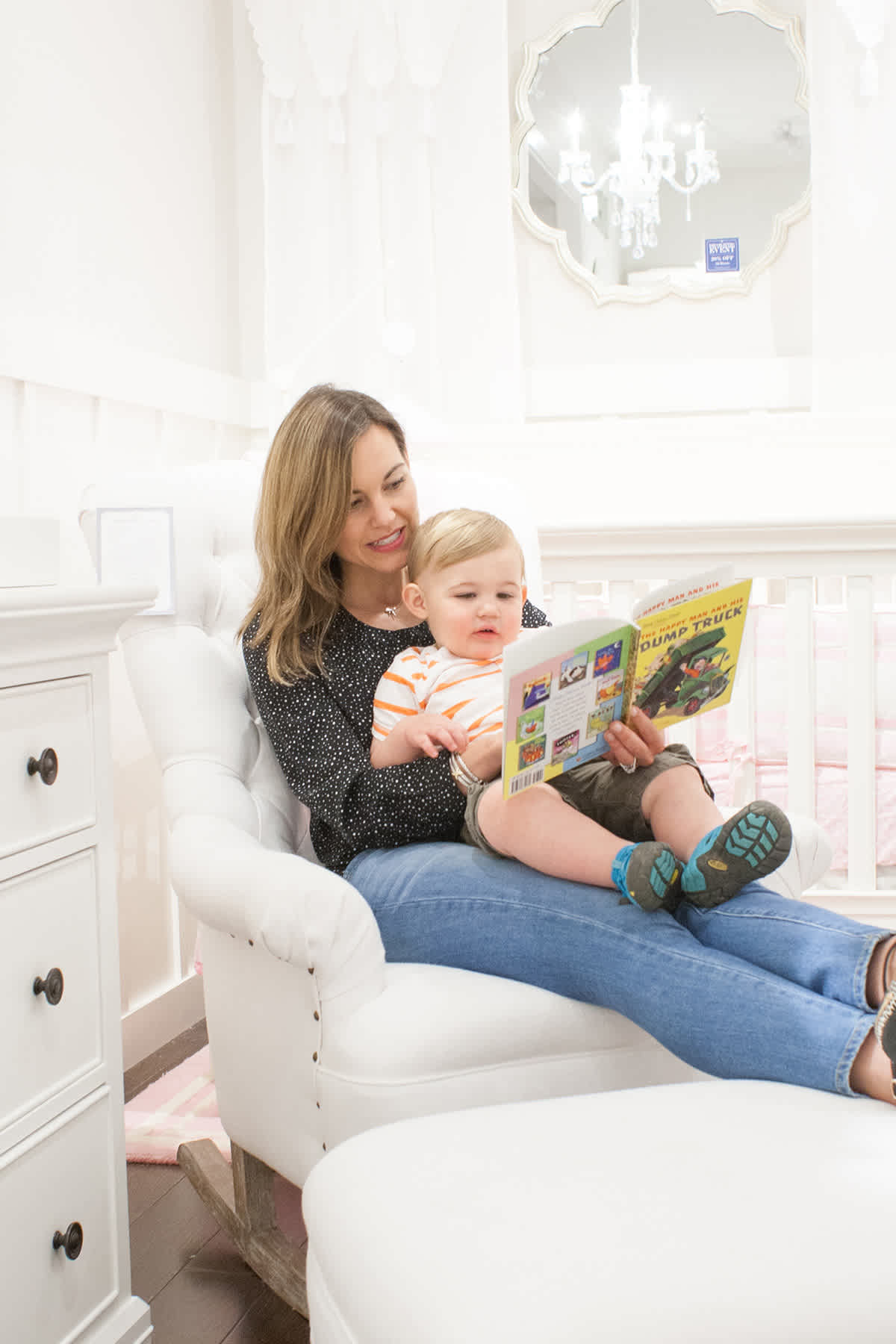 I have managed to get my sister to go with me on a little tour of all the rockers/gliders available to us here in Atlanta in hopes to provide some insight into their comfort.  I know it's hard to find some of these pretty pieces in person, and this is such a big deal purchase that you need to know how it's going to feel.  As I mentioned recently, I had no idea what a huge purchase our glider was for Vivi's nursery.  In fact, I strongly considered not even getting one.  I'm so glad I did, though, because I have spent endless hours in that gushy gray blobby chair.  From long nights nursing a newborn to middle of the night nightmare soothings to cuddles for a sick toddler to bedtime story reading to sipping my morning tea in it while watching her play - it's probably one of the most used pieces of furniture we own.  Little did I know how far that $400 would go (we'll be hitting up that store, too, later!).
My beautiful sister, Ashley, has agreed to be my model and brought along her adorable 20 month old, Henry to help show a little scale.  Please know this post is not sponsored; we are just planning to work our way through the local retailers who have rockers/gliders available, and Pottery Barn Kids was our first stop!  They were super friendly and were so kind to let us check out all the options on the floor.  As a reference, Ashley is 5' 7".
So, here we go!  First up is the Radcliffe Rocker: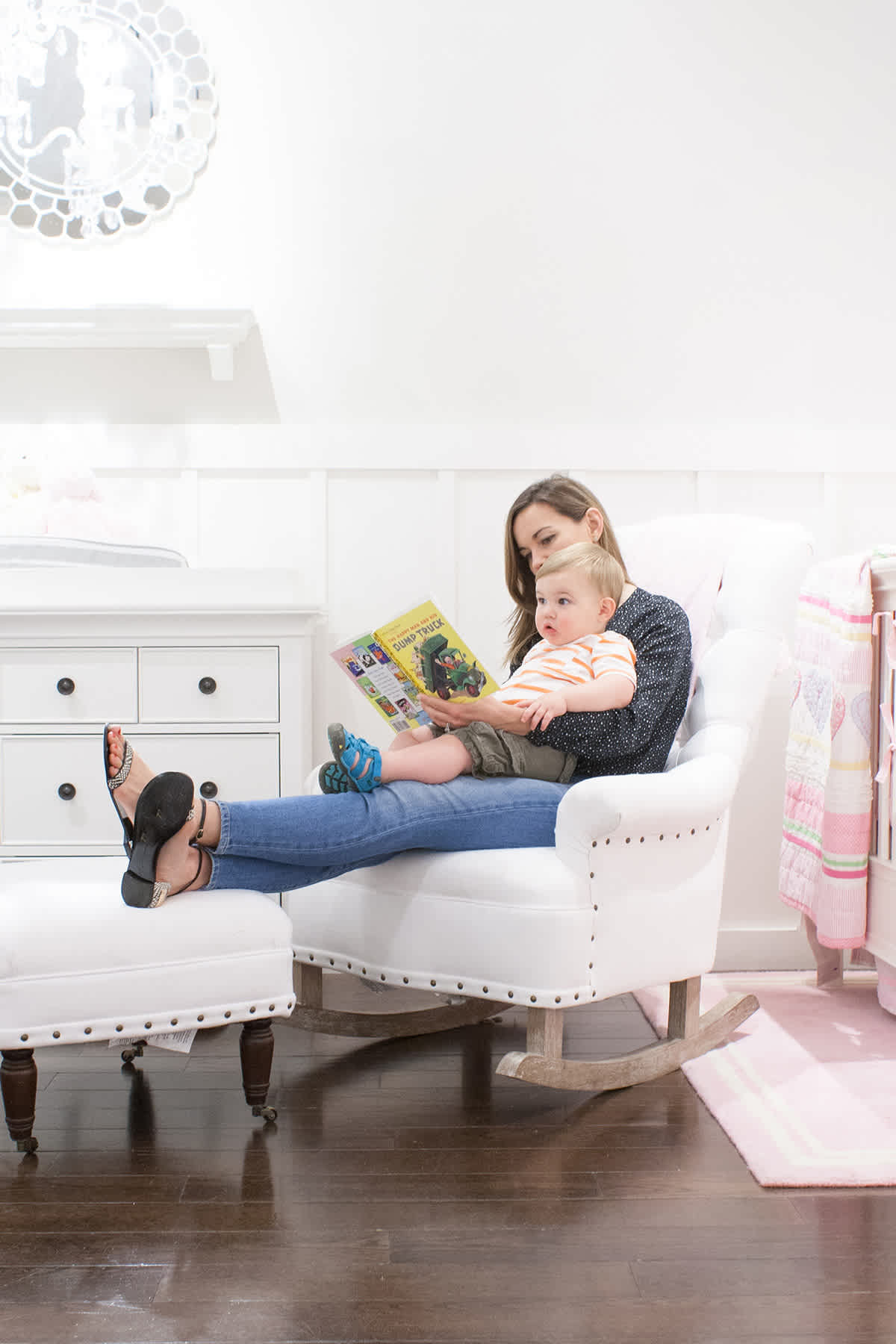 The Radcliffe Rocker is really beautiful.  I love the look of it, and I can see it being something you would put elsewhere after it has completed its tour of duty in the nursery.  Ashley and I both agreed that it is comfortable, and I love the higher back where you can rest your head.  One thing to note, however, is that the arms are super low.  You will most definitely need some extra cushions or nursing pillows for nursing or bottle feeding.
Also, I think it's really helpful to have an ottoman.  It's so much more comfortable to be able to put your feet up, but these can be pricey, so you could opt for a cute pouf instead.
Next up is the Modern Tufted Wingback Rocker.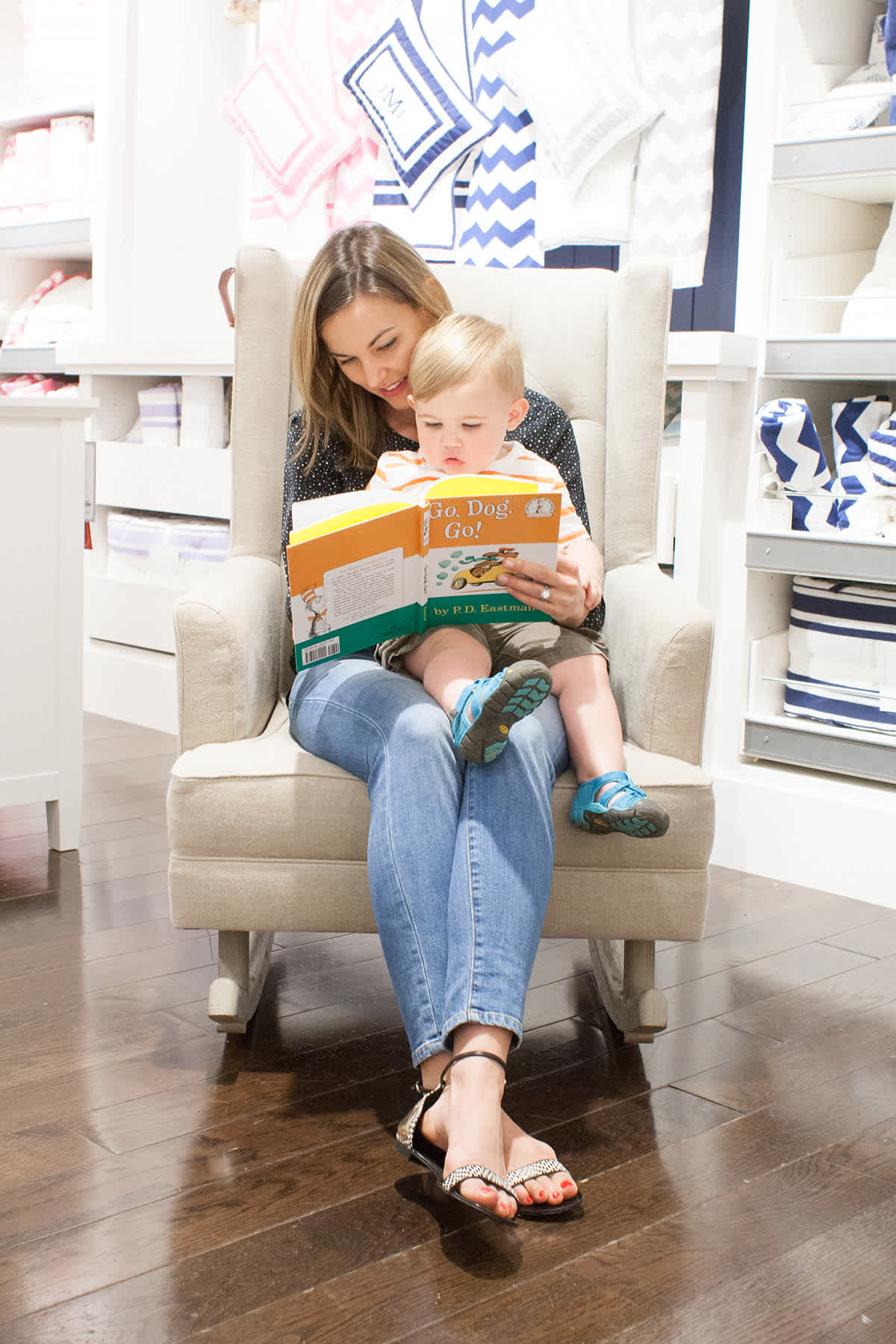 This one was my favorite.  It has a polished silhouette, with a higher back and winged sides where you can rest your head, and the arms are high enough.  It's not overly cushy, but I thought it was really comfortable.  I would definitely go for an ottoman or pouf to complement it.
Then we tried the Thatcher Rocker.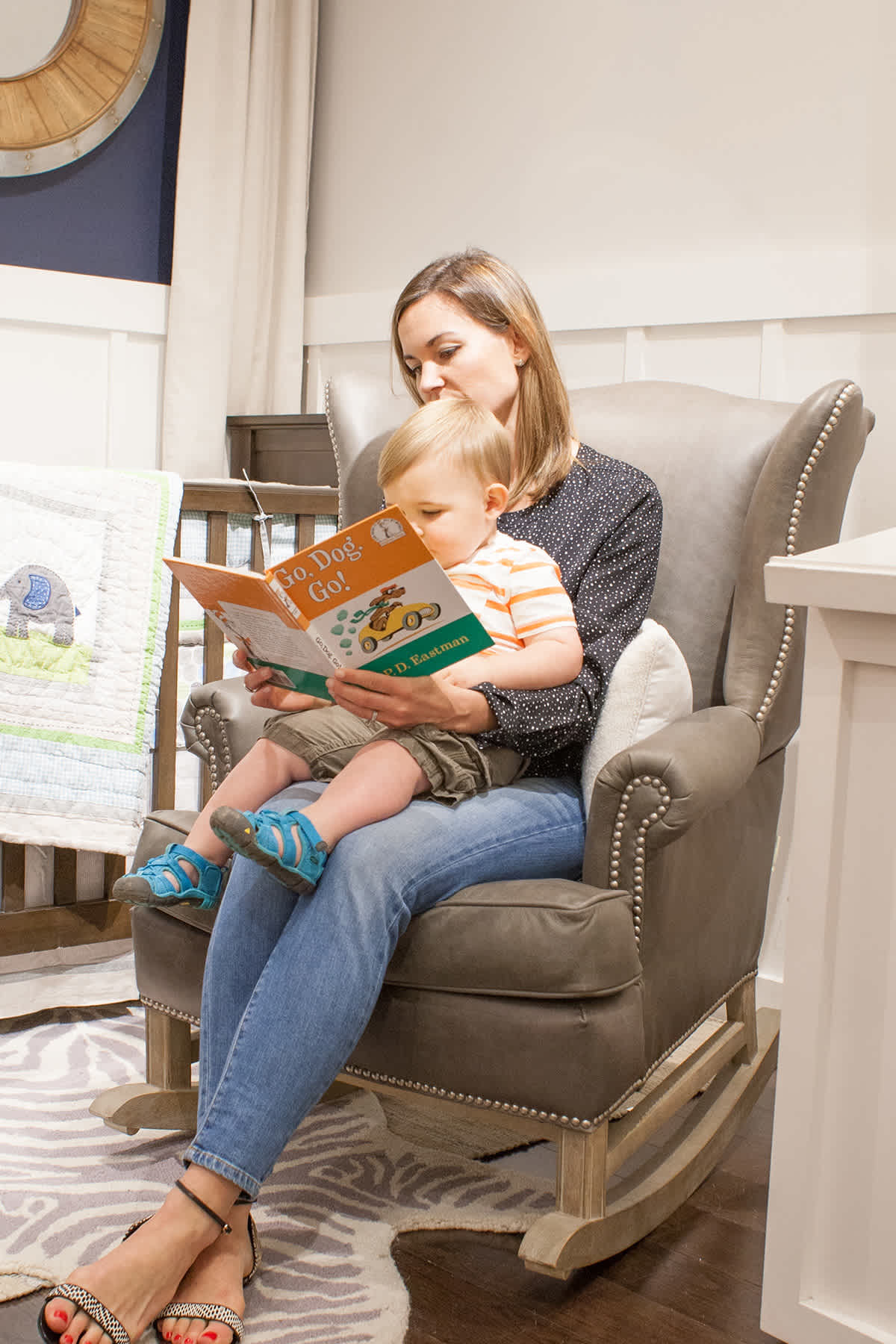 Ashley and I both agreed this wasn't our favorite.  It felt too small, and wasn't as comfortable as the other options.
Ashley's hands-down favorite was the Comfort Grand Swivel Rocker.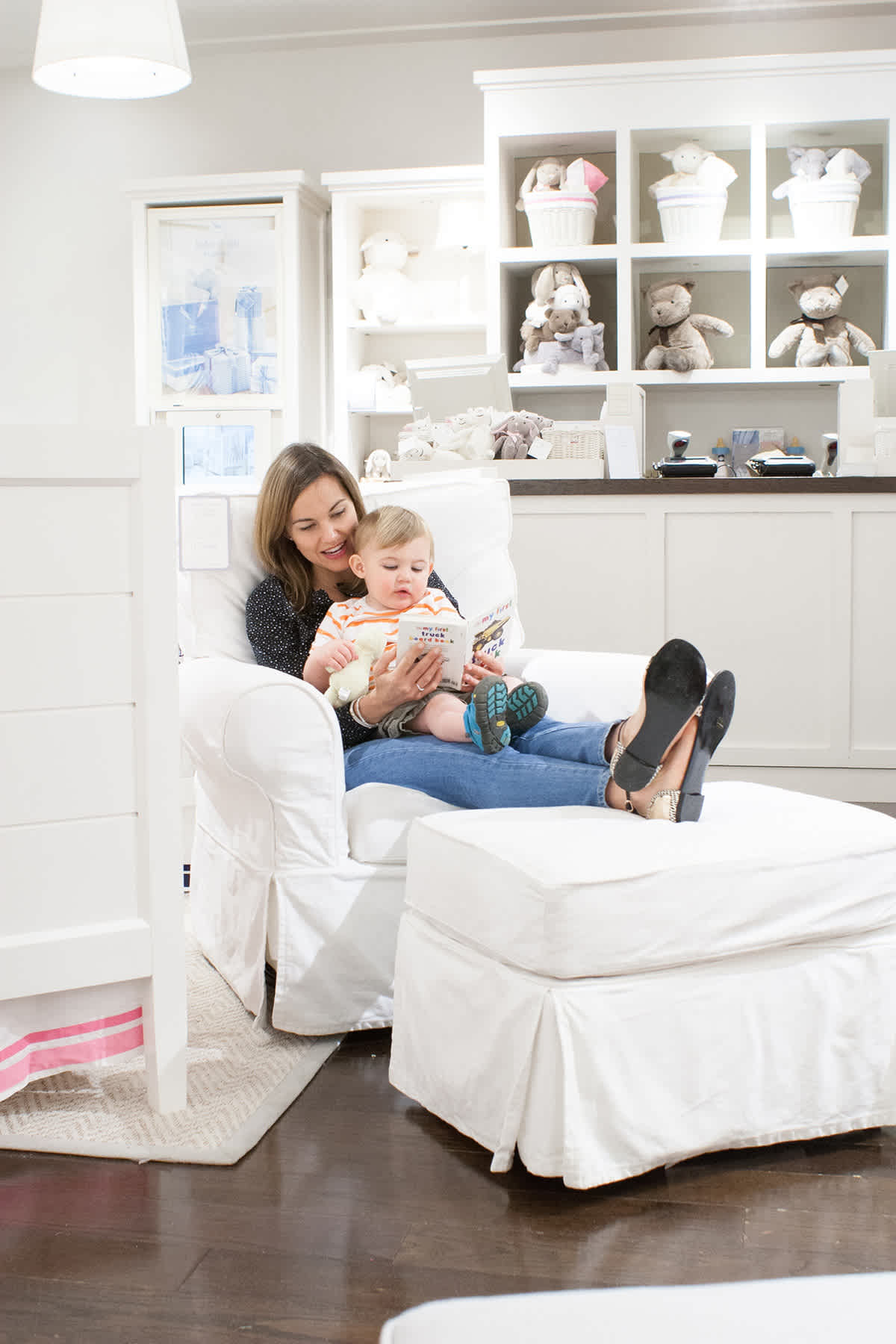 It is unbelievably comfortable; like sinking into a cloud.  The proportions are also great as it has a higher back for a head rest and wide, comfy arms.  I really liked this one, too, but I just tend to stay away from the slipcovered silhouette, so it isn't what I would opt for personally.  Seriously, though, it is so comfortable, and Ashley fell in love with it, so if comfort is your number one priority, this is a great option that also looks nice and classic.
Last up is the comfort recliner & swivel glider.  This one was also really comfortable, and it also reclines (see first pic in this post to see it reclining).  It has a similar feel to the previous Comfort Grand Swivel Rocker, but with the reclining feature.  It doesn't swivel/glide while you are reclined, though, and I personally would prefer to be able to rock baby with my feet up at the same time, so I'd prefer one of the other options and use them with an ottoman or pouf.  It's pretty fancy, though!
(Here is a photo of me showing off the reclining feature . . . )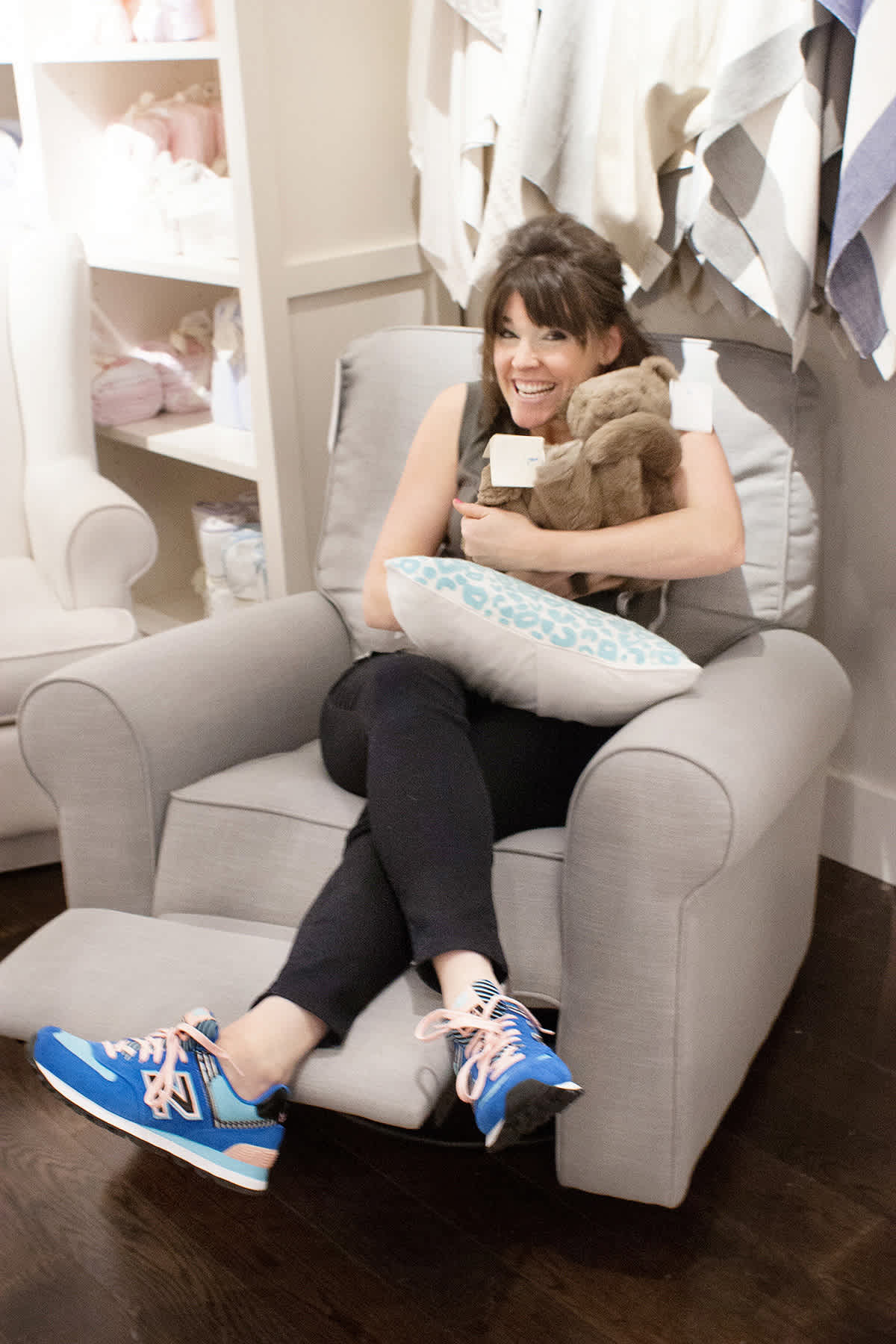 The Wingback Convertible Rocker was also there, but we weren't able to snap any photos as Henry was ready to make his exit, and it's also the one in his nursery.  Ashley has loved that chair, and I'd say it is similar in proportion and feel to the Modern Tufted Wingback.  It's comfortable, but not overly cushy.
So, there are our thoughts!   Please comment if you have any questions!  I know our reviews are brief, but I was hopeful that our initial reactions and photos of someone actually in the chairs would give a better idea of the scale and feel of these pretty rockers!  Look out for another post soon!