rocker and glider reviews: Crate and Kids
Tips on making the right rocker choice
I was so excited to get to visit Crate and Kids while we were in Chicago, and try out many of their rockers and gliders to review for all of you.
I've never been in one of their stores, and it didn't disappoint!  My experience with their products is that they are always even better in person, and it was so fun to see and feel the fabrics and furniture and rugs and everything in one place - it's all just so thoughtfully designed!
The glider/rocker purchase can be such an overwhelming investment to make for your nursery, and since you will likely be spending hours, and maybe even nights, in one of these, it's good to know what you are buying.
Please know this post isn't sponsored; these are just my honest thoughts and opinions based on my extensive experience rocking and feeding babies, and I hope it will help you if you are trying to decide what will be the best option for you.  (Also, go here and here if you want to see other rocker and glider reviews!).  I'm sitting in the chairs to hopefully give you a sense of scale, and as a reference I am 5'7".
First up is the Milo Glider.  Spoiler alert: This is my hands-down favorite.  And not just in their store, but it's seriously the most comfortable glider I have sat in (well, this one is also extremely comfortable, but has a completely different look) , and has the perfect cushy to cute ratio, which is not an easy thing to find. It's so perfect to sink into, but doesn't look remotely overstuffed, and the clean lines and pretty metal base will make even the most modern of tastes happy.  It has a higher back, so I could very comfortably lean my head back (which, I think, is a big deal if you are spending hours in this chair as an exhausted new mama!).  I could easily sleep in this chair, and the armrests are a great height, too.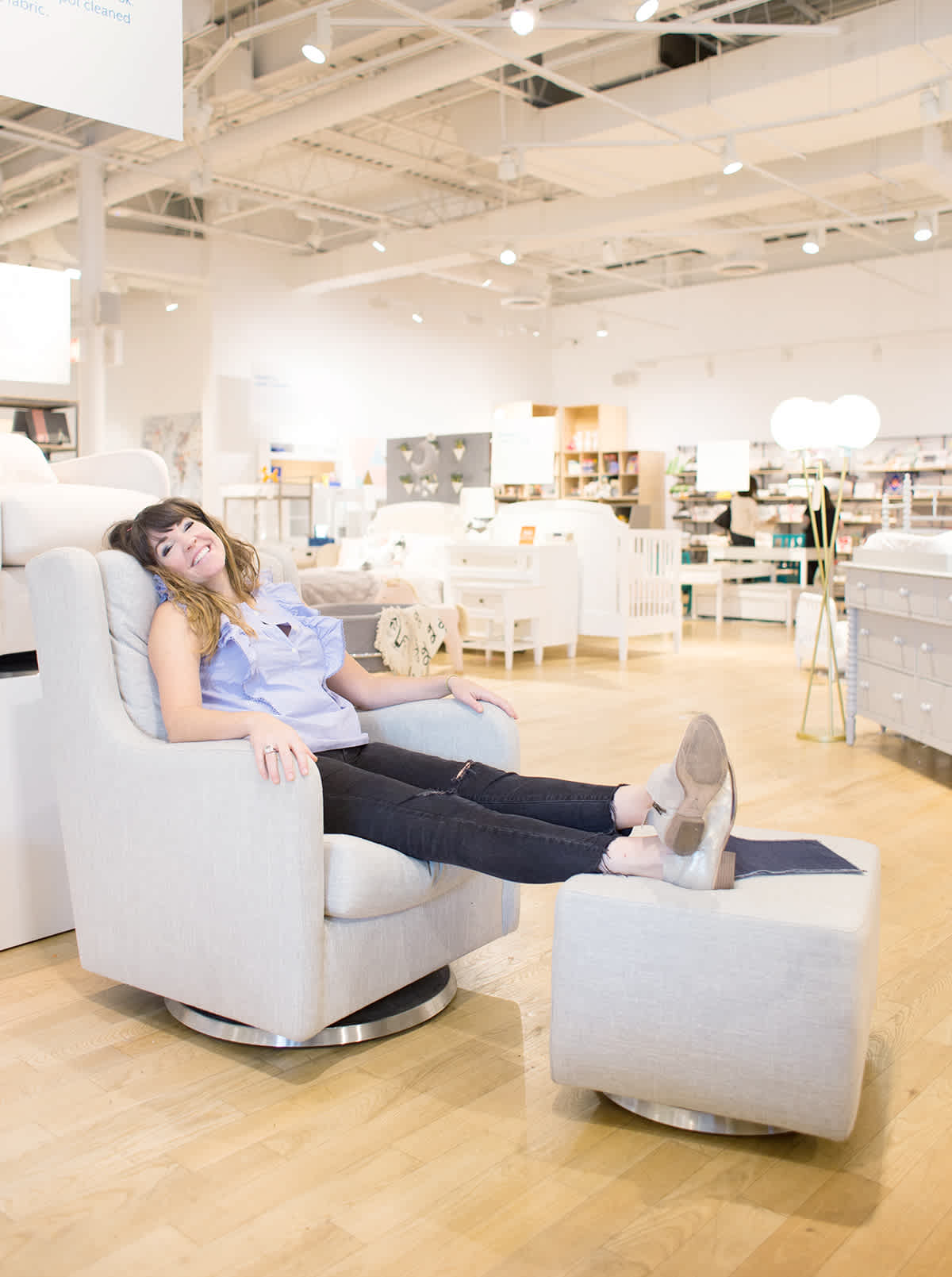 See how comfy?  The challenge is that this chair is on the pricier end, but the plus is that you wouldn't be compromising on style or comfort, and that's not really super easy to find in the glider world.  Keep in mind that you will likely use this chair even longer than you will be breast-feeding or bottle feeding baby; I still love sitting in the glider with my older girls to read books together, so this purchase will be with you for a long time.  I think an ottoman or pouf is essential, but you could substitute a less expensive foot rest to save a bit.  I think this chair would be a very worthwhile splurge.
Next up is the Joya rocker.  I really like the look of this chair (and honestly, it looks much more petite in person than it does online, in my opinion, which is nice - chairs are like Christmas trees and grown once you get them in your house).  It's great for a rocker, but it definitely doesn't have the "sink in til you sleep" feel.  It's super clean, though, and would certainly work well in a living room or some other space after it's outlived the nursery.
This Marguerite glider is definitely my second favorite.  It's a close second with the first glider - and it's pretty much as comfortable.  It has a little bit more of a traditional look, but still isn't overstuffed.  It also has a high back, so you can comfortably lay your head back and sleep.  I really, really love this one, too, and highly recommend it.
I adore the look and color of the Everly rocker, with the tufted back.  It has a cute retro feel, but again, it's more of the rocker style, so it's not as cushy.  It would be hard to sleep in, but would be great for reading books and snuggling.
This Bakersfield rocker is also super cute, but again, it's a rocker.  If you're looking for cushy, this isn't it, but if this is a comfy rocker option, and it's less expensive than the other selections, too.
I also really like the look of this Jackson rocker and ottoman combo.  It's really nice, and would transition well to a living room post nursery.
Last up is the Mod Nod glider.  This one is also very comfortable, but the armrests and backrest is lower, so I'd go for the Milo or the Marguerite instead of this one.
I had so much fun playing goldilocks in The Land of Nod's/Crate and Kid's beautiful store!  Let me know if you have any questions - I hope this is helpful to those of you trying to make a decision!  Also, how cute is this Care Bear Bedding?  I can't get enough - it's so sweet!
(If you are looking for more glider/rocker reviews, check out this post on Pottery Barn Kids' selection and this post on West Elm!)
SaveSave