rocker reviews: west elm gliders and rockers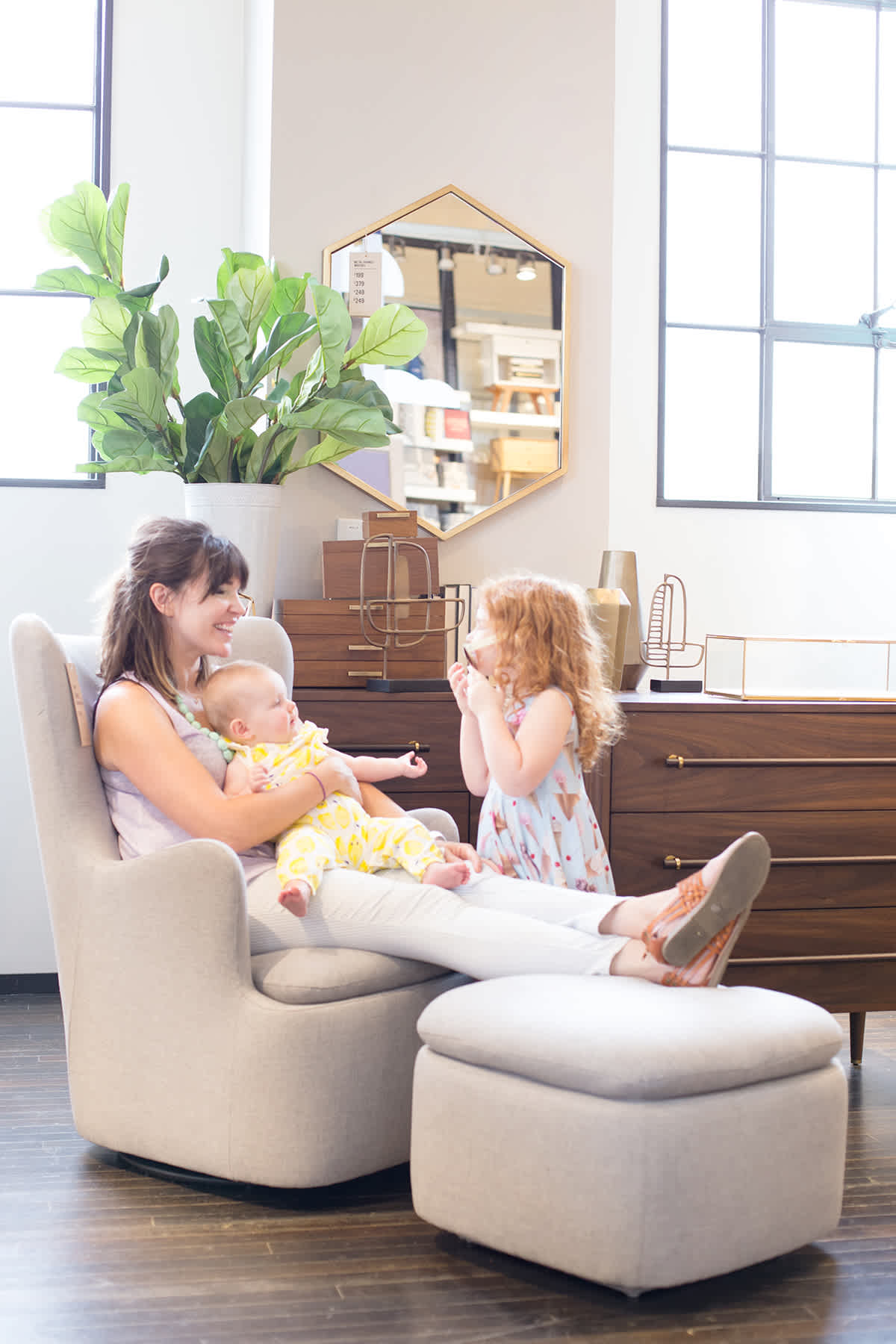 I thought it would be helpful to do a little review of West Elm's gorgeous new gliders, in case some of you aren't near a store where you can try them. I love that they have added these to their collection! (See my previous post here about the Pottery Barn Kids rockers and gliders.)
First up is the new Niels Wing Glider. Honestly, I like it even better in person. It's perfectly adorable, and has slightly smaller proportions than I expected. (As a reference, I am 5'7"!) It's cute from all angles, and would easily blend into a living room or bedroom after it has outlived its time in the nursery. I also love the rounded, friendly edges of the ottoman, so it's not huge and blocky as some can be.
Things you should know/consider: the back is slightly lower (as you can see in the photo), so this probably isn't a chair that you would sleep in without some clever pillow arranging to make yourself comfortable (unless you are more petite). It is plenty comfortable to spend long hours cuddling and nursing and reading to a baby, however. I love the tailored look, and it's not common to find a chair that is both very comfy and also lovely. I probably would have chosen this one had it been available last fall, and then gotten a neck pillow (as I often fell asleep in the glider holding and feeding Ellie - although I didn't mean to, it just happens sometimes when you are that tired).
(also pictured below: my favorite comfy pants, swing tank, teething necklace)
Next up is the Graham Glider!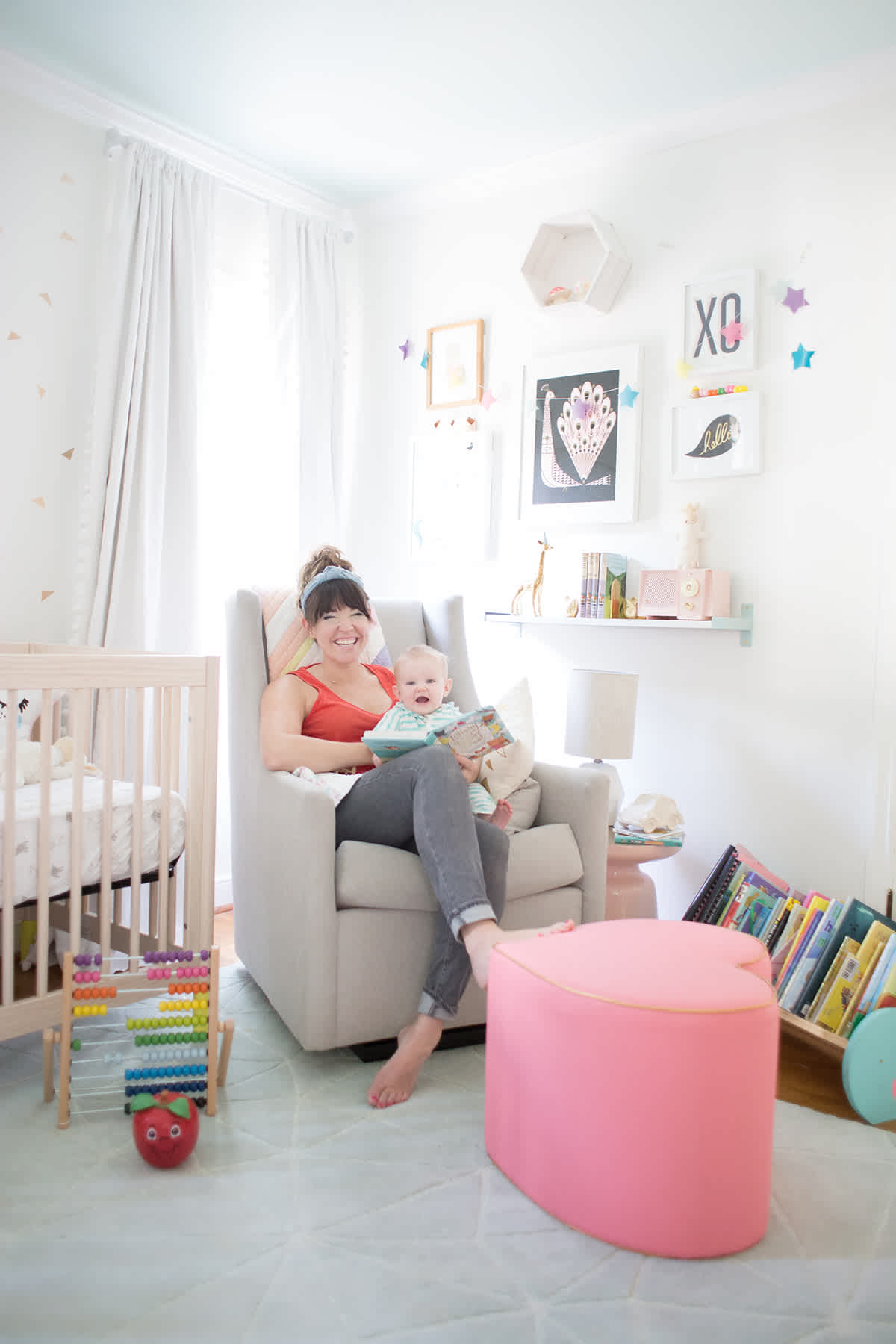 As you can see from this photo, the Graham glider is quite a bit larger than the Niels (and I have often found that furniture seems to grow once you get it in your house!). I have loved it, and appreciate its clean, buttoned up shape. It has a much higher back, which is so nice to rest my head against when I'm exhausted, and I have spent way too many hours sleeping in this chair! It's also quite wide, and I can hold two of my girls comfortably to read books or snuggle.
Things to consider/think about: this chair is rather deep. I had thought we would use it in our living room after having it in the nursery, but I'm not quite sure it will fit super great. Also, the sides are very flat and large, so I don't totally love how it looks from certain angles. It looks best nestled between the crib and that cute martini table to soften the very flat sides. Also, the ottoman is quite large and blocky, so I prefer something with softer edges to pair with it (I would definitely recommend getting a pouf / ottoman or something to prop your feet up on!). It has held up really well, though, and has been very comfortable for me.
(also pictured: top knot headband; jeans; Ellie's hoodie)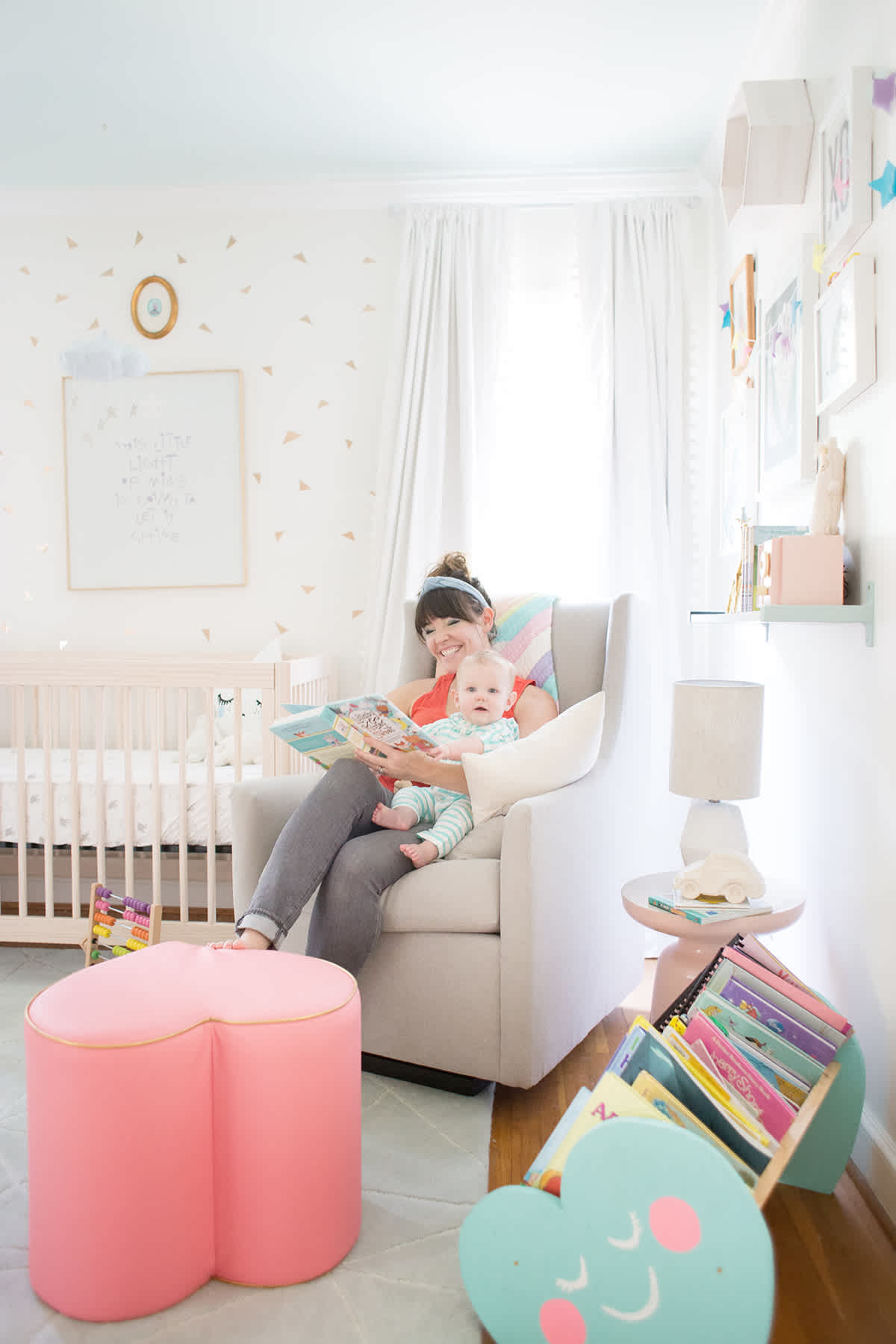 I hope that is helpful!! Let me know if you have any other questions about it!