neutral nursery ideas on a budget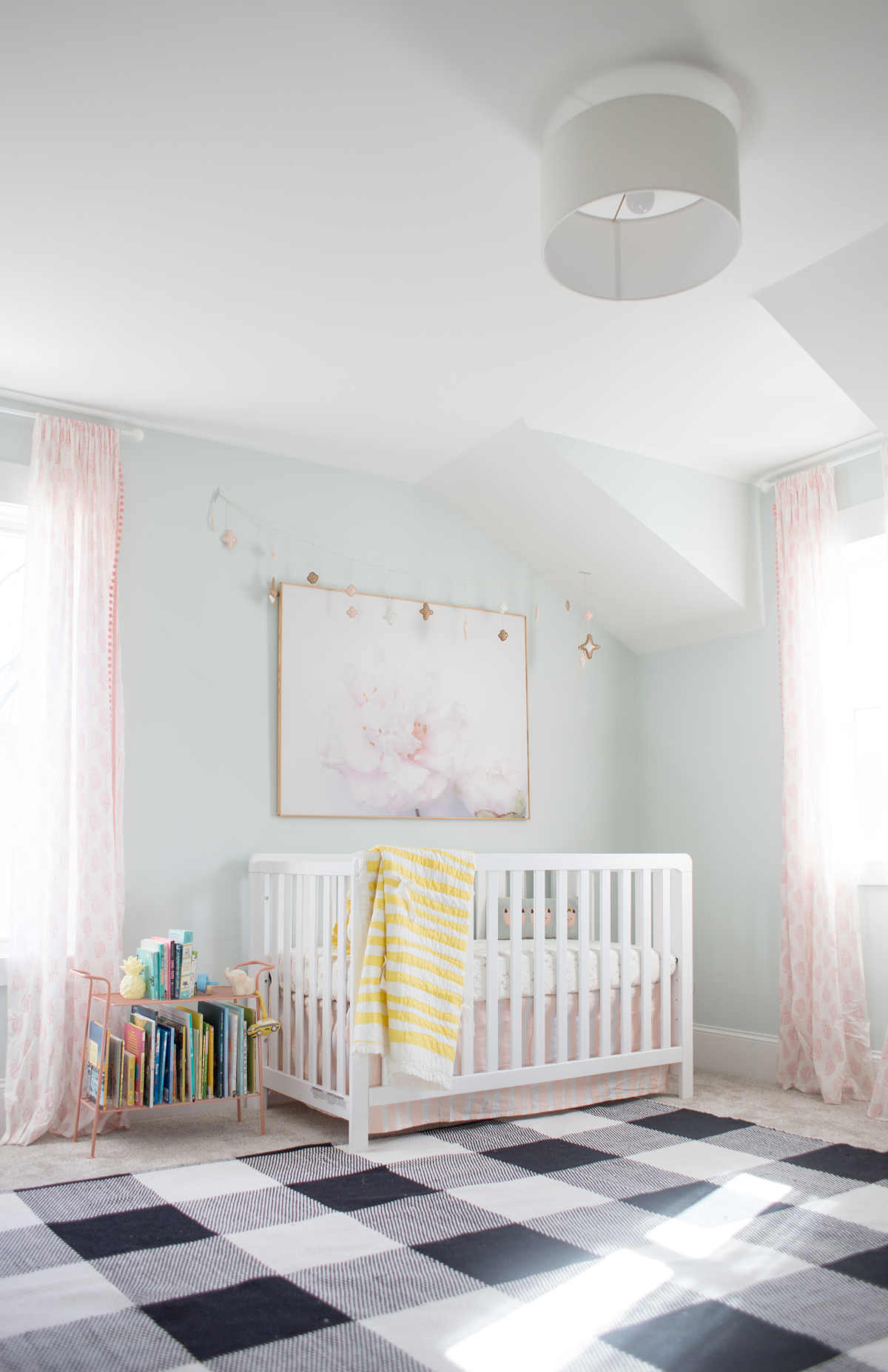 I just helped a friend of mine put together a nursery for her new baby girl, Amelia.  Her husband just built their house almost all by himself, which was impressive and also all consuming, so I was happy to do what I could to help them get a room together for their new addition.
(pictured above: buffalo check rug; Colby crib; yellow and white quilt; crib sheet; crib skirt; dreamy pink stars bunting; drum shade; similar vinyl storage shelf (used here for books); similar curtains; camellia print)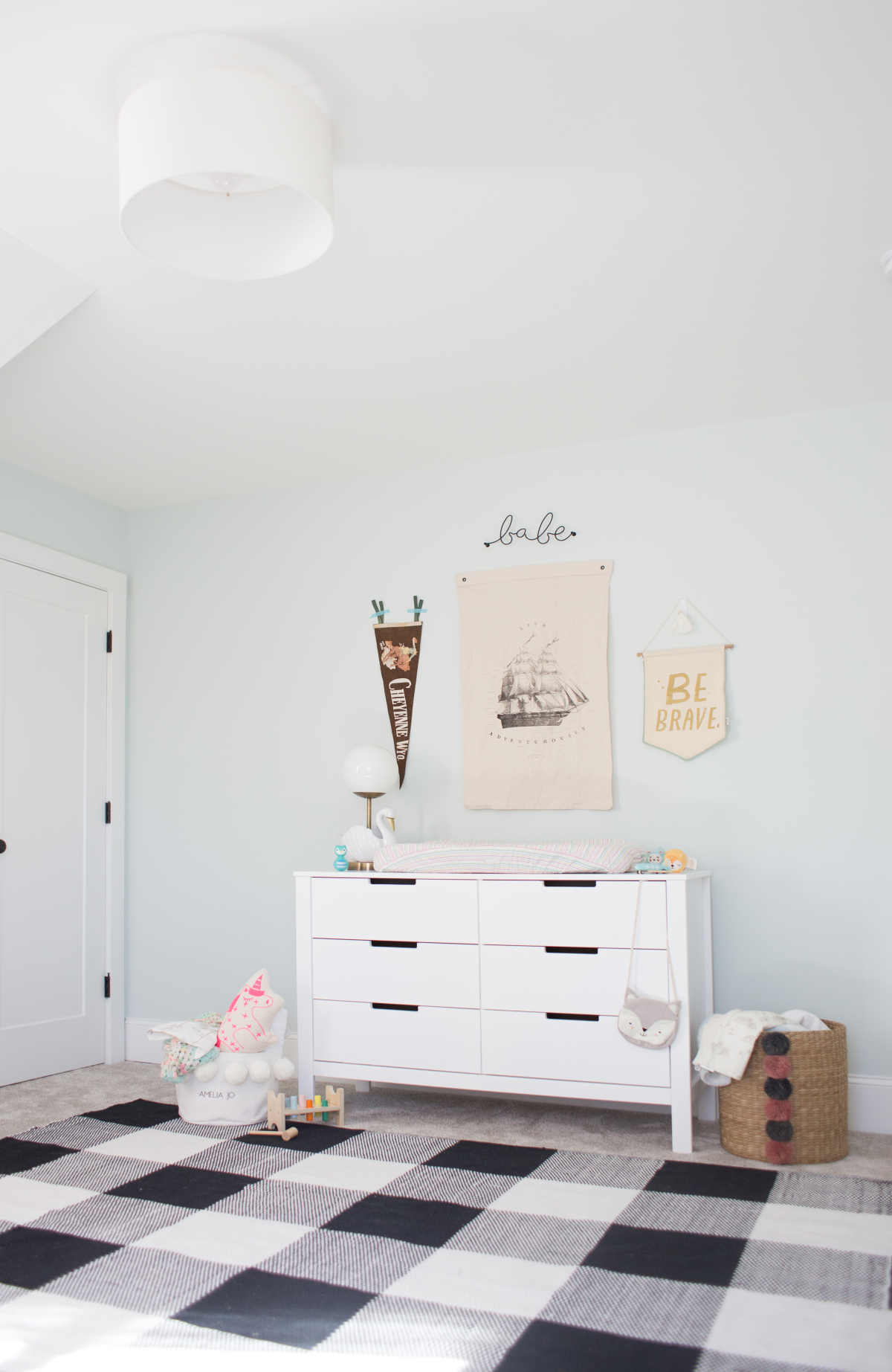 This space is pretty simple, but also sweet and light-filled, making it a great room for a little one.  This baby room was put together on a budget, so there are some great finds here that I hope will help you if you are struggling to put a space together on limited funds (it can add up so quickly, right?).
To capitalize on all the light in this room, we painted the walls Window Pane by Sherwin Williams, which is an oh-so-lovely shade of blue with just the perfect hint of green.   It is so calming, and I think it's one of my new favorites.  It's really sweet, but doesn't feel baby at all!
(pictured above: be brave banner; Swan Lamp; Colby Dresser; Live Adventurously banner; vintage pennant; Babe Wall hanging; Small White Pom Pom bucket; Large Pom Pom Basket)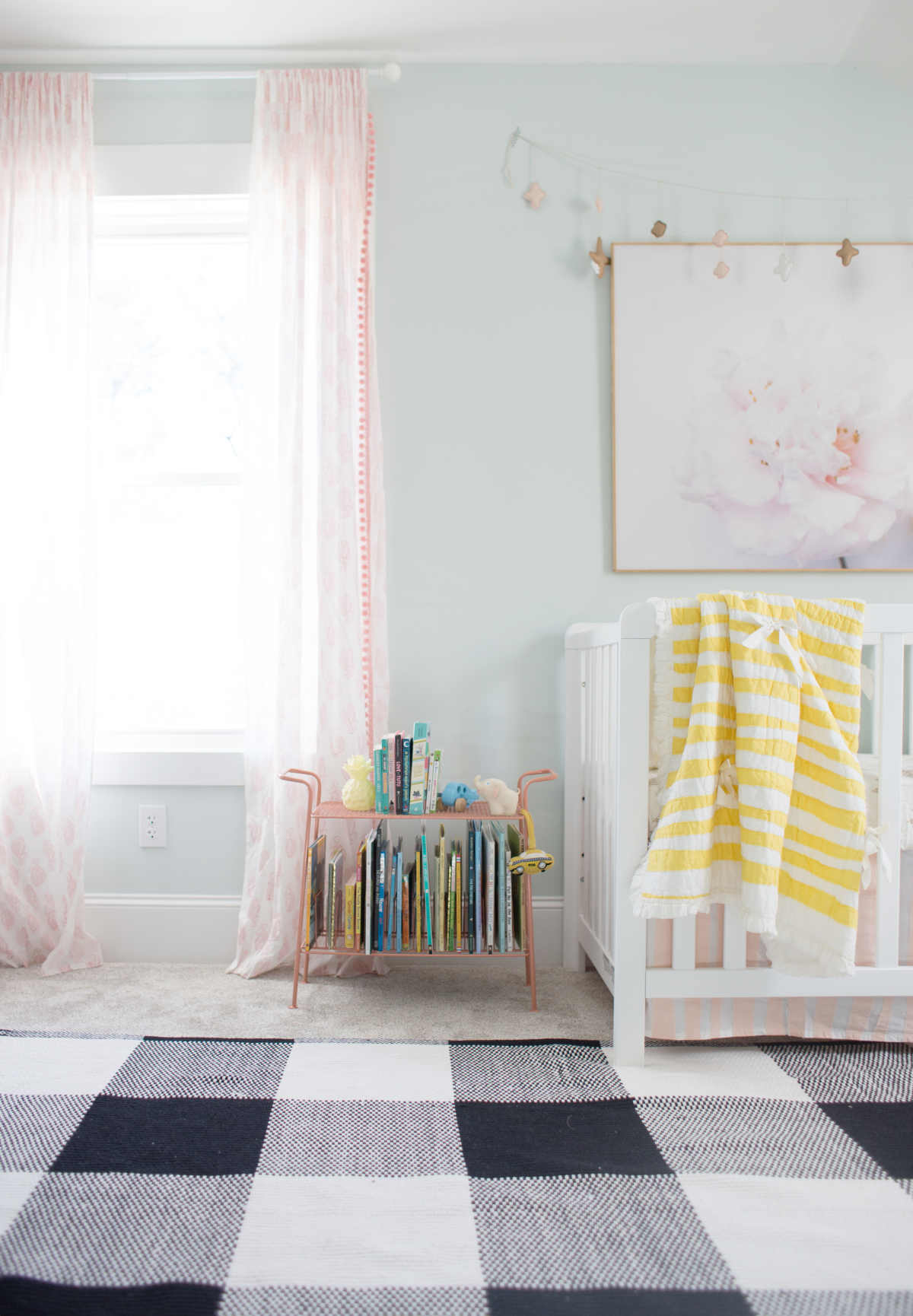 This rug also adds so much personality to the space.  Don't be afraid to layer a rug over carpet; it can bring in so much pattern and color, and really define a room.  I'd recommend choosing a contrast texture; if your carpet is very plush, go with a flat weave, if your carpet is less plush, go with a fluffier, tufted rug.  This one is $298 for the 8' x 10', which is pretty great for such a large rug.
Also, a lot of you ask me about curtains.  These are some I made awhile back, but here is a great secret: H & M.  They are so inexpensive, and usually come in really fun patterns that they change up regularly.  (These are very similar to those above.) The best part is that they come 98" long, with hemming tape, so you can very easily adjust the length.  Add some pom pom trim, and you have some custom looking curtains that only cost you $25 per window!  I used these curtain rods.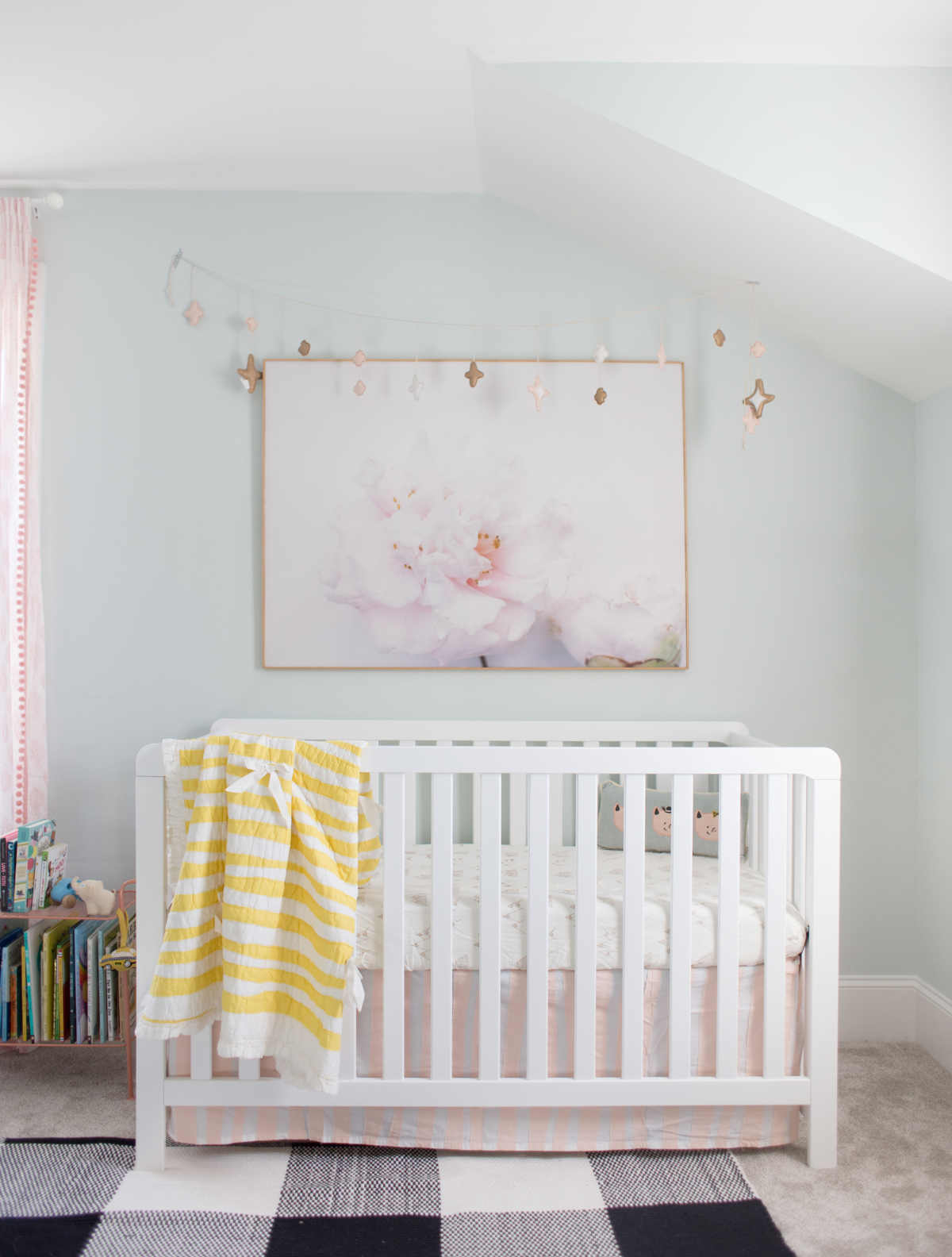 This bright, modern crib is $170, and looks super sweet with this bedding from Hallmark Baby.  Their pieces are really affordable, and oh so sweet - and you can get most of them personalized, too!
(Pictured above: yellow and white quilt; three little pigs pillow; dreamy pink stars bunting; mountains crib sheet; crib skirt )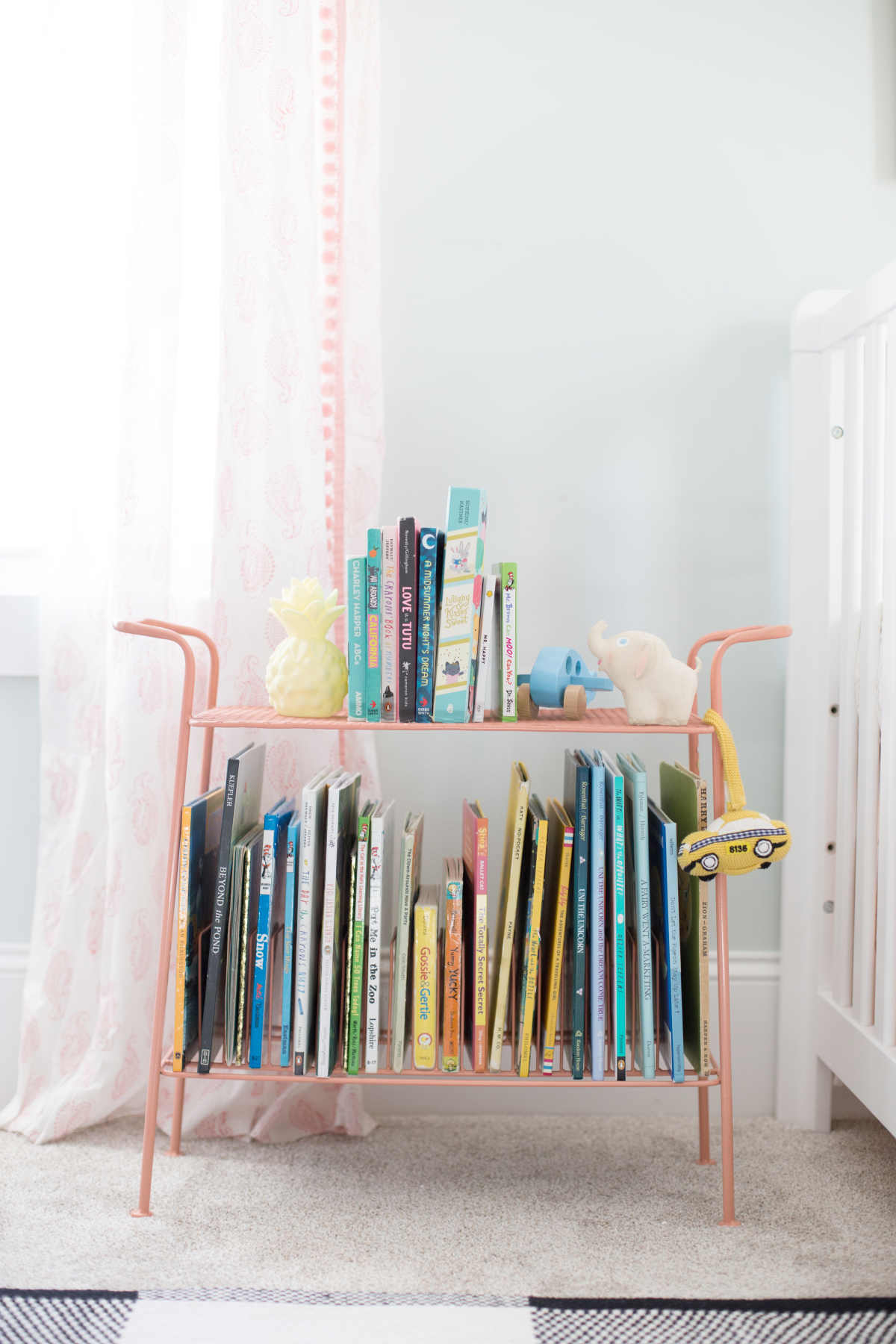 This little vinyl storage rack is a great and inexpensive solution for books (this exact one isn't available right now, but this one is very similar!).  It's perfect, too, if you have a smaller space, and easy to move around.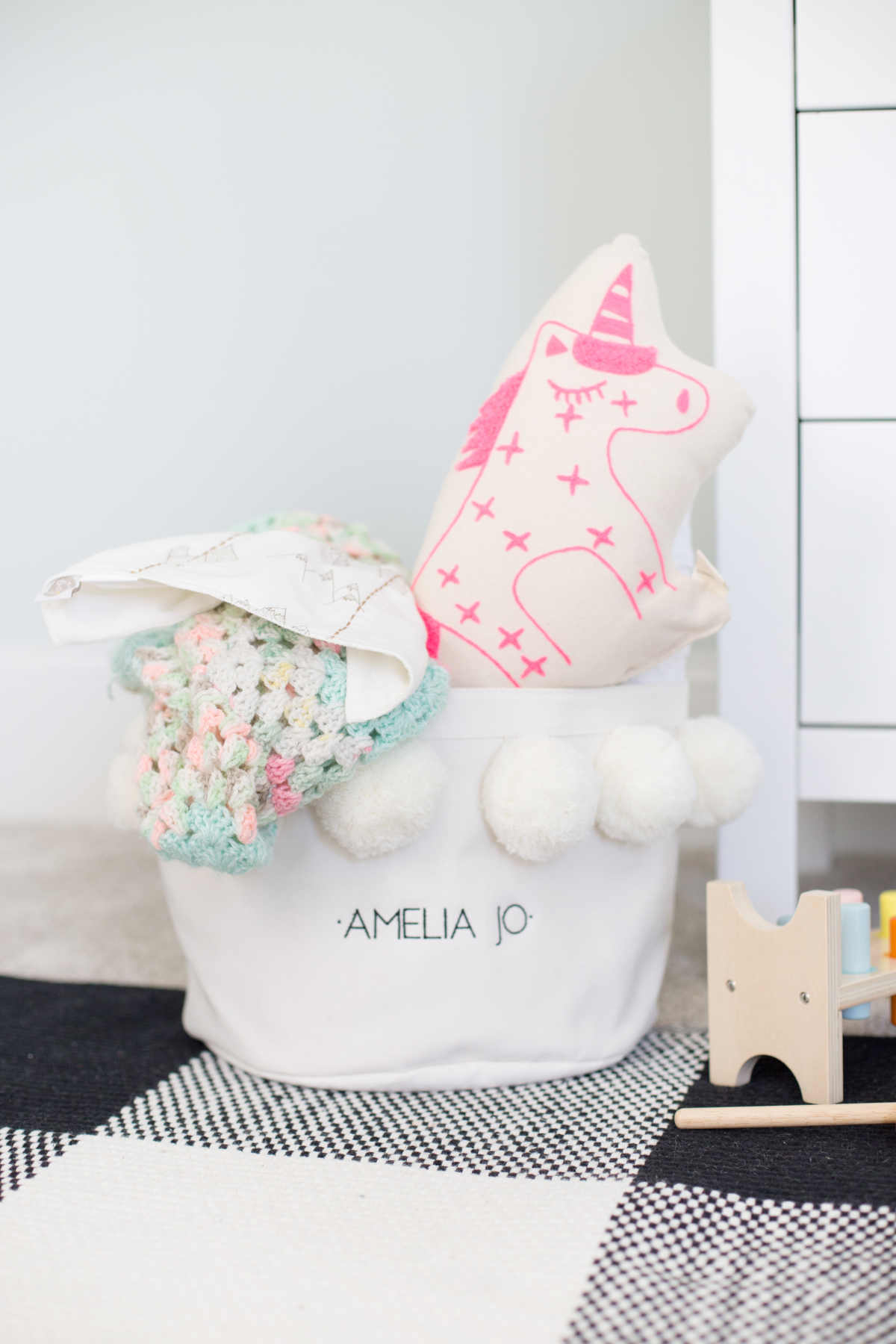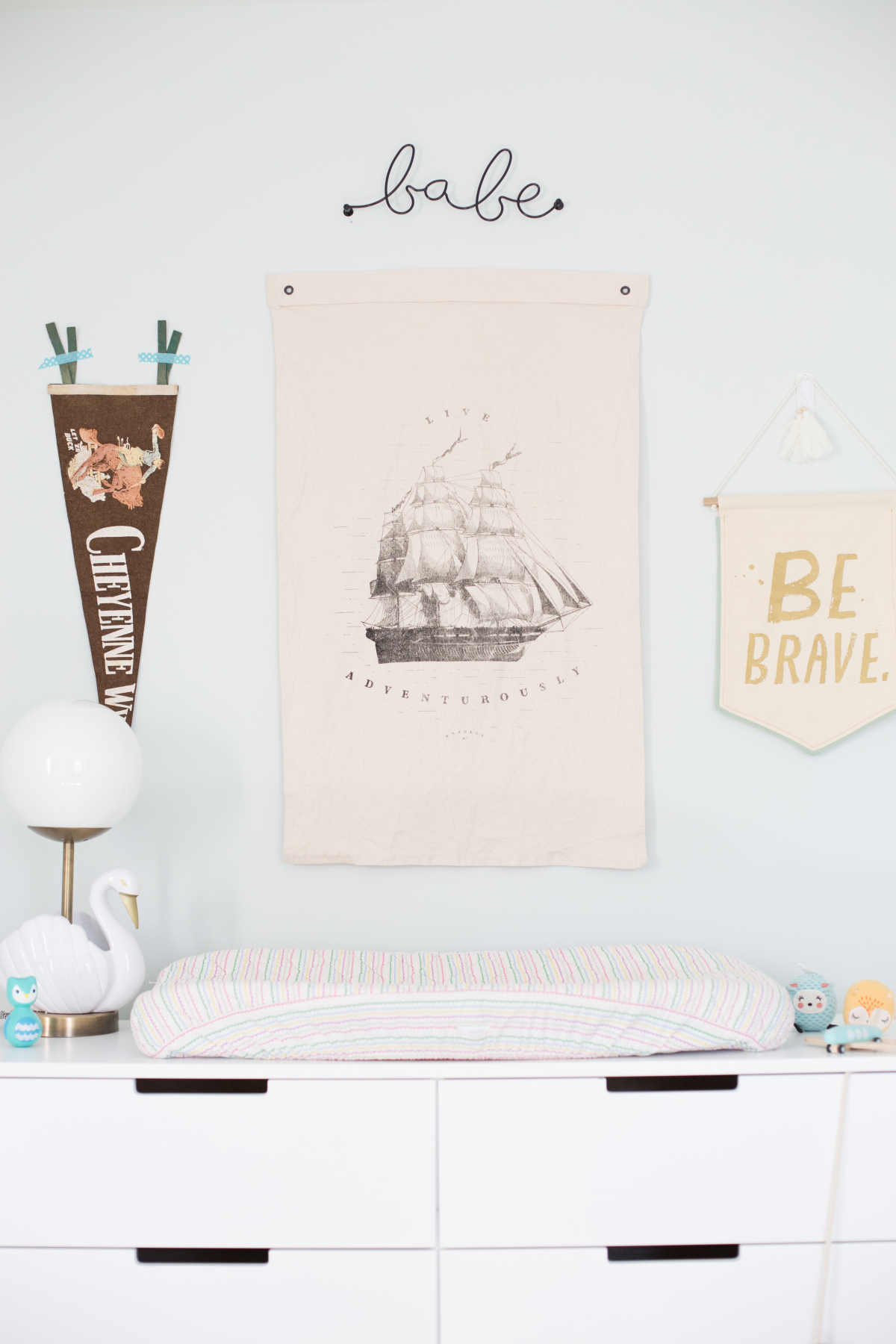 I love that beautiful swan lamp, and it will make the perfect glow at night!  It will be a piece that will grow really well with baby.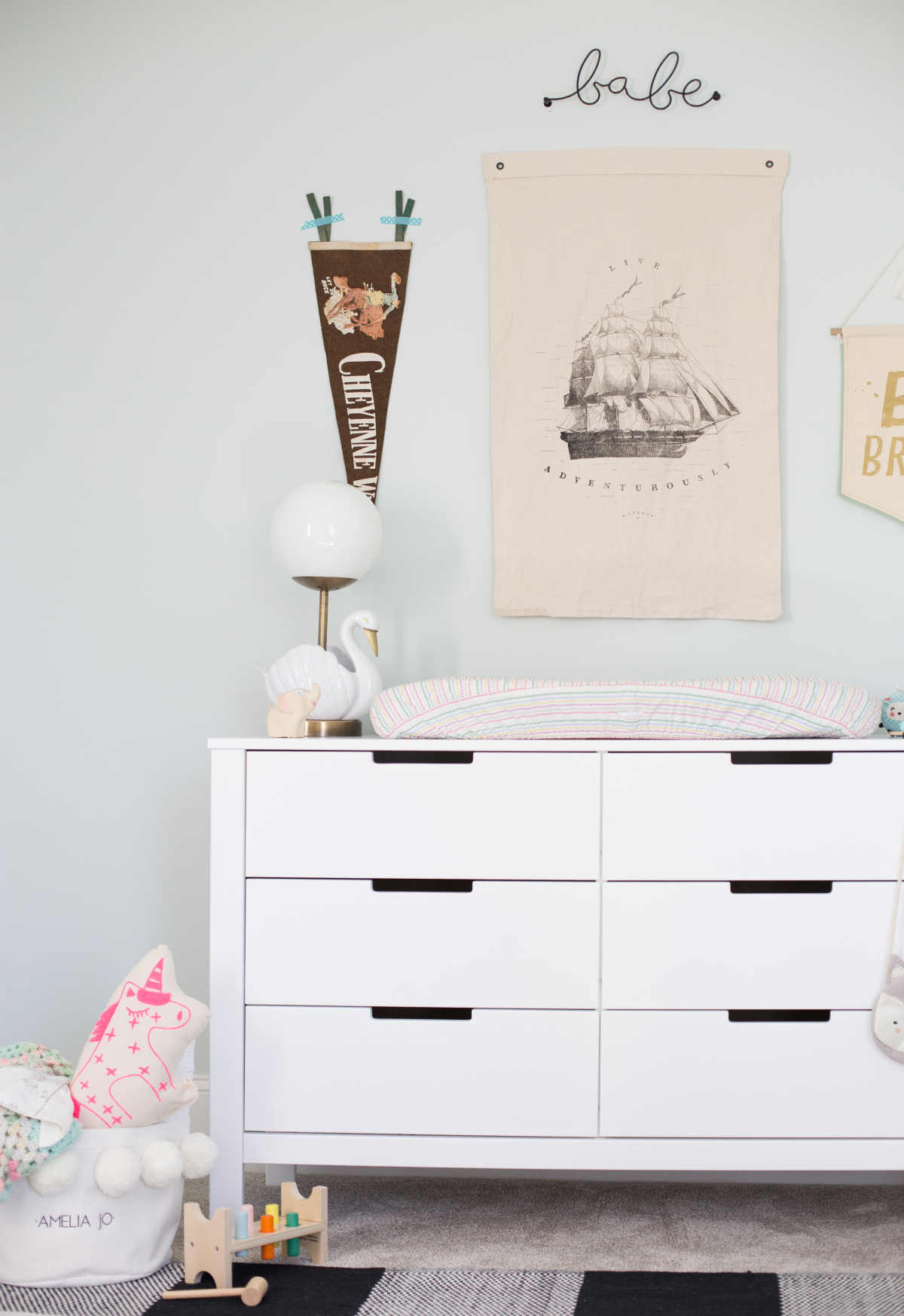 Hope this is helpful!  Let me know if y'all have any questions about this room! XO!