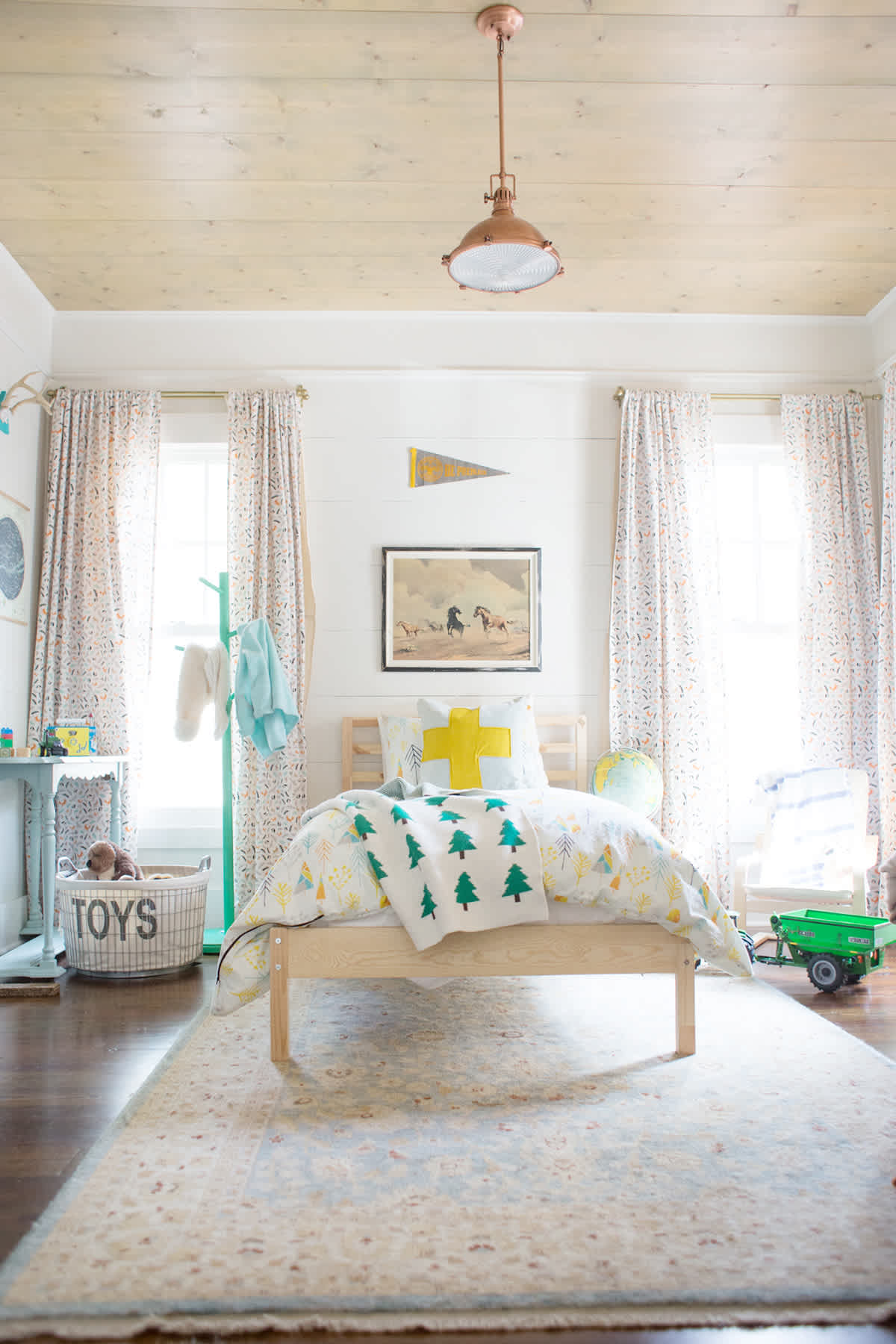 It's always a little hard to get back into the swing of things after the holidays!  It was so wonderful taking some time off and unplugging for a couple of weeks!
First off, I wanted to share this little update to Henry's room at the farm.  We have a farmhouse in South Georgia that our family shares, and we have a couple of rooms there for all the cousins to use.  Here is what his room looked like formerly, and now we moved a twin bed in there as he is a big kid 3 year old ready for more than a toddler bed.
(sources for above: tarva bed; forest blanket; vintage globe; kid chair; minted curtains; other vintage horse paintings)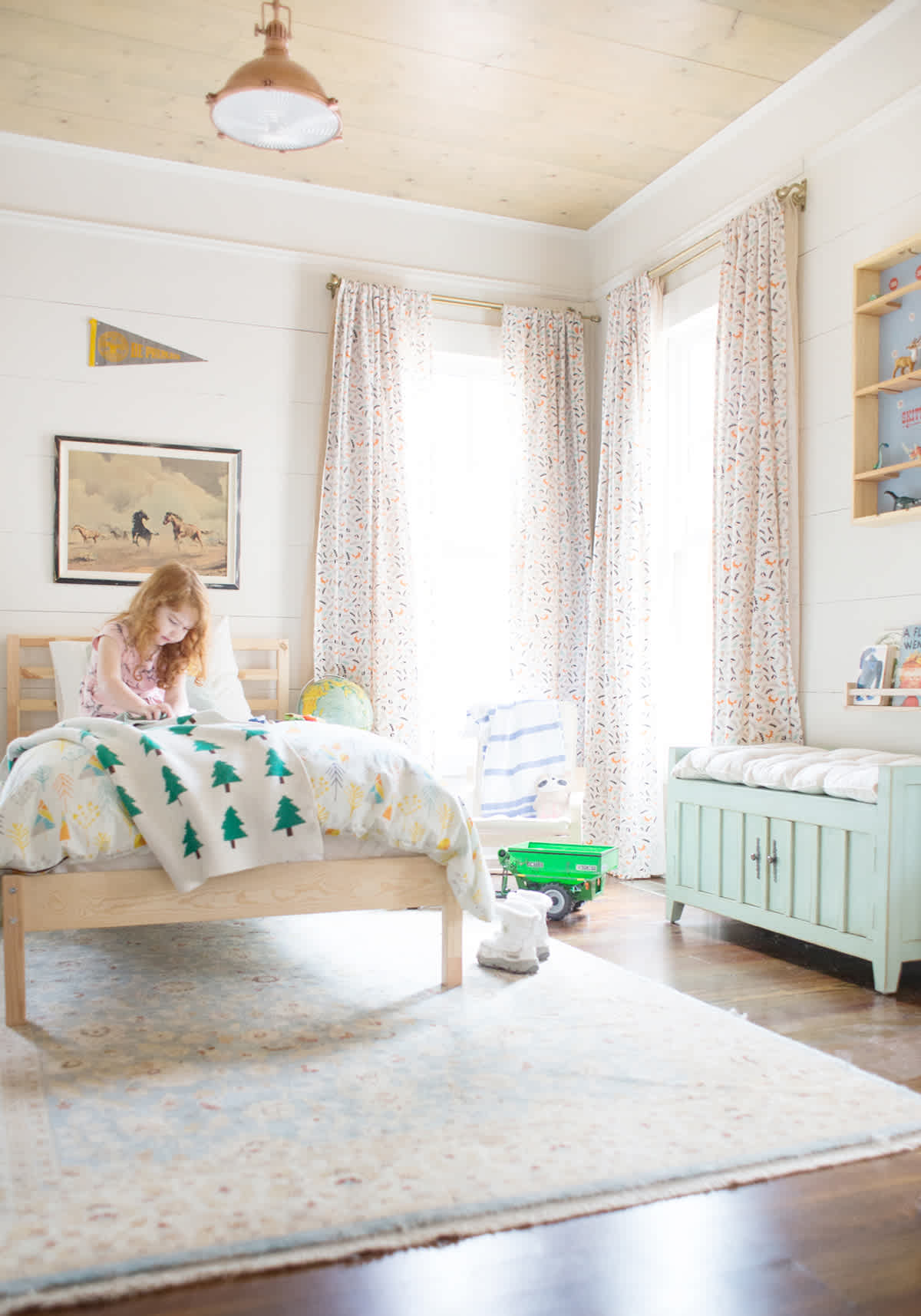 There is my cutie pie Brigette playing with Henry's dinosaurs.  She is my calm one.  I think she relishes moments she can catch alone; it re-charges her!
We moved one of the twin beds from the girls' room over to Henry's (now we have bunks in their room - sharing photos on that one soon!)
(also: sidenote - these curtains are amazing!  I adore them, and I love that they have so much playful detail, but then read as a simple pattern from far away!)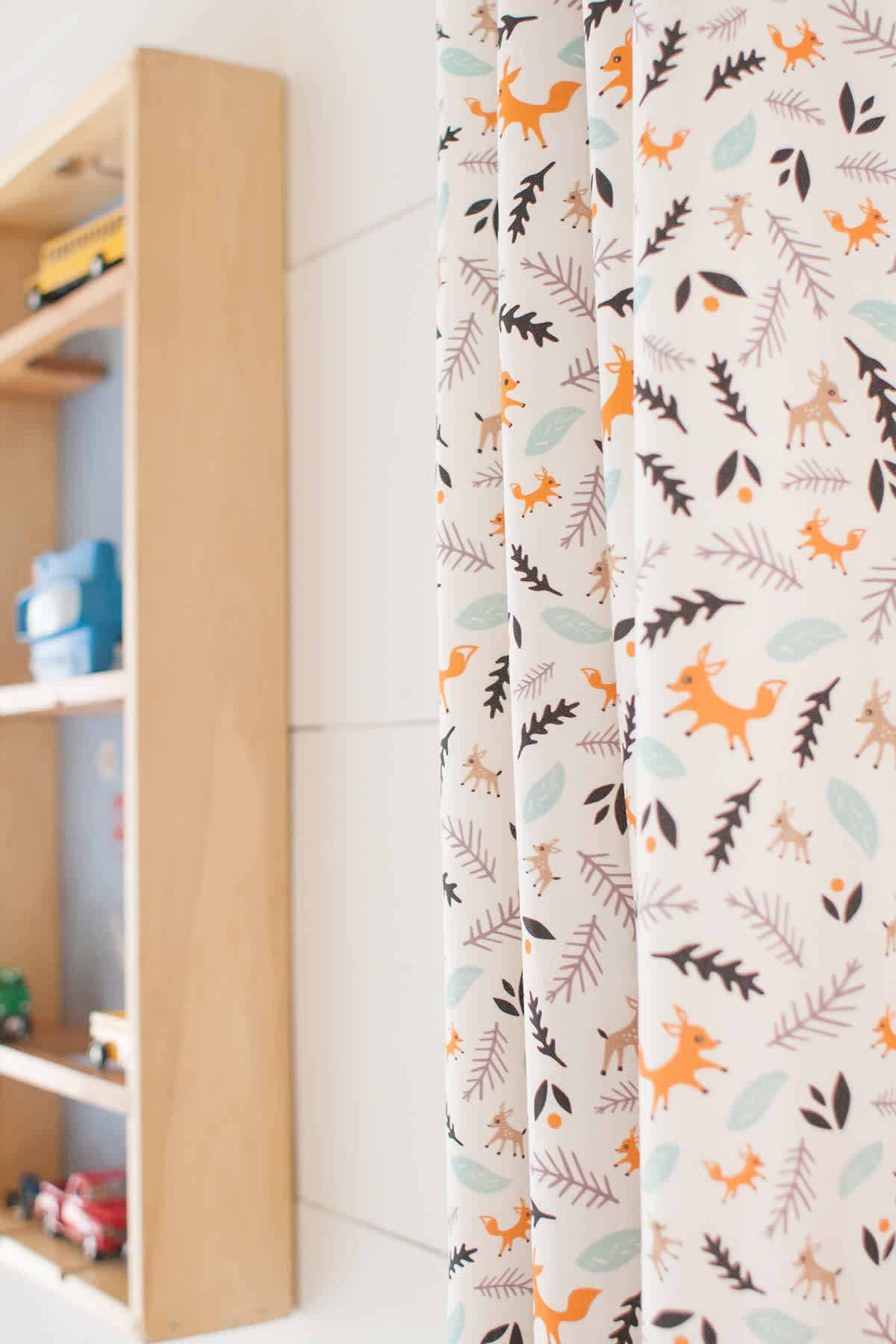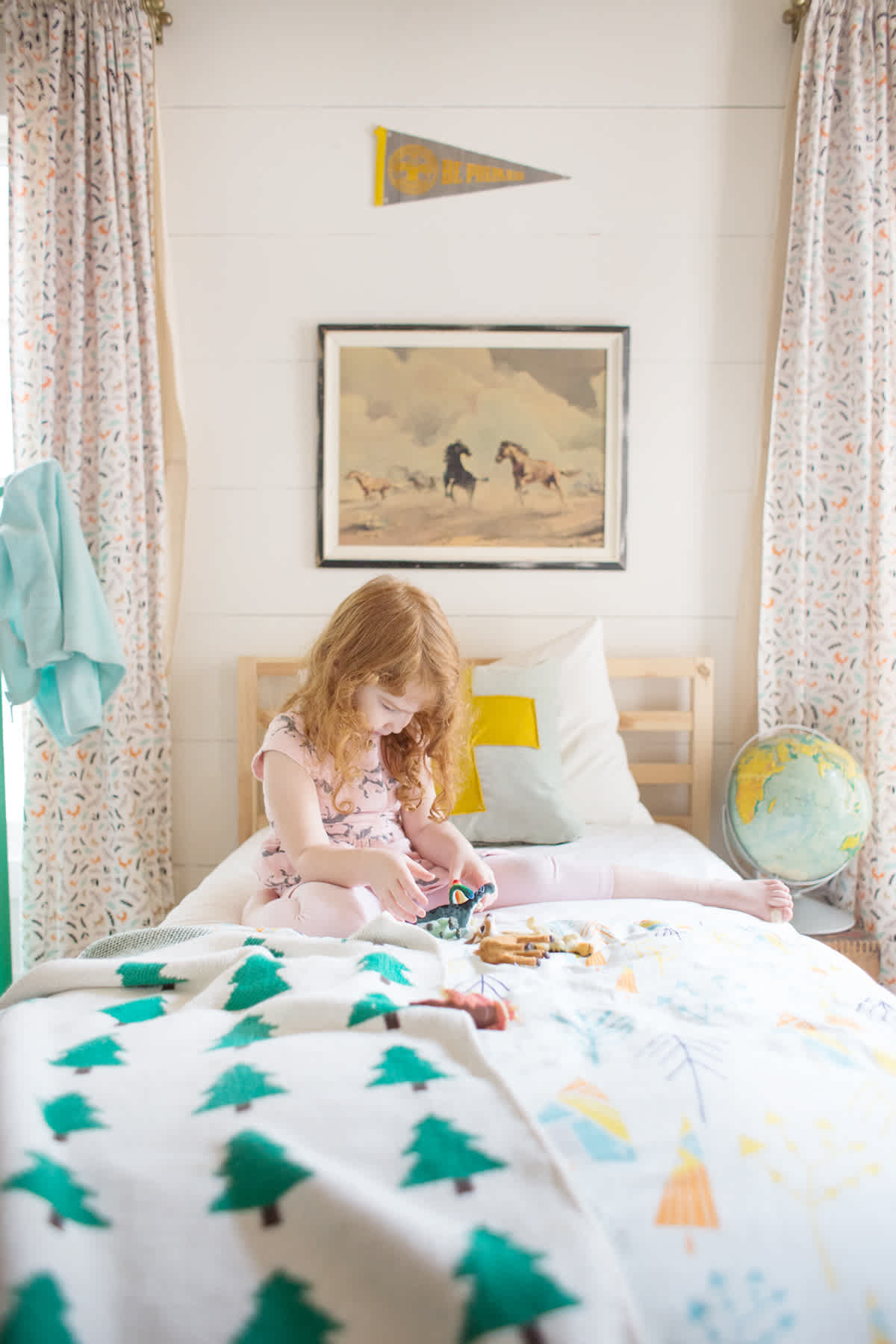 Many of you have commented on the walls in this house, as it does feel similar to shiplap.  It's not the same, though.  We built this house from scratch six years ago, and wanted to have planked walls.  My clever father suggested we go with 12" spruce boards to get the look we wanted, and it's actually less expensive than sheet rock.  We tacked builder's felt over the studs before installing the spruce boards (the boards will have uneven gaps as they dry/settle, but this makes it have even more charm) and then painted them.
Actual real-deal shiplap is not as wide, the pieces overlap, and it's more expensive.  So, if you are building a new house, this route might be something to consider.  If you want to get a #shiplap look in an existing space with sheet rock walls, check out this post for details on how you can go for the faux look easily!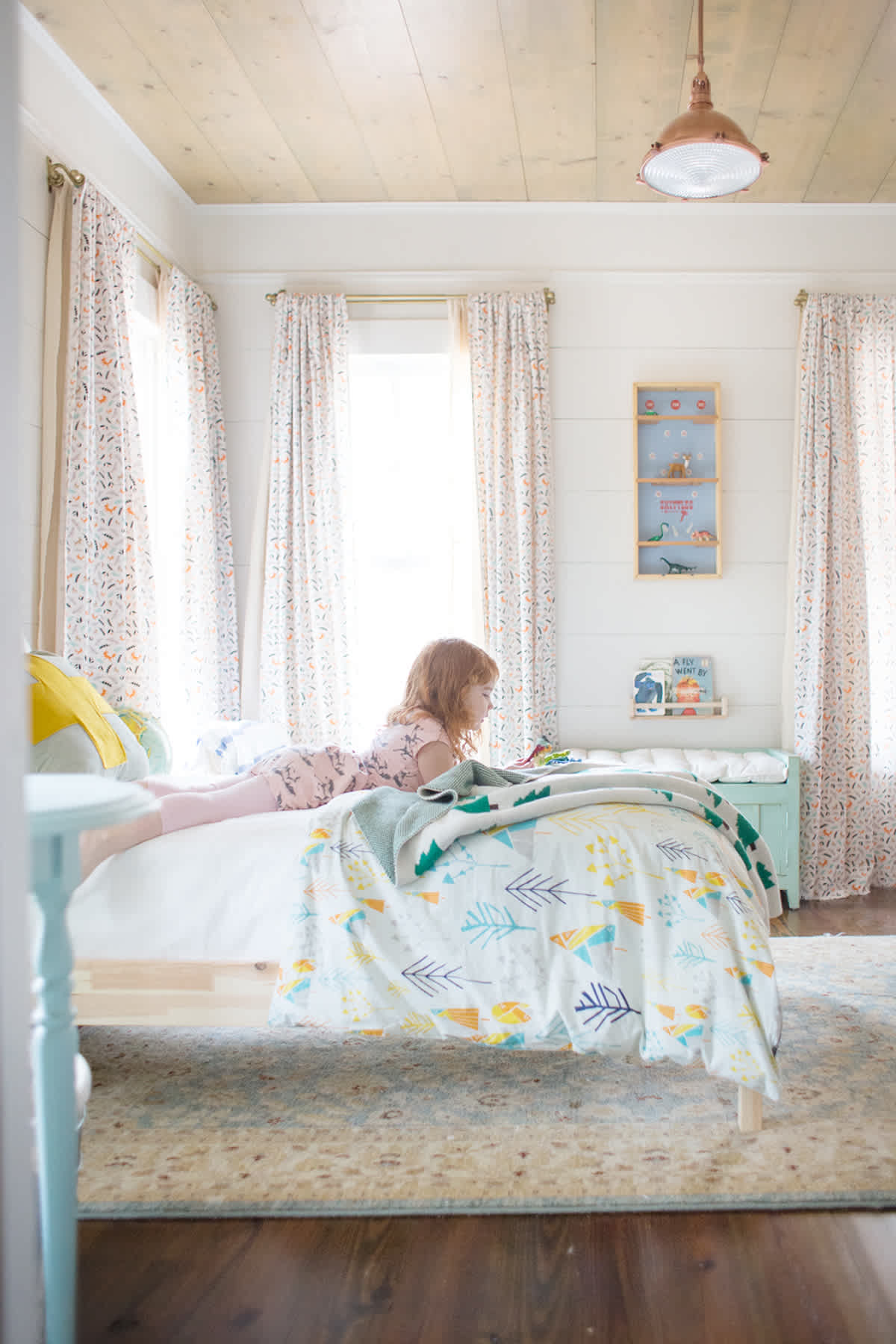 The shelf on the wall is a vintage skittles game.  It's a fun little punch of color, and a great spot to display little matchbox cars and small critters or books.
Anyway, I just wanted to share!  It's fun to watch kid spaces evolve as they grow; it's good to keep in mind that they are always changing. If something doesn't work, then switch it up.  It keeps things fun!