Modern and Sweet Baby Girl Room
a Pink and Aqua Nursery for Baby Marjorie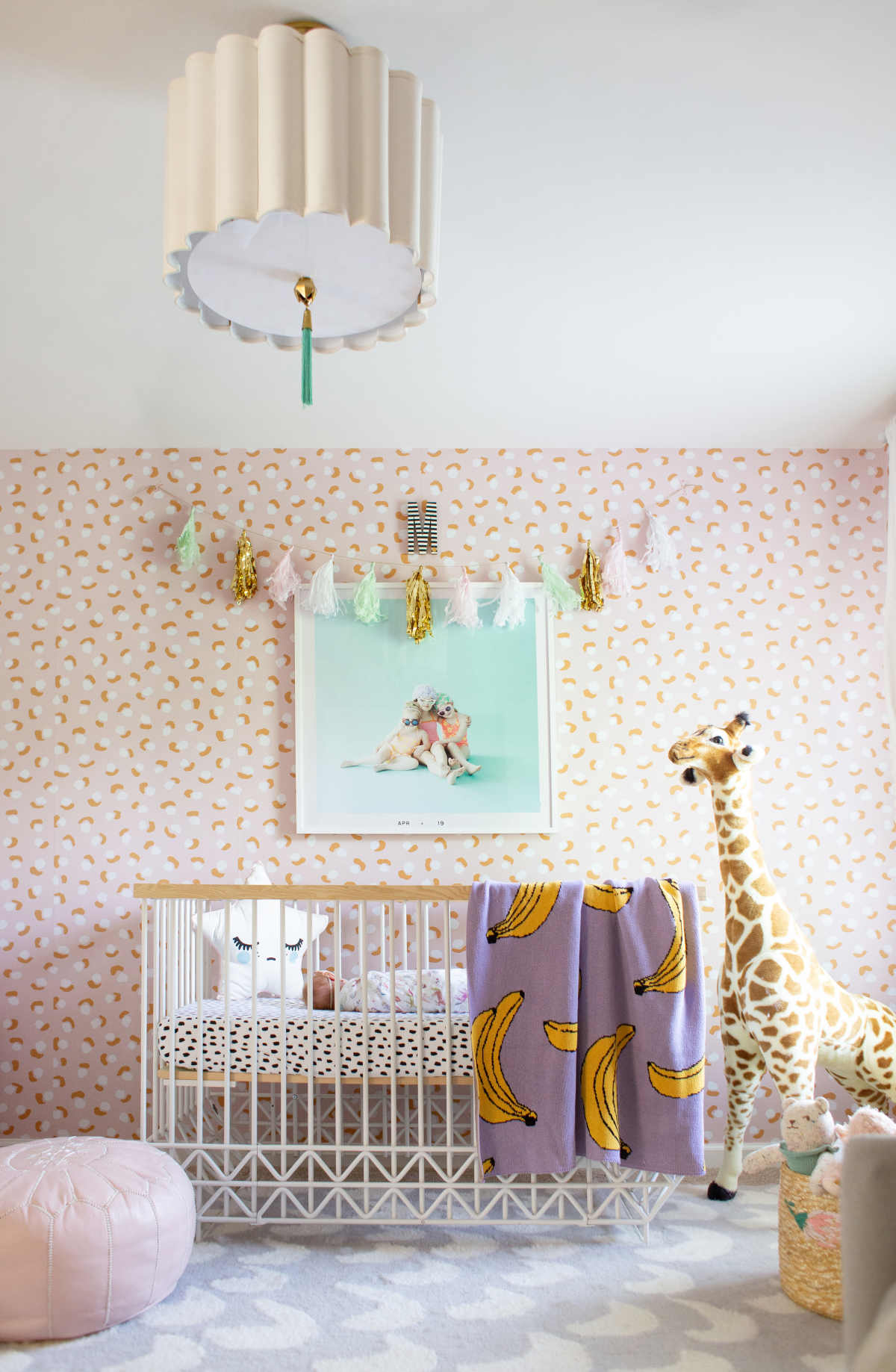 (Sources for photo above: Spotted Wallpaper; Mod Crib; Banana Blanket; Dorette Pendant Light; Giraffe; In Flight Shag Rug; Brush Stroke Crib Sheet; Photo Frame; Garland; Letter M; Flower Basket)
I'm so excited to share Marjorie's nursery today! If you have been following along on instagram, then you know we are at the beginning of a major house renovation, which means we are in a rental house for this season.
Having to find a rental house and move while (very) pregnant was really stressful for me, because I just wanted our family to be settled, but it ended up being such an incredible blessing, and it really all came together better than I could have dreamed. It also means I get to share some tips and tricks for making a rental house feel more one of a kind and unique to you, which is really fun as I know it's something a lot of us struggle with!
(Sources for above: Curtains; Pouf; Cosmo Side Table; Alana Bookcase; Letter M; Similar Cactus; Spotted Wallpaper; Mod Crib; Banana Blanket; Dorette Pendant Light; Giraffe; In Flight Shag Rug; Brush Stroke Crib Sheet; Photo Frame; Garland; Flower Basket)
Our rental house is really great (we have SO much more space right now, it's crazy!), but we can't paint. That is why I was so excited to work with Chasing Paper to cover the butter colored walls in this gorgeous paper by Jen Peters. It instantly makes the space feel custom, and it's such a pretty pattern that isn't overwhelming!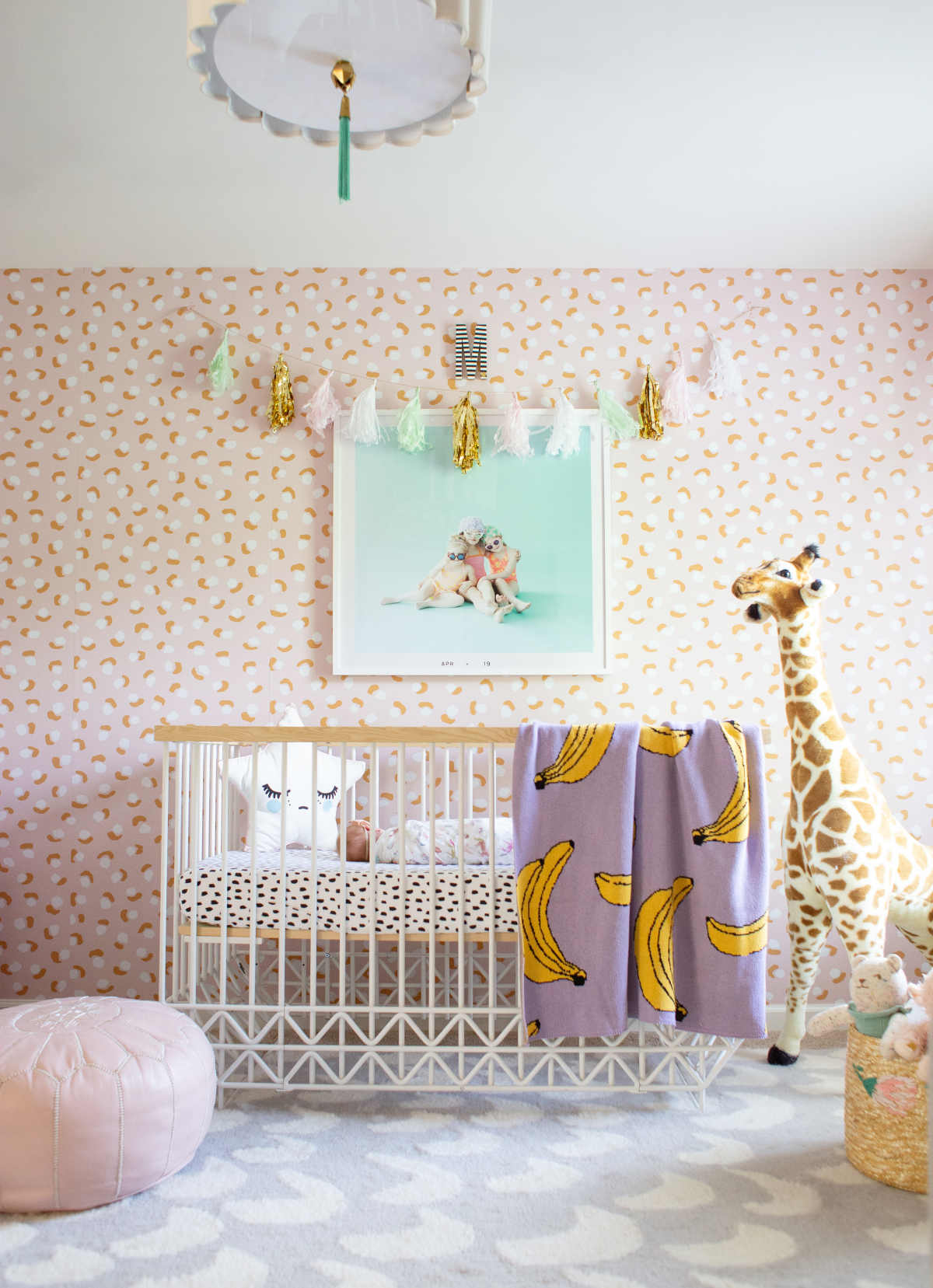 I've also been crushing on this gorgeous crib from Ubabub for quite awhile, and was so excited to get to work with them and feature it in Marjorie's room. It's absolutely beautiful, and also converts into a toddler bed, so she can stay in it for awhile. It feels so feminine and modern at the same time (although I think it could also be great in a boy room, too, with the right colors and patterns!).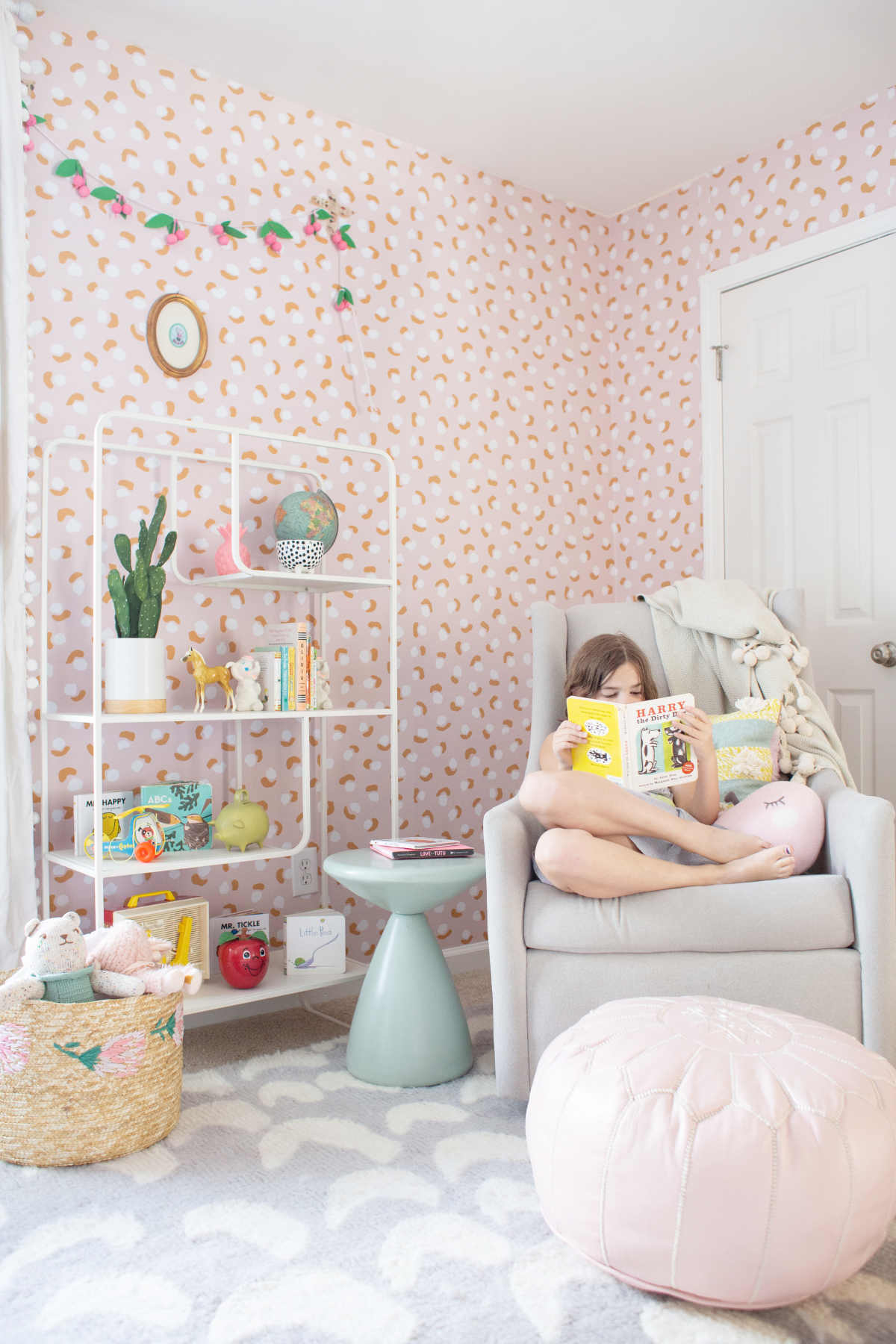 (Sources for above: Alana Bookcase; Spotted Wallpaper; Cosmo Side Table; Graham Glider; Pouf; Flower Basket; Tweedy Bear; Pig; Similar Cactus; Apple Pillow; In Flight Shag Rug)
I re-used this glider from Ellie's nursery - it's so comfy and has held up super well, so I was glad to get to keep it. I've already spent another round of long hours in this chair, rocking sweet Marjorie. I also love this pouf - this room is really tiny (although it doesn't appear so in the photos) - and the smaller profile and soft edges keep it from taking up too much space or becoming a trip hazard.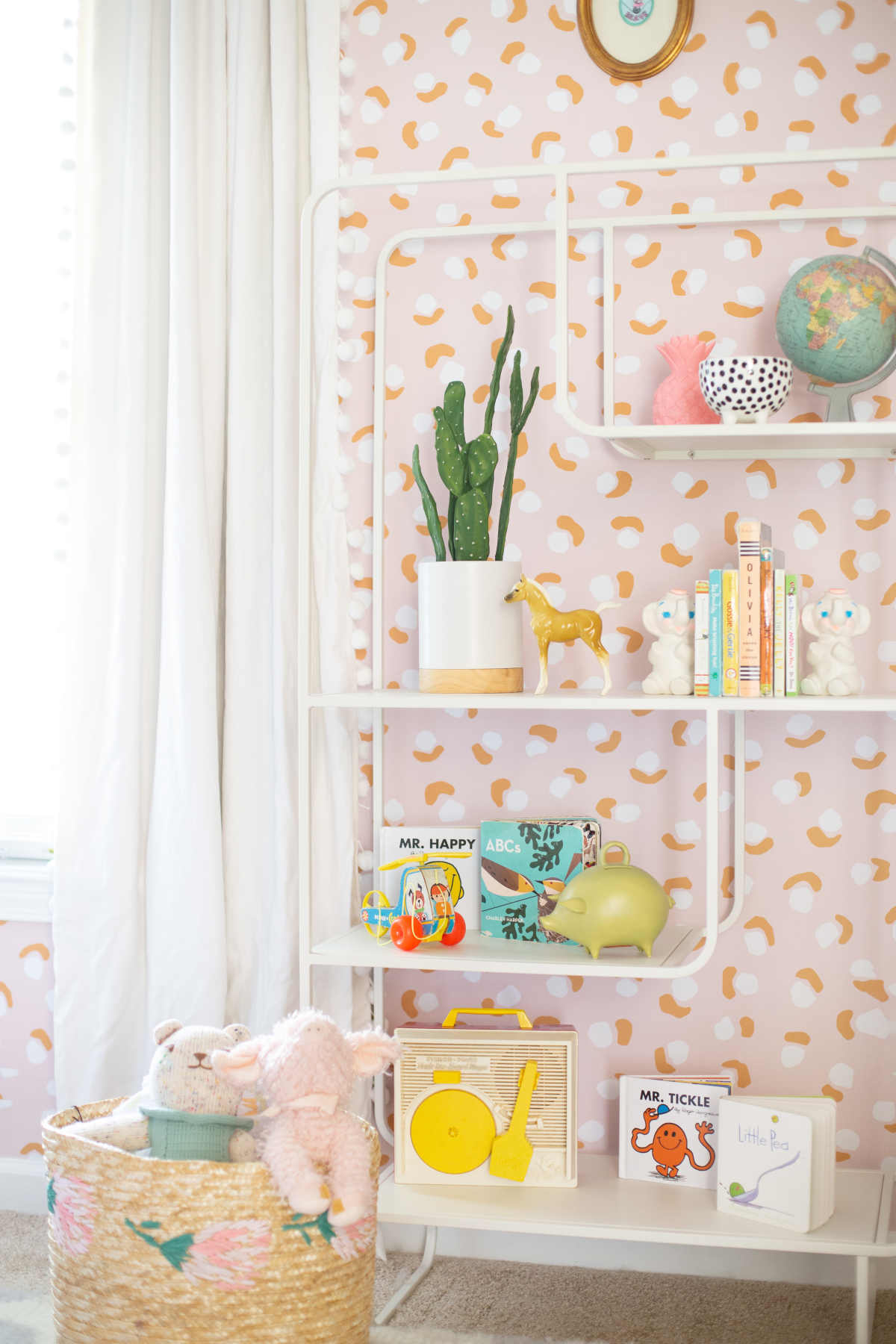 (Sources for above: Flower Basket; Tweedy Bear; Pig; Record Player; Similar Cactus; Mr. Tickle; ABC book; Little Pea; Spotted Wallpaper; Curtains)
This bookcase is super sweet (and affordable!) for displaying books and treasures. The big sisters love coming into the nursery to read a board book or two to their baby. Definitely be sure to anchor it to the wall if you have littles in the house!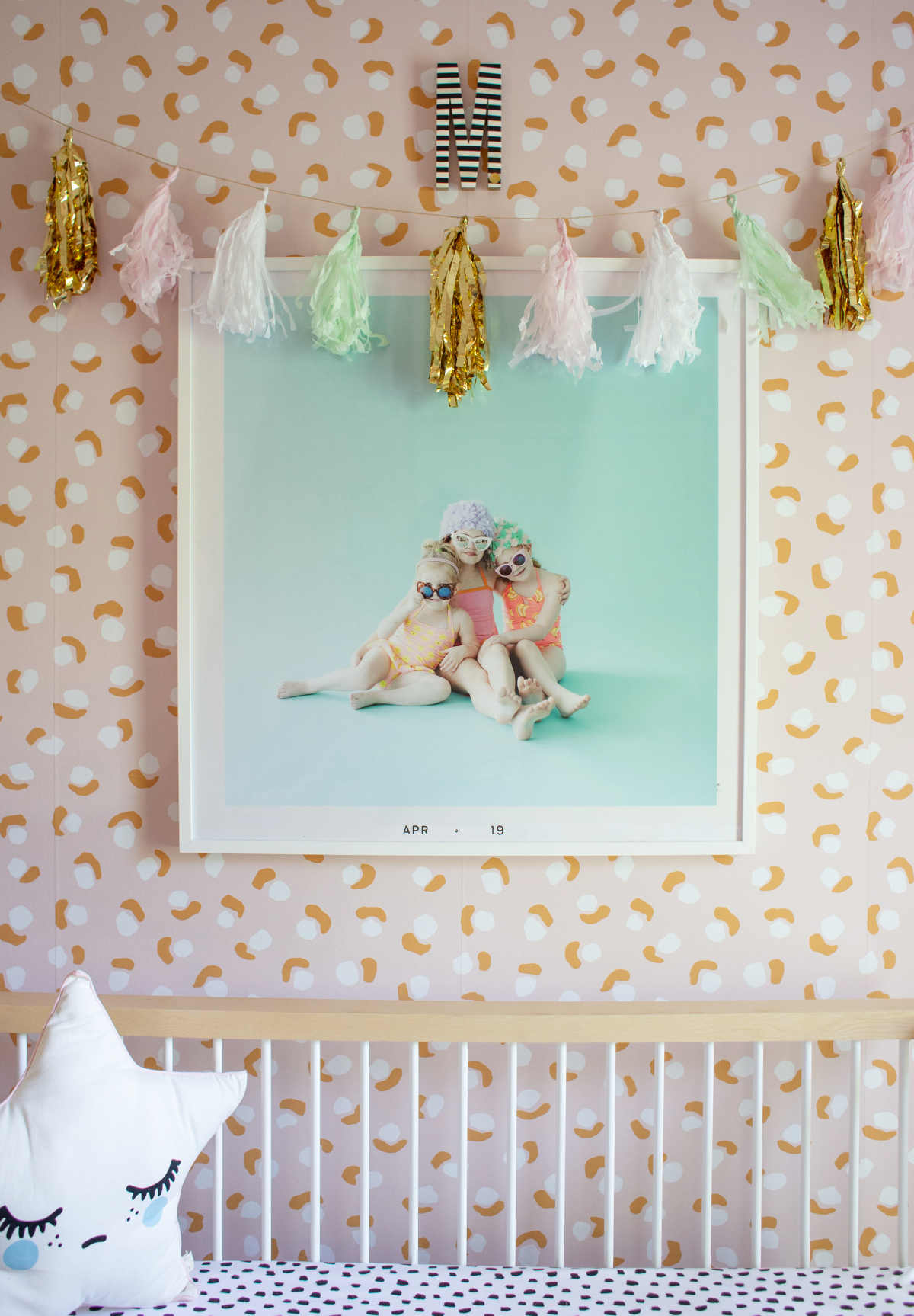 (Sources for above: Letter; Frame; Garland; Mod Crib; Spotted Wallpaper; Brush Stroke Crib Sheet; pillow from here and no longer available, but they have lots of other cute ones!)
One of my favorite parts of the nursery is this photo hanging above Marjorie's crib. I though it would be really sweet to have a picture of her big sisters to look at, and I had it in my head to create an image that looked like a vintage bathing suit ad. My talented friend Sara Harper took an afternoon to photograph my crazy girls - it was so fun, and I am completely crazy about the pictures we got! I bought this backdrop for a solid, punchy color, and then printed and framed it via Framebridge for a really beautiful, but affordable, standout piece of art that I'll treasure forever.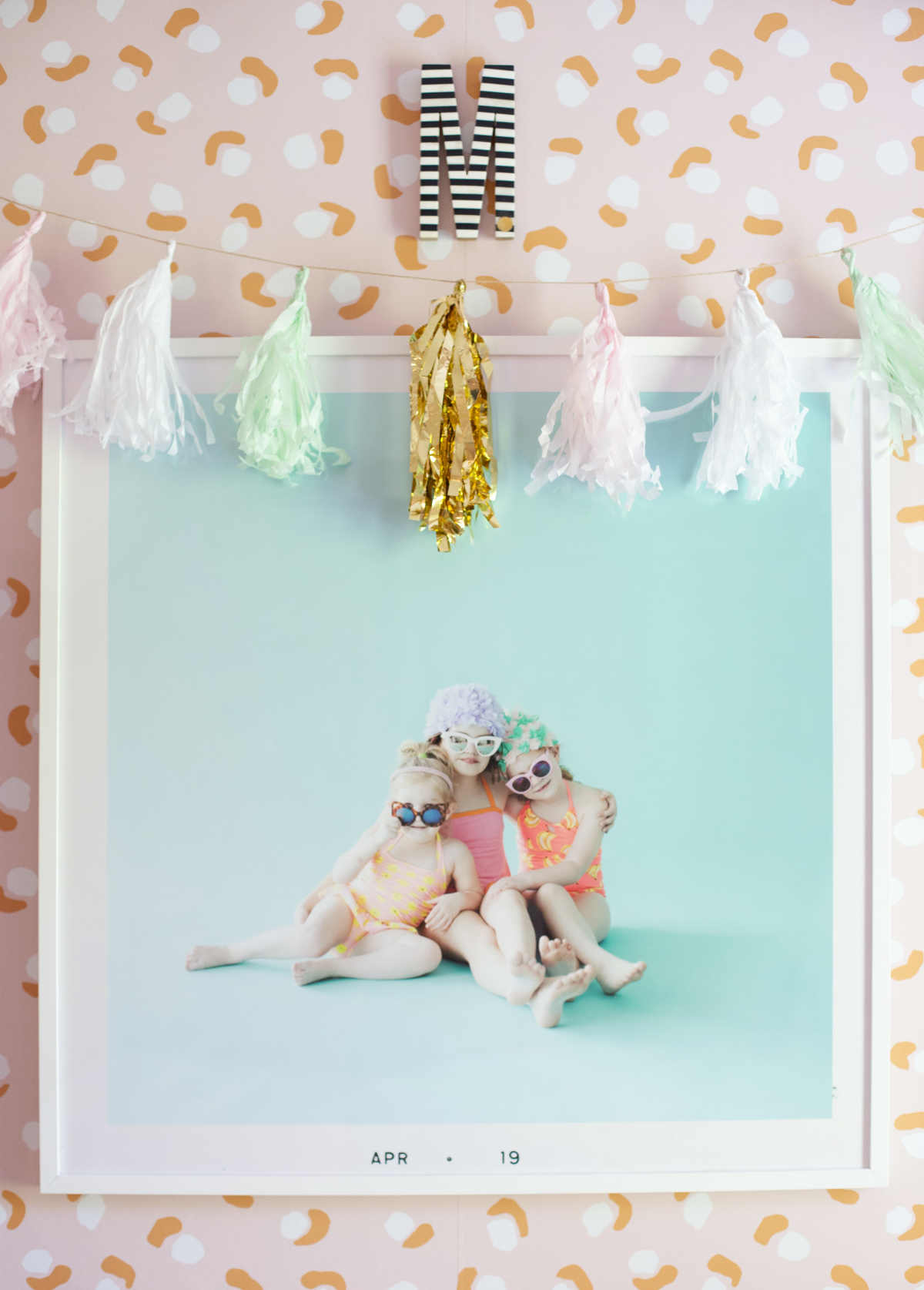 I mean, can you even handle how cute they are?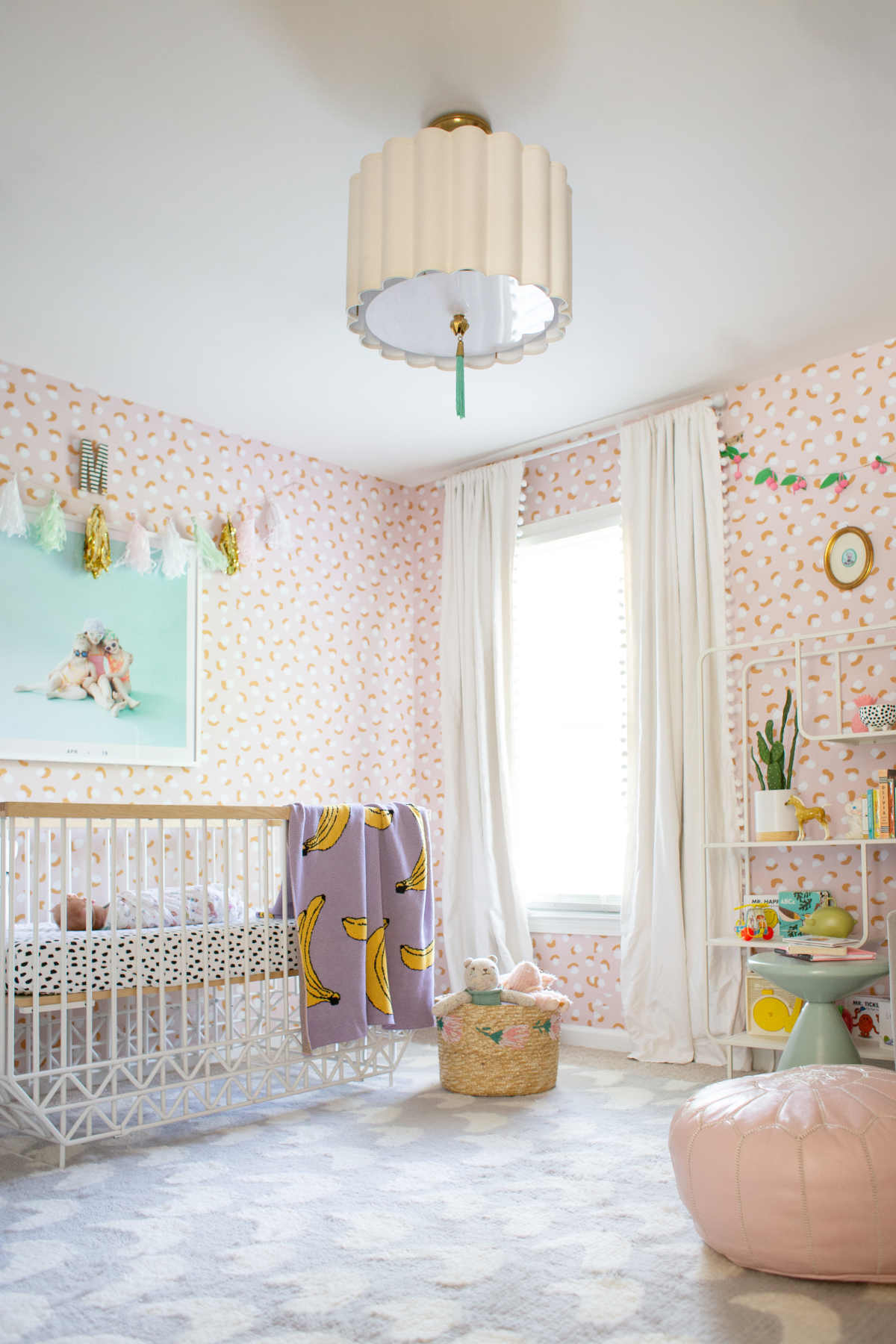 That pretty aqua blue is the perfect punch on that wallpaper, too, and I also love the contrast the crib sheet and banana blanket bring to the space.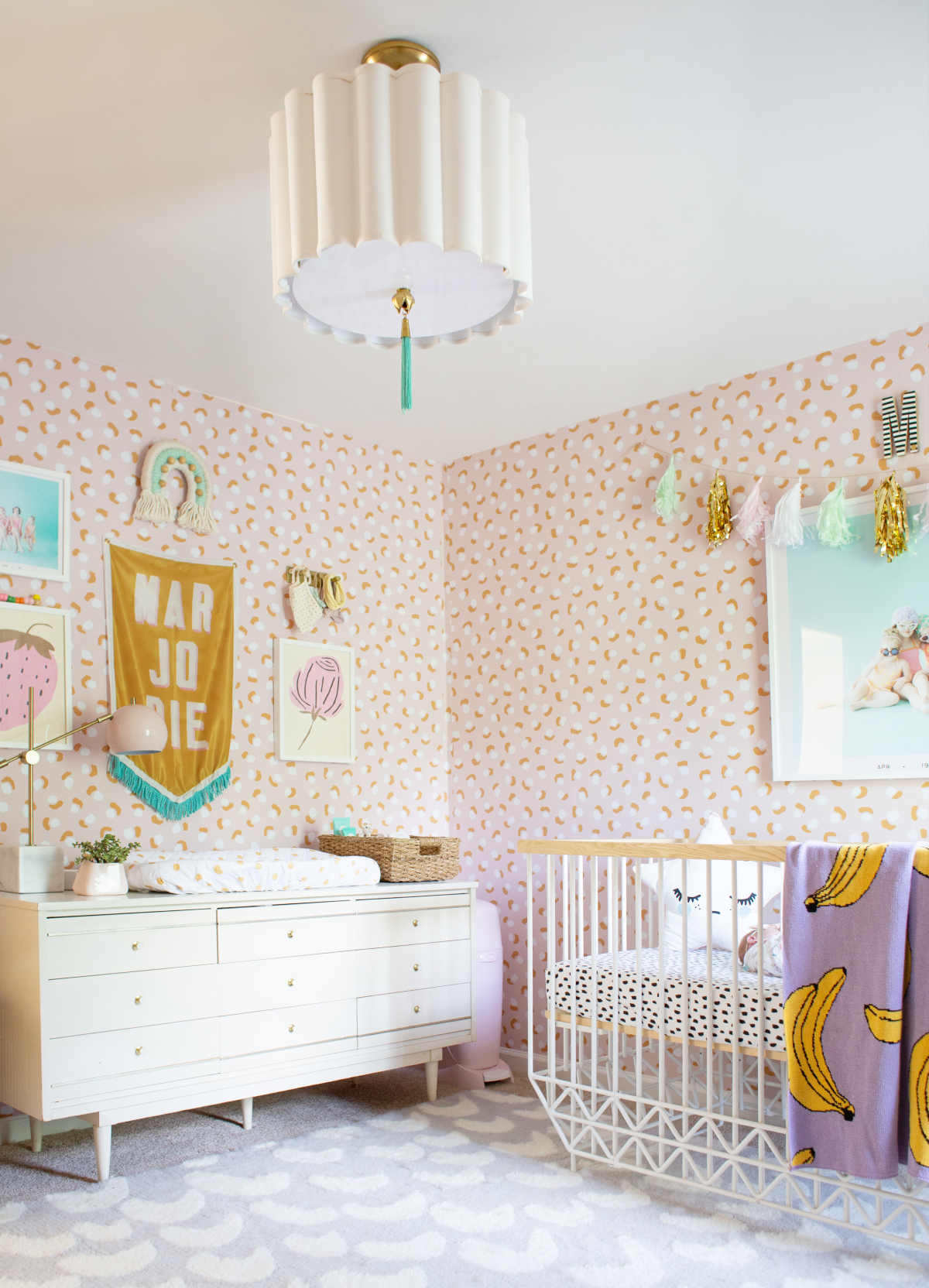 For the changing table, I'm using the same vintage dresser (that my mom found for $50!) from Ellie's nursery. It's one of my favorite pieces of furniture, and I love getting to use it over and over. (Love this one, too!)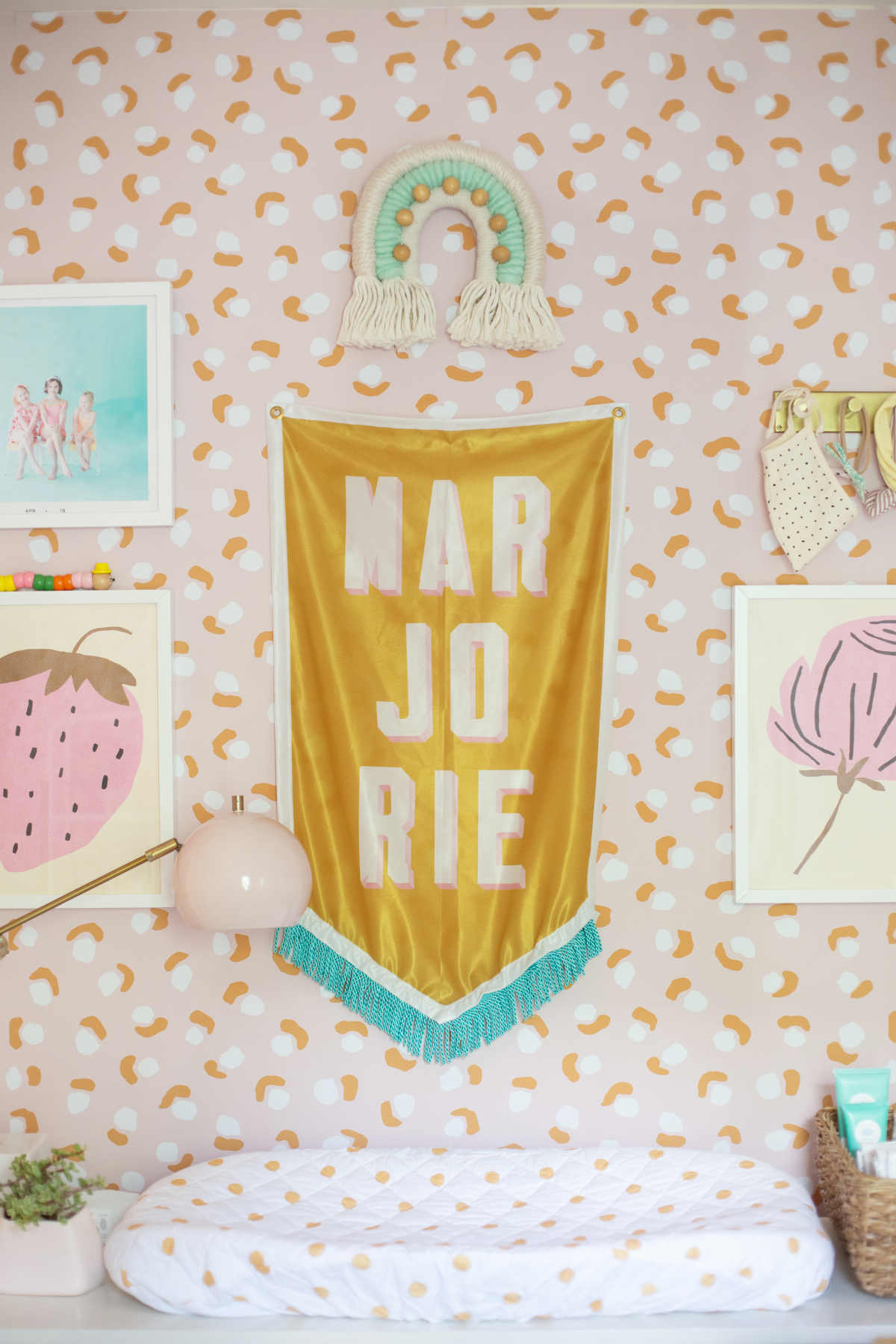 (Sources for above: Rainbow; Strawberry Print; Rose Print; Changing Pad Cover; Small Basket; Spotted Wallpaper)
I designed the flag and had it printed, and added that fun fringe to the bottom. Ellie also started calling the baby "Strawberry" before she was born, so I was really happy to find these two pieces of art that were just perfect. I printed another one of Sara's photos via Framebridge, and added those hooks for Marjorie's little bonnets and bows.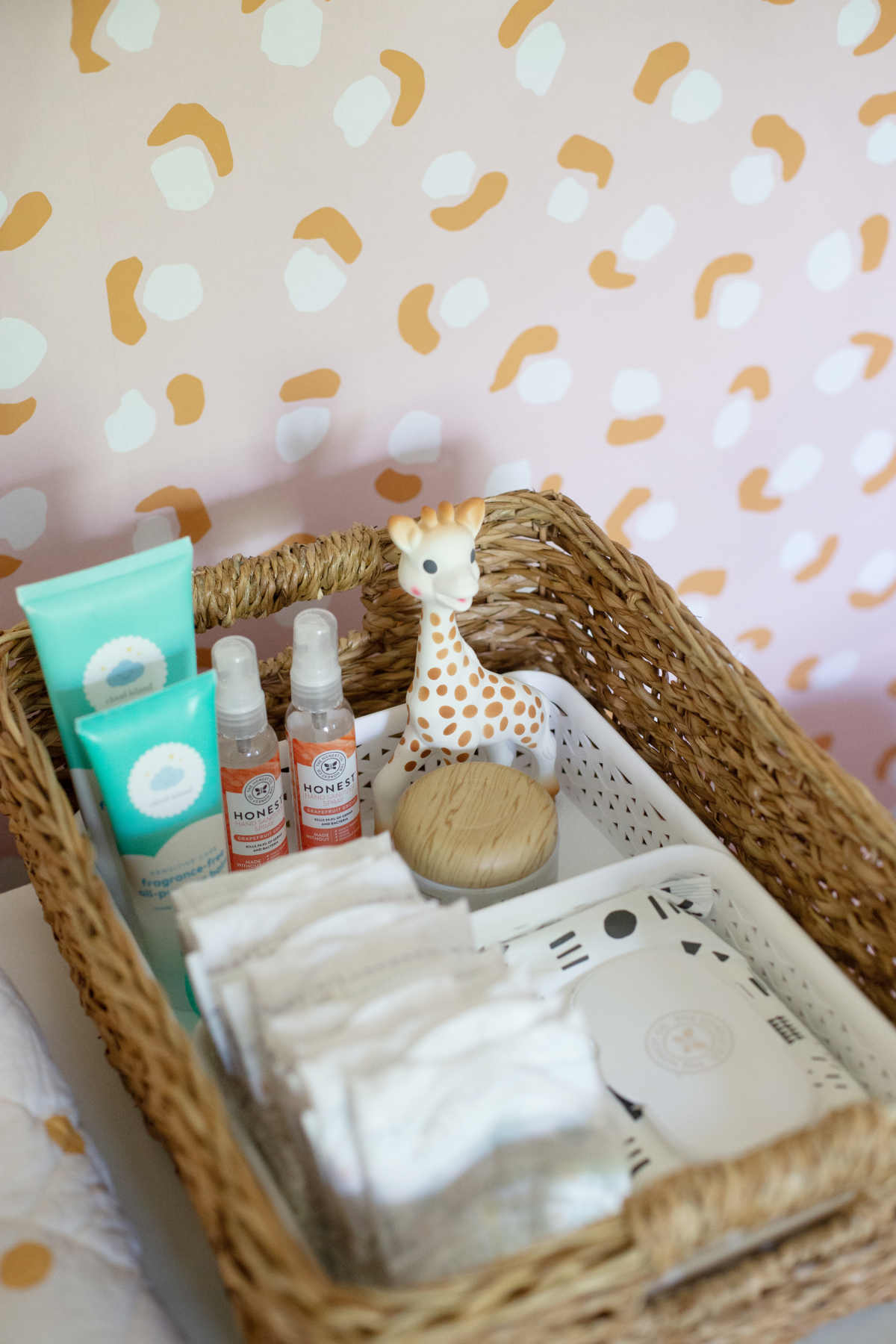 (Sources for above: Cloud Island Baby Stuff; Honest Hand Sanitizer (my fave!); Sophie; Coconut Balm; Pampers Pure Diapers; Honest Wipes; Organizer Trays; Basket)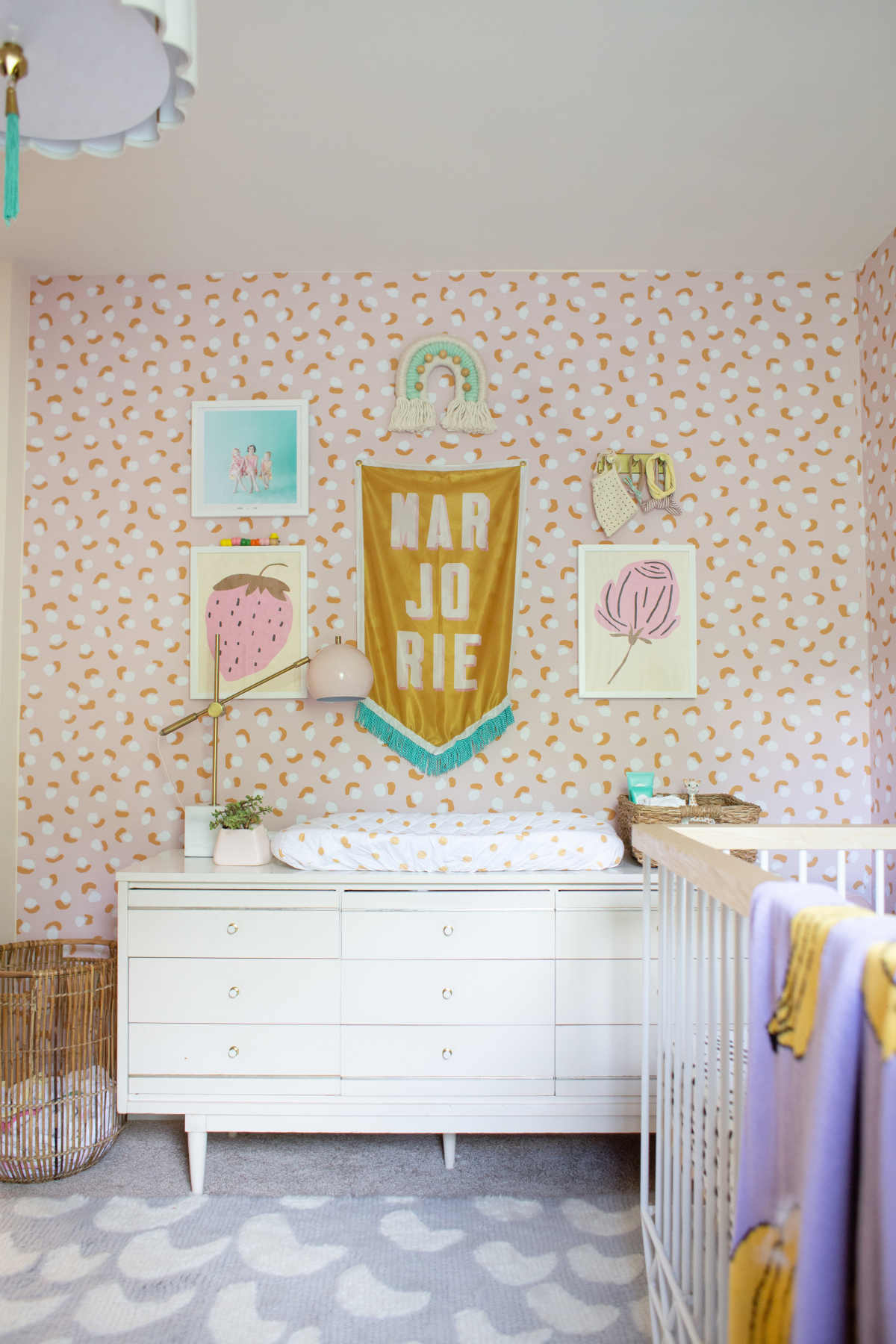 These baskets also make me super happy - I use the larger one for laundry, and this small one for organizing all the baby things. I love the bit of texture they bring to the room.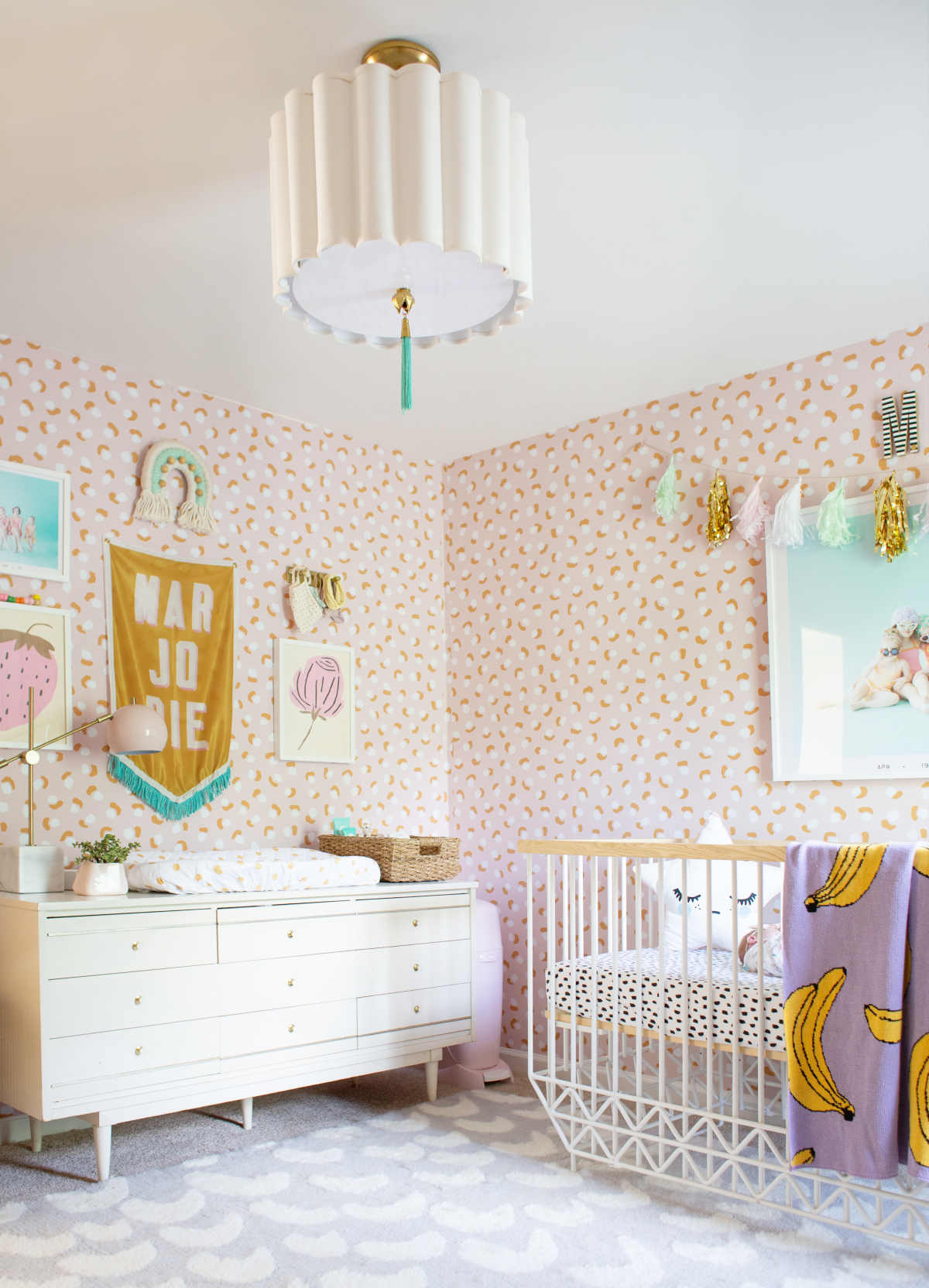 This room makes me so happy; it's such a bright spot. This is the reason I do what I do; the life change that having a baby brings can be a challenge. Honestly, Marjorie has been such a sweet, peaceful baby, but the transition of becoming a mother can be really hard (it certainly was for me with my first!). Having a happy place in which to spend long hours and nights can be such a spirit lifter. I'm a big believer in the idea that your surroundings impact your mood!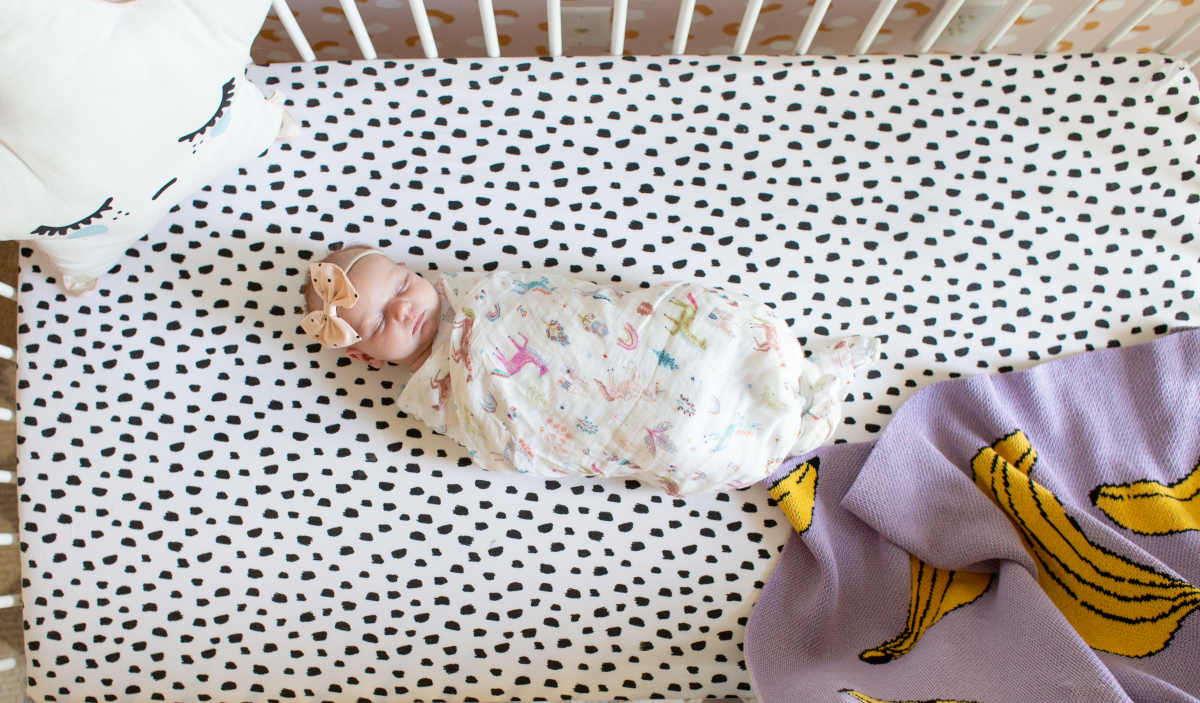 Please let me know if you have any questions; I'd love to answer them about any details I may have forgotten! I'll be posting soon about my tips for making a rental home feel personal, too!