Ellie James' Nursery
pastel baby room ideas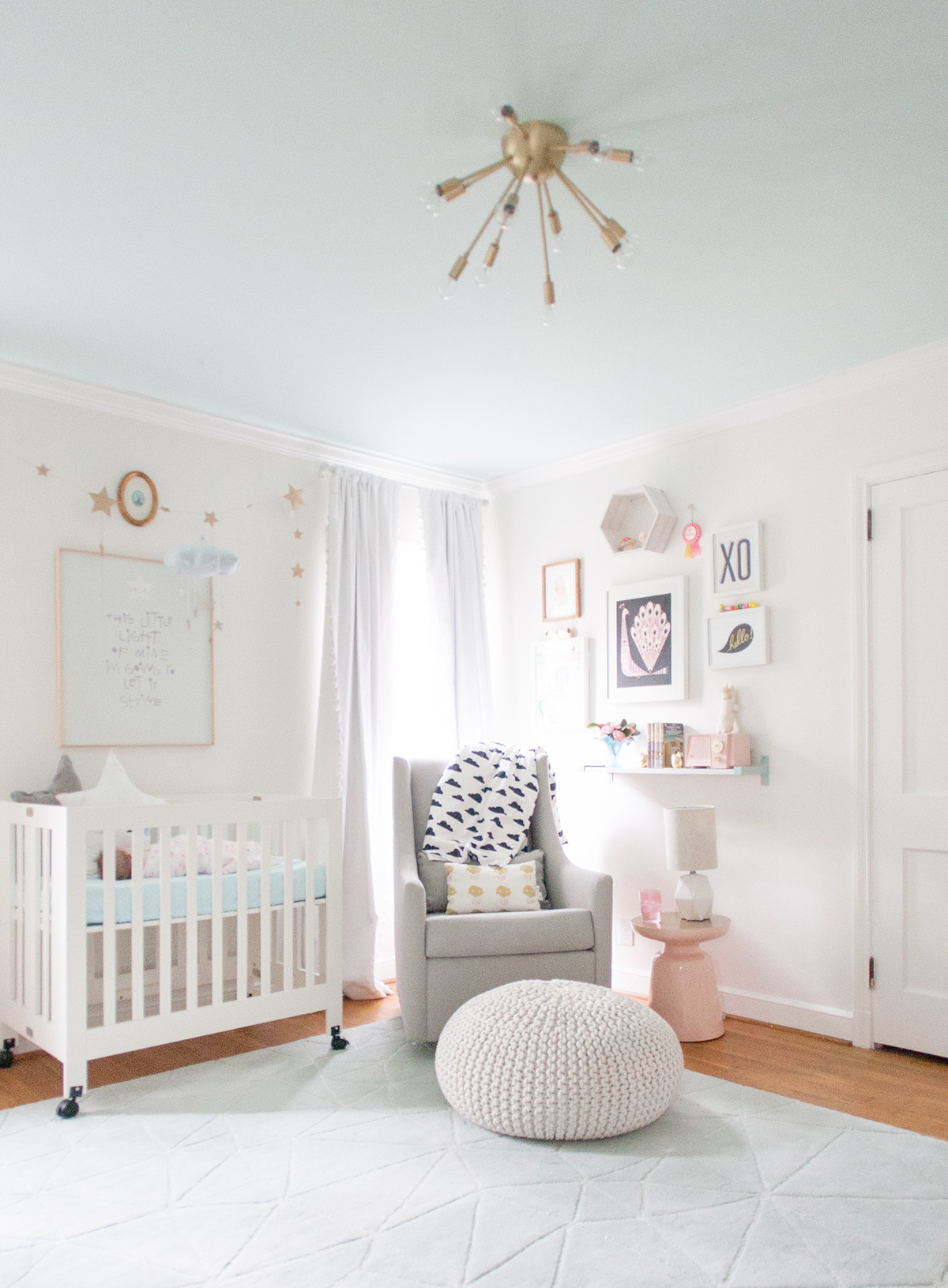 I'm excited to be sharing little Ellie James' nursery today! This room is such a happy space; I have enjoyed spending lots of time in here, snuggling, feeding, and changing our new baby girl. It has quite a different feel from Brigie's room! It's super light, bright, and airy.
(sources for above: Babyletto Origami Crib; Graham Gilder in Ash Grey; Metallic Knit Pouf; Cloudy with a Chance of Duvet; Pink Martini Side Table; Faceted Lamp; XO Print; Hello Print; Crystal Mosaic Rug; Honeycomb Shelf; Pom Pom Curtains; Sputnik Light Fixture)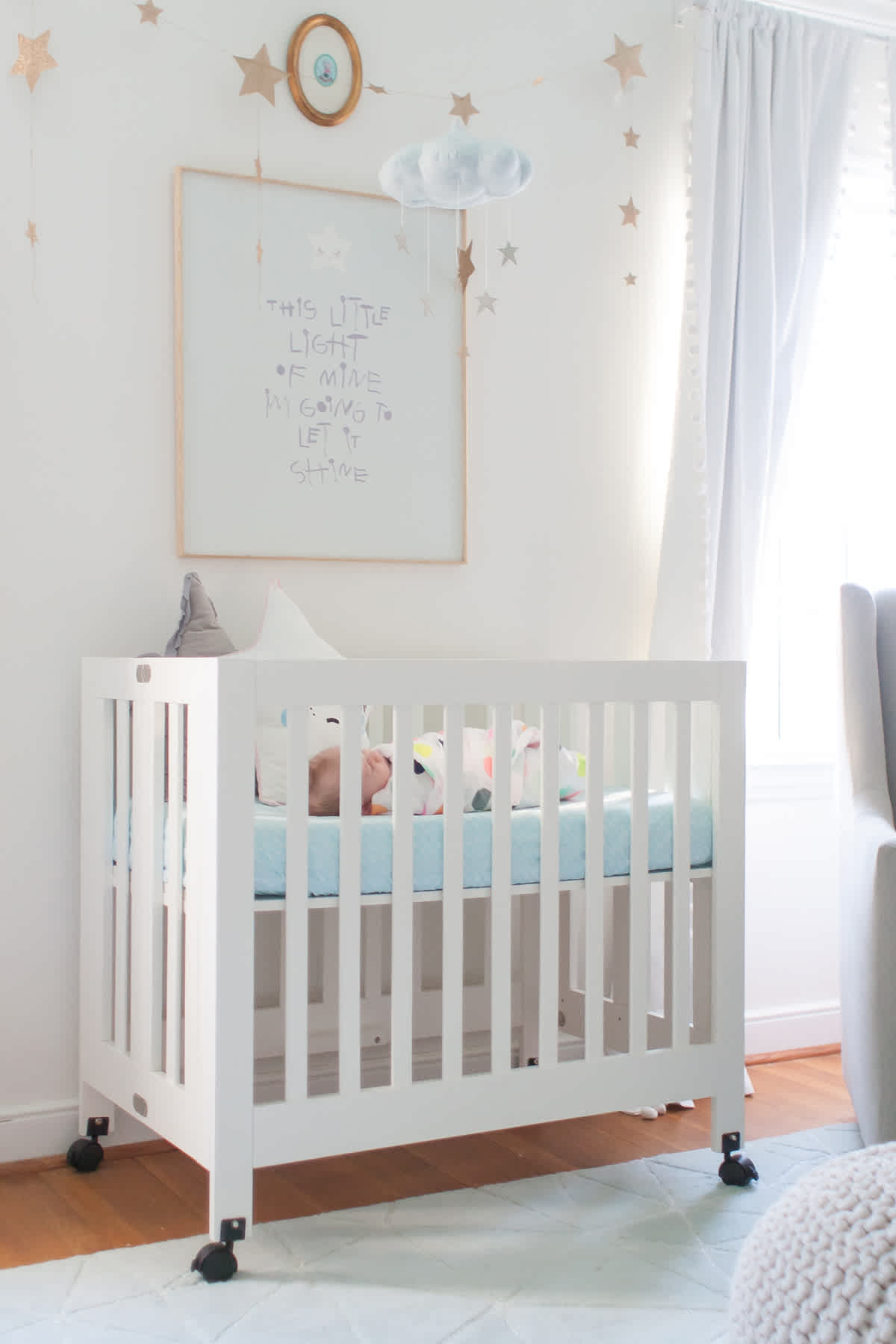 I adore that sweet little origami crib! It's such a great option if you are short on space, or plan to share a room with baby. It also folds up neatly, so you can take it to the grandparents' easily.
(sources for the above: Babyletto Origami Crib; This Little Light print; Falling Star Garland; Cloud Mobile; Pom Pom Curtains; Crystal Mosaic Rug)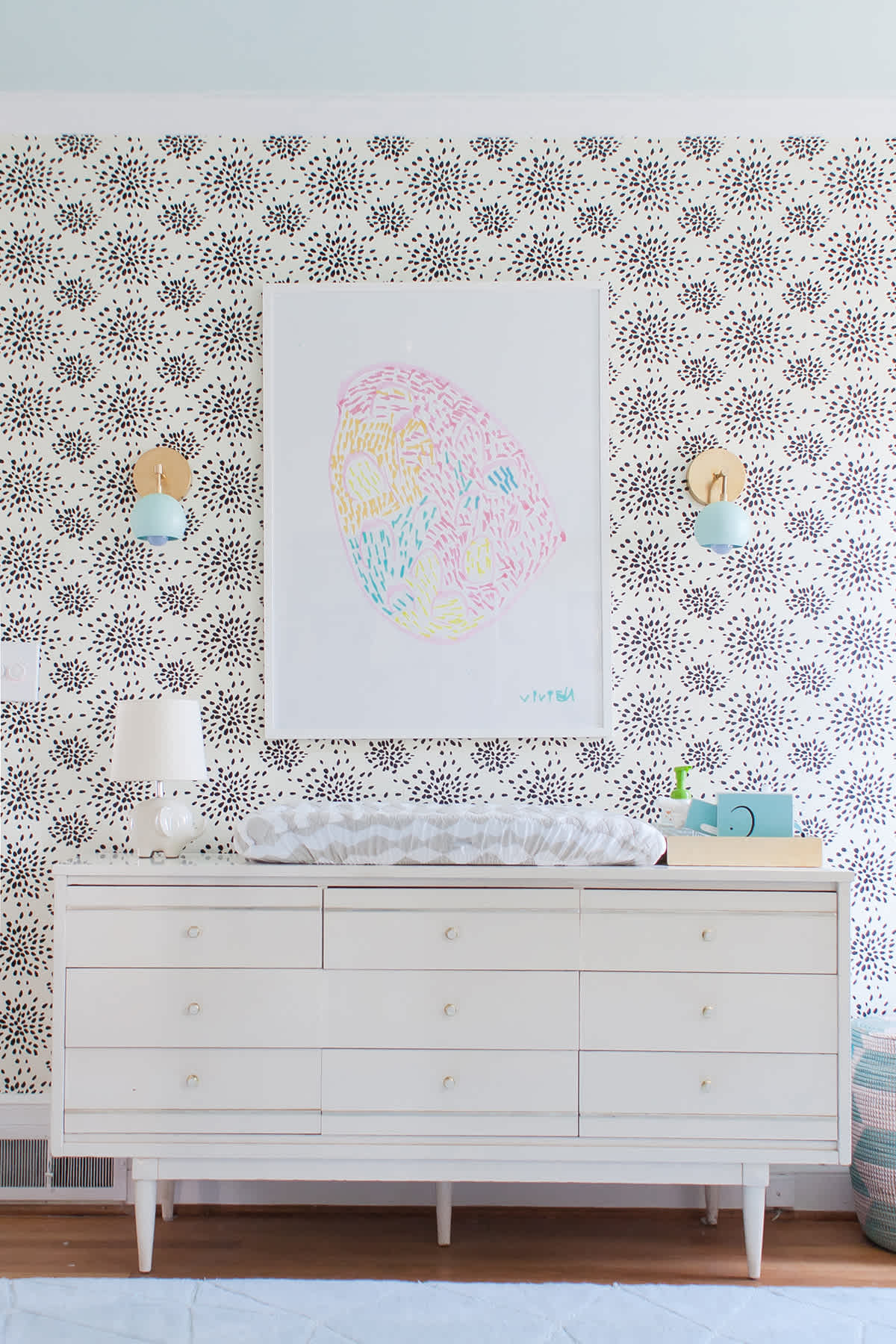 We switched the walnut dresser out with the other vintage one we had in the living room for a brighter look, and it looks really fun with Hadley's fireworks wallpaper, which I still adore. Those mint sconces just take the cake, and the artwork is a fun piece Vivi drew last summer. I blew it up and sent it to Framebridge to have it printed and framed large scale. I love having her little thumbprint on her baby sister's space!
(Sources: Elephant Lamp (it's a UK lamp, so it's not compatible for US outlets - my dad re-wired it!); Mint Loa Sconces; Mod Botanical changing pad cover; The Egg Print; Charming Basket)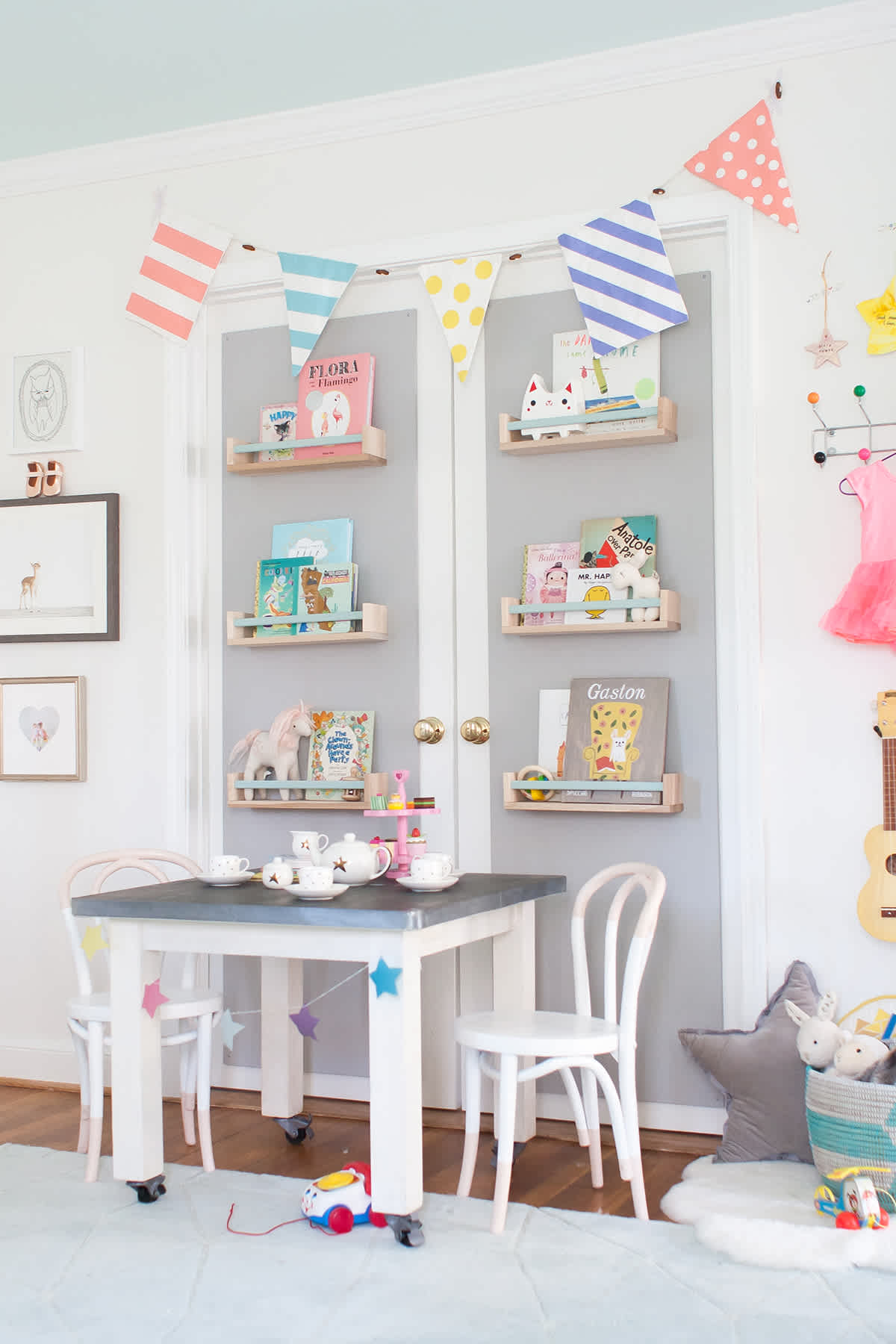 On the other wall, I wanted to make a little room for the big sisters to play or spend time. Formerly, this room was our dining room and there was an arched opening between it and the living room. To turn it into a bedroom, we closed in the arch with french doors so we can still keep it open if we wish. It sort of felt like a lot of unusable wall space, though, so we cut some plywood panels to black out the windows, and used these spice racks for inexpensive book shelves. It adds a lot more interest to the wall, not to mention some handy storage. I love that sweet table, and those dipped Thonet style chairs from RH Baby & Child are just precious!! It's the perfect space for Vivi and Brigette to have a tea party, read, or color.
(sources: schoolhouse table; dipped french cafe chairs; spice racks; maritime garland; cloud rug; teaset)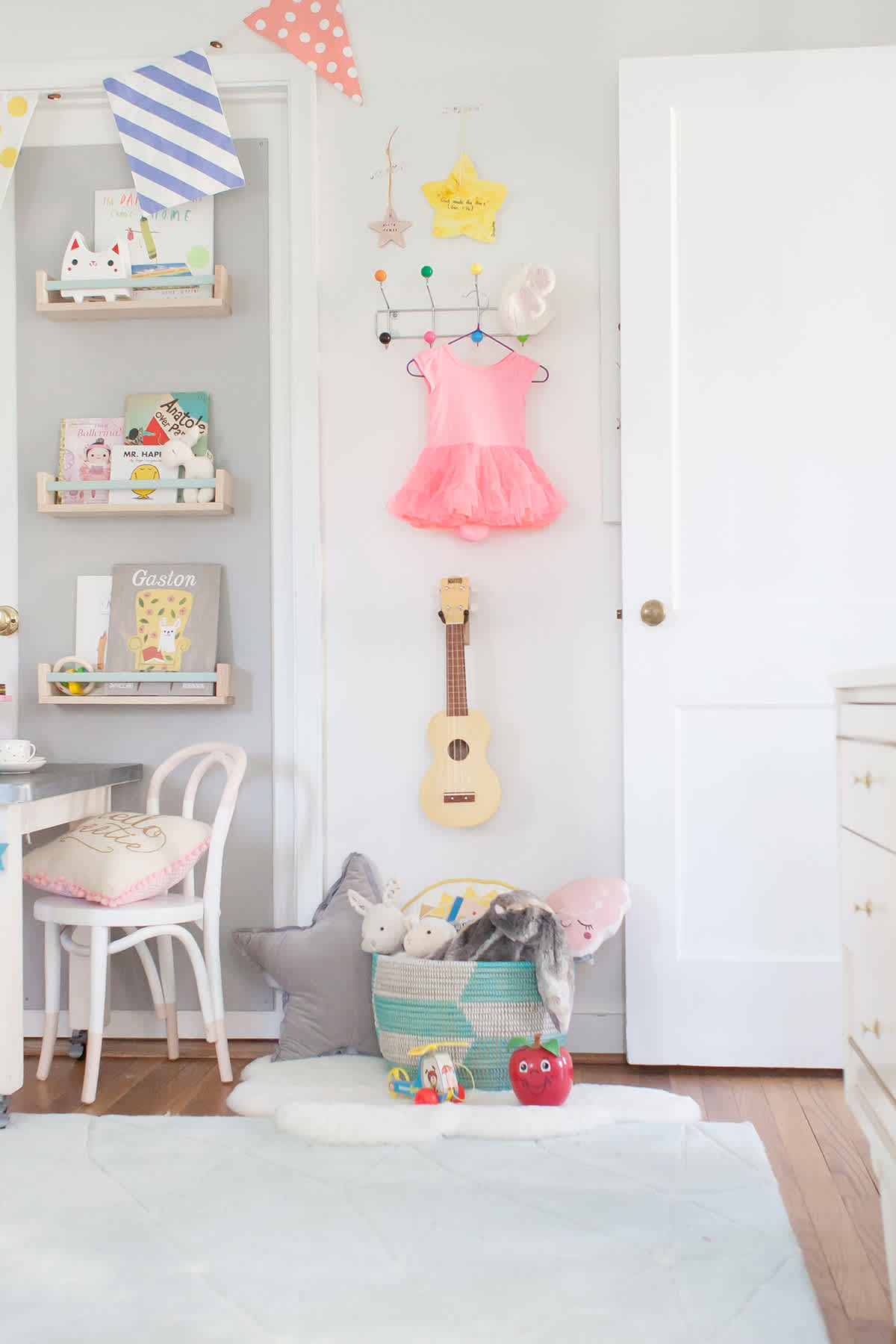 Here are a few more details!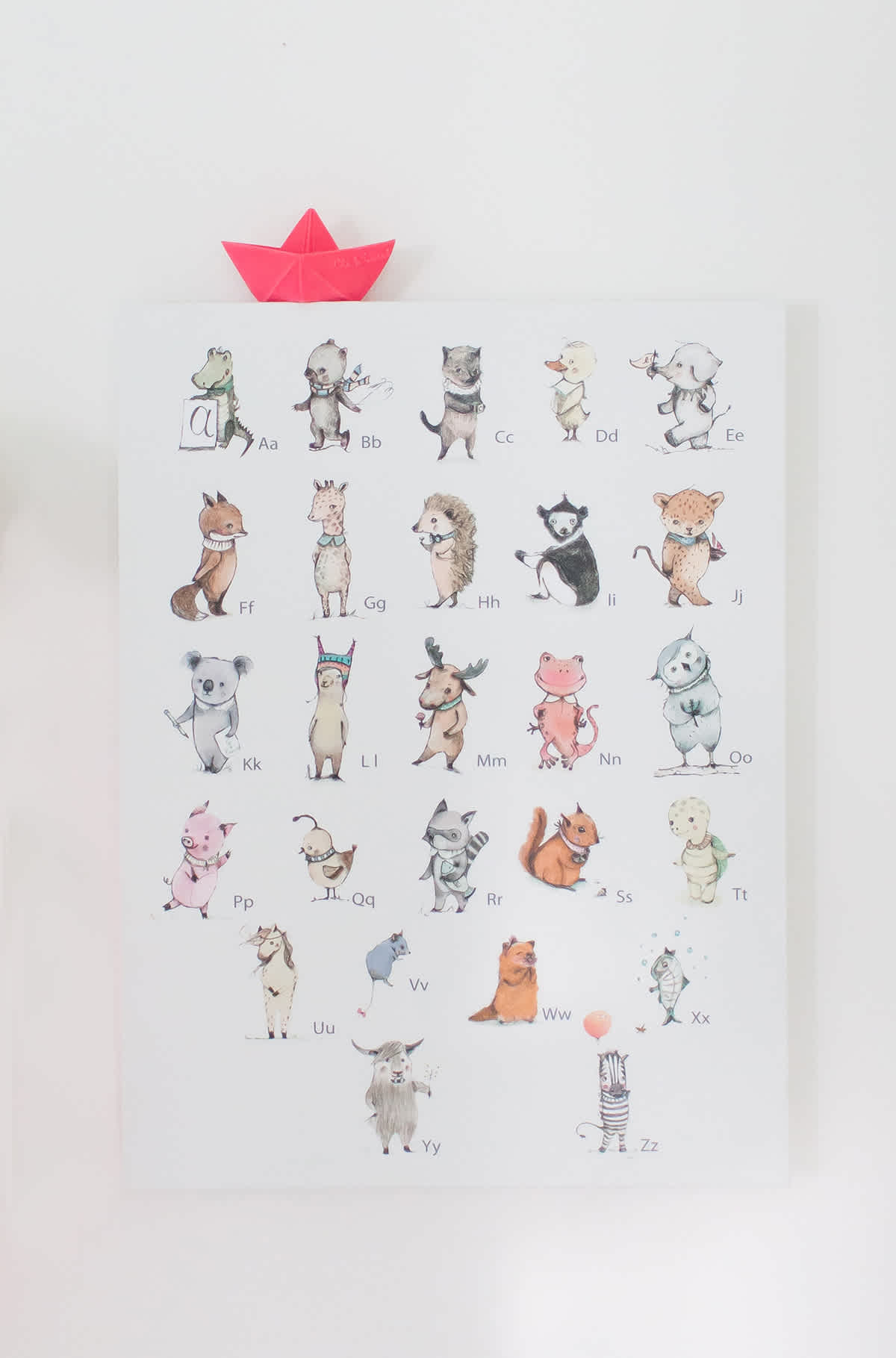 This animal canvas is always a favorite - it's so sweet! I also love these teethers/bath toys from Olli & Carol. They are available in the sweetest shapes and colors. I have a few stashed up high so the big sisters don't stash them away before Ellie can use them!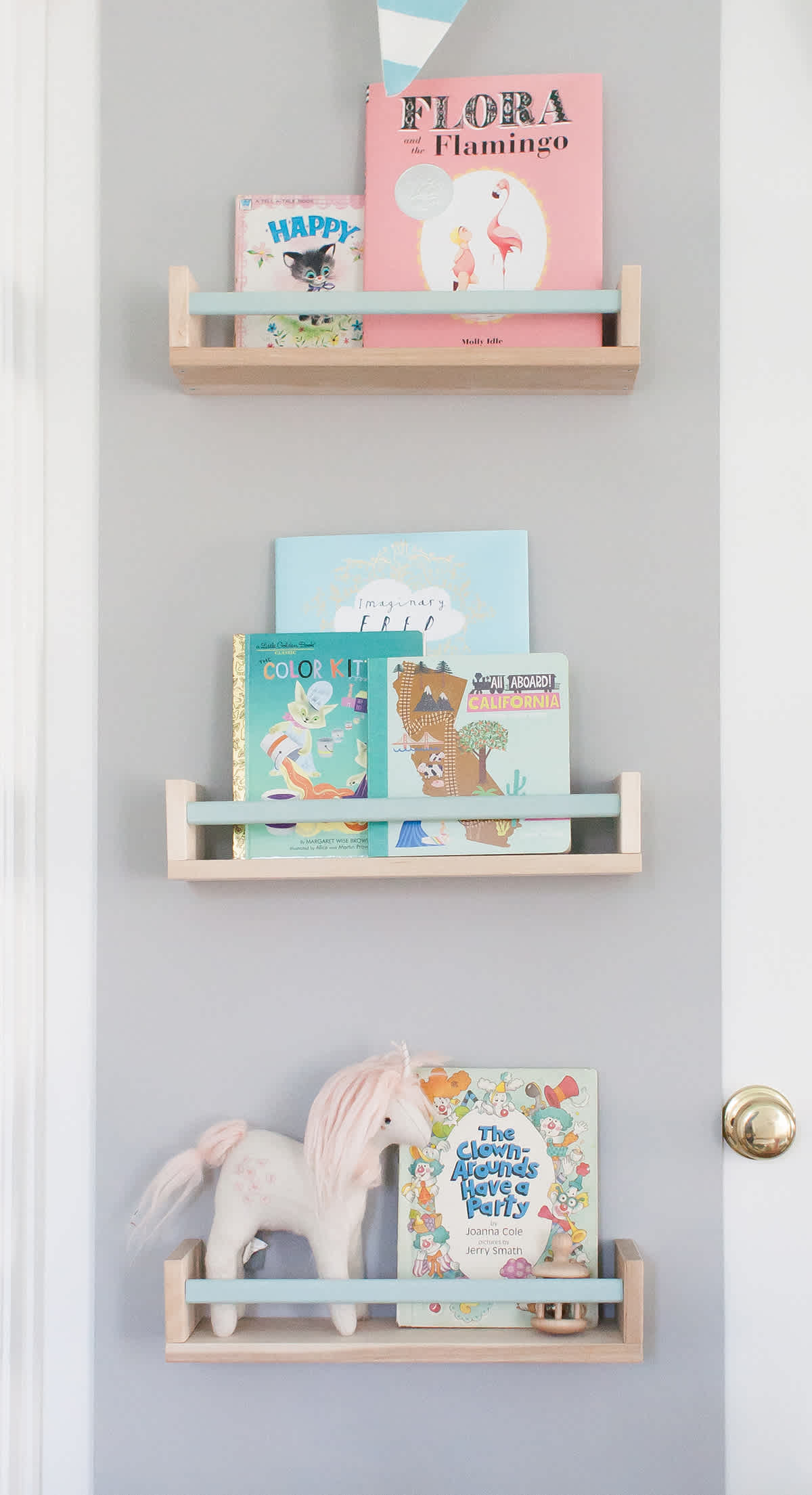 I'm certainly not the first to do this, but these spice racks are just the perfect storage at a great price (only about $4 each!). I painted the front bar for a fun detail, and filled them up with favorite books and toys.
(sources: Flora the Flamingo; Imaginary Fred; The Color Kittens; All About California; Unicorn; The Clown Arounds; Wooden Cage Rattle)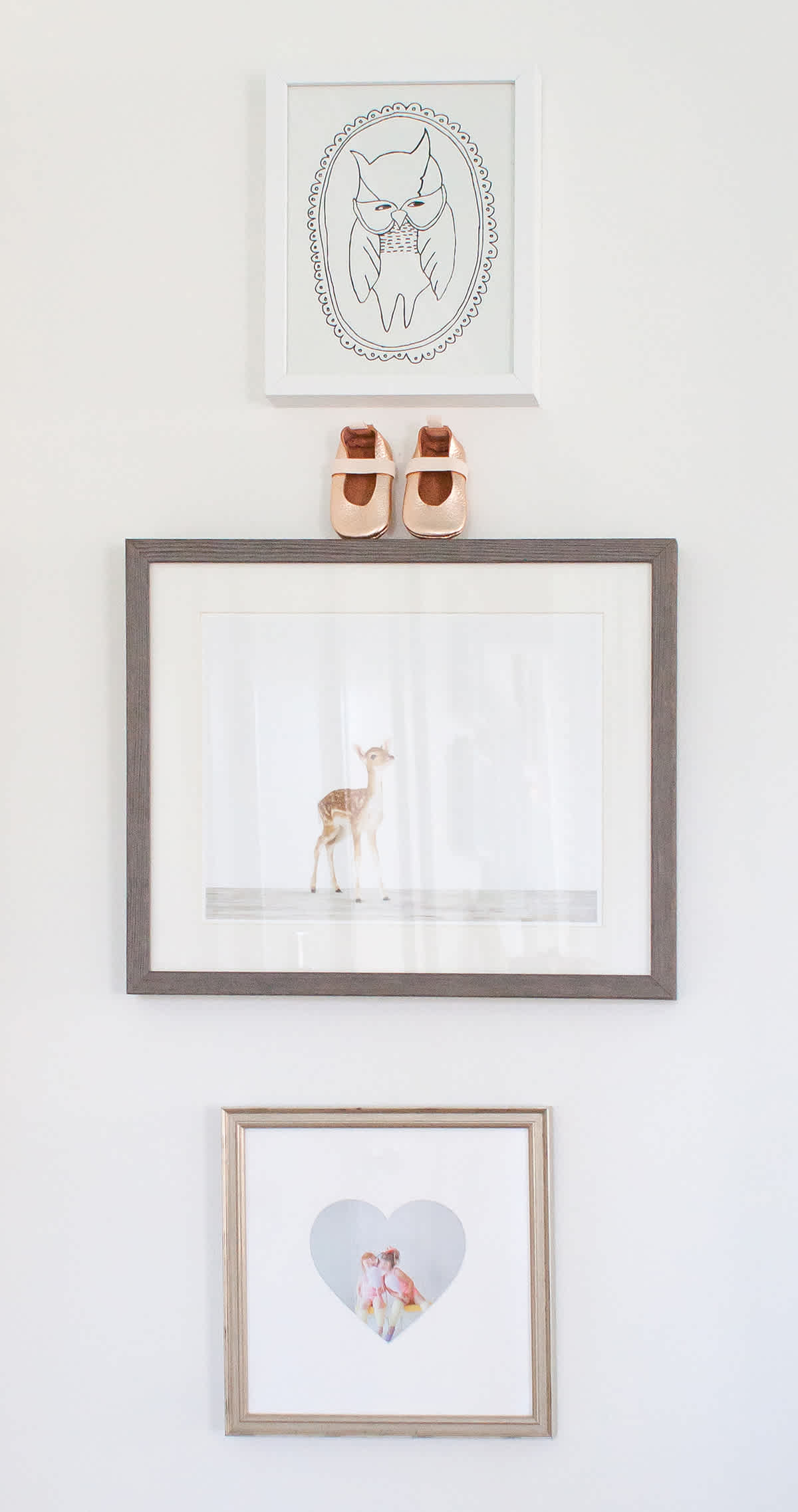 I'm always a fan of Sharon Montrose's photography, and this deer print is the sweetest! That owl print (love all of Alphonnsine's art!) just makes me happy, and that photo of her big sisters is perfect in the heartstagram from Framebridge.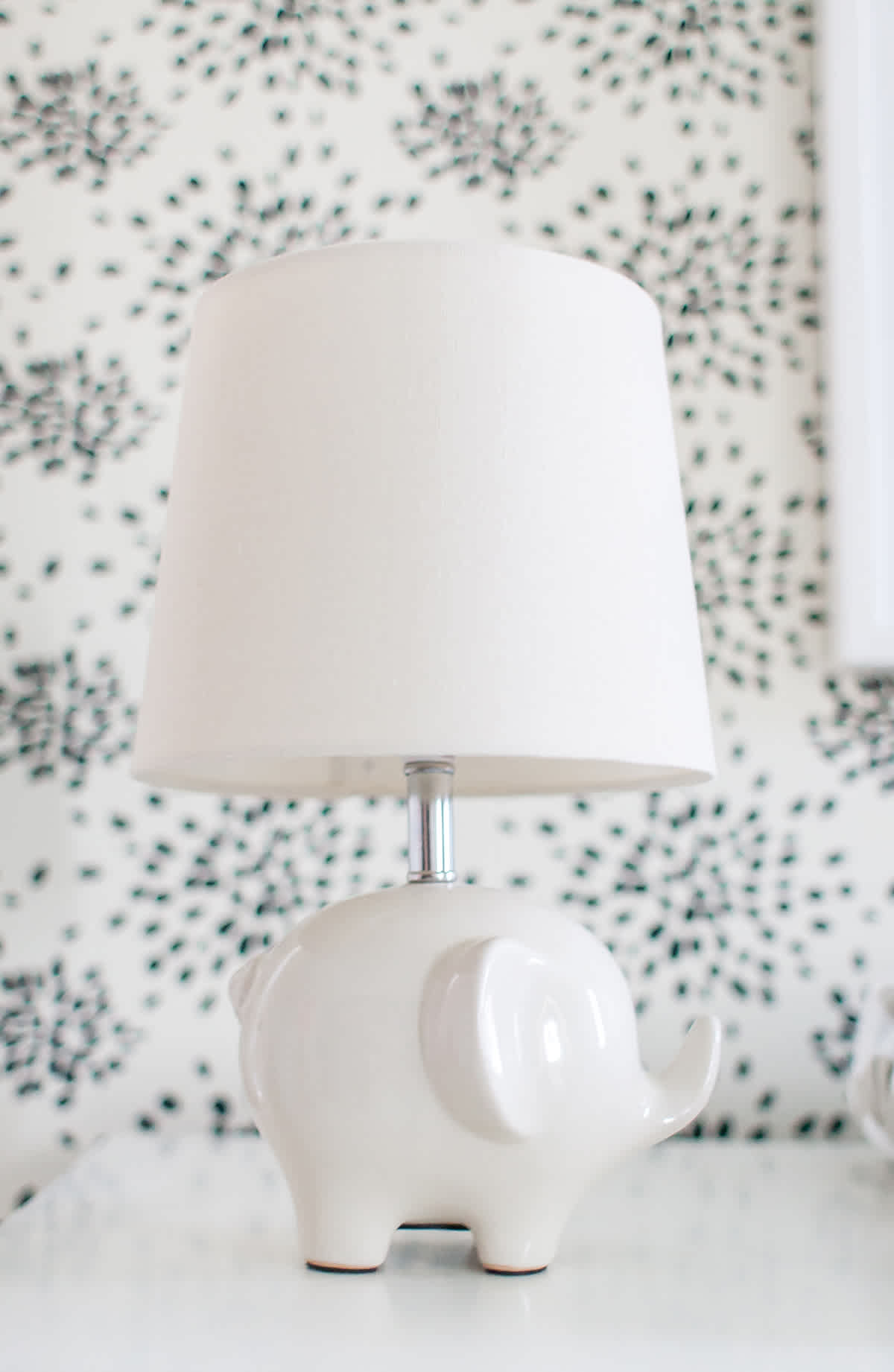 This elephant lamp has a bit of a retro feel to me; he has so much personality! Unfortunately, it's from the UK, so if you don't have someone to re-wire it for you (thanks, Daddy!) it's a bit useless, but so adorable, still!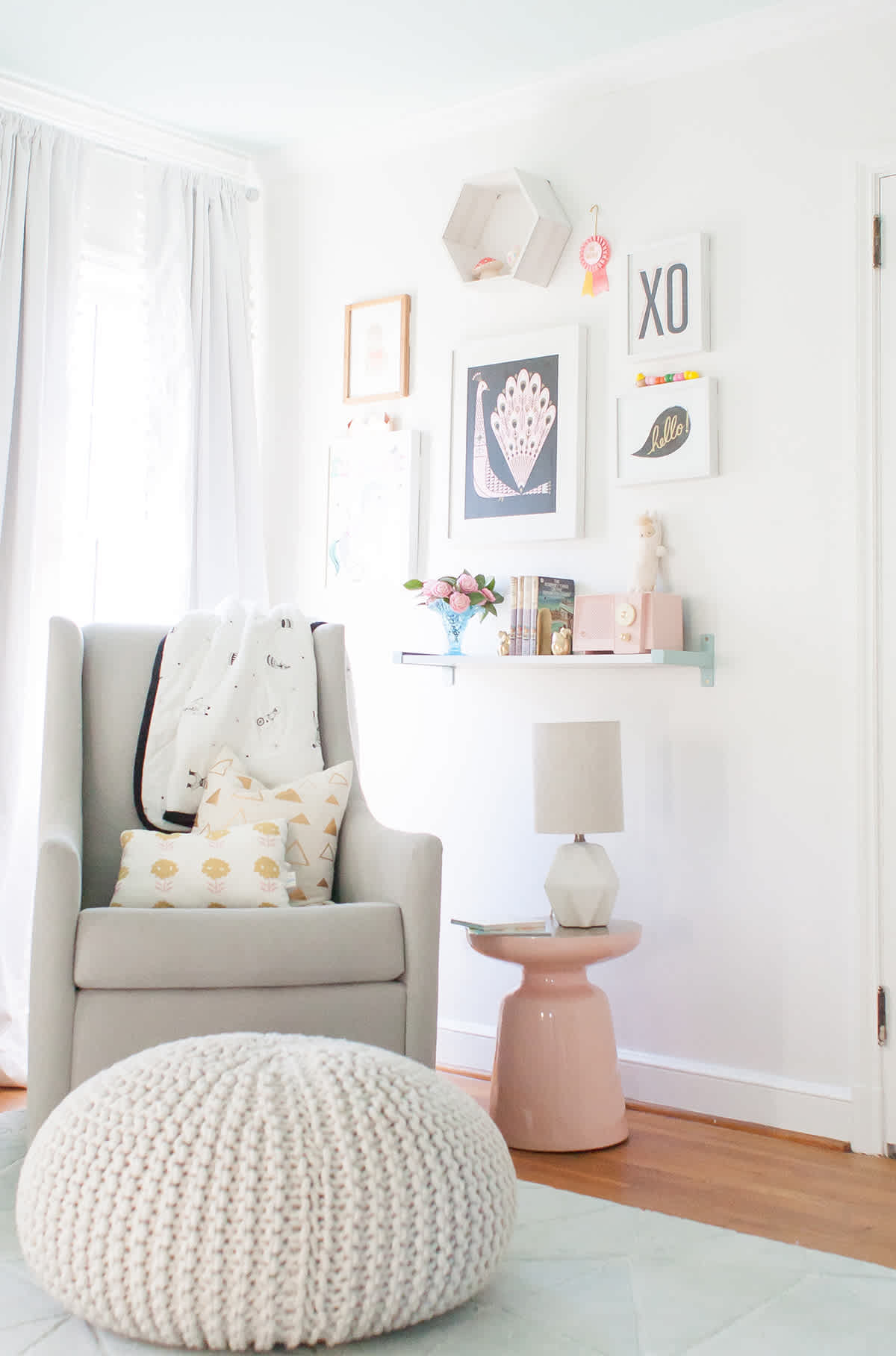 We went with the West Elm Graham Glider in Ash Grey for the nursery, and I love it! It is so comfortable, and the perfect blend of comfort and clean lines, in my opinion. I love the high back and it's been really comfy for nursing and rocking Ellie. Regardless of what kind of rocker/glider you choose (see some reviews here), I'd definitely recommend getting a footrest of some kind. I slept probably too many hours in this chair with Ellie during her first few weeks, and this pouf definitely made things more comfy . It has a metallic thread woven throughout that is so pretty. Those pom pom curtains are also gorgeous in person; they have blackout lining so you don't need another set of panels.
(sources: Pom Pom curtains (optic white); Graham Glider; Metallic Knit Pouf; Duvet; Pink Martini Table; Faceted Lamp; Crystal Mosaic Rug; XO Print; Hello Print; Honeycomb Shelf)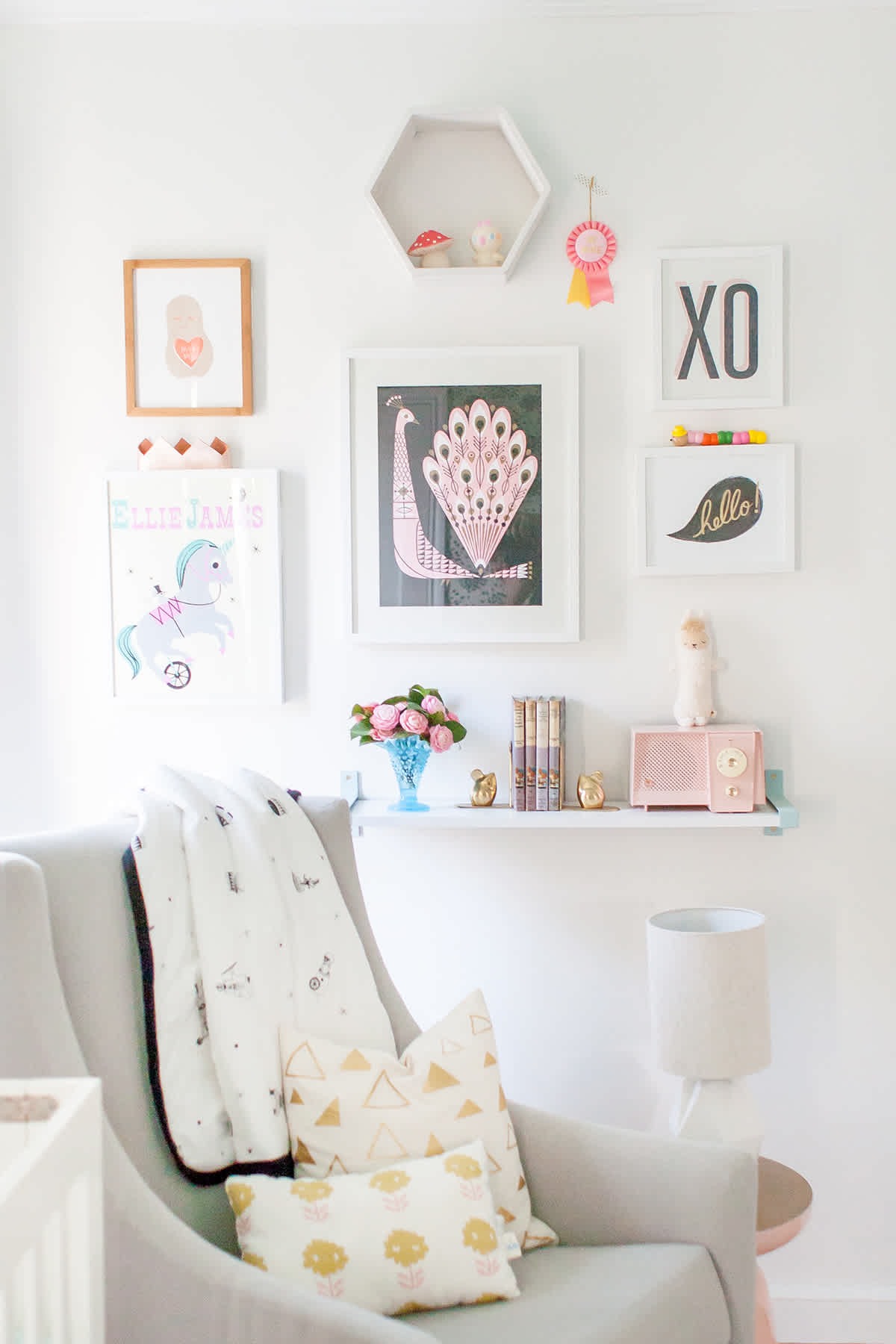 This little collection of art is some new, and a couple of things I had stashed away that I bought awhile back. Most of them are framed in simple IKEA frames, so they all sort of go together. The shelf is an IKEA shelf and brackets and I painted the brackets blue and used pretty brass screws.
(sources: Gold Triangle Pillow; Duvet Cover; Graham Glider in Ash Grey; Vintage Radio; Unicorn Print; Hello Print; XO Print; Honeycomb Shelf; Faceted Lamp)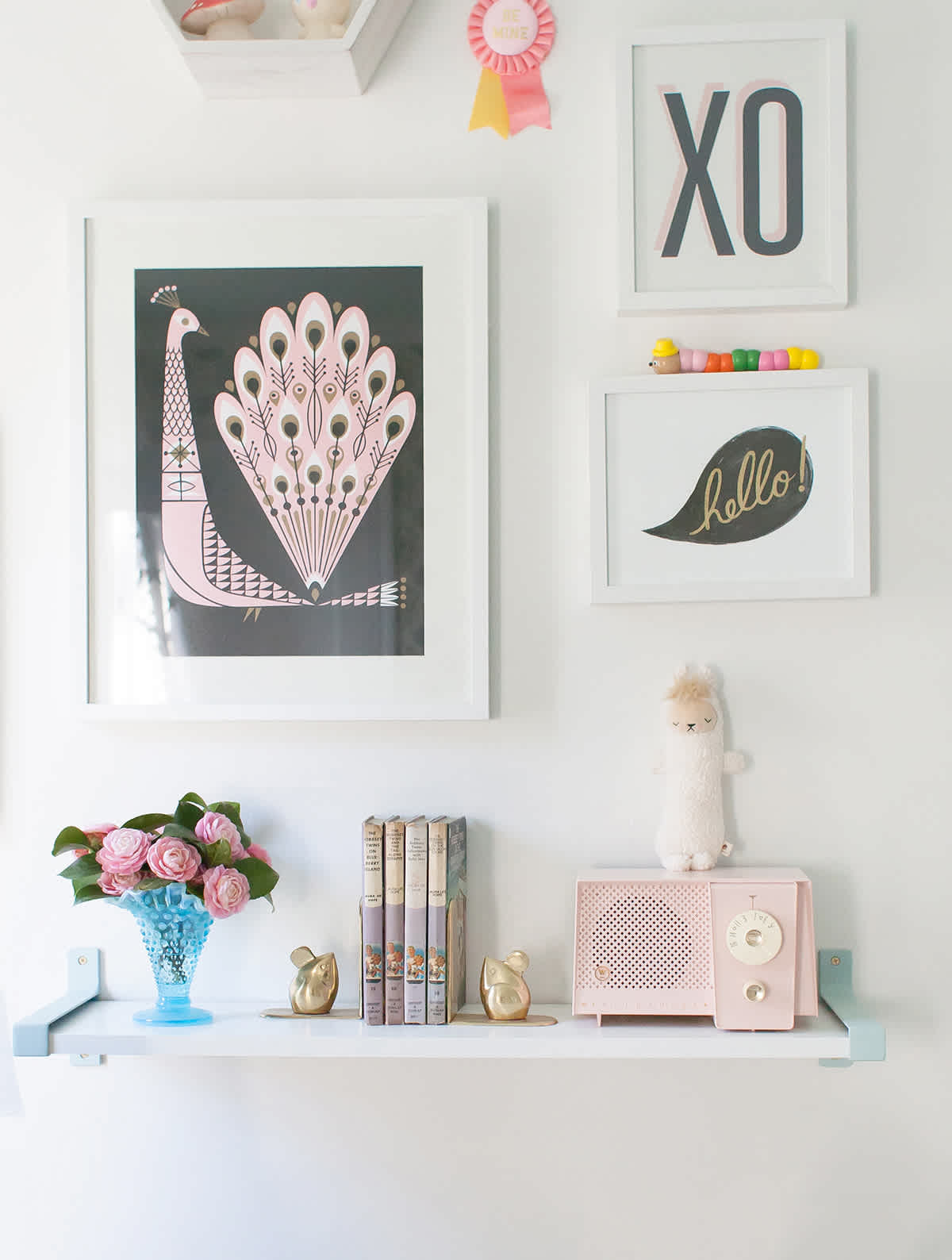 On the shelf, I have some vintage Bobbsey Twins books (love the lavender color), my favorite vintage radio, a cutie pie llama, and a vase of my grandmother's with some cheery camellias from our yard.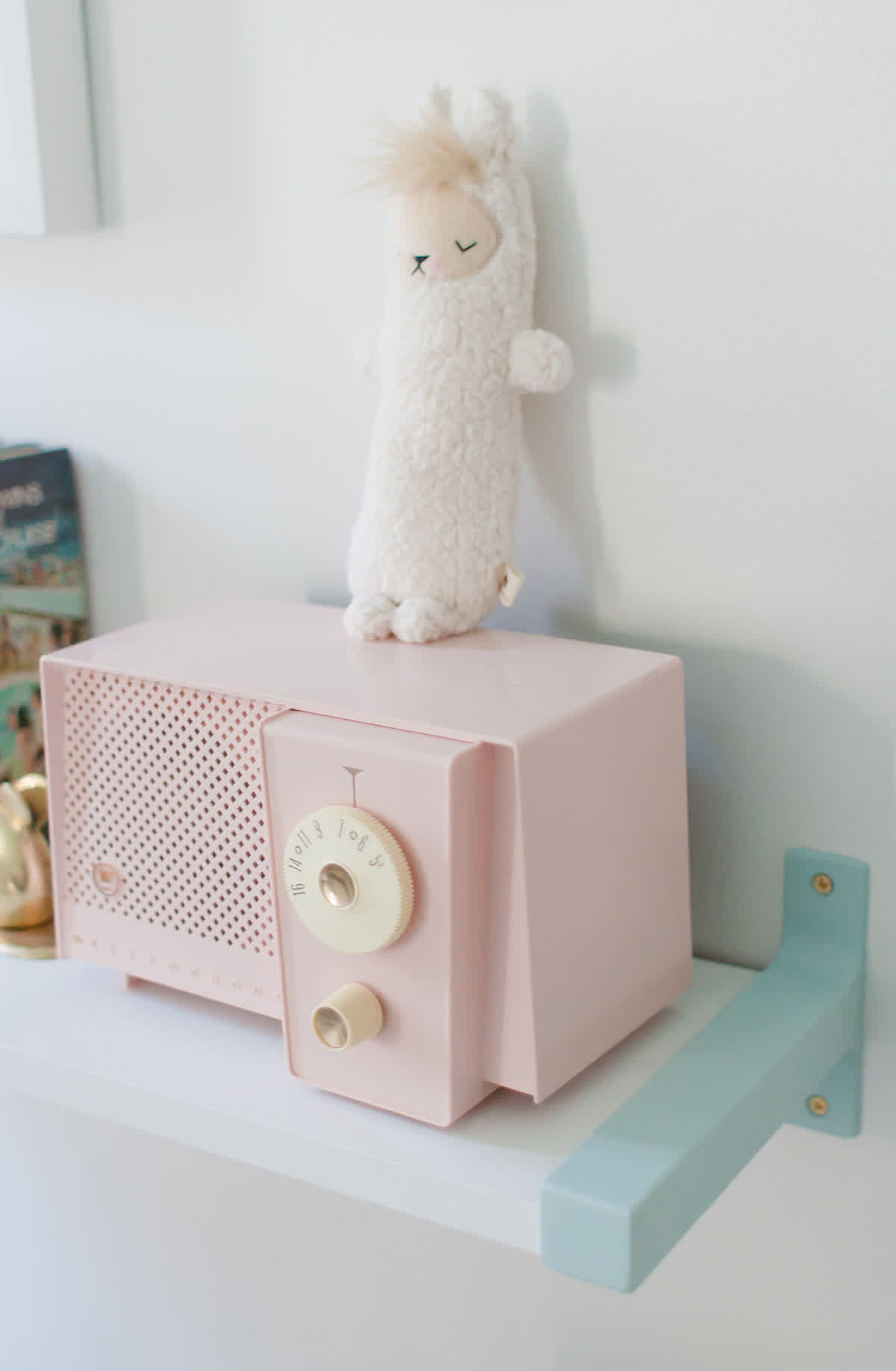 I'm completely smitten with Bijou Kitty's work!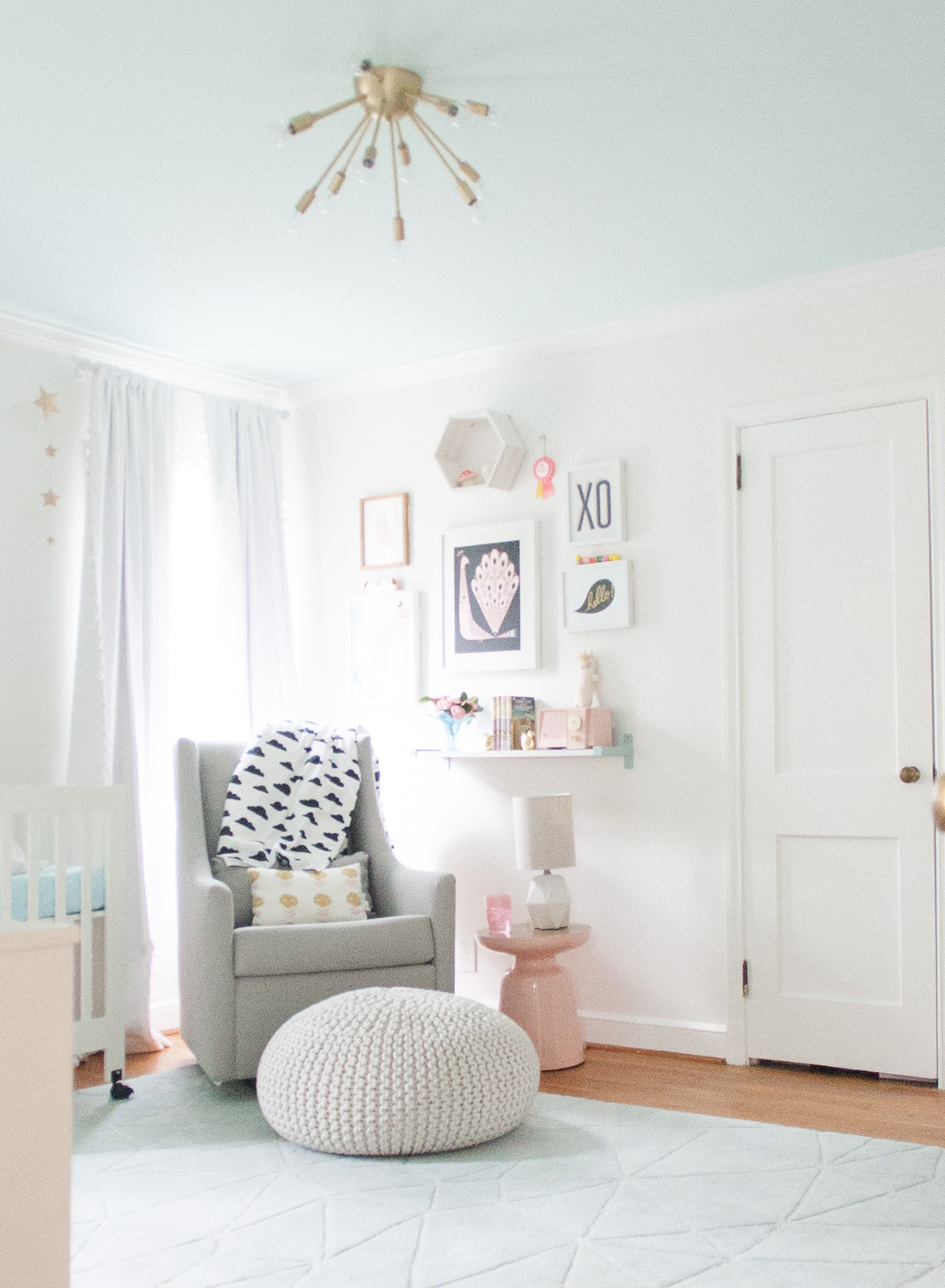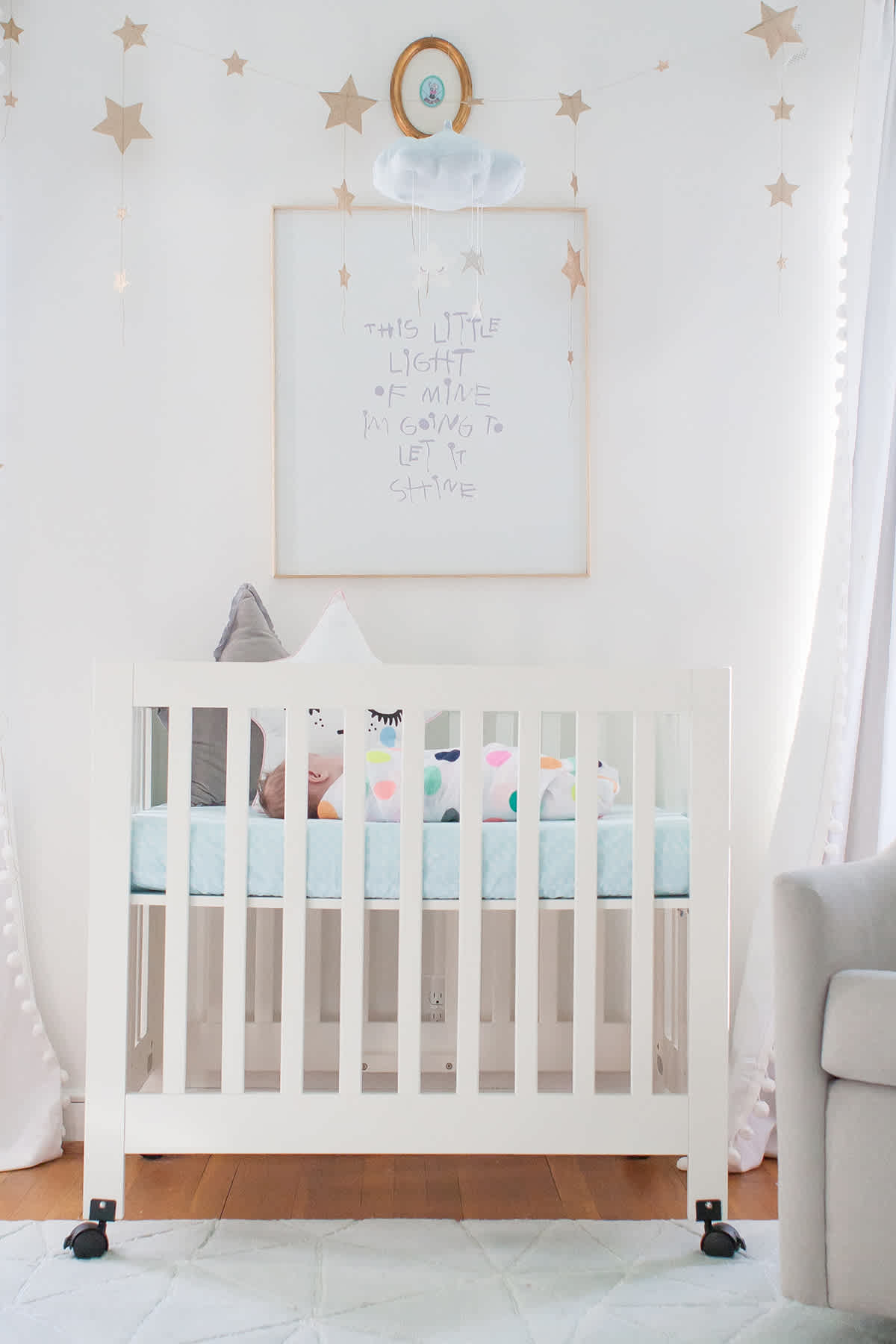 The name "Eleanor" means "shining light," so I put a lot of little stars throughout the room. Chip also sings "This Little Light of Mine" to the girls before bed every night, so it seemed especially fitting to put over the crib. Vivi wrote out the words, and I scanned them in and put a little star above them; the sweetest blessing over where Ellie sleeps! (you can find the print here. Falling Star garland here.)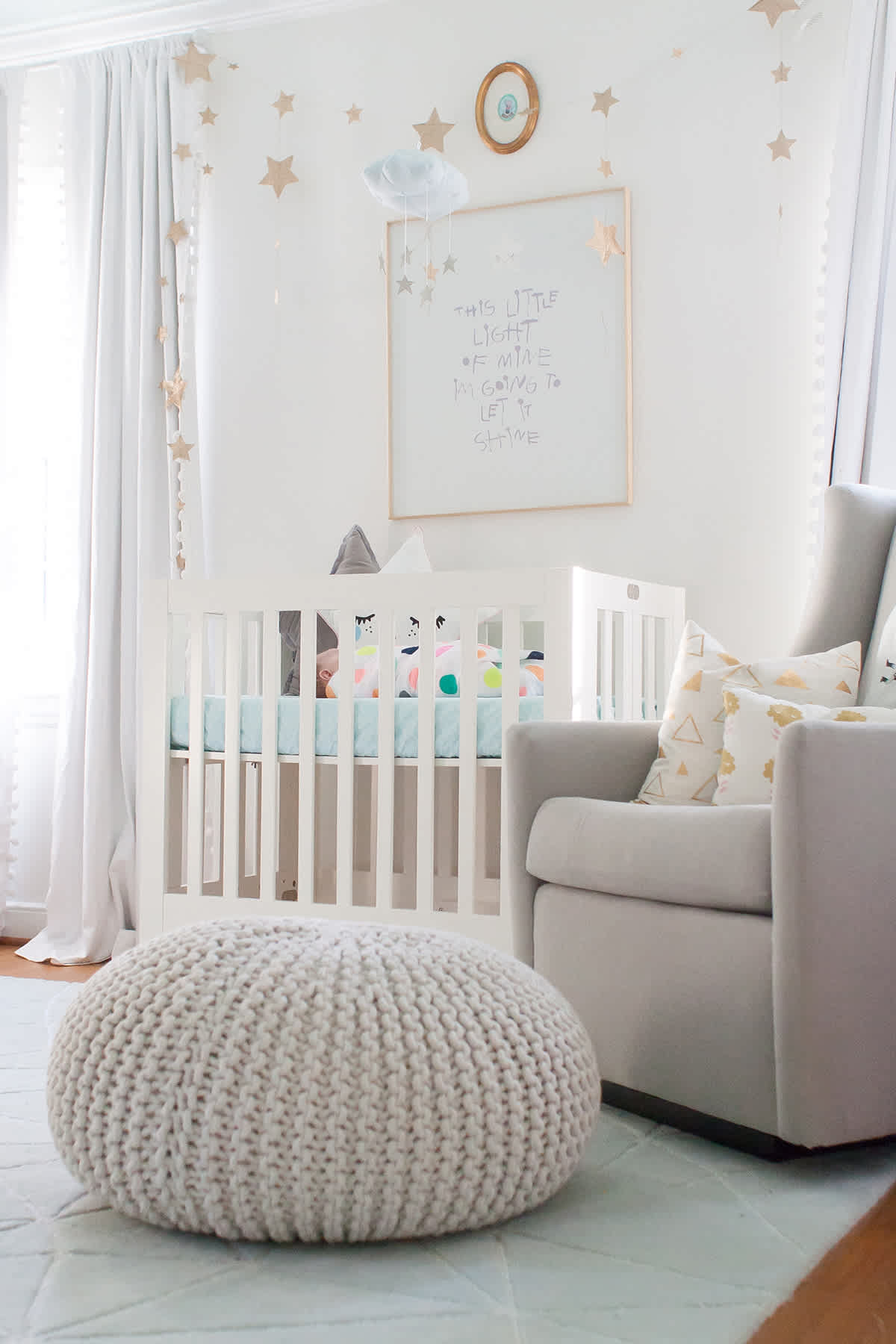 I found this little merit badge at Anthropologie - isn't it the cutest? I put it in a vintage frame, and hung it above her crib as well.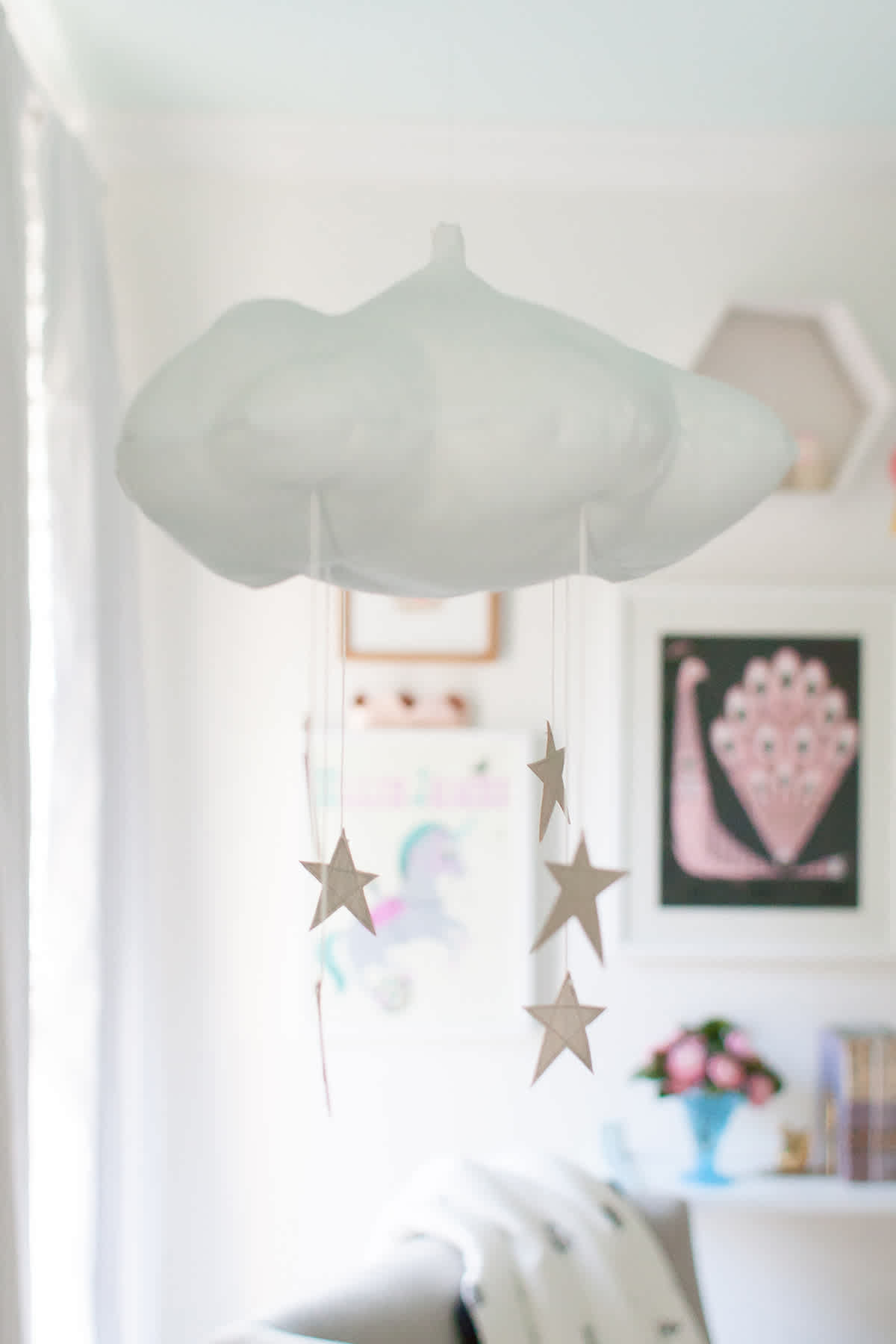 She has been sleeping sweetly in her little space! Love that sweet little nugget so much. Having such a bright and happy space makes me feel so uplifted, especially during long nights (and sometimes long afternoons!). Hope you are inspired!