Laundry and Mudroom Renovation with New Flooring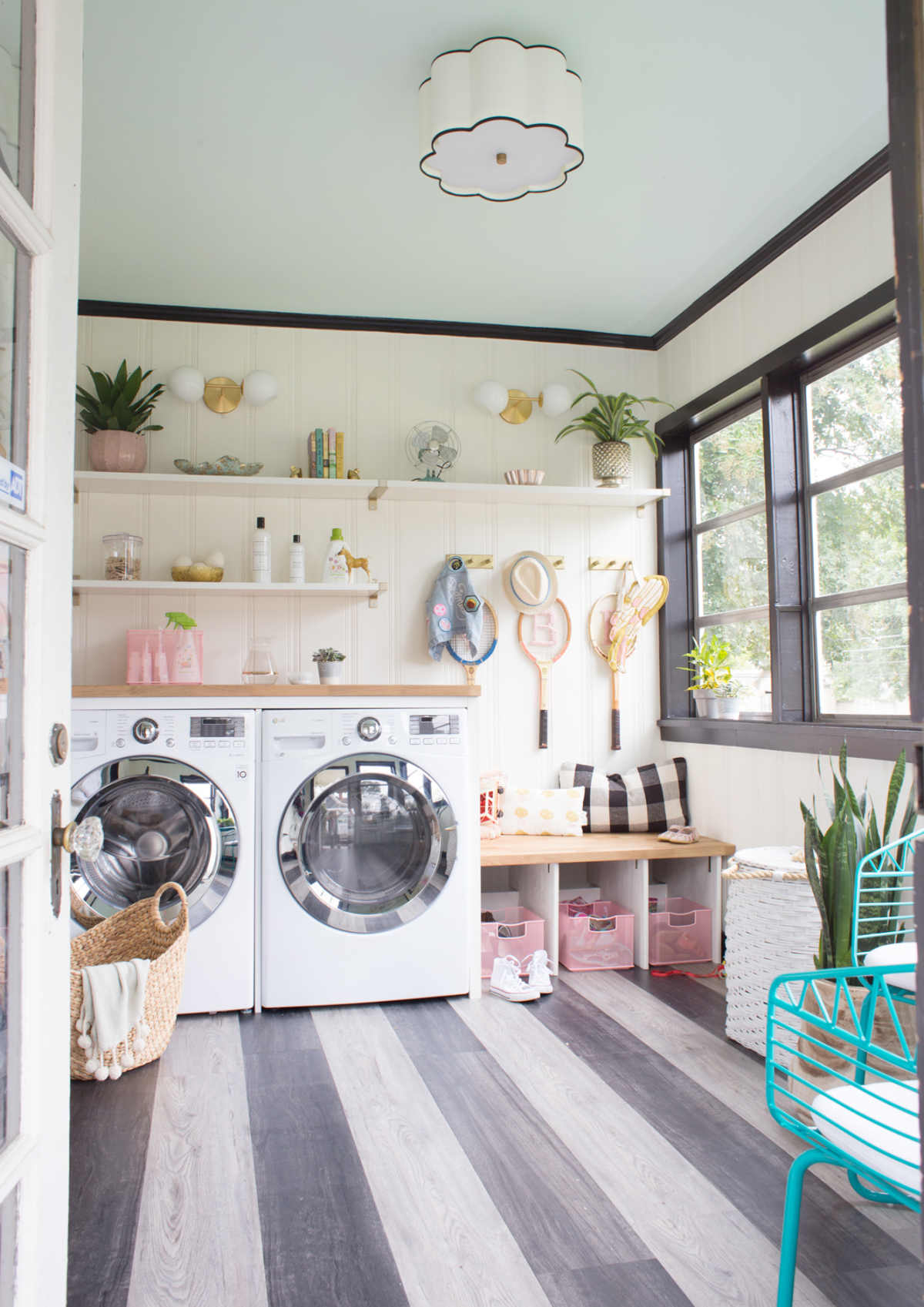 This post is sponsored by Tarkett NA; however, all thoughts and opinions expressed are my own.
I'm kind of beside myself to share this room with y'all today.  This is a space that I have been daydreaming about for quite awhile now.  It's our sunroom, which formerly looked something like this: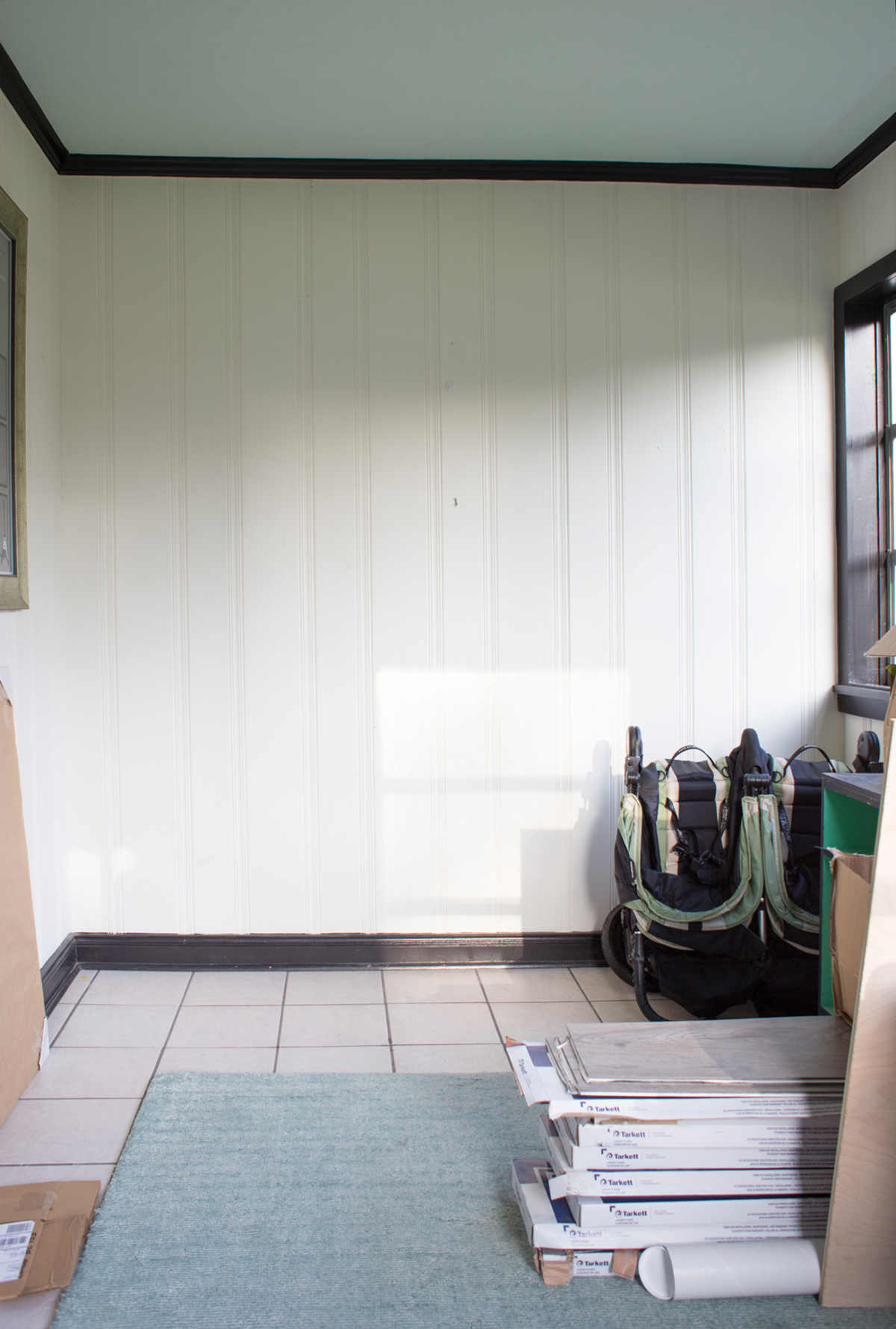 This space has always been a bit of a mess.  I have never been a fan of the large tile flooring in this room, which was difficult to clean, and many of the tiles were cracked.  The windows need to be updated, but they are original to the house, and to change them would drastically change the look of our home.  They are also super energy inefficient, so while this could have been a lovely space, it's really, really hot in the summer, and quite chilly in the winter.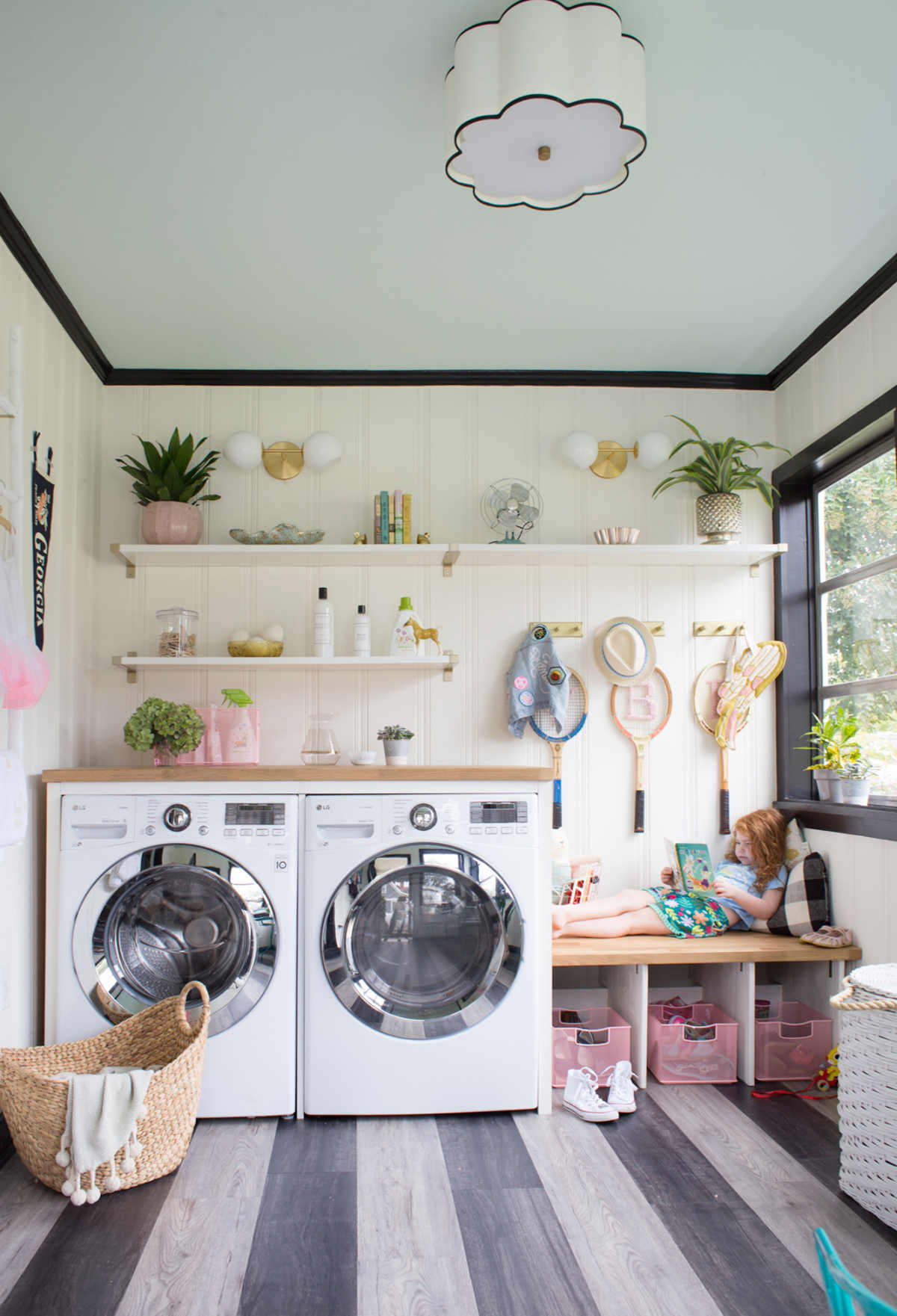 Plus, the lack of organization and energy challenges made it somewhat of a catch all for strollers, boxes, and what not rather than an actual useful room.  A friend of mine made me feel better when she said it's our garage (because we don't have one), and so that is what it has been.  But . . . I hate the feeling of walking right into clutter, as it's the entrance we typically use.  We had no system for the girls' bags and shoes.
(sources for the above: similar basket, washer, dryer, ladder for drying rack, pink wire bins, georgia pennant, pink planter, staggered glass sconces, vintage tennis rackets)
Not to mention our laundry situation.  It was formerly in the basement, in a lackluster utility space.  It honestly made me feel depressed just going down there, and long story short, our appliances just didn't do the job well.  Having three kids equals a ton of laundry, plus the fact that Vivi wears a uniform means I need to do it more often, and we were ready for a change.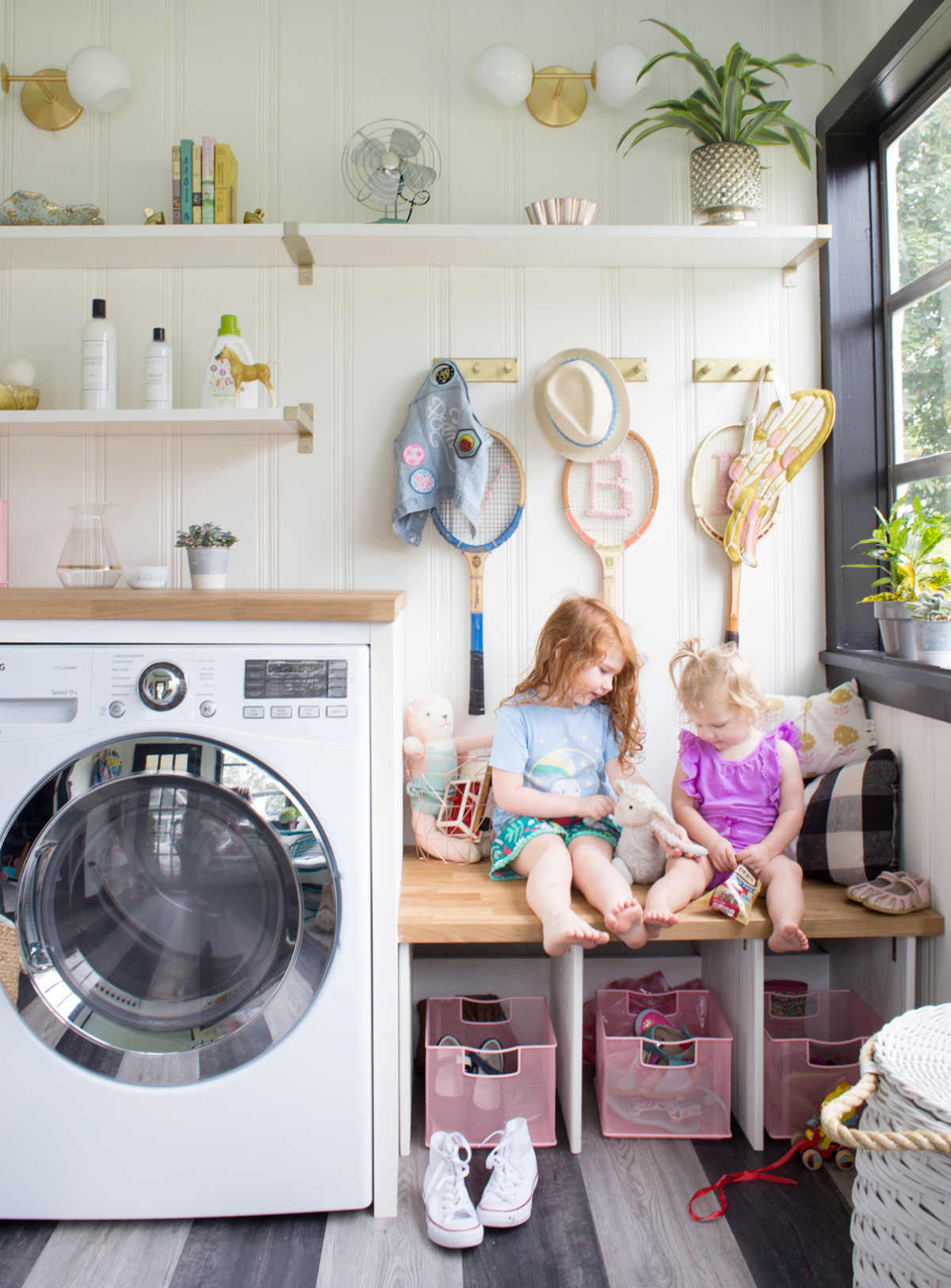 We have been talking about moving our laundry upstairs and renovating this space for awhile now, but it seemed overwhelming.  I really wanted to update the flooring to go along with the change, but that made the project seem impossible, as it would be quite expensive to take out the current tile, and replace it with something new, and I didn't think I could handle a DIY flooring project.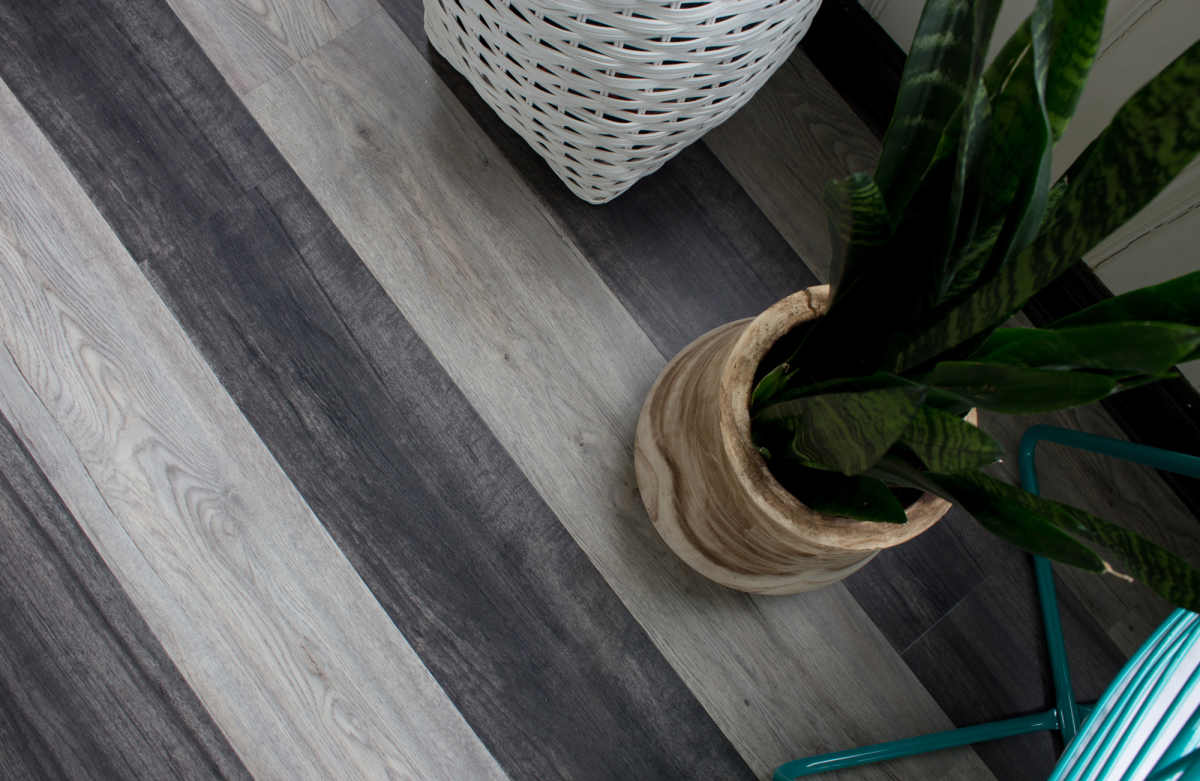 Enter Tarkett, however.  They approached us about their beautiful flooring, and this was the first room that came to mind.  I couldn't be more smitten with this Transcend SureSet flooring.  The tiles arrived in boxes, and you literally just lay down the tile on top of your old flooring, and it sticks to the floor perfectly and looks amazing.  The back of the tile just tacky enough to adhere to your current flooring, but also not so sticky that you can't pull it up and reposition it if needed (or re-use in another space later!).  It's pretty much foolproof.  It feels super luxe, with a texture that matches the woodgrain pattern, and it feels so good underfoot.  You can cut it easily with a straight edge and a utility knife where needed, and Chip installed this quickly in an afternoon.  It's like magic, seriously.  Plus, it's great for allergen free homes - in short, it's the perfect flooring for a high traffic space with kids.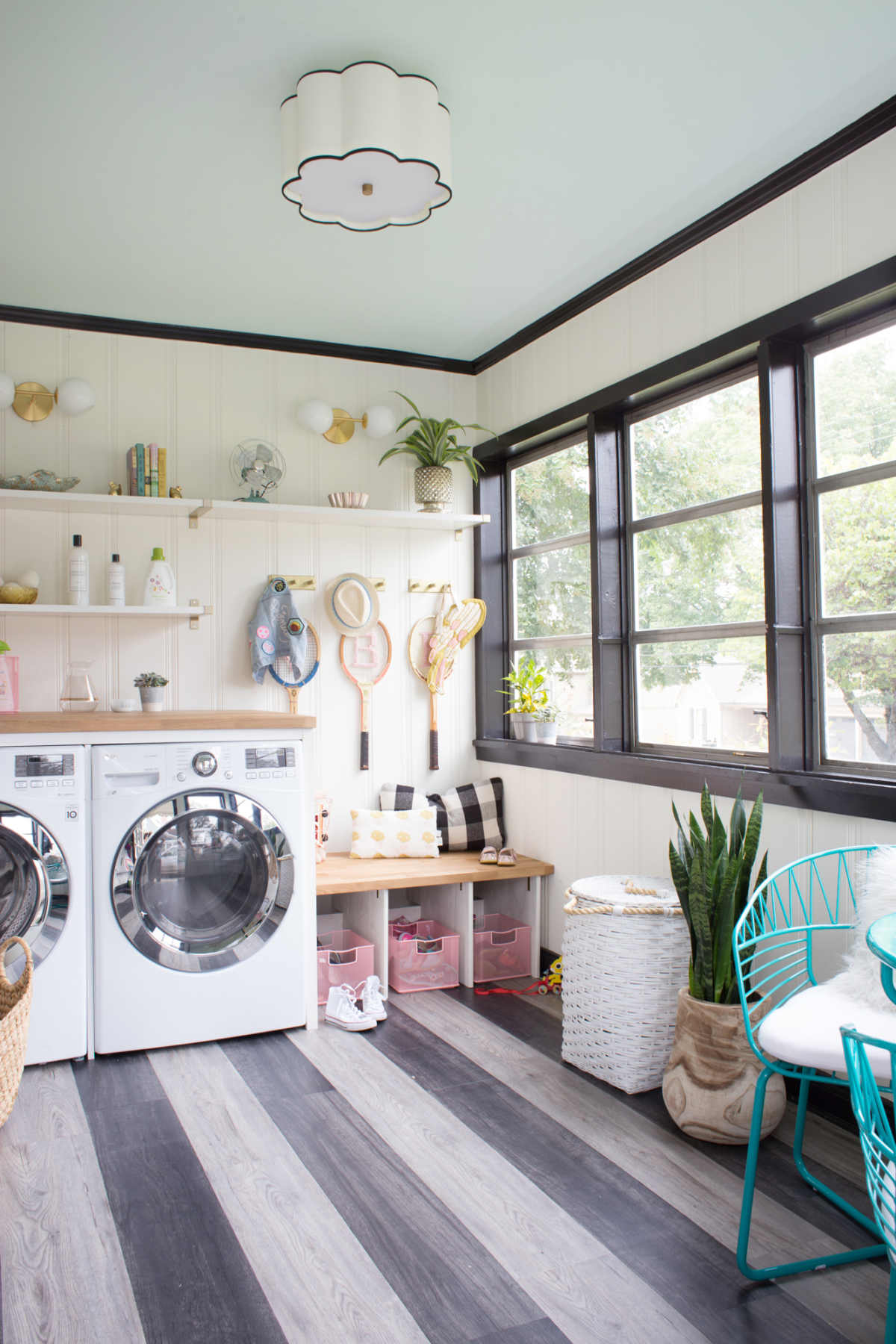 I love the seamless feel, and it's super easy to clean, wipe down, or sweep, which is handy with lots of little people who are prone to spills and tracking in who knows what.  I honestly can't recommend it enough if you are looking to do a flooring update yourself.  It is so beautiful!  They have an entire "recipe book" with ideas for your flooring design; you can go with all one color for a classic look, or have fun creating  pattern.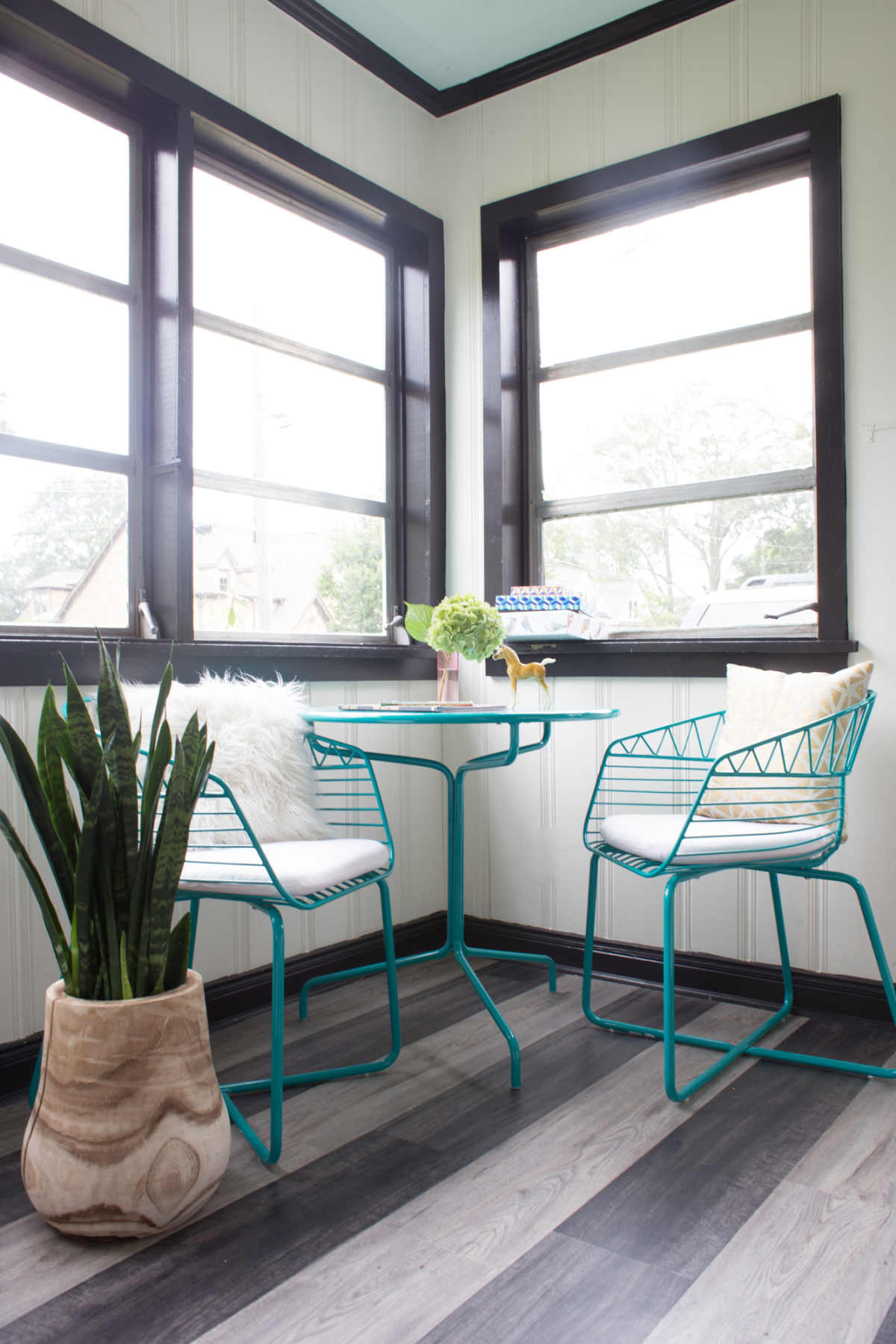 Since we managed to create some more thoughtful organization here, we put a table and chairs out for stay at home date nights, or early morning cups of tea before the little people awake.   I have already spent a lot of time out here, and it was so worth the effort to re-create this room!  It's now so calming and serene, rather that cluttered and frustrating.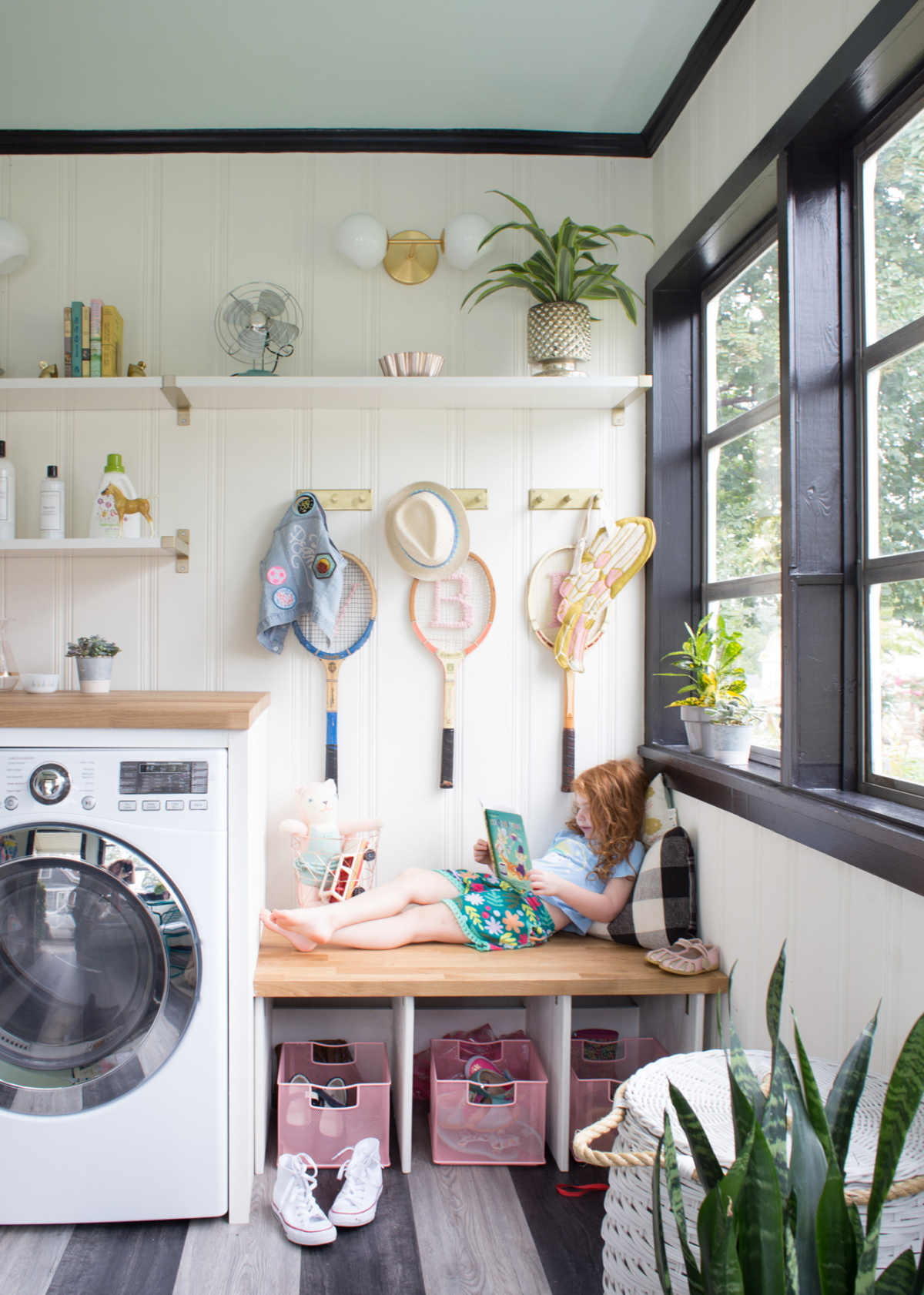 I'll be posting more tomorrow about the organization details and how we make all this work, but for now I just wanted to give you the overall transformation of this space.  Here's a little side by side before and after: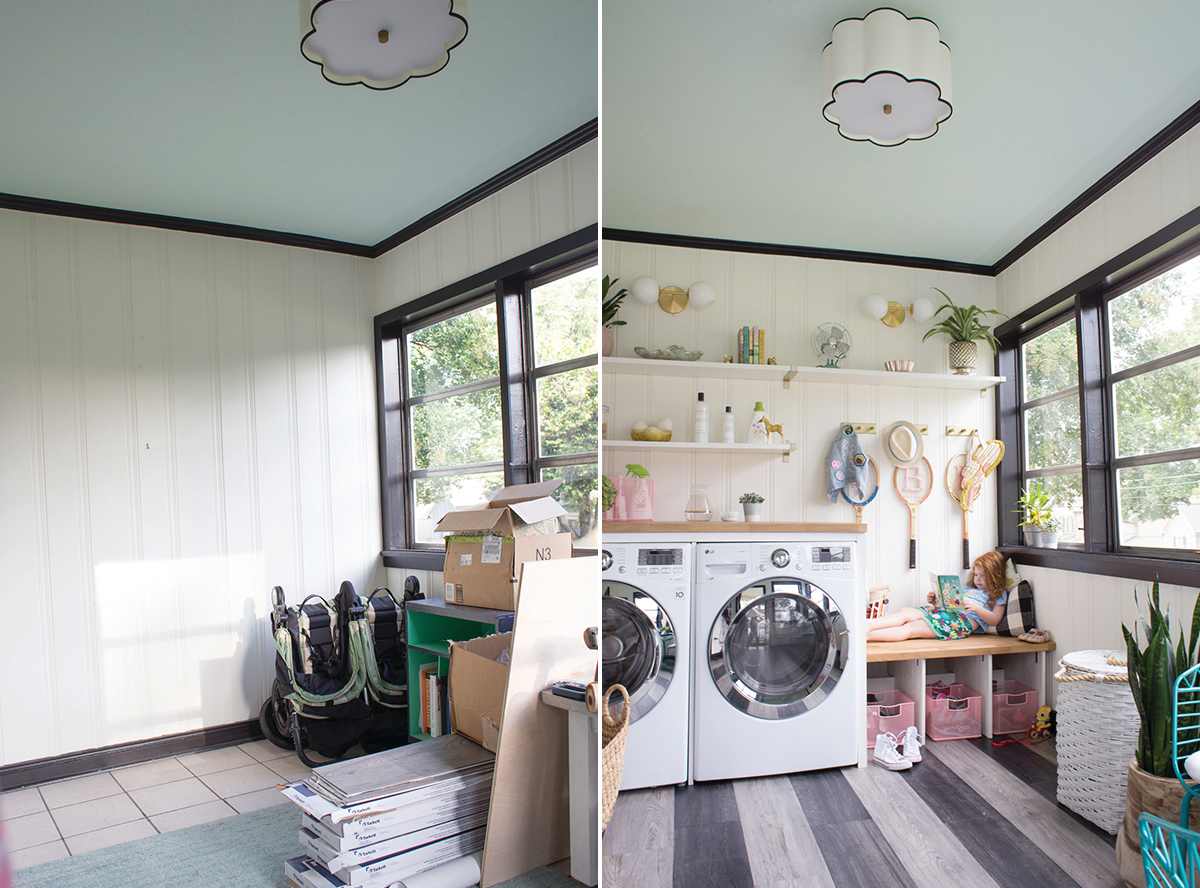 The Tarkett Transcend SureSet is found at select flooring retailers.  Go here to find a retailer near you, or call 1-877-TARKETT to find out where to go to purchase.
I'm so glad we finally made this happen!  It was SO much simpler than I anticipated, thanks to this beautiful Tarkett flooring!  Be sure to check out their entire line here.  Hope you are inspired!  I'm happy to answer any questions, so please let me know if you have any.
Thank you so much to Tarkett for sponsoring this post.  I love working with brands who inspire creativity!