finds for the fellas
a gift guide for the guys in your life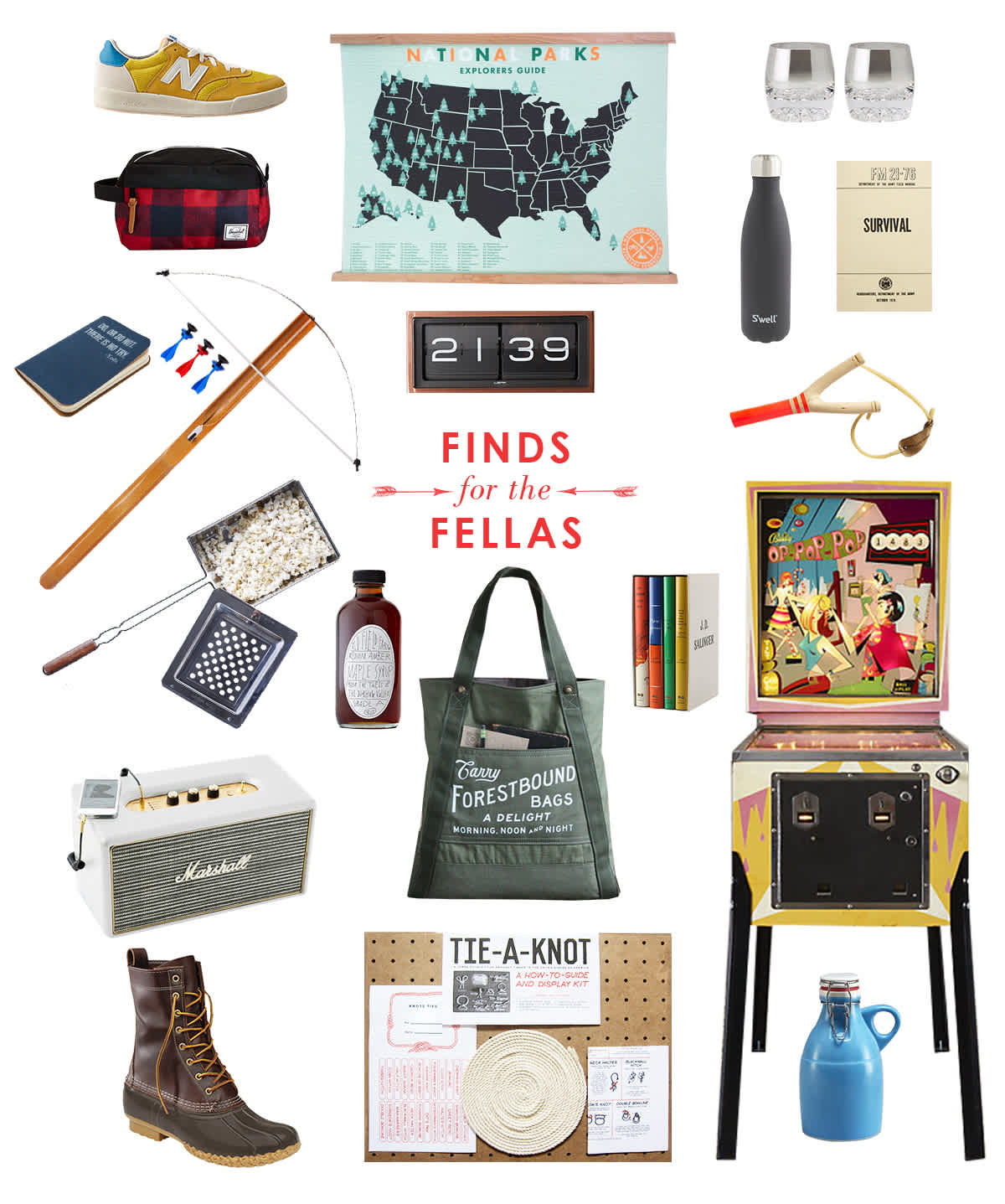 Those boys sure can be hard to buy for, right?  Here are a few winning ideas - please let me know if you have others to add!  Still contemplating what to get for Chip!
(1) crt 300 sneaker for the web developer who can wear what he wants to work;
(2) National Parks Checklist for the adventurer who likes to see what he has accomplished;
(3) Man Glasses which are actually a gift for you;
(4) Dopp Kit for the guy who travels and likes to be unfussy about his essentials;
(5) S'well Water bottle to remind him to drink enough water at work;
(6) Army Field Manuals for the guy who likes to be prepared for anything;
(7) Yoda Notebook for the guy who is all about action and precision;
(8) Crossbow for the guy who hasn't grown up just yet;
(9) Vintage Clock for a bit of manly awesome in the boudoir;
(10) Slingshot for the same guy as in #8;
(11) Popcorn Popper for the family movie night popcorn maker (also works over a campfire!);
(12) Maple Syrup for the Saturday morning pancake maker;
(13) Army Green Forestbound bag for the dad who takes the kids on weekend adventures and doesn't want to take a diaper bag;
(14) A collection of Salinger for the literary man;
(15) A Pinball Machine for the guy who has everything, including lots of disposable income;
(16) Marshall Speaker for the former rockstar who misses his guitars and amps;
(17) Bean Boots for the guy who works or hunts outdoors, or likes to look as though he does (and these will look really nice on him, too!);
(18) Tie A Knot board for the former boy scout (would be so fun for a dad and little boy - and would look great on the wall, too!);
(19) Growler for the discriminating coffee drinker
Check out last year's guy gift guide here!  I'll be adding lots more this week, so stay posted!