creating affordable custom framed art
with frame bridge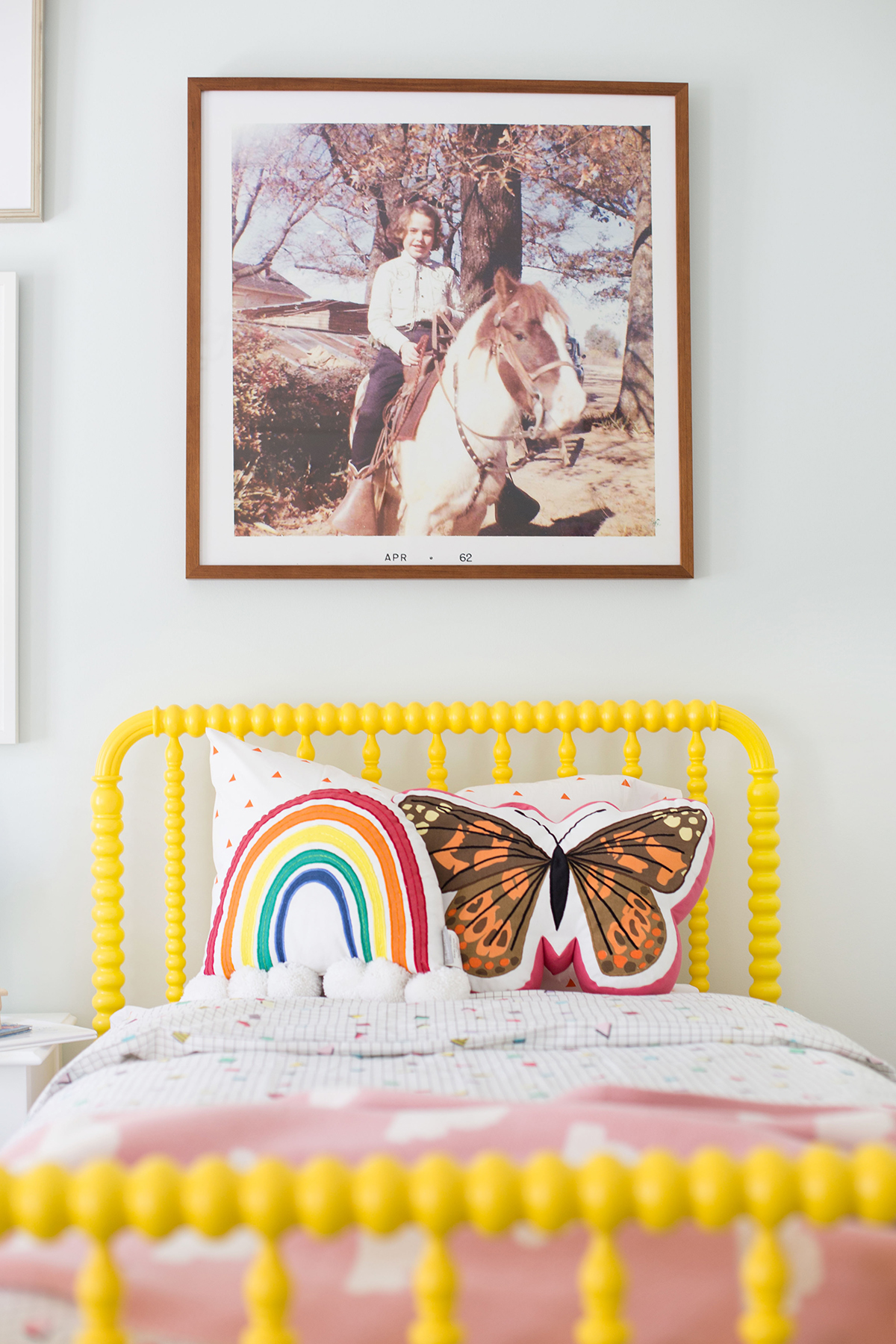 One of my favorite details in this room are these childhood photos of my mother. They really make the space tell a story, and the most fun part is that my girls can ask her questions about each picture and she can share memories about that horse or that event. I worked with Framebridge to put these together, and am so happy with the result.
(pictured above: Vintage Photo in Sonoma Frame; Rainbow Pillow; Yellow Jenny Lind Bed; Rainbow Charm Duvet Cover; Cloud Throw)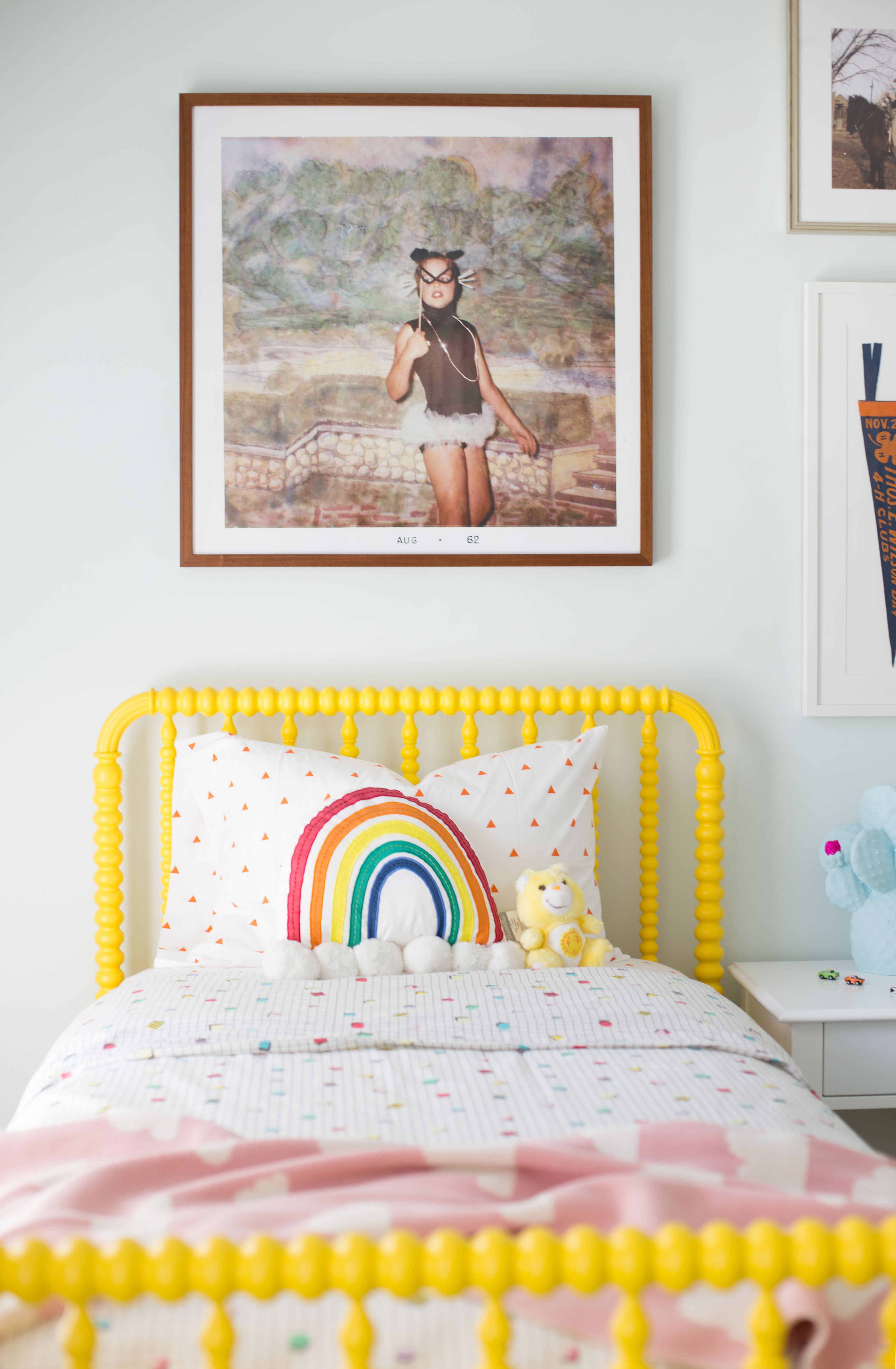 For the large photos above the beds, I chose two sweet photos of my mom, scanned them in at 600 DPI and uploaded them to Framebridge. I started to go with a white frame, but I love the warm wood tones of the Sonoma frame. It has a nostalgic feel, and looks beautiful with the vintage photos (I also love how these photos have the dates stamped at the bottom - such a fun detail!).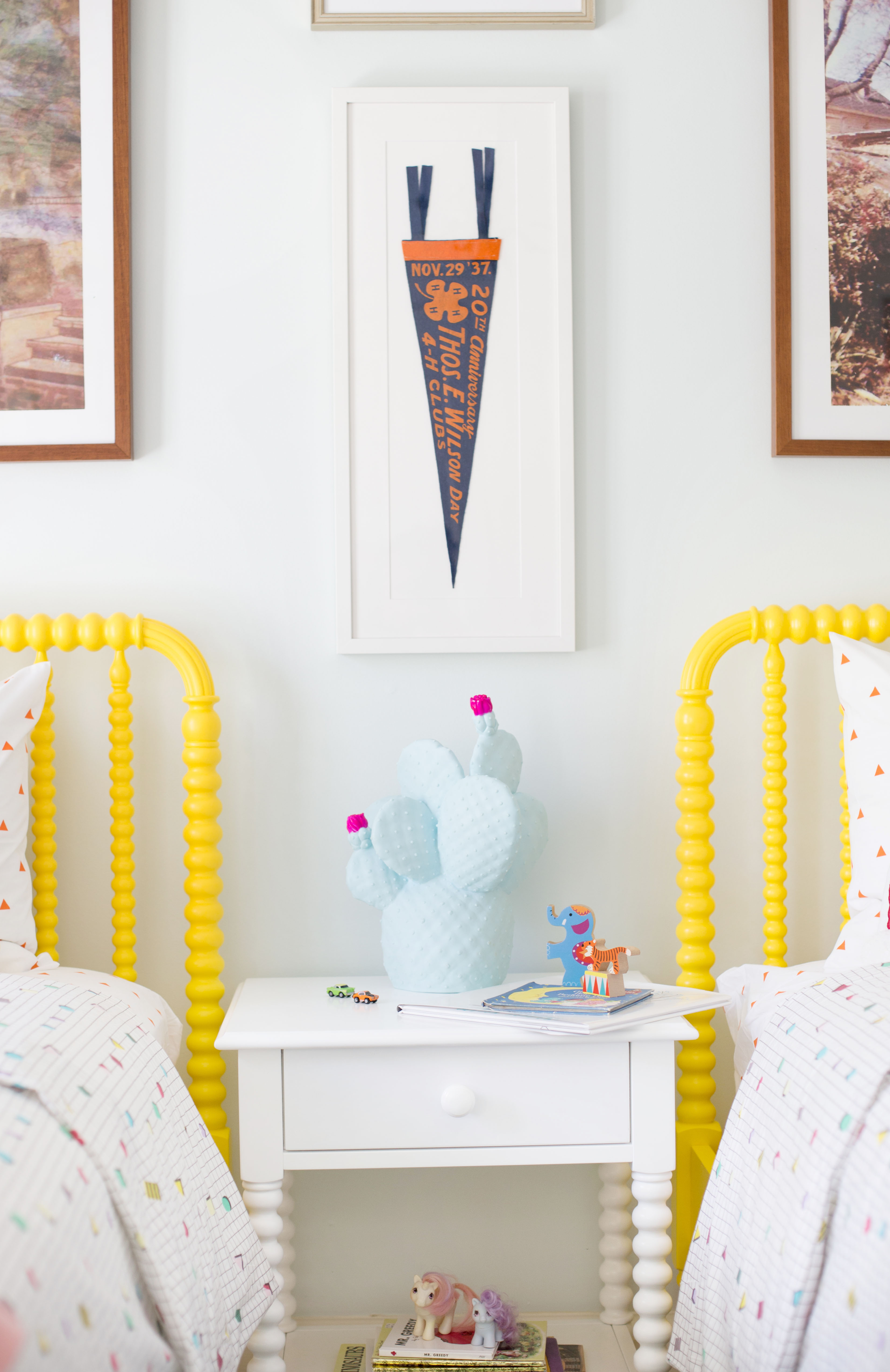 To add more character to the room, I found a couple of vintage 4H items. My mom went to 4H camp, and has lots of fun stories about her experiences there, so I thought these would be a really sweet touch. Framebridge will also frame items other than just photos or art; I just specified the size and frame, and they sent me packaging to mail in my pieces. I snagged this pennant from Etsy, as well as a 4H horse ribbon. It couldn't have been easier, and they mounted them perfectly.
(pictured above: White Jenny Lind Nightstand; Vintage Pennant in Irvine Slim frame)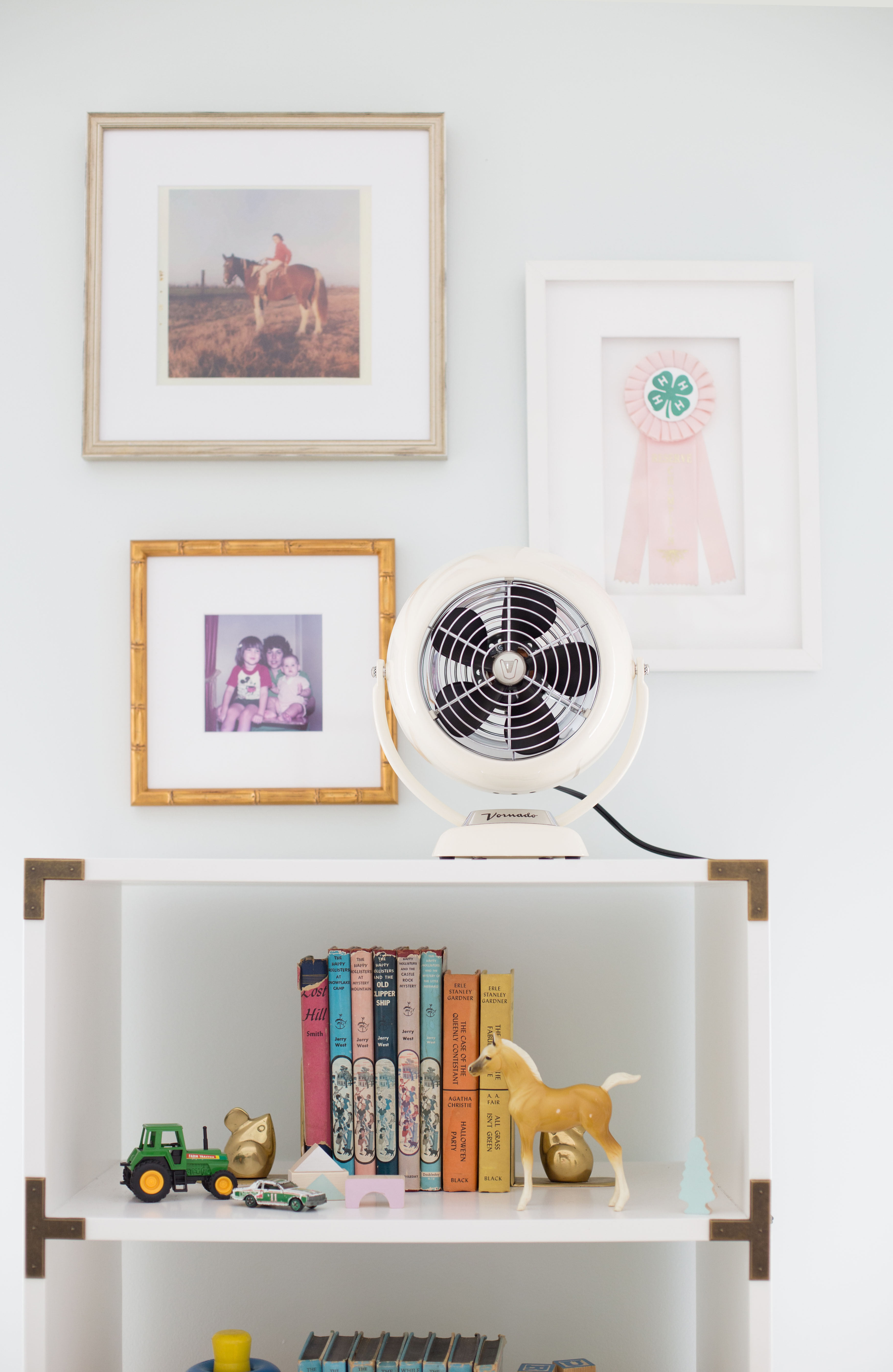 Over the bookcase, I hung the 4H horse ribbon, a photo of my mother on one of her horses, and a picture of my sister, my mom, and me in my childhood bedroom. Also, if you are uncertain which frames to choose, Framebridge will happily provide their design expertise (even if you want help putting together a gallery wall), and it's easy to preview your art/photo in the frames so you can get a good idea of what the end product will look like!
(pictured above: Vintage Photo in Newport Frame; Family Photo in Mandalay Frame; Vintage Horse Ribbon in Irvine Slim Frame; Fan; Campaign Bookcase)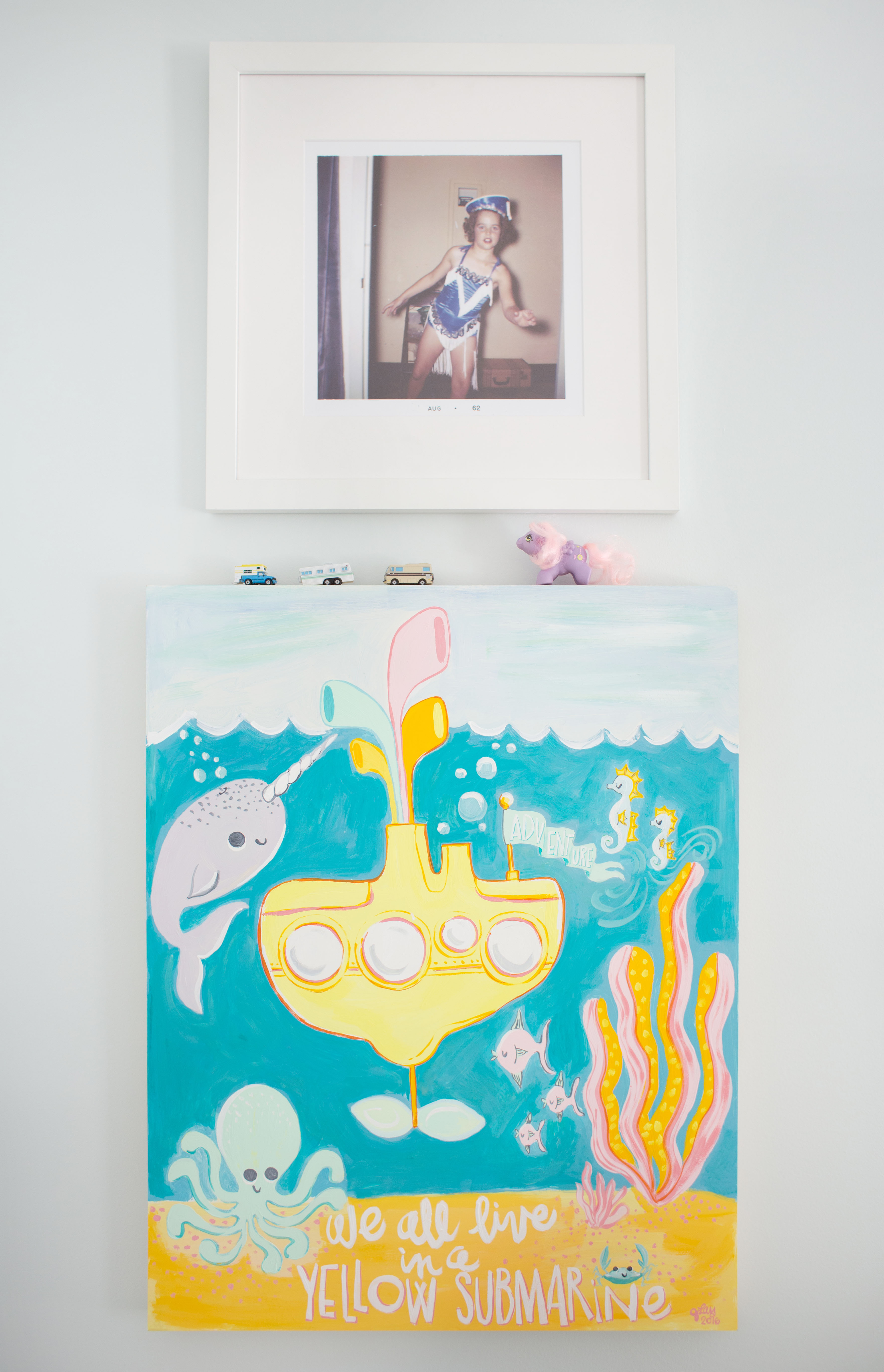 I also love this other dance recital photo in the Irvine frame!
(pictured above: vintage photo in Irvine Frame; Yellow Submarine)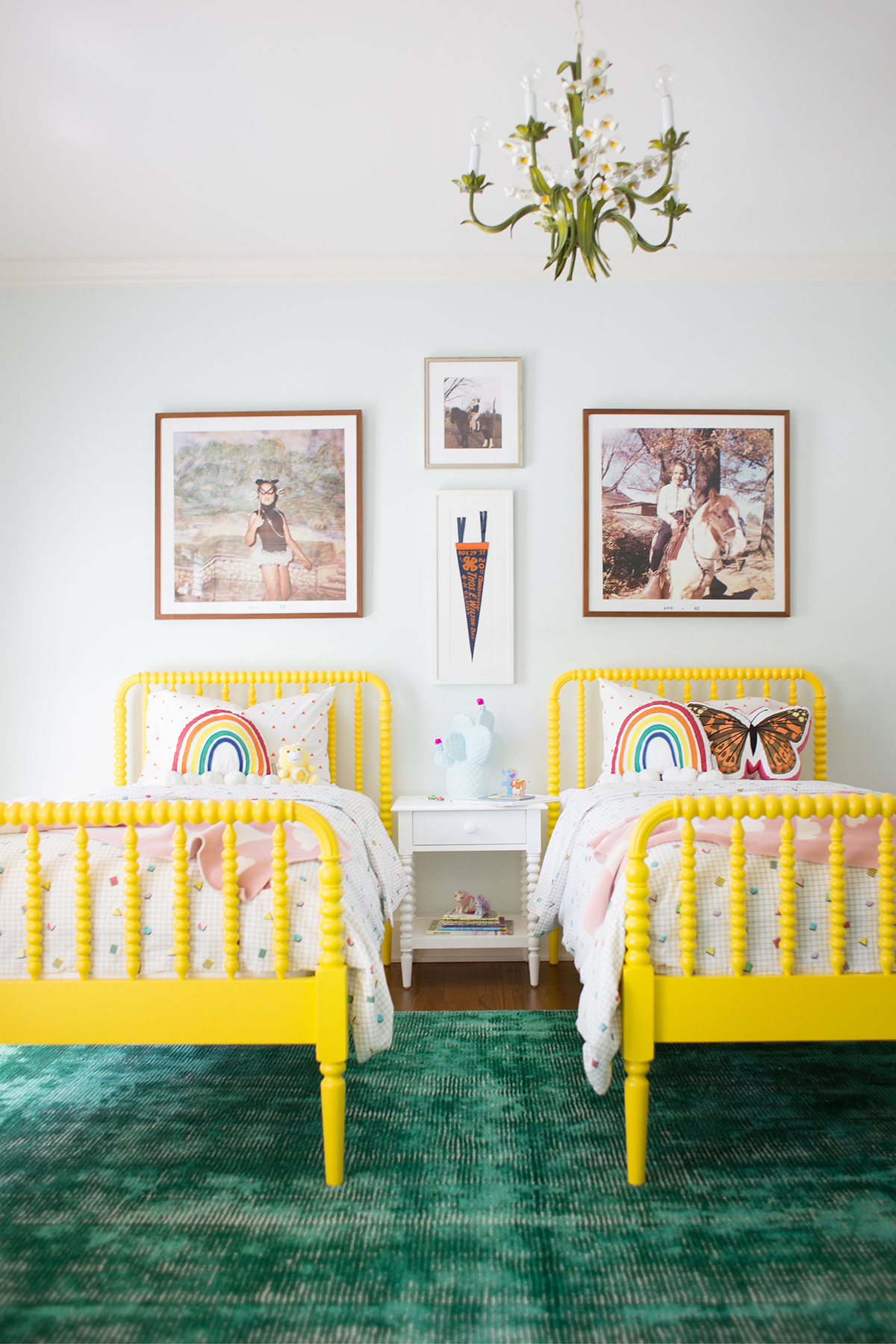 I love how this space came together, and the perfect bit of personality these photos add. They are playful, but still polished in these gorgeous frames! Thanks so much to Framebridge for these beautiful pieces! Definitely check them out if you haven't. The process is so easy, and the best part is that it is super affordable!