A Family Vacation to Jekyll Island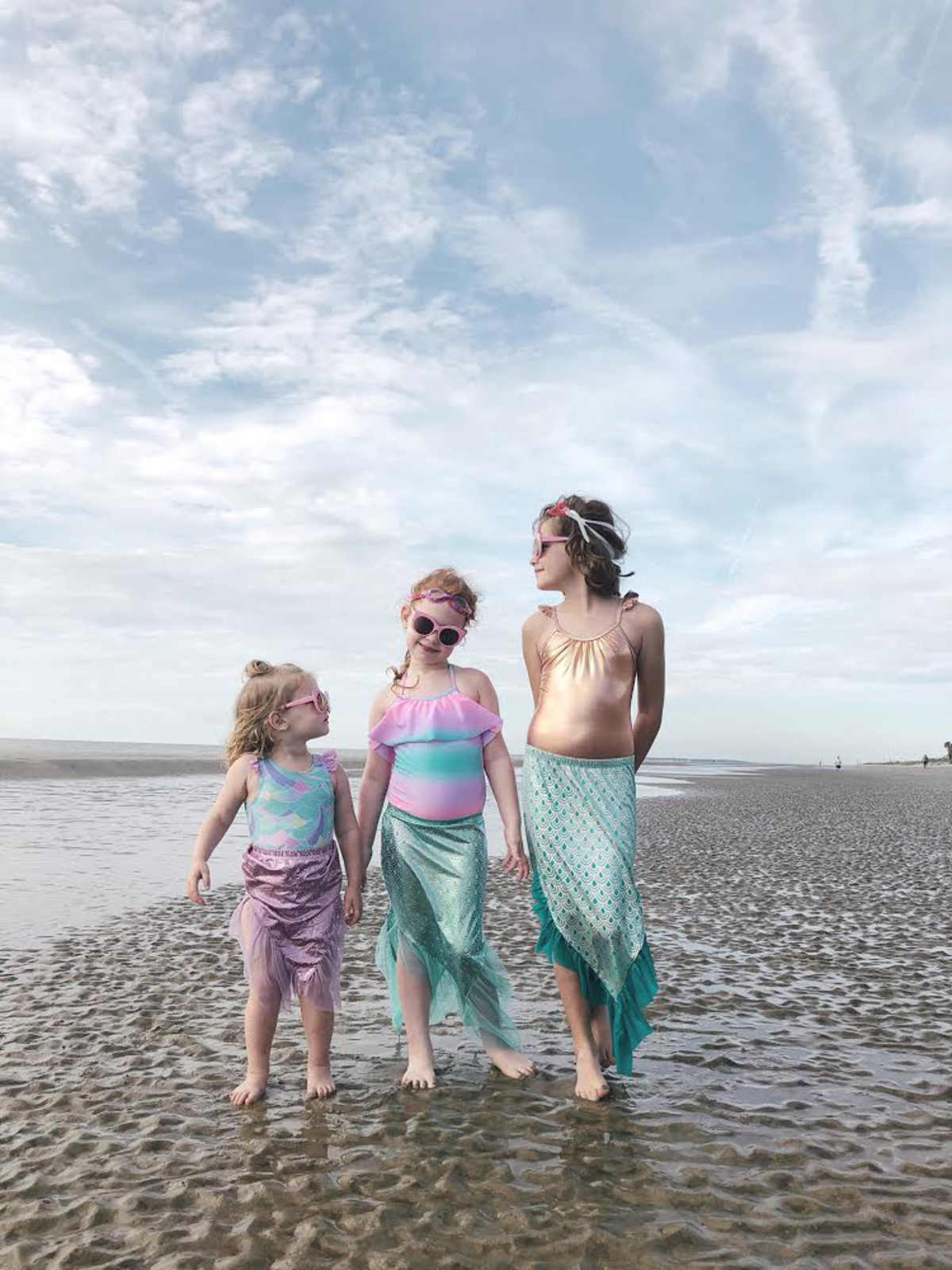 **this post is sponsored by the Jekyll Island Authority.
If you follow us on Instagram, then you know we recently took a family vacation to Jekyll Island.  This was our second trip; our first was two years ago when Ellie James was just a tiny four month old.  Our girls were counting down the days to our second trip, as the memories of our first are some they frequently mention.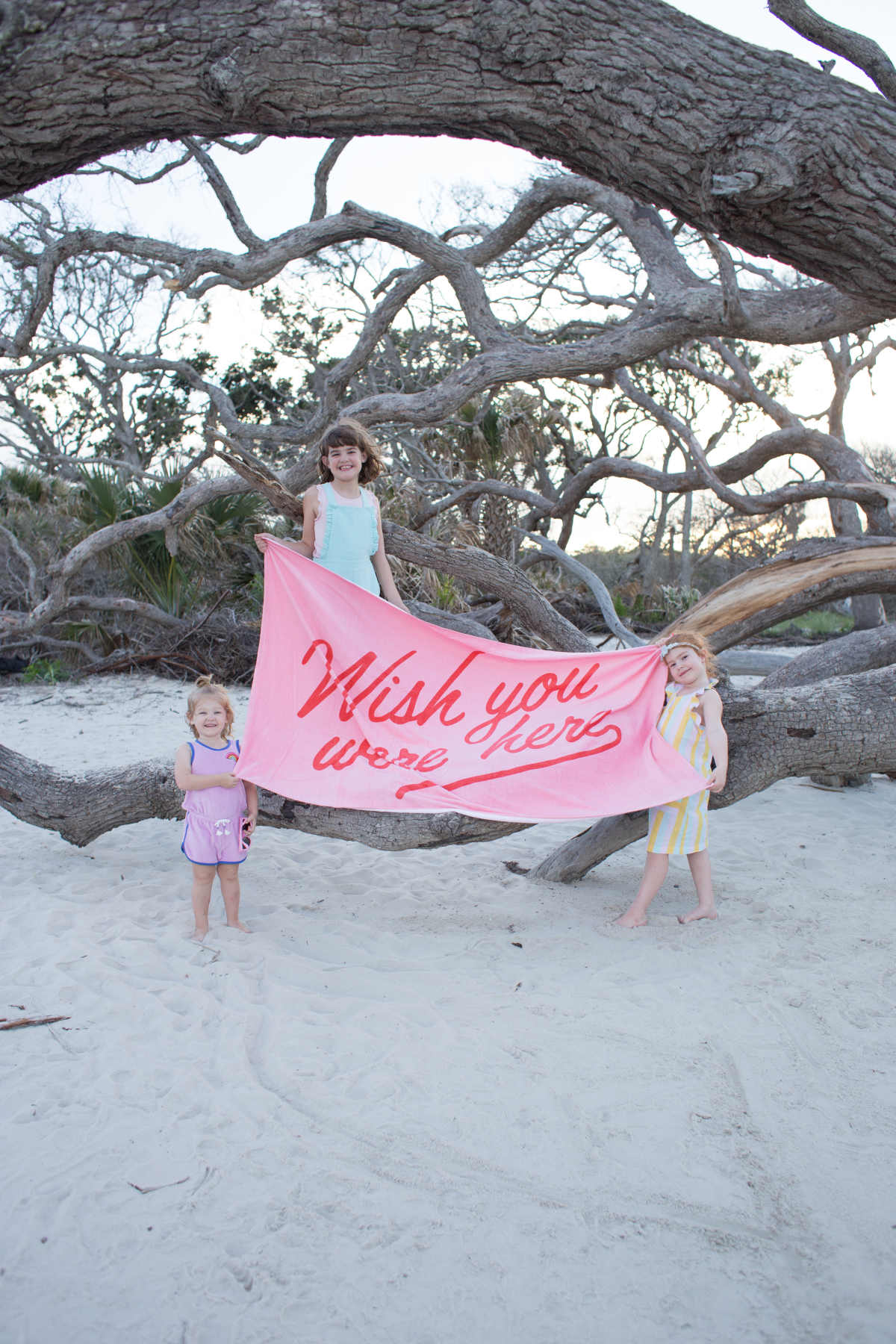 I was counting down the days, too; our first trip was a really sweet time as our first vacation as a family of five, and I was excited to re-live it, especially since we don't currently have a baby waking up at night!  This special little island holds a significant place in my heart now that we have been twice with our small girls and made the kind of memories that are the reasons these years are so magical.
(photo above from the dreamy Driftwood Beach on Jekyll Island.)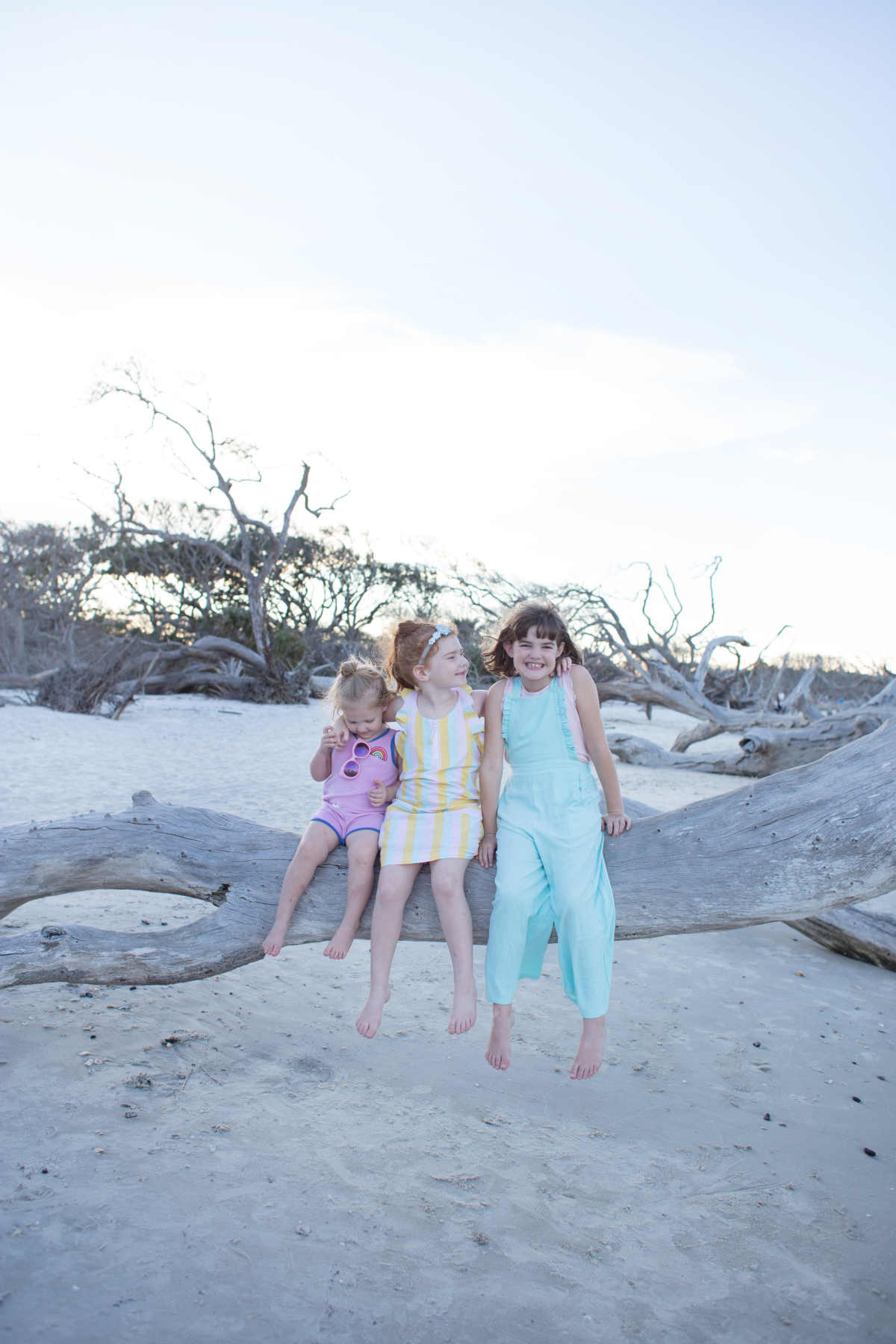 Before I launch into some of the things we did, though, let me tell you that this place is perfect for a family vacation.  It is honestly like stepping back in time a little, in the best way possible.  It's quiet, uncrowded, unhurried, everything you need is close by, and best of all it's positively gorgeous in this incredibly wild and natural sort of way.  Everything is five minutes away, we didn't have to wait in a line for anything, and we felt like the beach was ours while we were there.  In other words: Jekyll Island is everything that could make a beach vacation with children fun and stress-free.  The saying goes that a vacation with kids isn't a vacation, it's a trip, but this honestly felt like a vacation.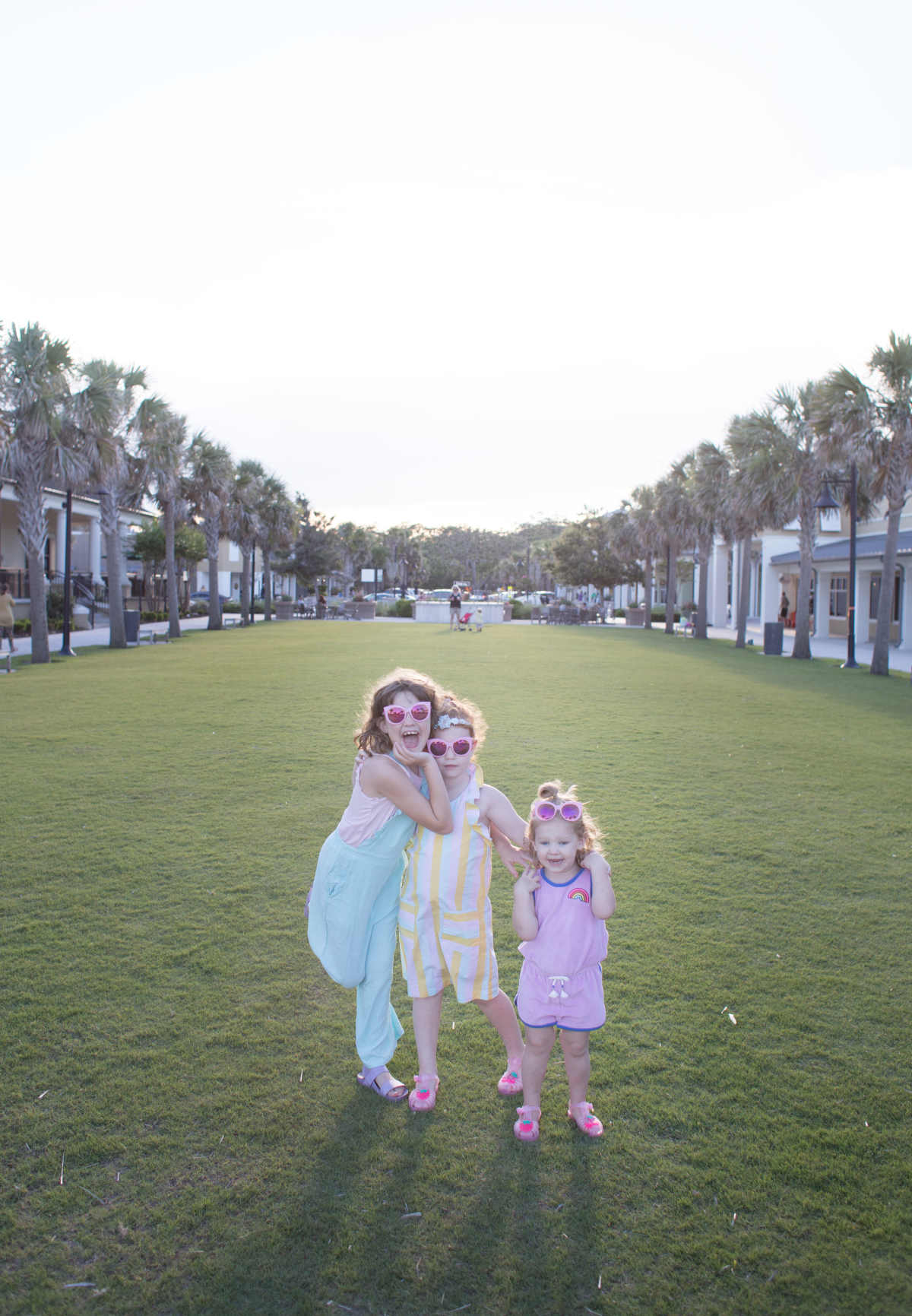 Our first afternoon there, we promptly headed to the beach for a couple of hours, and then we had supper at The Beach House Restaurant on the Holiday Inn property where we stayed.  It was super yummy, super kid friendly, and really pretty.  Then we headed down to the Beach Village, a super cute shopping area, to have some ice cream and let the girls run around on the green.  The village has the adorable Jekyll Market with all the groceries and essentials you could need, with a small town vibe that makes you just happy to be there, and the barbecue restaurant inside is just plain amazing (I'm still thinking about the fried shrimp we had there).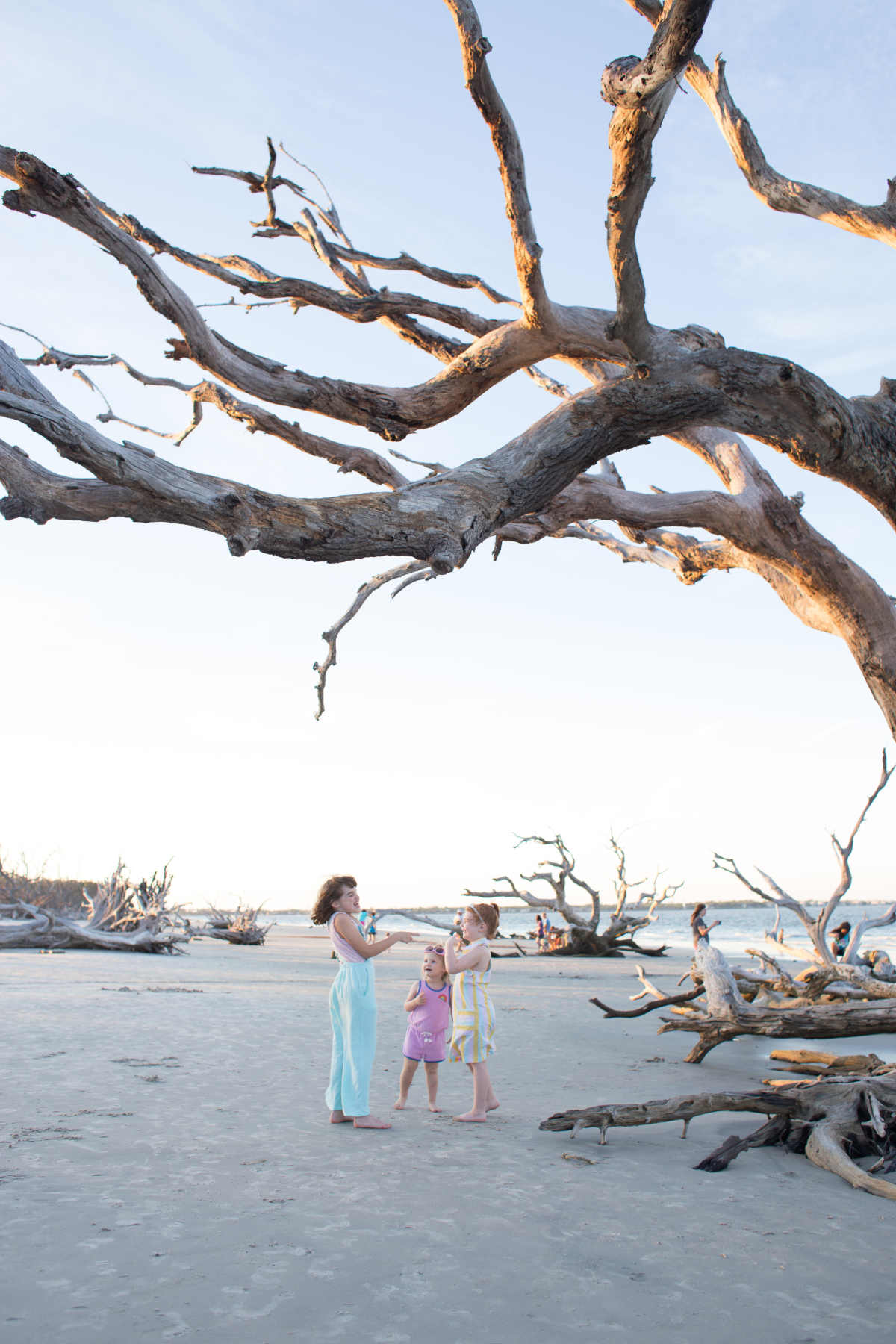 Then we headed to Driftwood Beach to take advantage of the sunset light.  When we were at Jekyll Island previously, we didn't get to spend much time on this beach, so it was fun to let the girls spend more time climbing and wading.  This place is just plain amazing.  It's a stretch of beach with these beautiful old trees that have been weathered by the sand, sea, and wind which has turned it into the most amazing natural playground ever.  It's quite a sight to see, and next time we go, I plan to take a picnic and spend even more time exploring it.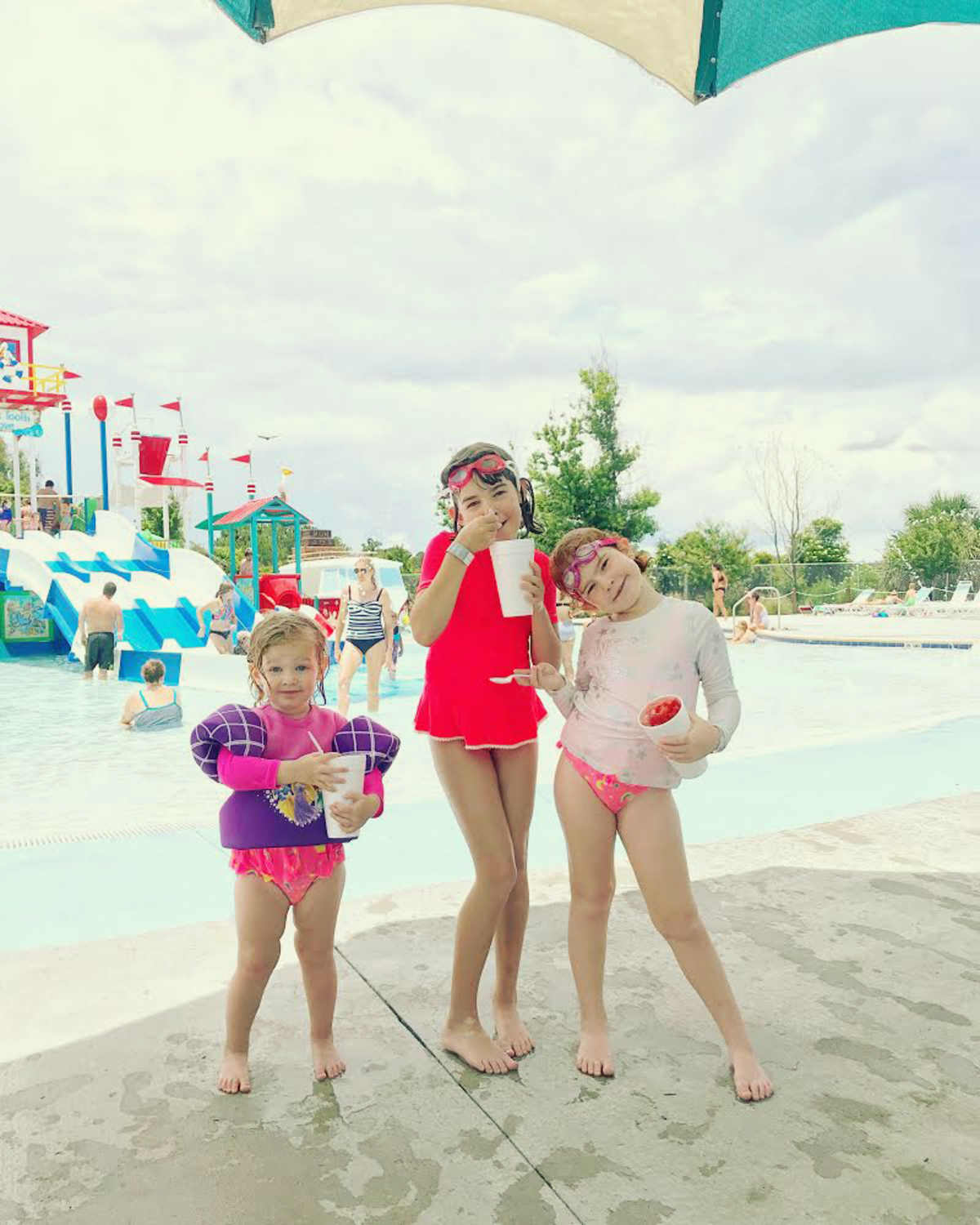 On Friday, we went to Summer Waves, the water park, and we had to drag the girls out of there because they loved it so much.  With the new Shark Tooth Cove kid section that is AMAZING (wish I could build it in my backyard), they were completely entertained.  The park had lifeguards everywhere, and it felt really safe and super clean.  We also had a private cabana, which was such a great way to do this park.  We had plenty of space to sit and cool off when we needed (there was a fan, and shade - so good for my little redhead to have a place out of the sun to take breaks!) and we could order and get food super quickly.  We didn't get to do this last time, and the girls LOVED it, and so did we.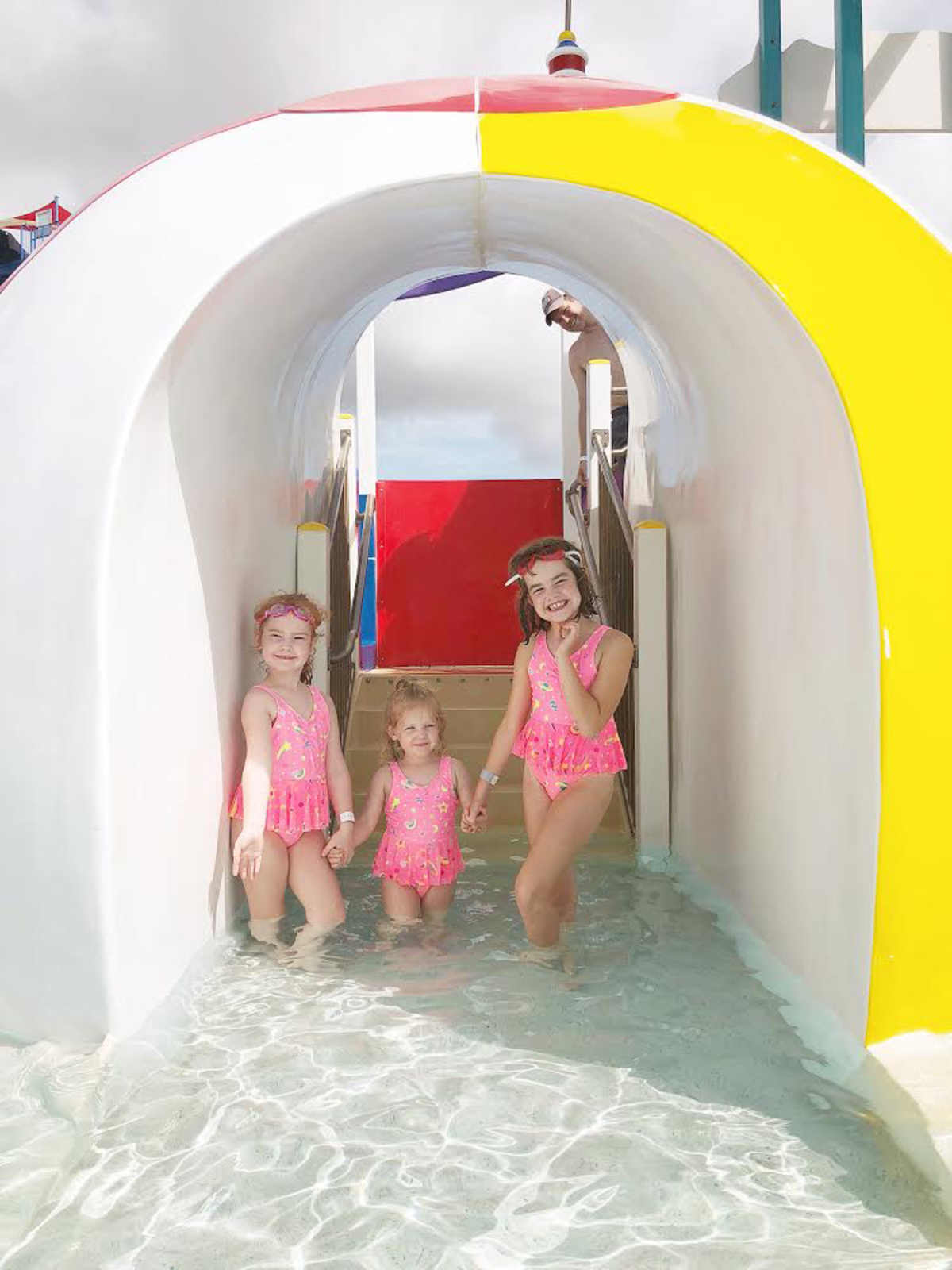 We stayed at the Holiday Inn Resort (in the same suite we had last time!) and it was just perfection.  The hotel is right on the beach, which is such a win with small kids.  Our suite had a room with two queen beds, and then a sliding door that opened up into the other room with a sleeper sofa and a small kitchenette with microwave and refrigerator.  The girls slept on the sofa bed and Ellie slept in her pack in play next to them.  It was SO nice to have space to spread out!  The hotel also had a super great pool and baby pool with a bar (the girls loved getting a pink lemonade after being on the beach!), and the Beach House restaurant on the property was really yummy, too.  Here is a photo of the pretty hotel (photo from their website!  This is the back, and you can just walk out of your door to the beach of the pool!):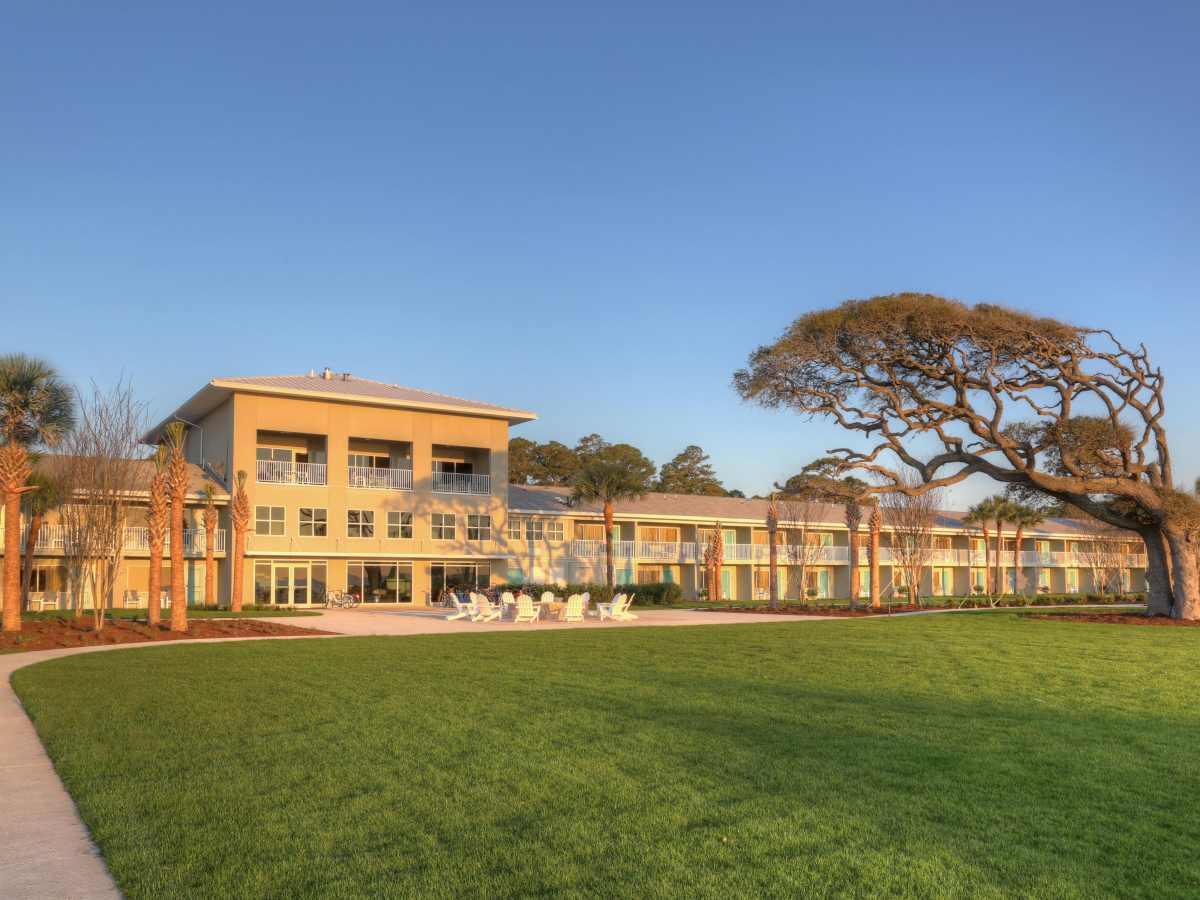 Below are the girls in the Holiday Inn Resort lobby - the whole place is my favorite shade of blue!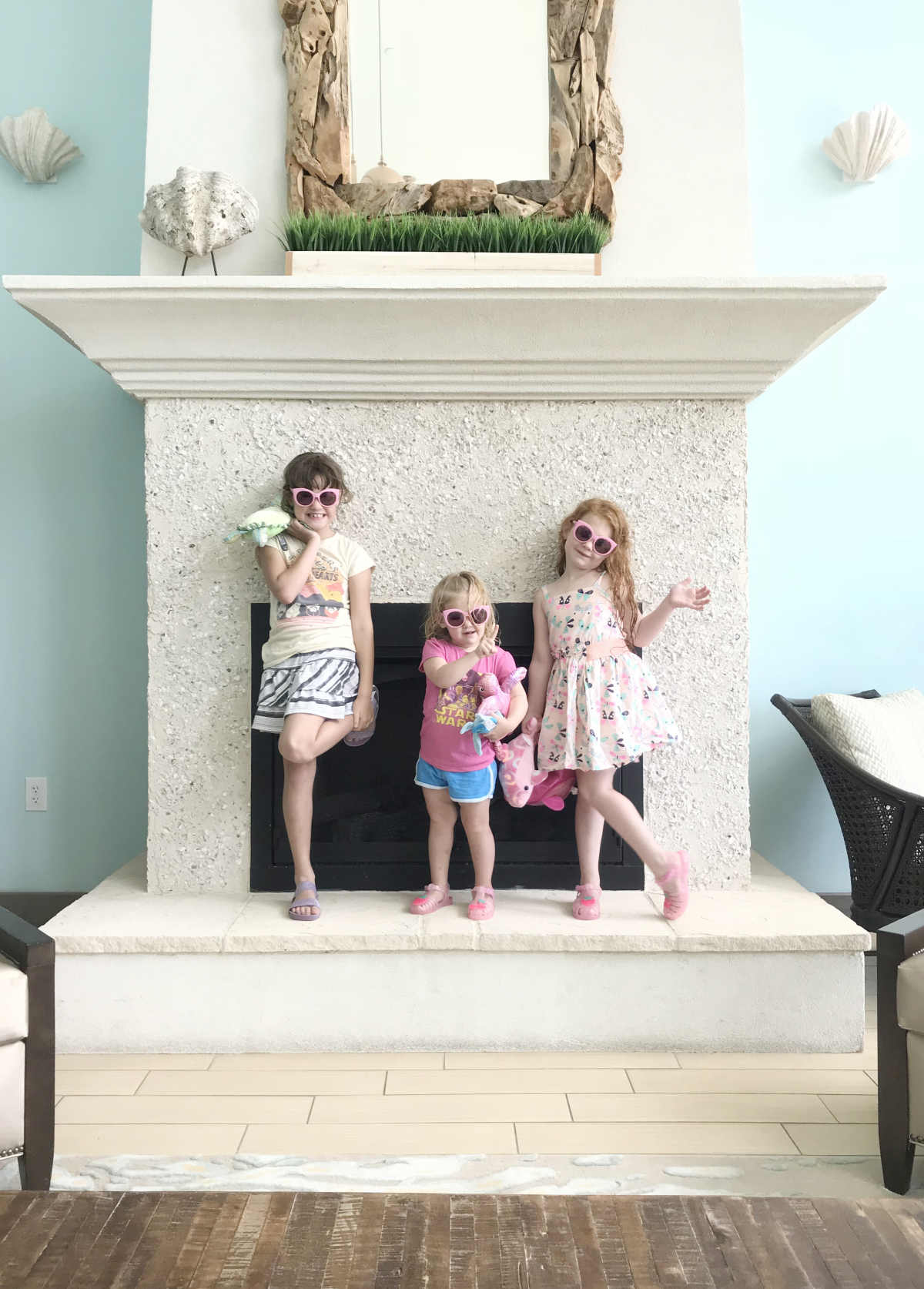 We stayed for three nights, which was so good, but next time we will plan to stay longer!  It was really hard to leave, and there was still so much we wanted to do.  We honestly can't wait to go back - I'll be sharing more about our trip here soon, but be sure to check out some of the photos on my instagram if you haven't!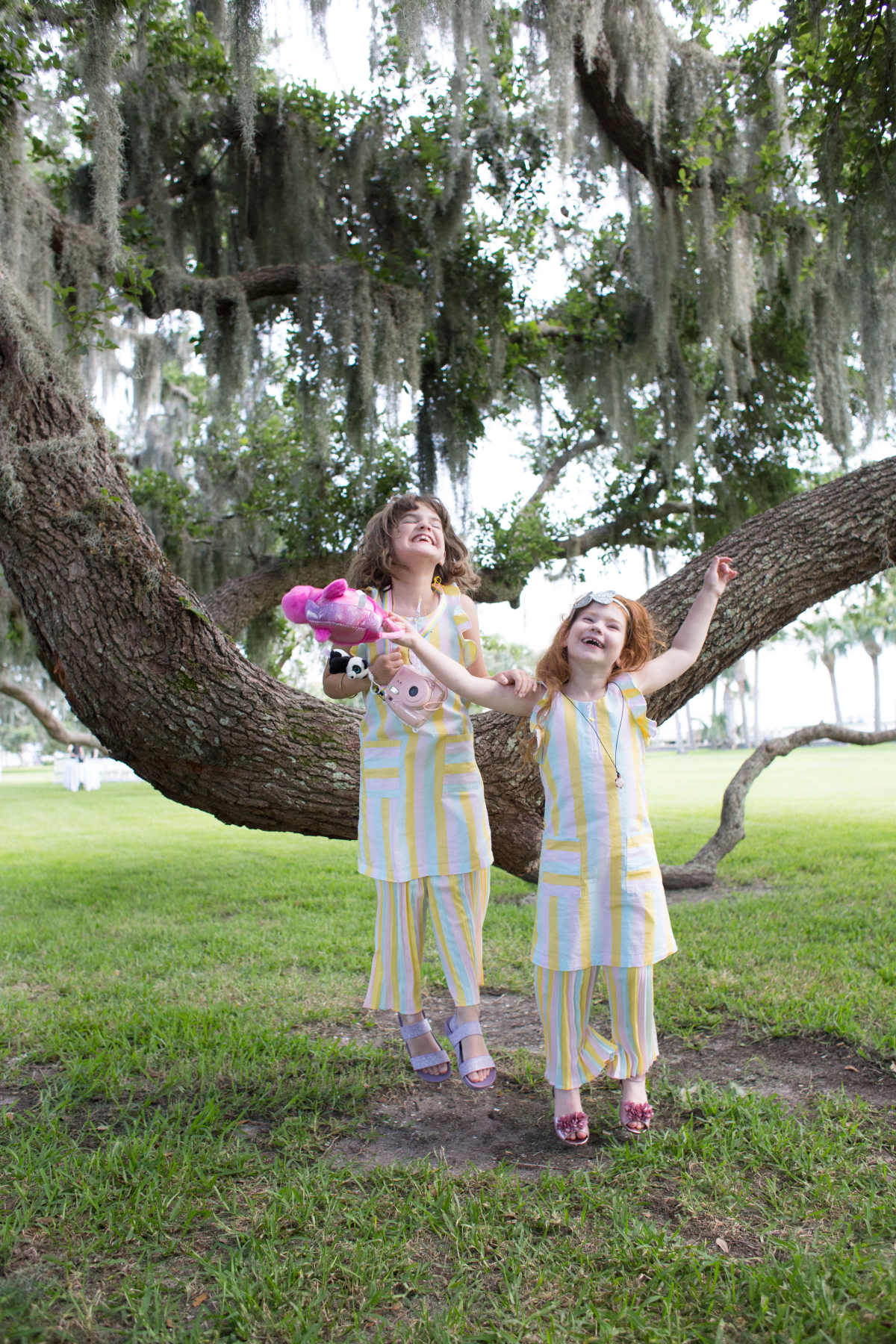 This is a sponsored conversation written by me on behalf of Jekyll Island Authority. The opinions and text are all mine.