a wish list for little ladies
christmas gifts for girls
(find a gift list for guys here, and for grown up girls here!)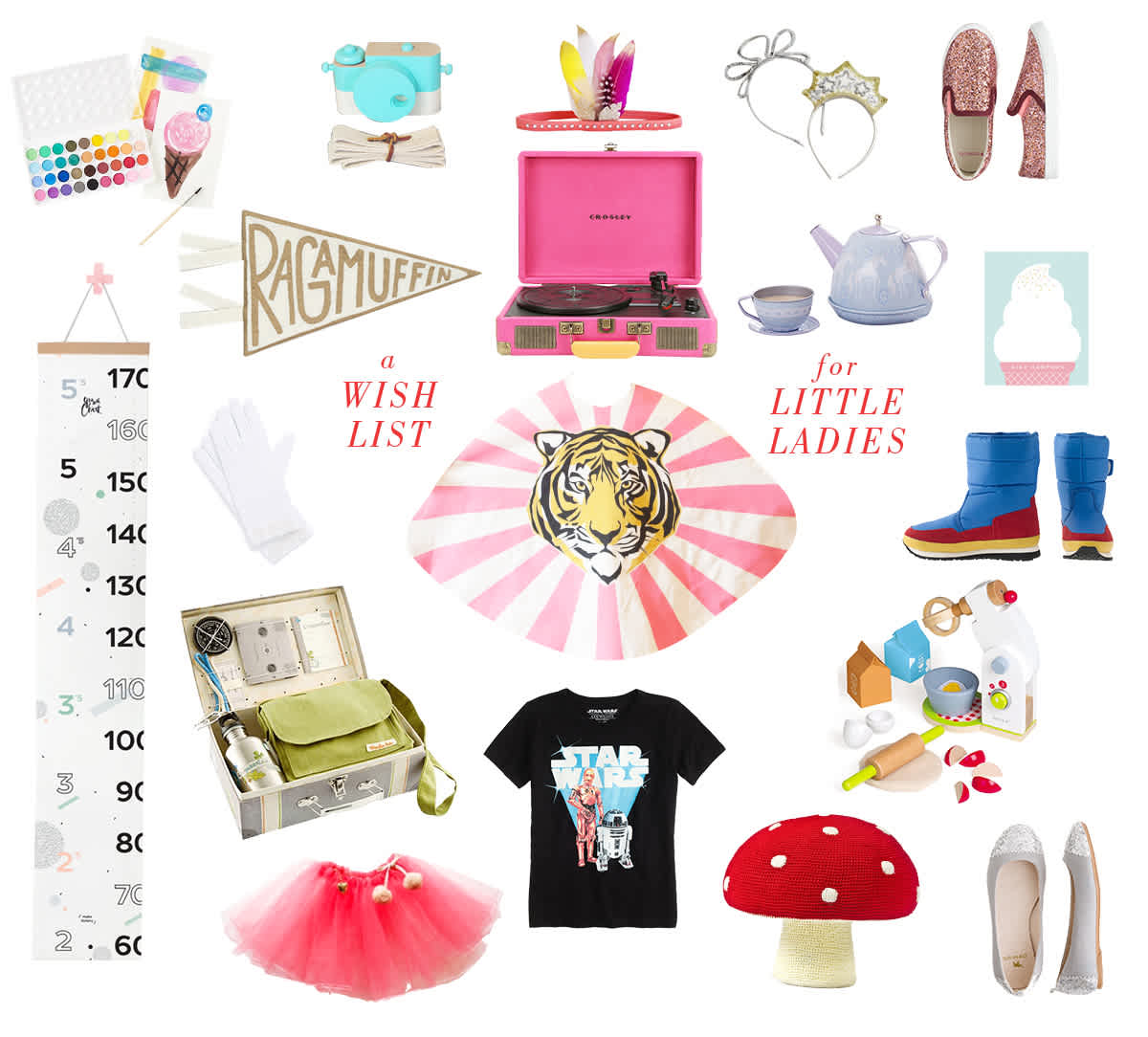 I've been thinking hard about what to get Vivi for Christmas.   She doesn't really get the whole "you ask for something that you really want and then you usually get it" thing, so her response when someone asks her what she would like for Christmas is usually "a doll."  But the thing is, she doesn't really play with dolls, and we got her a doll for her birthday and she has hardly touched it. The things that seem to keep her the most occupied are those that involve or inspire imaginary adventure, dressing up, or pretending, so here is a roundup of some fun things that I think would be a hit - hope it helps you out, too!
(1) Watercolor Set - she is always up for painting, and her self portraits are my favorite.
(2) Pretend Camera - she has one of these, and loves wearing it around the house, and out an about to "take pictures."
(3) Feather Crown - there are never enough crowns.
(4) Sparkly crowns - because #3.
(5) Sparkly Slip on Shoes - She is always disappointed when she can't wear her sparkly shoes to school, but she has to wear shoes that stay on her feet and that she can run around in.  These would fit the bill, while also appealing to her sparkly sensibilities.
(6) Ragamuffin pennant - I just love this.
(7) Pink record player - these are just the most fun!
(8) Purple Unicorn Tea Set - it's pretty and won't break, and it's perfect for tea parties.
(9) Stationery Set - one of her latest obsessions is "playing messenger."  She loves stuffing envelopes, writing secret messages, covering them with stickers, and hoarding them in a special box.   I think I'm going to make her a set for Christmas so she doesn't keep taking mine!
(10) Gloves - These are essential to playing princess (thanks to Elsa!).  She doesn't have a proper pair, and is disappointed every time she can't find any.
(11) Super Awesome Tiger Cape - Need I say more? This is just plain amazing (as is all of Lovelane's collection!).
(12) Snowjoggers - I just think these are plain awesome, and while I'm sure she would probably prefer pink, I adore this retro palette.  Reminds me of Rainbow Brite.
(13) Growth Chart - I love this design so much!  She would love seeing how much she has grown.  While I cry.
(14) Adventure Case - This would be perfection.  And all of it comes in a very special box.  And things that are in special boxes make it extra fun to her.  I think this would get a ton of mileage.
(15) Mixer Set - to bake like Mama.
(16) Pink Tutu - She loves playing ballerina.
(17) Glow in the Dark Star Wars tee - Vivi and Chip watch Star Wars together and she loves discussing the storyline with him.  Does it get much better than glow in the dark?
(18) Mushroom Pouf - The perfect perch for reading.
(19) Sparkly flats - She has been requesting shoes that "don't have straps," I think because they look more grown up to her.  She would probably never take these off.