What to Pack in Your Hospital Bag for Baby's Arrival
Packing for the hospital (especially the first time) can seem a little overwhelming. It's really fun to prep for, though, and here I'm sharing some of my favorite items to be sure to pack.
It's also a great shower gift; get a really cute overnight bag, pack it with a few items, and print out a checklist for an expectant friend. It's thoughtful, different, and will help them make sure they are ready as it's easy to feel scattered towards the end (especially if you have other kids at home!).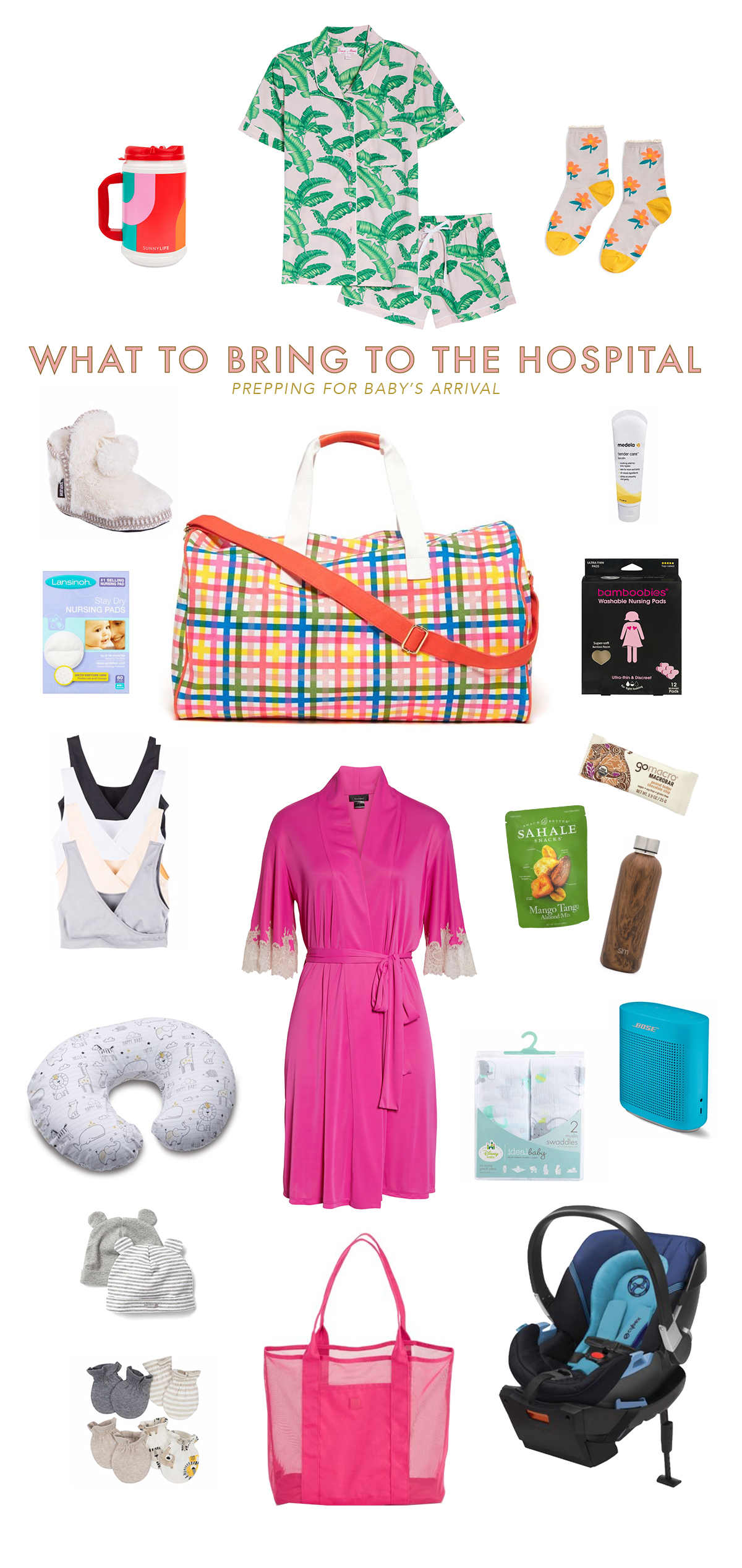 Here is a little roundup of some of my must-haves:
(1) Water Bottle: Your hospital may also provide you with one, but making sure you are super well hydrated after baby is extremely important, so if having a cute water bottle makes you inspired to drink up, then go for it!
(2) Cute Pajamas: I love finding a few pair of cute pajamas and saving them for after delivery. Button down is a plus for breastfeeding, and it makes you feel somewhat put together even though it might feel a little like you are falling apart. Plus it's cute for baby pics!
(3) Cute Socks: I love having cute socks to wear for delivery. I know not everyone cares, but it always makes me happy, and they are also fun to wear post delivery.
(4) Comfy slippers: My feet always get cold, and it's nice to have something comfy to wear around the hospital room. They will most definitely also come in handy after you get home with all the nighttime feedings!
(5) Lanolin: This is essential. I had no idea how much nursing would hurt when I had Vivi, and being prepared will make it so much better for you.
(6) Nursing Pads: These are great, because the lanolin can get onto your tanks/pjs . . . keeping these in place will keep them from getting stained.
(7) Cute Duffle: Love this one! It's a fun excuse to get a cute new bag for weekend trips and such.
(8) Bamboobies Nursing Pads: These are also great, and are washable!
(9) Nursing sleep bras: These are so comfy and great for feeding. I always feel better wearing a sleep bra at night, and it's helpful to have them in your bag to wear right away!
(10) Robe: I also love to pick out a pretty robe. I usually end up living in comfy/stretchy things the first few weeks after baby, and wearing something cute always makes me feel better.
(11) Snacks and water bottle for the baby daddy: (He loves this trail mix and these bars!) I love packing a few of Chip's favorite snacks in my bag. It's not always the easiest for the guys (I mean, of course, you can certainly argue they have the easier job . . . ) but bringing something for him always feels special. Also, labor can be unpredictable, so being prepared to keep him comfortable and present is really helpful. (This would also be a super thoughtful dad gift; give them a new overnight bag stashed full of snacks, a water bottle, and other items to make them comfy! They are always hard to buy for, but I love this idea.)
(12) Nursing Pillow: It can really help to bring a nursing pillow, as sometimes those first feedings can feel really awkward. Having the support can make it so much easier on you!
(13) Cute swaddle blankets: I always love packing a cute blanket for some of the hospital pics.
(14) Wireless Speaker: It's fun to put together a playlist for labor, and also nice to have in the hospital room to make it feel more comfy!
(15) Baby Hats: I love bringing a really cute baby hat or two for pictures, and for baby to wear home!
(16) Car Seat: This one is definitely a must have. Chip had to go out and buy one for Ellie while we were in the hospital, because we didn't have it yet! I have a Cybex one this time, and it's so gorgeous!
(17) Mittens: These are handy for those extra long newborn nails, so they don't scratch their sweet little faces.
(18) Extra tote bag: The hospital always has diapers and other items for you to take home. Having an extra bag is really helpful to get it all in the car!
Hope this is helpful! Did you have any other must have items on your list?