craft room ideas for kids
So, I have finally wrapped up this craft room!  I've been working on it slowly over the summer, and am so happy to have it all together. (And, before I forget, the wall color is Inspired Hue by Valspar.)
(pictured above: Icons Chasing Paper Wallpaper; Rainbow Light Fixture; Harvey Large Brass Knobs on Vintage Dresser; Star Wars Poster in Irvine Slim Frame; Kitty Cat Poster; Vintage Globe; Pen Organizer; Bookcase; Acrylic Jars; Gold Balloon Dog; Vintage Pennant; Vintage Chairs; Play Table; Dot Rug; Lazy Susan Art Caddy)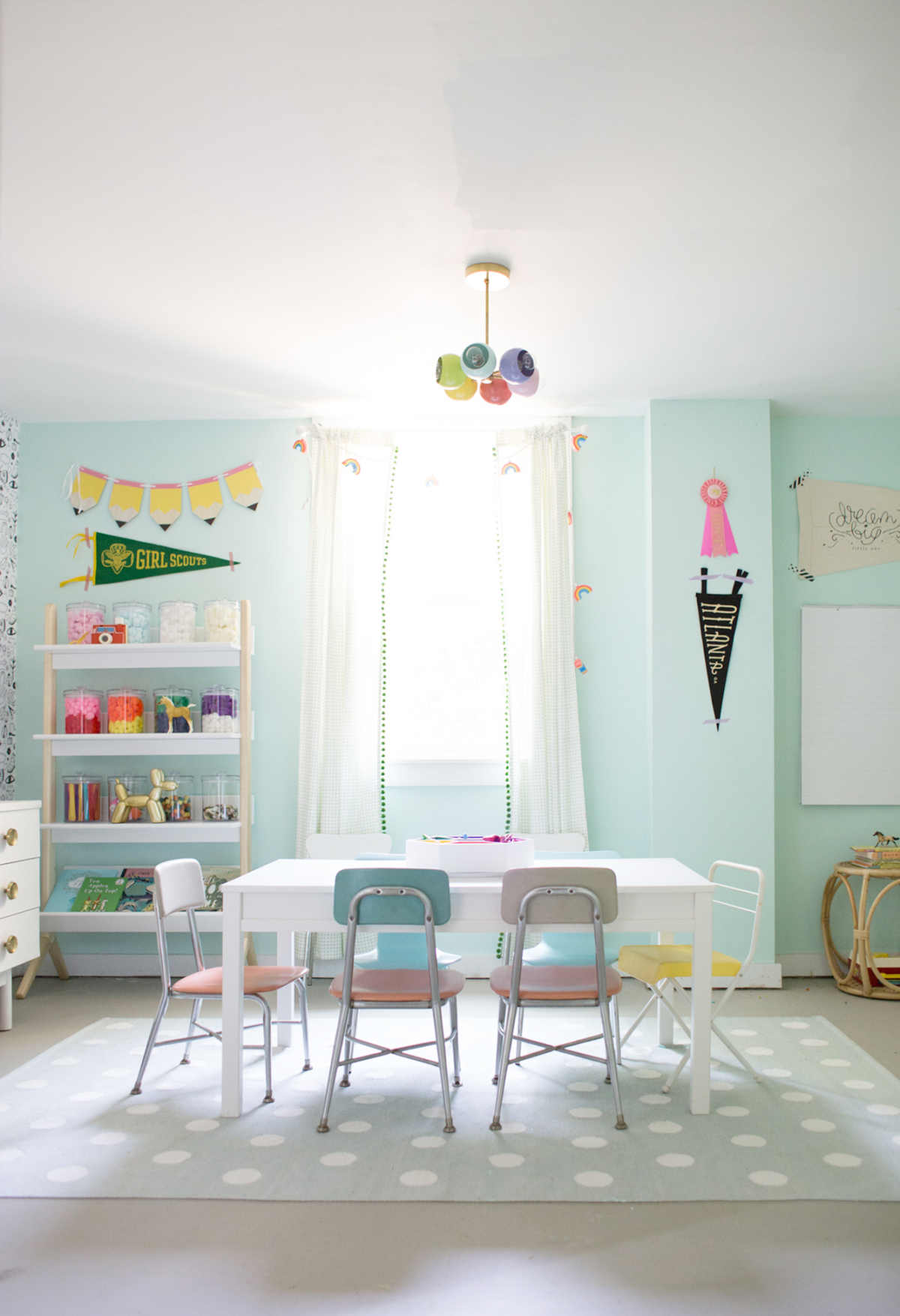 I feel crazy that I haven't utilized this room better until now.  It's located off of our basement, and while I know it appears like it would be a great bedroom for one of our children, our basement, while great, kinda feels like a separate space from the rest of our house.  The stairs are steep, it's honestly not finished out super great, and so it might work for an older child or teenager, but not for our littles.
(pictured above: Rainbow Light Fixture; Play Table; Vintage Chairs; Polka Dot Rug; Bookcase; Atlanta Pennant; Dream Big Flag; Lazy Susan Art Caddy)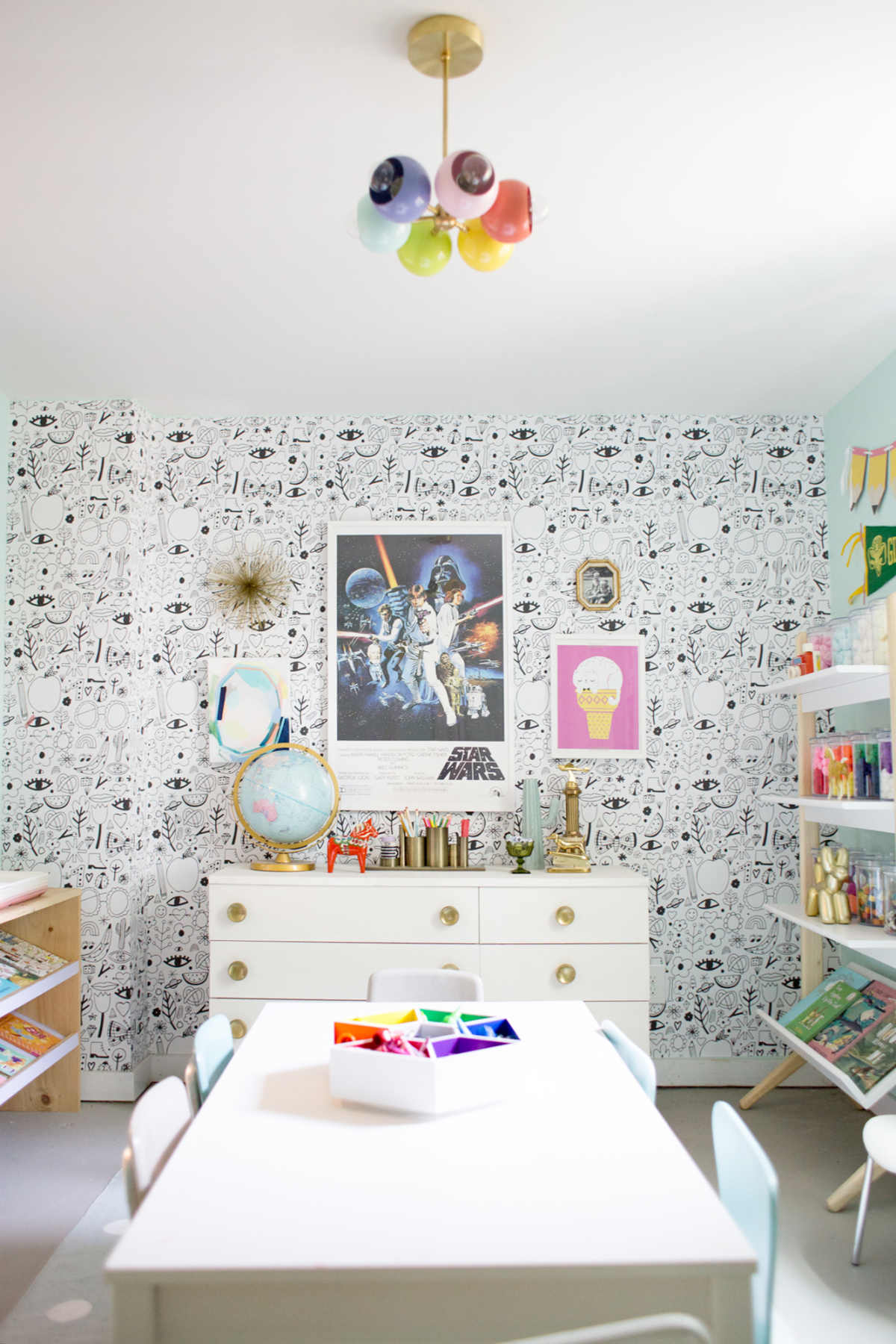 Up until now, I felt like I needed to keep a bed in here in case parents come to stay or we have guests, but in the past six years, we have rarely had anyone use it (there isn't a bathroom down there) and it had become an incredibly disorganized room full of outgrown clothes, baby items, and a huge hodge podge of my crafting and project supplies.  So it was pretty much never used.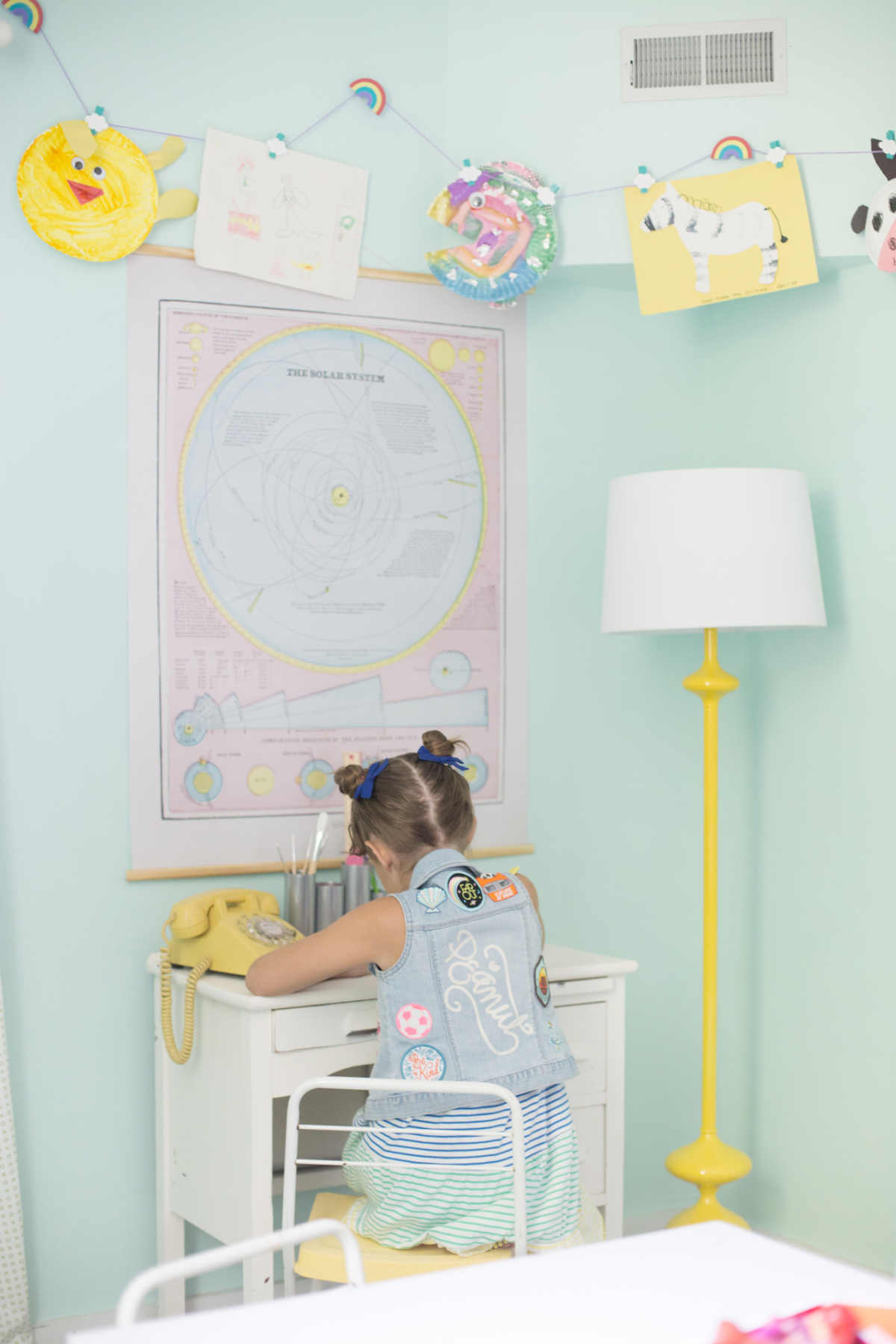 It feels so good to finally have this space pulled together, and it's really fun, because it has double doors we can lock, making it a special room mostly for the big girls. It's a place they can draw, color, paint, doodle, read, play, whatever, without worry that the toddler will walk off with their markers or tiny dolls.  I think it will also be a great place for Vivi to do homework, and she is over the moon with a room full of drawers and organization.  It's like her love language.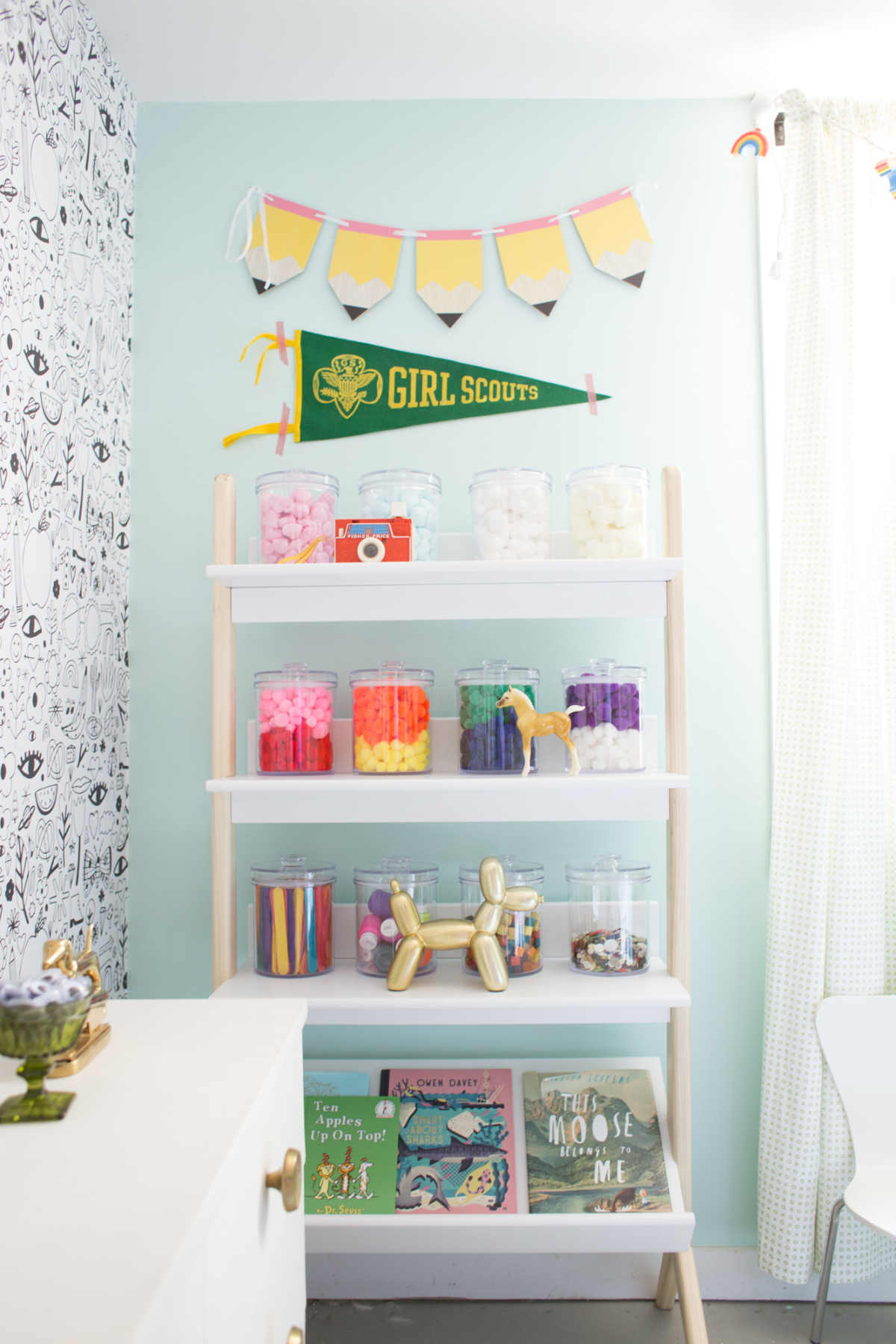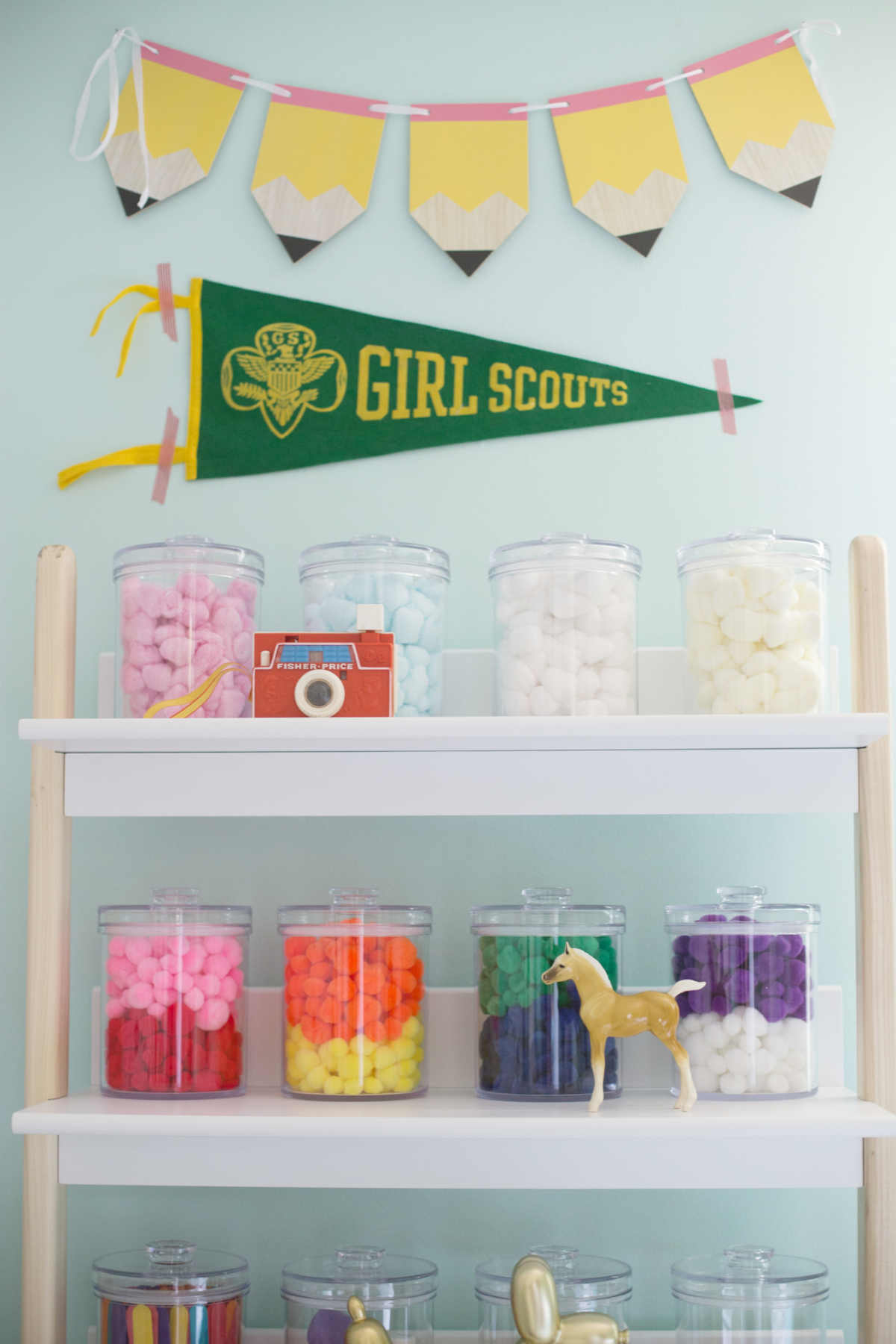 We are using this beautiful bookcase stocked with acrylic (yay, sturdy!)  jars full of crafting goodies (this site was a great source for craft stuff!! so many fun things at great prices!) and the bottom shelf is perfect for favorite reads or books from the summer reading list.
(Pictured above: Icons Wallpaper; Ten Apples Up on Top; Smart about Sharks; This Moose Belongs to Me; Gold balloon dog)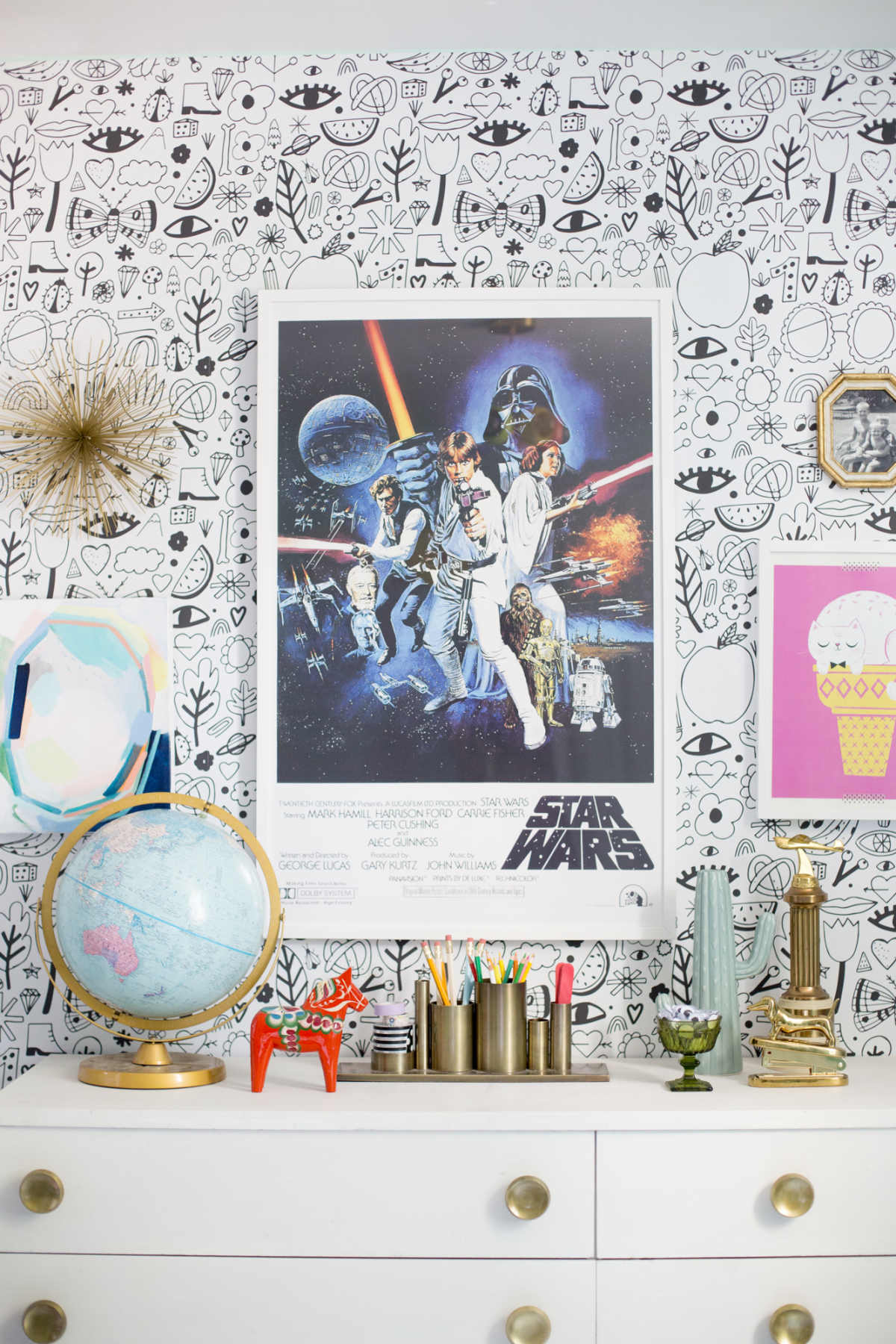 I was also super excited to find a place to hang this vintage Star Wars poster.  I had it framed via Framebridge, and it looks so fresh on that wallpaper!  I love giving it a little bit of a girly twist.  That dresser was a vintage find.  I loved the lines, but it was a little worse for wear, and those amazing knobs really brightened it up!  They also feel a little C3PO to me, and complement the poster in the best way, along with the other metal items.
(Pictured above: Vintage Globe; Dala Horse; Desk Organizer; Cactus Vase; Doggie Stapler)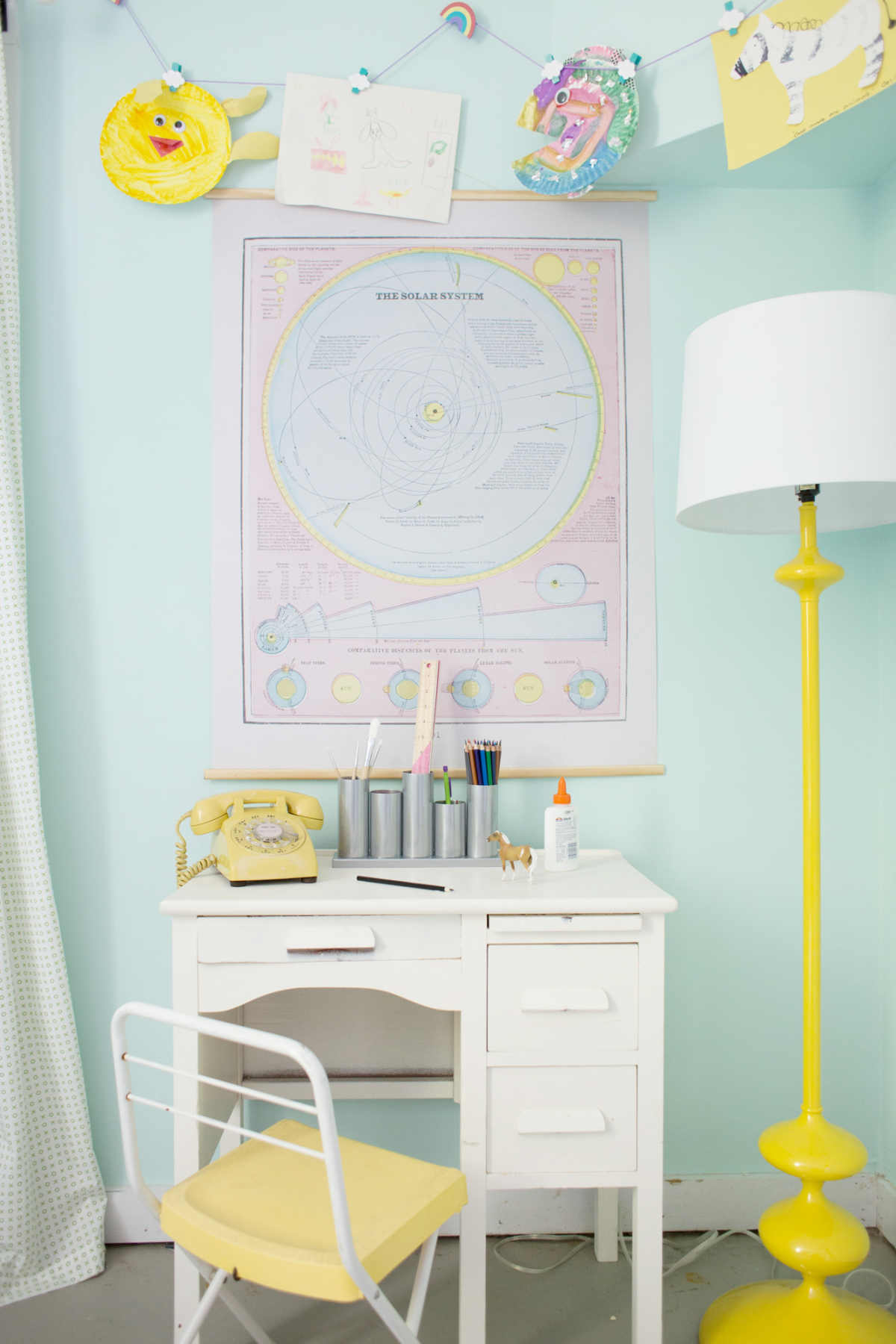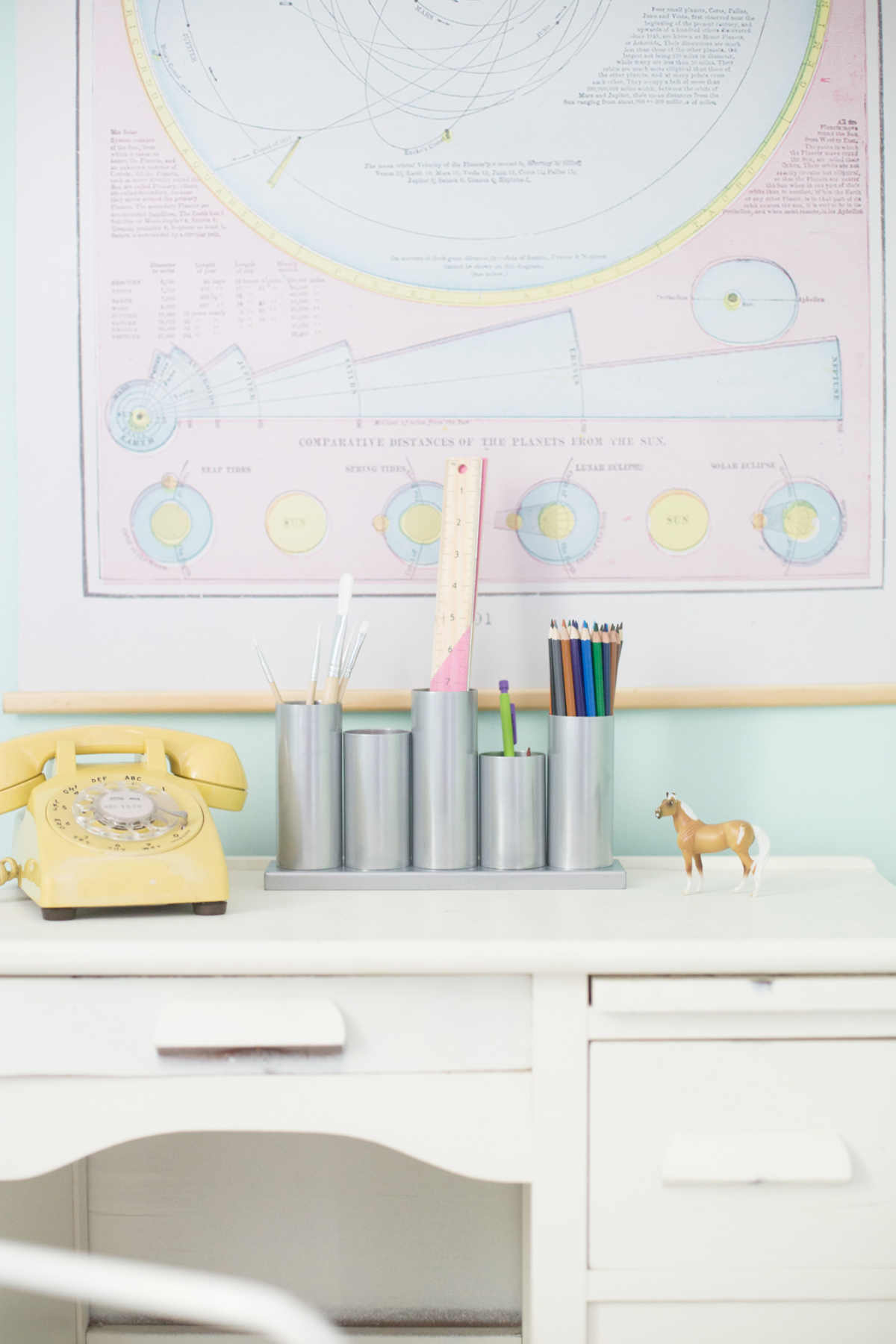 I snagged this cutie pie vintage desk from a thrift shop for an extra little space for doing schoolwork.  Love that desk organizer, and the perfect rainbow clips for displaying art!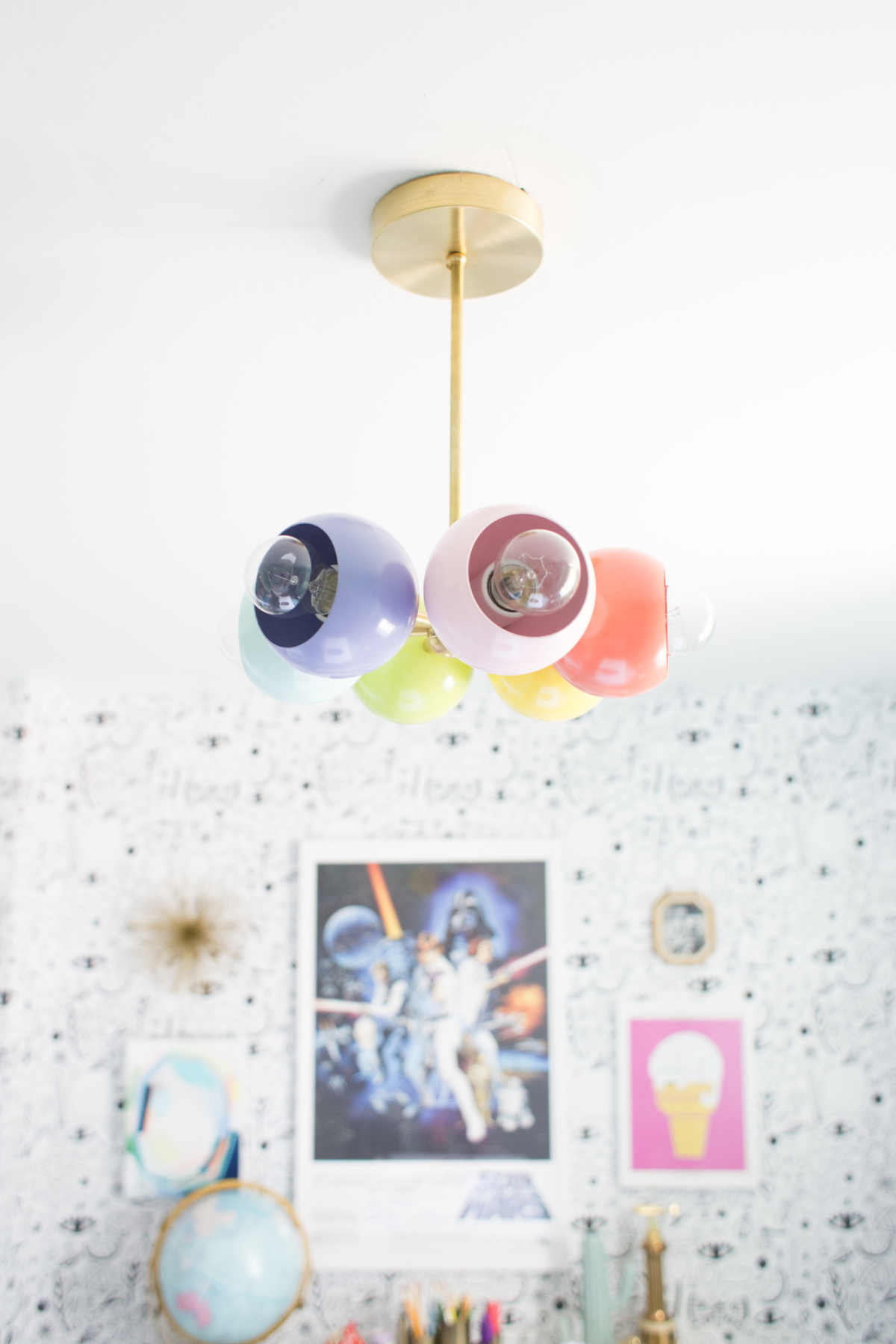 Also, um, this light.  It's just so darling.  Kirsten of Sazerac Stitches made it to order in the most perfect way.  I also think it would be stunning with longer arms, but these basement ceilings are low (7.5') so we kept it perfectly petite. Those colors are just so good, aren't they?  She makes the dreamiest light fixtures, so definitely go check her out!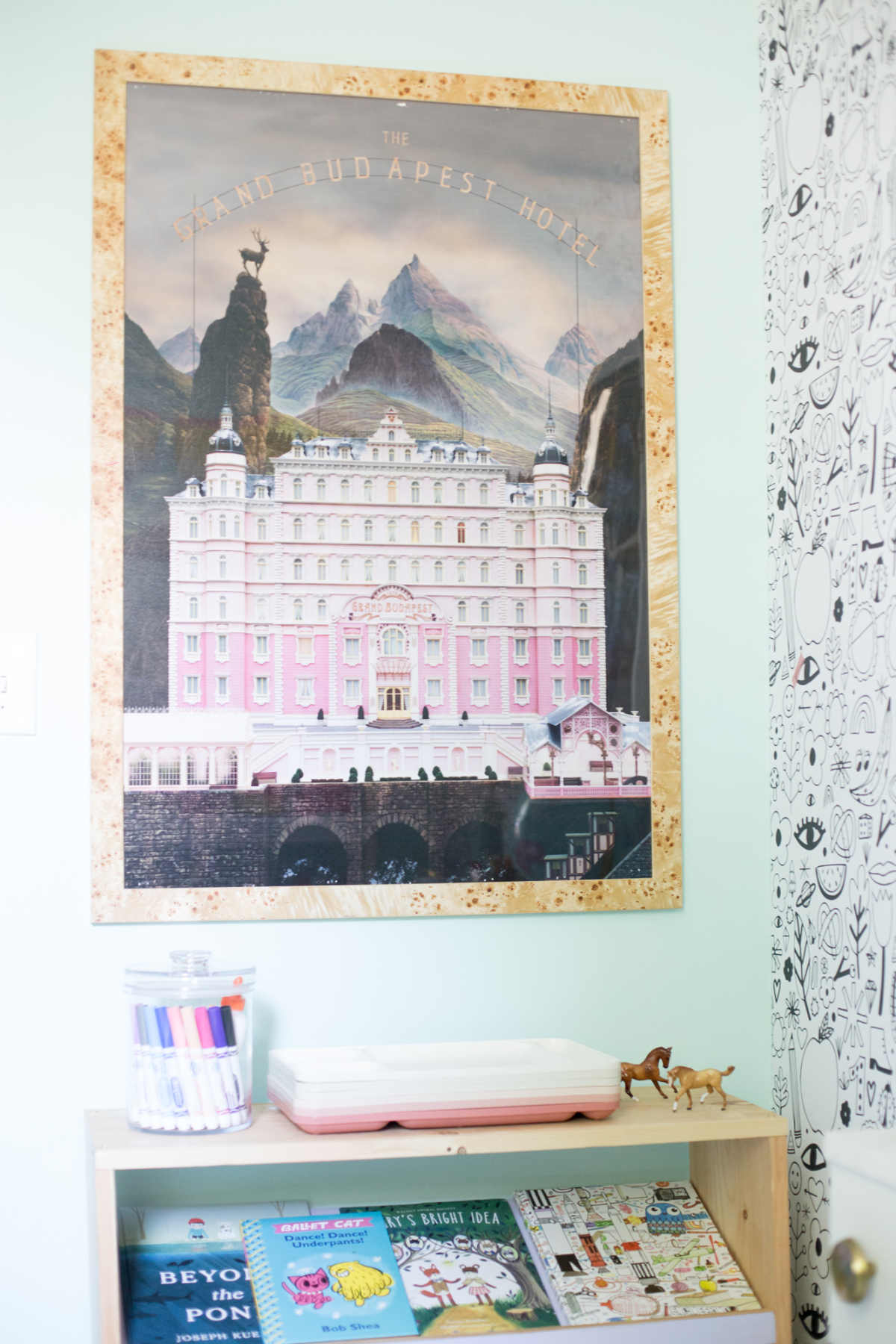 This room is also the perfect spot for this Grand Budapest Hotel poster I've been hoarding.  Isn't it extra spectacular in that burl wood frame from Framebridge?  The shelves below are the base from Vivi's grocery stand.  It's easy to screw the top back on for such things as lemonade stands or playing pretend emergencies.  I love having another place to stash books, though.  Seriously, you can never have enough book stashing in a house, I don't think.
Those vintage trays are a sweet etsy find, and perfect for crafting projects to organize the little supplies!
(Pictured above: Acrylic Jar; Vintage Cafeteria Trays; Beyond the Pond; Ballet Cat; Henry's Bright Idea; Rosie Revere, Engineer)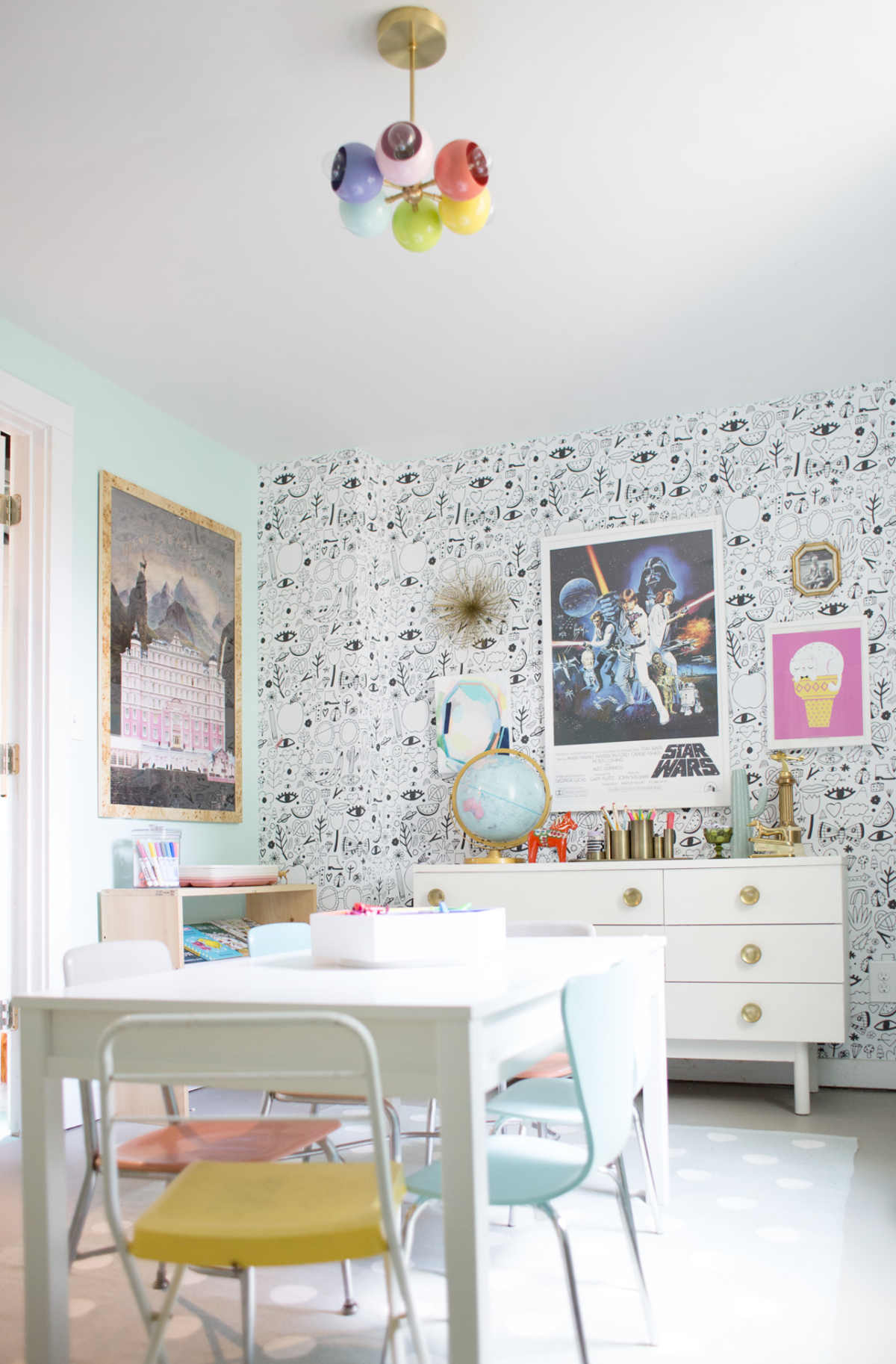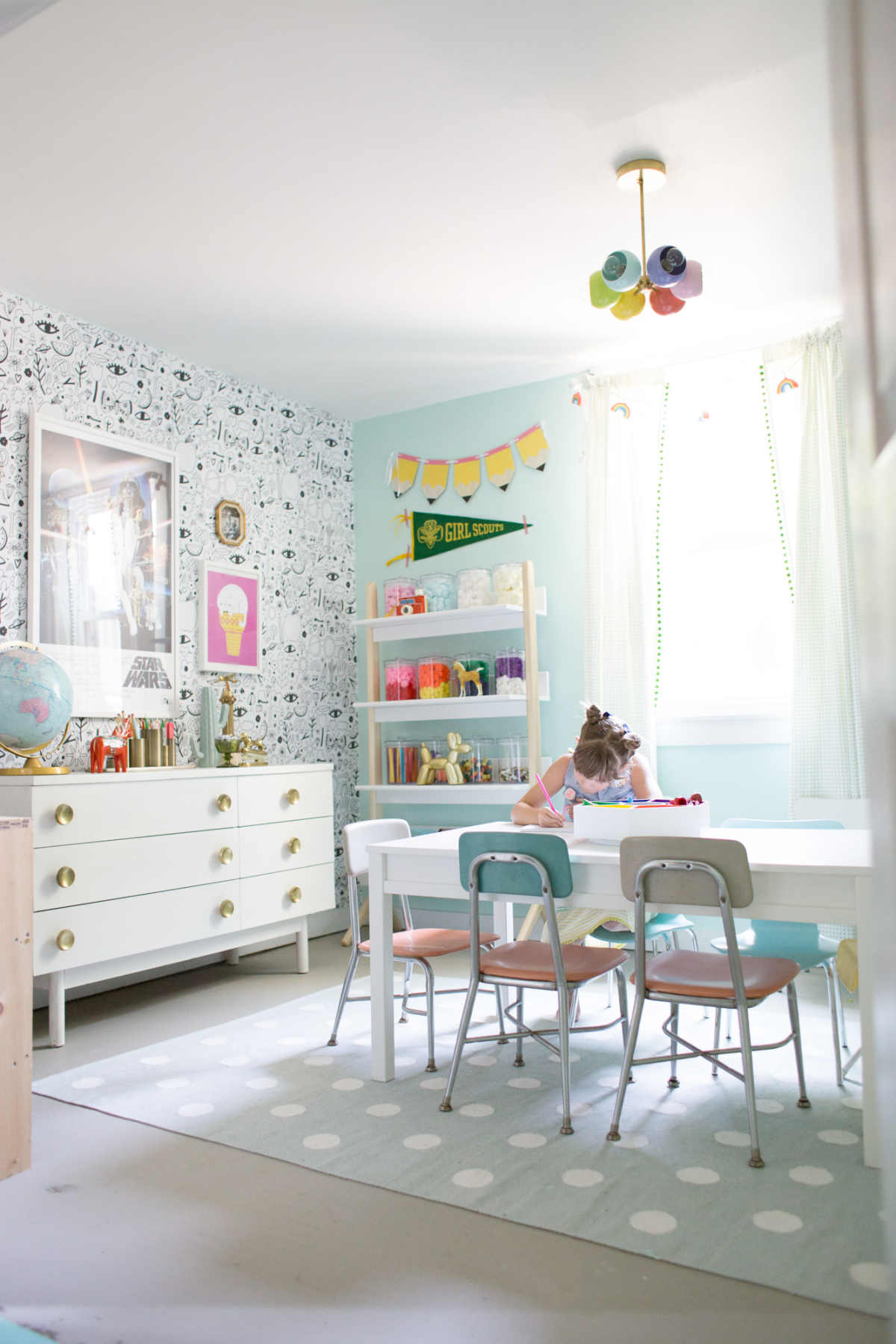 It's been so fun to see Vivi all excited about this room.  I feel like I'm always having to say no to them about markers, crayons, pens, etc. because Ellie gets into them and it just gets everywhere, so I'm hoping they can enjoy this room as their own.  Also, it's a bit challenging now that Brigie and Vivi share a room; it's really hard for them to have a little space when they need it, so it's just nice to have an extra space they can go to if they need it.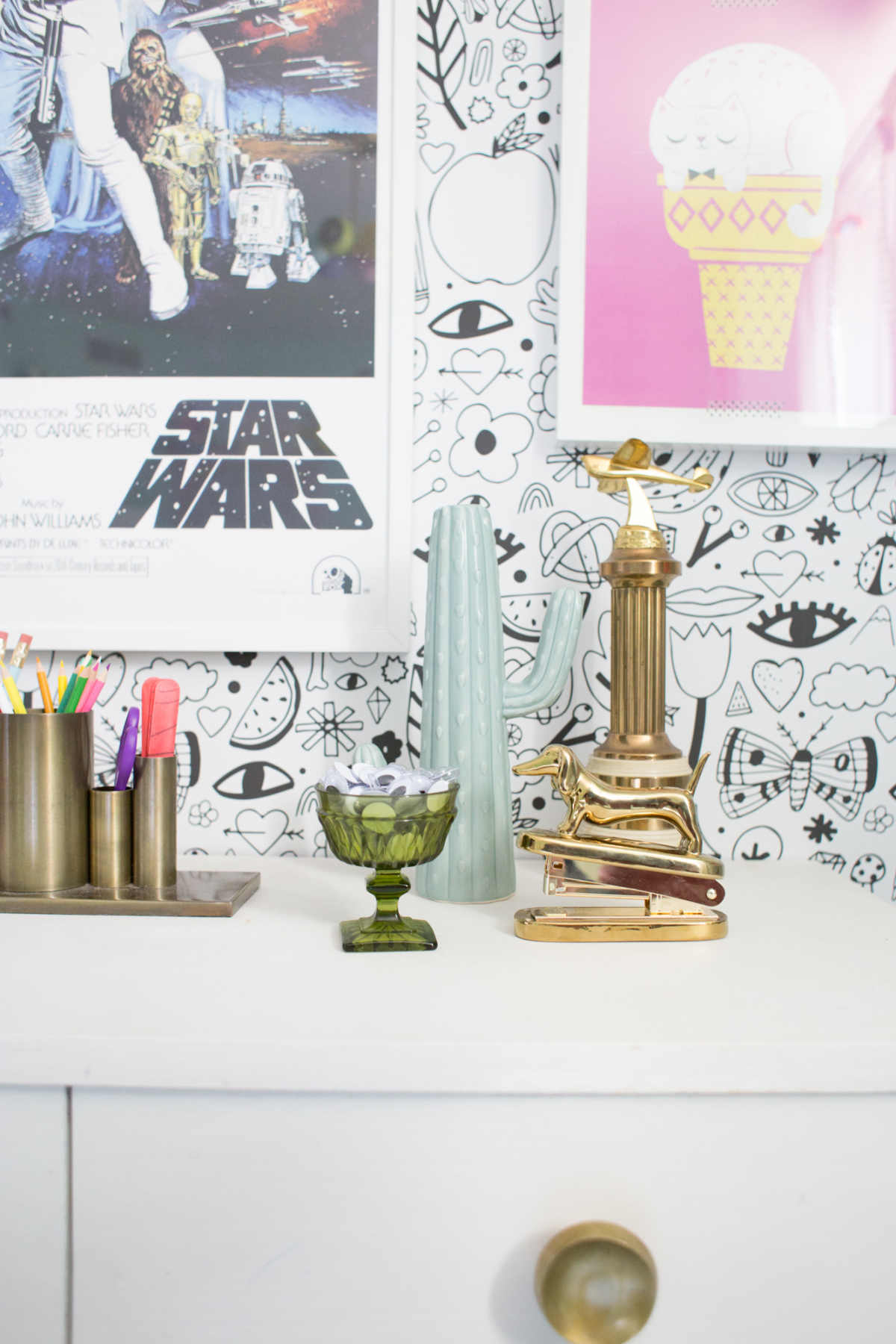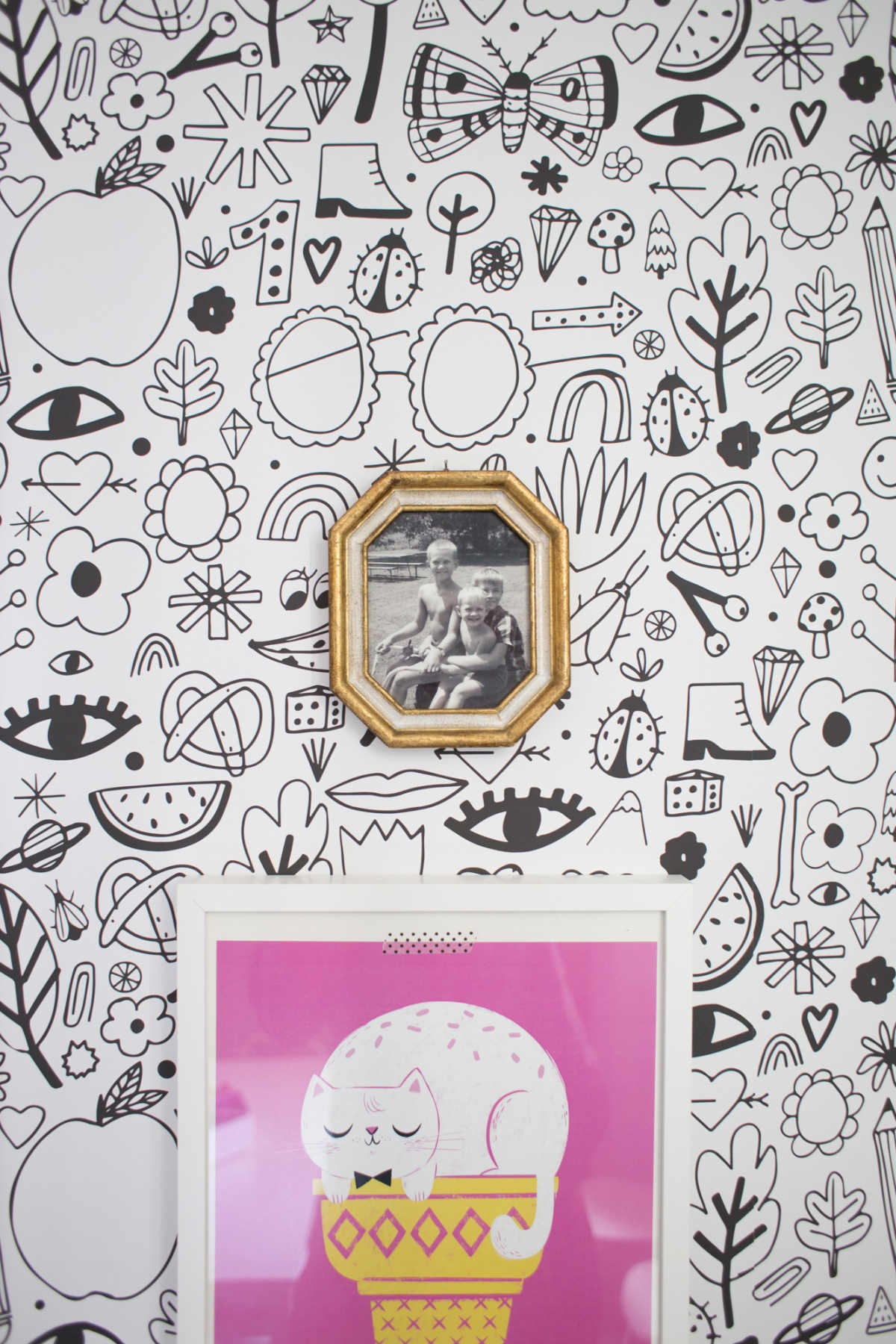 Plus, I just love being in here.  And while obviously it's not all about me, that is part of the message I hope to instill with my work here.  That your home can be a joy-filled, colorful, uplifting place.  Motherhood is hard.  It's good, but it's hard.  My heart overflows in the most amazing way, but at the same time, it's emotionally, physically, and sometimes spiritually draining.  So why not make this place where you face some of your biggest tests - tests that most people will not even see or recognize - a place that sets you up for success?  I hate the way I sound when I sigh in exasperation because the girls just wanted to color and Ellie took the markers and is heading straight for the sofa.  So, I made a room where the markers can go and bring the happiness that should come with them.  So that I can take a deep breath, and enjoy the markers, too.
Let me know if you have any questions!!  I'm sure I probably left out a detail or two - hope you are inspired!