small sofa favorites for a kid-friendly den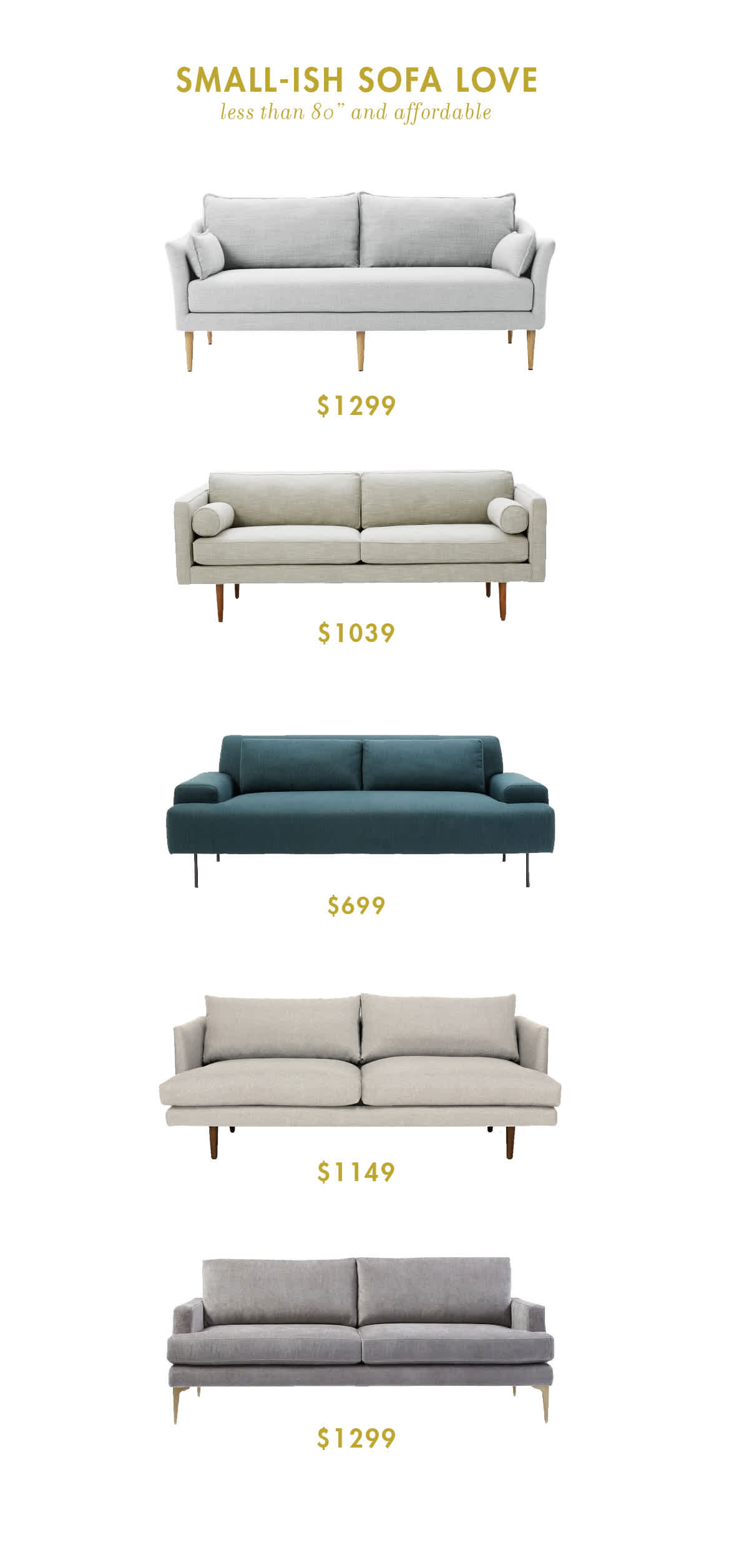 So, we have to get a new sofa for our den (I'm in the middle of refreshing it a little right now, anyway).  We just bought one about a year ago, but it's the #peggysofa, and the buttons have begun to come off.  I honestly adored it, but since it seems to be a known issue and a difficult one to fix, I figured we should return it and get another, rather than it becoming more of a problem.  After all, I have another sofa with a tufted seat cushion, and it has yet to lose a button after 10 (!) years, so it's not unreasonable to expect them to stay.  Fortunately, West Elm has been super responsive and quick to resolve the issue.
(sources for the above: (1) Antwerp Loveseat; (2) Monroe Sofa; (3) Beckham Sofa; (4) Burrard Sofa; (5) Andes Sofa
Now, we are trying to decide what to replace it with.  I know finding a kid-friendly sofa is a challenge for a lot of folks, so I figured I'd share a little of our process.  Staying around the $1000 mark is what we would like to do, and it also has to be 80" wide or less, because that is how wide the wall is.  That narrows the field significantly, and I don't want to go too short, because Chip is on the tall end, and often we get horizontal for movies and Netflixing.
When finding a sofa that will also work with little people, I like to find a style with removable cushions.  I feel like this makes sense because if you get an irreversible stain situation somewhere, then you can flip the cushion.  This sort of strikes out option #3, but I'm considering it because of the price.  But then the price also makes it maybe slightly questionable, so I'm going to see if it is in stores so I can check it out in person.
When it comes to the fabric, I personally prefer a chunkier weave that isn't a solid color.  I feel like it tends to hide spills/stains/etc. much better than a solid, more tightly woven material.  I also think piping is a nice finishing touch, because my kids don't always just sit on a sofa.  There is often wallowing and head-standing (?) involved, and over time the cushion can get misaligned with the stuffing.  Somehow the piping keeps things looking a bit crisper, in my opinion.  I still really like some of the non-piped options above, but it's a detail that I'm usually more drawn to.
I think my favorite above is number 2, though.  Whenever we walk into West Elm, I'm always drawn to it - especially in the velvet, but I don't think we'll be doing that for the den.  Or maybe number 5 is a good pick, too - the seat is very deep, so it looks comfy.  I'd love to go with a really fun color (pink?), but we are doing a pretty blue in the living room, and I think it would be too much to have too crazy of a sofa in there.  What do you think?  What are your must haves for a sofa?