Registering with Babylist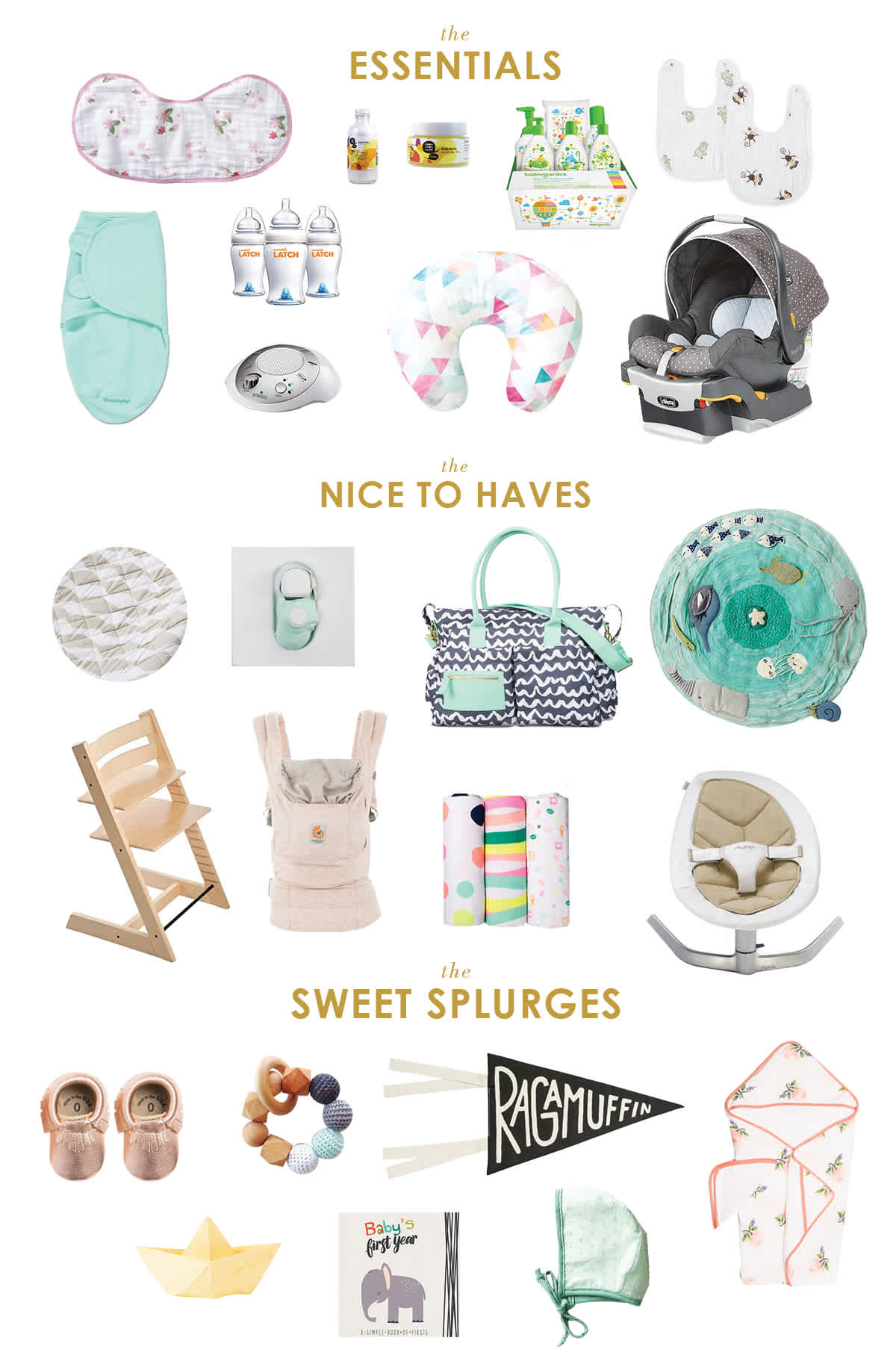 Registering for your first baby can be exceptionally overwhelming.  It's like learning a whole new language, and you are learning it before you are even in the country for it to have any context.  I remember meeting a friend who already had babies at the giant baby store to register for Vivi and it was like my eyes glazed over.  I tried really hard to listen and take in what she said, but it was all just so unfamiliar to me.  Thankfully, she gave me some sound advice, but I still had no idea what I was doing.
I love that now, almost six years later, there are so many more fun options for baby gear; many of them being online via etsy or small shops or boutiques.  You aren't limited to the big box store in your town, but rather you have a host of endless options at your fingertips, which makes it both exciting and extra intimidating.  I love the service offered by Babyli.st to make the whole process easier.  You can register anything from anywhere, so your registry fits your family and personality perfectly and you aren't limited to the brands available at just one store.  Plus, I love all the advice they offer on the best items to go for (SO helpful and concise!).
To help get you started on a registry with Babyli.st if you are just beginning this process, I'm listing out a more extensive list of my favorites below (I gave a few highlights recently, but this is a bit more robust).  I divided these items into three categories: Essentials, Nice-to-haves, and Sweet Splurges.  I'd certainly recommend seeking the advice of a friend or two to help you tailor your list according to your specific lifestyle (such as how much space you have, where you live, and such).
The Essentials (these aren't really in a particular order):
(1) Burp cloths.  These are my absolute favorites.  I like how long they are (they go further down your back - handy for bigger spit-ups!), and they can be bibs, too.  They are also super cute, so I don't mind having one over my shoulder when we're out.  Find a more inexpensive version here.
(2) Meow Meow Tweet baby powder and baby balm.  I love this stuff.  Ellie has sensitive skin (so did Brigette, but not so much Vivi - they are all different!).  Ellie's neck can get really irritated from moisture or milk, and the powder helps clear it right up.  I put a little around her neck and it keeps it dry and protected.  I love the balm for dry patches on her face and scalp. You can also purchase cute tiny little sample sizes, which are great for travel or diaper bags.
(3) Babyganics goodies: I just love this brand.  Everything is super cute, and doesn't have all the bad stuff!
(4) Bibs: I love these, because they are so soft, and the patterns are muted.  Ellie doesn't spit up nearly as much as Vivi and Brigette (hardly at all!) but I had to have a bib on them at all times because they spit up so much.
(5) Swaddles:  Swaddling has helped all of my babies sleep.  I have used these with all three and love them.  They have been my favorites.  I know there are a lot of options, but I've tried quite a few, and these hold their arms down the best and the velcro sticks well.  I'd love to say I'm a whiz at swaddling with the muslin blankets, but I'm just not, and it's nice to have a foolproof way to get it done at 2 a.m. when you are just beyond exhausted.
(6) Bottles:  I have loved these with Ellie!  I think they are helping her not spit up nearly as much!  I'd also recommend not going overboard on buying bottles.  I know some like to buy a whole suite, but I'd just get a few to try first to make sure they work well for baby.
(7) Sound Machine:  I think this is essential for sleep.  It really helps calm baby down, and while you want them to be good, sound sleepers, it's just nice to have something that drowns out the noise in the house (or, um, older siblings).
(8) Nursing pillow and cover:  I think the boppy is pretty great, although there are a lot of options out there!
(9) Carseat.  This is the one we have for Ellie, and I love it.  I also have the lightweight key fit stroller, which is super easy to use, and very handy for shopping and such.
the Nice to Haves:
(1) Changing Pad and Cover: Land of Nod has my favorites, and they can turn any dresser into a changing station!
(2) Owlet Monitor: I'm loving this for Ellie.  We have a small house, so we can hear any little sniffle or cry, but this has been great for peace of mind.  It also makes a nice, soft glow in her room, working well as a night light.
(3) Diaper Bag: I love love love this one.  You can't beat the price, and it has extensive storage options, stroller clips, and comes with a changing pad!
(4) Play Mat: It's great to have a little something for baby to play on.  I love all the "lo fi" versions you can find right now.  See this post for more.  A play gym is also super helpful!
(5) High Chair: I have always loved this one from Stokke.  It's pricier, but lovely, and you can use it for awhile, even past the toddler years.  A more economical favorite is this one, and it's also great if you are short on space.  I like using it without the cover, which gives it a cleaner look.  (It's also a great option for grandparents!)
(6) Baby Carrier: The Ergo is my absolute favorite, and honestly, I should probably list it as an essential.  It's my hands down favorite baby item.  It's so comfortable, and there is just nothing like having a little fuzzy baby head in easy kissing range while you are grocery shopping.  It's a must have if you have older siblings to handle!
(7) Lightweight blankets: Even if you don't master the swaddle, these are super handy to have as nursing covers, car seat or stroller covers for sunny or windy days or just for extra privacy.  They are also great to have on hand if you want to lay baby down and want to make sure it's on something clean.
(8) Bouncer.  I love this Leaf.  It's gorgeous, quiet, and calming.  We have one in the kitchen that I put Ellie in every morning while I make breakfast, or in the evenings while I cook.  A more economical option is this, which we also have and love!
Sweet Splurges:
(1) Crib Moccs: Just the sweetest!  These make a great keepsake.
(2) Fun teethers: There are so many adorable options!  I really love this wood and crochet version from Oh Just Dandy.
(3) Pennant:  It's fun to register for some nursery goodies, for sure!  I'm such a fan of Roxy Marj, and this pennant would look beautiful just about anywhere.
(4) Cute Hooded Towels: Freshly bathed baby in a hooded towel?  Doesn't get much better than that!
(5) Little toys: I'm crazy about these teethers/toys from Olli and Carol.  The retro feeling designs are precious, plus they are all natural, with no holes, so they make great bath toys since no mold can grow!
(6) Baby Book: I love this baby book.  It's super easy to fill out, and even I can keep up with it (which is saying something).  I've been keeping this one for Ellie.
(7) Baby Bonnets: ugh, just the sweetest.
So that's my list!  I hope it is somewhat helpful!  Let me know if you have questions about what has worked for us, and I'd be happy to answer.  And be sure to add your favorites on a registry at babyli.st!
(Thank you so much to Babylist for sponsoring this post!  I love their service and what they offer, and I'm so grateful for sponsors who allow me to keep creating beautiful, inspiring content!)