our bedroom redo
with serena & lily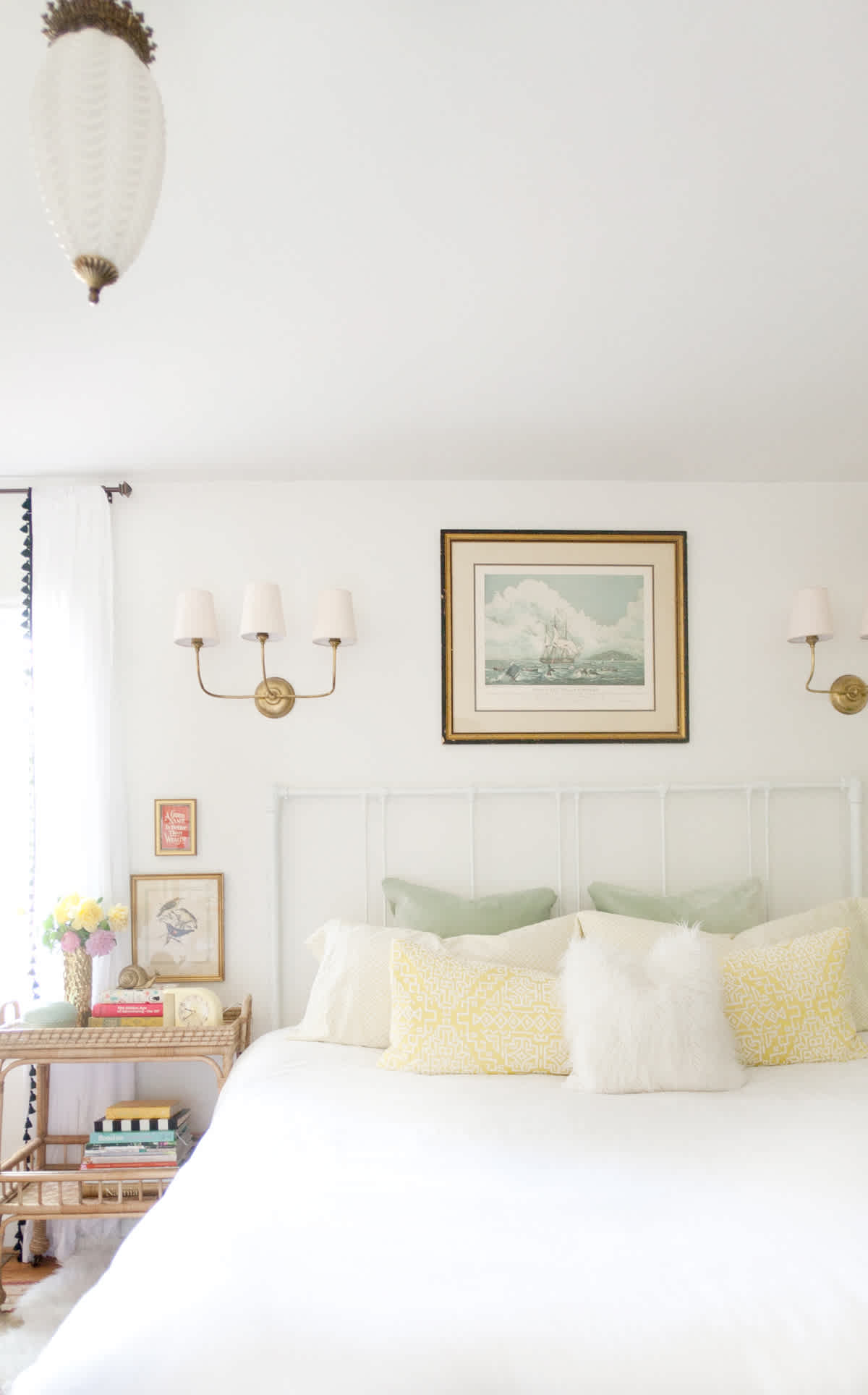 I have finally finished putting together our bedroom.  I feel like it has taken me forever to get it all together, but finally it's done and ready to enjoy!  I'm loving the lighter, brighter look, and have found myself spending a lot more time in here.  It's such a happy, calm place at the end of a long day.  (sources, from above photo: South Seas Side Cart, Aqua Border Duvet, Citrine Circle Sheets, Black Tassel Curtains, Everett Sconces)
We painted the walls white (Martha Stewart popcorn) and then my friend Kristin graciously let me borrow her sprayer to paint the headboard white as well, so it sort of disappears.  I found that ship print at one of my favorite antique markets on the cheap, and have always loved the frame and the print and it pairs perfectly with those amazing sconces!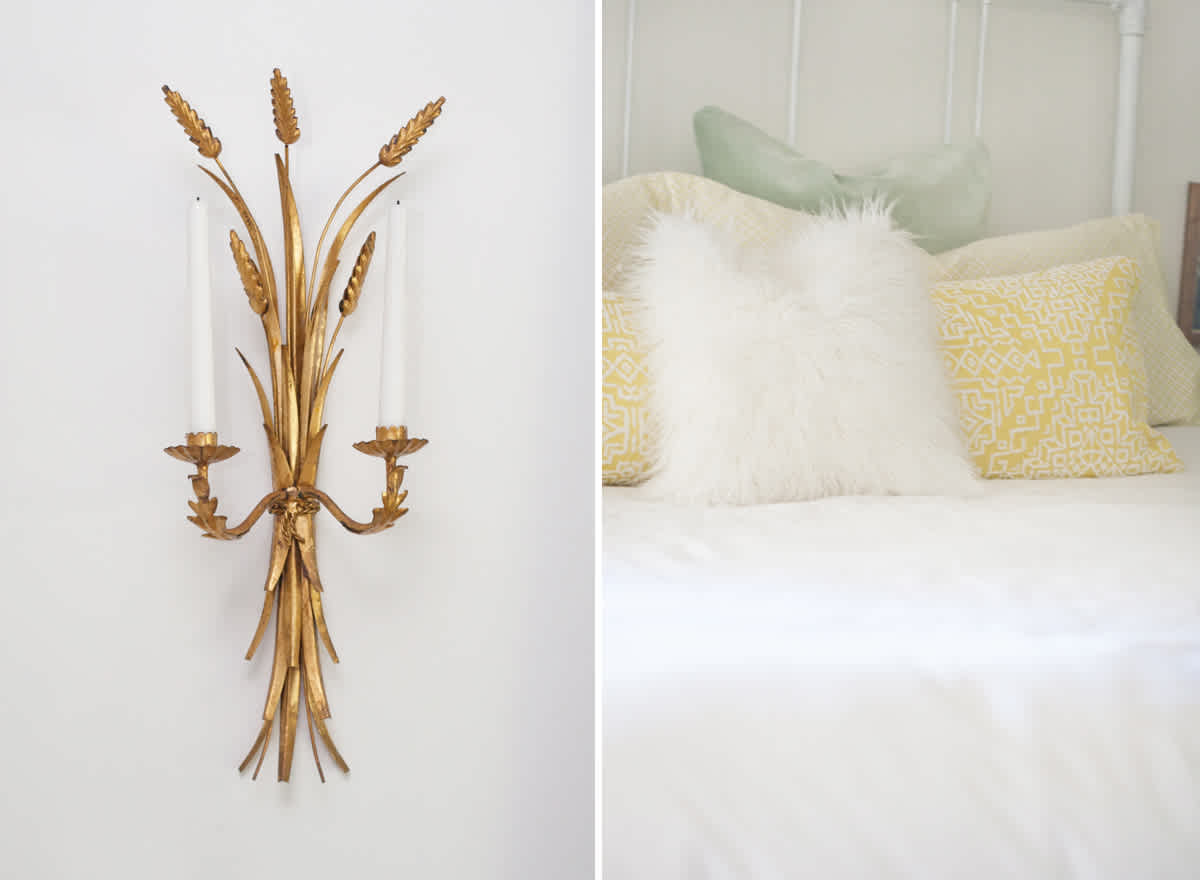 It's so wonderful to have new bedding.  I realized I hadn't changed ours since we were married six and a half years ago (crazy how the time gets away!).  A fresh new bright white duvet feels so luxurious, and I'm pretty crazy about those patterned citrine sheets.  I made some euros with some sea green velvet to put behind them, and an extra long lumbar pillow with some white and yellow to pair with the citrine sheets.  So dreamy!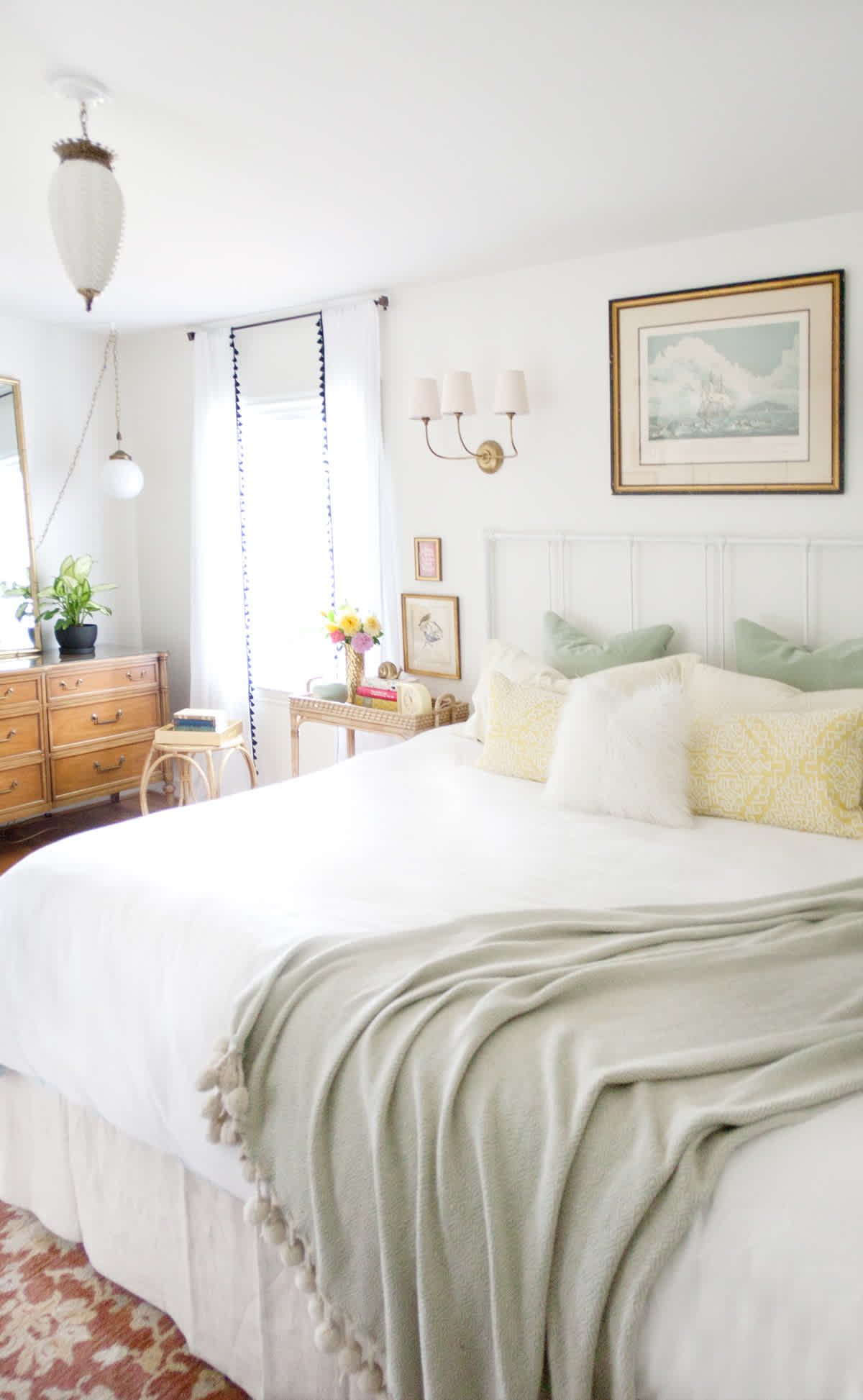 I also love that pom pom throw.  It's perfect for when I'm catching up on work in bed while the girls nap, or when I'm just doing some reading.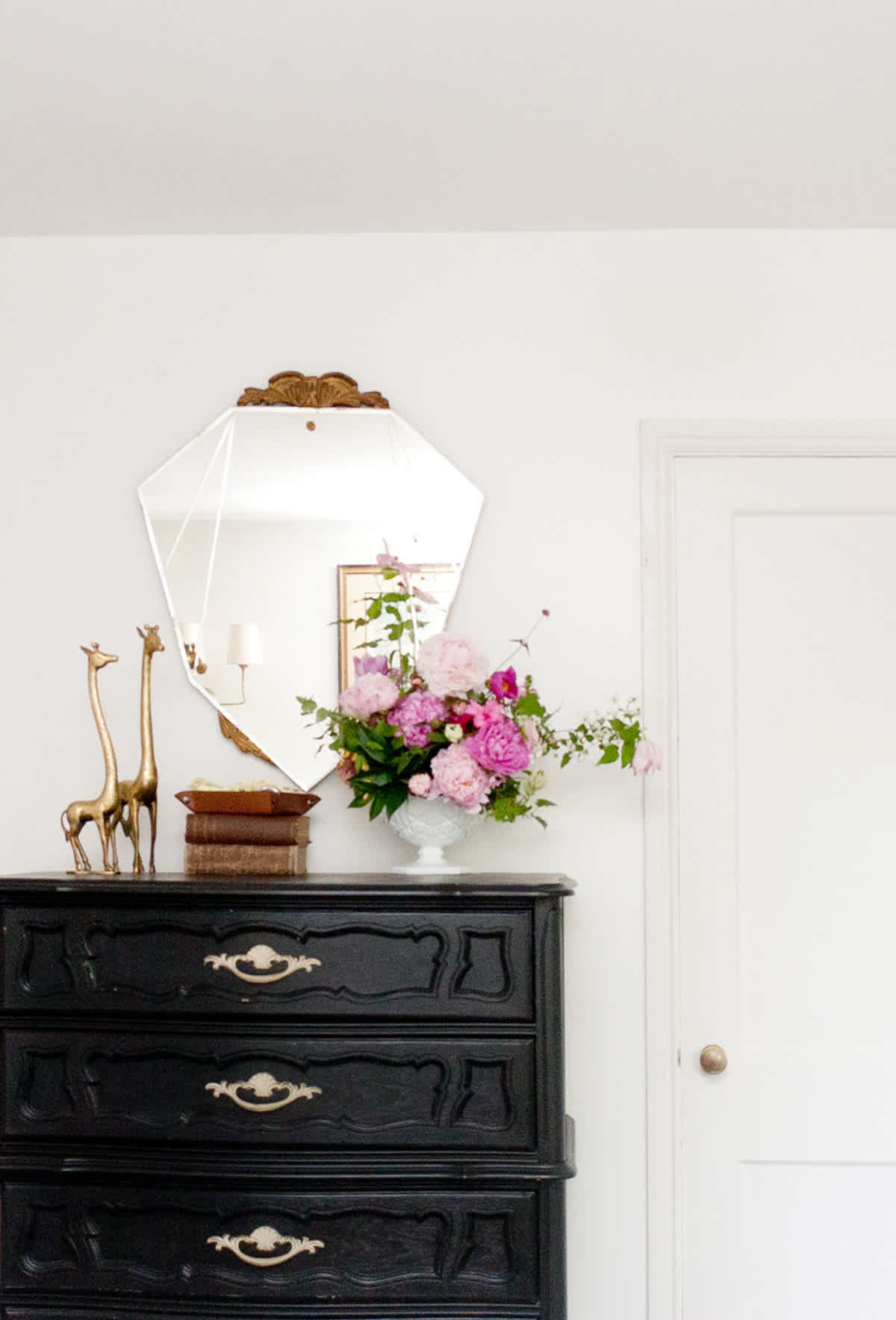 I moved Vivi's black dresser into our room because I realized she just didn't need the storage, and she needed more wall space for storing important things like books.  It's been a nice change to my college dresser!  It feels more grown up, and it's prefect with that vintage art deco mirror.  Aren't the flowers gorgeous? Thanks so much to my super talented friend Lindsay Coletta for helping me out there (she also did the flowers for Vivi's party - I adore everything she does!).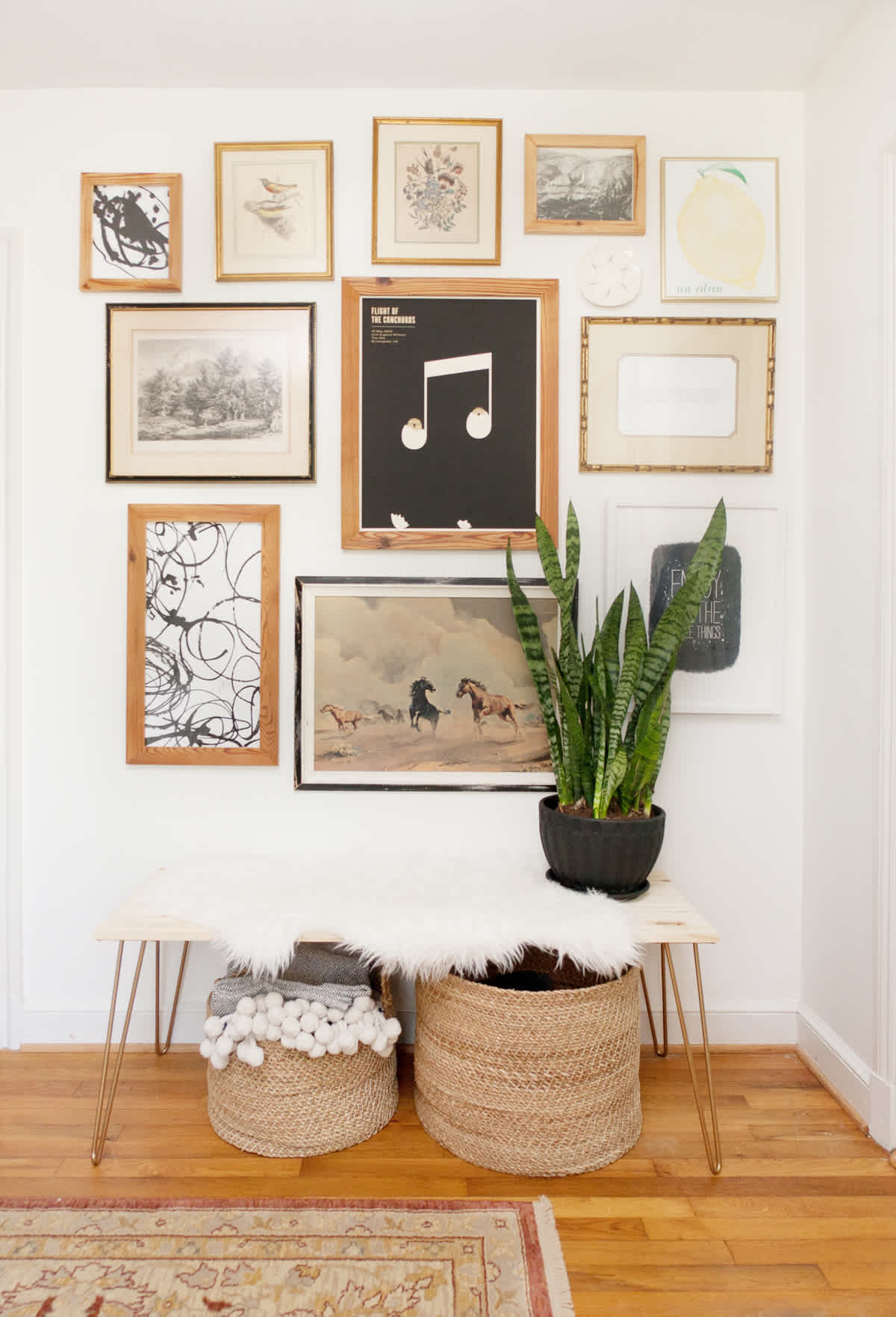 My dad made those gorgeous heart pine frames, which display some of Vivi's artwork and a favorite Jason Munn poster.  The rest of the prints are vintage, except for that beautiful letterpresses citron print by Sycamore Street Press, and the "Enjoy the Little Things" print from Minted.  Love them both!  Those baskets are a great place for extra storage.  The right one is for laundry, and the smaller one on the left is perfect for stashing any toys that might get left behind in our room during the day.  Sometimes the girls play in our room while I get ready (or when we are just desperate for a change of scenery!), and it's nice to have an easy cleanup solution!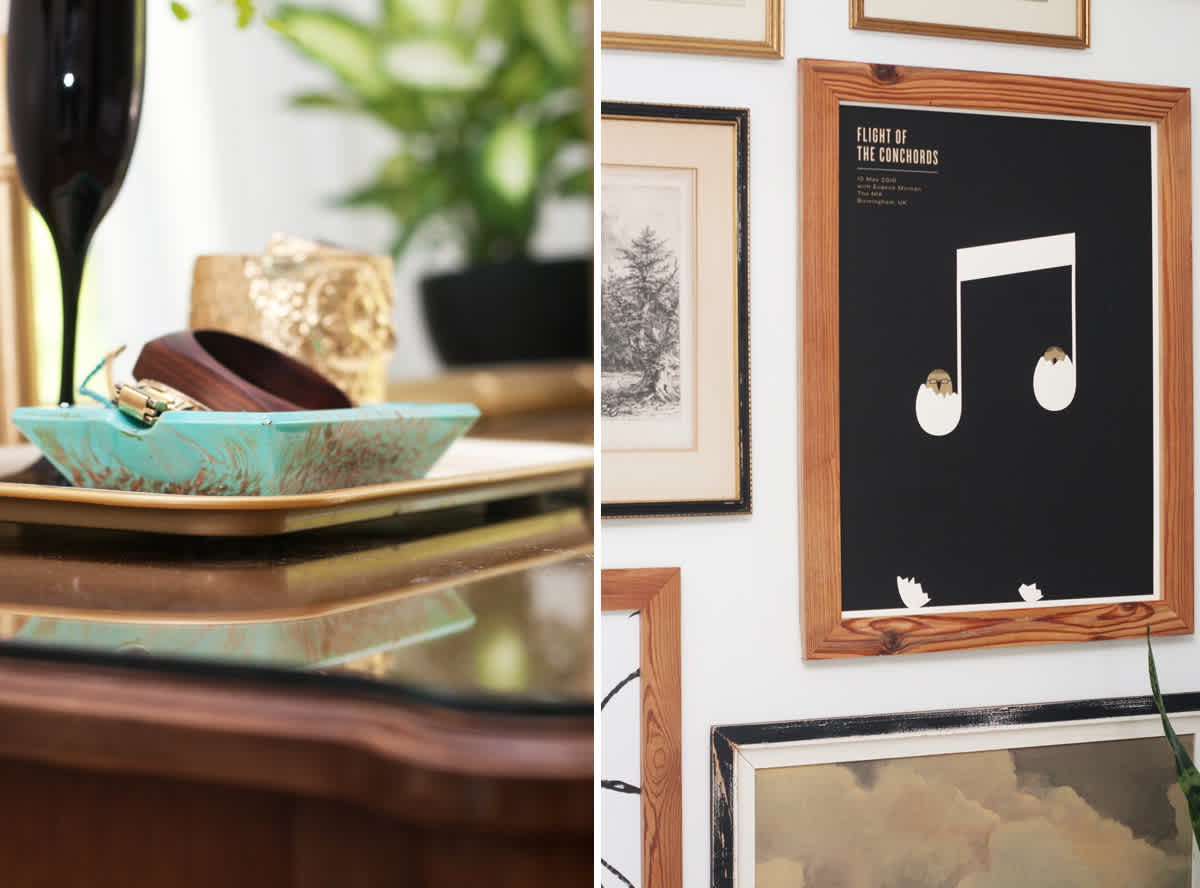 Chip's mother gave me that aqua ashtray on the left.  Isn't it gorgeous?  I believe it was her mother's or grandmother's.  I wouldn't have known it was an ashtray if she hadn't told me, but I love the color with the beautiful copper flecks in it and it's great for storing accessories.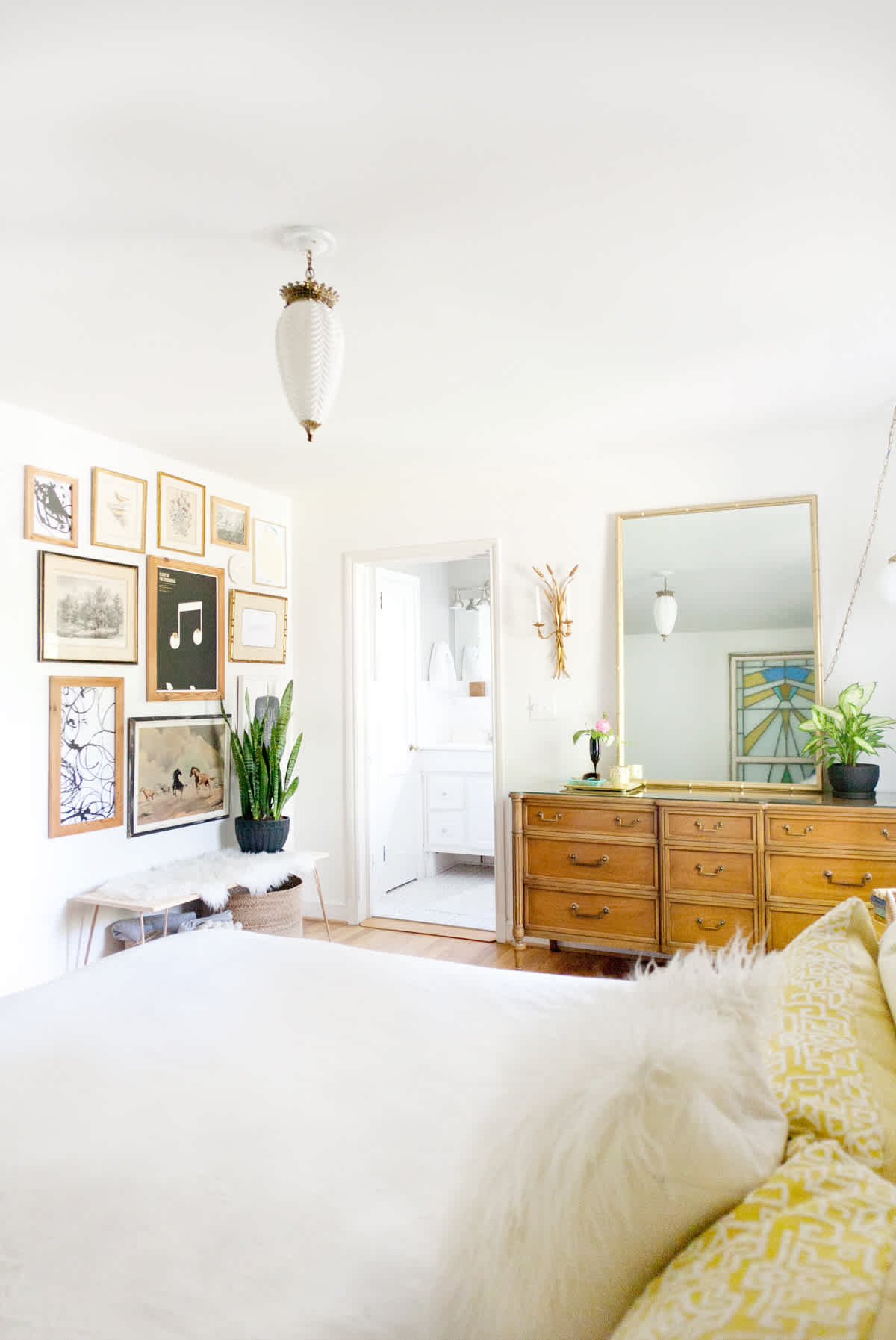 I am also crazy about that vintage pendant light.  My grandmother has a similar one in her home, so it has a very nostalgic feel to it, and it adds just the right bit of dressed up glamour to the bedroom, I think.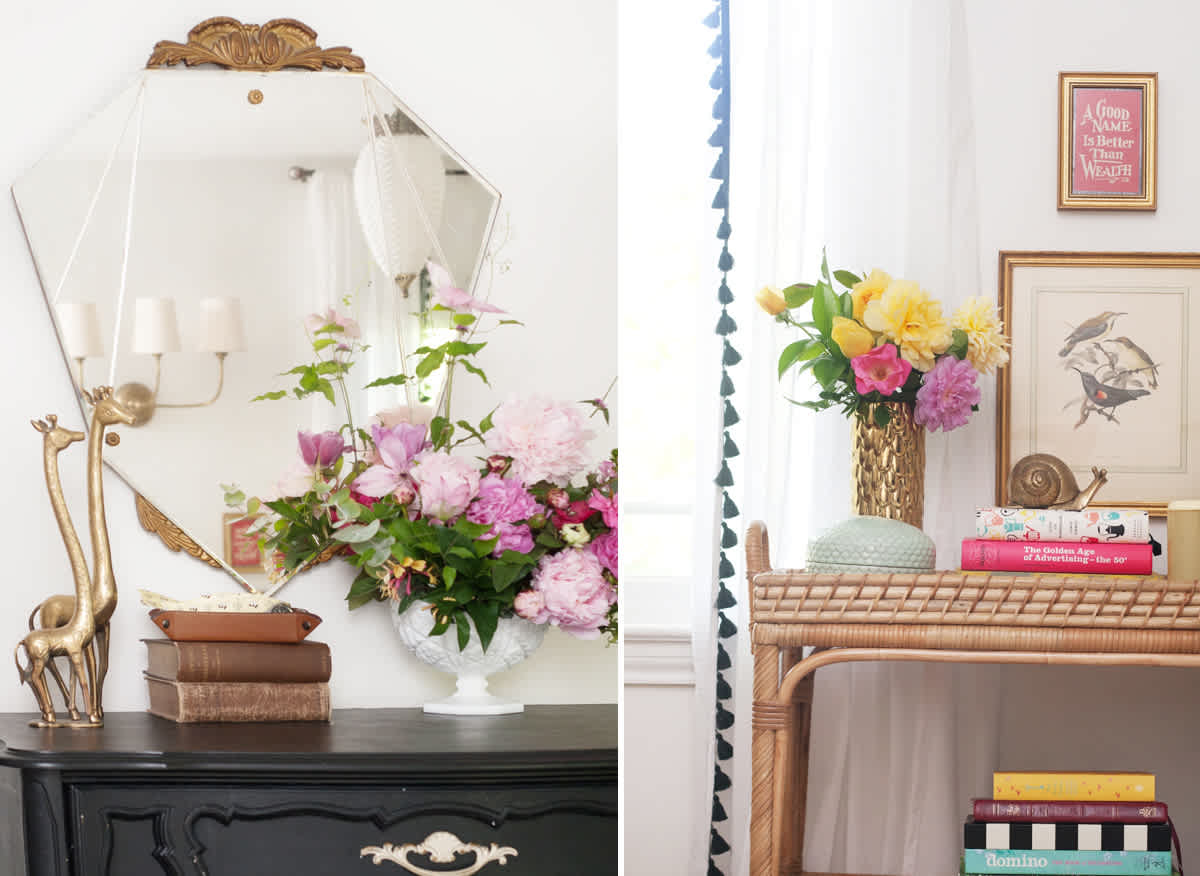 I love my sidecart turned nightstand.  I've posted about it before, but it's just so fun, and I love I can also use it for entertaining should the need arise.  (Thanks again, Lindsay, for the gorgeous flowers!) I like the wide dimension, so there is extra space for books and such without it feeling crowded.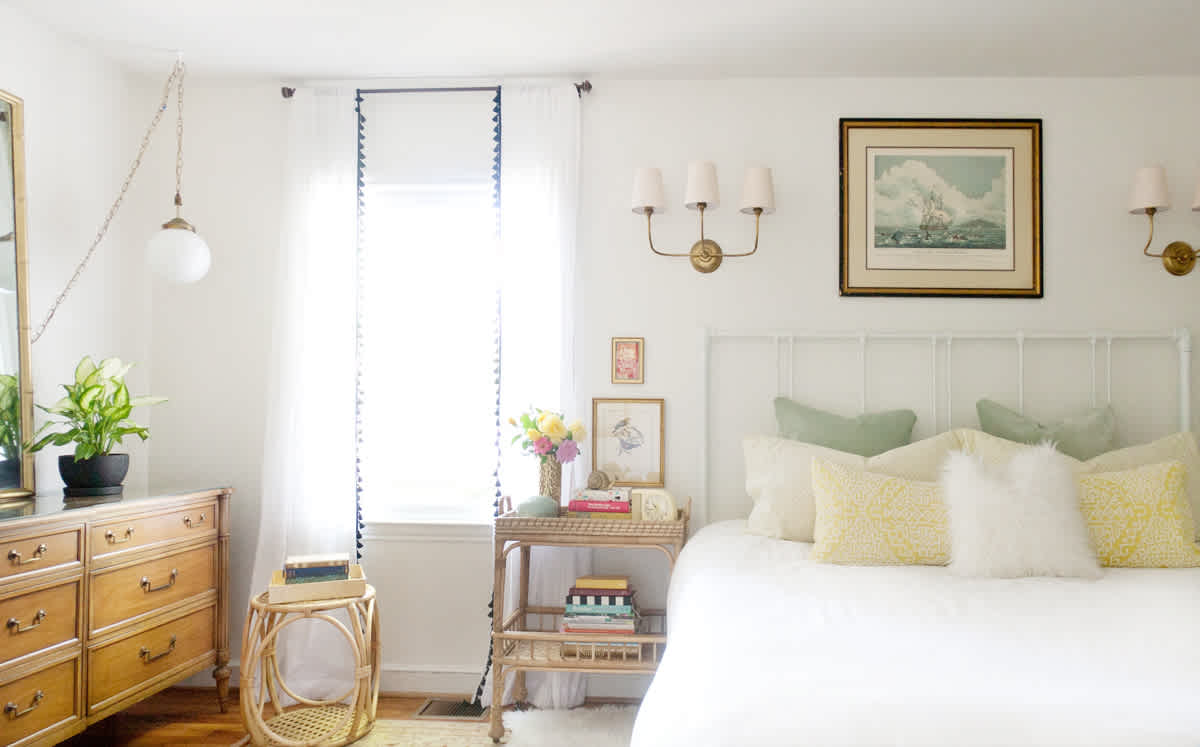 I also love that Elsa stool.  It's  another great piece that I can move around as needed when we have more company over and need an extra side table.  I'm finding it to be helpful to have furniture that can do double duty in our smaller home.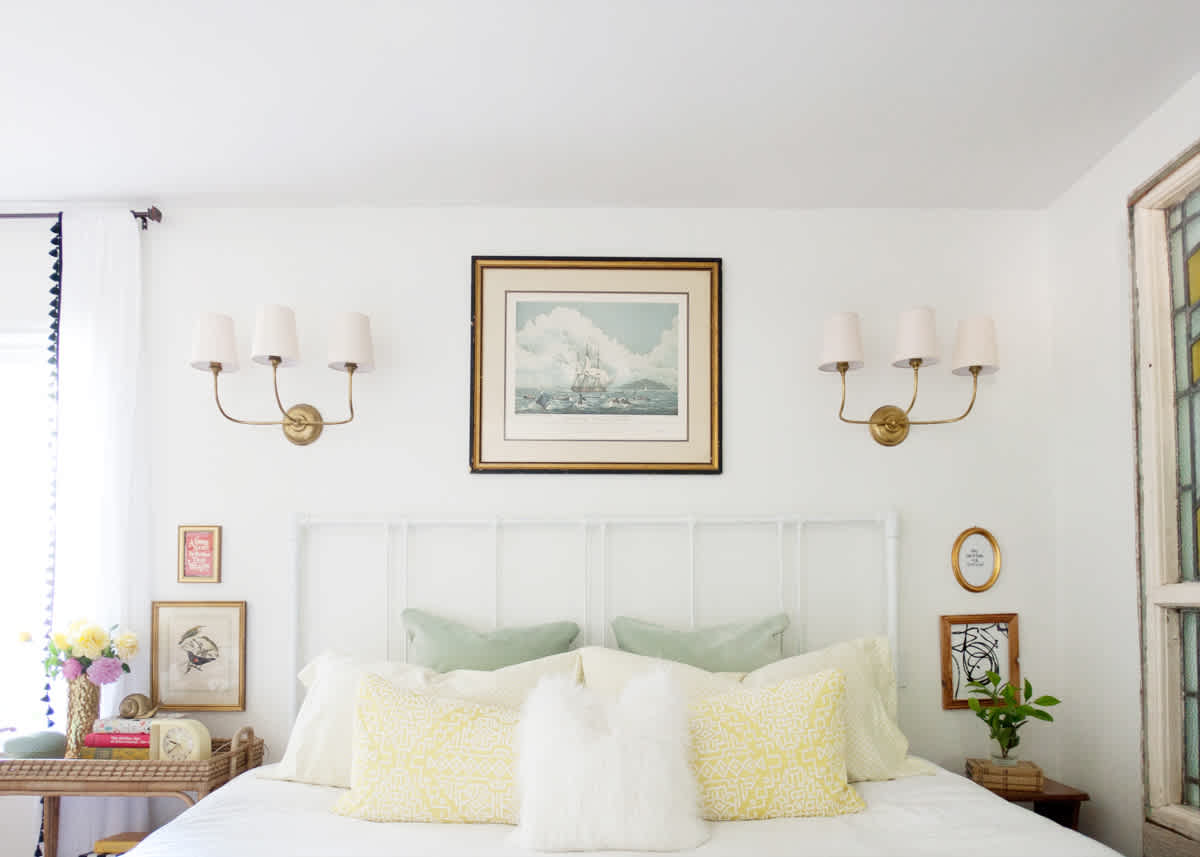 And just because a good before and after is always fun, here you go: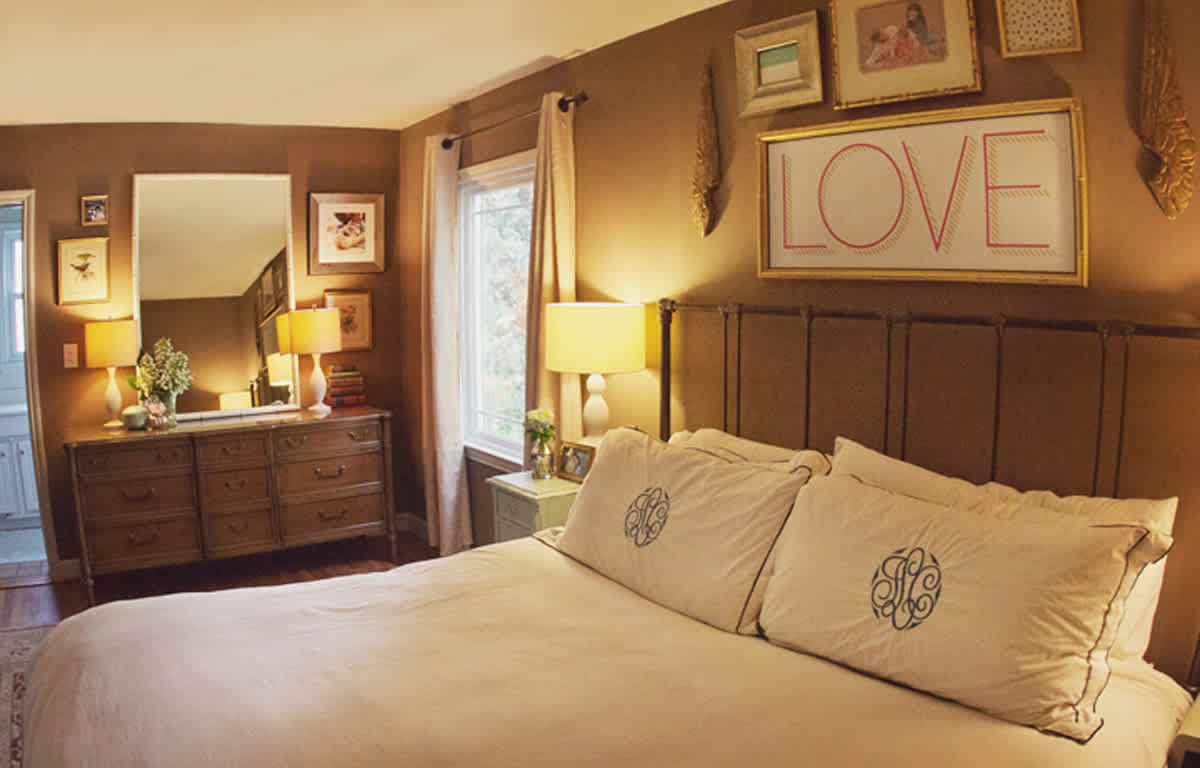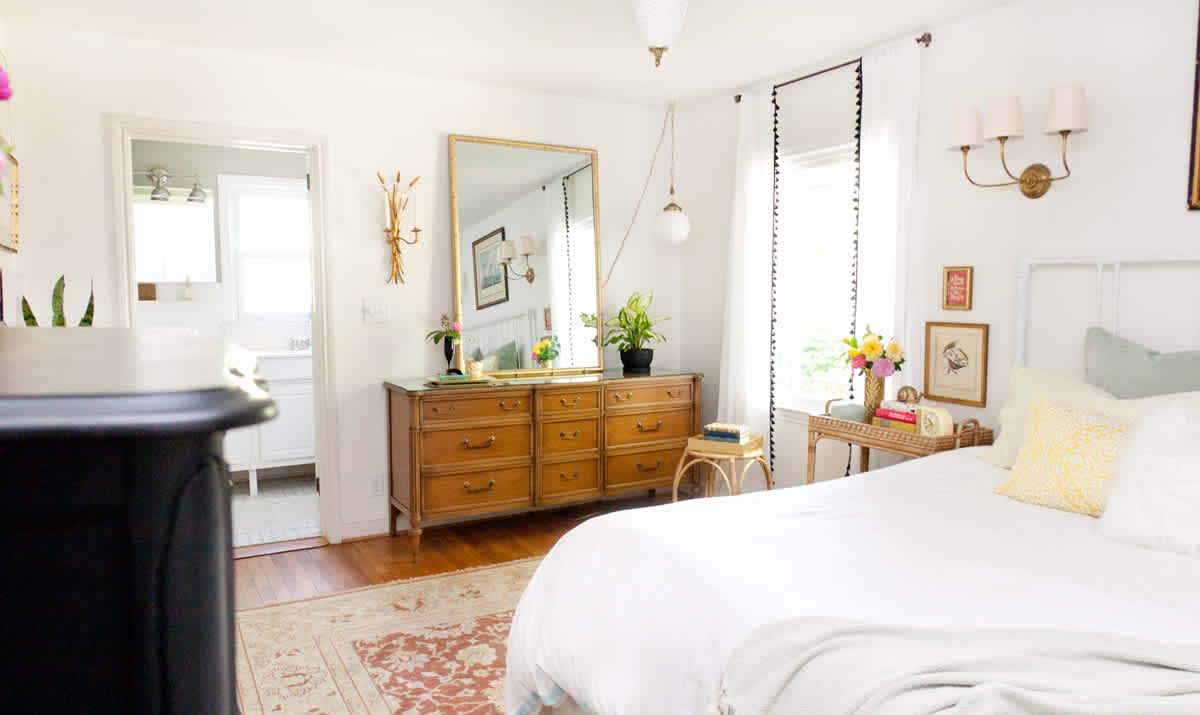 Quite a difference, don't you think?  Thanks so much to Serena & Lily for all the gorgeous details that really made it come together!