Neutral Bathroom Inspiration
I'm so excited to share our bathroom with y'all today. This is one of my favorite spaces (well, maybe all of the spaces are kinda my favorite), but this is my happy place, where I unwind at the end of the day, and I really love how it came together as a place that both Chip and I love.
(Walls are Alabaster by Sherwin Williams and the cabinets are painted Sherwin Williams Pewter Green. Scroll the below widget to shop some of the items shown above!)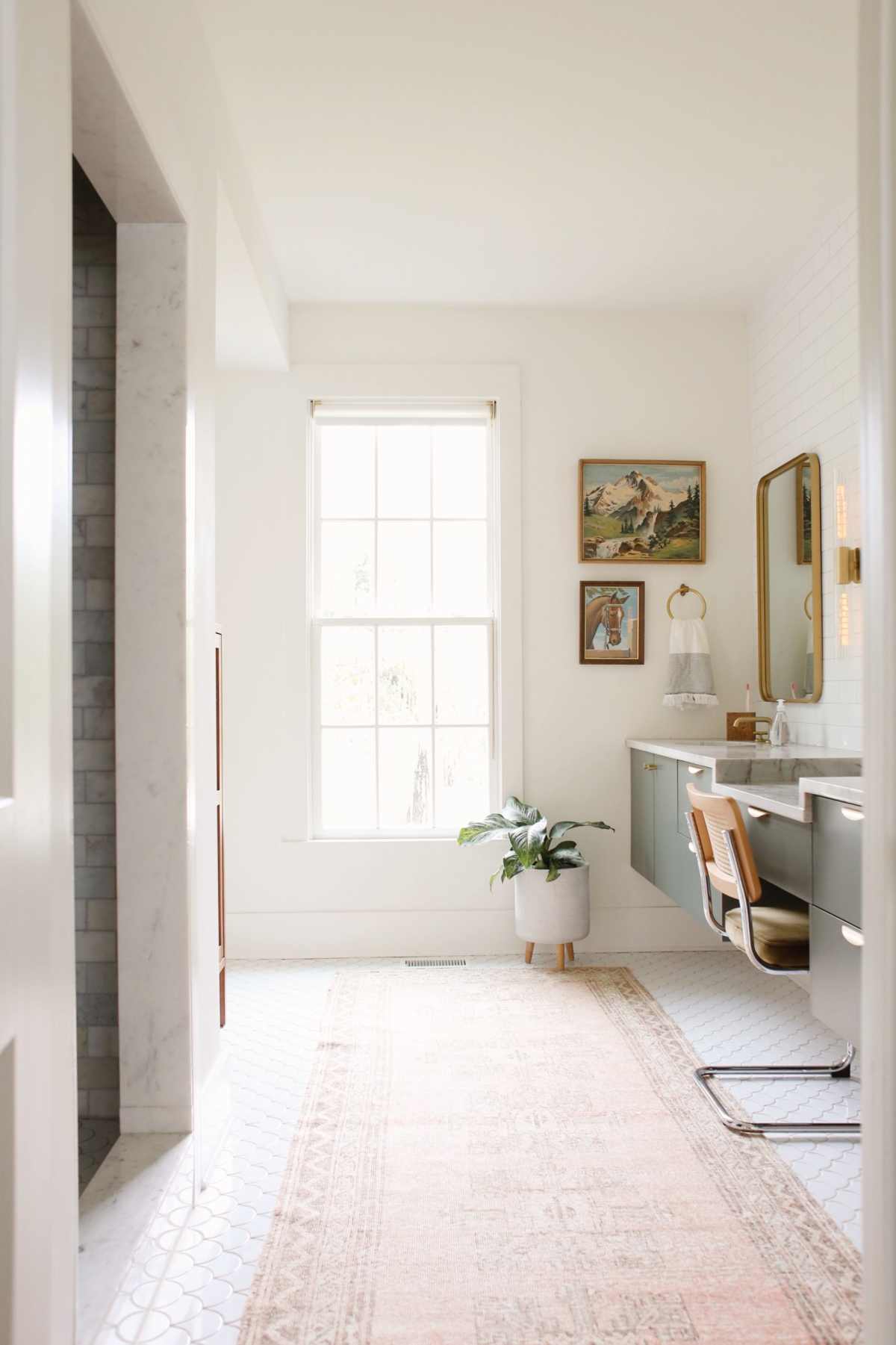 It's a bit tricky to photograph this room, because it is really long and narrow, so I can't get the entire vanity in the photos, but hopefully you can get a feel for the space. (Also, before anyone gets worried, it's a little hard to tell, but we have a simple roller shade in the window from the Shade Store that works fantastically well for privacy.)
Also - that rug is a vintage Turkish rug that we bought from Etsy. There are a ton on there, and it's super handy if you need a tricky sized rug for a specific space!
We really liked the look of a minimal, floating vanity, but the space is so wide that a counter slab would have to be seamed, and since the middle section of the vanity was meant to be a place for me to sit and do makeup, we decided to make it table height, and do mini waterfall edges on the counter. I love the way it looks, and I love getting to sit down for a minute in the mornings to get ready.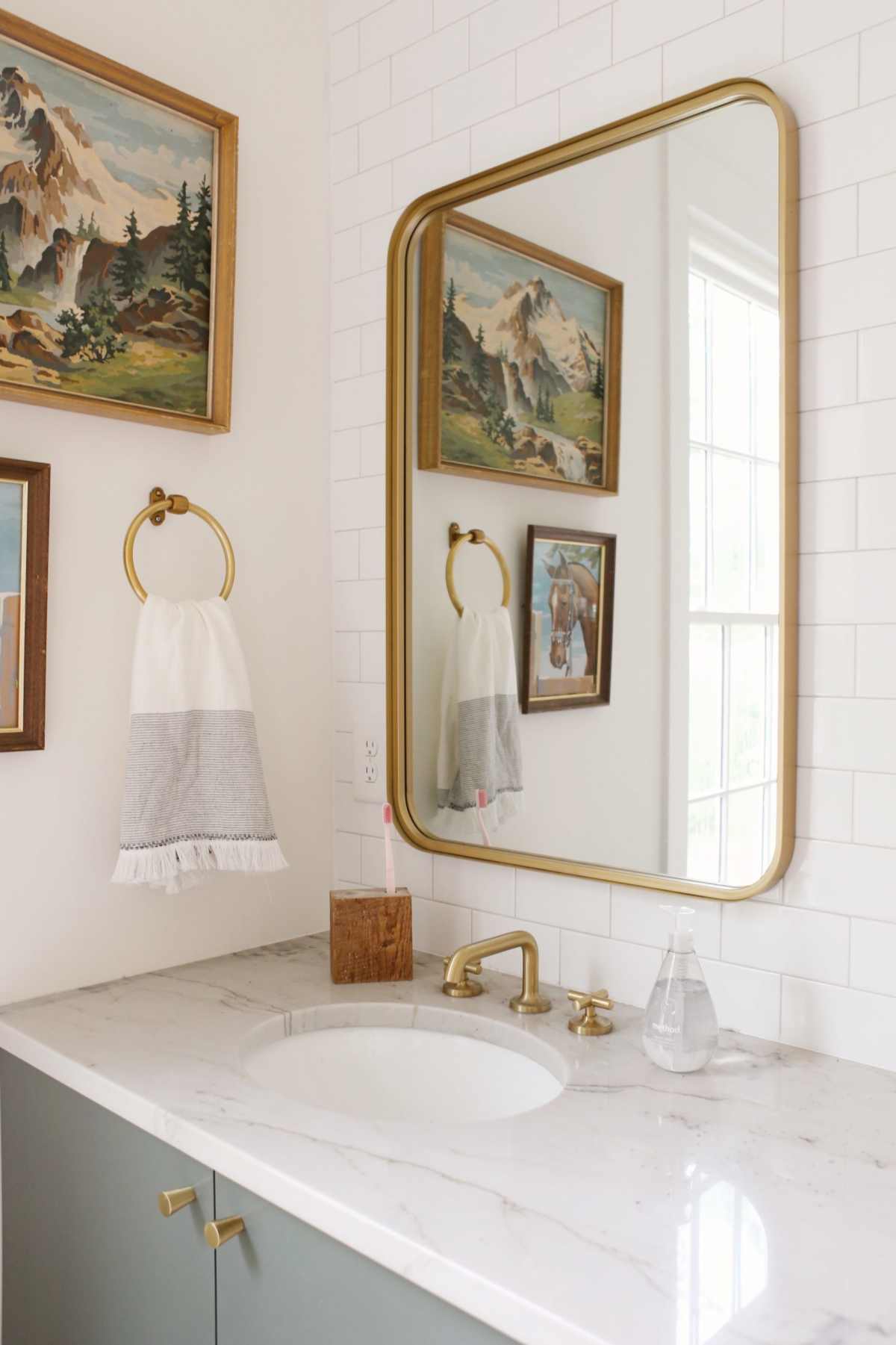 The counters are quartzite, and they are so beautiful. There was only one slab of this particular stone left, which wasn't enough to use in the kitchen, so we landed on using it in our bathroom as well as a few other smaller bathrooms. We have brass fixtures throughout the house, and we used these fixtures with these handles for the faucets. (Also, as a side note, Chip regularly checked Ebay, and purchased these faucets there for a complete steal - it's definitely worth checking if you are looking for something specific - you may be able to find something at a great price if you look hard enough!)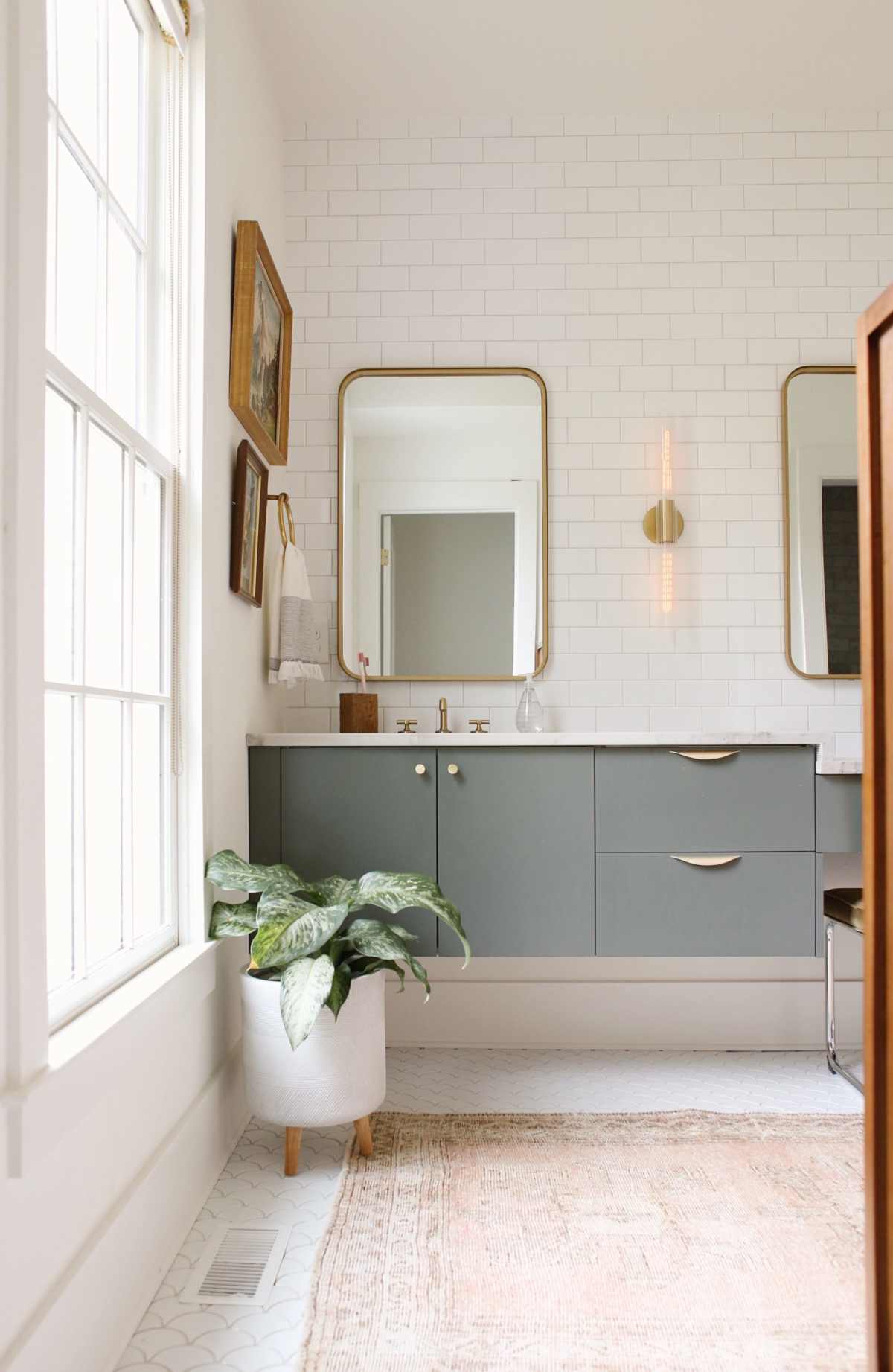 I also love these mirrors. They are simple, but beautiful, and you cannot beat the $70 price. Since we needed three of them, we couldn't be too spendy on the mirrors, and this was exactly the look I was going for.
I am also pretty crazy about these gorgeous glowy pendant lights. Chip installed a dimmer on the wall, and I can turn them down to the perfect low glow before I shower in the evenings (thanks to kids, I'm now a nighttime shower person, but it's the perfect way to wash away the day!).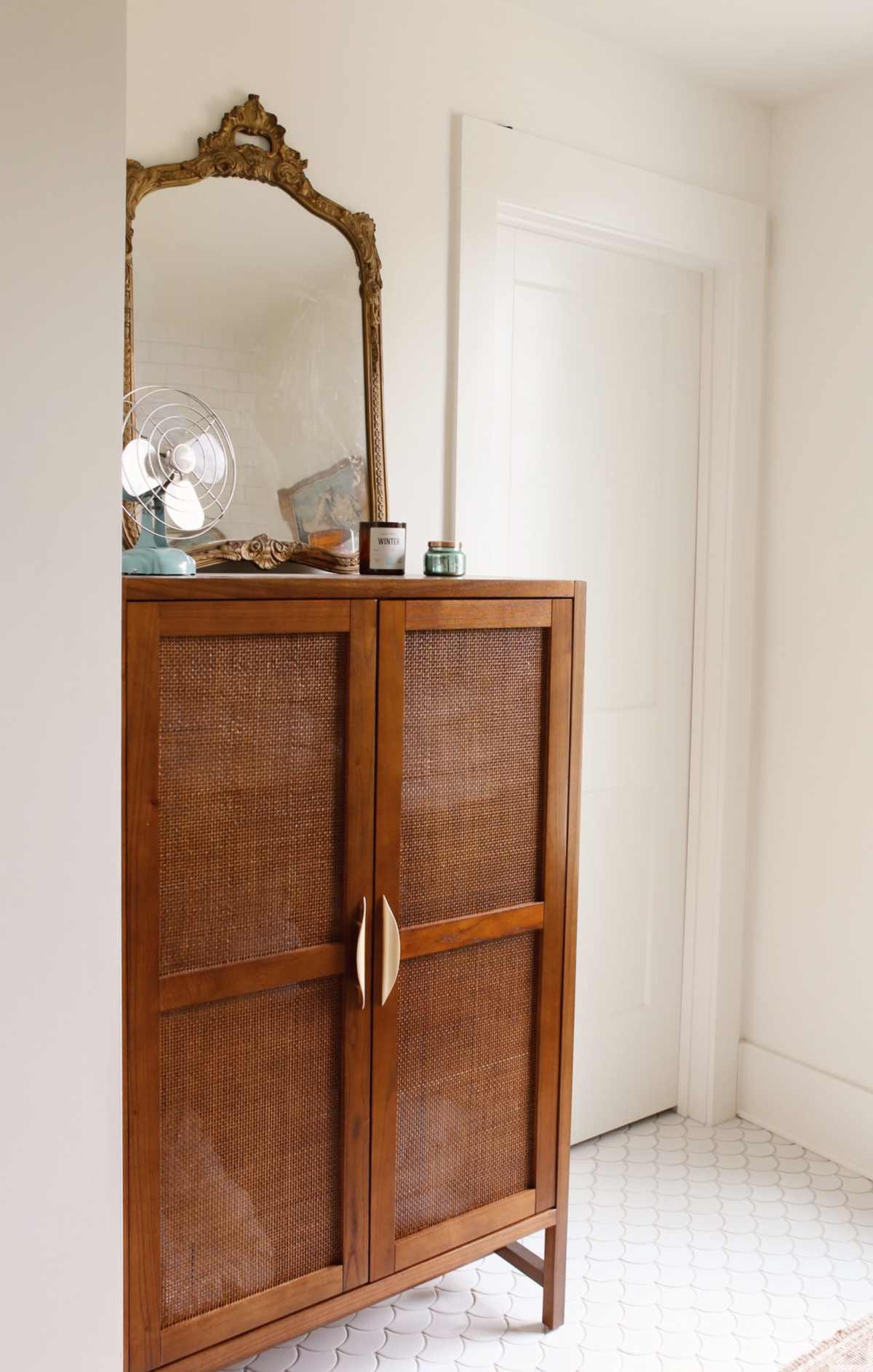 Around the corner, we have this cabinet that fits perfectly in the space and Chip swapped out the handles for these pulls that match our cabinetry. It's the perfect amount of space for storing linens and bath essentials.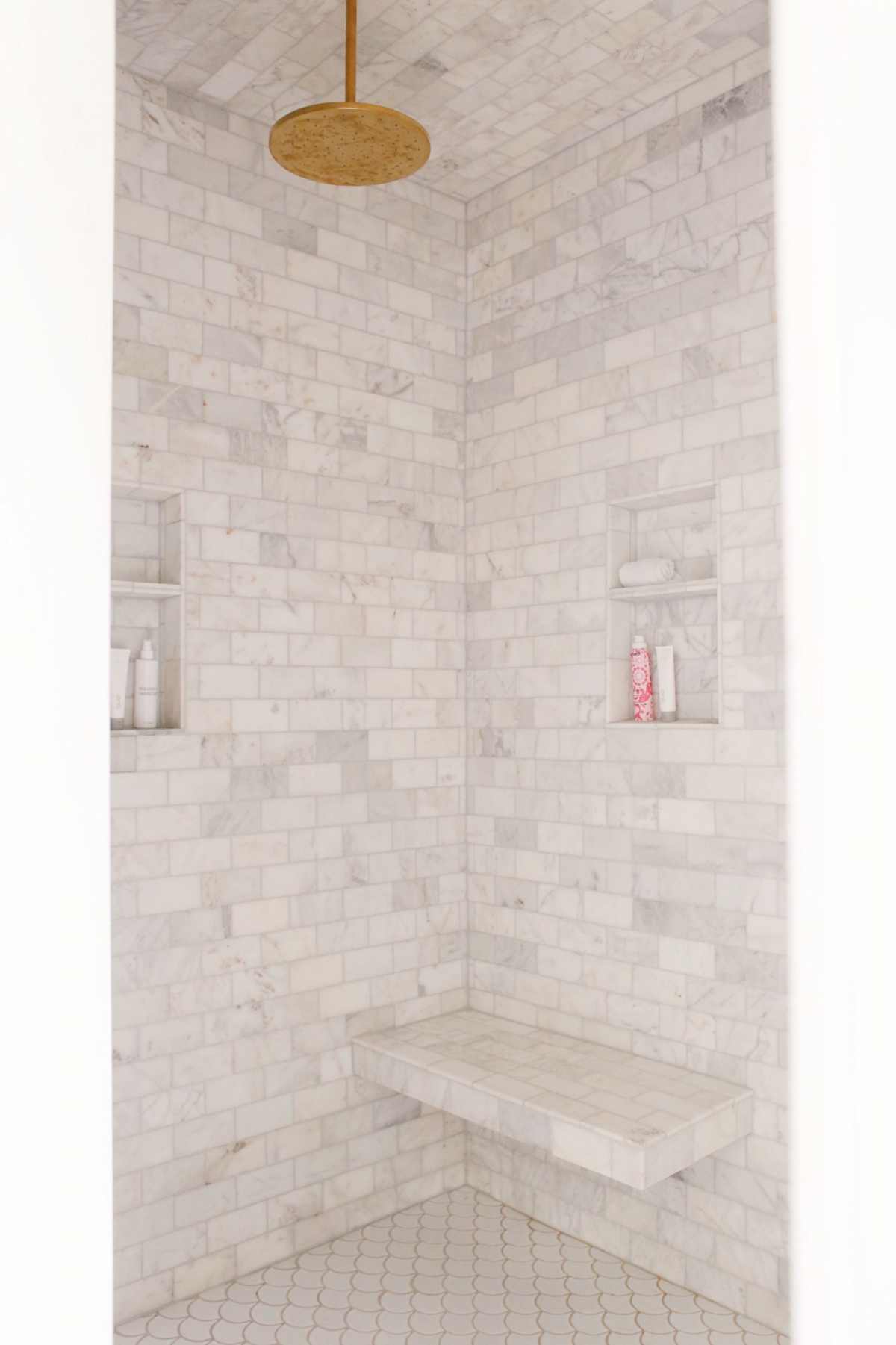 I am also completely crazy about our shower. It's difficult to photograph, too, because of the angles, but I tried my best to capture it! We have a TON of tile in here, but we opted for really inexpensive tile that looks beautiful together. The walls and ceiling are this honed marble tile (it is SO pretty in person - I feel like the photos aren't doing it justice!) and this fan tile for the floors in the shower and the entire bath.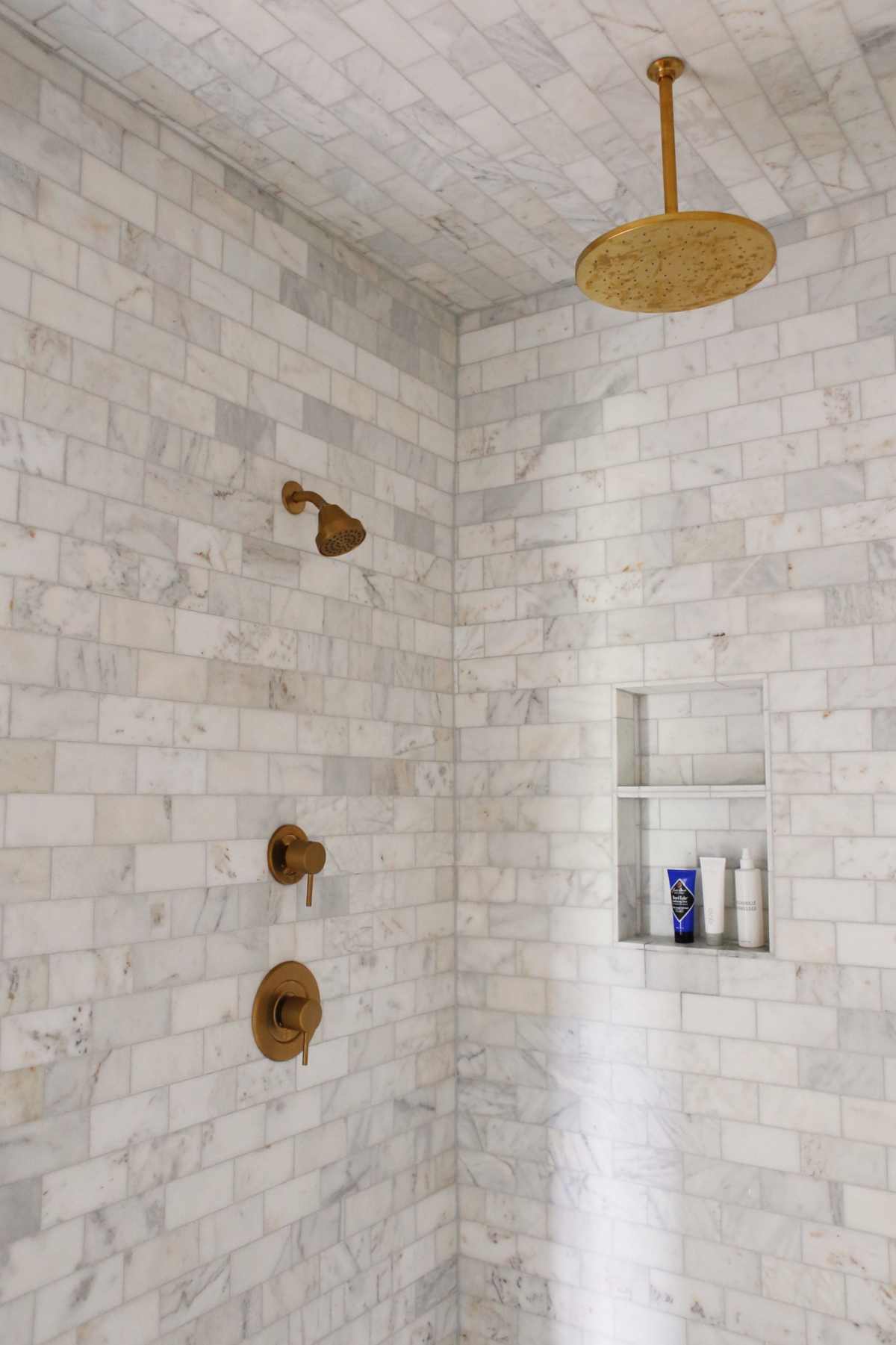 We have a regular shower head and a rain shower head, which is so fun, and two nooks for storage, so no cramming all the things together!
I am also particularly in love with this luggage rack towel bar, so our towels are always right there!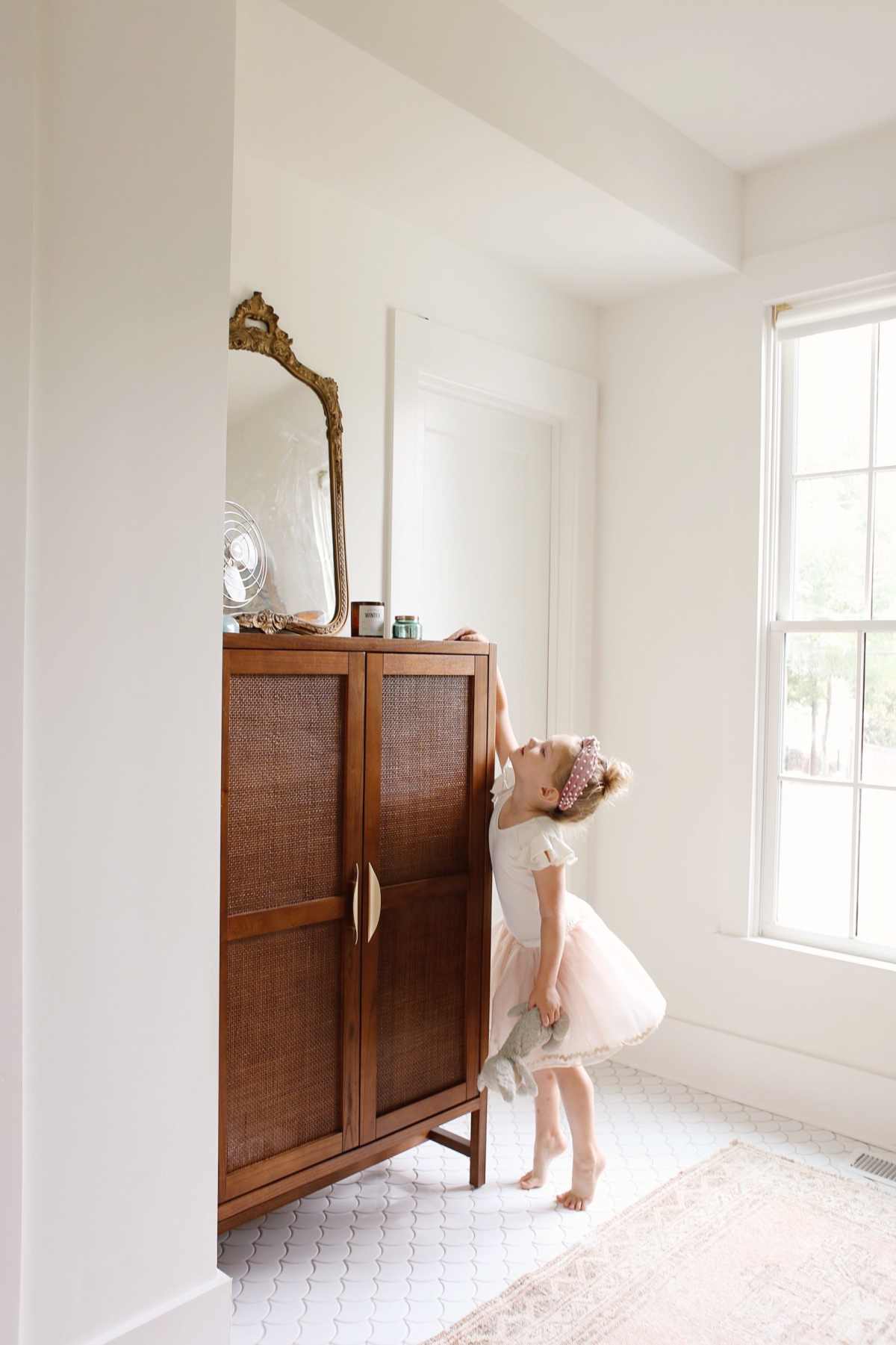 It is also very exciting to have a bathroom where I can put everything away. I've always wanted to have a bathroom counter clean of clutter, but our former space was teeeeeny tiny without many options for storage. The shallow, wide drawers in our vanity are great for little organizer trays so everything has a place and is neatly laid out. Seriously, organization makes simple routines a pleasure.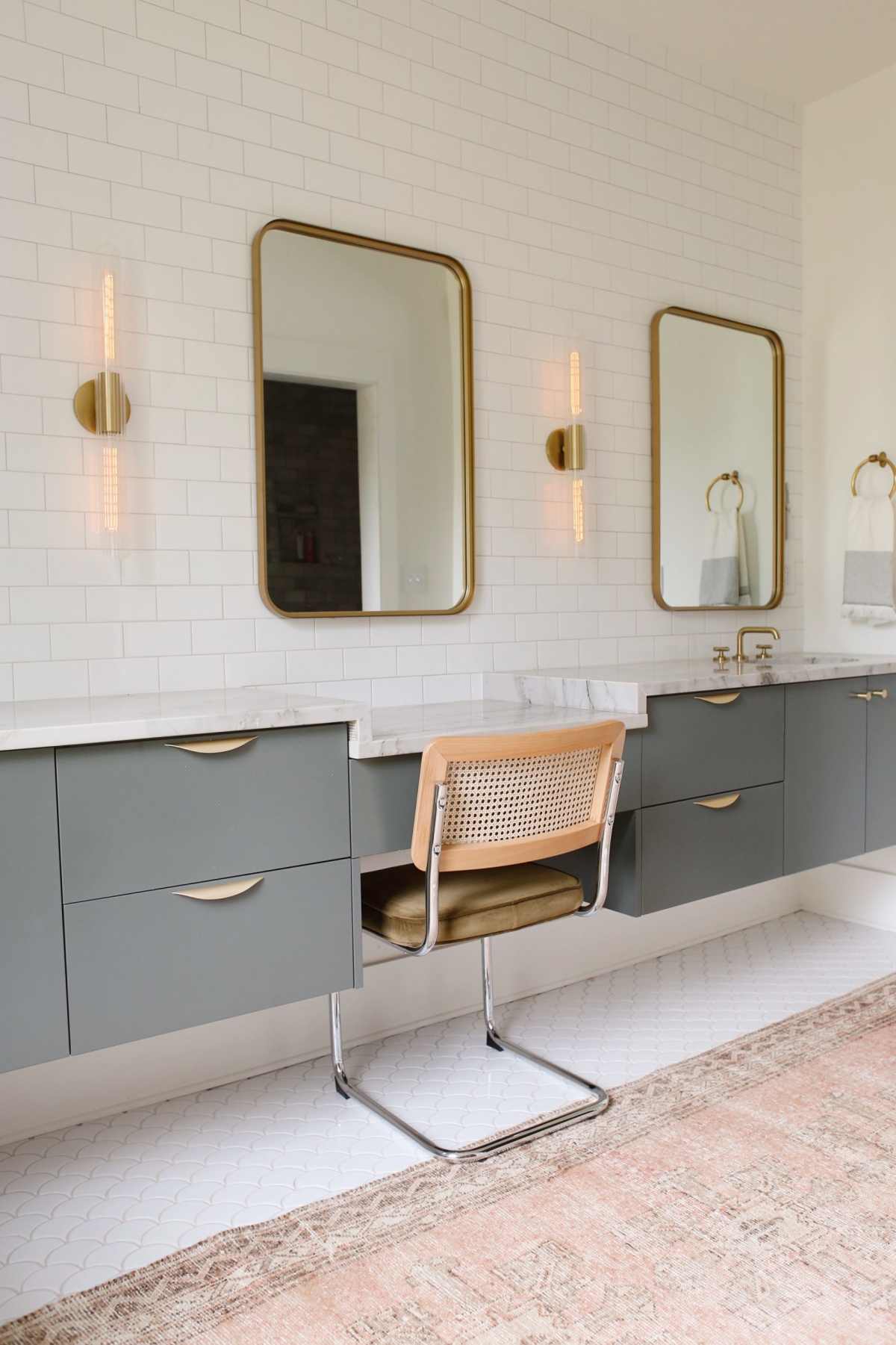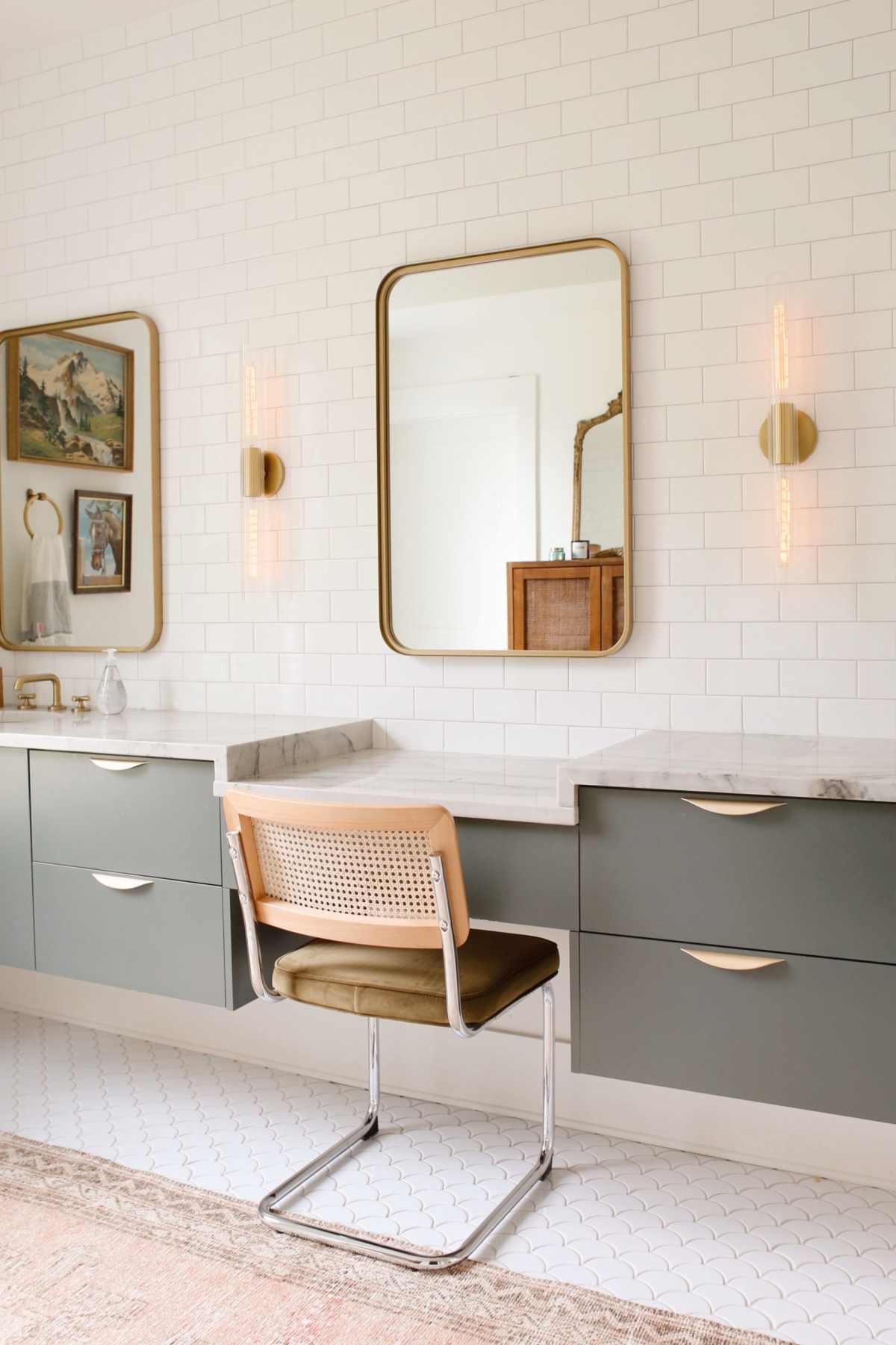 So, there is our space!! Would love to know if you have any questions!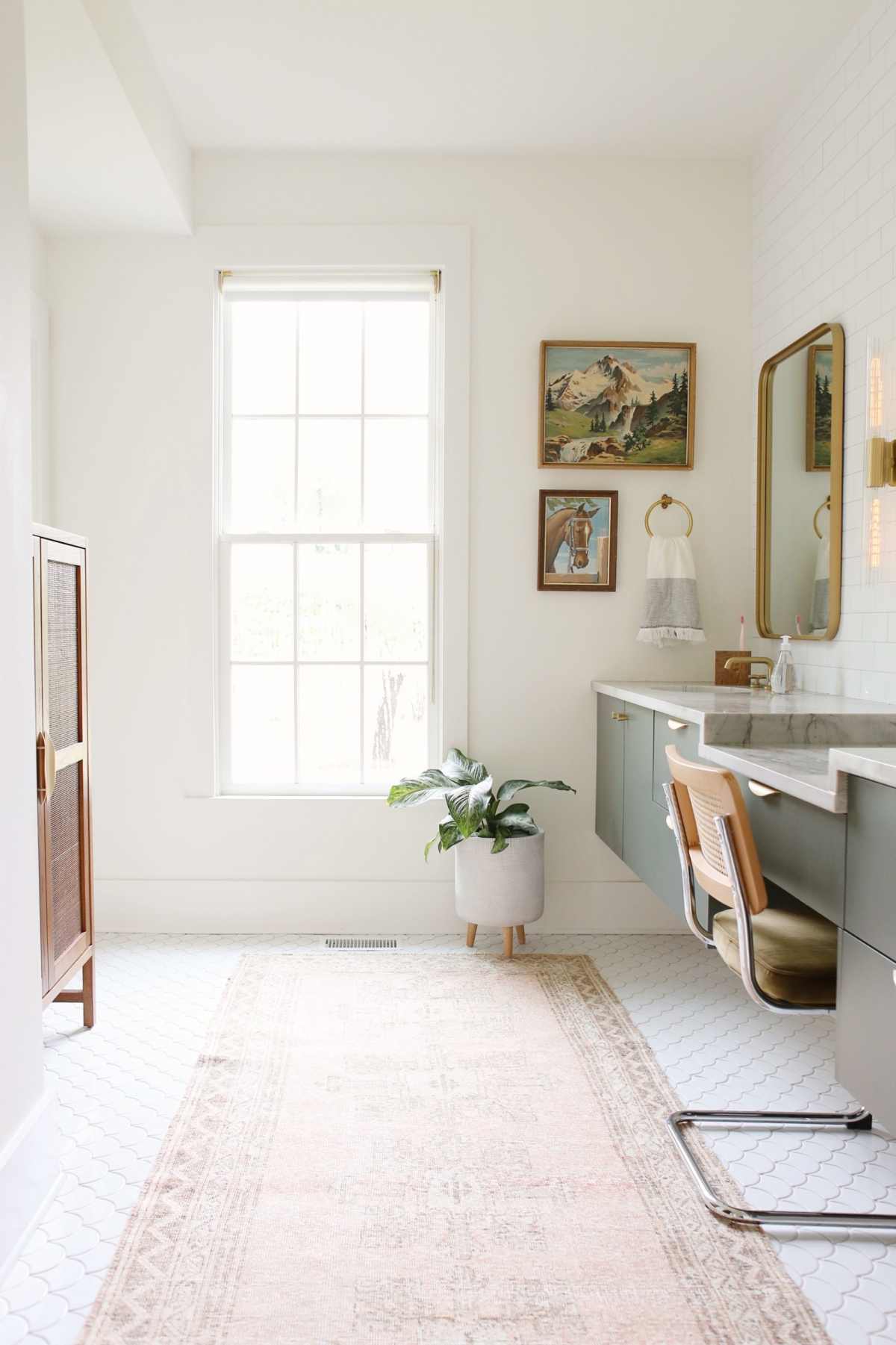 xo ~ Joni