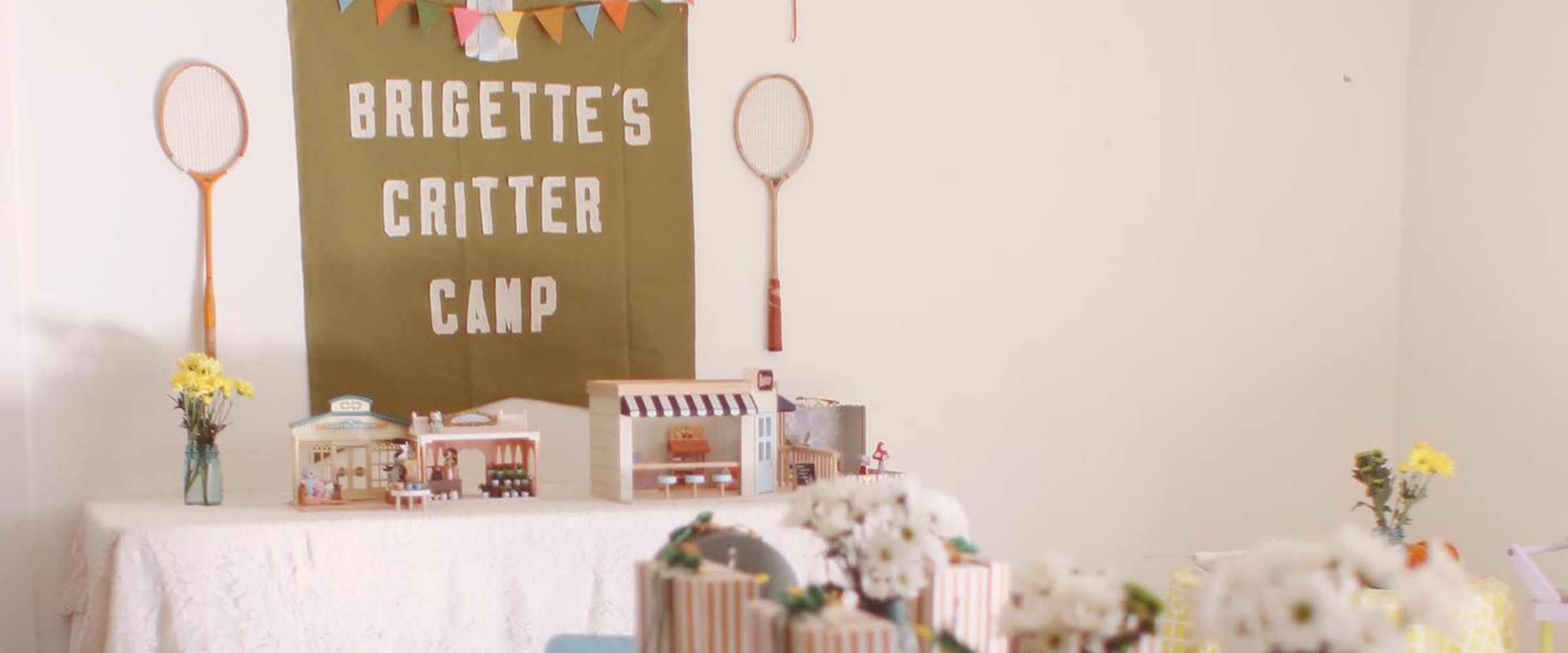 How to Throw a Calico Critter Birthday Party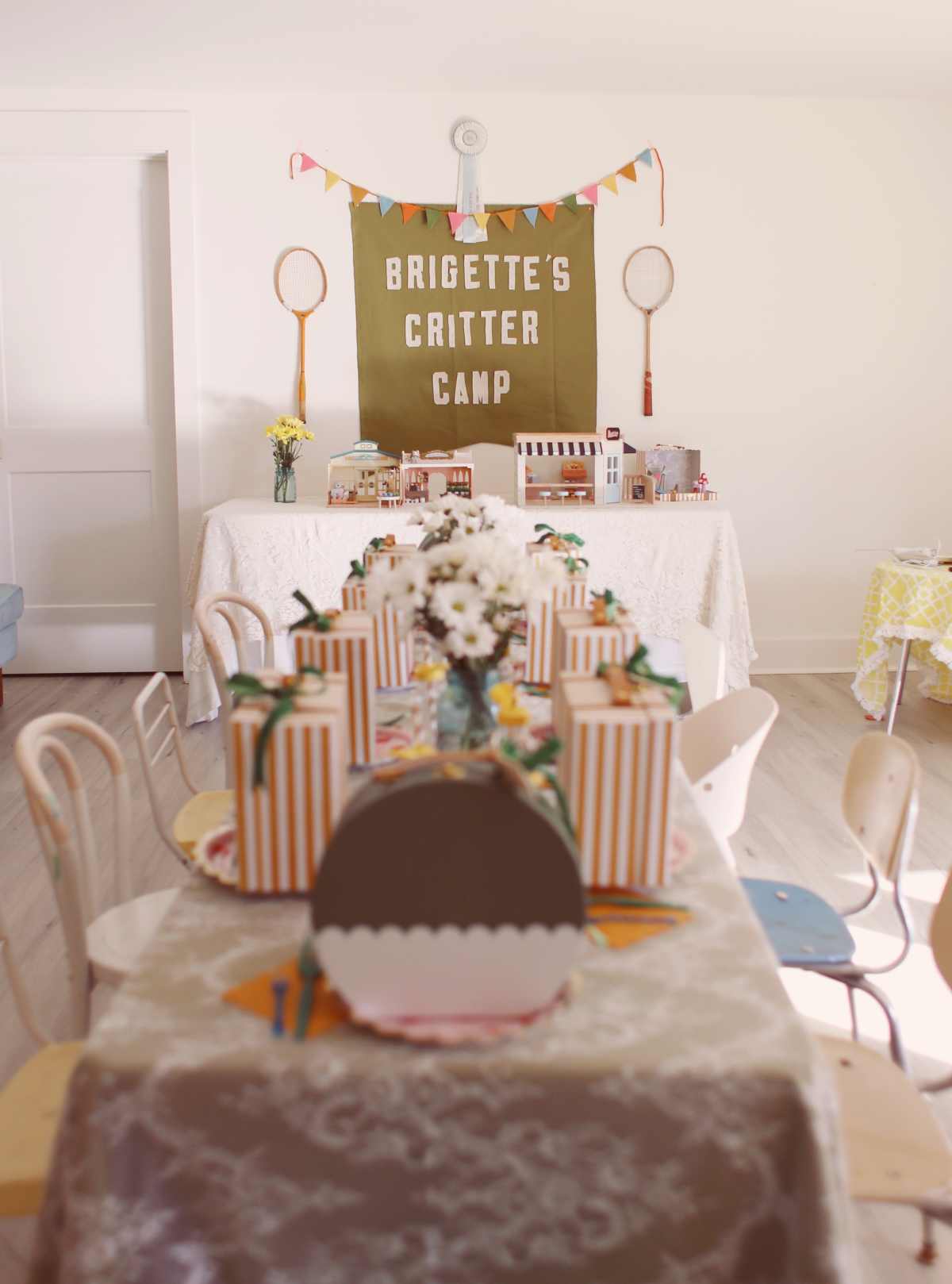 This past weekend, we celebrated my Brigette turning 9. She loves all things animals and tiny and she adores Calico Critters. For her party, we had a little camp themed soiree, and put together little playsets for critters with her friends.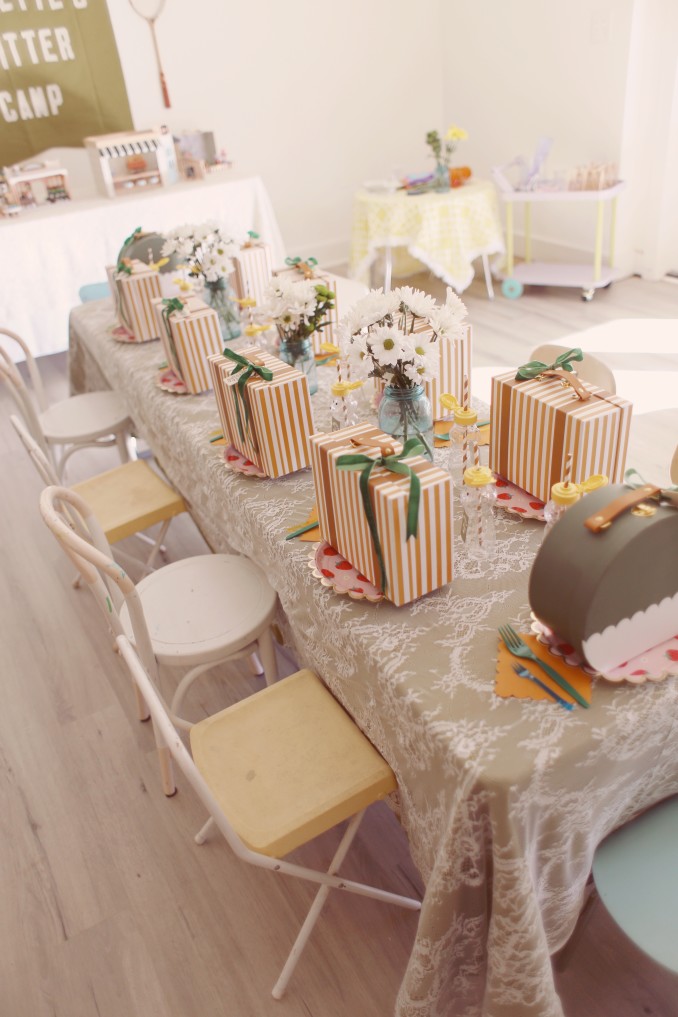 For the table decorations, I used two of these plastic tables (I have them on hand and use them ALL THE TIME - the height is adjustable, so they are great for both kids or adults, and when you throw on a tablecloth, you can't see them at all!) and I added some of this canvas material (I also used it for the banners) layered with a lace tablecloth. We used these cute little strawberry plates, and each place setting had one of these cute little suitcases with a tag on it labeled for each guest.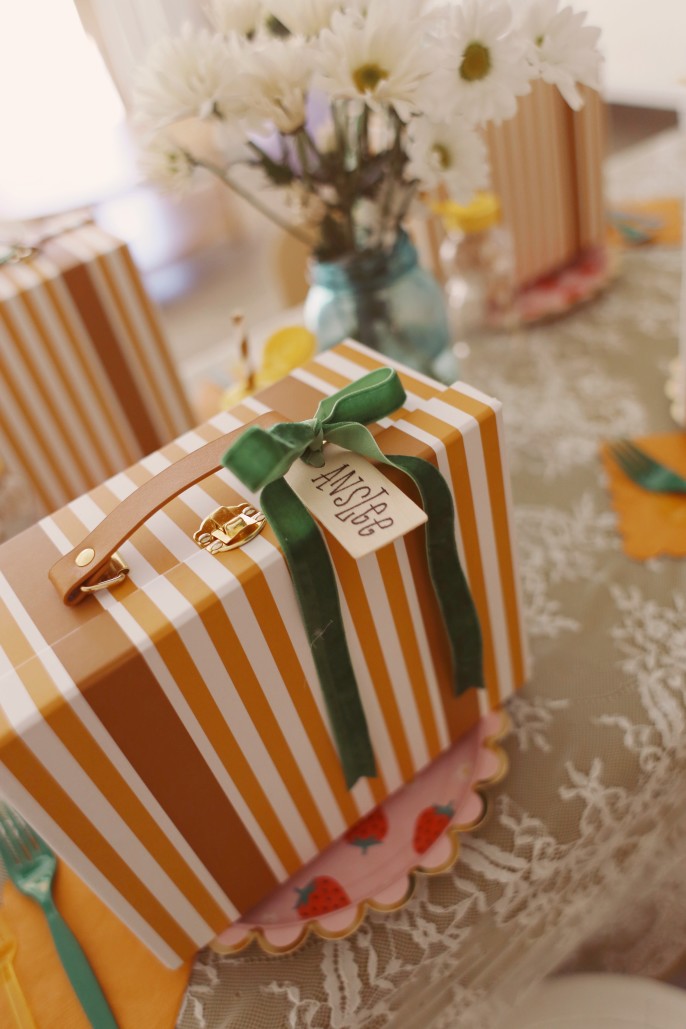 The little "cups" are my favorite! They are little honey jars, and a straw fits perfectly on the top (so no spills, yay!) and I added little labels to the flat part on the front. They were another fun little take home detail!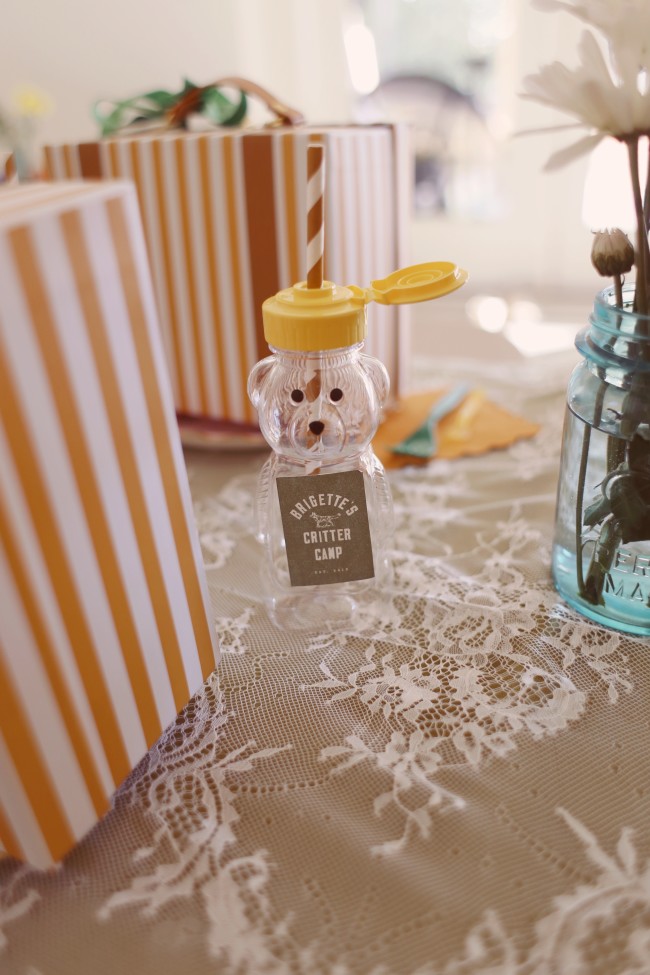 For the backdrop of the food and critter table, I used the green canvas and hot glued cut out felt letters for a vintage camp look.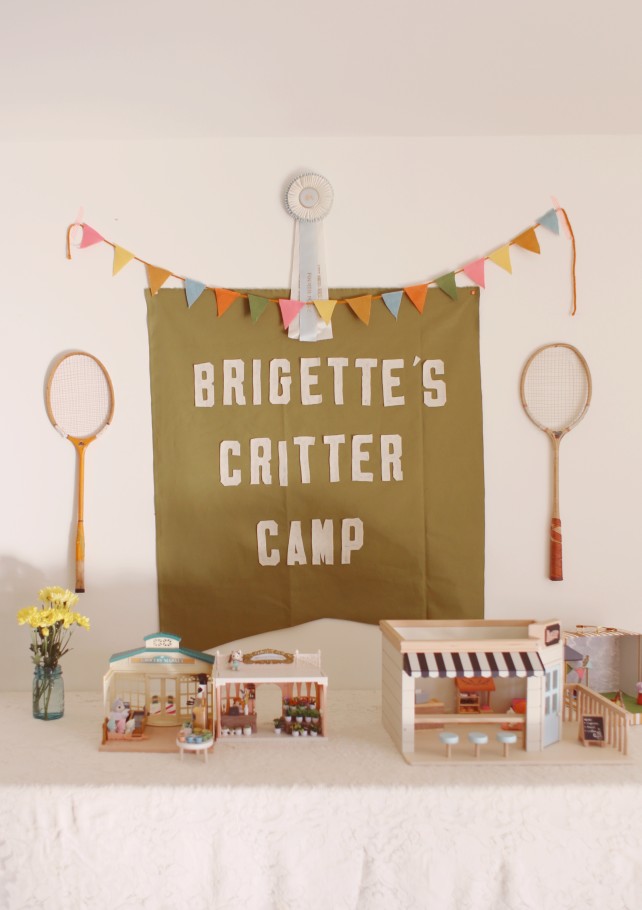 I put some little critters on the cake, and these fruit caterpillars are the cutest! The kids loved them - they are made of grapes and balls of watermelon stuck onto skewers with eyes added on with a little icing. For the food, Brigette really wanted tiny food, so we had baby goldfish, baby ritz crackers, tiny wedges of cheese, and miniature corndogs. The kids ate it all up.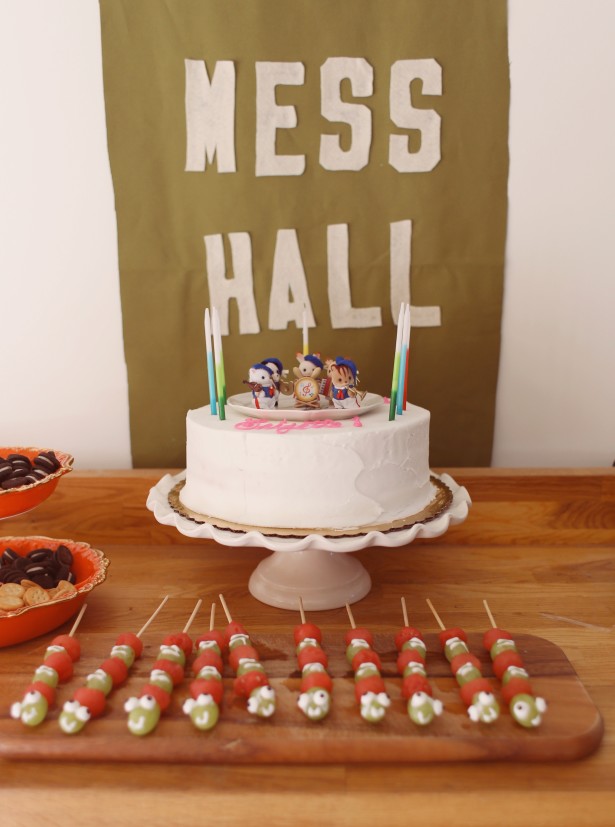 For the "craft" project, we had a few stations for the girls to interact with. You can check out this reel for a little more behind the scenes, but here are a few snapshots!
First, the girls went into the craft room and painted wooden mushrooms (I had paper plates already set out with their names and a few mushrooms for them to paint) and made little campfires with sticks and tissue paper and hot glue. The mushrooms were SO cute, and they took forever painting them and really enjoyed it (a really good thing when you are trying to keep kiddos entertained at a party!!).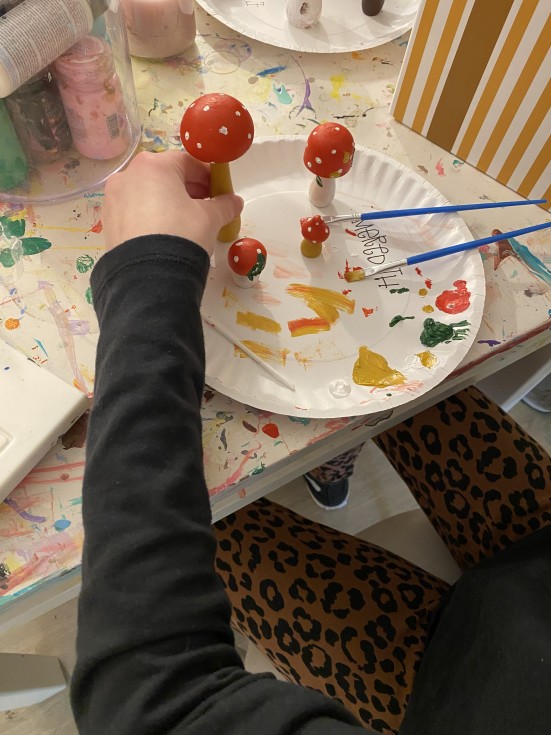 I pre-made little "beds" out of popsicle sticks and cardboard, and had already glued "grass" and a little backdrop I printed out into the suitcases. The girls made little sleeping bags out of felt, and added a little bunting to the top of their beds. We hot glued the mushrooms into their cases so they would stay, but everything else could be moved around!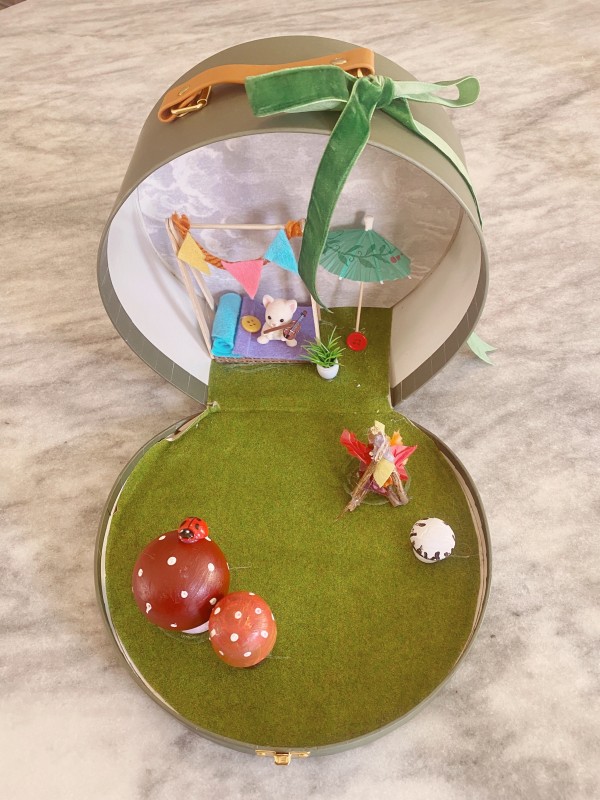 They turned out so adorable, and the girls loved them! Brigette also set up a few of her calico critter storefronts on the table, and we stocked them with tiny cups, plates, bowls, plants, and pastries, and then printed out very tiny paper money so they could take their critters shopping. They also LOVED this, and it was another fun way to play. You can see some of the shops set up on the table behind Brigette in the picture below.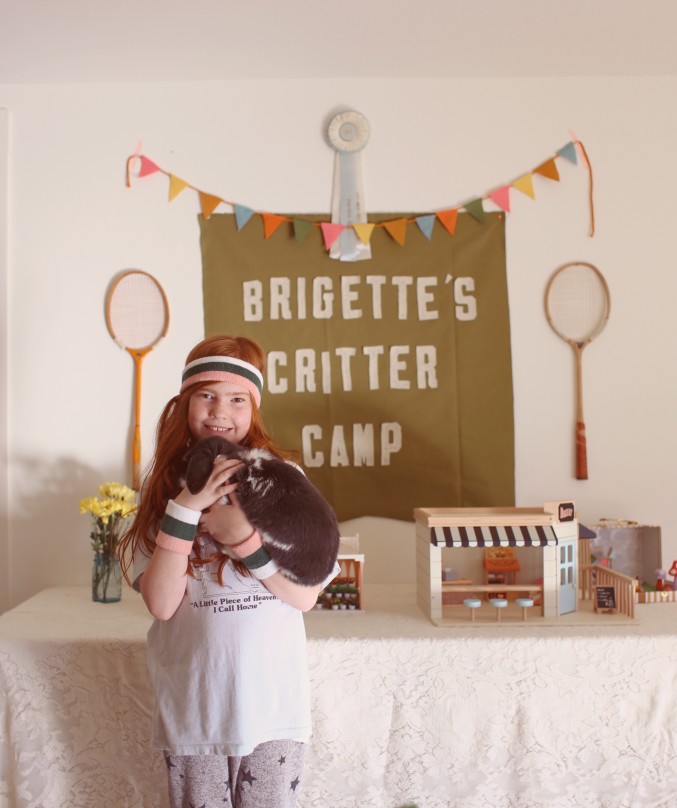 This was such a fun party experience - the girls had so much fun crafting and creating that we *almost* ran out of time for food and cake. We also had the fireplace on downstairs, and we made tiny s'mores with tiny marshmallows and tiny homemade graham crackers - it was another big hit, too! It was fun to have the "camp" experience with s'mores, but tiny since they also had cake.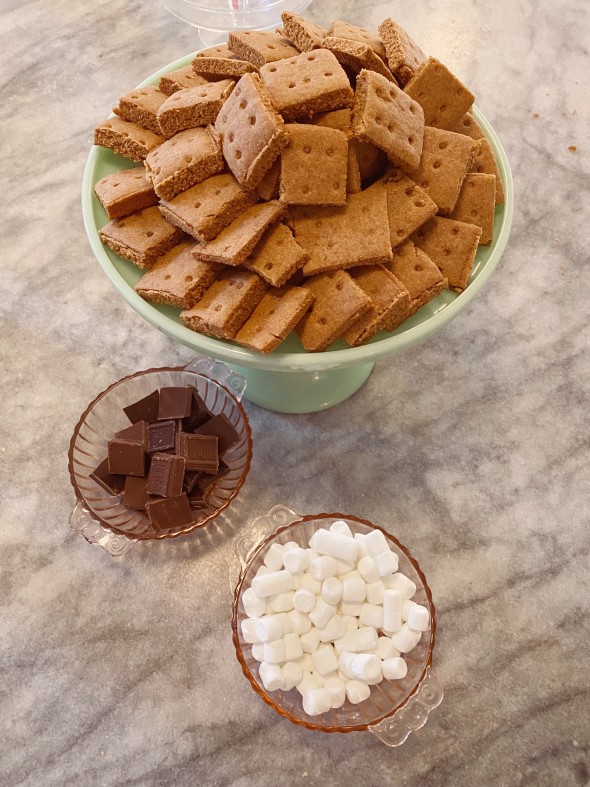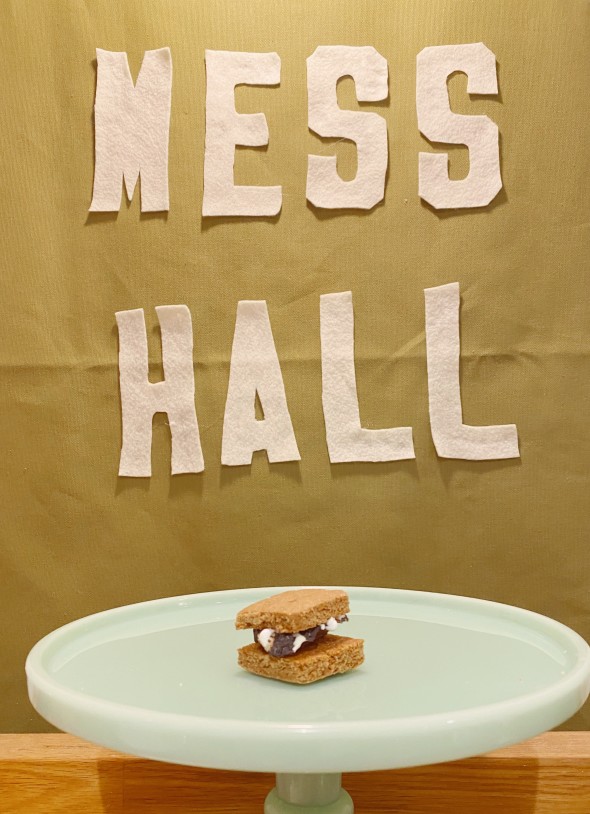 Someone also asked if I have help when I do these parties, and for this one, I had my "friendtern" who is also one of our favorite babysitters, Mackenzie, help out. It was SO GREAT. She helped plate the food, make the crackers, and she was at one of the craft stations, helping the girls glue their sleeping bags and assemble their playsets. Vivi (my oldest, 11) also helped out, and it was great to have helping hands to make things work. The girls were at a really great age for this (8/9 year olds) and were able to do a lot independently. I think younger ages would have required a lot more hands on help, but this was the perfect activity for that age.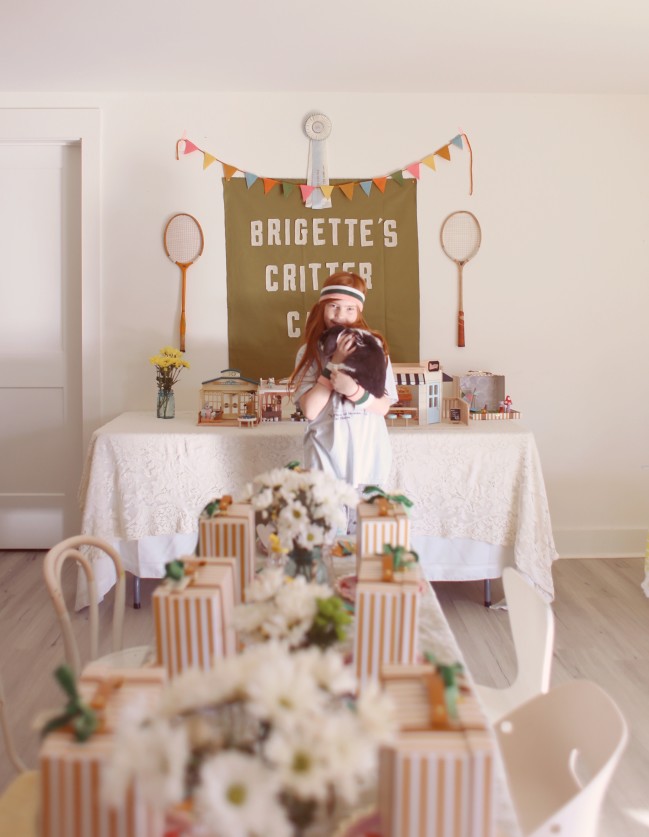 It was such a fun night, and everyone had a great time!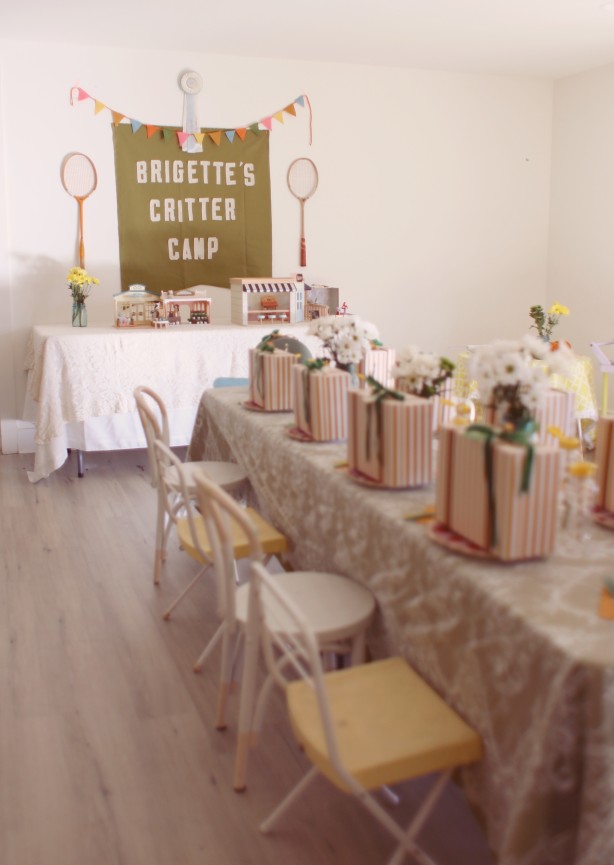 **Be sure to check out some of Brigette's other parties like her Koala Care Party, her Fox Party, and her Hogwarts Hufflepuff party!