How To Create a Nursery that Will Grow with Baby
with Serena & Lily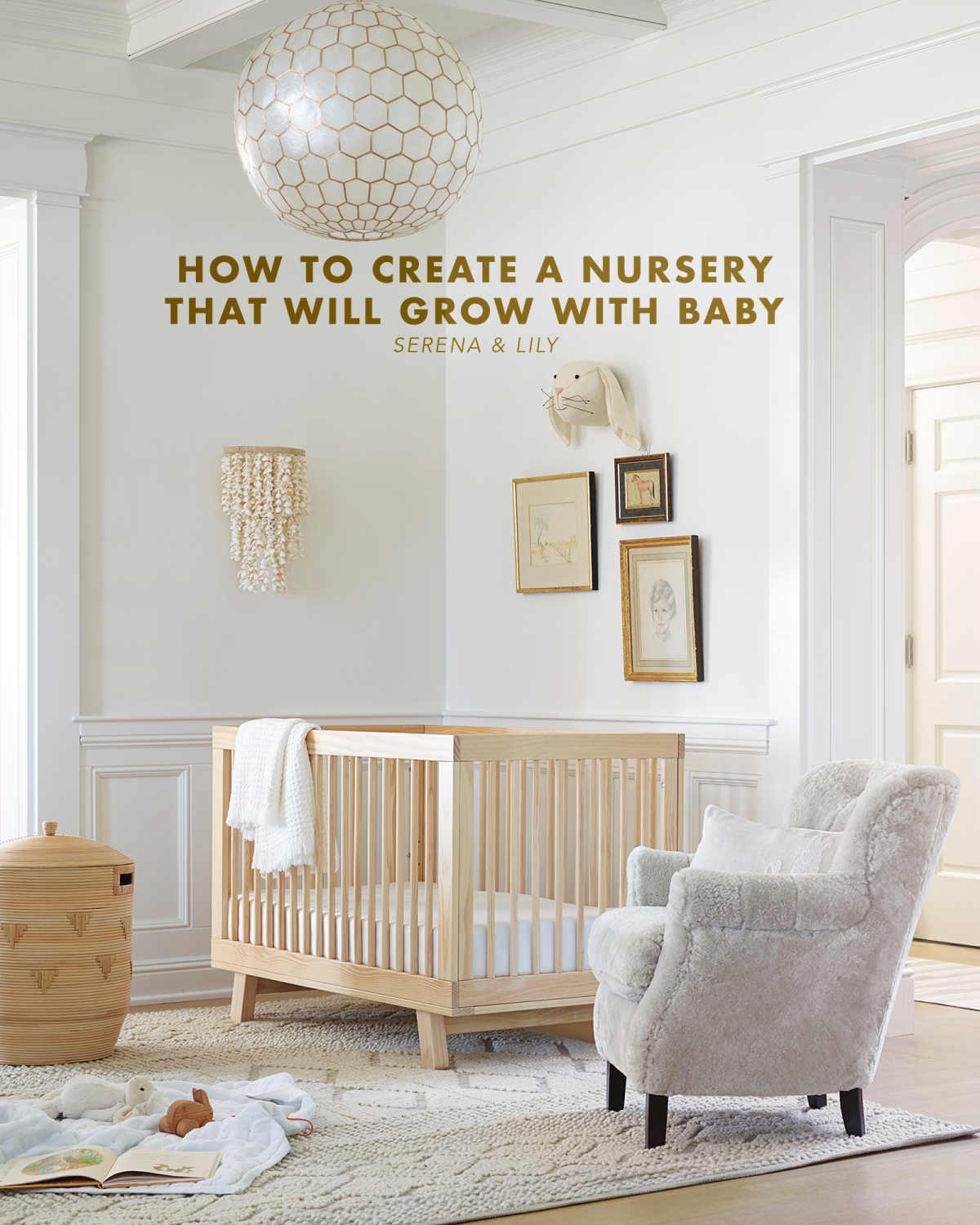 This post is sponsored by Serena & Lily.  **This post contains affiliate links, which means that if you make a purchase after following a link I may receive, at no cost to you, a commission for the sale. Funds from affiliates help keep Lay Baby Lay running, and I appreciate your support so much!
When working on a nursery for your little one, it's easy to focus on how it will work for baby, but it's also wise to consider the longevity of the space. Finding pieces that will outlast the nursery as baby grows and transitions to a big kid room (which will happen before you know it!) is a great way to make certain your investment is well made.
Below are some of my favorite tips to make sure you create a space that will be well loved for years to come.
(Sources for above: Highlands Basket, Banff Rug, Hudson Crib, Belgian Club Chair; Felted Bunny; Capiz Honeycomb Chandelier; Aptos Shell Sconce)

First, choose a rug that is neutral enough to adapt.  
Serena & Lily's rug collection is beautiful, with lots of texture and pattern, but most will work well even if you change colors and accents in a room.  Rugs can be a big investment, and deciding on one that will work in a nursery even if some other pieces change is a wise choice.  I love the one above; it has enough pattern to be interesting, but can easily work even if the wall color changes.
(Sources for above: Nash Crib; Felted Mobile; Nash Changing Table; Malta Hand Knotted Rug; Feather Wallpaper; Kalahari Mini Quilt; Highlands Baskets; Felted Elephant )
Secondly, go for wallpaper that isn't too juvenile.  
Wallpaper can feel like a big commitment, but it's a really great way to add some interest and personality to a room. Finding patterns that are slightly playful, but still not too juvenile will help your choice stand the test of time. I love that the above Kalahari Wallpaper reads as a neutral, but has little elephants in it - such a fun detail! Serena & Lily's wallpaper selections are all great choices to add interest to a space, and you won't have to worry about them growing old after a year or two.
I also love the statement of that gorgeous pendant light over the crib! It works almost like a mobile as something interesting for baby to look at, and is a great option for installing a lower- hanging light fixture in a room with ceilings that aren't super high, which can often be a challenge.
(Sources for above: Portland Bone Inlay Mirror, Venice Rattan Chair, Braided Abaca Rug, Harbour Cane Upholstered Crib, Vero Pendant Light; Harbour Cane Changing Table; Kalahari Wallpaper)
Thirdly, choose furniture pieces that aren't nursery specific and that you can imagine using in other places in your home. Add sweet accents and playful details to make those pieces feel nursery-appropriate.
For example, the bookcase above is clean and modern, and would work great in an office, a master bedroom, or a living room, but the animal bookends and tasseled baskets make it perfect for the nursery. This piece (and that chair!) are enviable for many other spaces in the home, and will certainly find a spot to live even if they are no longer needed in the nursery.  
I also especially love that wallpaper!!
(Sources: Grafton Bookcase; Big Sur Tasseled Baskets; Skylake Toile Wallpaper; Canyon Chair; Huxley Rug; Amalie Pillow)
Next, add punches of color with accents and bedding, rather than committing to color on the larger pieces, such as furniture.
This tip is also helpful if you plan to keep baby's gender a surprise; designing a room that is beautiful without being boy or girl specific can make for a really calming space. Then, once baby arrives, you can add pops of color and personality, like the animals on the wall above, the sweet mobile, and the adorable pink bedding.
(Sources for above: Felted Bunny, Felted Pig, Felted Sheep; Priano Wallpaper; Bunny Mobile; Capiz Honeycomb Chandelier; Webster Crib; Priano Crib Sheet; Solid La Jolla Baskets; Aria Rug; Moroccan Leather Pouf)
Last, add some pieces with meaning or significance to your family.
Finding some old photographs or pieces of art from your parents or grandparents and grouping them together can make for an interesting statement wall that has some meaning, as above. Mixing in whimsical items like the bunny above make it feel sweet, but those art pieces will work well in a big kid room, too!
(Sources for above: Highlands Basket, Banff Rug, Hudson Crib, Belgian Club Chair; Felted Bunny; Capiz Honeycomb Chandelier; Aptos Shell Sconce)
Also, here is an example of a room design using more neutral pieces, but adding in fun pops of color with accents to make for a bright, cheery space.
Sources for above:
(1) Vero Pendant Light; (2) Nautical Rope Mirror; (3) Fairmont Sconces; (4) Sailboat Print; (5) Bloom Print; (6) Sun Print; (7) Addie Stripe Tassel Pillows; (8) Nash Crib; (9) Melville Mini Quilt; (10) Nash Changing Table; (11) Gingham Crib Sheet; (12) Spinnaker Tray; (12) La Jolla Basket; (13) Venice Rattan Chair; (14) Jute Border Rug; (15) Moroccan Leather Pouf
Definitely check out Serena & Lily's nursery collection if you are looking for more inspiration; their classic pieces will grow well with baby, which makes them perfect choices when putting together a room for your new arrival.
I'm so grateful to Serena & Lily for partnering with me in this sponsored post!