the friday happy list 6.08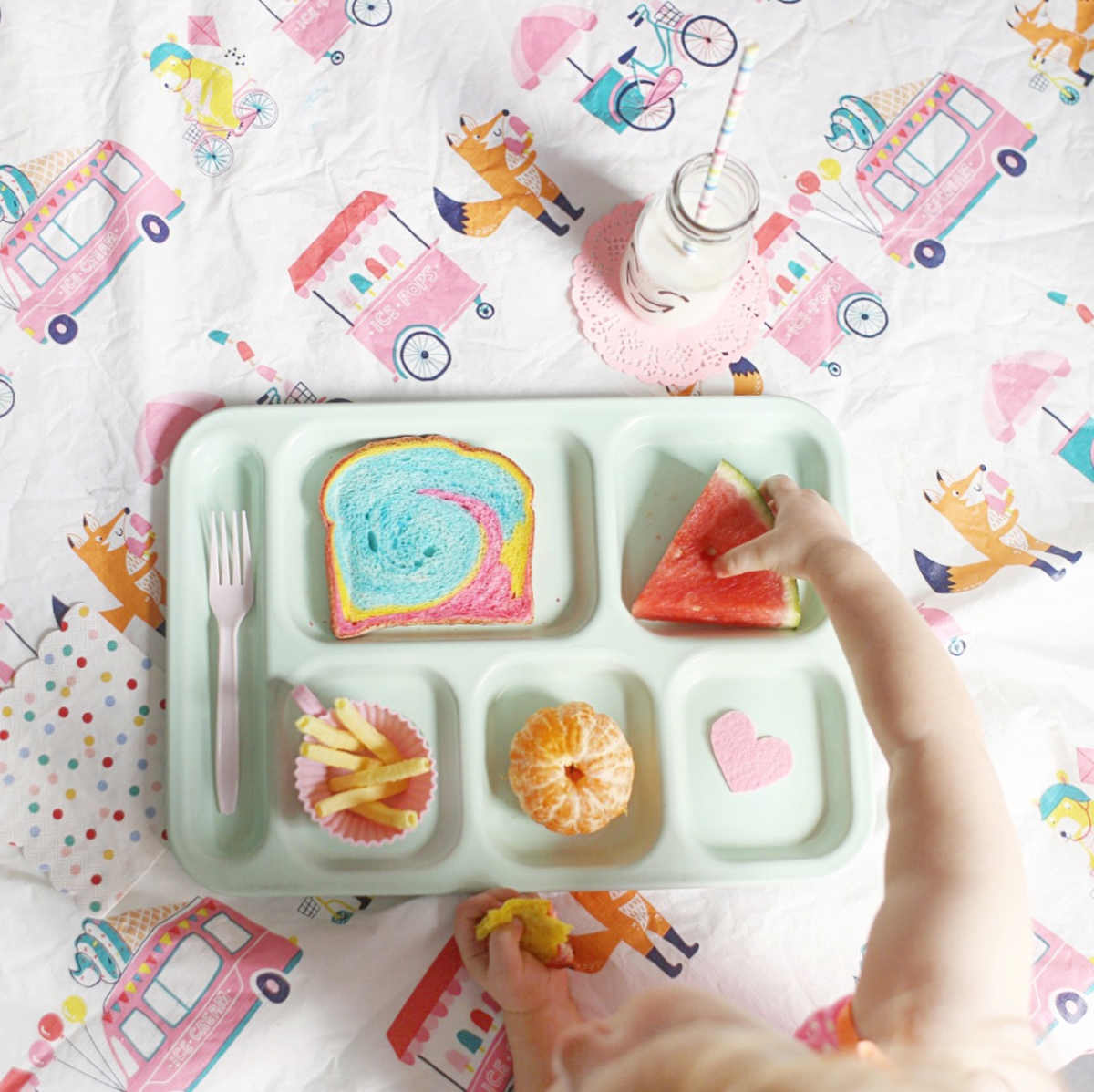 I was visiting a friend of mine recently who just had her second baby, and she had this wipes case with a bright fun pattern that she used for wipes on the go, and she kind of half apologized as though it were superfluous, saying, "it just makes me happy, and I'm into the little things that make me happy these days."  And I told her she should be; in those bleary, sleep deprived (though cuddle filled) weeks that can drain you in ways you never thought possible, finding the small things that bring you joy and happiness are so worth it.
I love finding things that bring happiness to the sometimes mundane, that spark delight in the routine.  So here is a quick list of my current loves this week:
(1) Vintage Cafeteria Trays for feeding the kids.  I'm crazy about these.  I bought four, and it's all I want to use for their meals.  It's fun to fill them up, they honestly like eating more because it's so cute, and it's easy to make sure I'm giving them a well rounded meal.  They are just plain fun.  I found these on Etsy, and there are tons of colors to pick from, and I can also throw them in the dishwasher.  Winning.
(2) I also recently bought a vintage canister set.  I use them daily for my tea, sugar, and Chip's coffee, and I feel like they are smiling at me when I walk into the kitchen in the mornings, struggling to get ahead of the day and the "I'm hungries."
(3) This mascara is fantastic.  I love it so much.  The first time I tried it, I felt like I was wearing falsies.  And the container is really cute.
(4) I love love love this moisturizer.  My skin has been all over the place since having kids; it's so much drier, and also strangely sensitive.  I have a hard time finding a moisturizer that really makes my skin feel truly quenched, but this one does the trick.  Also, the container is gigantic and it feels like it lasts forever.
(5) Lastly, Ellie James is super into pushing things around the house all.the.time, and it's even better when she can load up bags on the handles of said things.  On vacation last week, she fell in love with her cousin Stella's umbrella stroller and wanted to push it around by herself everywhere.  I snagged a doll stroller for cheap when we got back, and it might be the best $10 I've ever spent.  She also has a small fleet of wagons and push carts that she alternates among as well, so here is a roundup of some cute and fun toddler push carts (sources after the image!).  
(P.S. When Vivi was a toddler, I would take her to the grocery store with her little wagon, and she loved helping me shop.  I wouldn't recommend that with multiple children, but it's really fun if you just have one who is reasonably compliant.  It always made her day, and it was the cutest watching her load up her little wagon with cereal and fruit and such.)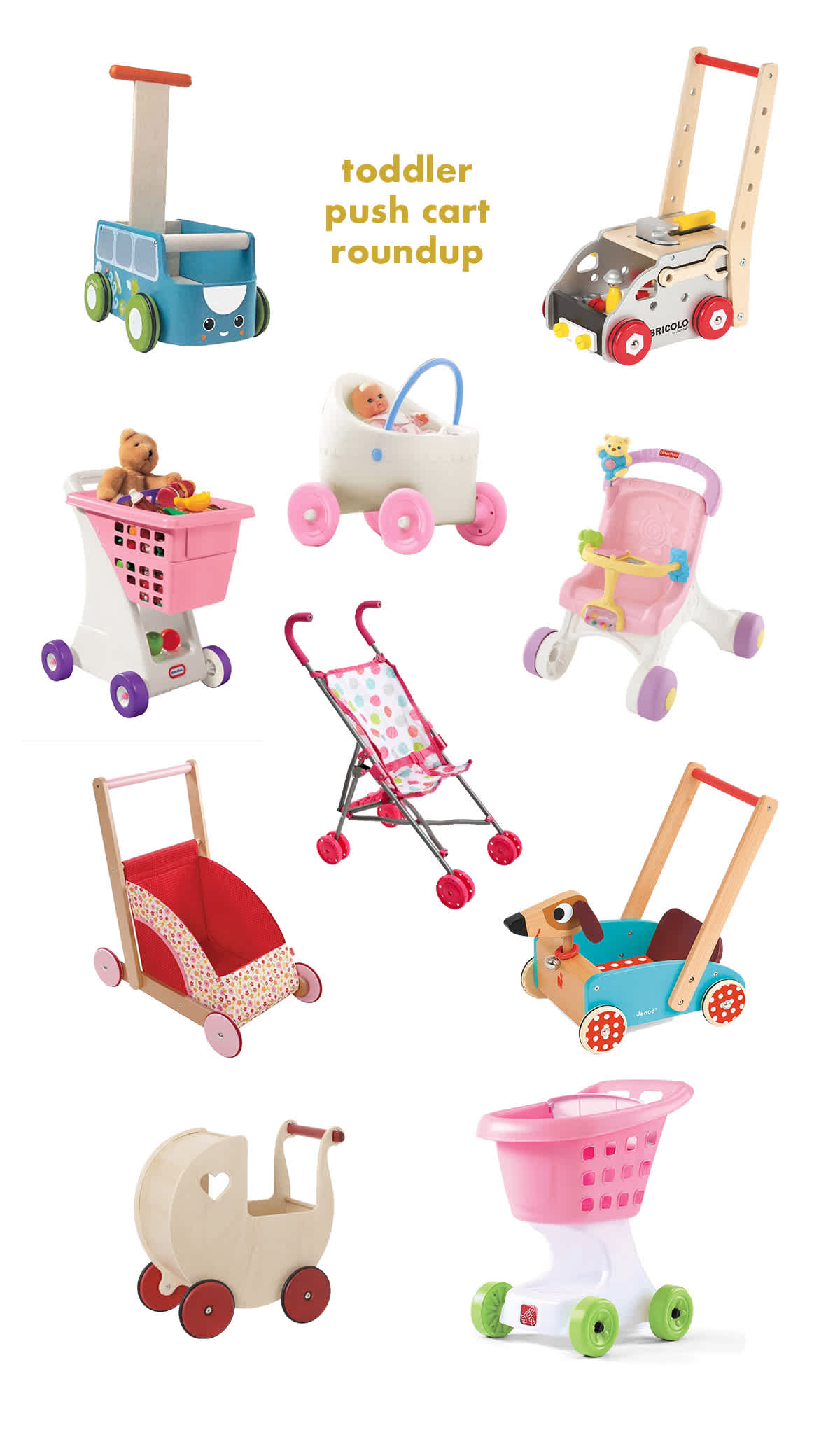 (1) Van Walker; (2) Tool Push Trolley; (3) Pink Shopping Cart; (4) Doll Pram; (5) Doll Stroller; (6) Wooden Cart; (7) Doll Umbrella Stroller; (8) Puppy Cart; (9) Wooden Pram; (10) Pink Grocery Cart
Hope y'all have a lovely weekend!