favorite preschool board games
(photo by Alea Moore)
Since we finally have a beautiful place to eat together as a family, we have been taking advantage of our awesome new banquette for family game nights.  It has been such a fun way to extend family mealtime.  Sometimes supper seems to go by way too quickly, and it's great to capitalize on this precious family time when we are all sitting down together.  It also encourages conversation among all of us, which can sometimes be a challenge.
I've been really pleased to discover there are a lot of really great game options that are age appropriate, especially for Vivi, and also for Brigette, too!  We can all participate, and below are some of our favorites. As a reference, Brigette will be 3 this month, and Vivi just turned 5.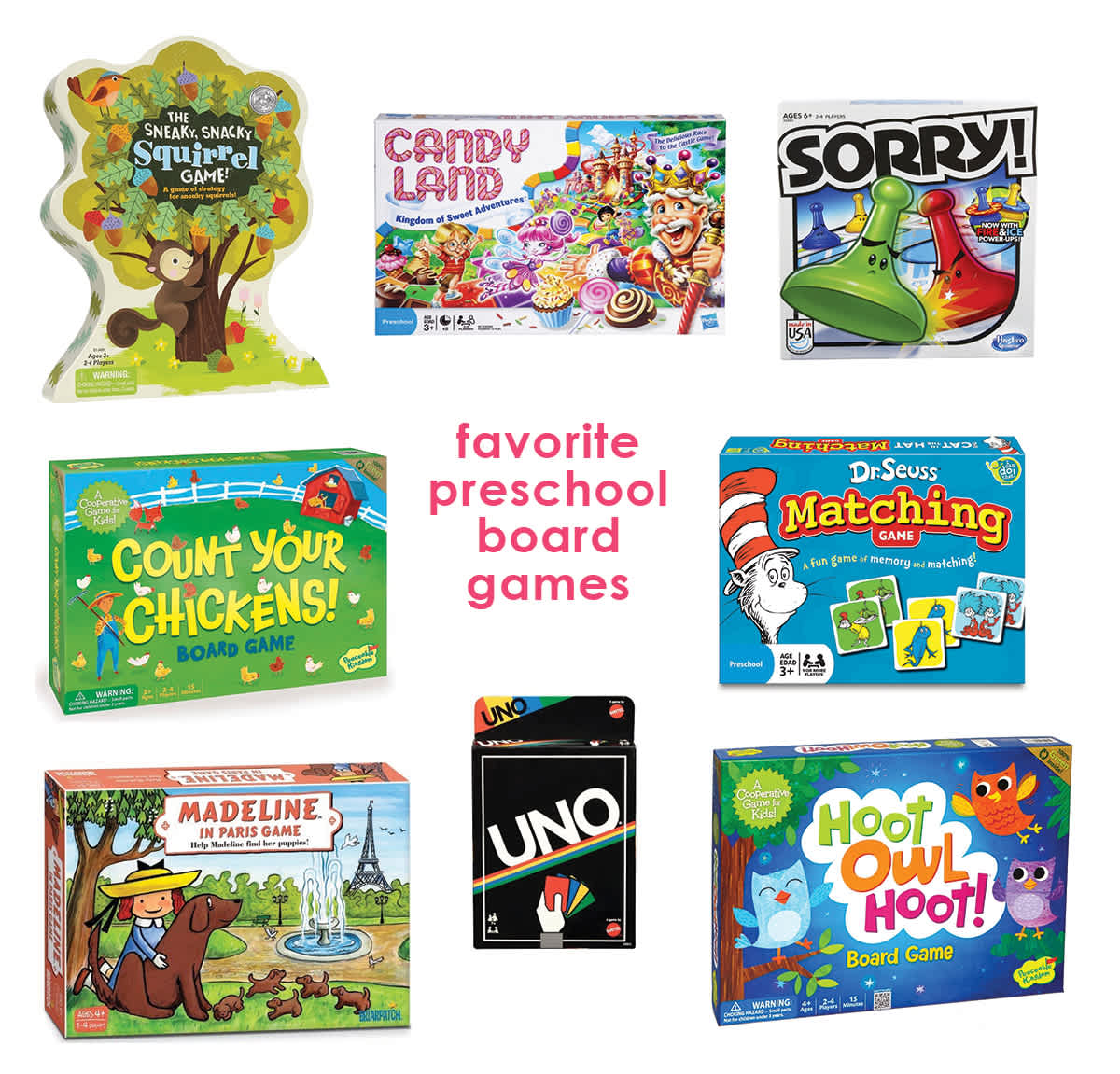 (1) Sneaky Snacky Squirrel: I think this one might be my favorite. Not only is it fun to say and super cute, but both girls love it.  It involves fine motor skills and learning how to take turns and be strategic. Brigette loves using the little squirrel to grab the acorns!  I have also heard that Shelby's Snack Shack is similar and lots of fun, too.
(2) Candy Land: This classic is also a favorite.  Brigette tends to lose interest quickly, but Vivi loves it and gets really excited about advancing on the board.
(3) Sorry: This one is definitely over Brigette's head, so she doesn't really participate much, but Vivi loves it.  It's still maybe a bit beyond her, but she likes playing, and I think she will keep catching on quickly.
(4) Count Your Chickens: I suppose this is a new concept: cooperative board games?  All of us work together to accomplish a goal, and we all win or lose together.  It's honestly a bit anti-climactic for me as I think it's also good to learn good sportsmanship and cheering on one another and being glad for your sibling when she wins, and likewise winning with grace, but it's a fun way to work together at the same time.  Brigette also totally catches on and it's another great option for her age range.
(5) Dr. Seuss Matching: This is a pretty epic matching game.  There are 72 pairs, so you can use all of them (which works great for Vivi) or use a lot less (which works better for Brigette).  Brigette tends to lose interest quickly, but Vivi is an ace at this game and it's fun to play together.  It's a great way for us to spend time together while Brigette and Ellie James nap.
(6) Madeline Board Game: This one is also a fun board game, somewhat similar to Candy Land.
(7) Uno: I was surprised to find this one to be a hit.  Vivi loves this game.  She loves playing with the cards, and it's a great simple way to learn more strategic thinking.  Brigette can also play, although she needs some prompting (i.e. lay down a yellow or a 5!) and loses interest after a bit, but it's still fun.  It's also a favorite to play with Vivi while the little sisters nap, and a great way to get some quality time with her.  It's fun to watch her keep getting better at it, too.
(8) Count Your Chickens: This one is another cooperative game, and spot on for Brigette.  She and Vivi love putting the little chickens in the coop!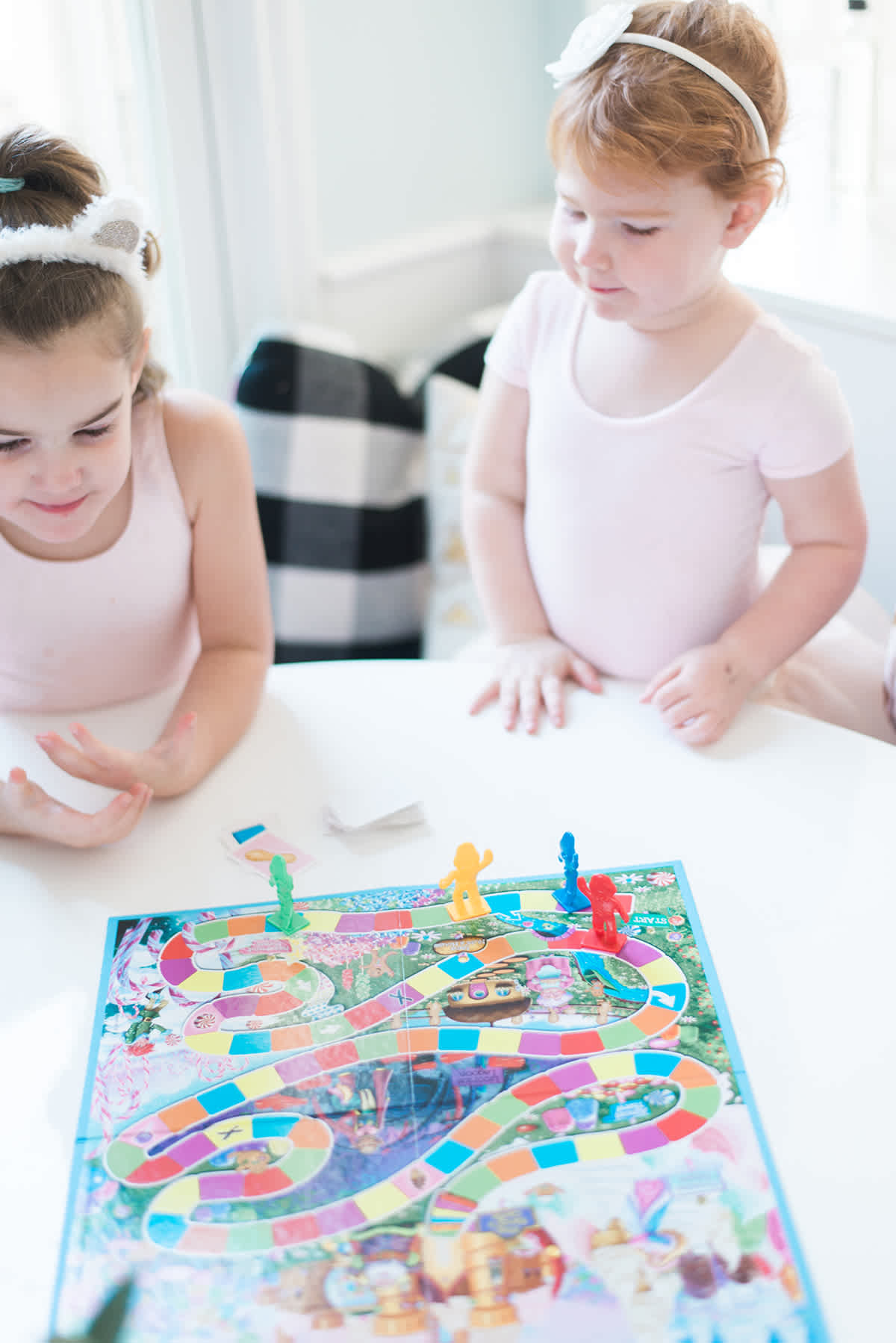 I hope that is helpful!  Do you have any favorites?  I would love to hear - this has been such a fun tradition to start!