Favorite Books from Baby to Big Kid
We love books around here. I've tried to make a conscious effort to always say "YES!" if my kids ask me to read to them, and books are one thing that I'm usually willing to splurge on. In a world where screens seem to be taking over, I'm attempting to keep real, page turning books a centerpiece in our home and in our kids' childhood.
Here is a quick roundup of some of our favorites. This is by no means an exhaustive list, but a quick reference point if you need some ideas to refresh your library. I'm planning to do more of these posts, especially as Vivi is getting bigger and I'm struggling to find great books that are age appropriate, but also take longer to read and are great stories.
Here are some of my favorite books for babies and toddlers (bigger kids like them, too, but these are quicker reads for smaller ones!):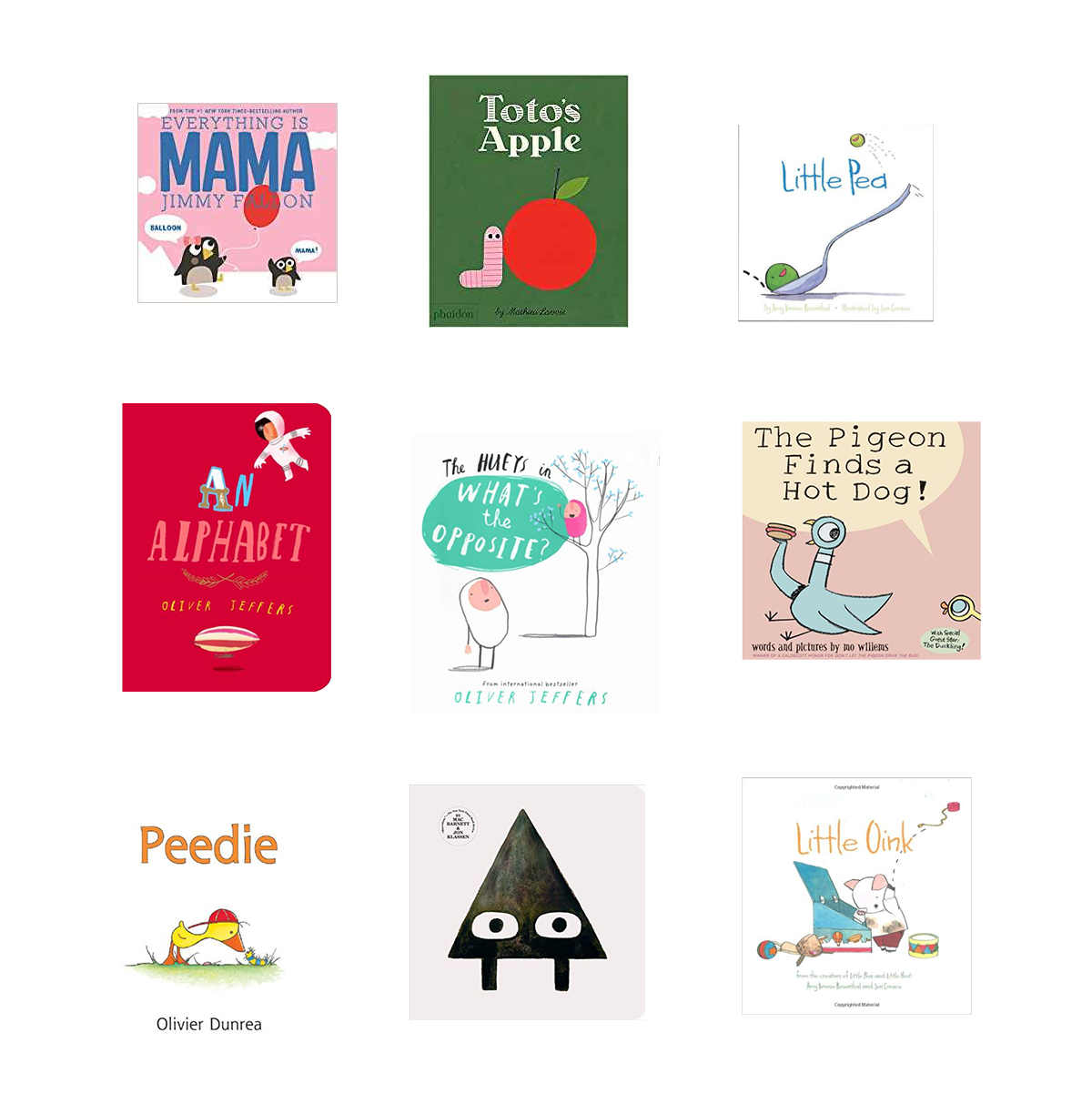 (1) Everything is Mama; (2) Toto's Apple; (3) Little Pea; (4) An Alphabet; (5) What's the Opposite; (6) The Pigeon Finds a Hot Dog; (7) Peedie; (8) Triangle; (9) Little Oink
Here are some great options for older toddlers up to first grade or so (and Vivi still loves all of these, too!):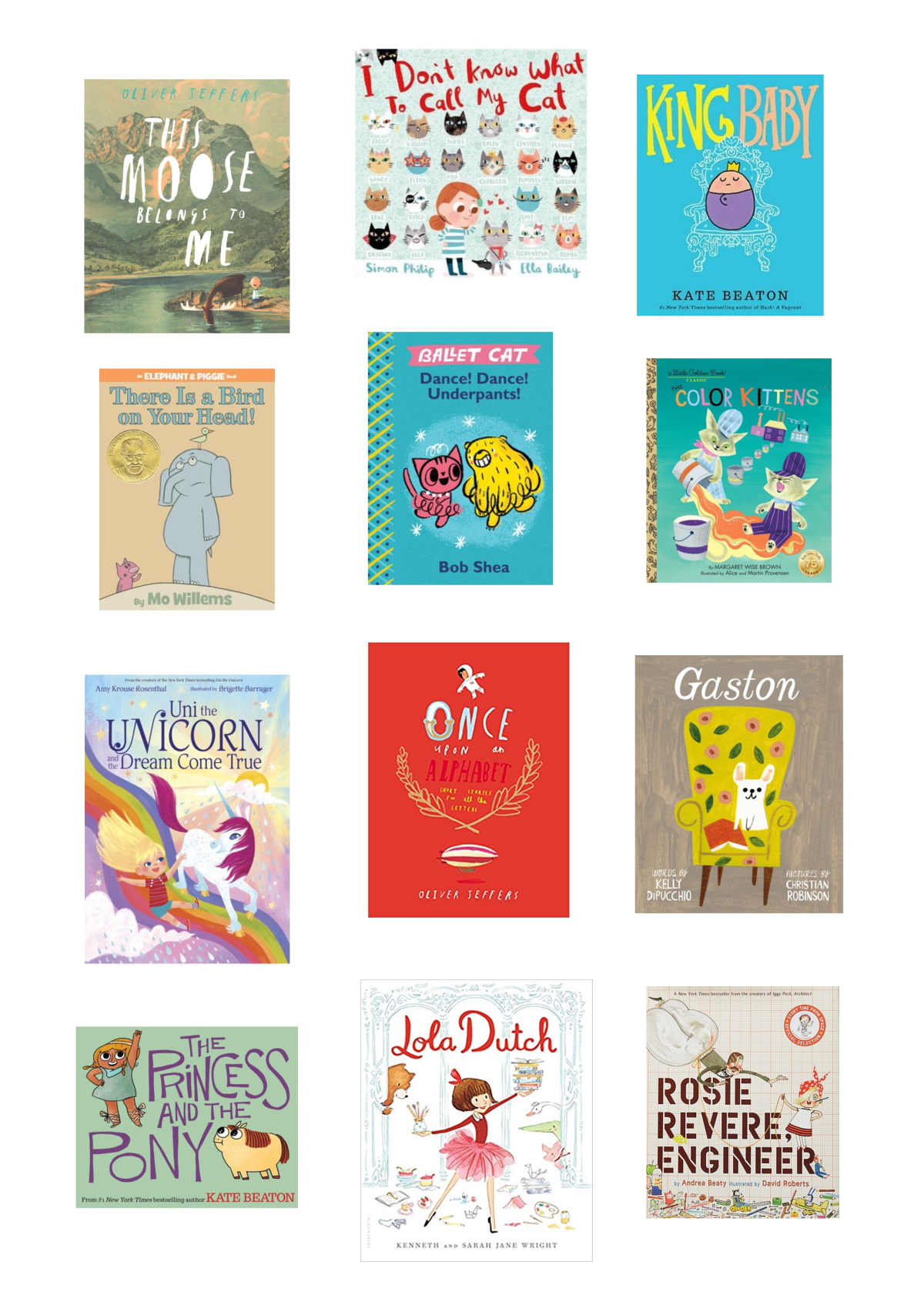 (1) This Moose Belongs to Me; (2) I Don't Know What to Call My Cat; (3) King Baby (excellent for a new big brother or sister); (4) There is a Bird on Your Head!; (5) Dance! Dance! Underpants!; (6) Color Kittens; (7) Uni the Unicorn; (8) Once Upon an Alphabet (this is a great read for dads - it has some dark humor in it, and my kids love it); (9) Gaston; (10) The Princess and the Pony (note: this book has the word "fart" in it, which we don't say in our house - I realize you boy moms may be laughing at me, ha!, but this book is so adorable and we all love it so much! Just giving you a head's up in case that bothers you); (11) Lola Dutch; (12) Rosie Revere, Engineer
Here are some bigger kid/chapter books we have been loving:
(1) Narwhal, Peanut Butter and Jelly (these are graphic/illustrated novels great for early readers, and they are funny, too!);
(2) The Princess in Black (I love this whole series - lots of beautiful illustrations, and a great introduction into reading chapter books);
(3) Junie B. Jones (I love all the Junie books - if you haven't read them, she is a bit crazy and disrespectful, but if your kids can handle it and you can talk constructively through her behavior, you will both enjoy it. She does sometimes use the word "stupid," but I find these books a great opportunity to talk through some things with your kids.)
(4) Ramona Quimby - I love all the Ramona Books;
(5) Narwhal, Unicorn of the Sea;
(7) Fudge-a-Mania (Vivi LOVES all the fudge books and reads them over and over - they are funny and also sweet from a time before screens);
(8) Illustrated Harry Potter (We are letting our kids read one Harry Potter a year - the first one in first grade. It is working well so far, and Vivi loves it! With the illustrated books, she can pore over the story and enjoy it more. Just be sure to flip through the pictures to make sure your kid can handle it, depending on their age . . . I also love this boxed collection!)
(9) Tales of a Fourth Grade Nothing (another Fudge favorite, and a great book for an older sibling who might have younger siblings who make them crazy sometimes!)
(10) The Princess Bride (Vivi LOVED this, and we also just watched the movie with her. If you haven't read the book, it's pretty much the same as the movie, except that the author interjects frequently with a made up story about how he found this old book and wrote it, and some things he writes about his marriage and his kid might bother you, in which case you may wish to read this book out loud with your child, and leave out those parts. It's a clever book; I myself was even beginning to question what was reality and what was not, and whether or not there is actually a Florin!)
(11) The Edge of the Dark Sea (I haven't actually read this yet, but I just ordered it for Vivi! A TON of you recommended this when I asked for book ideas, and it has great reviews, so I'm excited to check it out.)
(12) The Chronicles of Narnia (My girls love this, and I've read it aloud chapter by chapter, which is SO fun!)
I hope this is helpful to you! I'm excited to find more books for Vivi to enjoy -she loves adventure and a long, exciting story, and I'm trying to find books that aren't too "young adult" for her.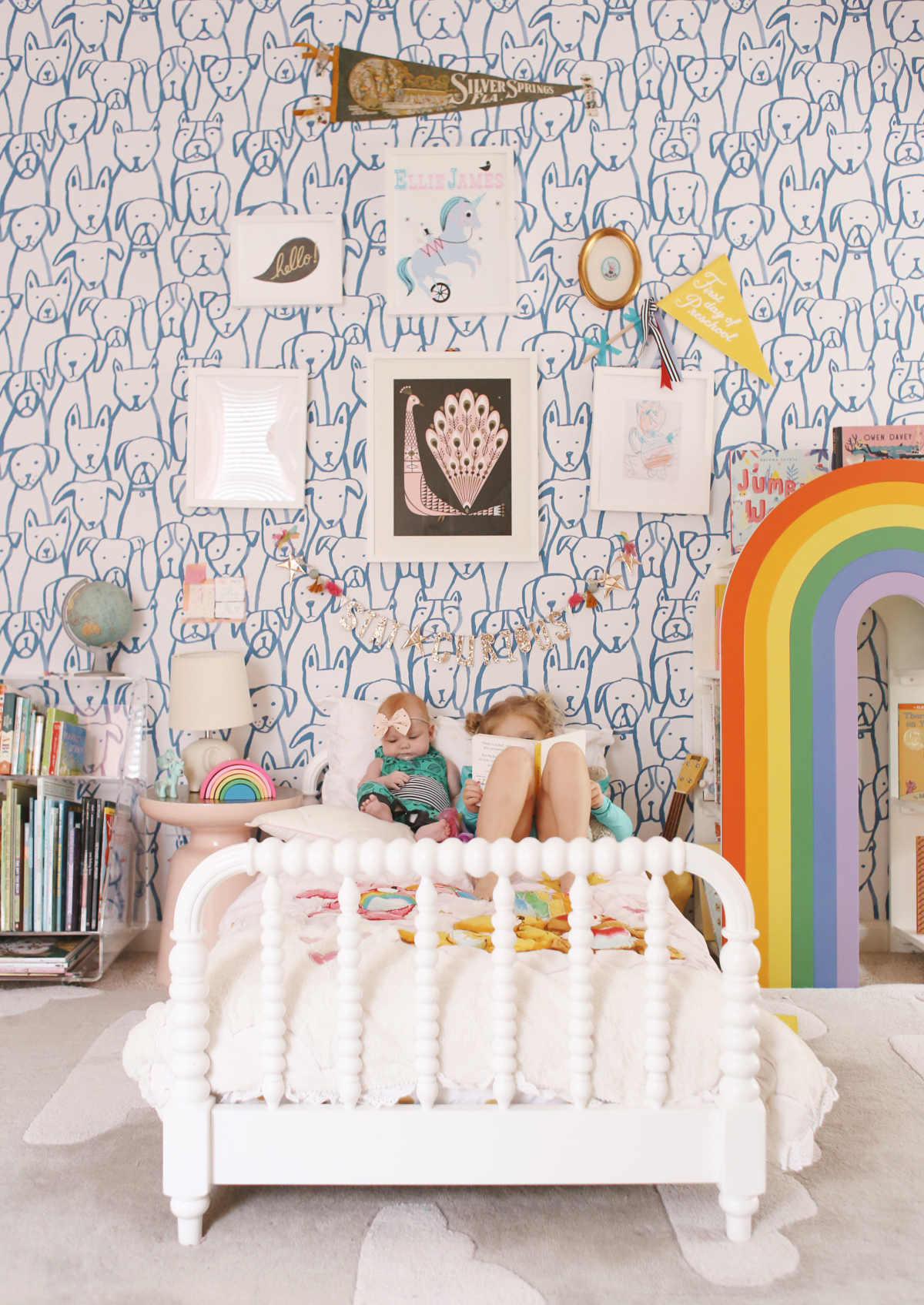 (Sources for room above: Puppy Wallpaper; Jenny Lind Toddler Bed; Rainbow Bookcase; Acrylic Book Cart; Similar Cute Lamp; Side Table; Cloud Rug)