DIY reindeer garland with Astrobrights
#ColorizeYourParty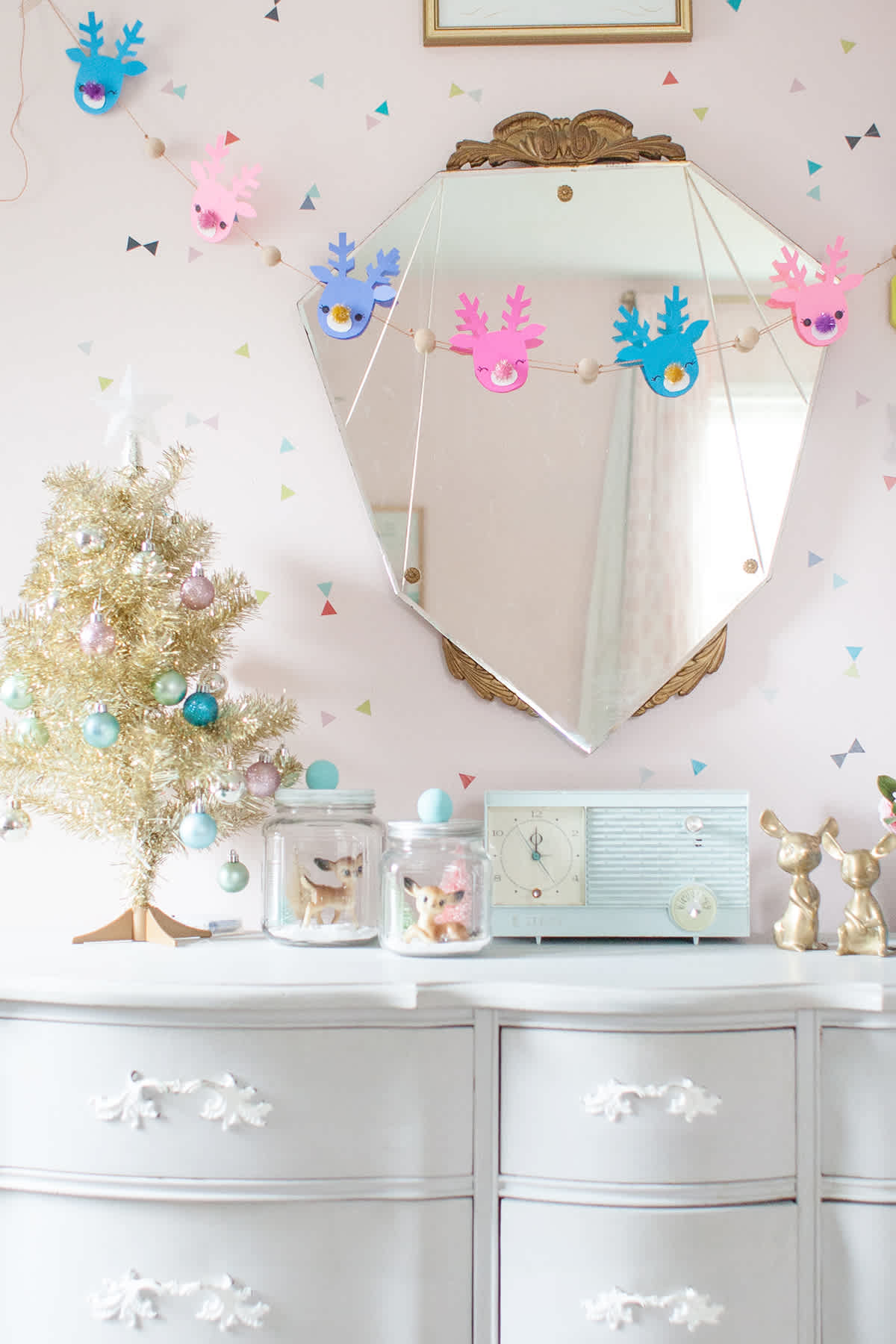 Recently, I shared how to make some really simple Christmas trees as mantel decor in collaboration with Astrobrights, a line of vibrant colored papers that make crafting extra fun, and today I'm sharing how to make a sweet little reindeer garland to colorize your Christmas or colorize your party.
(sources: mini Christmas tree + ornaments (my target had a little mini tree "bar", which was so fun!); vintage deer; vintage radio; vintage brass mice; similar wall decals)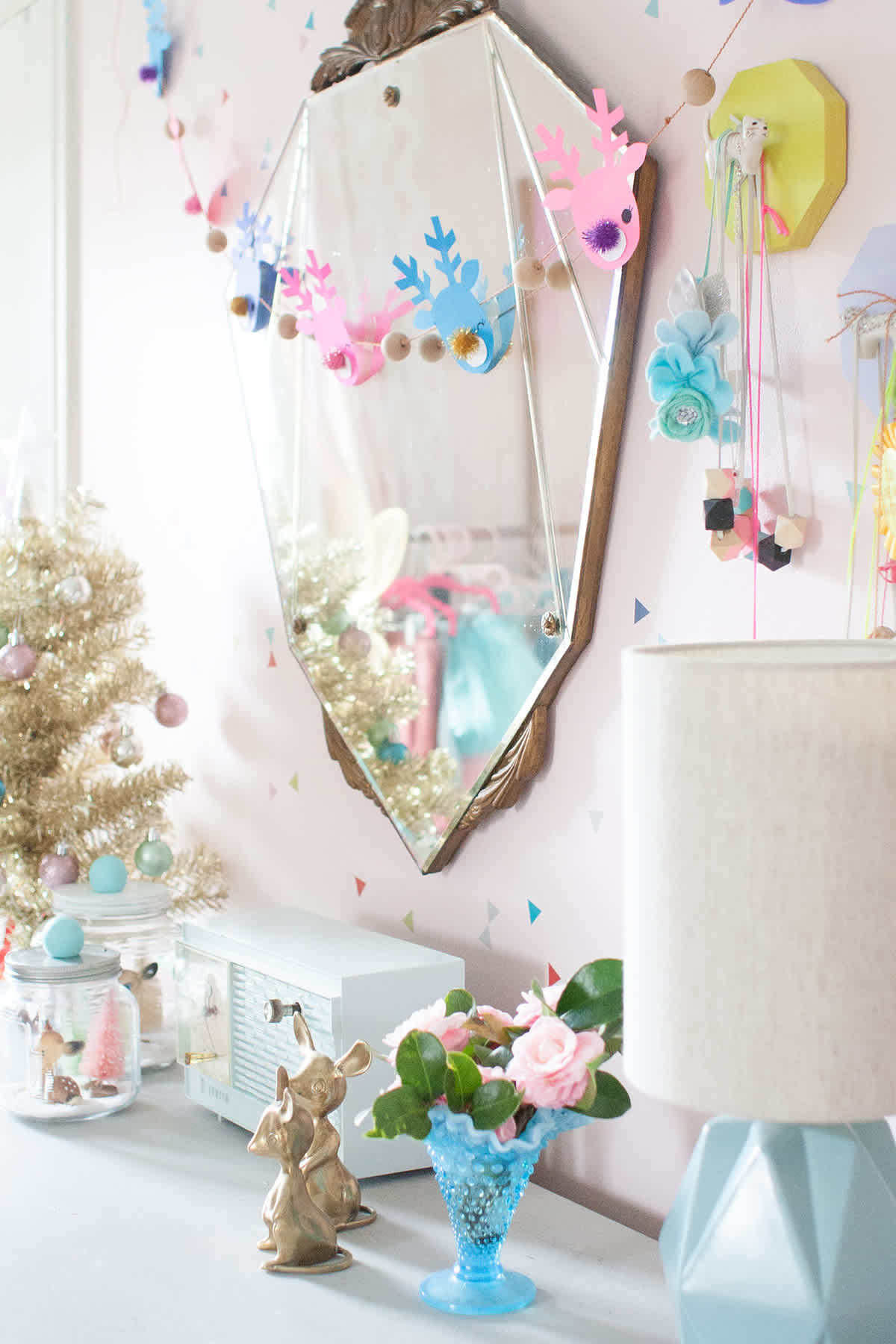 This is a pretty simple craft, and one that you can do with the littles!  They would love coloring in the eyes (googly eyes would also be really fun!) and gluing on the glitter pom pom noses.
What you need:
reindeer printable | Astrobrights Cardstock (I used Pulsar Pink, Fireball Fuchsia, Venus Violet, Celestial Blue, and Lunar Blue, but you could also go with just blues for a boy's room or Rocket Red, Re-Entry Red, Terra Green, and Stardust White for a more traditional Christmas Palette ) | glitter pom poms | black marker or googly eyes | hot glue gun & glue | string or yarn | wooden beads (if you like) | tape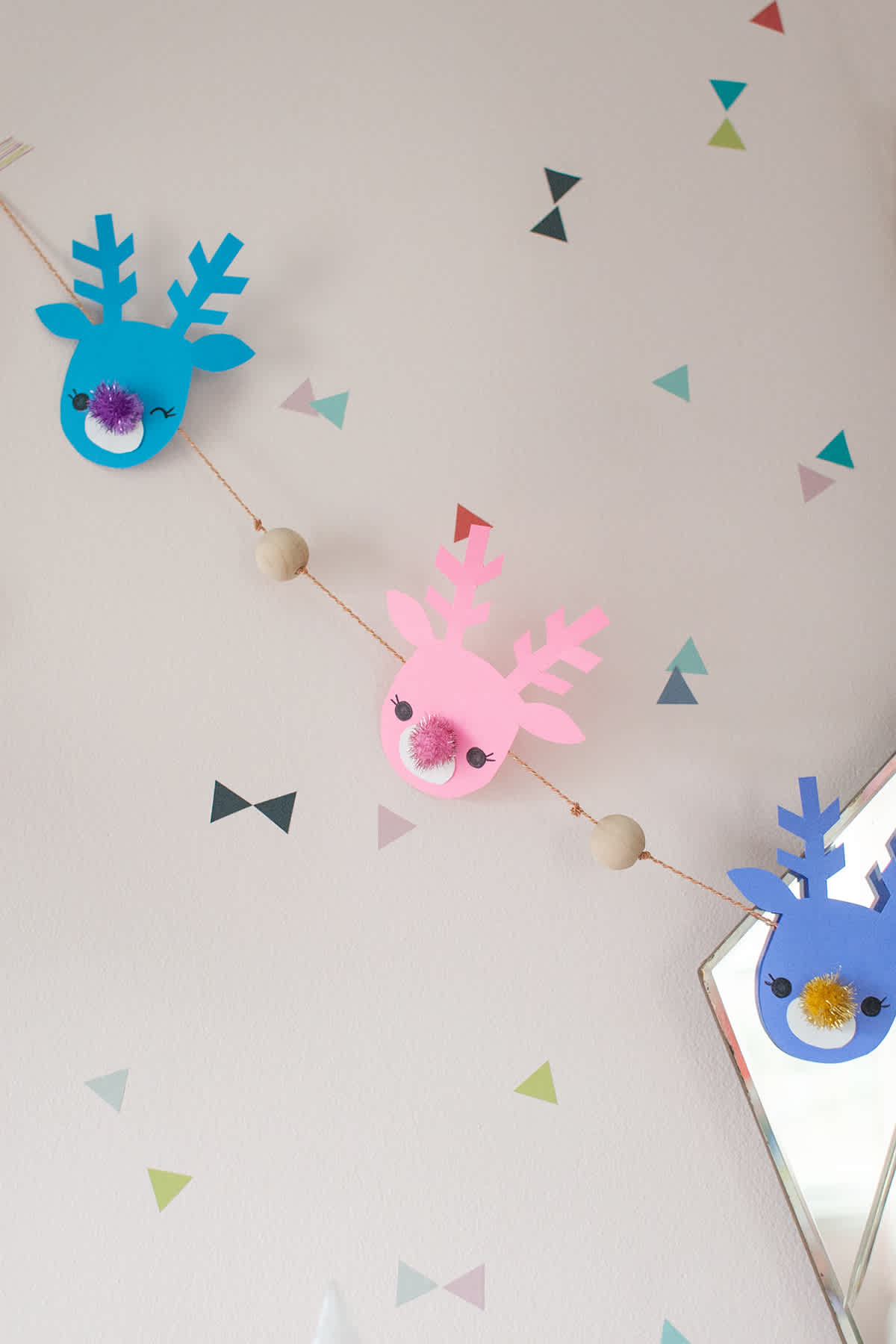 First, print out the template and cut out the reindeer shapes.  Trace them onto the Astrobrights papers and then cut out the reindeer.  I also cut out the little white face shapes as well.  Hot glue the white part of the face onto the reindeer as well as the glitter pom poms for noses, draw on the eyes, and tape to the garland twine/string.  I also added wooden balls just for some extra detail, and I put those on the string first before taping on the little reindeer faces.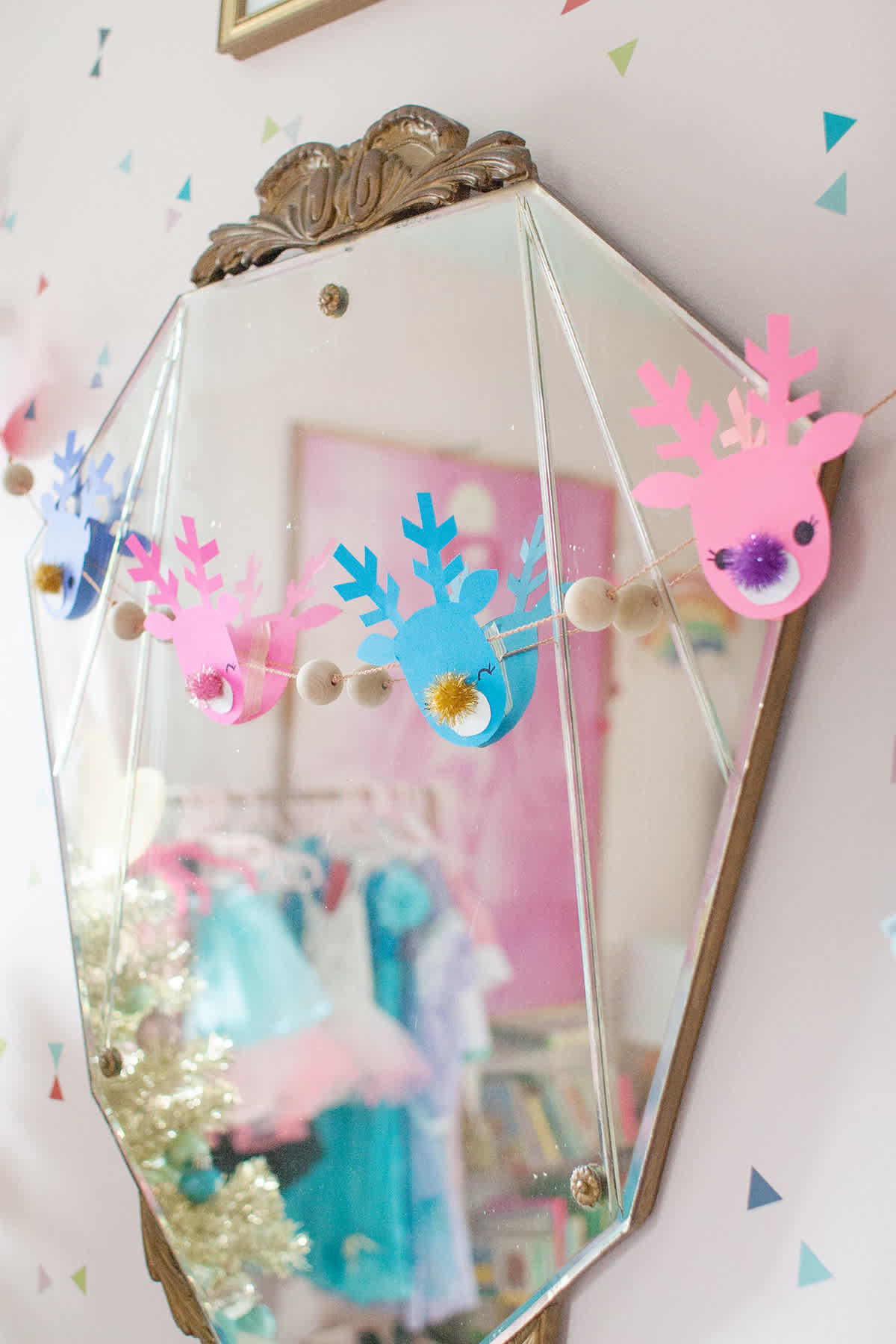 I love the bright and happy colors; it adds such a fun bit of Christmas personality!  The girls also love having it in their room, too!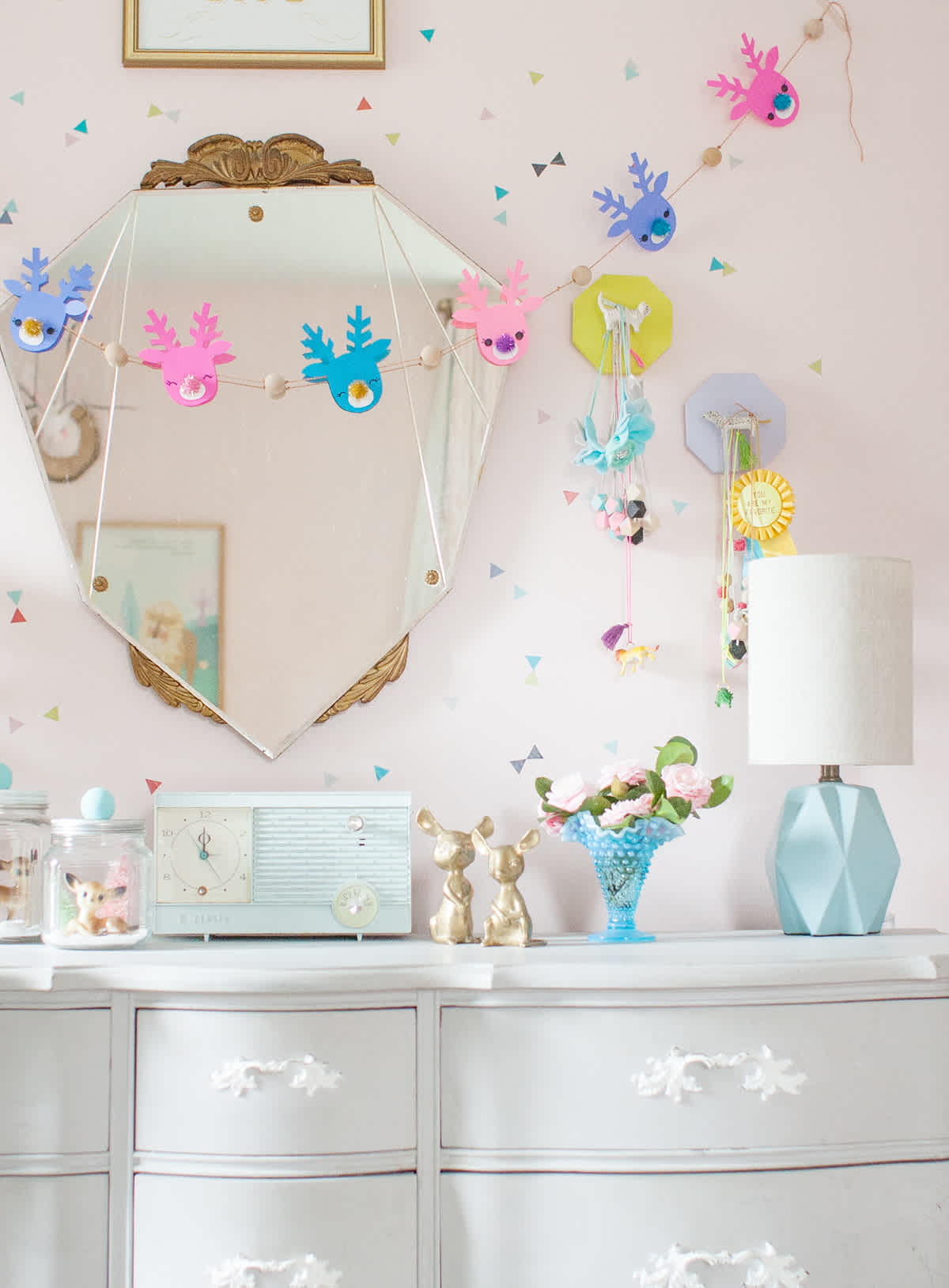 (my favorite lamp!)
Thanks so much to Astrobrights for sponsoring this post!