neutral shared playroom ideas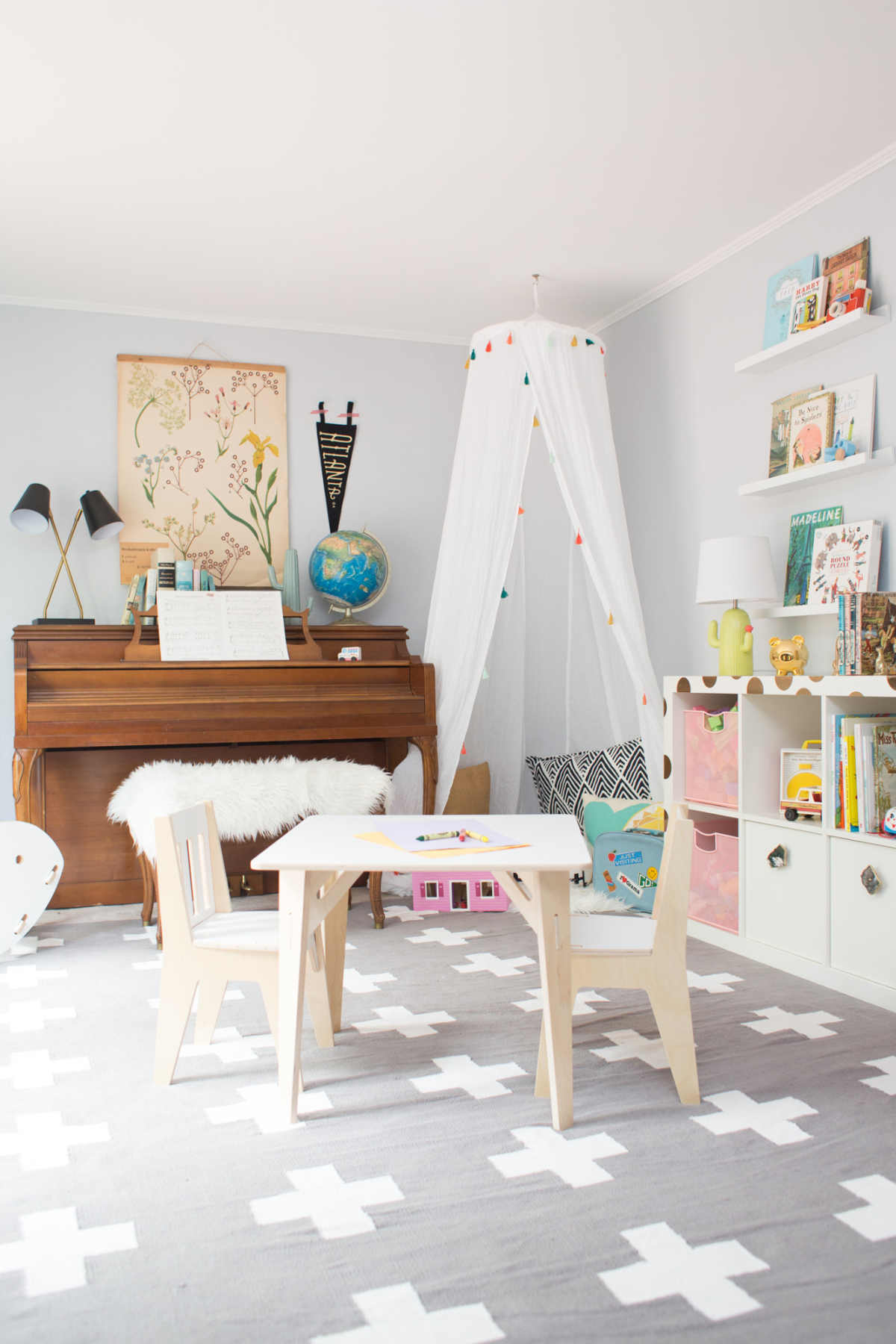 I know it's now June, but were you aware that May was National Foster Care Month?  Some of our sweet friends, Molly and Ty, along with their two girls have volunteered as a foster family, and to celebrate them and to give a story to these precious kiddos who don't have a home, we worked with them to overhaul their basement playroom so these little ones have an extra fun place to play, along with their daughters.
(Sources for above: Rug, Play Table and chairs; Black Lamp; Vintage Botanical Chart; Vintage Globe; Play Tent; Pillow; Bookshelf, similar; Pink Bins; Cactus Lamps; Book Ledges; Stripe Curtains; Cactus Vase; Atlanta Pennant; Whale Rocker)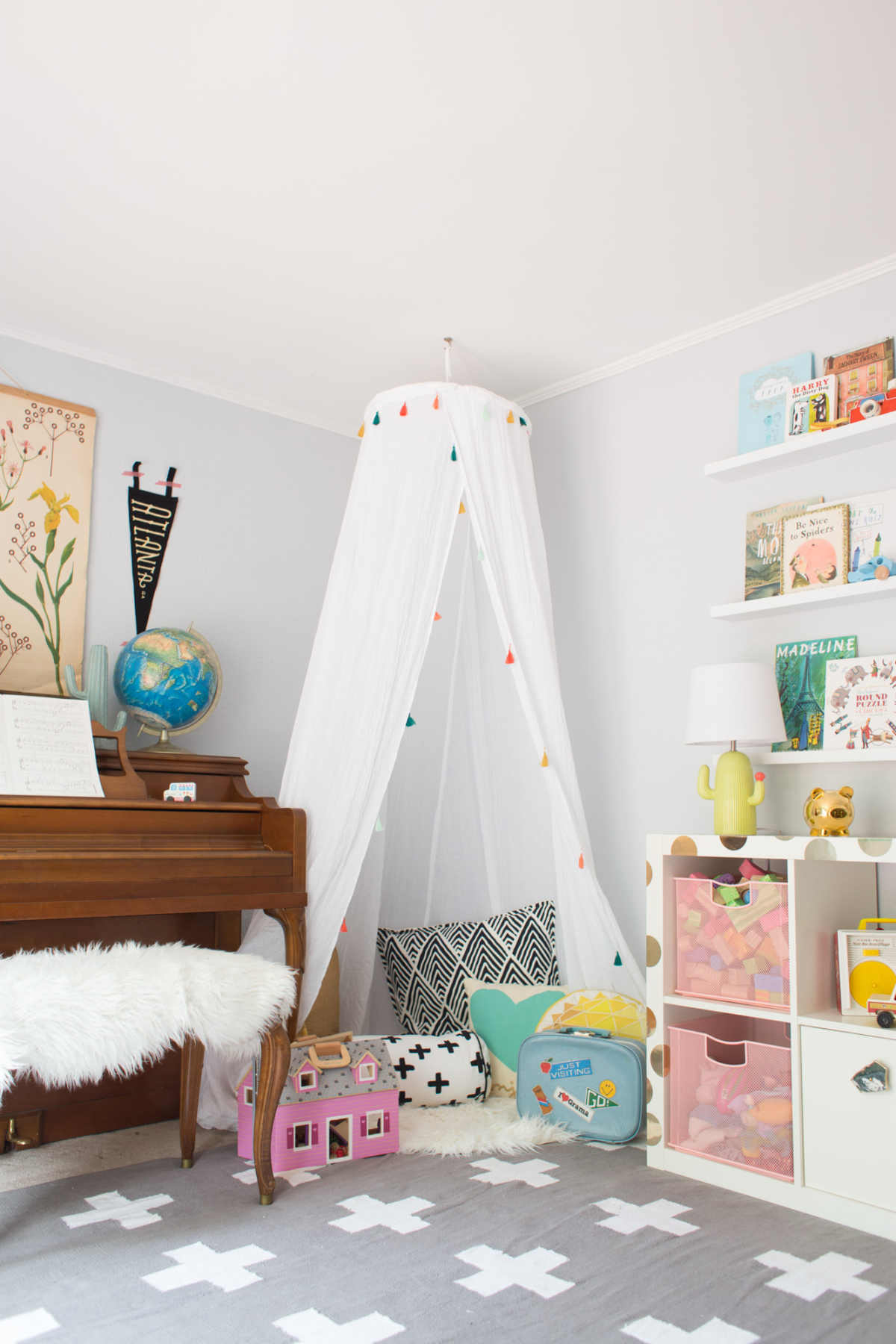 I love how this space came together, and really, it's pretty simple and budget friendly.  First, we painted the walls Bunny Gray by Benjamin Moore (how cute is that name?). It's a great neutral color that is really light, but has enough color for contrast.  Molly also had this piano from her childhood (isn't it perfectly beautiful?) and I love how it is the centerpiece for the room, and looks so lovely against the gray walls. (Also, this style board was the inspiration.)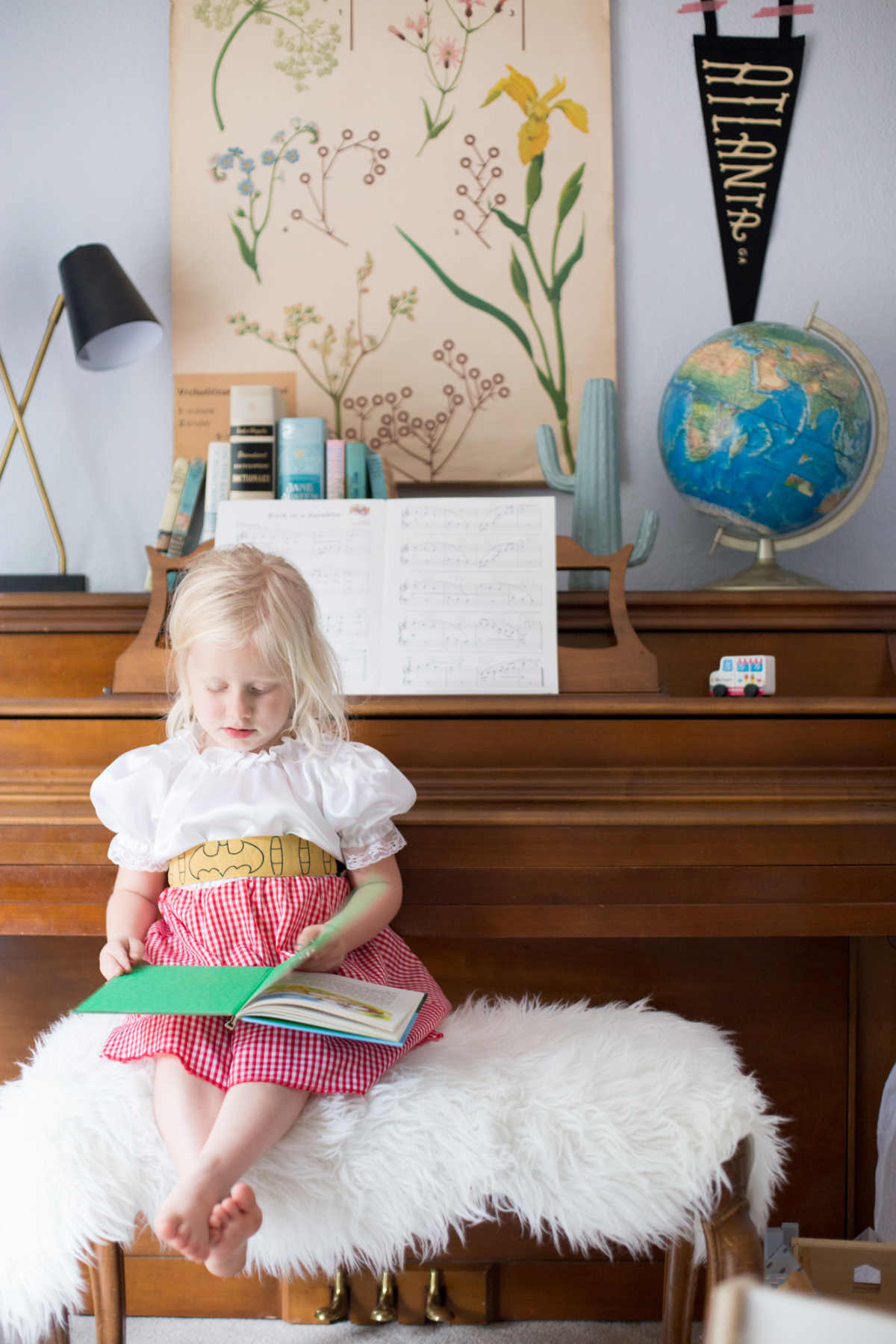 The room is carpeted,  so to add in some pattern, we used this rug.  It can be a little tricky to put a rug over carpet, and a tufted rug would be easier to lay flat as they have a heavier weight, but a flat weave rug is less expensive.  To keep the rug in place, we used this rug pad, which sticks to the carpet and the rug to prevent wrinkling and rolling.
(Sources for Above: Black Task Lamp; Vintage Botanical Chart; Vintage Globe; Cactus Vase; Atlanta Pennant)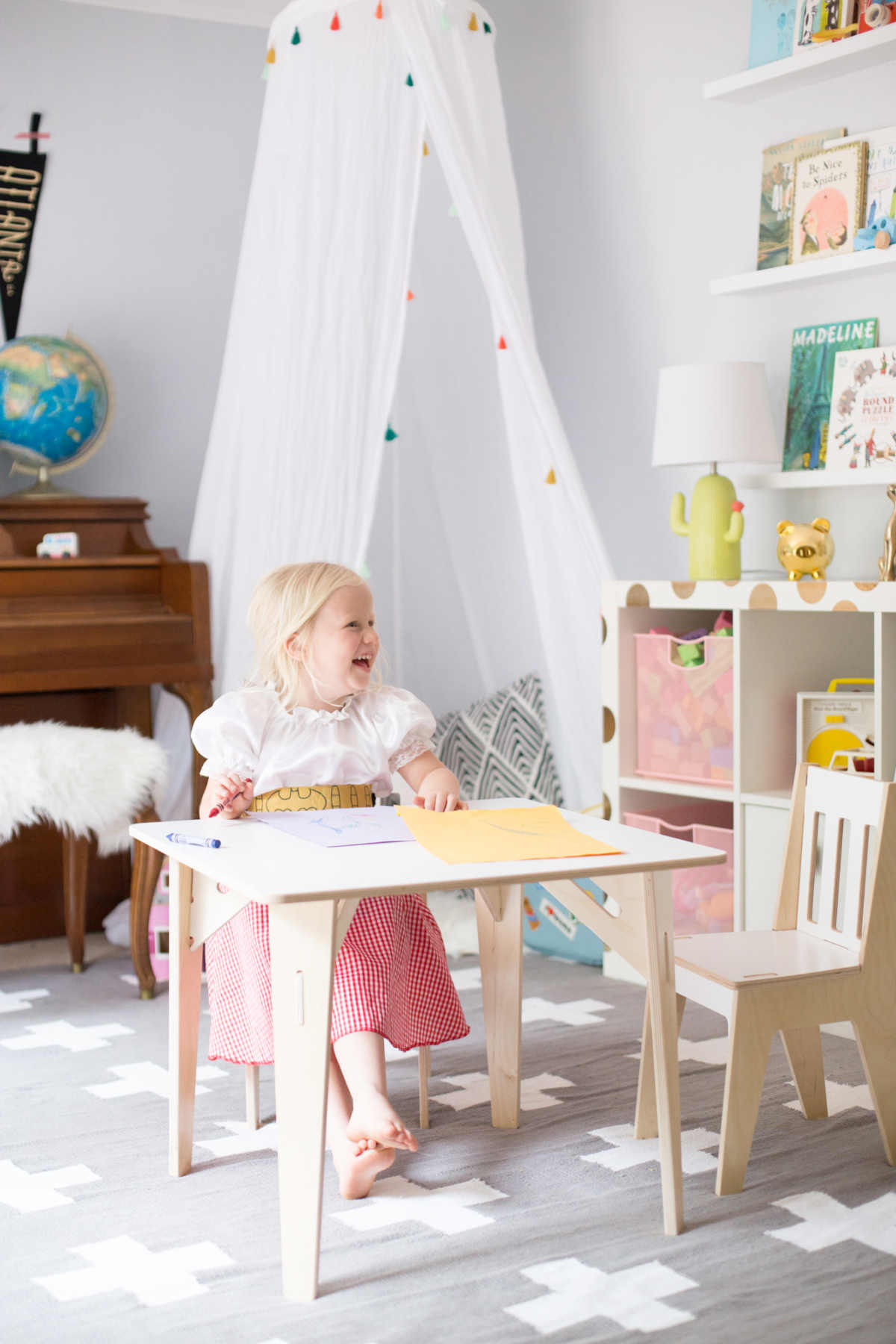 I love this sweet table and chairs; the design is ingenious, all the pieces come apart and lay flat and then  you can put them back together easily, like a puzzle.  They are so sweet (and the set is only $99)!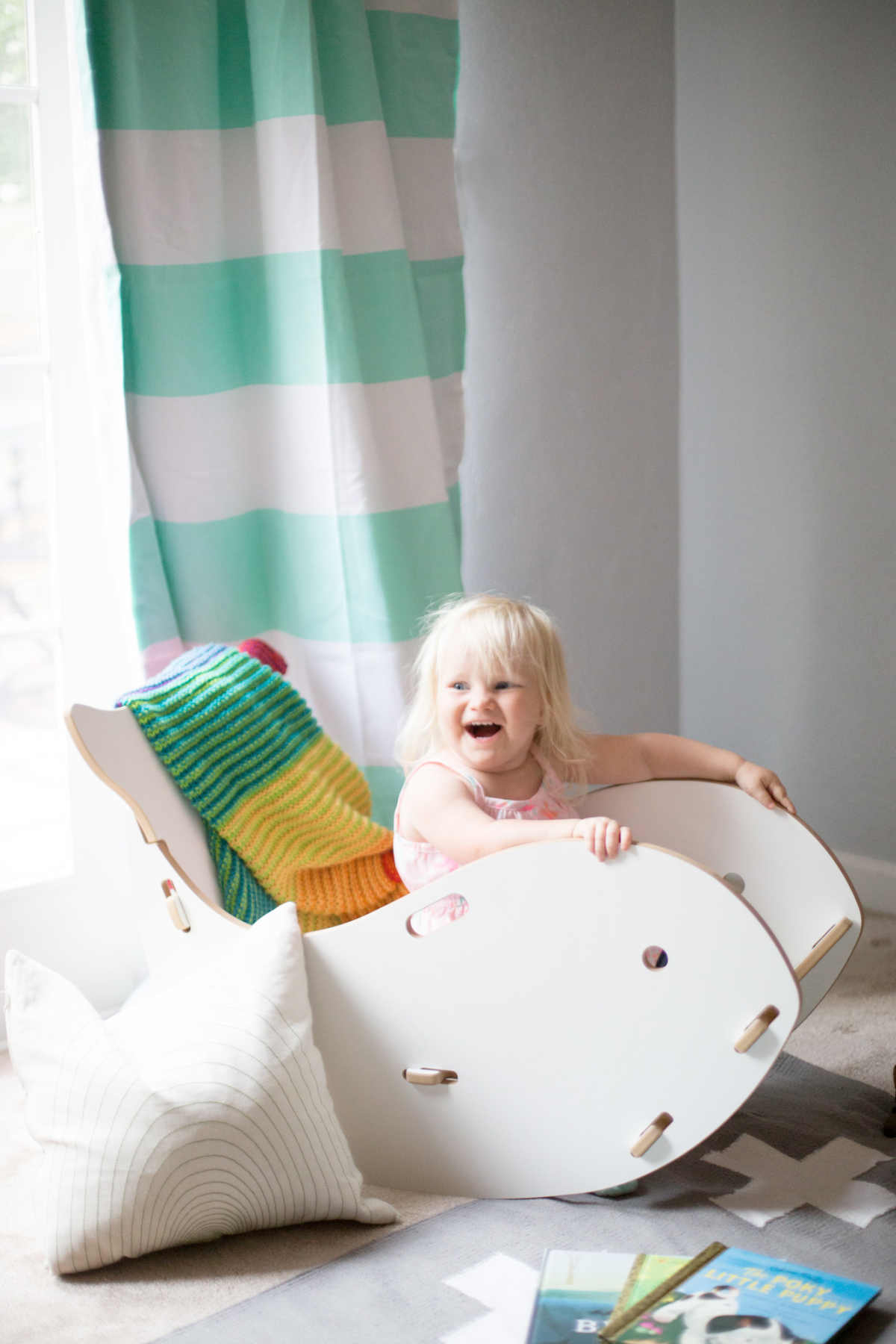 The girls also love this cute little whale rocker/seat.  It's adorable, and a great perch for reading, or just rocking and hanging out.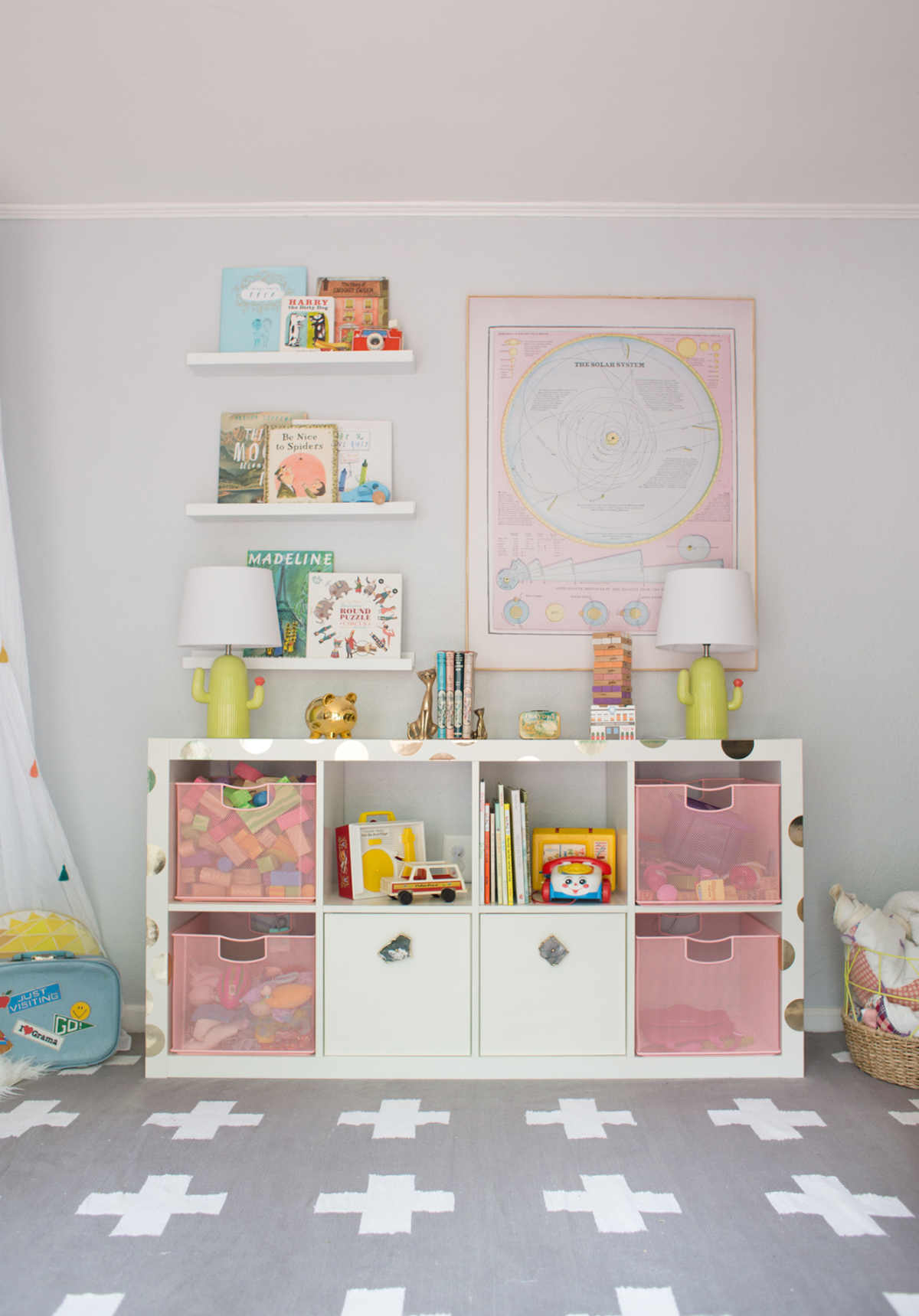 For storage, we used a piece similar to this one and added gold decals along with these adorable pink bins.  Per usual, I love the book ledges for displaying favorite reads or small toys and treasures, and I found that vintage solar system print, which I thought looked extra awesome in pink and yellow.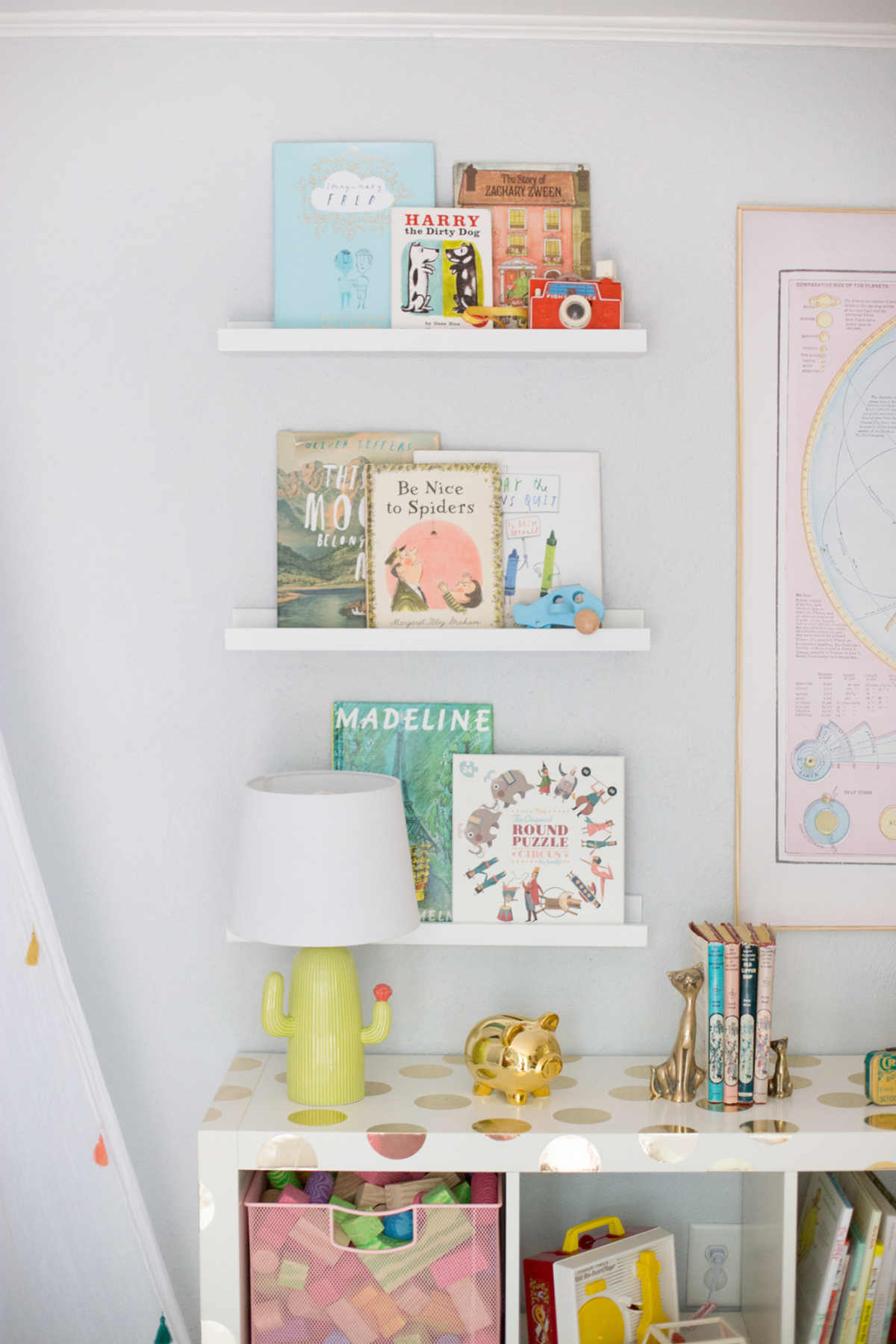 Sources for above: Book Ledges; Imaginary Fred; Harry the Dirty Dog; The Story of Zachary Zween; This Moose Belongs to Me; Be Nice to Spiders; Crayons Book; Madeline)
Their oldest daughter wanted a place to read, so we installed this play tent, with lots of cushy pillows and a fluffy rug.  All the girls were begging to play in it right after we hung it and we just about had to hold them back while we snapped these photos!  It was the first thing they headed towards when they were given the green light to play!
(sources for above: Vintage Botanical Print; Cactus Vase; Vintage Globe; Dollhouse; Navy Wave Pillow)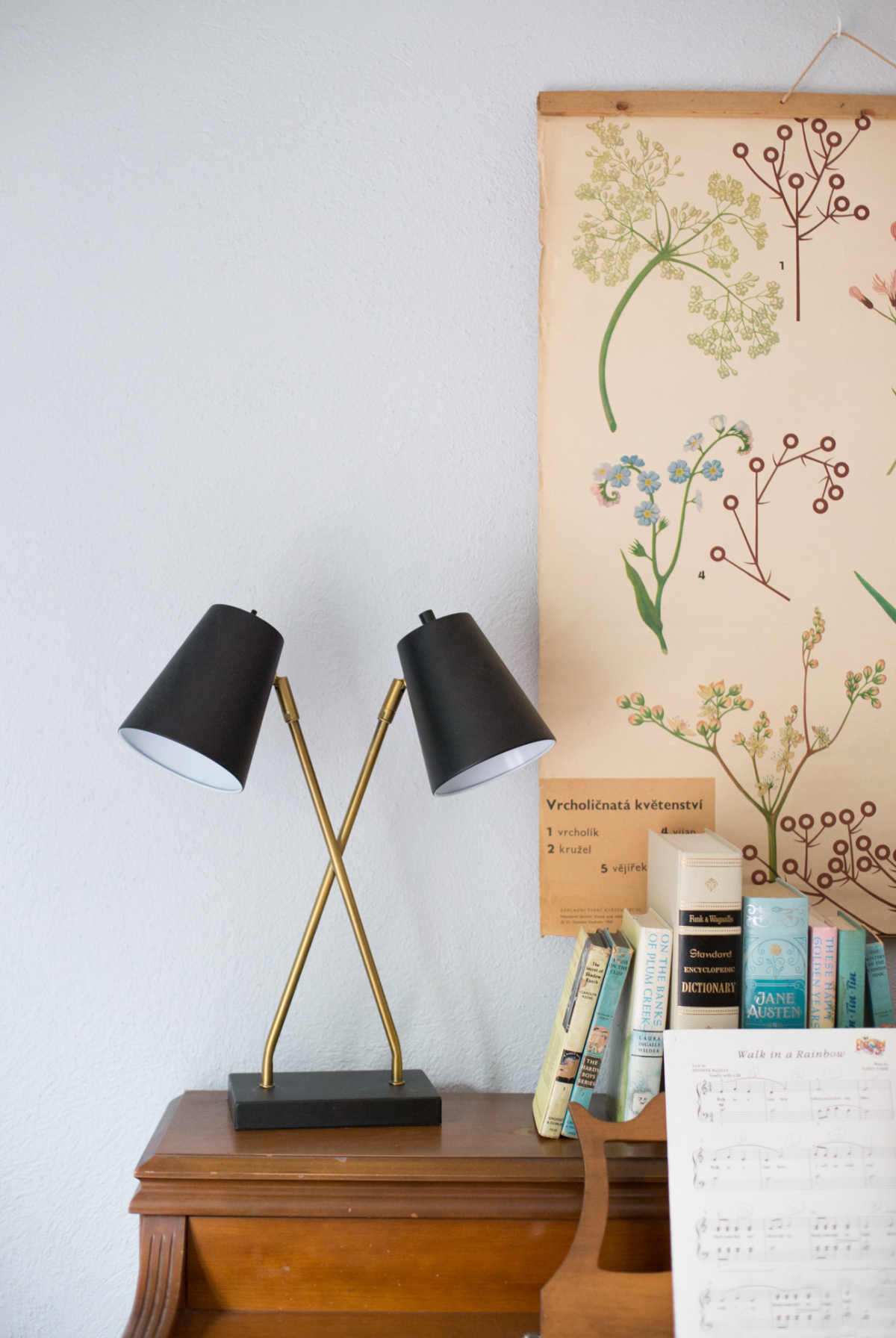 I love this lamp, and it adds the perfect modern touch to that sweet piano.  We stacked some vintage books on top, along with a vintage botanical chart and a globe from Ty's childhood.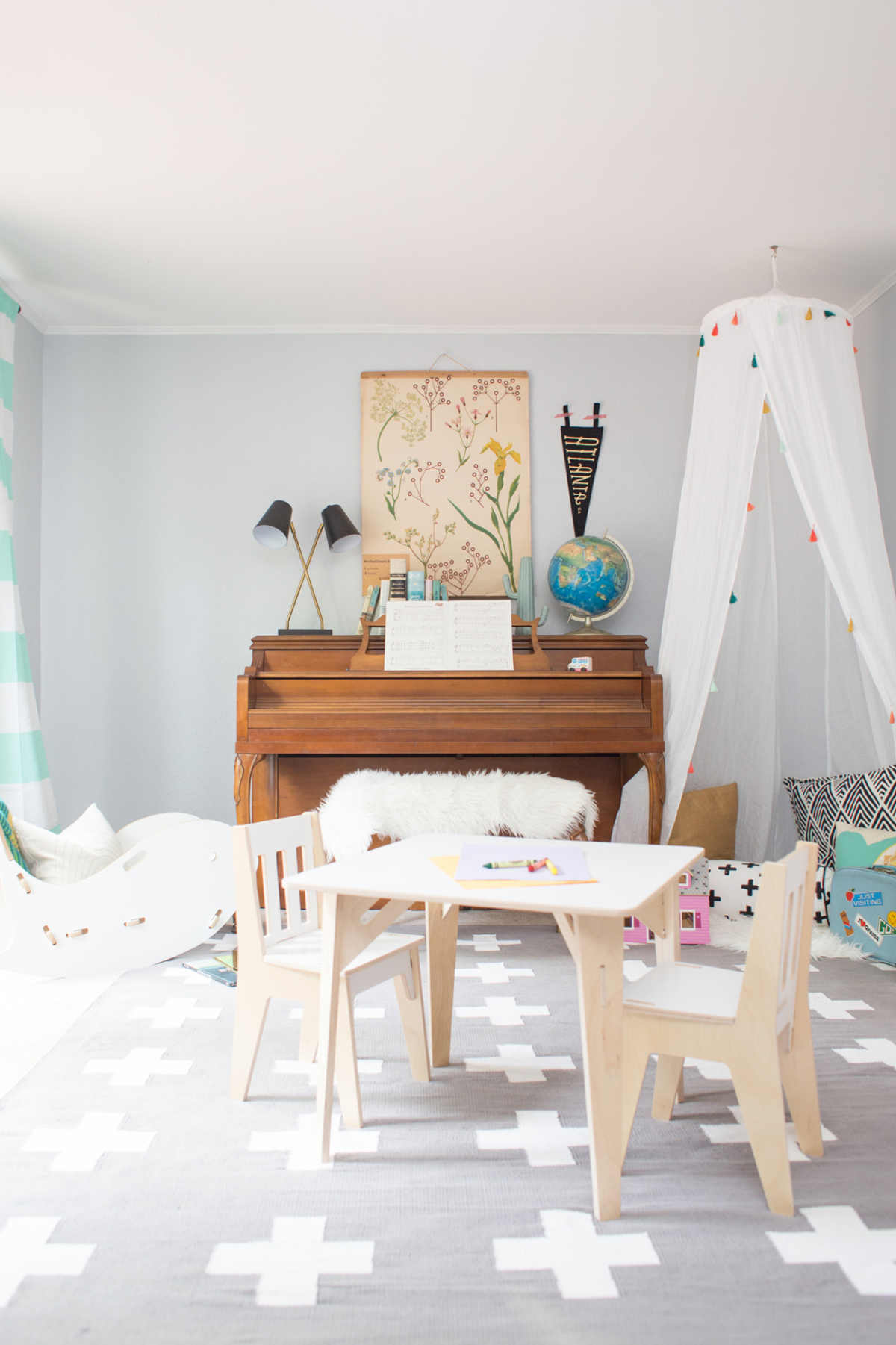 It has been so eye opening and moving to watch Molly and Ty open their doors and arms to foster children here in Georgia.  Since December, they have cared for three pairs of precious siblings.  I can't even imaging the heart wrenching they have experienced as they have loved them as their own and then let them go.  It's no small thing to care for these little ones, and our community has tried to support them and love them and provide where we can, but I know the personal sacrifices they have made are bigger than we can comprehend as they have loved them through tough nights and tough days, while also caring for their own two little ones.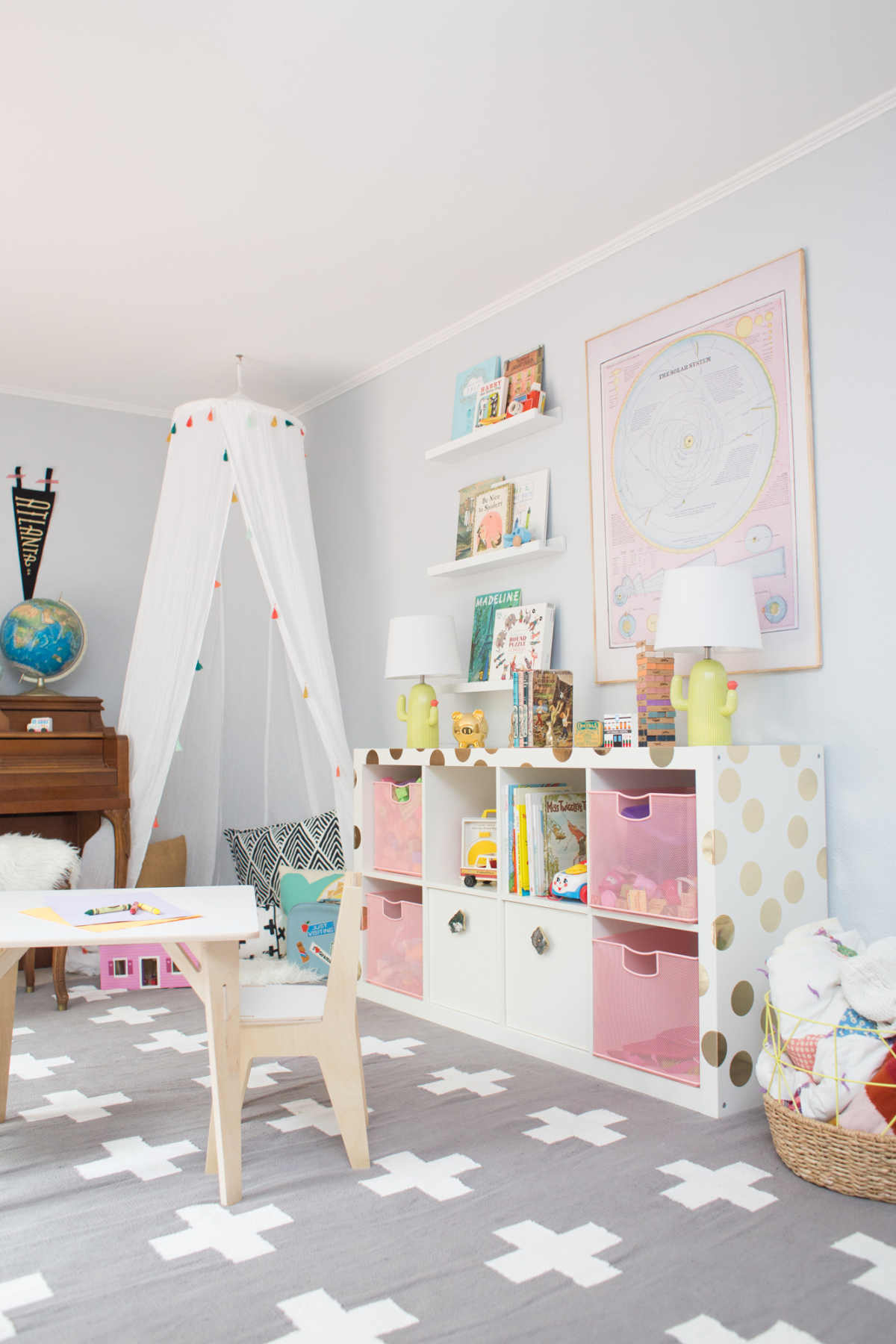 My girls love the "Hard Knock Life" song from Annie, and we have it on their playlist that we listen to often.  When we first listened to it a year ago, I heard it with fresh ears, really listening to the words, and I realized what I had once considered a cute little song was actually a heart breaking truth for many children in our city, our state, our nation (go listen - it makes me cry every time it's on rotation now).  Not all of us are called to be foster parents, but we can all rise up to help those who are by bringing over meals, making a phone call, hanging out at bedtime with extra hands, or bringing over a cup of coffee just because.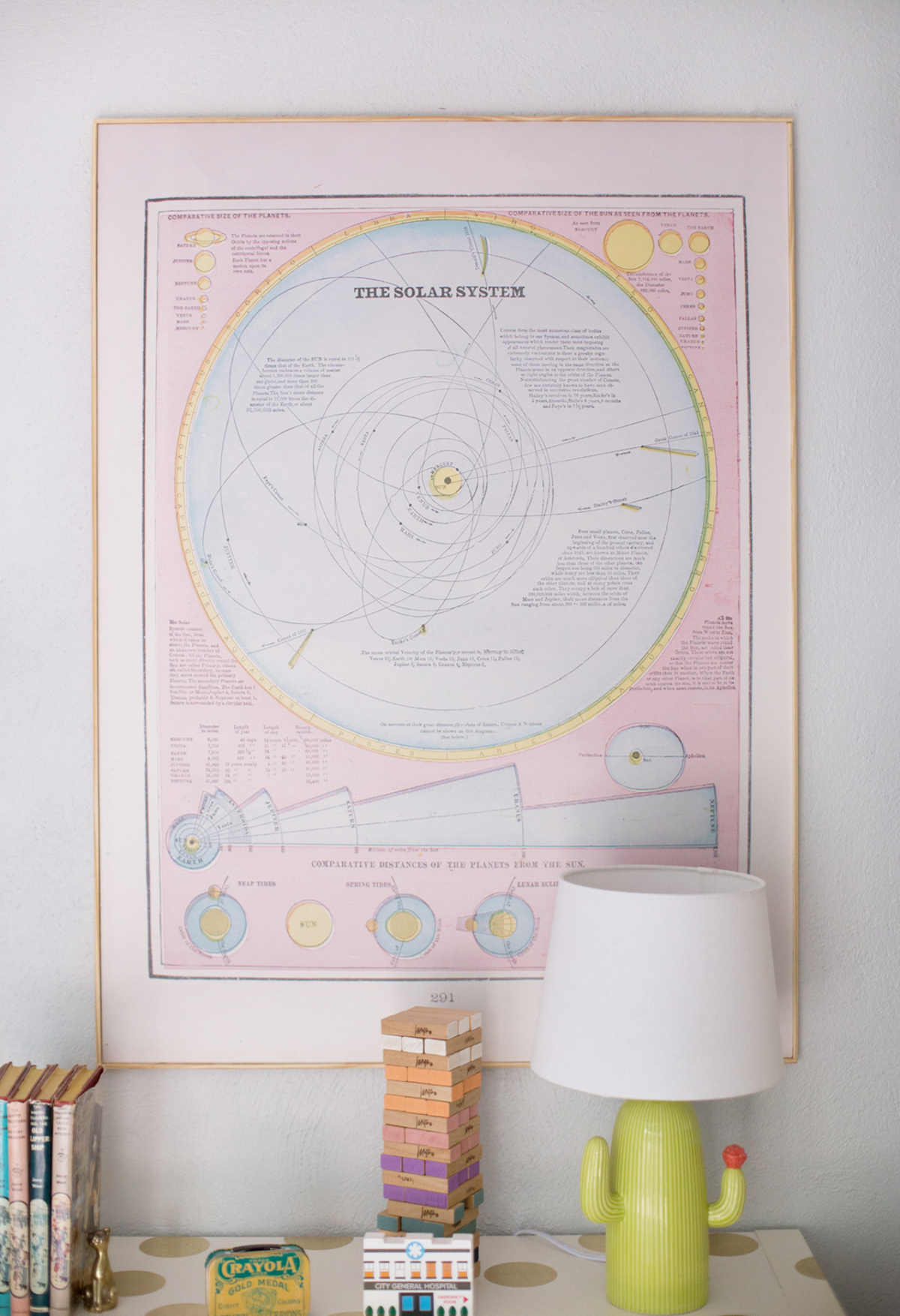 Thank you so much, Molly and Ty and all you other foster parents, for all that you do to love these children who so desperately need it, even in the face of all the hurdles placed in your path!