kid friendly living room ideas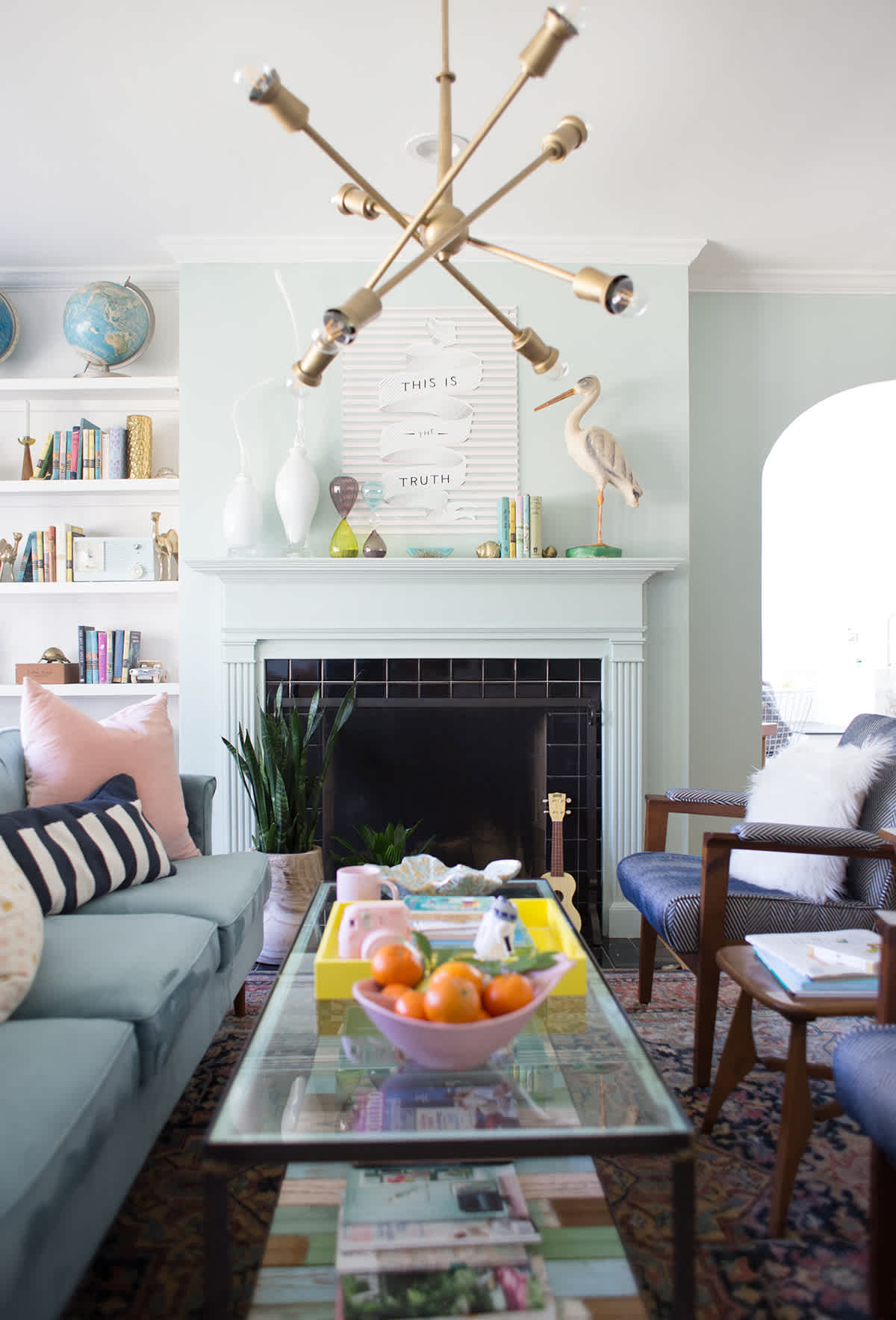 I've been slowly working on this room all summer, and finally, I have it where I like it.  I think I have re-arranged the furniture over and over, and finally decided this arrangement works the best.  This room is large, but it's somehow hard for me to figure out furniture.  (Here is the style board for this room).
(pictured above: Hillam sofa; Modena Chandelier; pink pillow; black and white stripe pillow; vintage globes; coffee table is hand-made by my father but this one is similar in style - and on sale!; chairs are vintage but similar to these; similar lighter version of this rug that I love)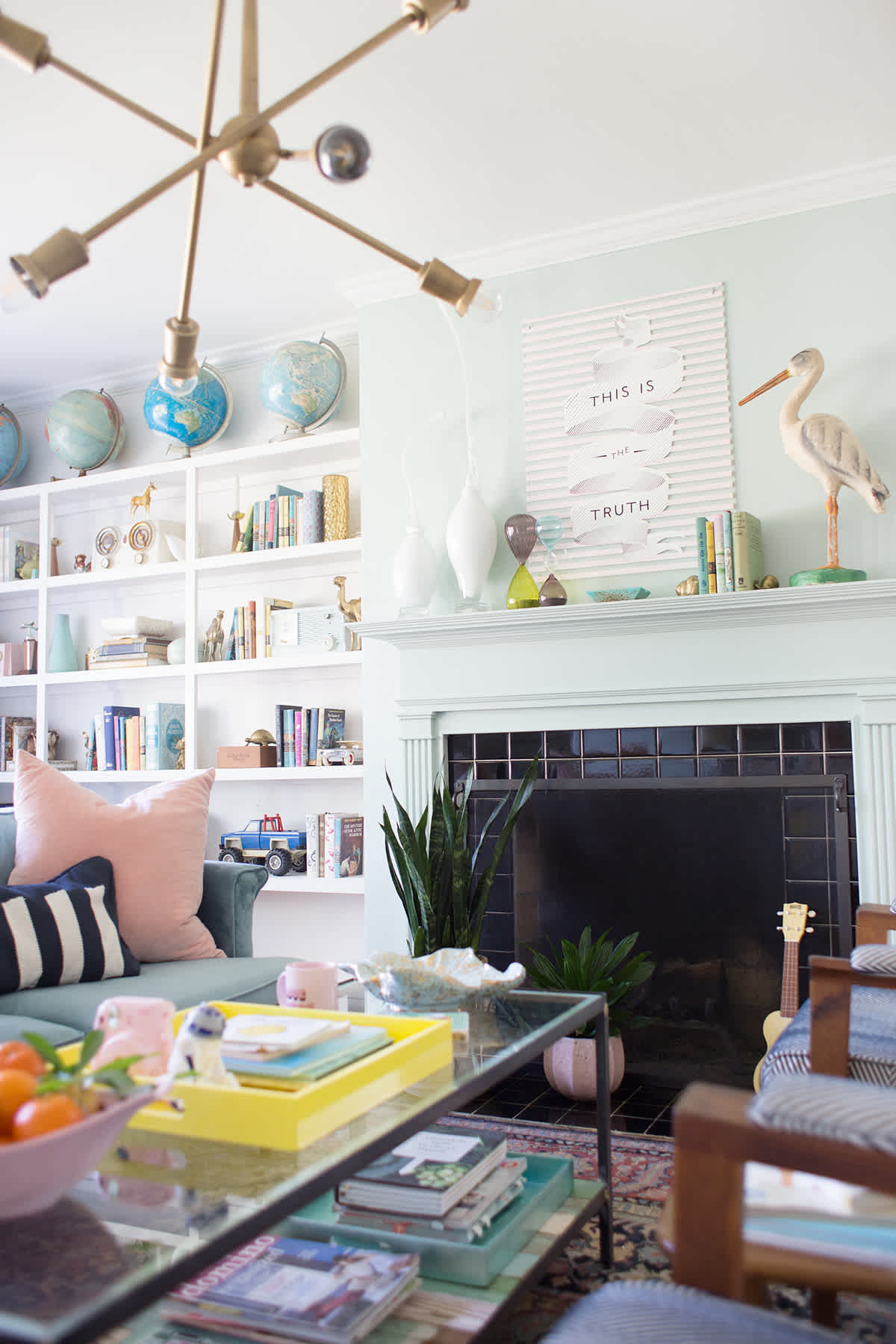 I had painted the room bright white a couple of years ago, and I liked how bright it felt, but it was a little too stark for me.  To bring some color back in, we painted the walls Theresa's green - the prettiest shade of muted blue/green.  I also painted the fireplace mantel, which gives it a more modern look, I think.  The color is Farrow & Ball, but it's fun to know that Sherwin Williams has all of their colors in their system, so you can get them there!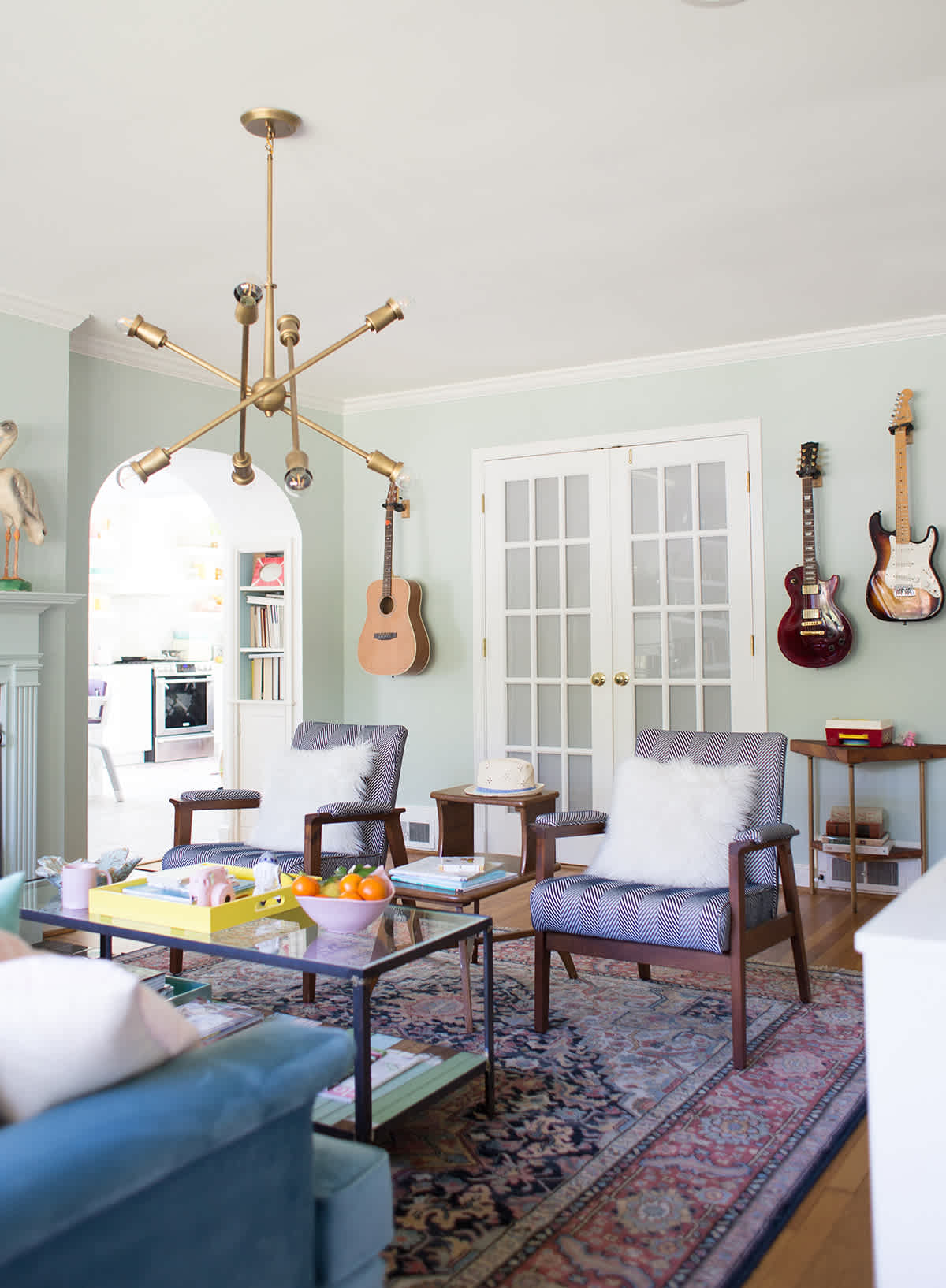 We moved Chip's guitars by the French doors, and they frame them perfectly!  Those doors lead into Ellie's nursery.  It was formerly the dining room, and rather than doors there was a pretty arch like the one on the left.  I was sad to block it in, but we needed a bedroom and I felt like the doors were an ok compromise so we can still keep the space open when we want.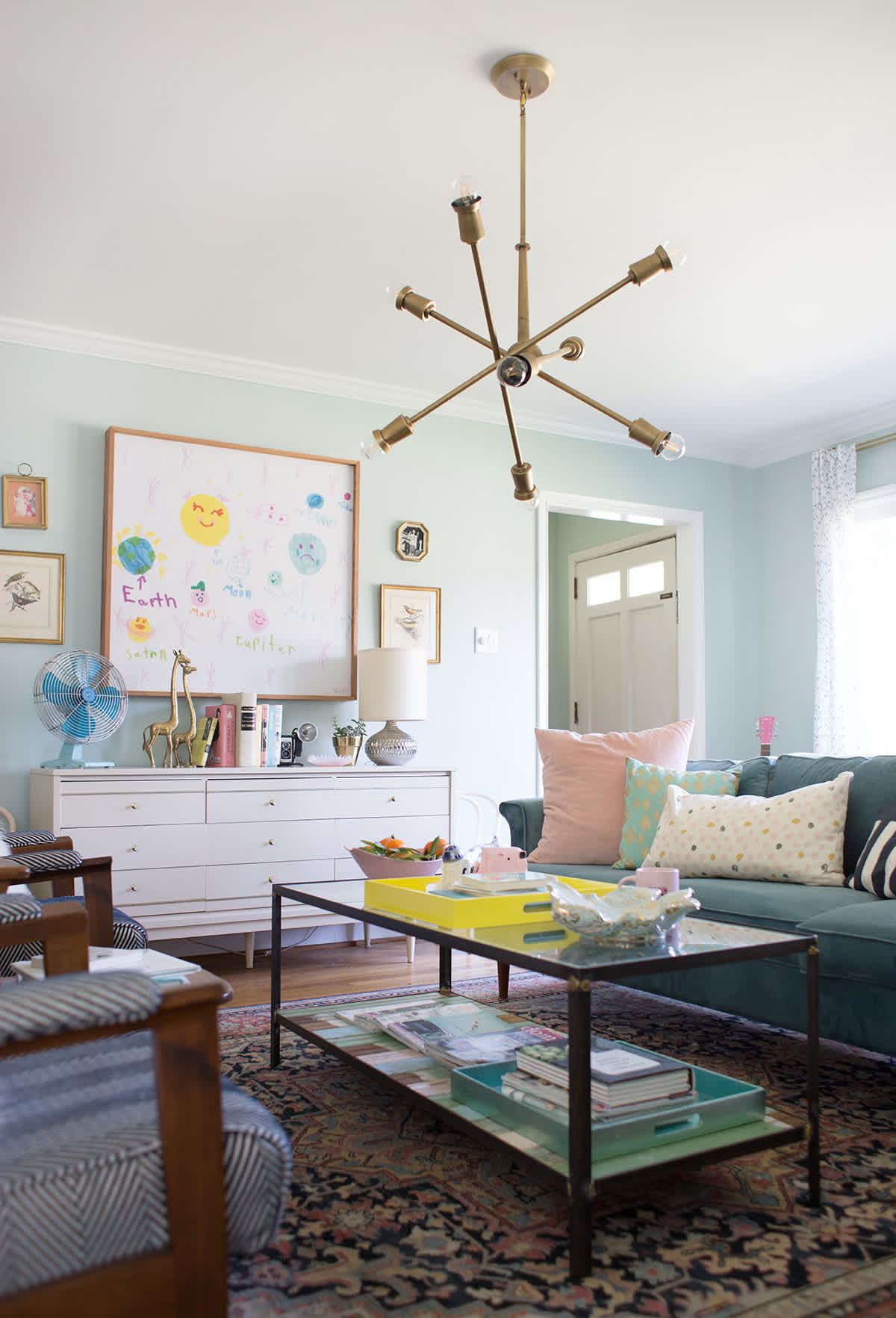 I'm also in love with our new sofa.  It has all the clean lines and modern sophistication you would want, but it's super kid and budget ($899!) friendly.  It has been smudged and spilled on, and I've been able to get everything out with a wipe-down with a wet cloth.  It looks almost like a luxe velvet, but the material has held up super well (and we have had it for a few months now!).  The back looks nice, too, so you don't have to put it up against a wall.
The chandelier also adds a lot to the space - it's such a fun focal point!  It's on a dimmer, so it looks extra magical at night, and it's perfect for having guests over or cozying in front of the fire.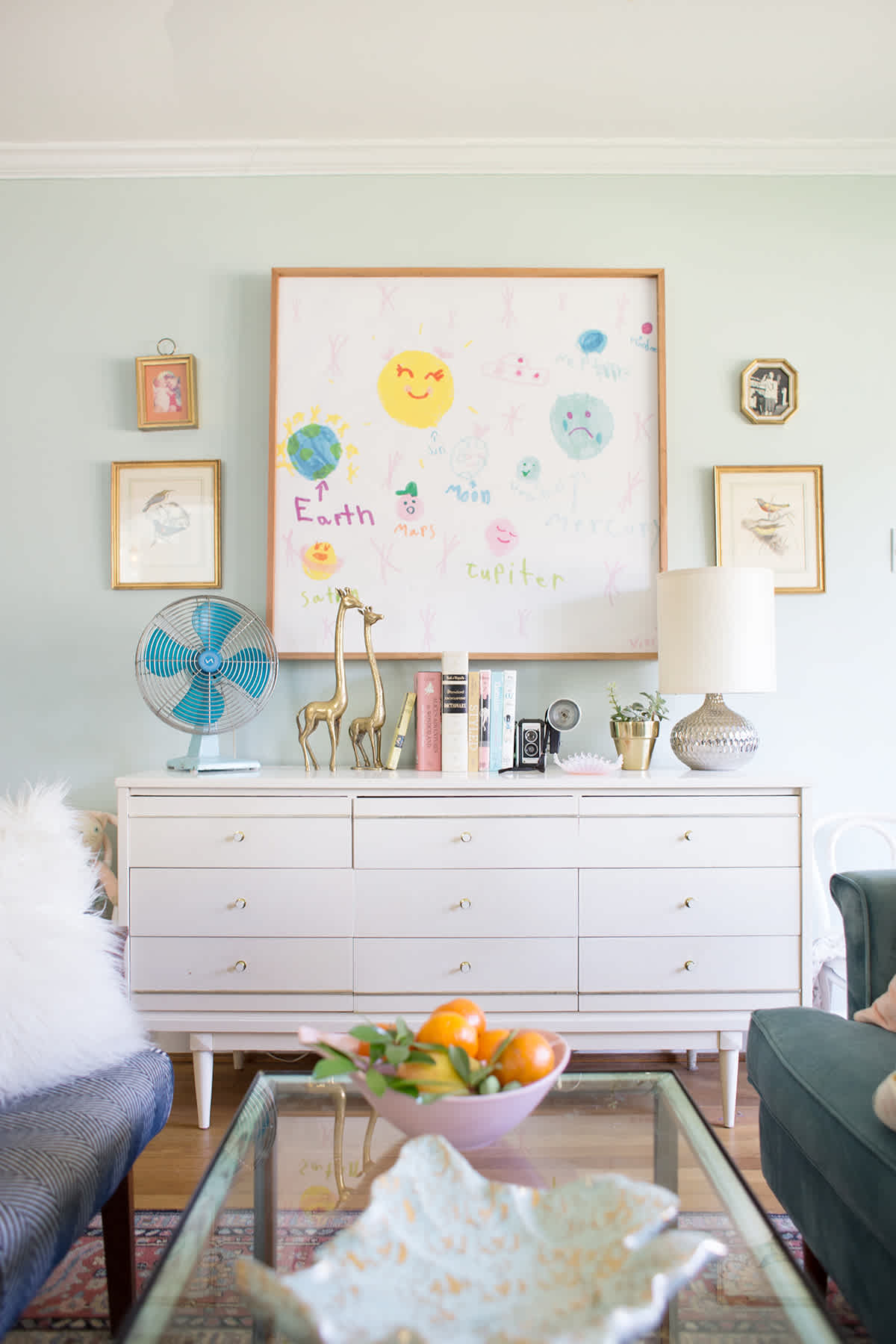 I frequently get requests for inspiration for other parts of the home, so I hope this will help some of you who live with little people, and are trying to create rooms that are kid-friendly, but also rooms that you love, too.  I think over the past almost seven years with kiddos, I have begun to surrender more to the kid stuff.  I'm becoming more aware of how quickly they change, and hear the laments too often of older mamas talking about missing their sticky cheerio and crayon covered tables, and smudgy hand-printed coffee tables that I'm trying to embrace where we are.  One day I'll stop finding ponies under the sofa and makeshift forts here and there, so I have leaned into it a little more here lately with our house.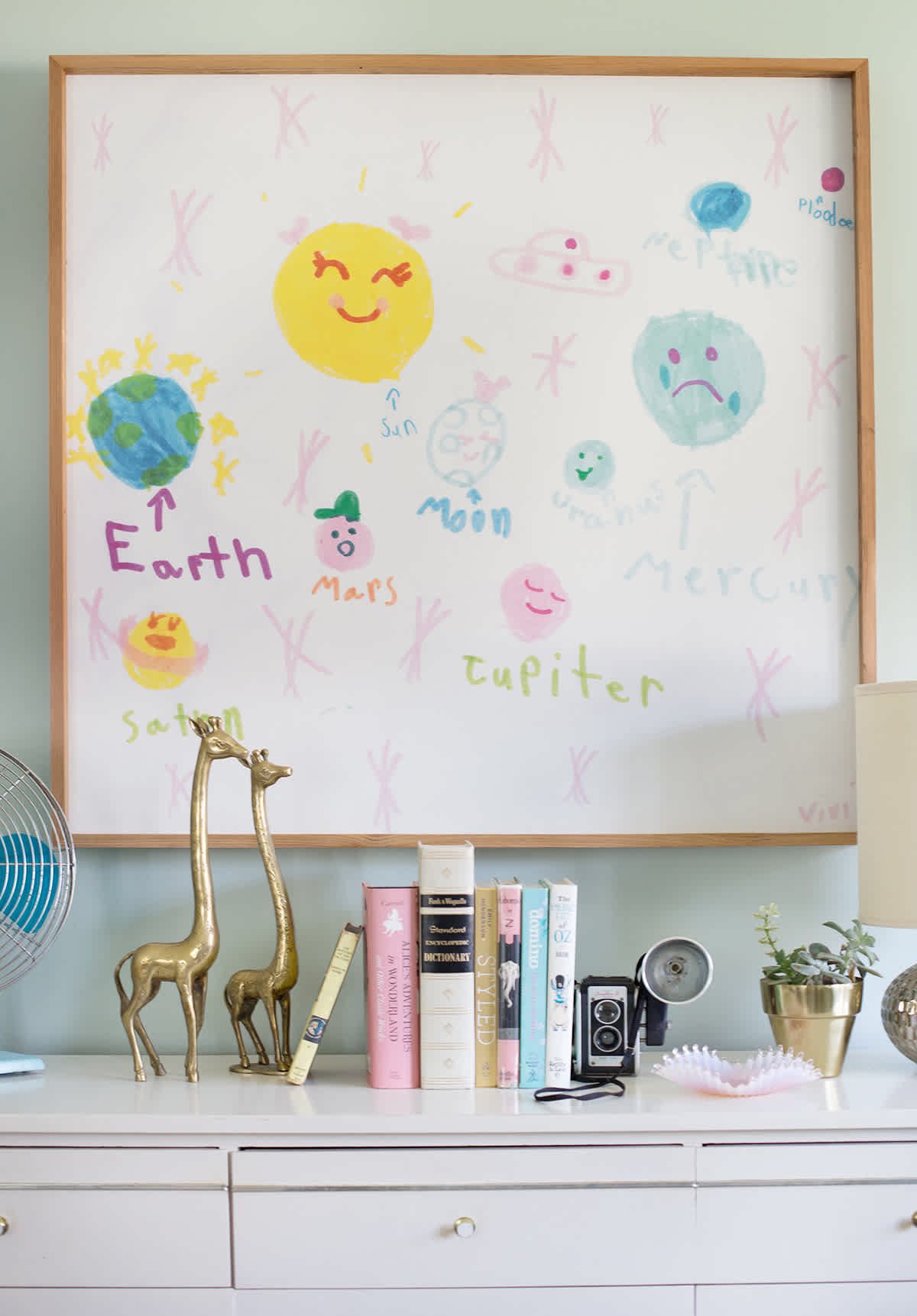 That solar system print is from a drawing Vivi created.  I just loved it so much, with all the feelings and personality represented (somehow Venus is missing, but "Ploodoe"is there!).  I scanned it in high resolution, and had it printed via my printer and my father framed it for me with heart pine, turning it into a masterpiece.  You can do something similar with Framebridge (and it's much easier, because all you have to do is upload the file!).  Definitely try it - your kids will love seeing their art larger than life on the walls!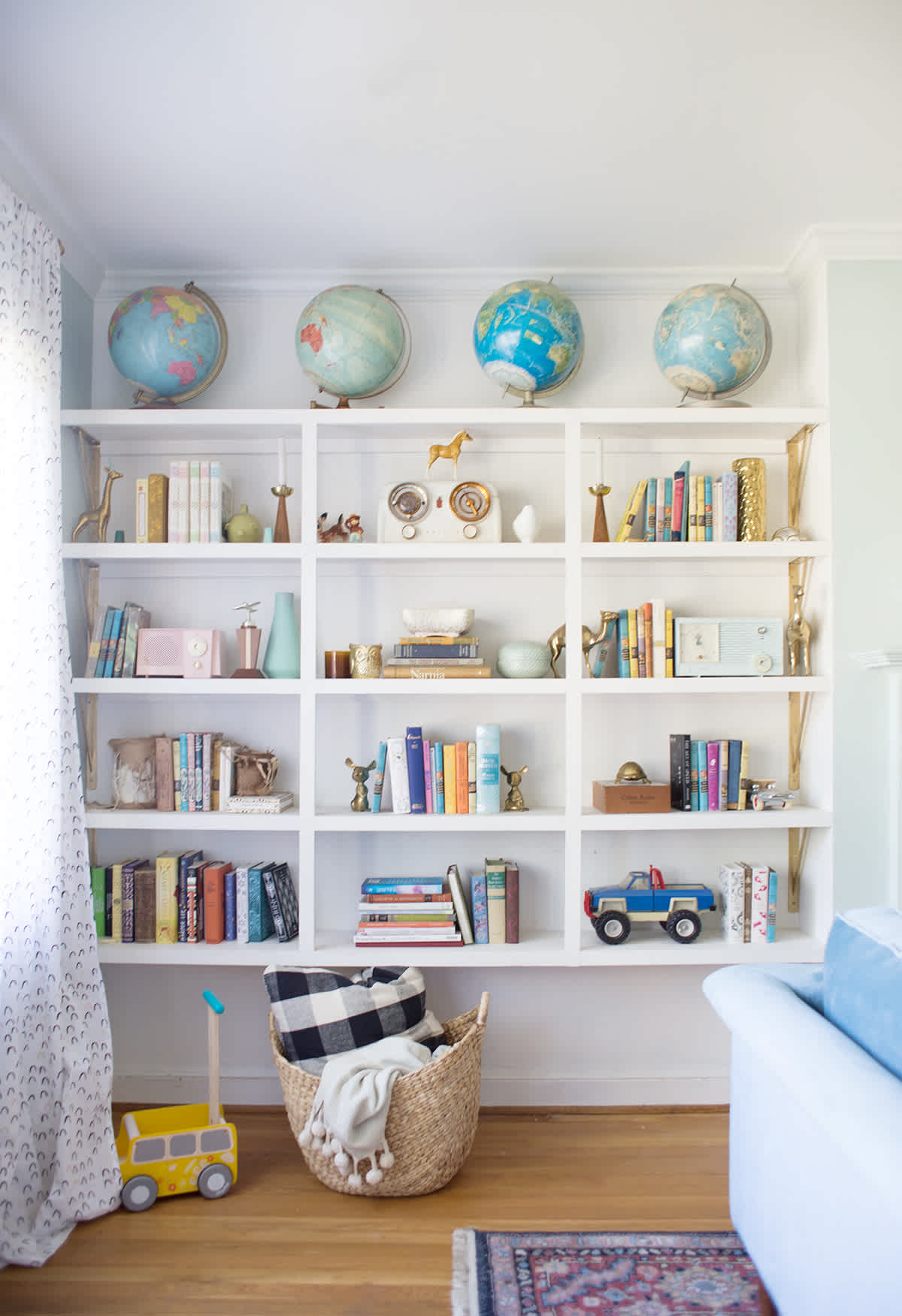 On one side of the fireplace, we have these shelves that are a project from a couple of years ago. I love them so much, and it's so fun to fill them with treasures and special books.  I try to keep the items on the bottom two shelves kid friendly, and they usually get re-arranged on the daily.  I have a few baskets that live on the bottom, that are great for quickly stashing away toys and such that get left out at the end of the day.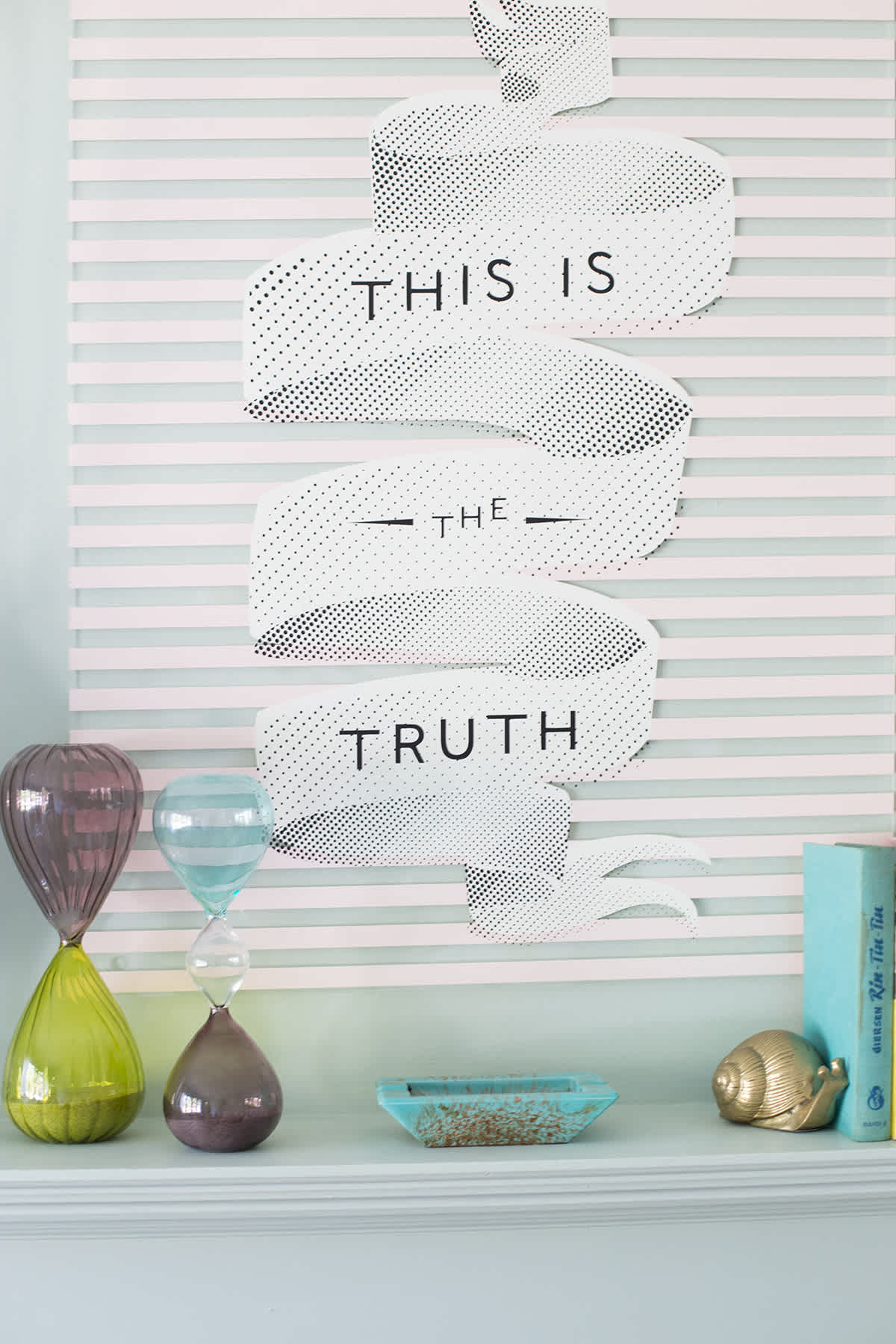 I just made this print for over the mantel.  It's on acrylic, which is really fun because the wall color pops through the stripes.  I thought it was something interesting to put on our wall, in all the post-truth happenings, to remind us that there are, in fact absolutes, and also since one of our family rules is to let our "yes be yes, and our no be no."  Would y'all be interested in them if I put them up for sale? I have another version with different text I'll be sharing soon, too!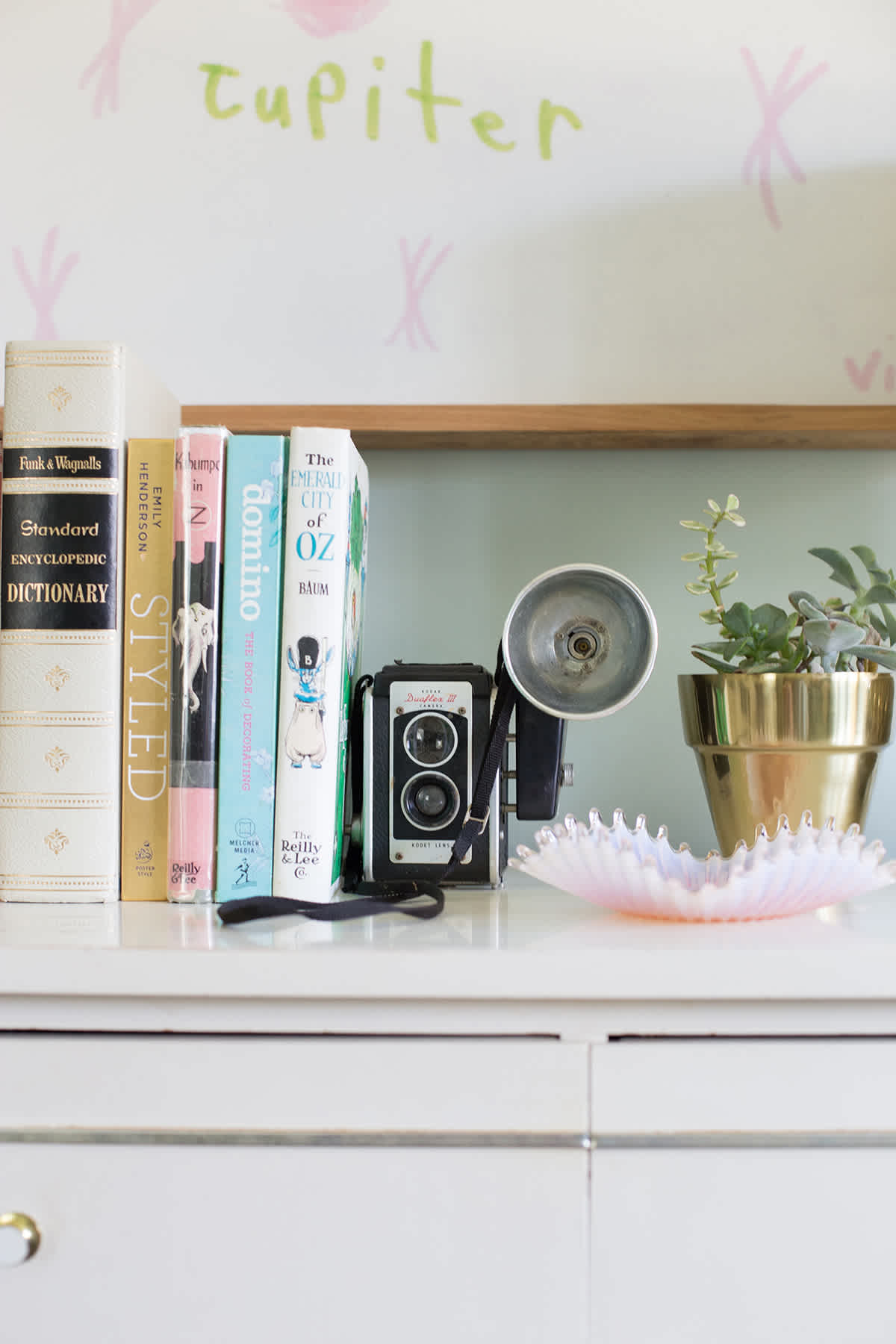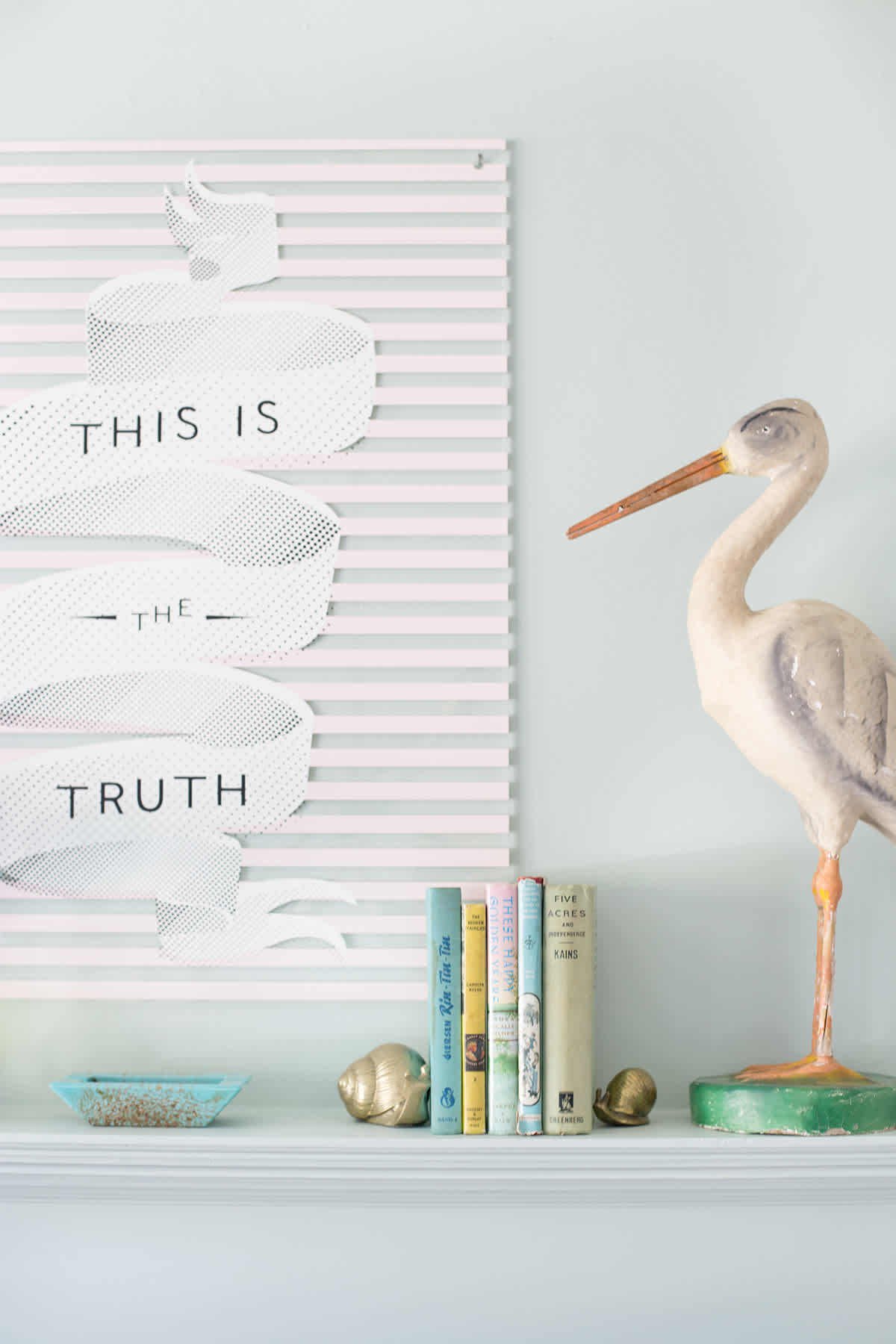 That paper mache stork is actually from a vintage store display.  Chip's grandmother had it, and it's kind of quirky, but somehow I love it against that wall color.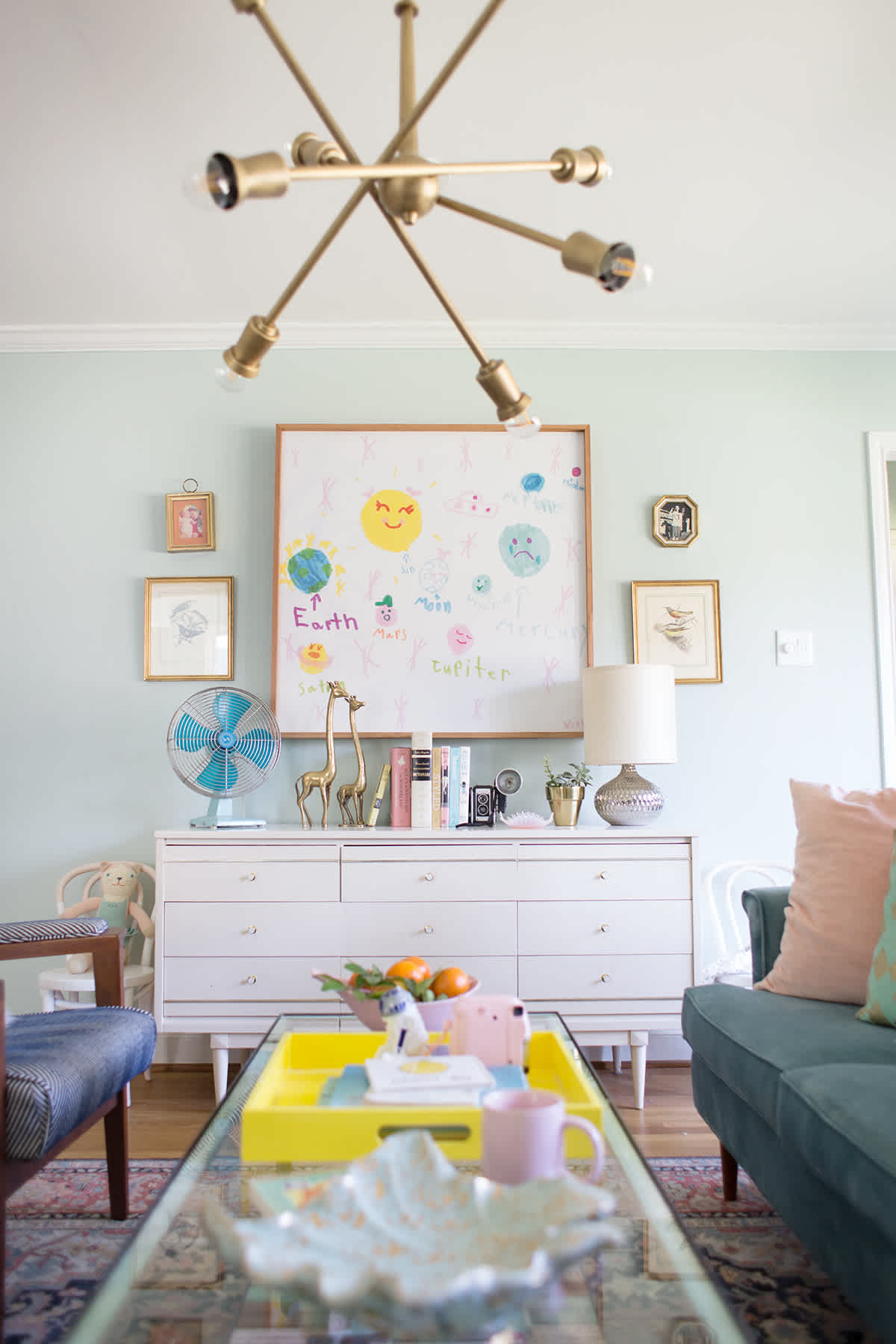 I spend a lot of time in here, reading or working, and later in the evenings, this room often turns into a performance stage.  The girls like to move those chairs and perform in front of the French doors, while Chip and I sit on the sofa and watch. I love having a room that isn't focused around a screen.  Somehow it feels extra special that way.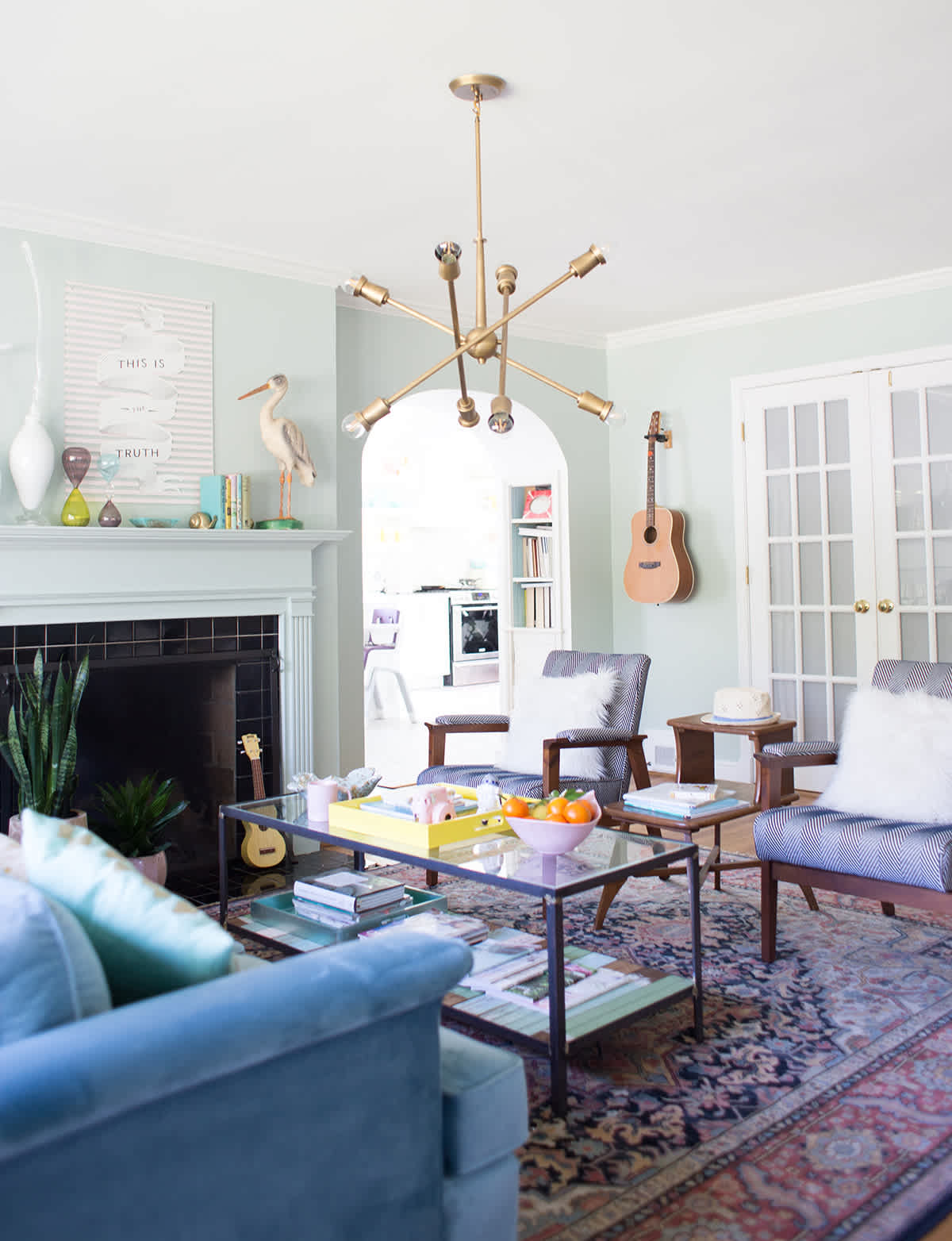 So, there is our room!  I'd love to hear your thoughts!
Thank you so very much to Wayfair for the beautiful sofa and chandelier that really make this room special!