Easter Basket Treats & Ideas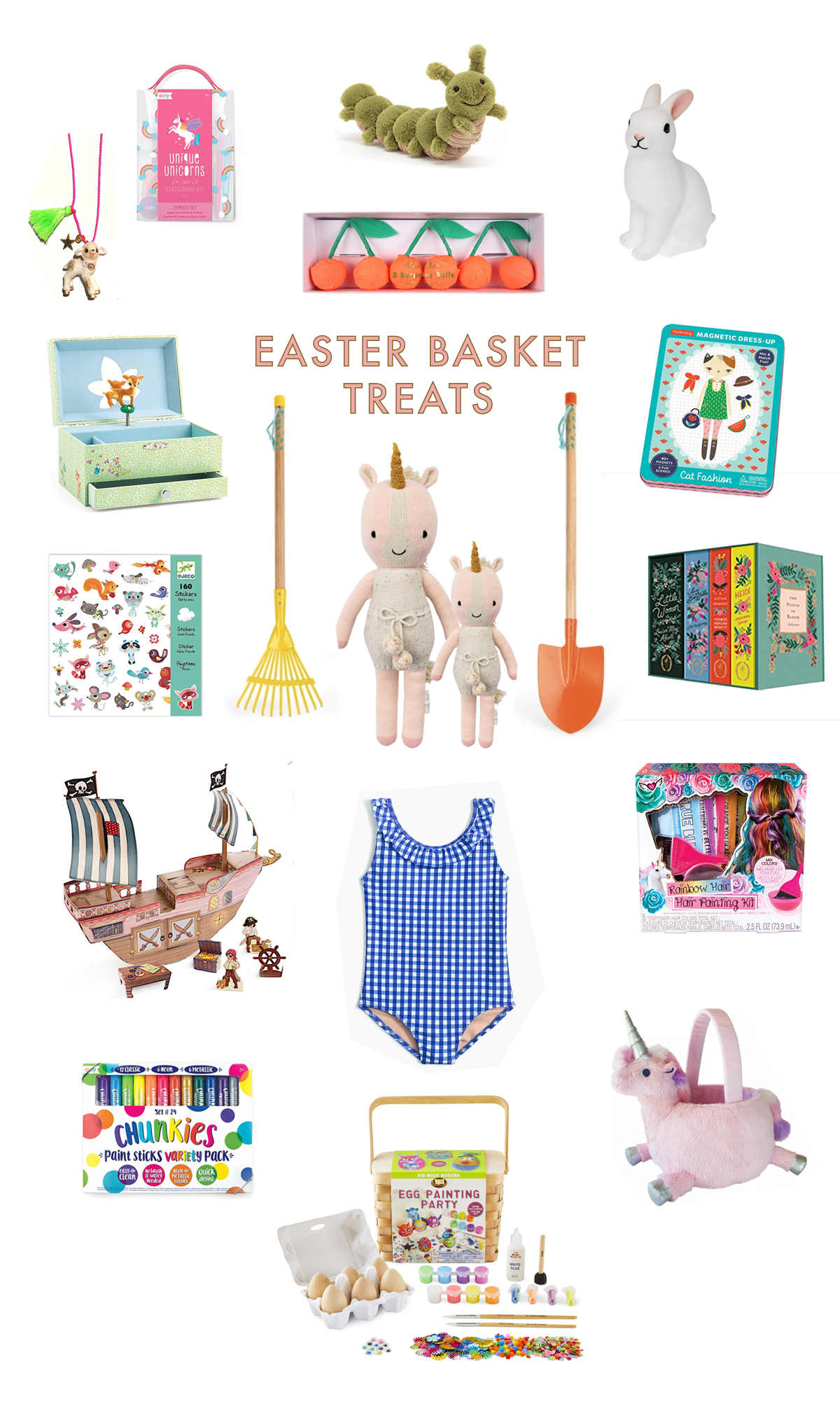 When I asked what y'all would like to see more of on instagram, many of you asked for Easter basket ideas! So, here are some things I'm planning to get my girls, as well as some favorites we already have. Also - we have an Easter basket tradition where I hide their baskets and clues to find them, giving them their starting clue on Easter morning. It wasn't an intentional decision, but I just did it one year when Vivi was little and it became our tradition. The girls LOVE it so much, and talk about their basket hunt often during the weeks leading up to Easter, so it's a fun thing to try, and will make the basket opening last a bit longer.
Here are some favorites for baskets below:
(2) Letter Writing Kit - I'm just linking this one, but I'm planning to put together a little set for Vivi to write letters to friends and family during this crazy time! I'm putting stickers and papers and envelopes in a little clipboard case so she has easy access to a letter writing kit.
(5) Cherry Surprises: I bought some carrot surprised for the girls to have at Easter brunch, but those seem to be sold out. These are another super fun option as a surprise!
(6) Jewelry Box: Brigie has been wanting a jewelry box for quite some time. This one is super sweet, and not too pricey. (It says it takes awhile to ship, but I ordered hers last Monday, and it arrived Thursday, although it said it wouldn't arrive until late April.)
(7) Magnetic Dolls: These are so cute and the best, and they keep my girls entertained for a really long time!
(8) Cute Stickers: I'm going to include these in Vivi's letter writing kit.
(9) Cute Garden Tools: These are so fun for getting the kids involved in taking care of the yard/garden or just playing!
(10) Cuddle and Kind Dolls: These are always a favorite around our house, and they help to feed kids in need!
(11) Classic Books: Vivi just read A Little Princess and loved it - can't wait to watch the movie with her! This is a great time to read some longer books and get to watch the movies together at the end.
(12) Pirate Ship Playset: Love this super cute playset!
(13) Bathing Suits: All my girls needed a bathing suit upgrade, and while we won't be going to the pool or the beach anytime soon, it's handy to have for outdoor water fun.
(14) Rainbow Hair Painting Kit: I got this for Vivi, and I think she will love it. Since we aren't in school right now, we don't have to worry about uniform requirements!
(15) Chunkies: These paint sticks are so much fun. They aren't super washable, but are great for outdoor art time with little ones!
(16) Unicorn Basket: We got these two years ago, and we still use them! They are cuddly and cute, and my girls love them.
(17) Egg Painting Party: Love this fun craft kit for decorating eggs together!