How to Design Around the TV in Your Living Room
with Samsung The Frame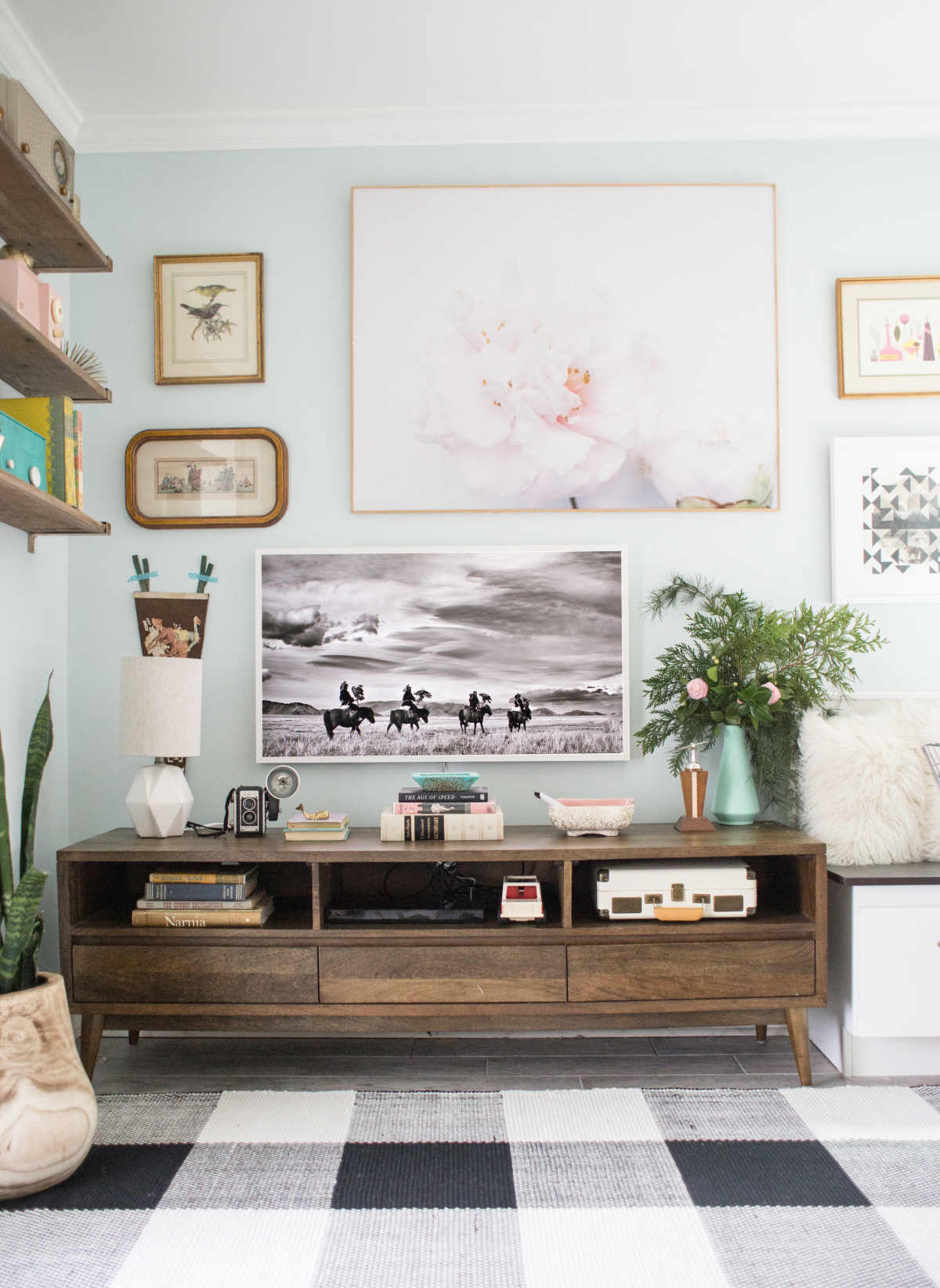 Thank you so much to Samsung for sponsoring this post.
So, I'll be honest.  I have never gotten excited about televisions.  That is, until now.  Samsung has completely changed the game with their new innovation called The Frame.  I'm so excited to get to try one out in our space just to show you how much The Frame is a game changer (it's also one of Oprah's favorite things, if that tells you anything!)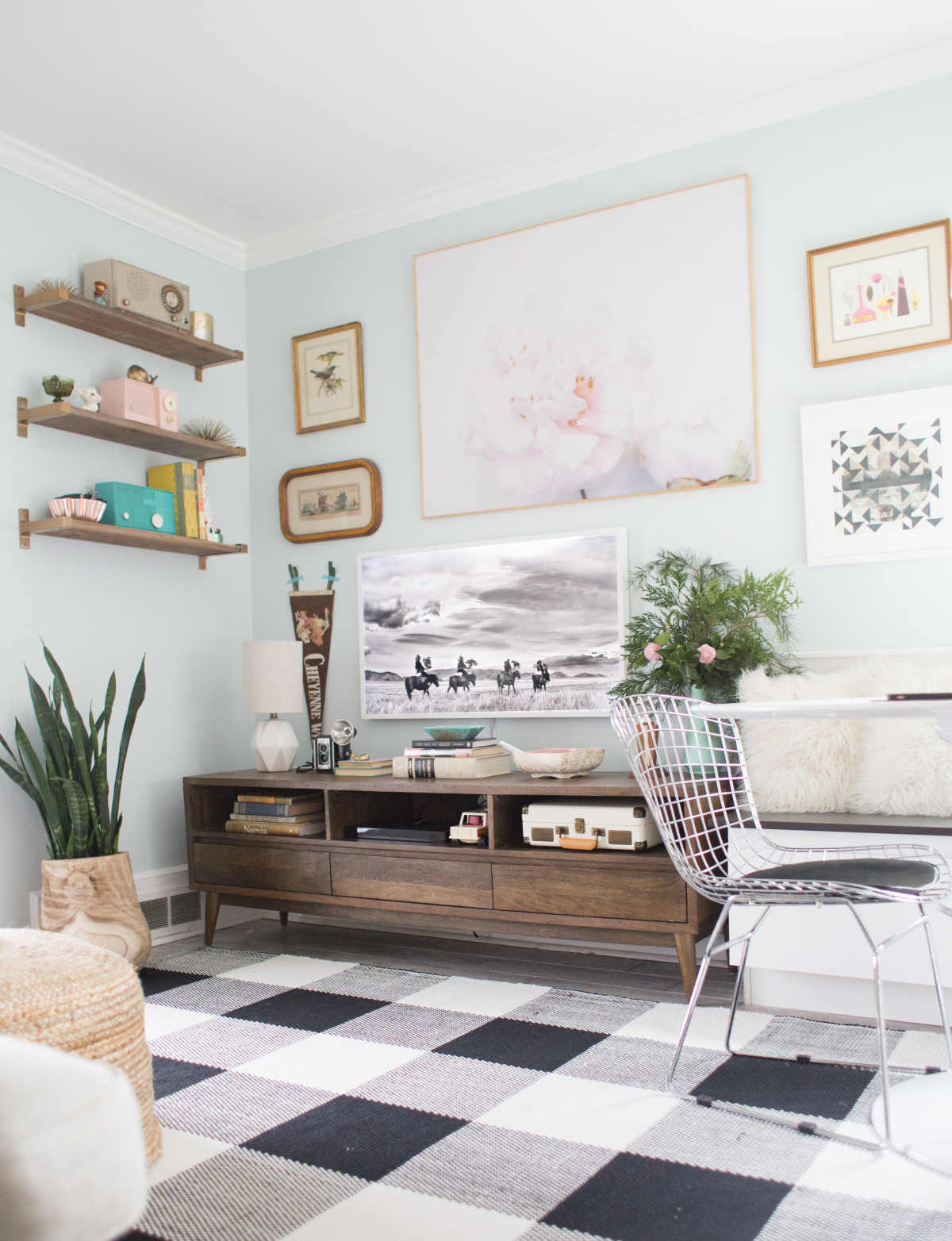 This beauty stealthily disguises itself as a piece of art on your wall when not in use, and then transforms into a gorgeous 4K UHD TV to please even the pickiest guy.  In other words, it's an excellent Christmas gift for him, and for you.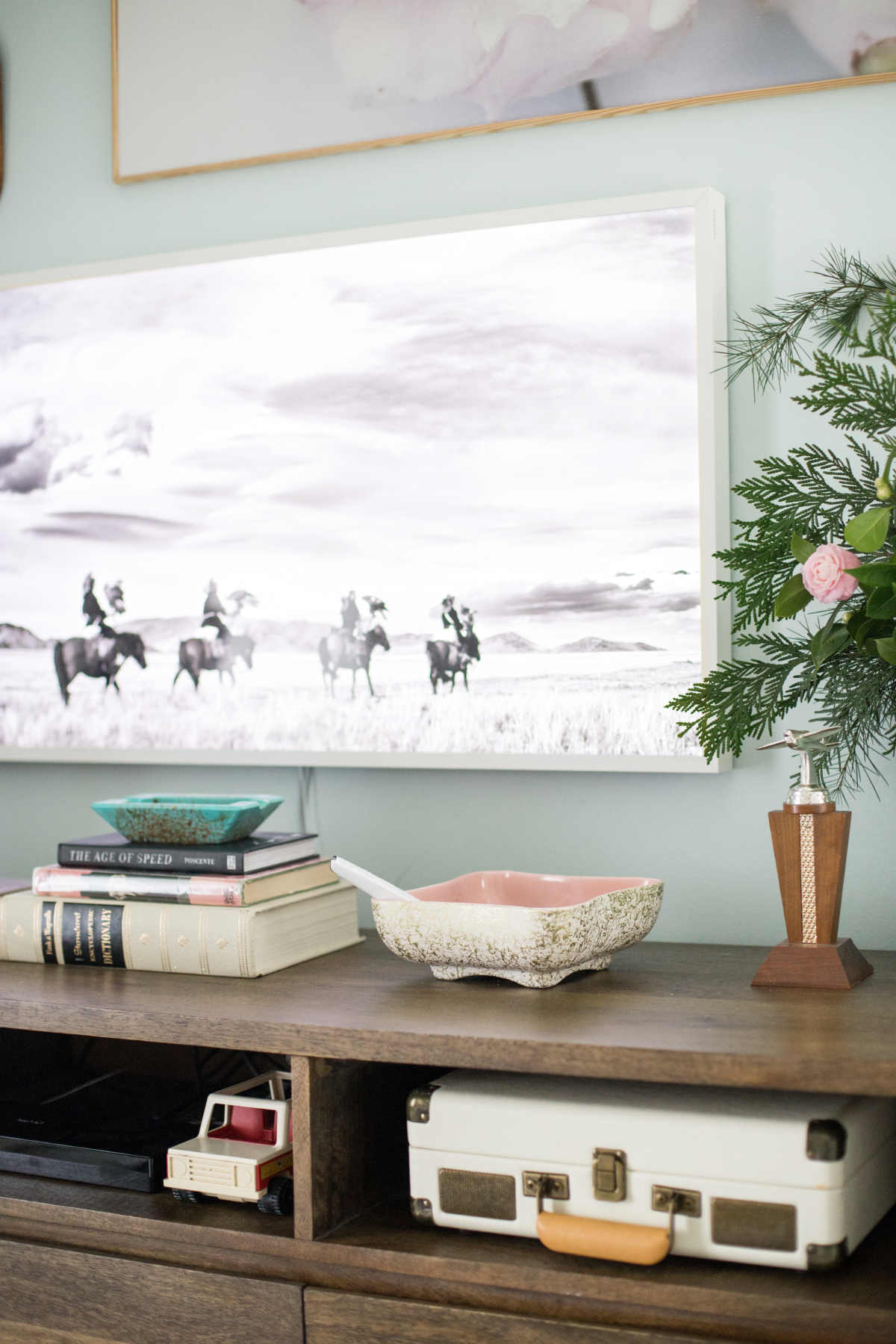 With a selection of interchangeable bezels that can easily be snapped onto The Frame, you can customize the look to match your space (they come in White, Oak, and Walnut wood, so no more light sucking black box!).  It's also a really great option if you want to put a TV over your fireplace (see how Kate does it here - love!) but you don't want it to look like, well, a TV.
Samsung also has a really great built-in gallery of curated art you can display on the The Frame, or you can use some of your own photography or family photos.  It's pretty amazing how many ways you can customize it to suit your space perfectly - who knew you could partner top-notch tech with beauty?
Check out our before and after below - you really can't even tell it's a TV, can you?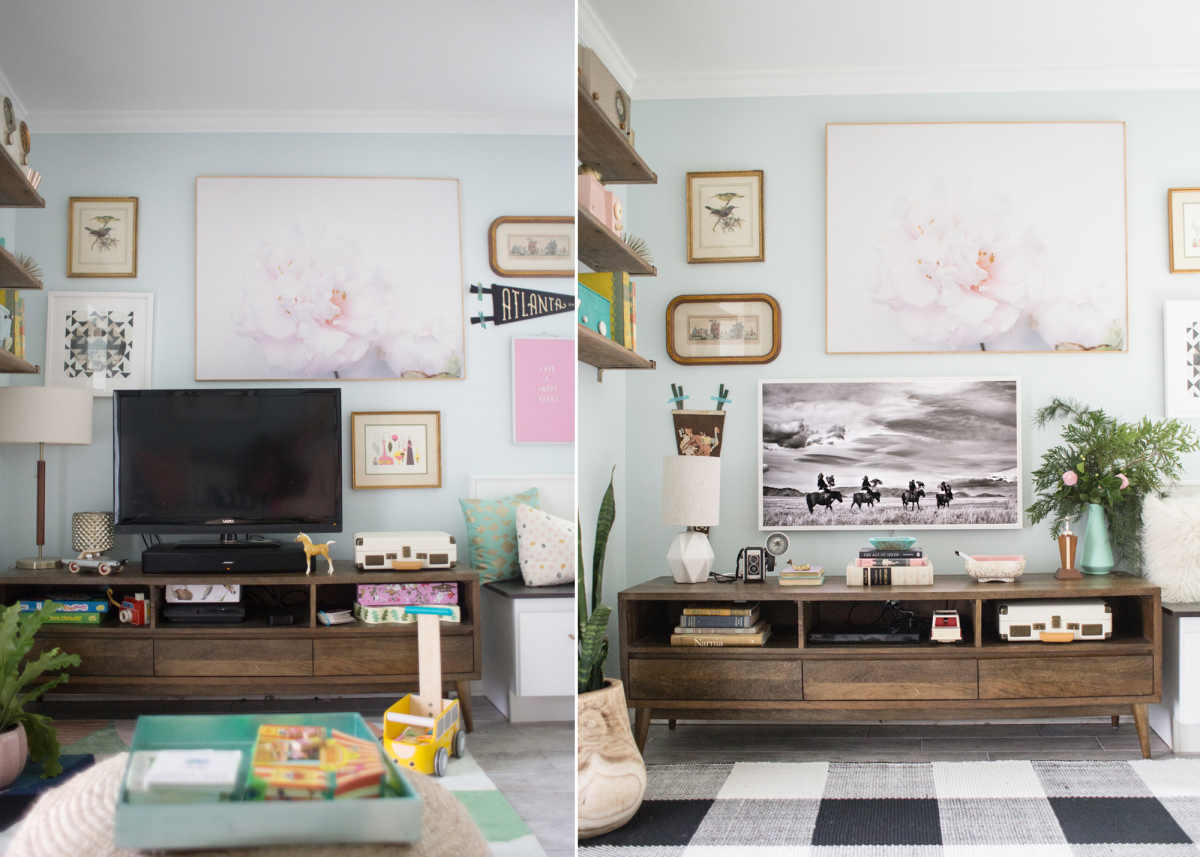 Chip is completely thrilled to have a 4K TV, and I'm so excited that it doesn't look like we have a TV at all.  The extra good news is that the 55" and 65" models are $200 off through 12/30 online and in stores!
I'm really enjoying having some of our Christmas photos on display to keep things festive!  We have had so much fun watching our favorite Christmas movies and sipping hot chocoloate this year, as well as enjoying slideshows of all the fun we have had together as a family!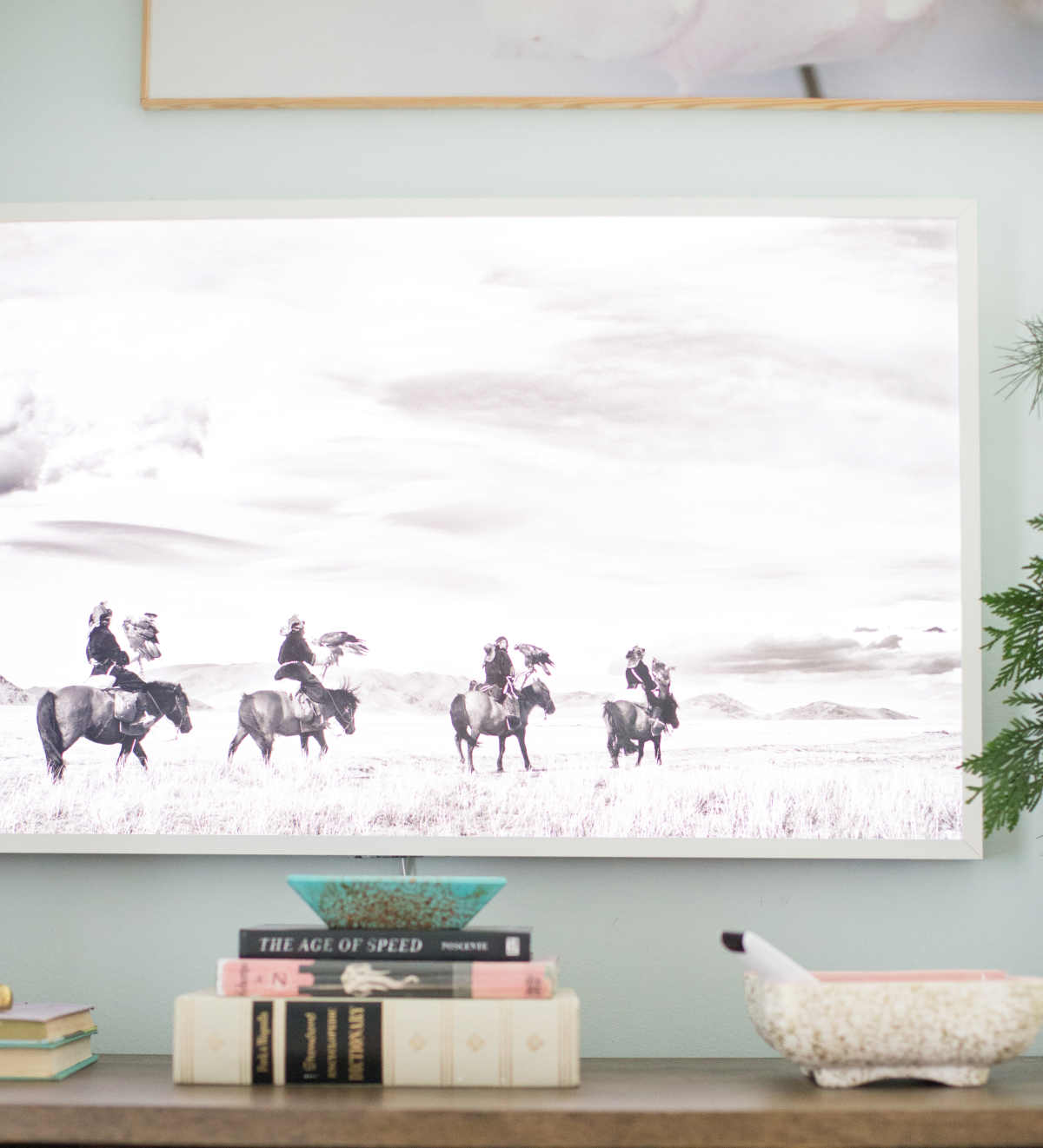 Be sure to check out this post for some extra inspiration on a family space around The Frame.