how to seamlessly incorporate a TV into your space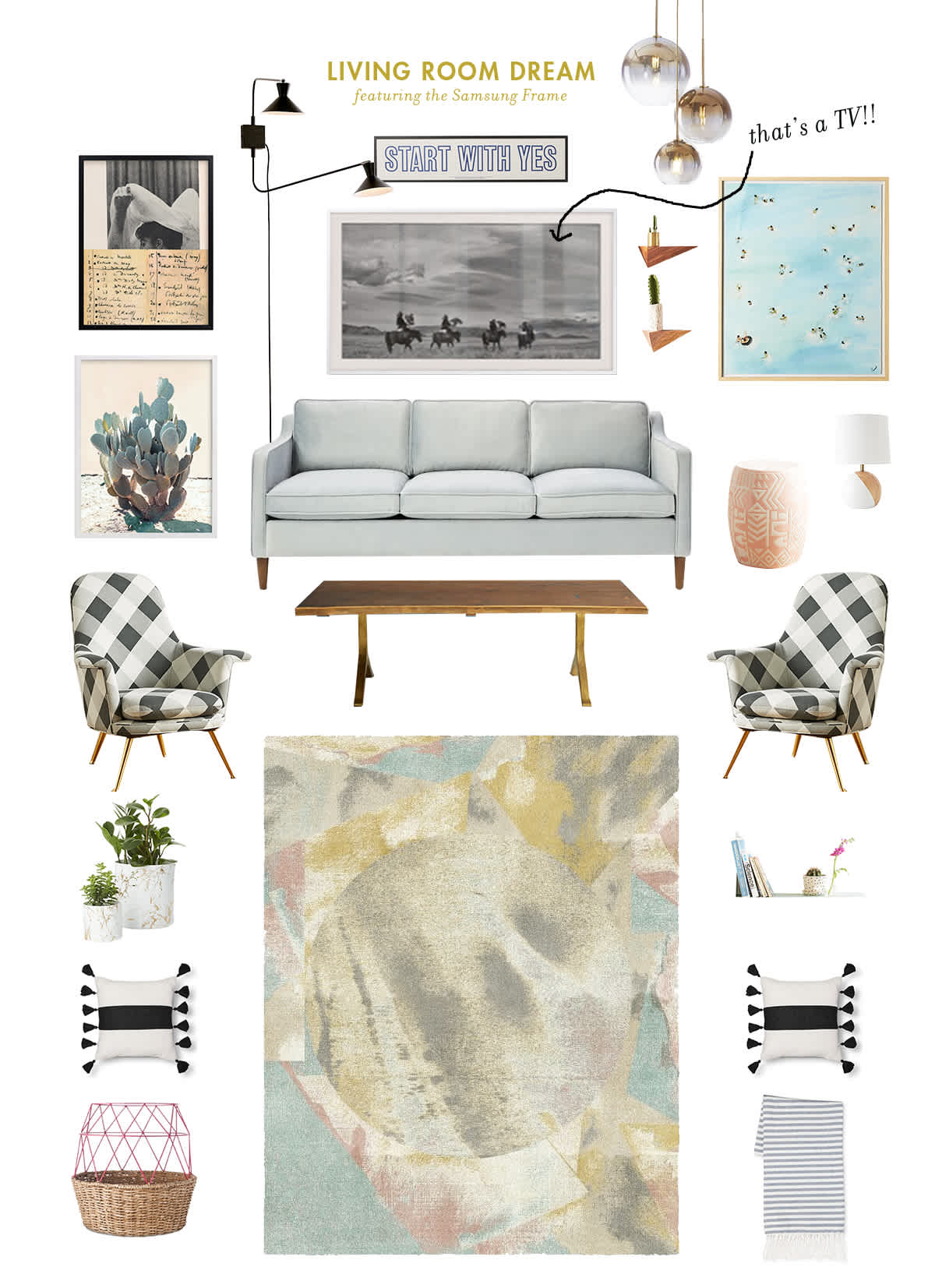 This post is sponsored by Samsung.
I really don't like designing a room around a TV.  I'd rather it just not be there.  Of course, I also want to use it (I love family movie nights, date nights, Netflix marathons and the quiet it can give in the afternoons after a long morning with kiddos), but I just don't want it to ever be the centerpiece of a space.  The big black box just seems to suck all the light out of a room, and it feels nearly impossible to design around it, and efforts to hide it usually end up feeling cumbersome and awkward.
Enter the Samsung Frame.  Designed by legend Yves Behar (as an industrial designer, I can appreciate the significance of his design influence on this piece!) it's a TV that doesn't look like a TV at all.  In fact, it's beautiful and a true piece of art.  But it has all the high functionality and quality you'd expect from a top notch technical piece – it's 4k UHD with HDR giving a beautiful picture.  It's a completely winning combination.  If I hadn't called out the Frame in the style board above, it would be hard to tell it's actually the TV, right?
(Sources for above: (1) Mixed Print; (2) Double Sconce; (3) Start with Yes; (4) Chandelier; (5) The Frame; (6) Beach Print; (7) Cactus; (8) Sofa; (9) Side Table; (10) Lamp; (11) Gingham Chairs; (12) Coffee Table; (13) Metal Shelf; (14) Tassel Pillows; (15) Wire Basket; (16) Luna Rug; (17) Striped Throw Blanket)
My style is vintage and eclectic, usually with light, airy colors, and we don't have a TV in our living room because I couldn't stand the thought of mounting it over the fireplace and having it be the centerpiece of the room.  I love having a space that doesn't feel dedicated to a screen, but honestly, I would put the Frame up there, as it truly looks like a piece of art.  It has 100 art pieces, along with mat options, ready to choose from for display, and you can also upload your own pieces to make it completely personal.
Rather than fading to black when it's off, The Frame transforms into a beautiful work of art, and the brightness sensor adjusts the color and light according to the brightness in the room, so it always feels natural.   It also comes with a no-gap wall mount so it truly hangs like a picture (love!!!) and invisible connection cord management, so there are no cables or unsightly cords.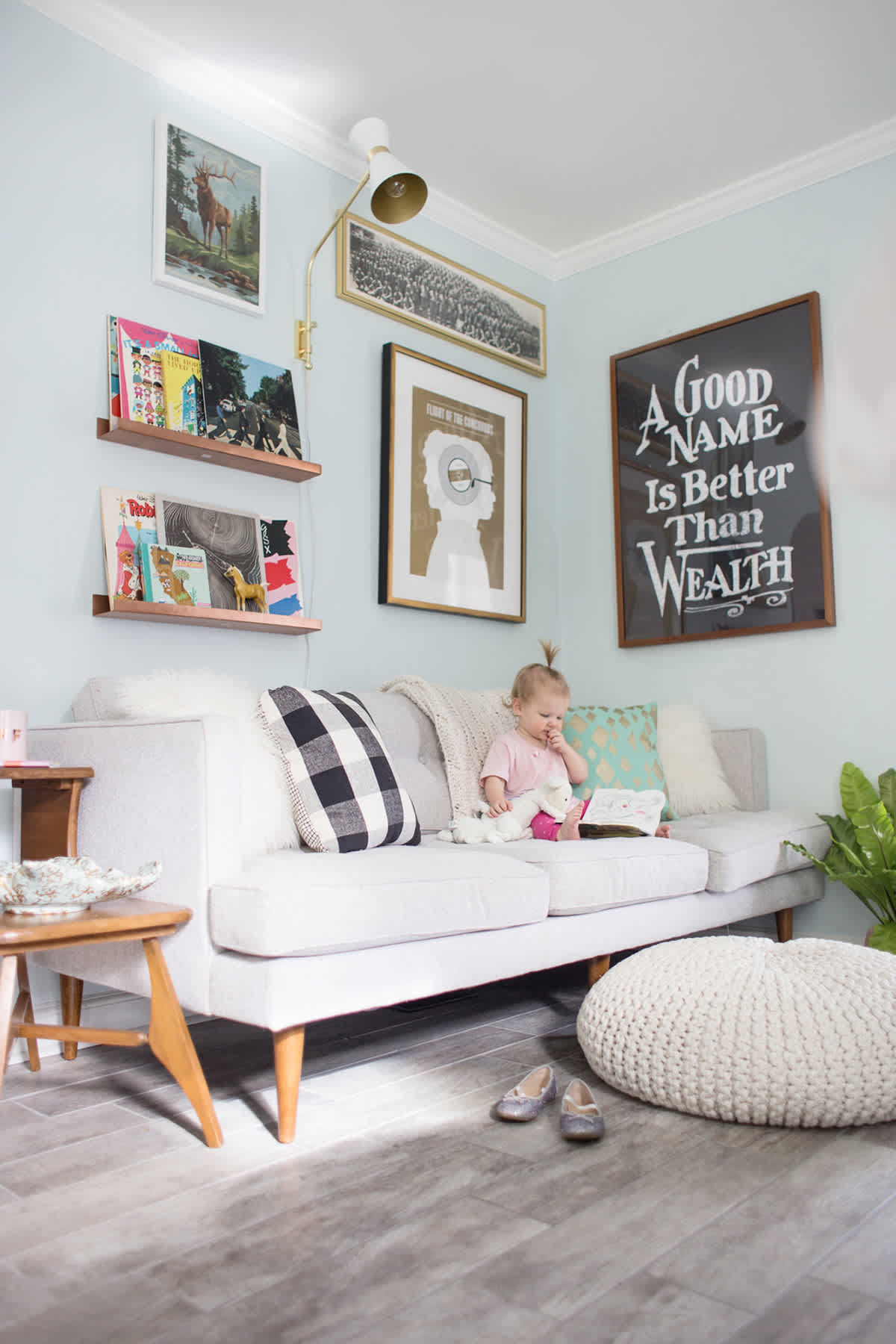 I love a curated, collected look, the Samsung Frame would fit in so well with this.  Plus, it integrates seamlessly into a gallery wall!  I'm so glad that Samsung is catching up with the need for a beautiful TV that feels like a part of your home, rather than an eyesore that feels necessary.
Be sure to check out more about this game changing TV here, and below is a photo of the Frame in action, so you can see for yourself how lovely it is! (It also has a customizable frame, so you can easily switch it up from wood, white, and metal depending on your space and personal design aesthetic!)  Now available in 65" for $2,799 and 55" for $1,999, you can find it on samsung.com and retailers nationwide.
How would you incorporate The Frame into your home?