Brigette Turns 3!
beauty and the beast inspired birthday party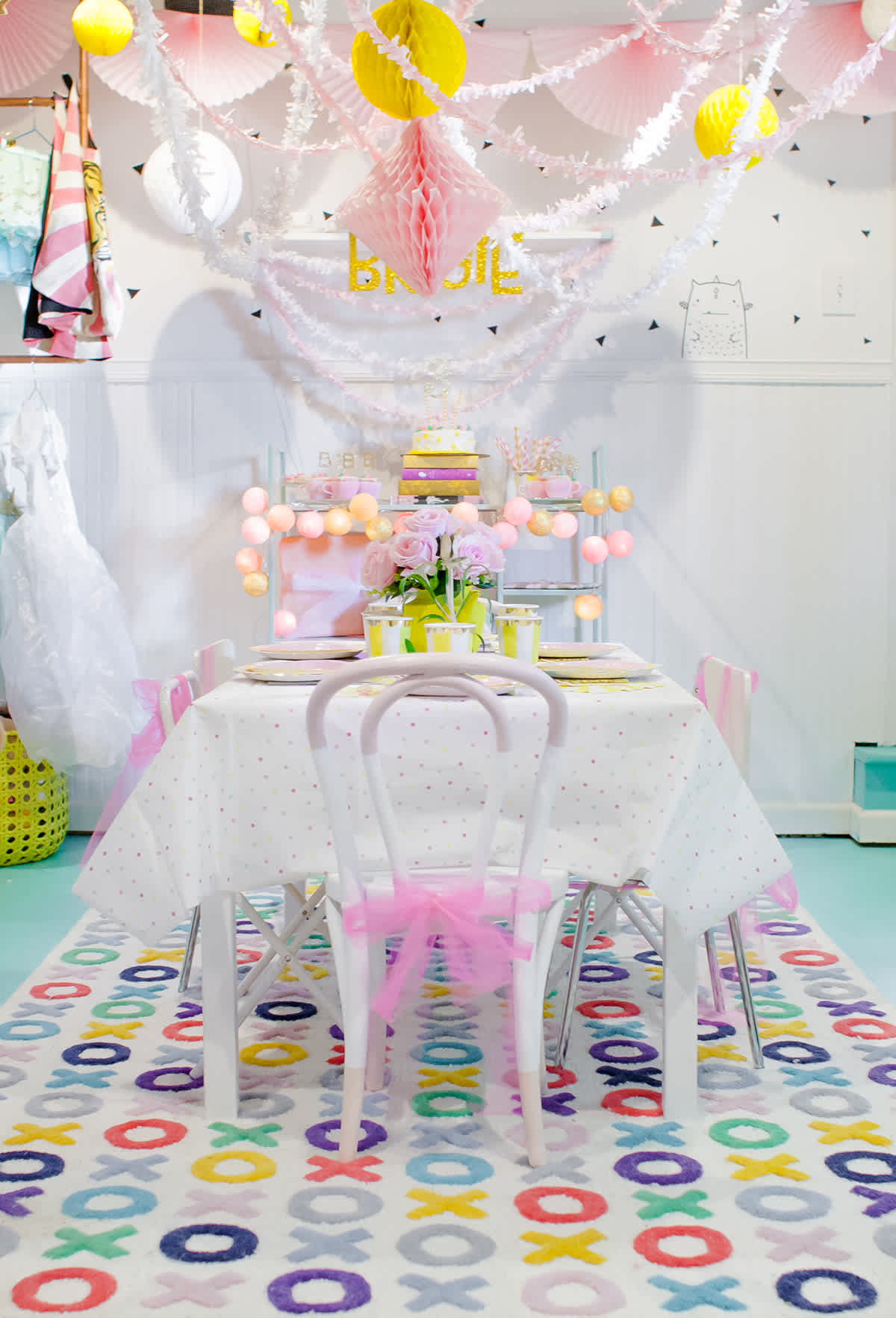 My sweet little Brigette just turned three, which is so hard to believe!  I wanted to throw her a little party with some friends.  Since her birthday is in January, I have found it to be a challenge to do a big party since the weather is a bit unpredictable, and we can't comfortably hold that many people in the house.  This was my effort to make it feel special and big, without it being too crazy.
(pictured above: XO rug; Dipped French Cafe Chairs; Mint Metalwork Bookcase; Tablecloth; Pink and White Festooning; Yellow Party Cups; Pink Scallop Garland)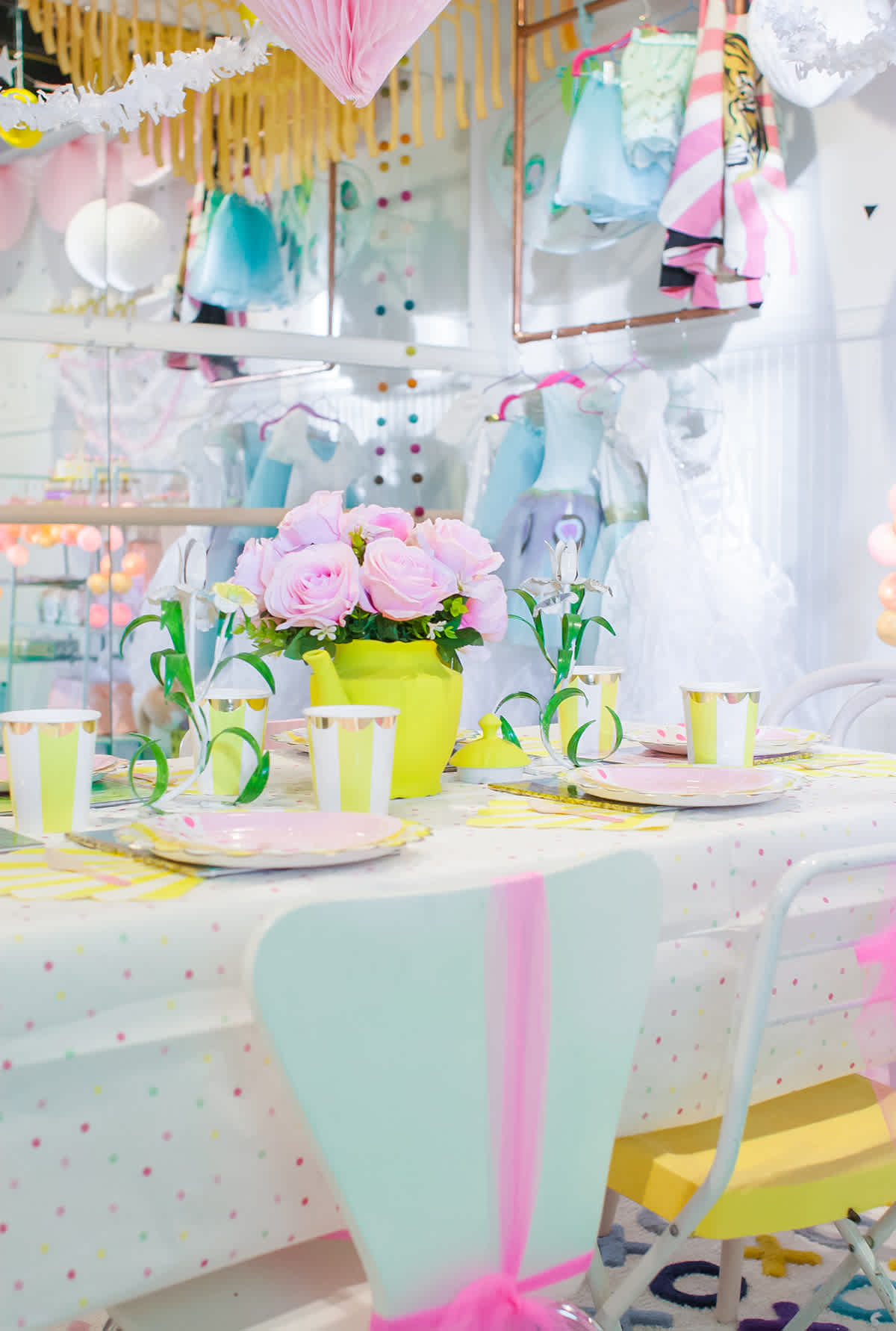 Brigie has been taken with the idea of having a "Belle" party ever since attending this adorable one this past summer.  Not only was it super cute (as everything is that Kristin does!) but there were lots of big girls there, so I'm sure it seemed like the best option for a party.  This was my attempt to do something inspired by the movie; I used lots of yellow, roses, books, and tea!
(pictured above: dress up rack; teapot; faux roses)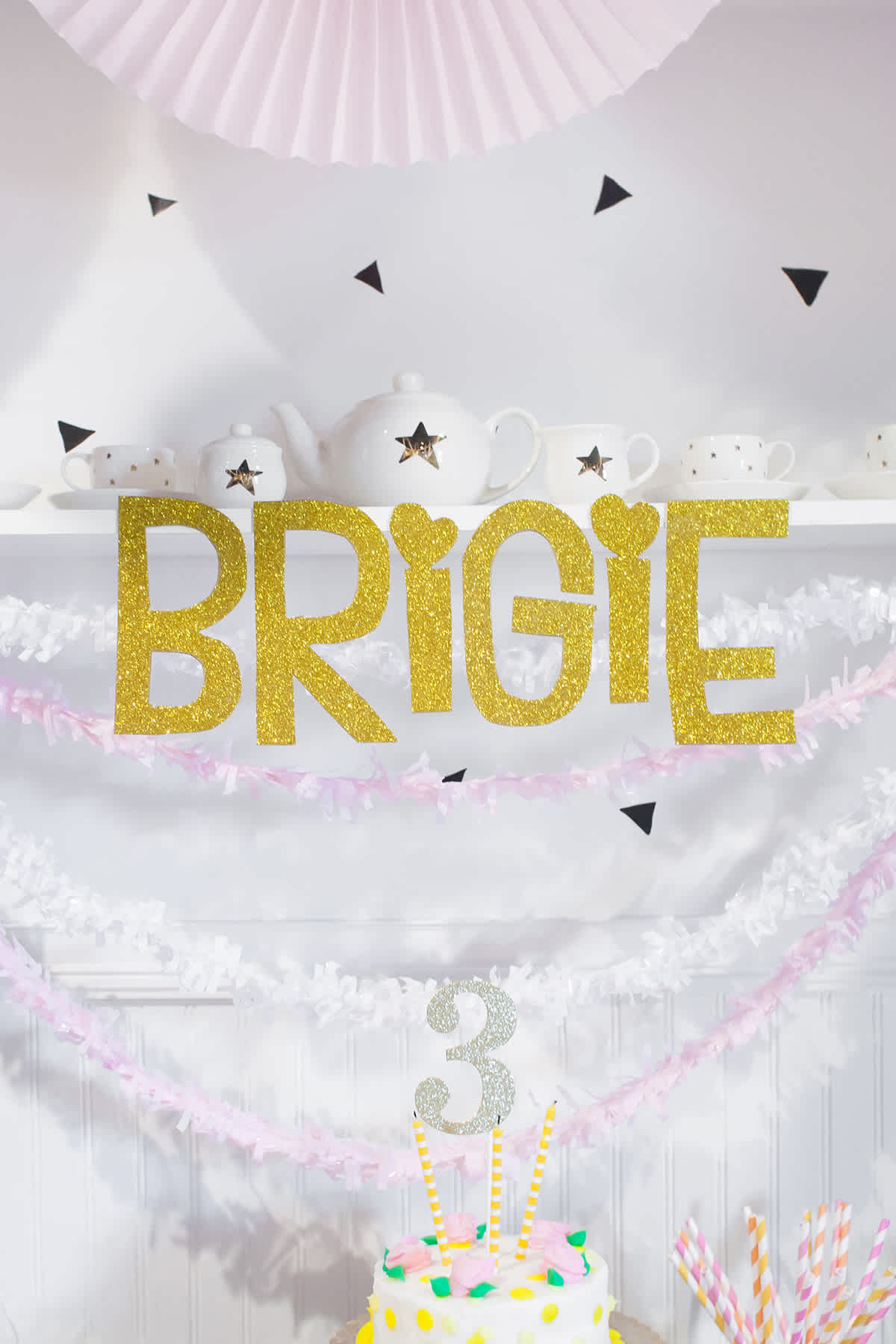 We decked out the playroom in lots of fun party decor, and set the table for a little tea party of sorts.  I used these shelves to hold the cake and treats, and cut her name out of adhesive glitter foam for a quick little focal point.
(pictured above: adhesive glitter foam; tea set)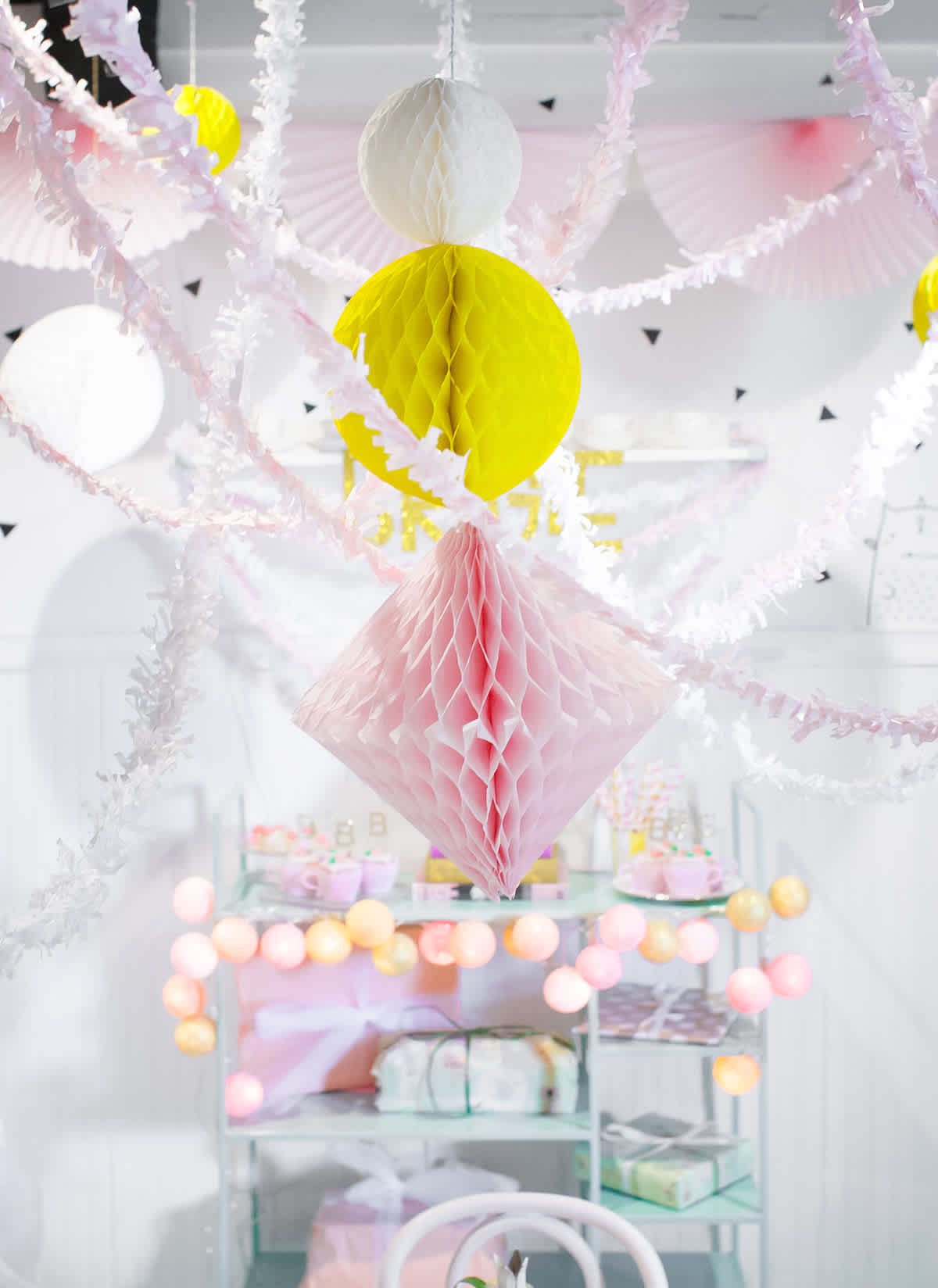 I love using these honeycombs -they are inexpensive, and add a lot to the space!  You can fold them up easily for re-use late, or just leave them up for awhile for some festive fun.  Stacking them turns them into a chandelier of sorts!
(pictured above: mint metalwork bookcase; bright lab lights; diamond honeycomb; round honeycomb)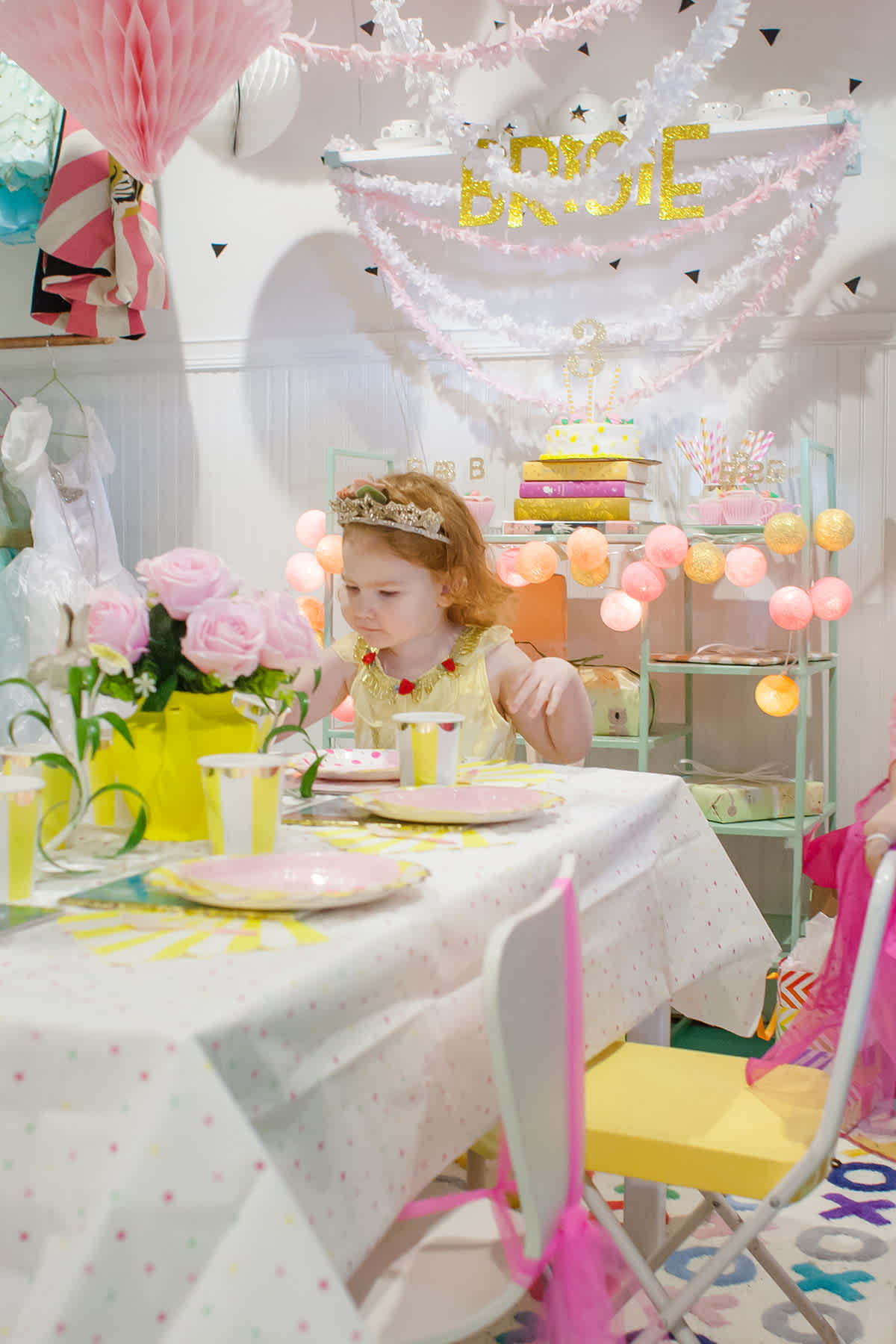 Brigette was completely smitten with her little tea party.  I can tell it meant so much to her to have her friends coming over to celebrate; I have heard other friends say that you always know your first child's friends and parents well, and not so much later children.  I have found this to be true, and I'm trying to make an effort to set up more play dates for her, and it's obvious it's something she really values!  For her birthday, we got her that little belle dress, which she loved.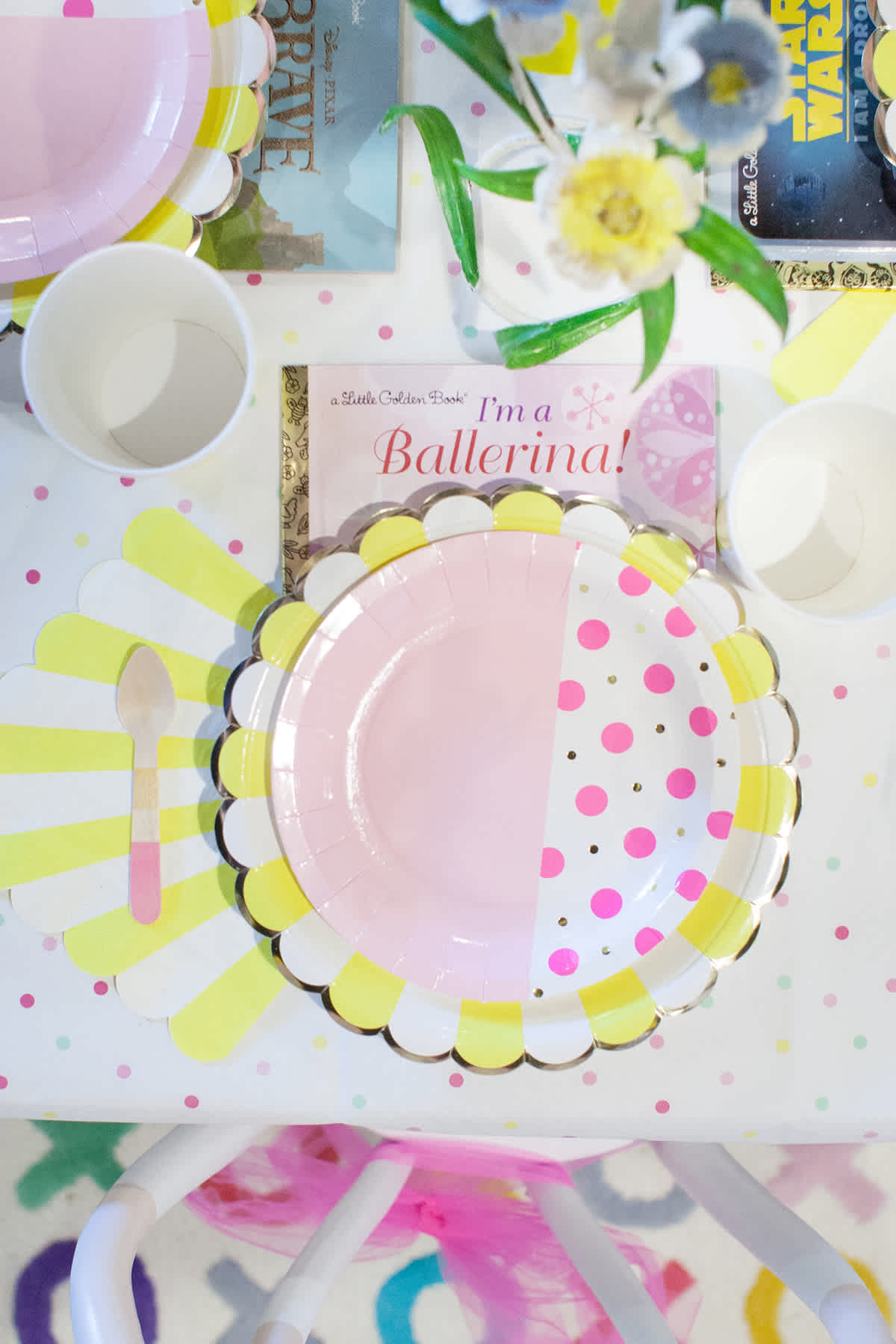 I adore these sweet paper plates!  How fun are they?  For favors, I had Little Golden Books at each place setting.  I had planned on also placing a faux rose at each place (my girls LOVE fake flowers - who knew?), but the stems were super long, so I trimmed them, which left a wire sticking out.  I was worried it might scratch someone, so I just put them in a teapot for a centerpiece.  And the girls love arranging and re-arranging it post party.
(pictured above: plates; spoons; tablecloth; Brave Book; Ballerina Book; Star Wars Book)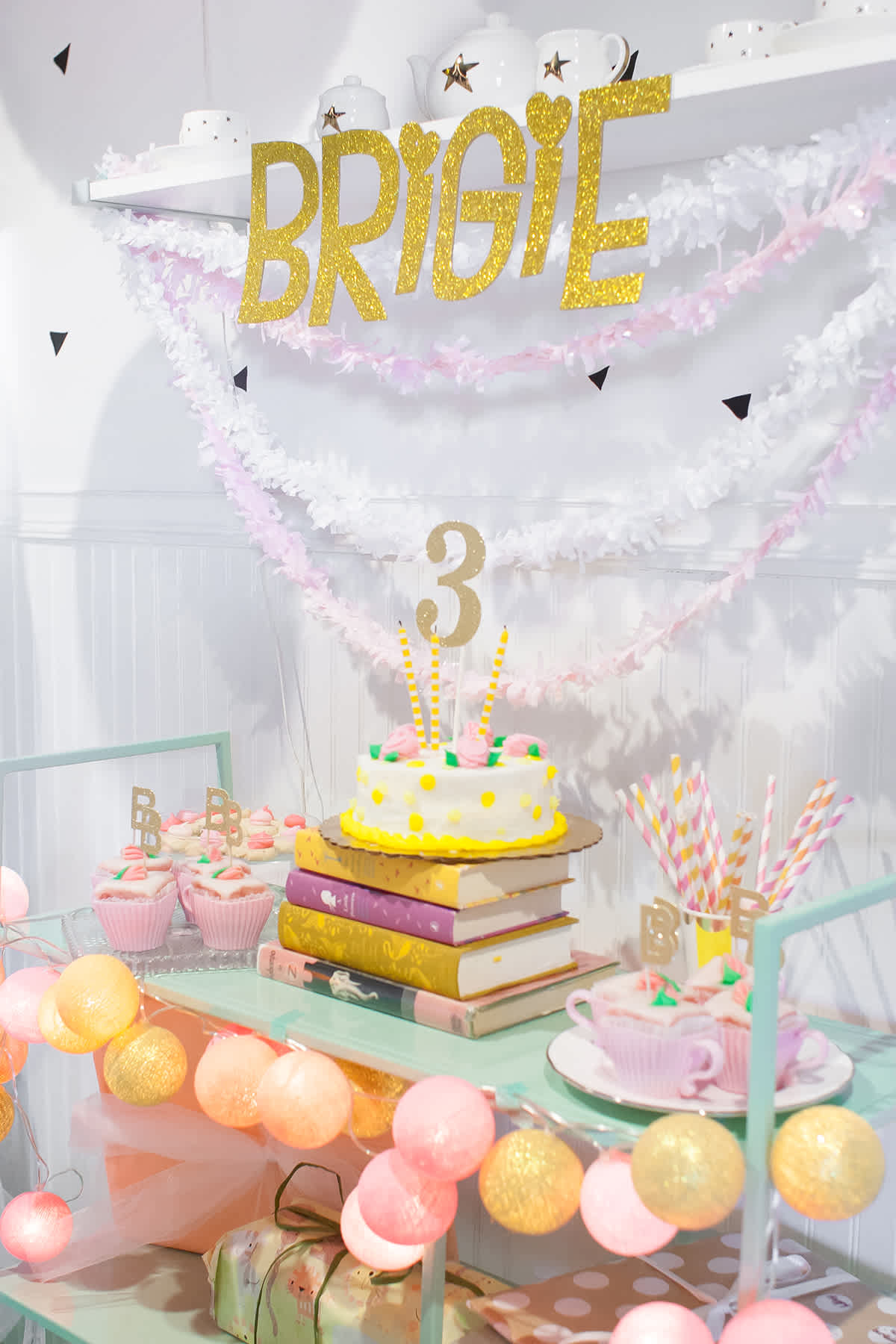 I placed the cake atop a stack of books, and found these cute little silicone tea cups for the petits fours (you can actually bake cupcakes in them!).  I wanted it to be a tea party, but wasn't sure how to do tea with two and three year olds, so this was my solution.  I also stuck little glittery "B"'s in them, because she loves to point out every single B she sees as "b for brigie!".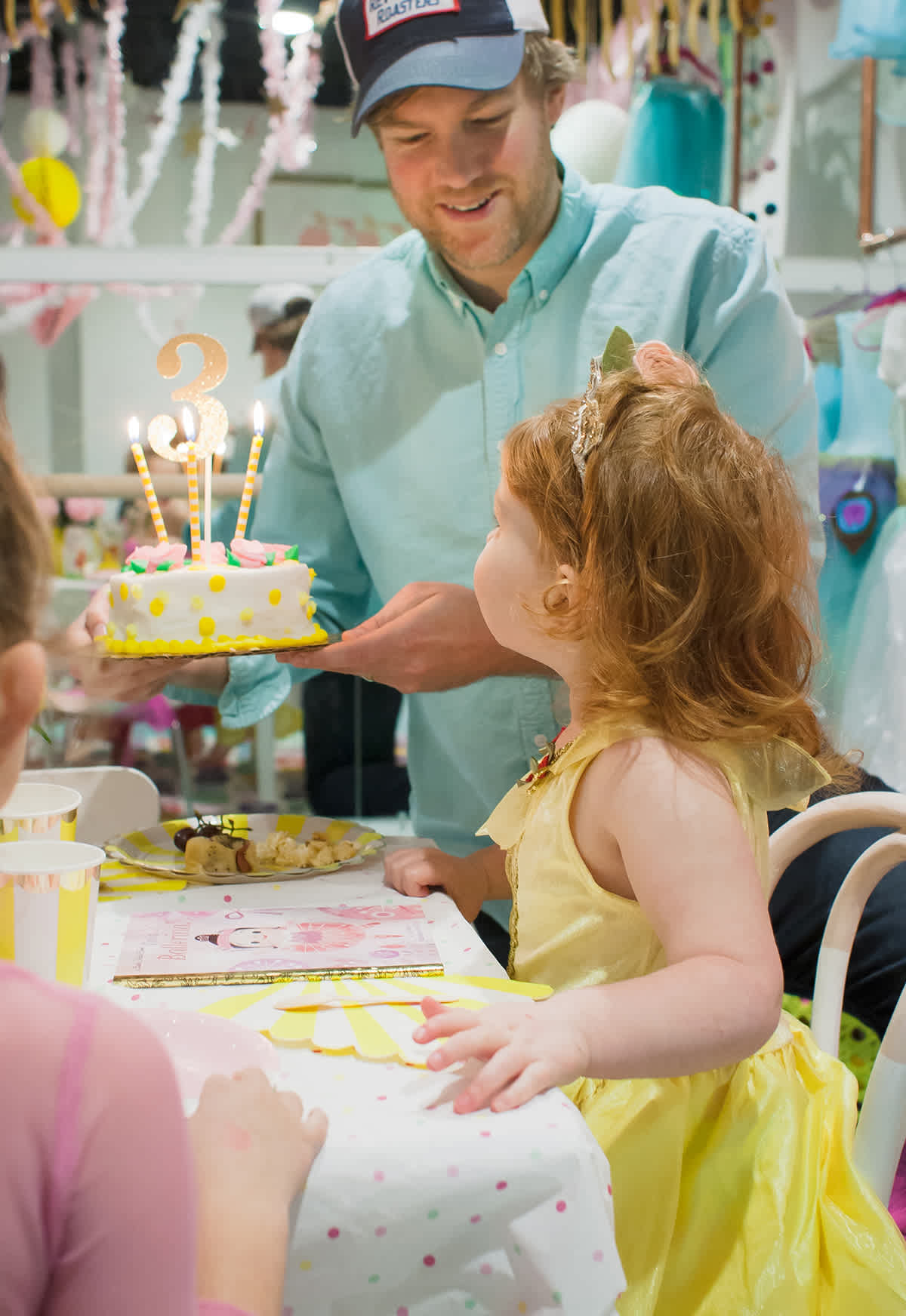 Can you feel her excitement?!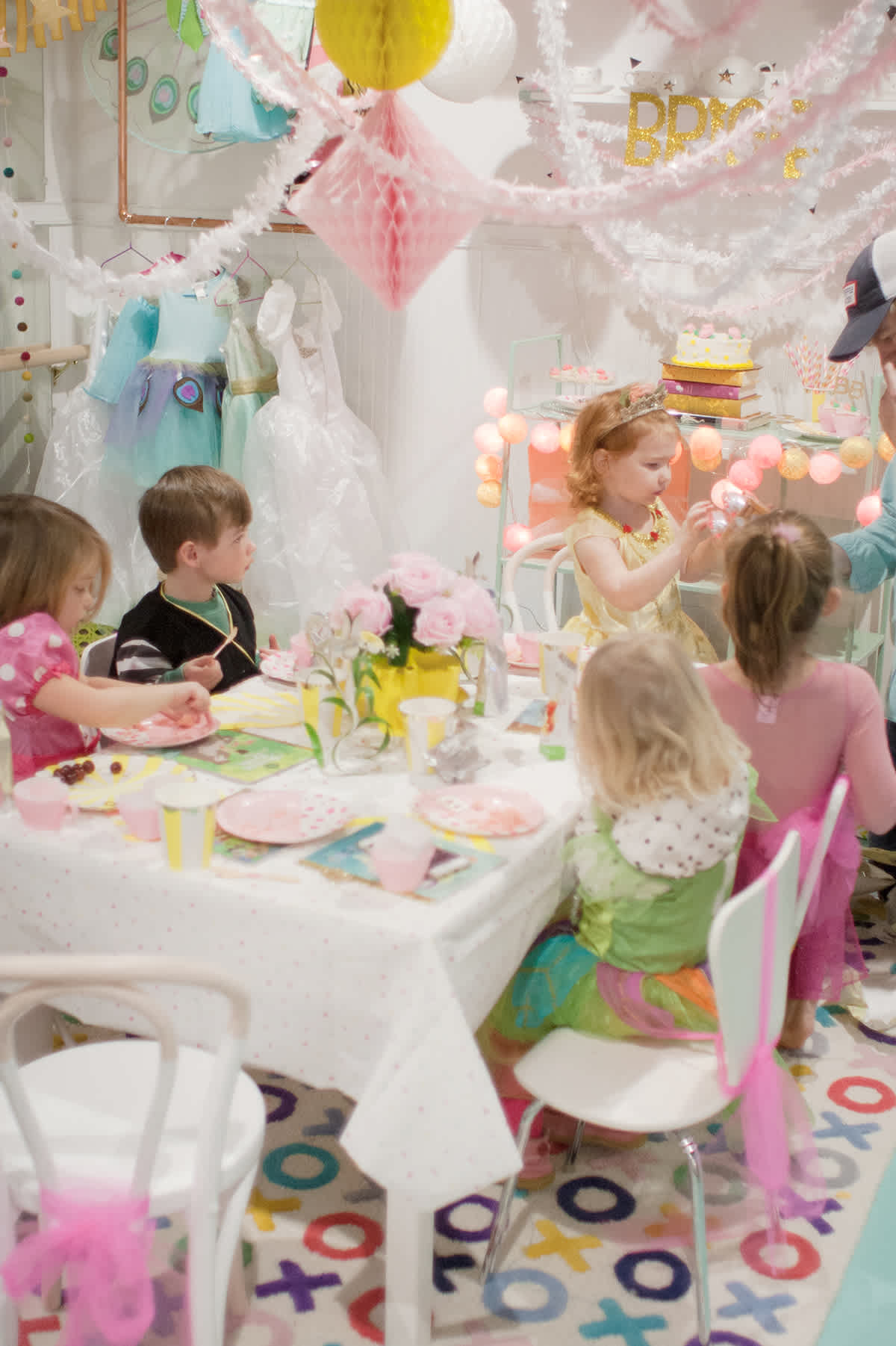 All her little cutie pie friends dressed up, too, and then they spent the rest of the afternoon playing in the playroom.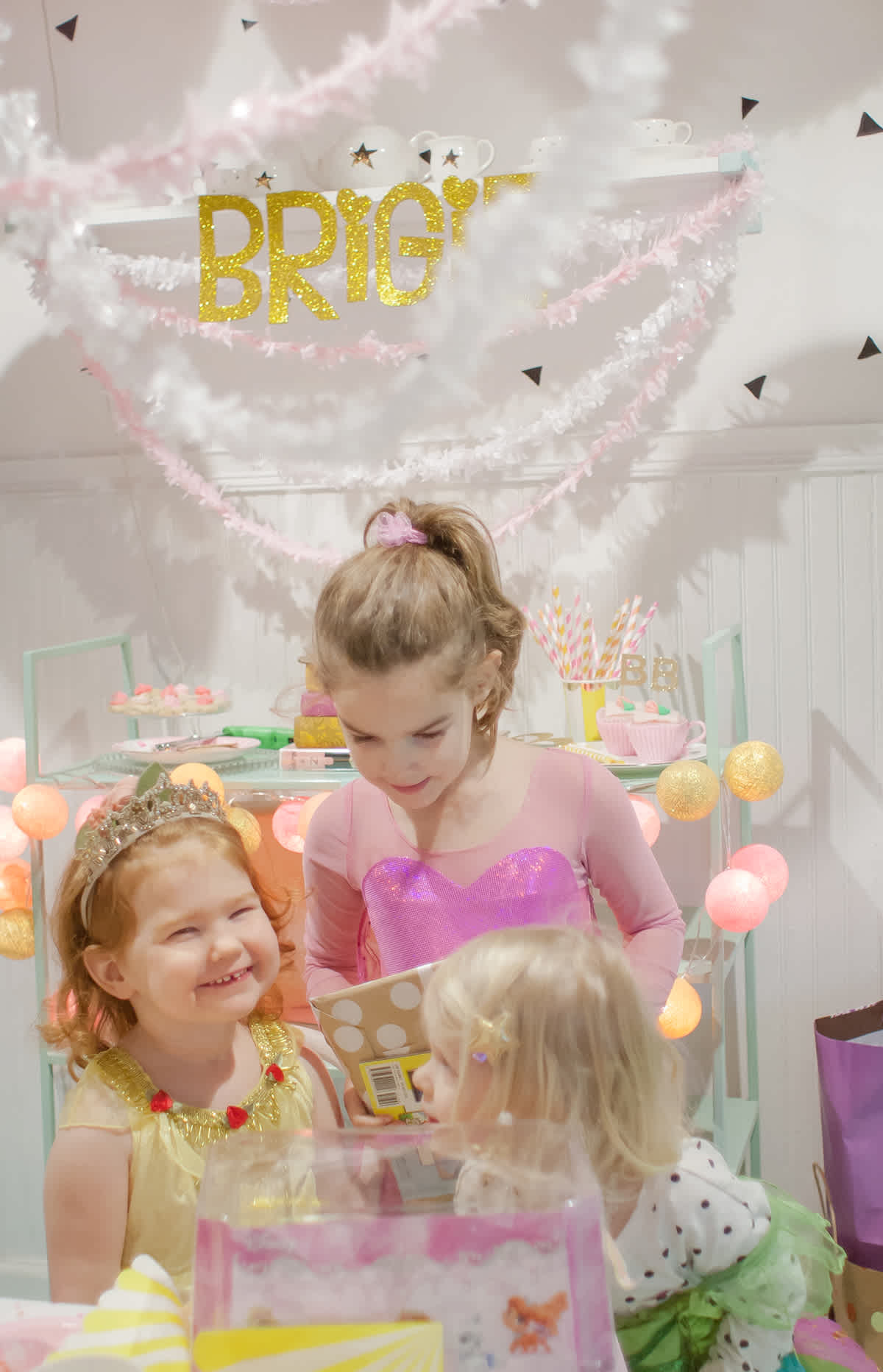 I loved making her feel special.  She has had a lot of feelings after Ellie's arrival, and while she has been dealing with them like a champ, I can see the middle child struggle.  She isn't the baby anymore, and she is a big sister, but not the biggest, and I feel like it was so worthwhile making an afternoon all about her big day.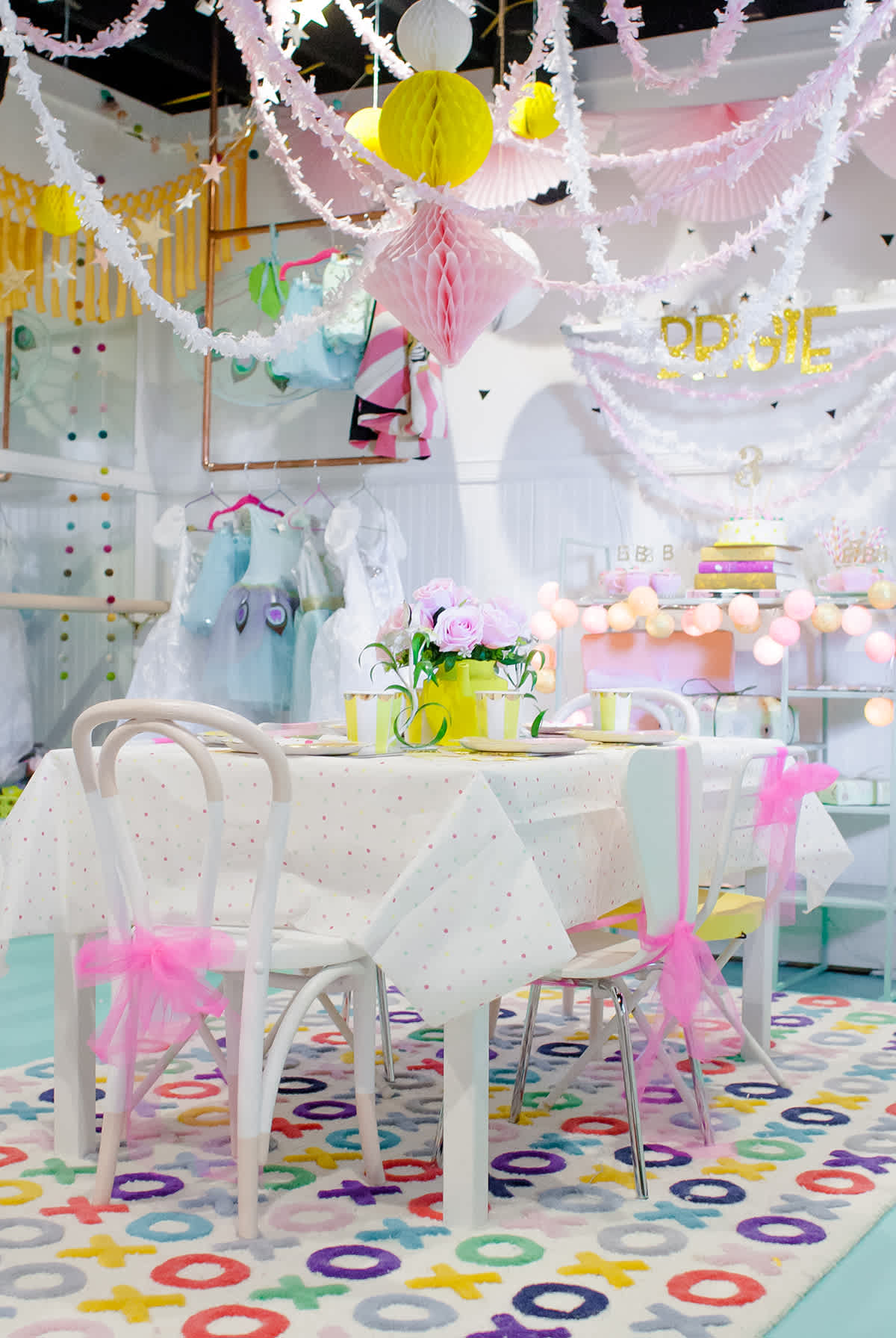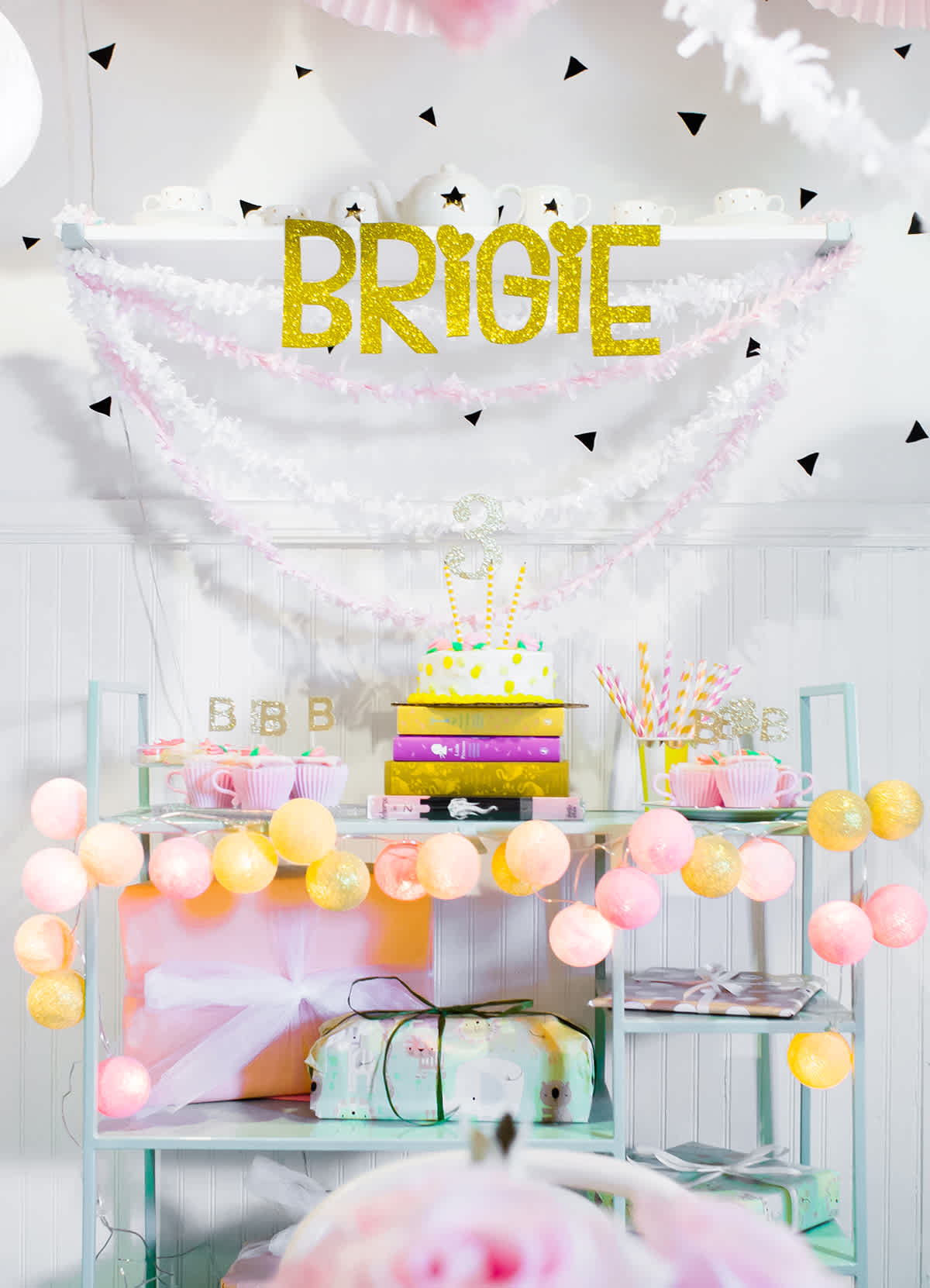 All the little princesses, right in a row!
(see Brigette's first birthday, and second birthday, and Vivi's first, second, third, fourth, and fifth birthdays!)