alice in wonderland birthday party
vivi's 4th birthday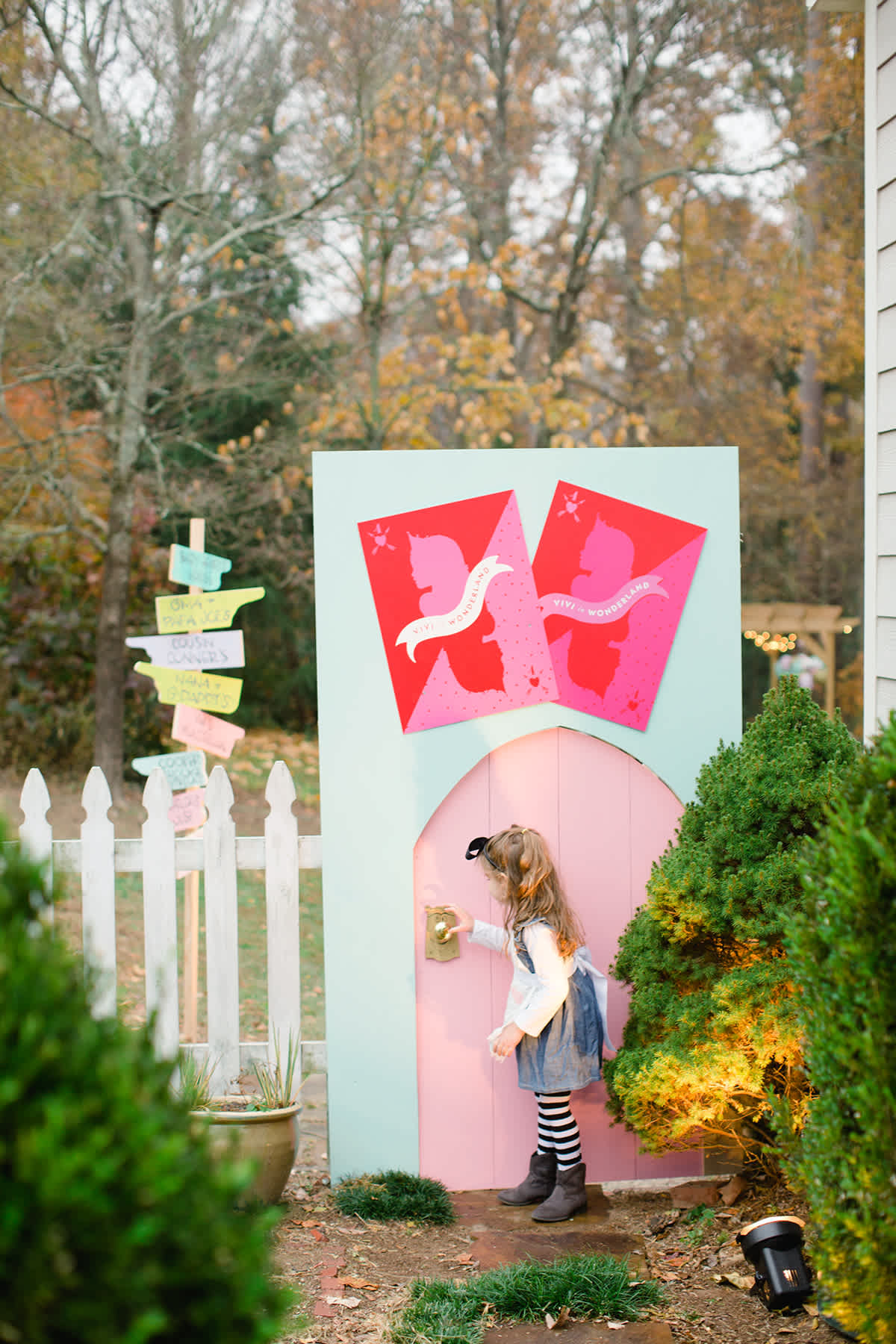 We celebrated Vivi's 4th birthday in November, and it was such a perfect day.  I wasn't sure how it was going to turn out, because we pretty much had a 100% chance of rain, and I was a bit anxious and heavy-hearted leading up to the day, thinking it could very well be a disaster, as we had an outdoor party planned for this milestone.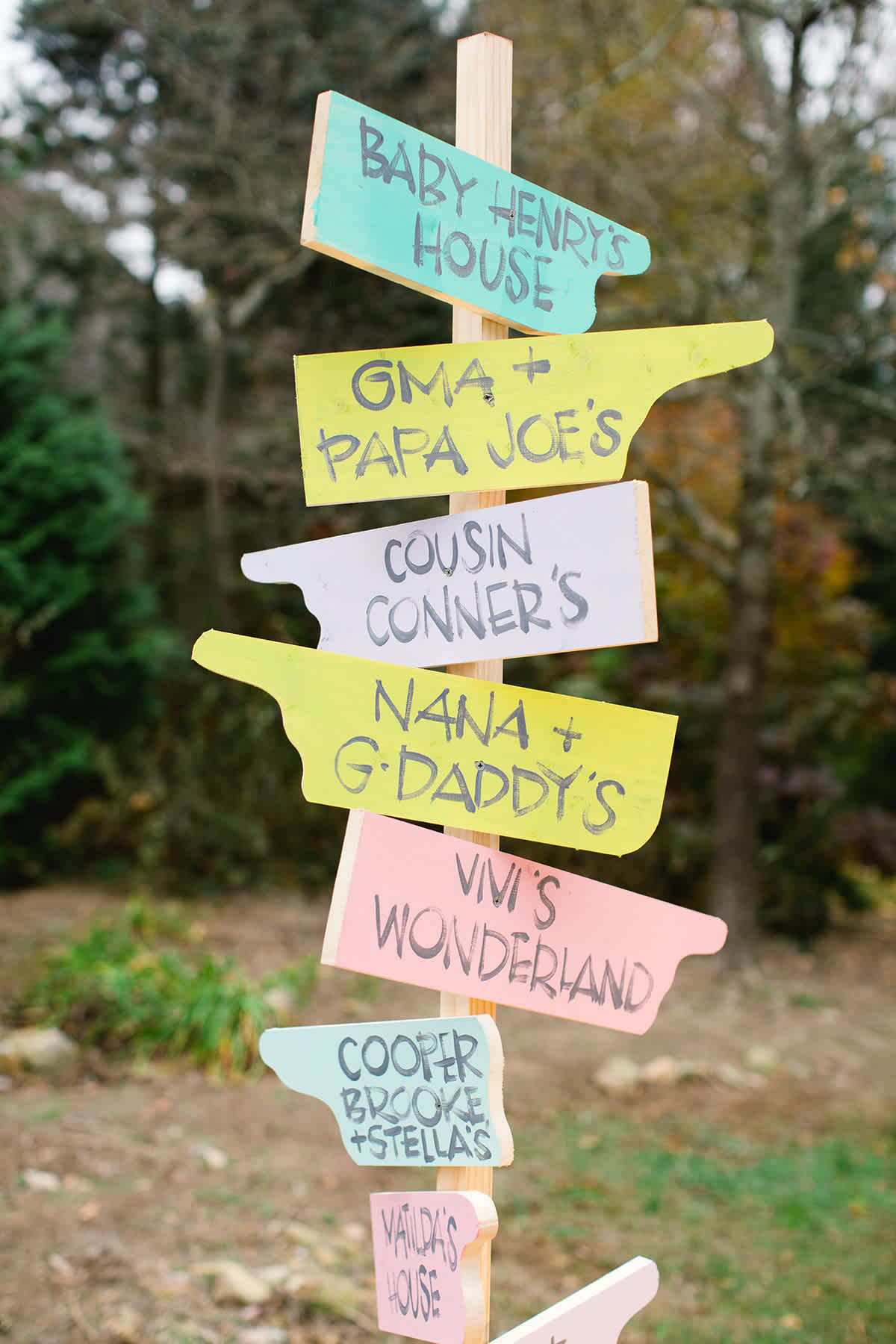 Chip is such a good sport, though, and he helped me set up everything, despite the forecast, and we hoped for the best.  I'd been praying for no rain all week.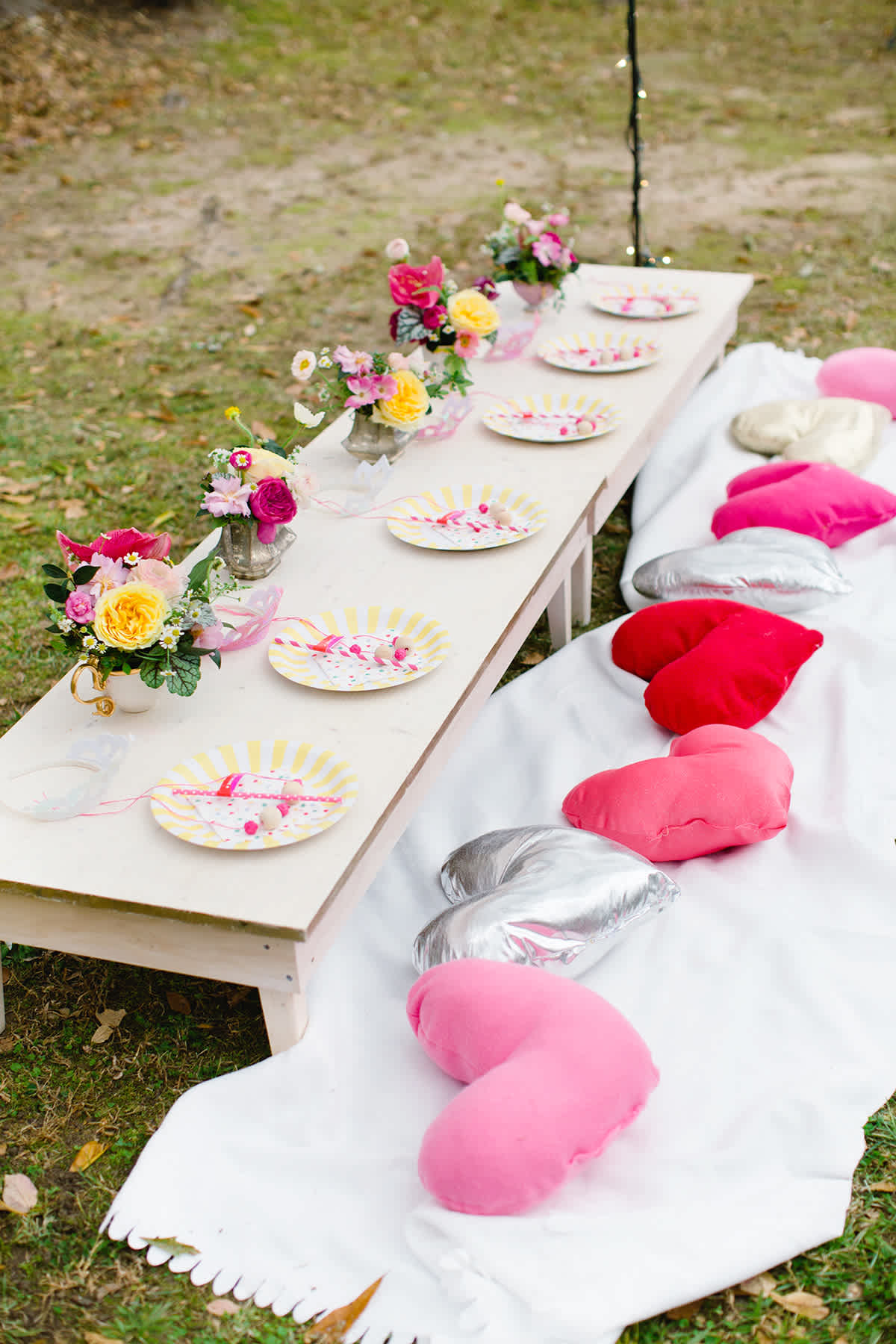 Our plan was to watch Alice in Wonderland under the stars, with twinkling lights all around, much like we did last year.  It's just kind of a magical formula, and so fun, so we wanted to do it again.  My sweet friend Sara Harper came over to take photos, and as she did, the chill set in and it started misting in a miserable way.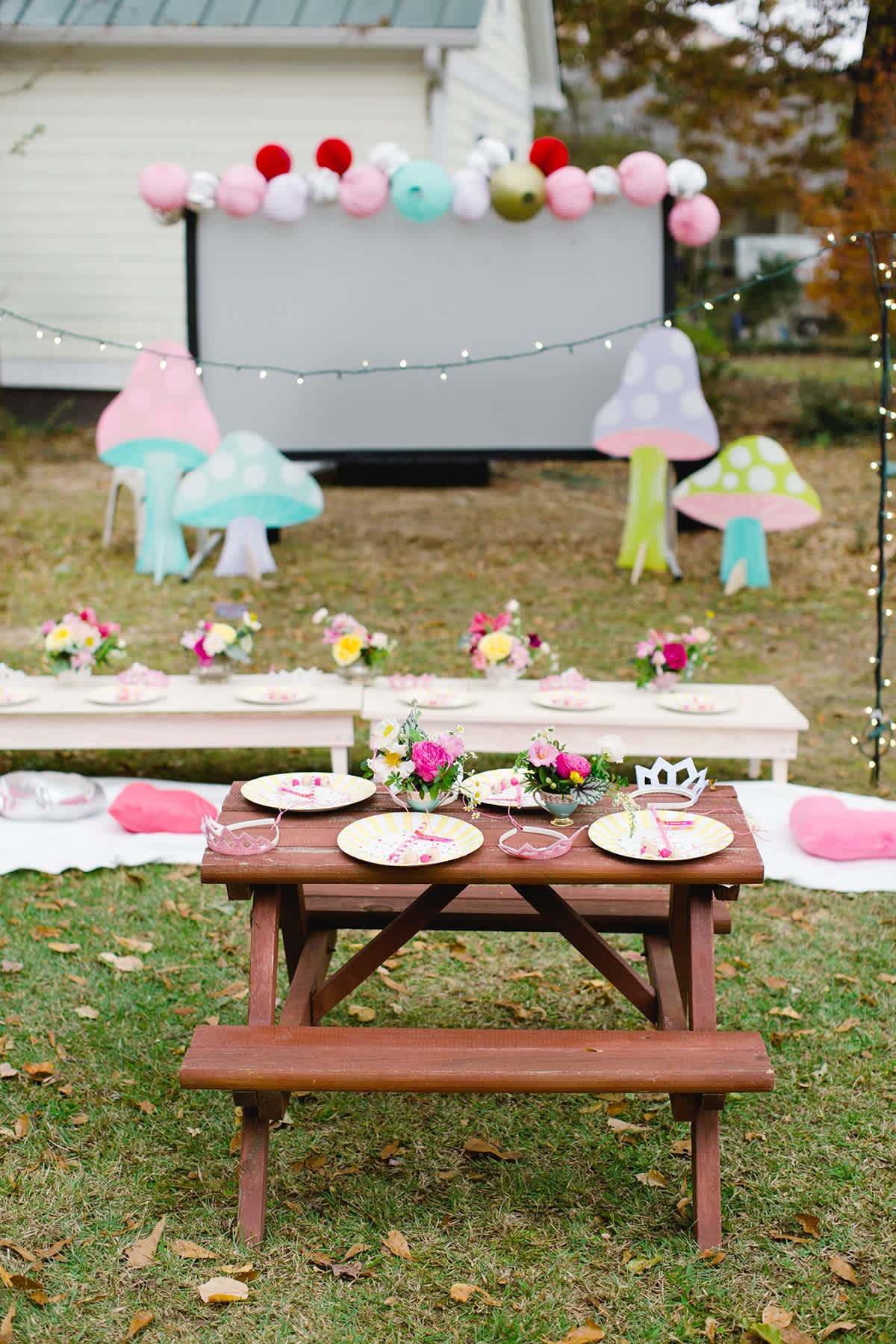 Chip said we could move the party inside (which I thought was crazy; how could we possibly fit 50+ people into our cozy little home?) and it complete resignation, I threw my hands up and just said "Ok, God, surprise me with this!  Clearly my way isn't going to happen, so I'm asking for a little miracle to just make this a special night for Vivi.  I am giving up my plans."  I had been praying for no rain, although I felt a bit silly doing so for a 4 year old's party.  I was conflicted about it all week, and let me tell you, it ended up just being perfect despite the chilly rain.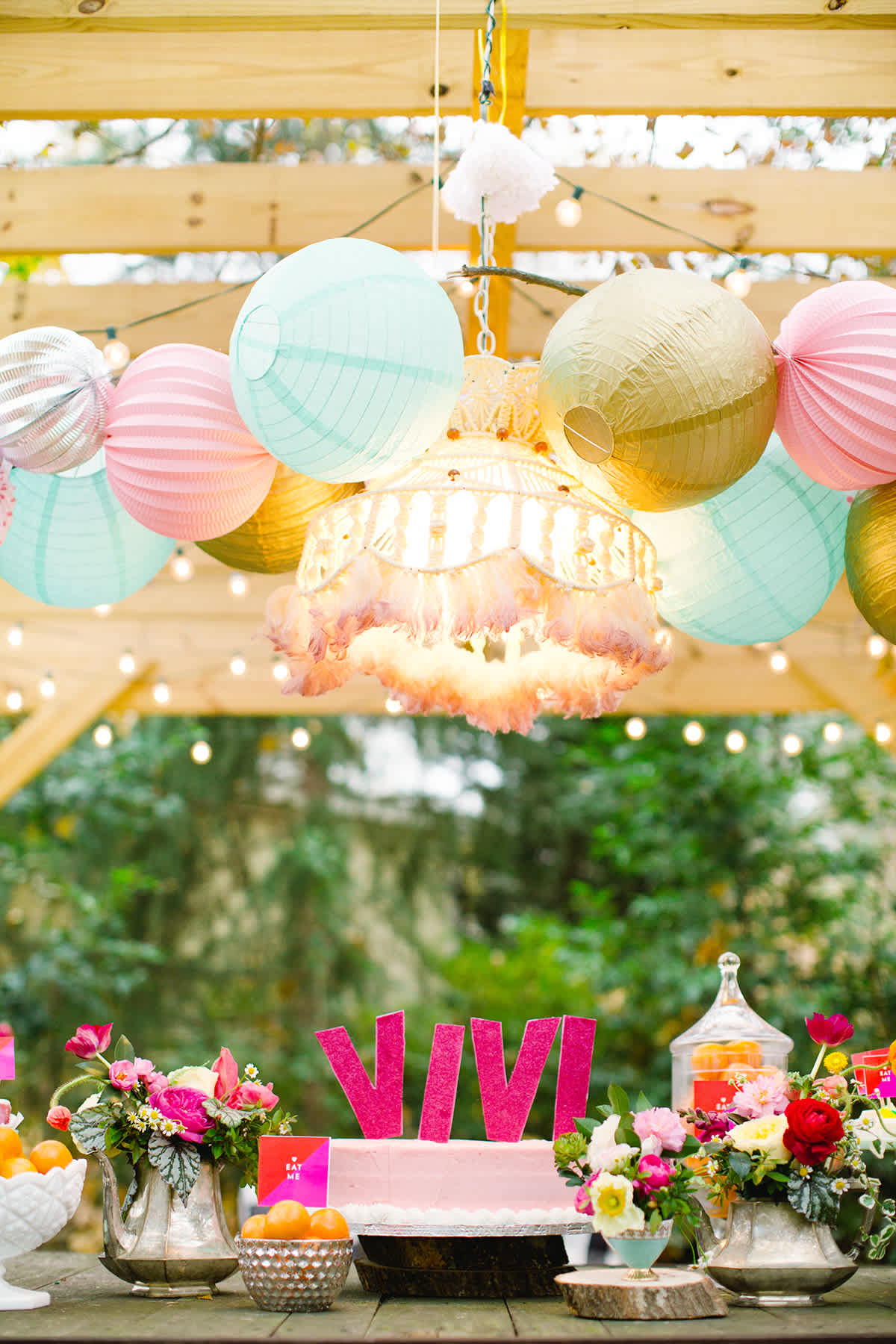 Before I tell you that part of the story, here are some of the details on the decor!  The one thing Vivi requested was a giant pink cake, not cupcakes, which she wanted last year.  I ordered a giant pink strawberry sheet cake from our favorite local bakery, and put her name on top in huge glittery letters.  I cut the letters out of sticky glitter foam sheets (like these), and sandwiched wood skewers in between to stick them into the cake.  Vivi was completely in love, and when you ask her what her favorite part of her party was, she will say without hesitation "the cake!"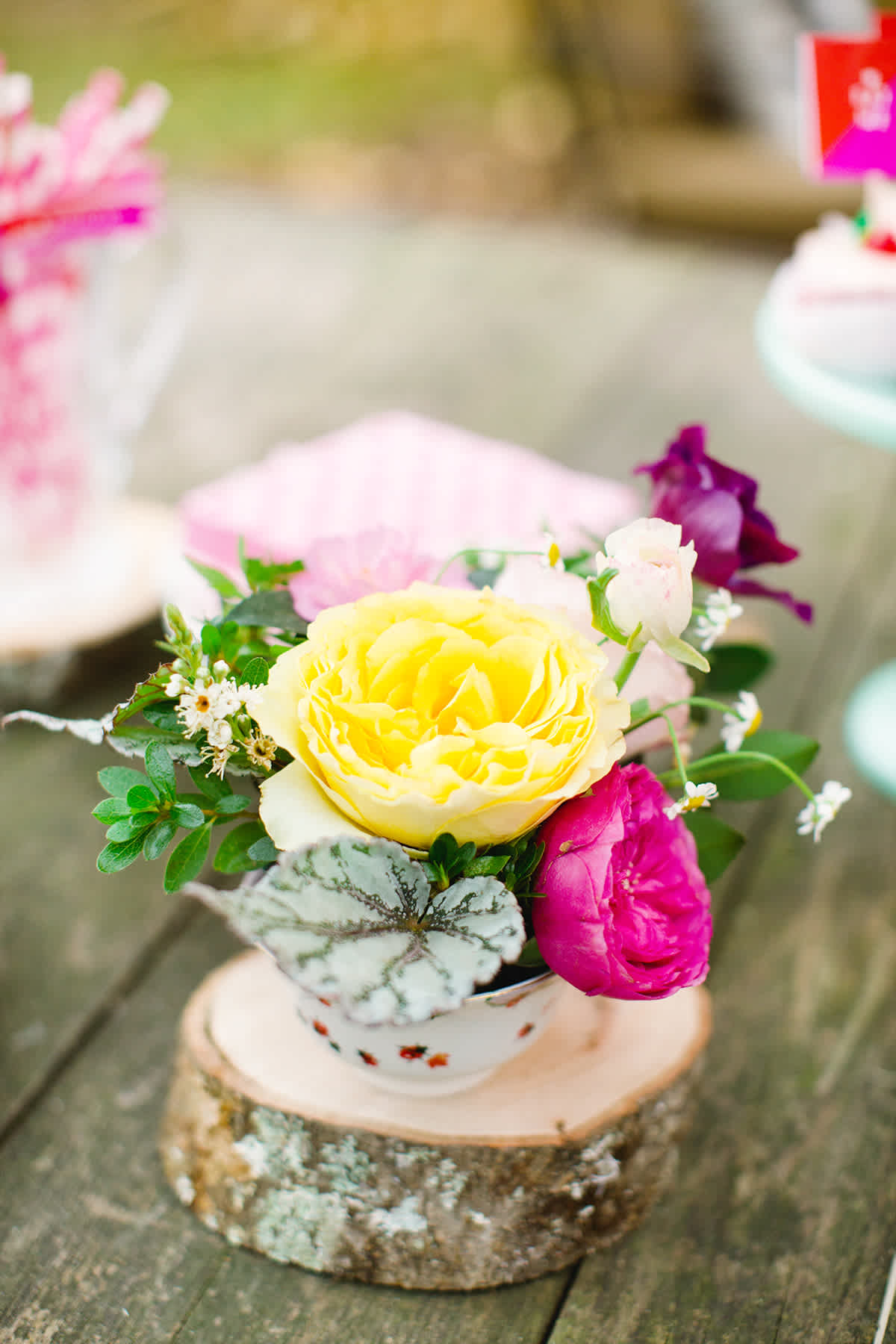 The amazing Lindsay Coletta put together the gorgeous flowers in thrifted and found teacups and teapots, and they were just perfection.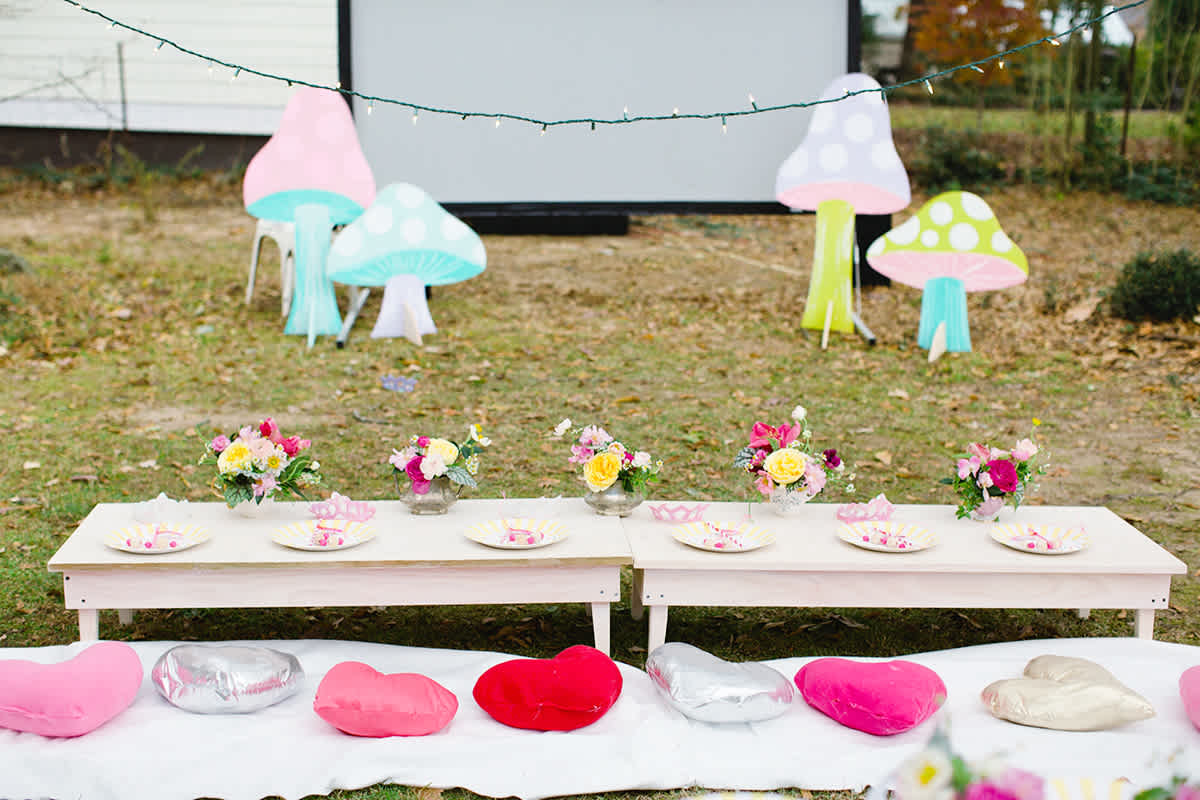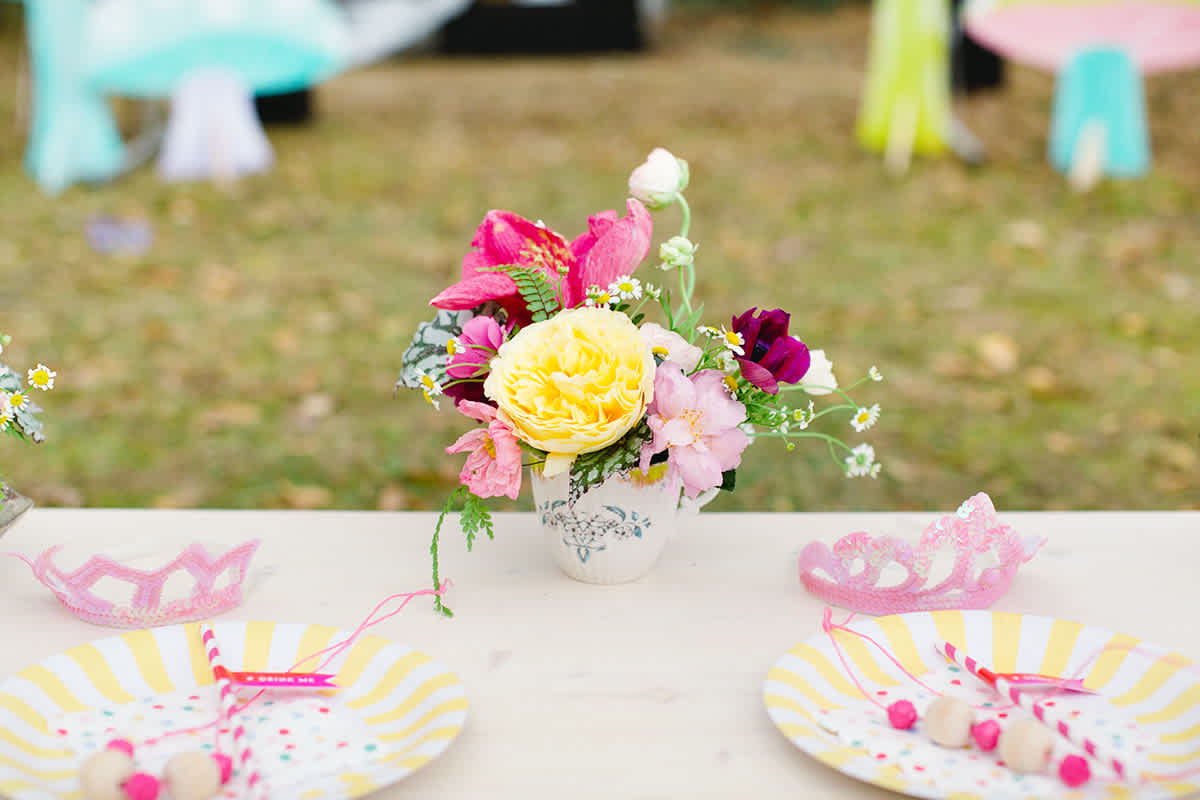 Chip cut mushrooms out of plywood, and we had the best time painting them (we even used glow in the dark spray paint on the spots, which would have been awesome in the dark!), and the place settings had paper plates, napkins, wood and flower bead necklaces, and some sparkly princess crowns, because there can never be enough of those!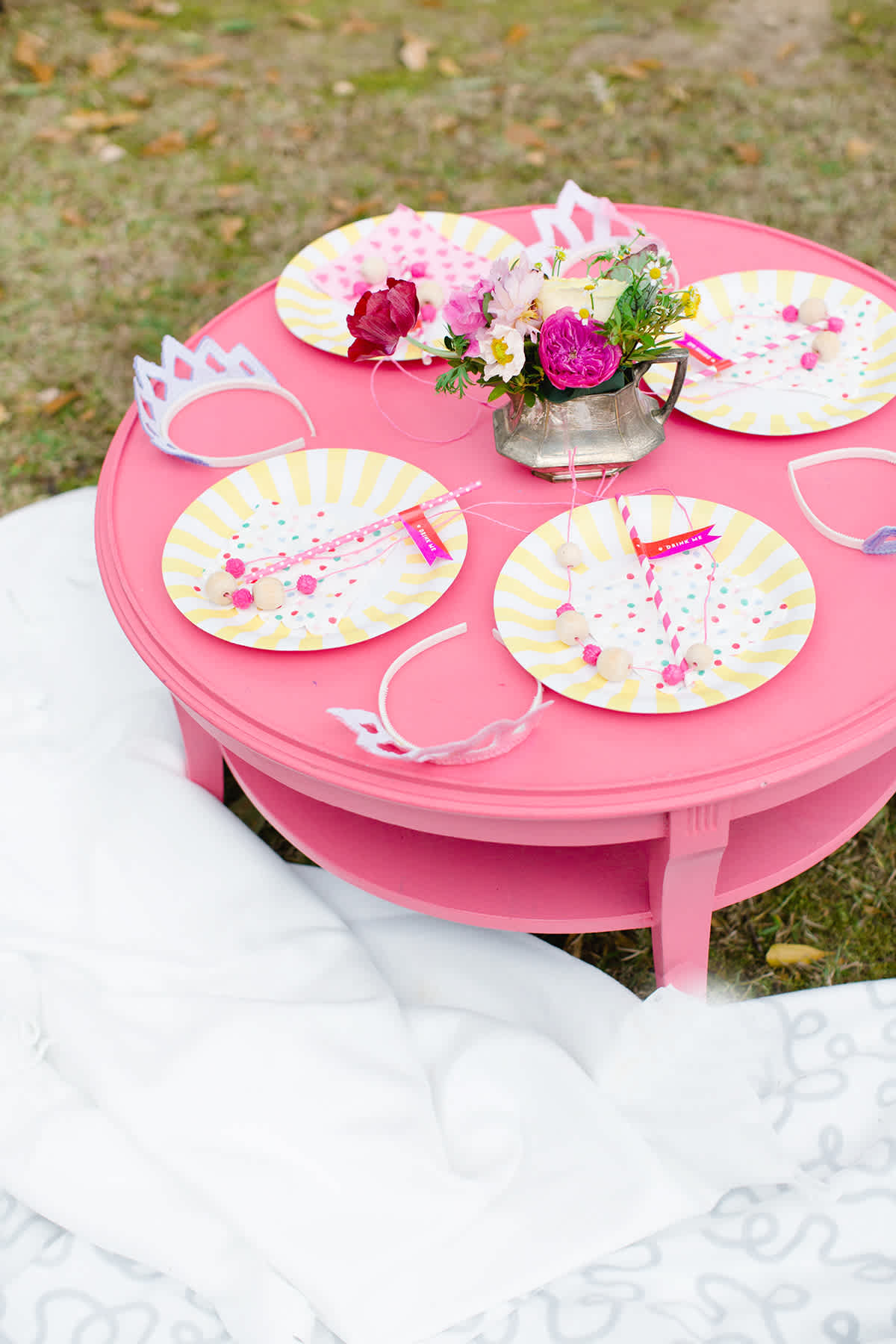 I stitched together some heart pillows and put out inexpensive fleece ikea blankets for the kiddos to sit on while snacking and movie watching.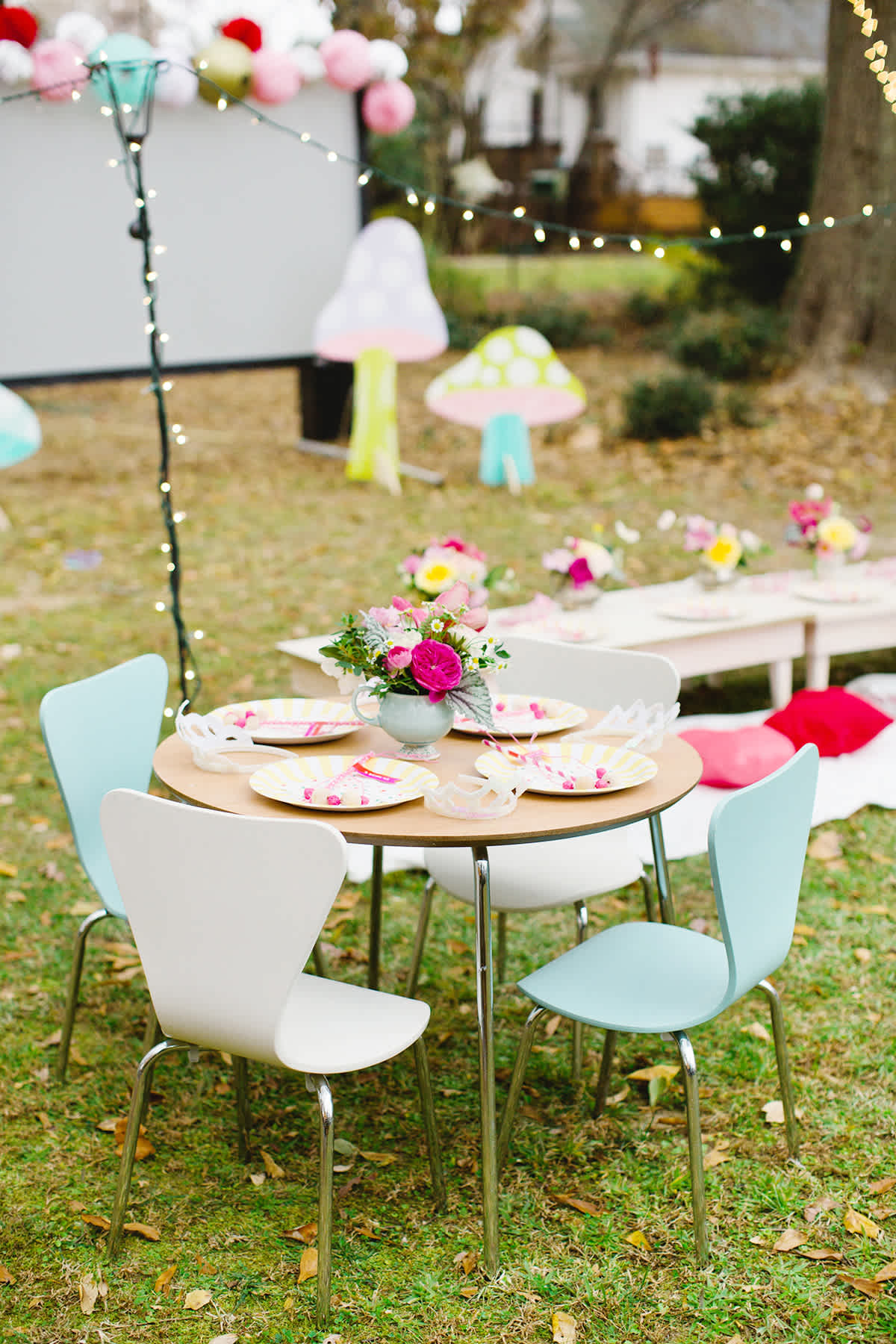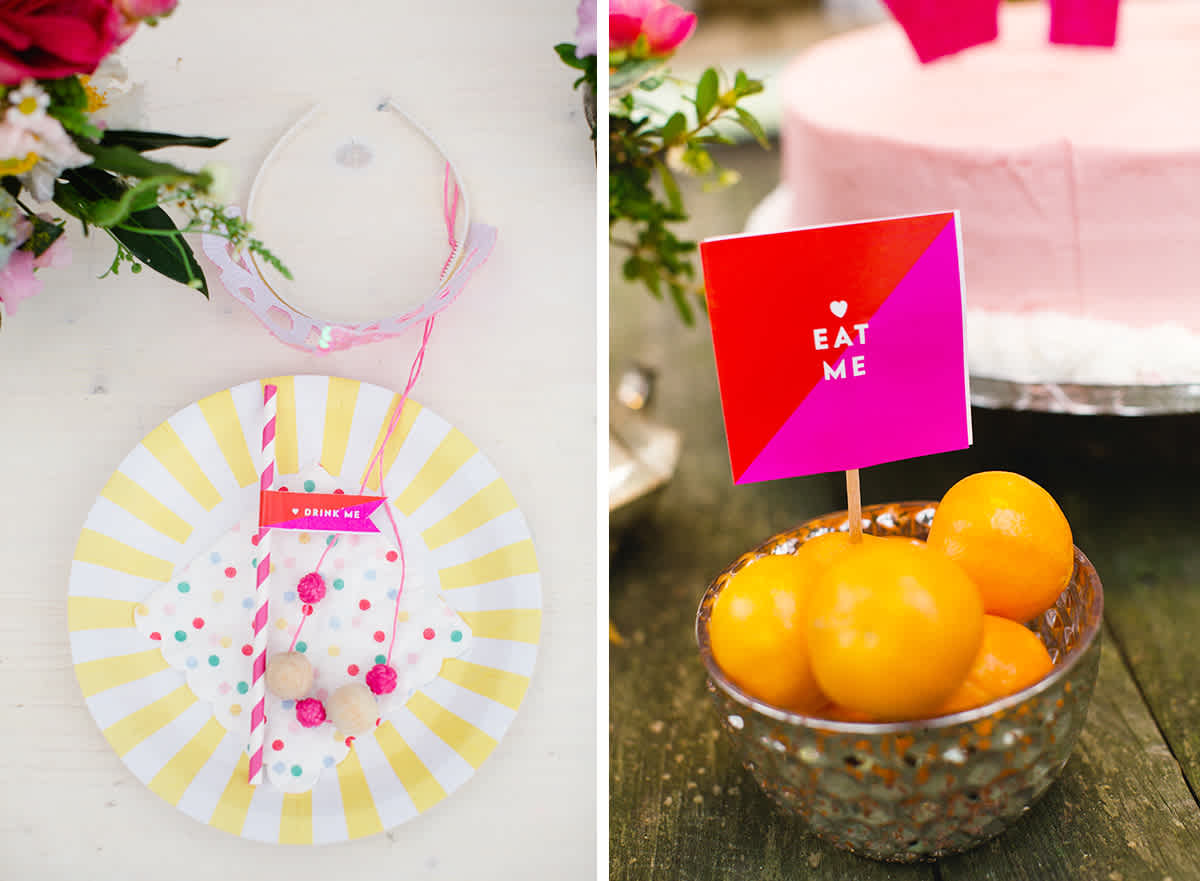 For the food table, we had the cake as the centerpiece, and I hung a vintage macrame pendant and lots of lanterns from a large branch overhead.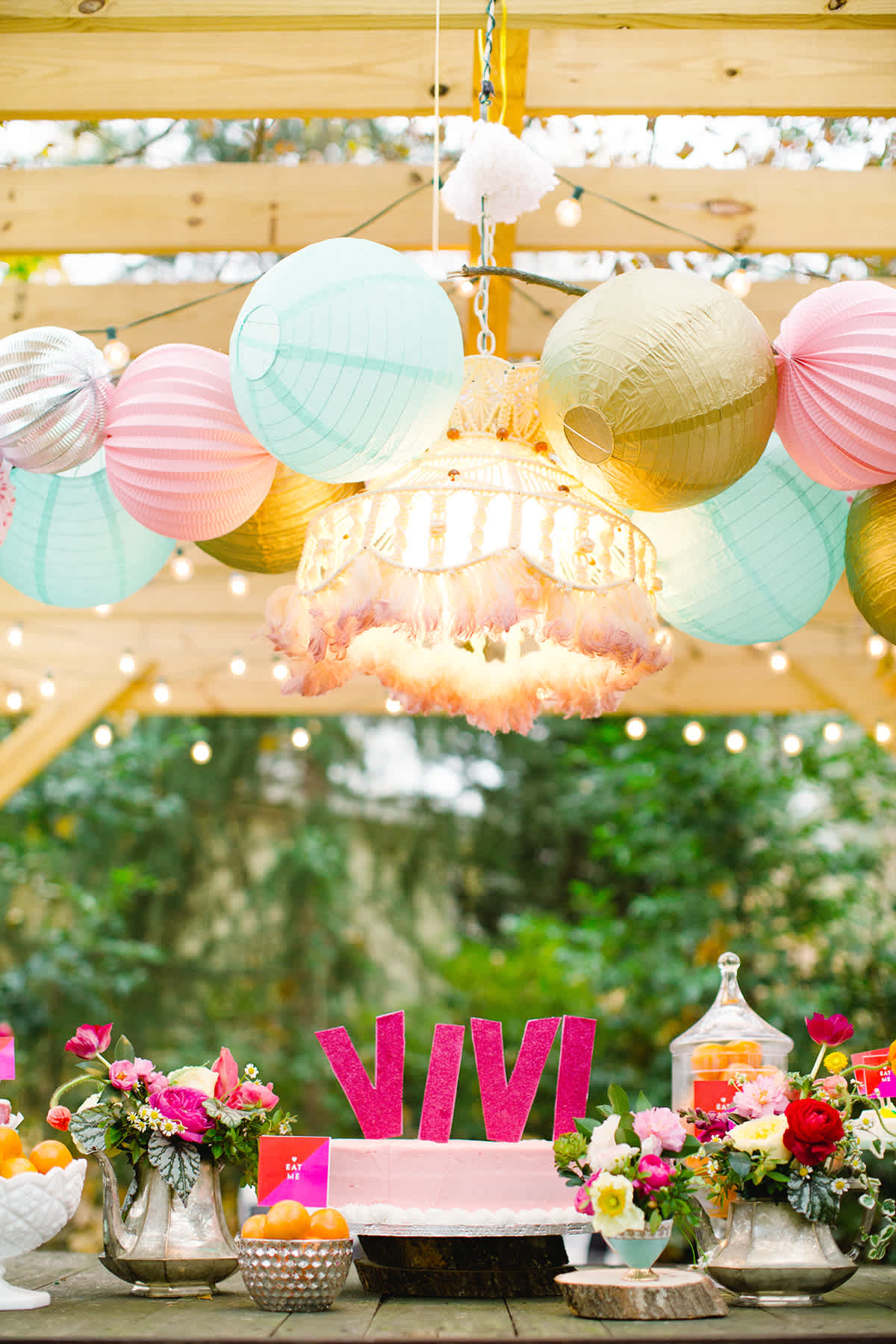 We kept the food simple, with mini slider sandwiches, mac n' cheese cups, clementines, carrot sticks, petit fours and cake.  I had little "Eat Me" stickers in the petit fours and oranges, and "drink me" tags for the straws.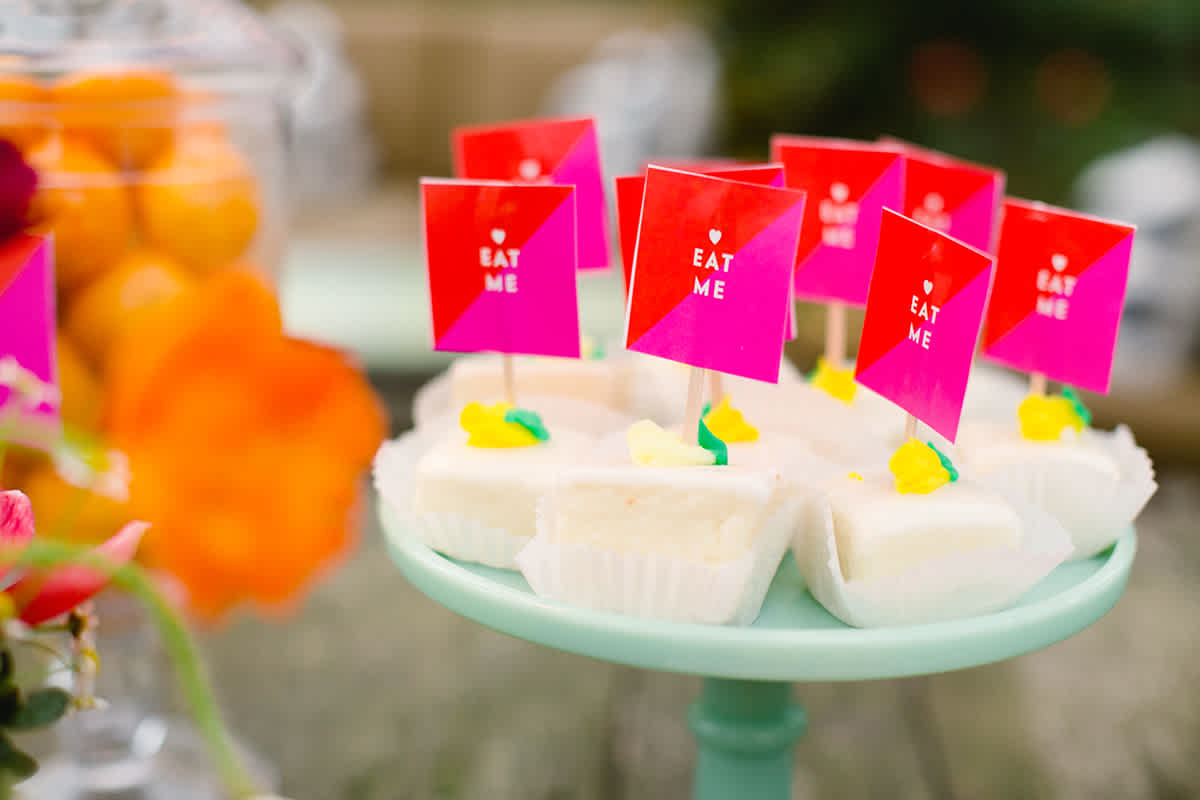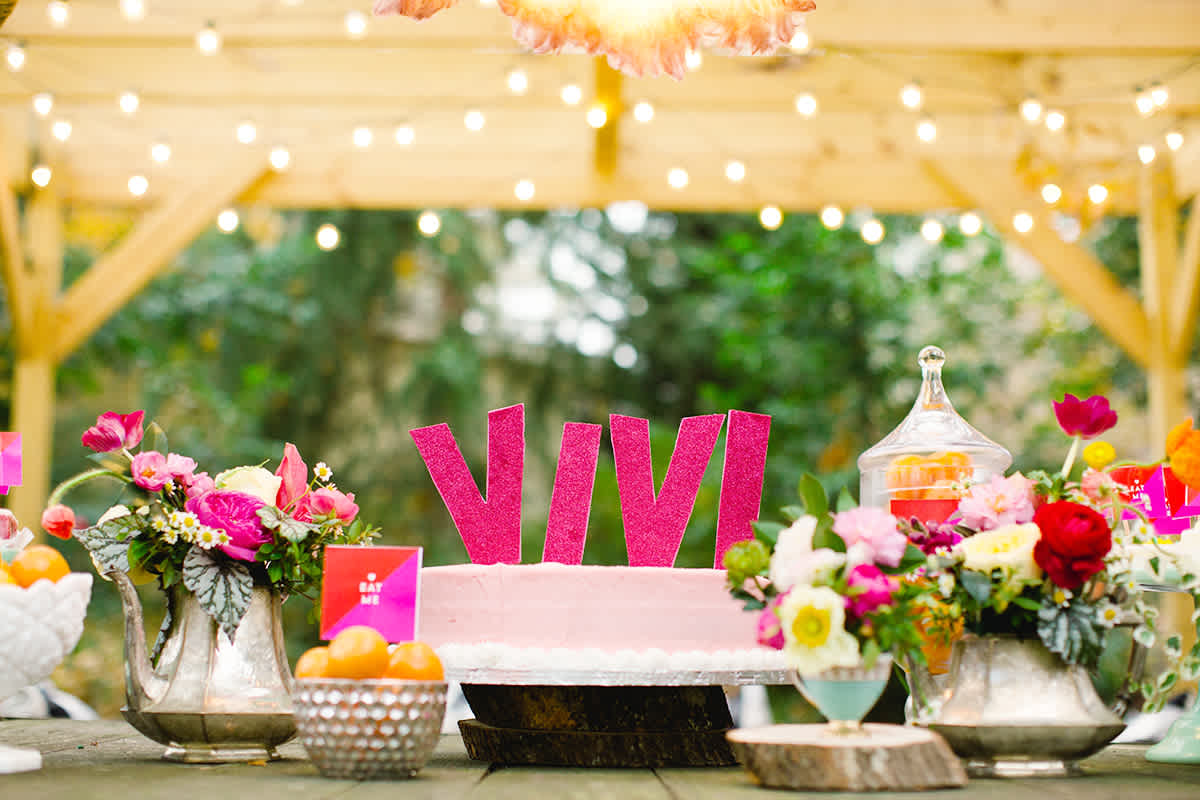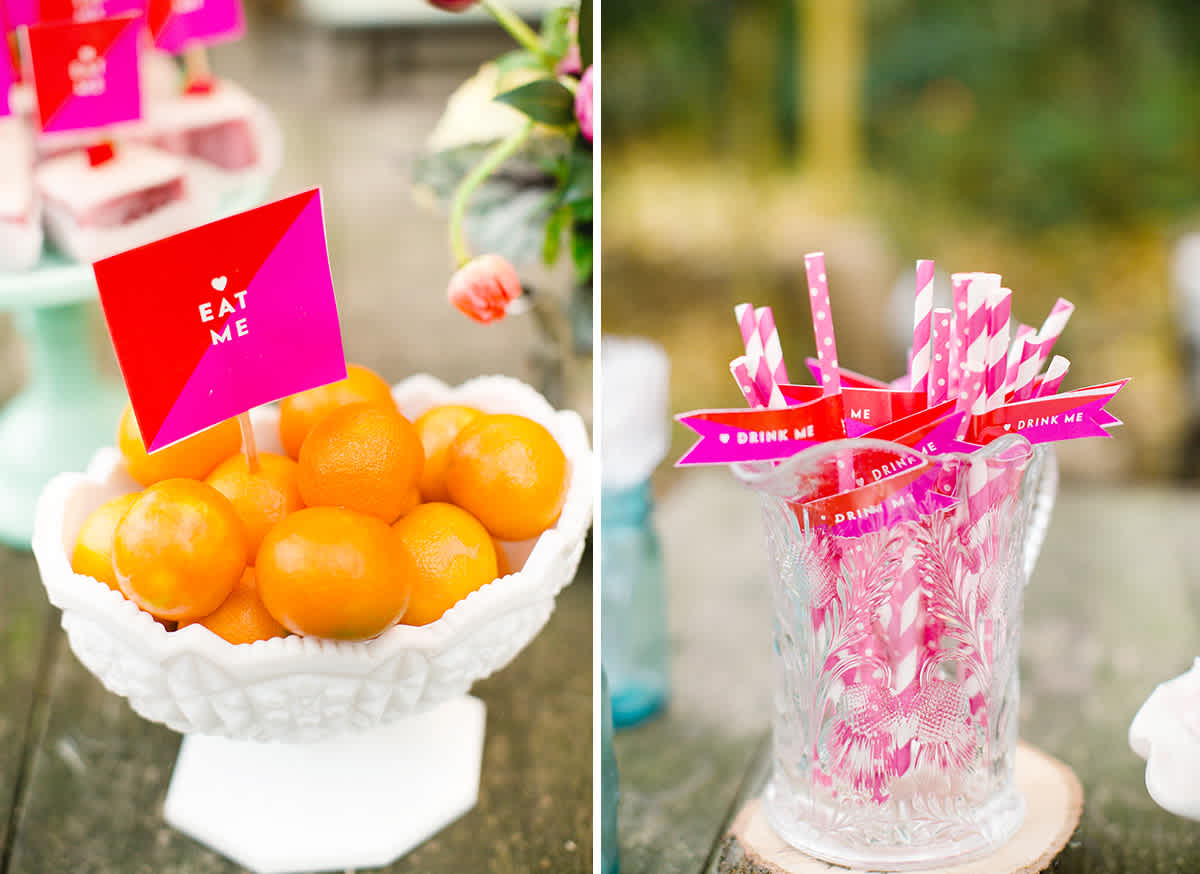 Quite possibly my favorite details was the miniature door.  This was completely Chip's idea, and at first, I thought it would be entirely too much work, but it ended up being such a fun piece.  We bought a 4' x 8' sheet of plywood, cut out the door shape the same size as our gate, added hinges, and then just screwed it onto the wood fence and gate, and it worked perfectly. Vivi thought it was the best idea ever (in fact, we still have it up!).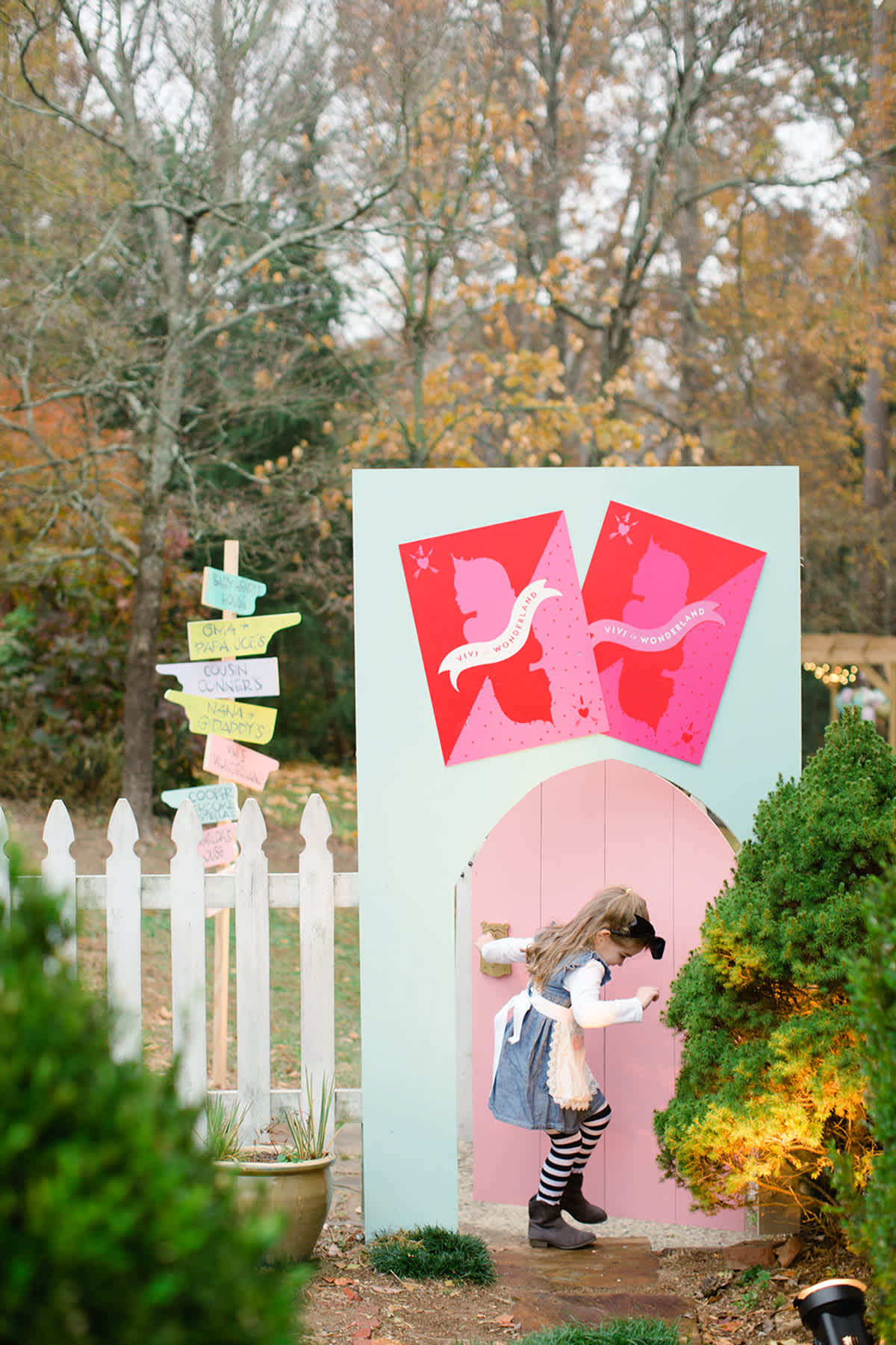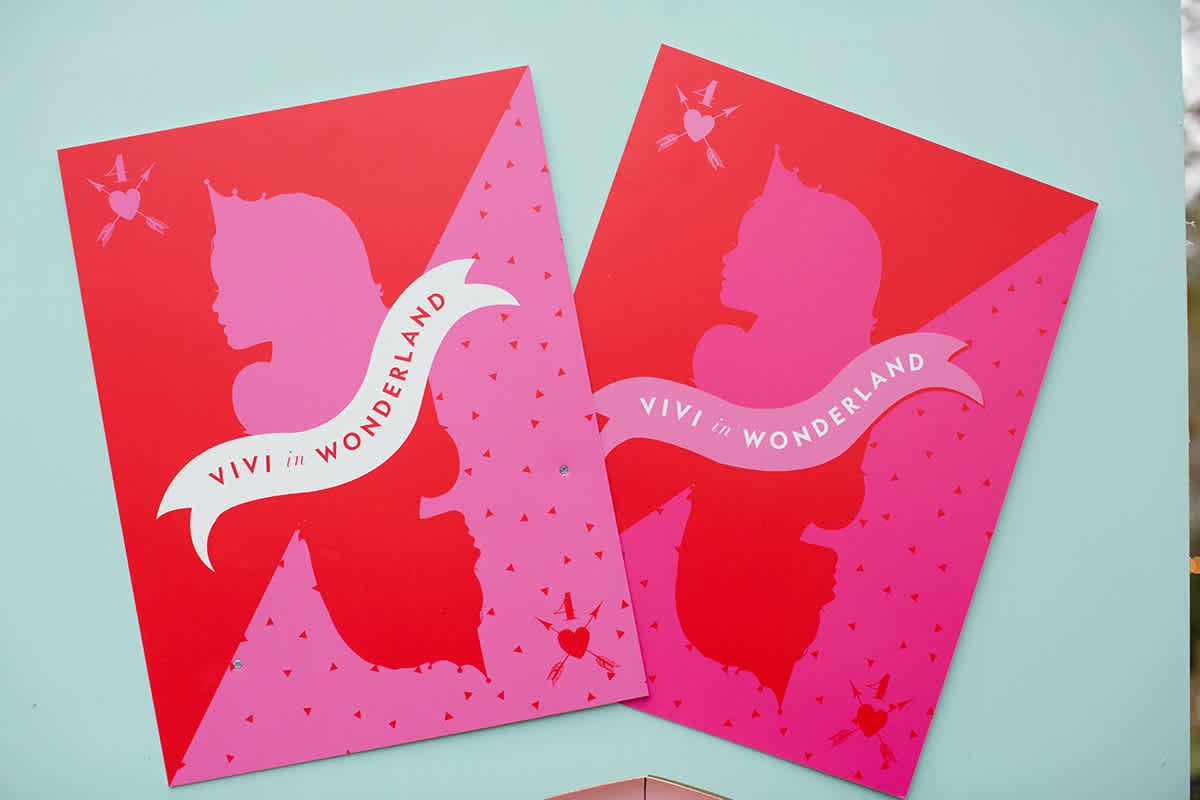 We decided about 30 minutes before the party that we were going to have to move everything inside, but Sara said we should take Vivi out to see her cake, because she hadn't seen it.  We took her out there to enjoy her little wonderland before we moved it all.
We made this little directional sign from some pine board and a jigsaw, and painted on the names of some of the party guests.  It was a special little detail!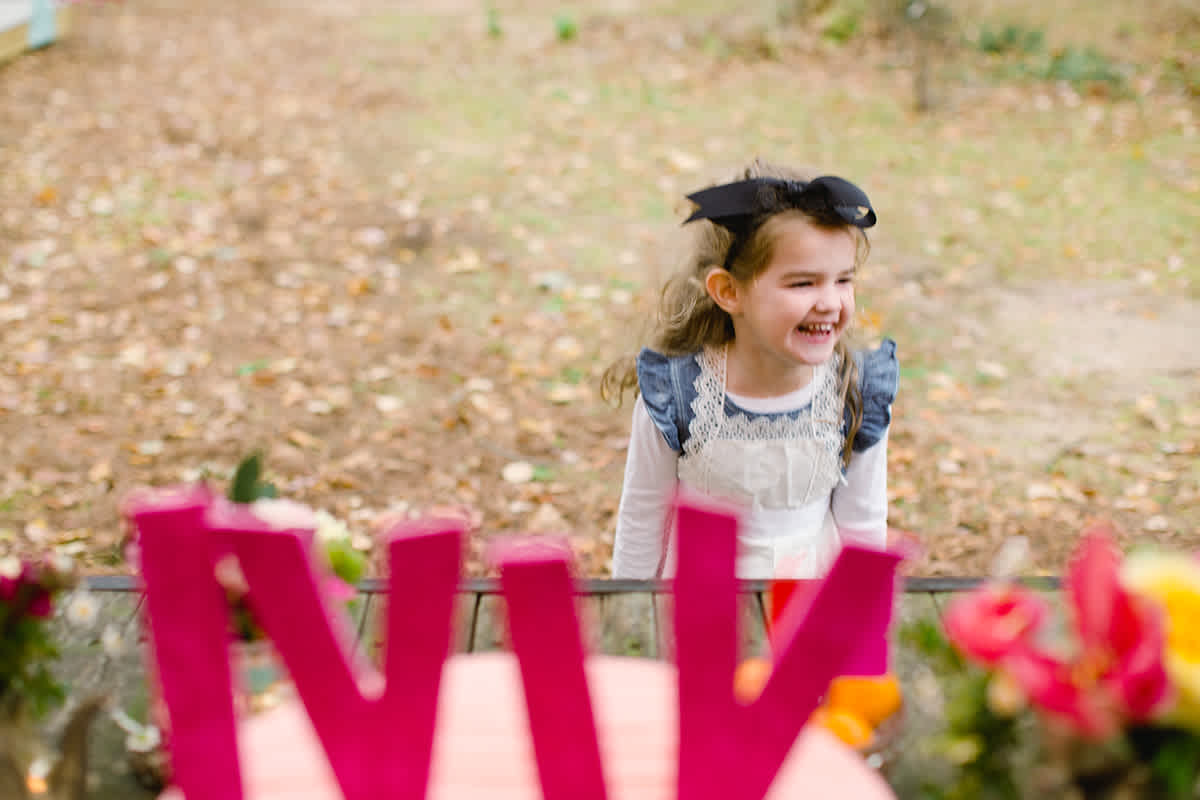 Vivi was ecstatic over her cake!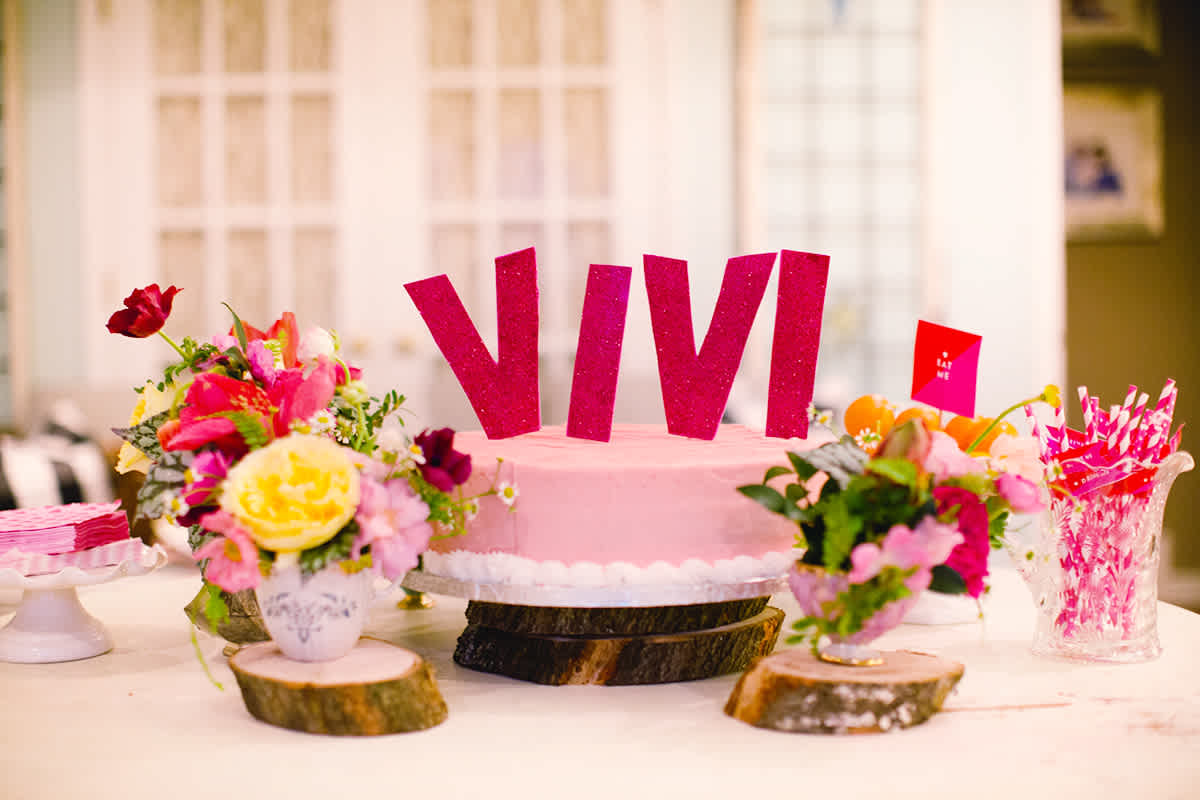 So, we moved everything inside.  We rolled up the rug in the living room and pushed all the furniture to the walls, and put our little dining table in the middle.  It ended up just being wonderful.  Everyone fit, and it was fun to see all of Vivi's friends immediately run to put on dress up clothes.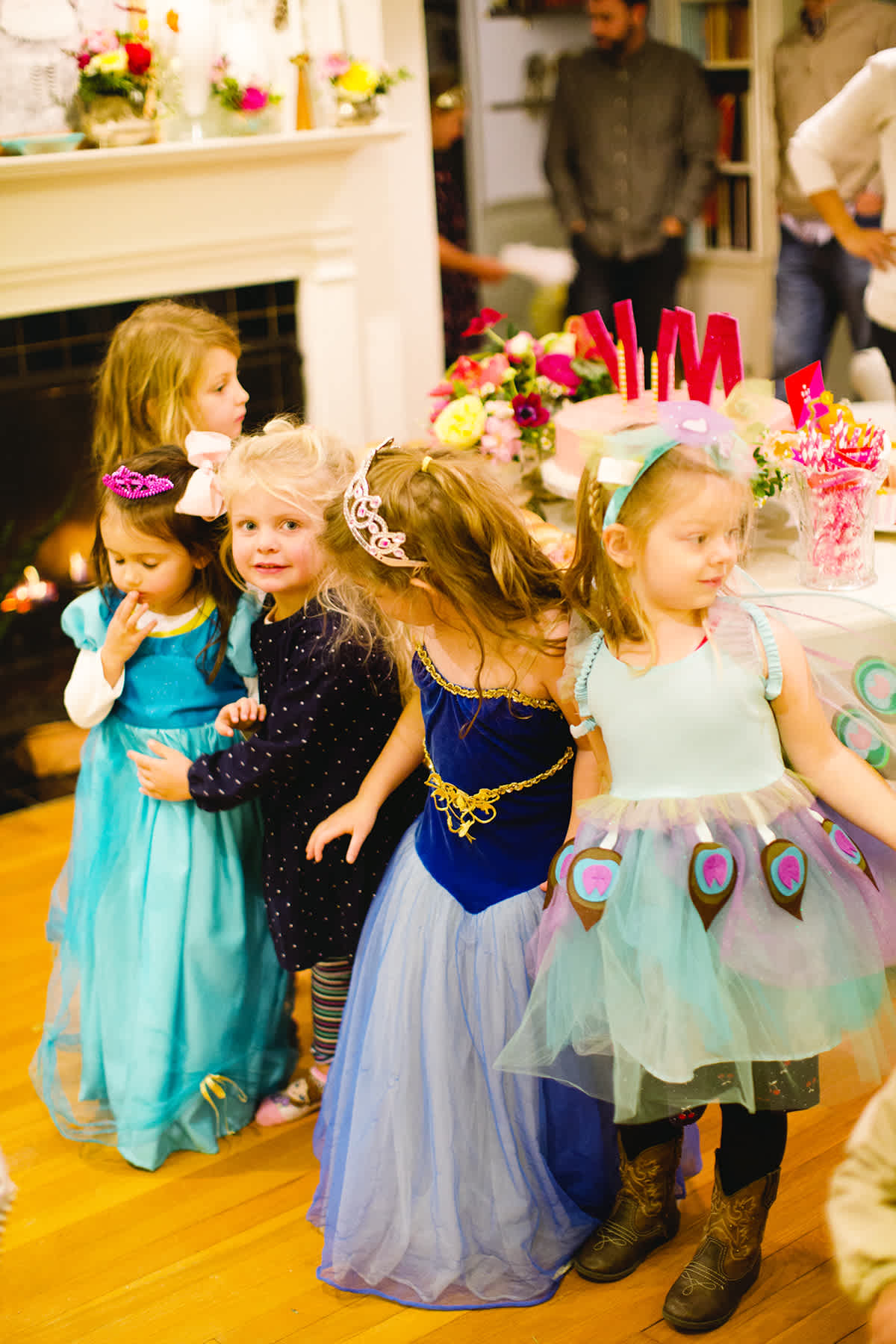 We had princesses and ballerinas running everywhere.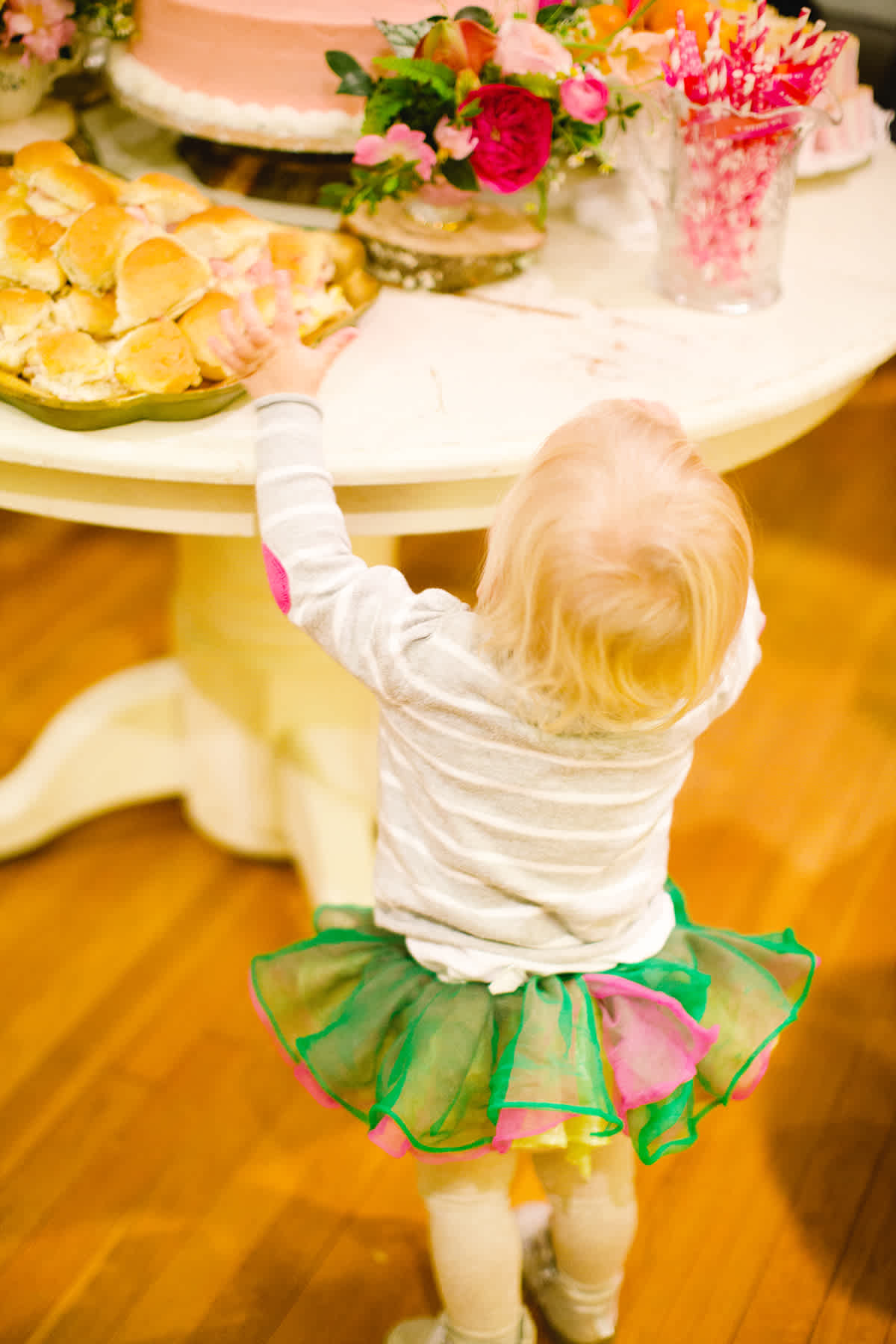 And let me tell you, having 50 people sing happy birthday in a small space is something pretty magical.
Chip and some of his buddies moved the screen into the basement and strung Christmas lights up and we moved the little tables in, and it was just as wonderful to the littles as it would have been outside!  My dad quickly moved the little door and sign to the front door (which fit just as perfectly there!) so everyone had to bend down to come in the house!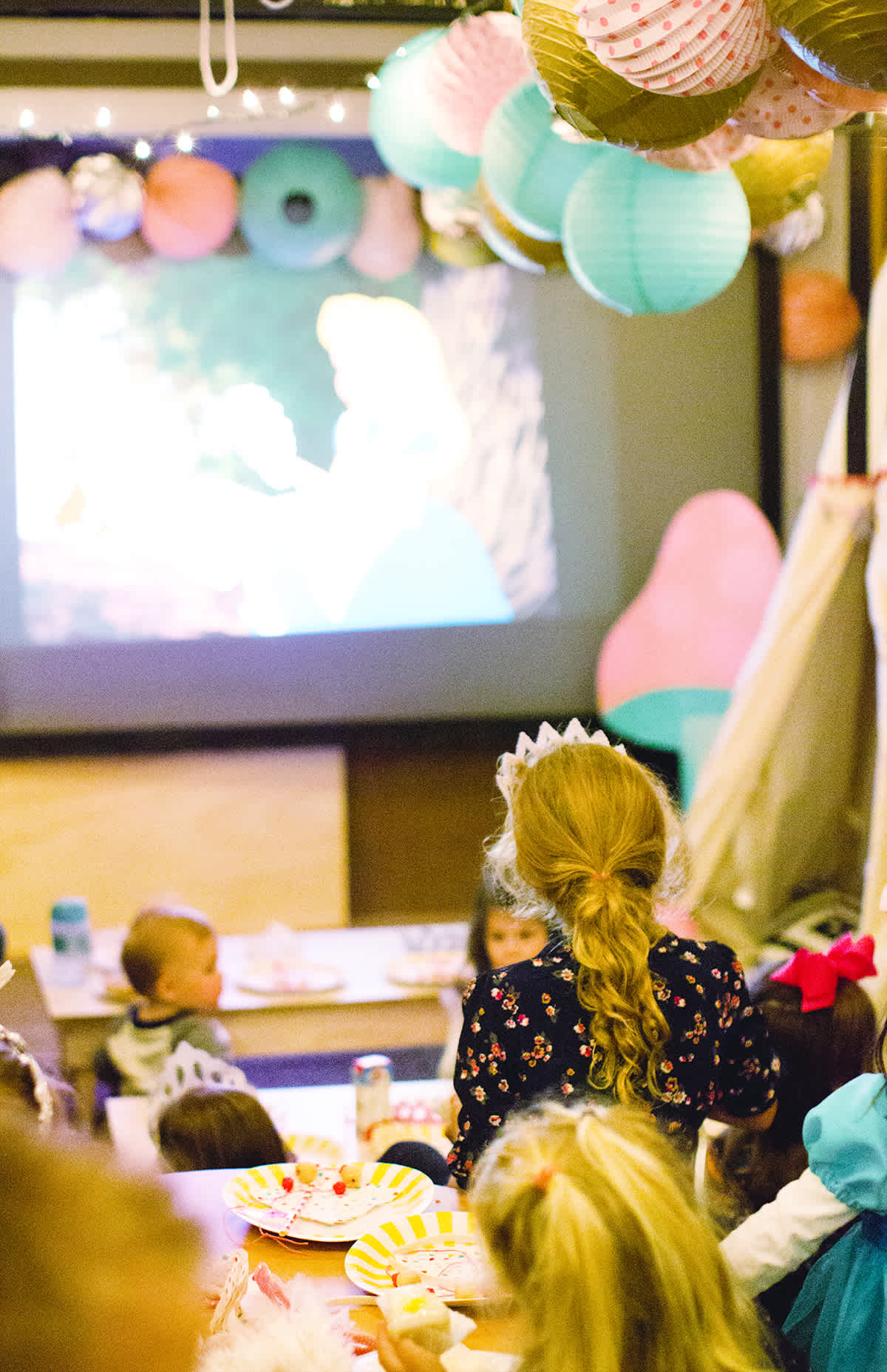 So, it ended up being just a wonderfully fun night.  Vivi couldn't have been happier, and I think it was even better than what I had planned.  I'm so thankful for the unexpected, seemingly small miracles that end up meaning so much.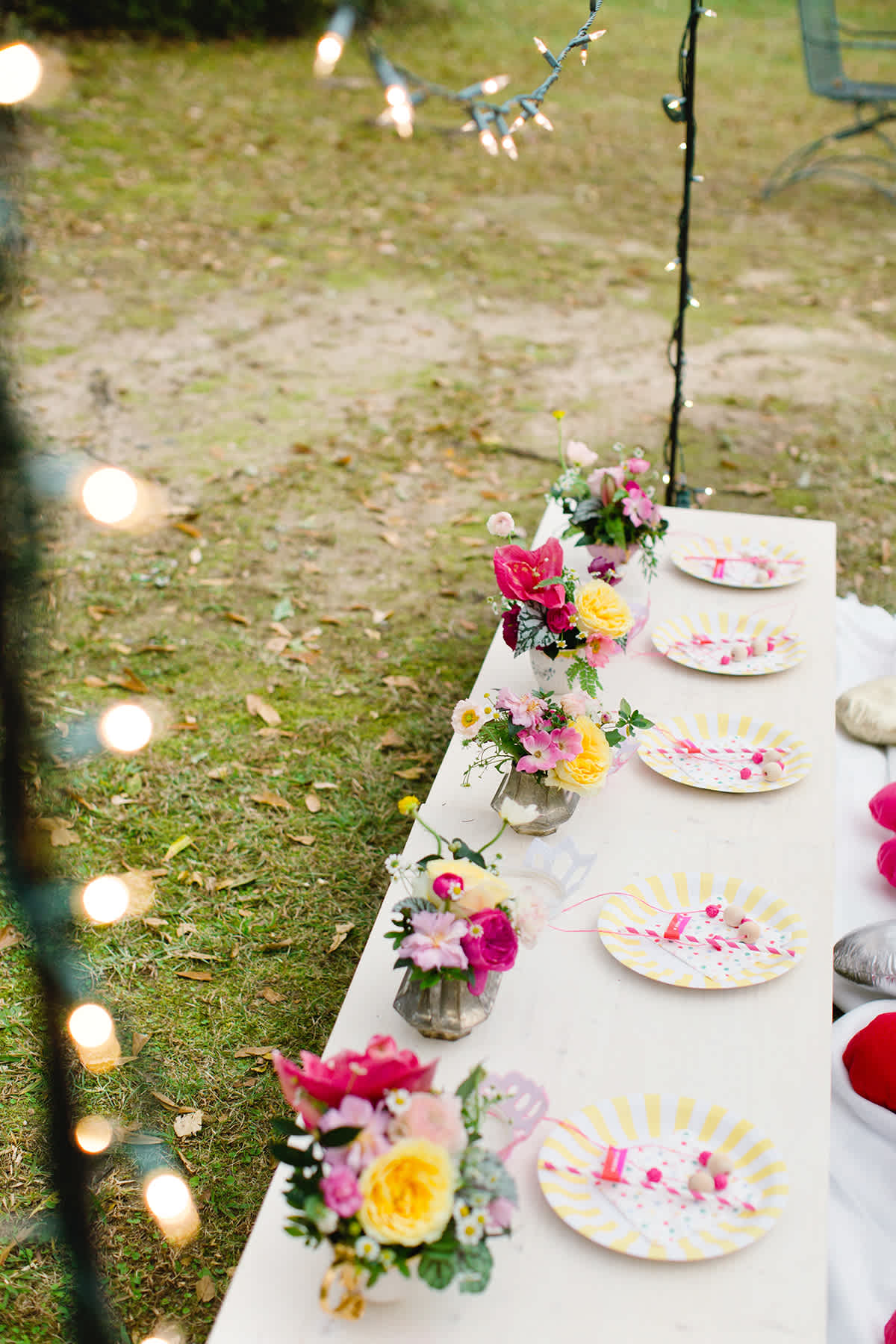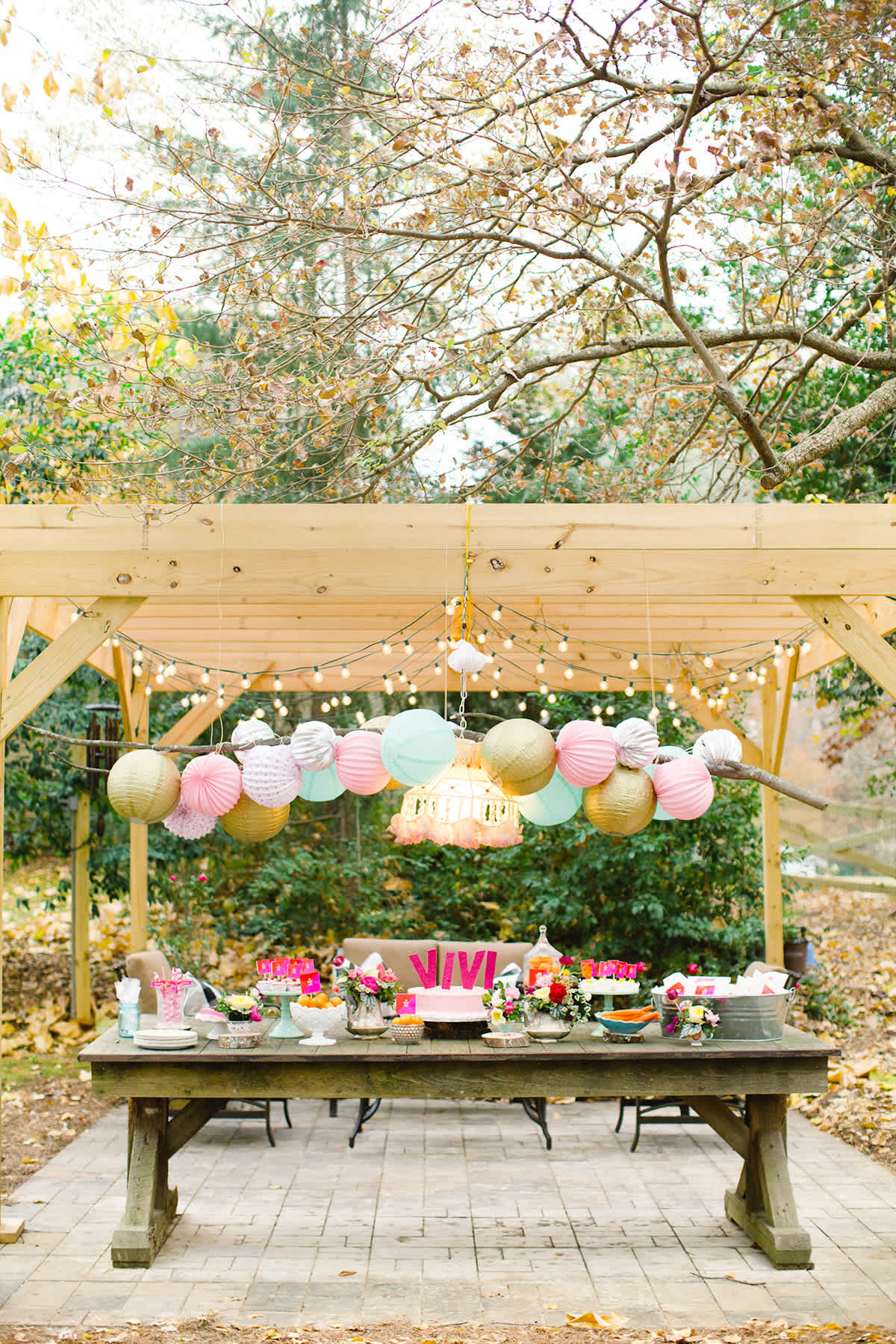 I have to give a special thanks to Sara, who took these beautiful photos, and worked hard right beside us to move everything at the last minute!!  You are the best, Sara!