our 2015 family list
the ultimate holiday with pottery barn kids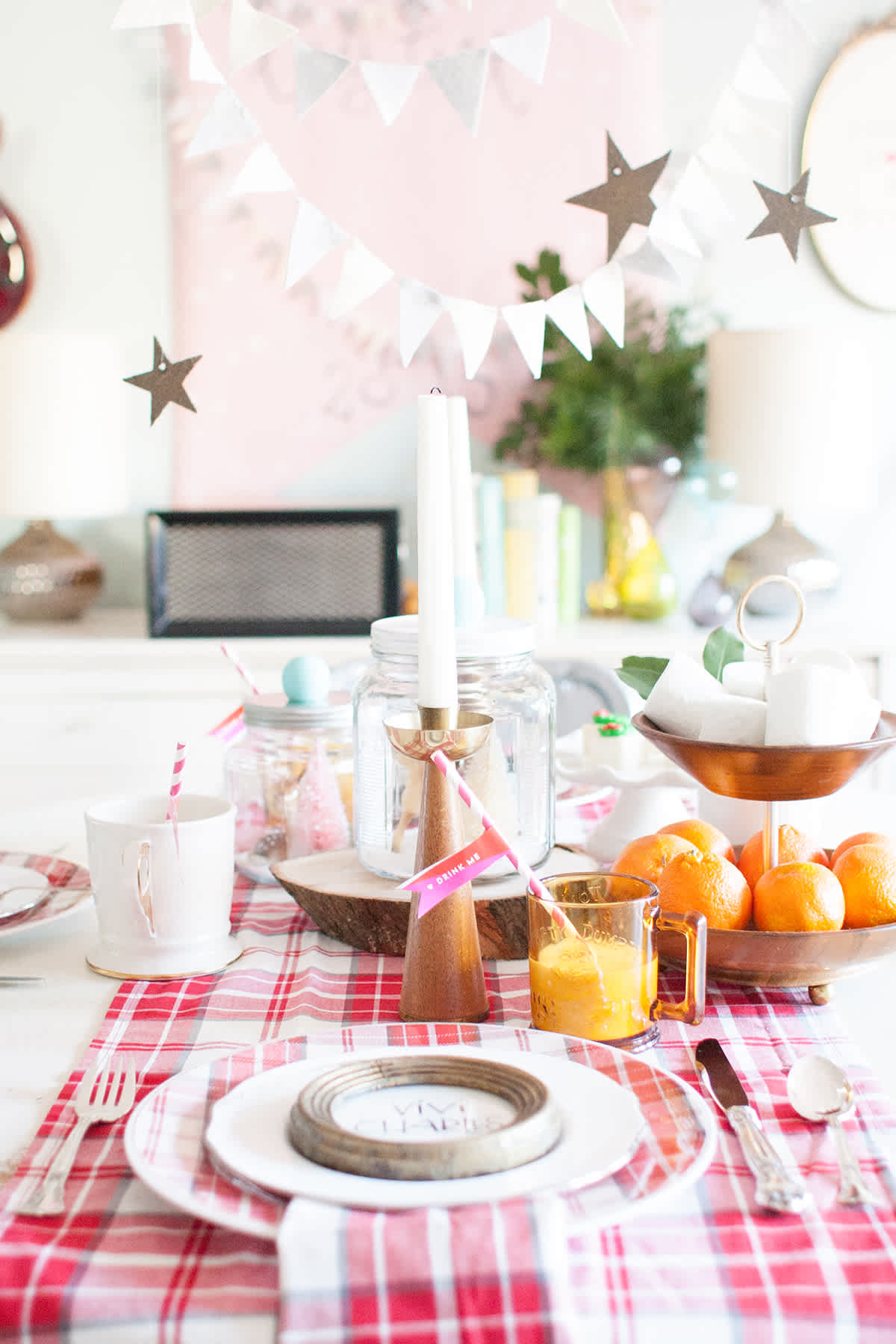 It's so fun to build family traditions as our girls get older.  It's sort of all new territory for us, and so exciting to create new traditions on purpose, and also accidentally stumble upon others that just seem to work and become a part of the fabric of our family over the years.  Last year, we had a little family dinner before Christmas to talk about 2014 and what we hoped it would have in store.
(sources for items pictured: plaid table runner, plaid melamine plates, gold frame ornament)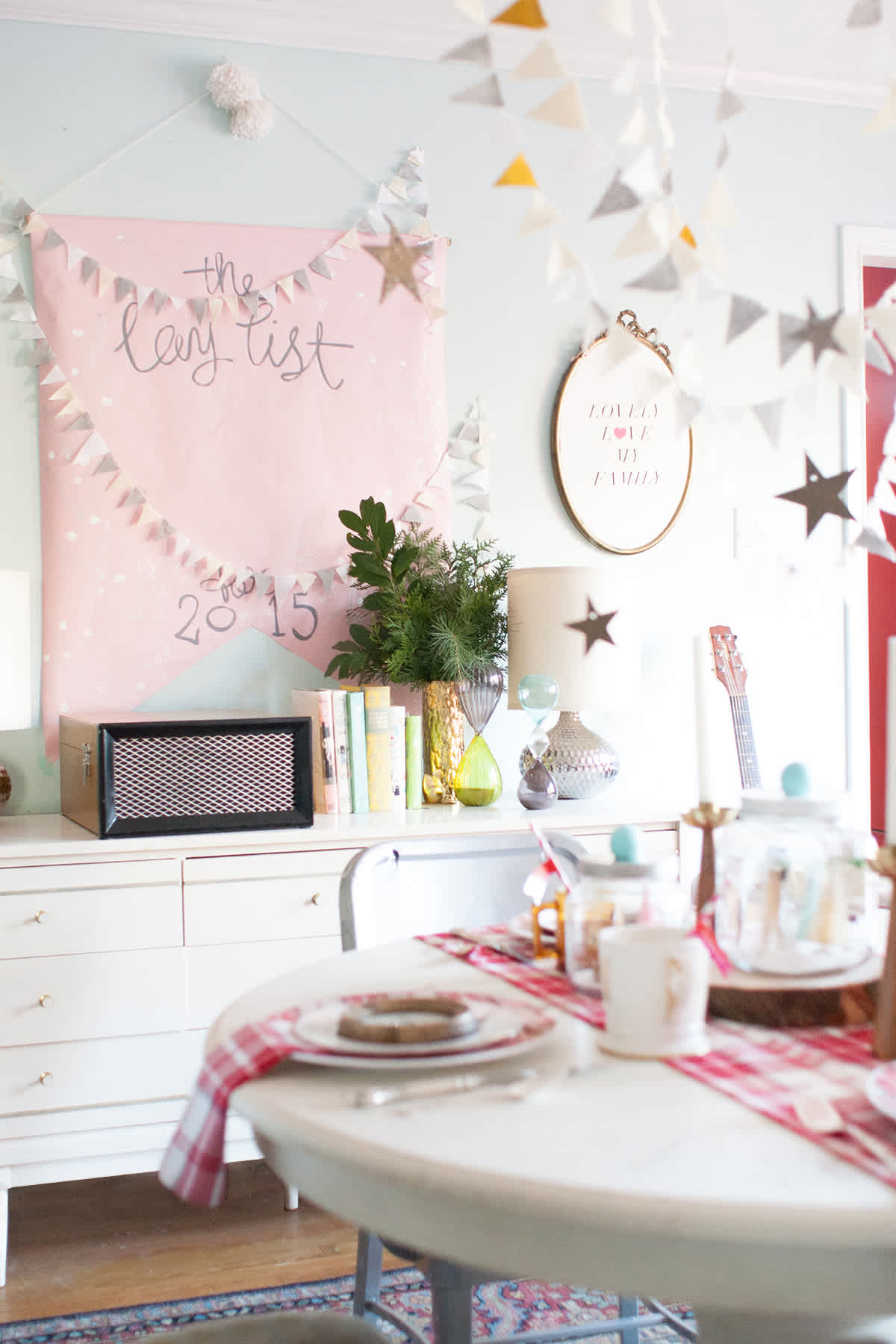 It was such a fun evening, and so wonderful to dream up what we thought the next year might look like.  I'll be honest and say there were a few things on our list last year we didn't accomplish, but I think that's ok.  It was our first time trying it, and we may have been a little over-ambitious.  This year we were a little wiser when making our list, and Vivi is old enough to provide a little more input.
To create our list/banner (which we leave hanging up in our kitchen all year!), I cut a piece of pink butcher paper, painted on the design with silver sharpie and acrylic paint, and then wrote our list with a marker as we discussed it.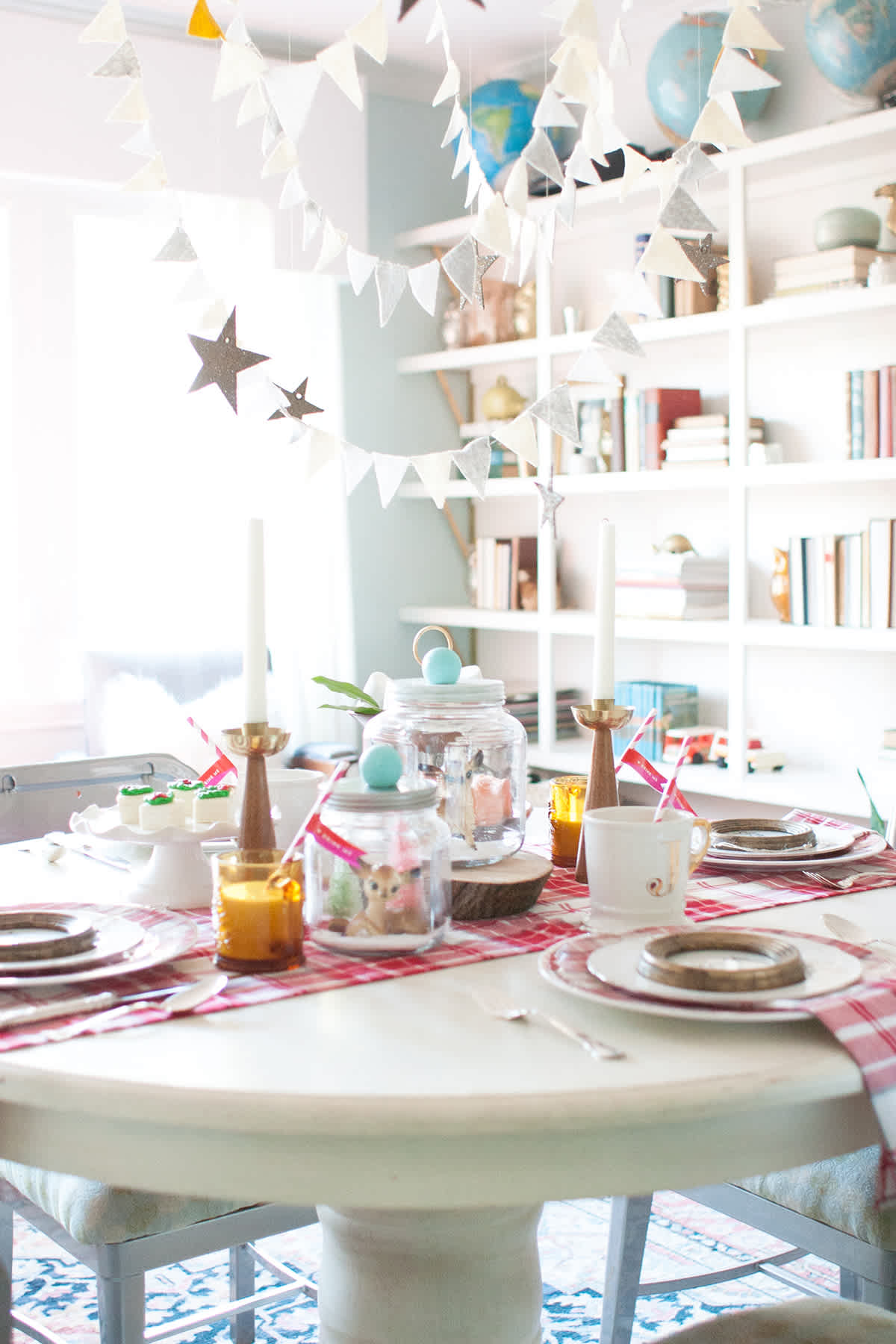 It's also special because we travel to visit family at Christmas, so it's nice to come up with some traditions we can do together before we leave town.
To make the evening feel special, I set a fun Christmas table.  Isn't this red plaid so fun?  It lends a classic feel to my whimsical Christmas decor, and I love the juxtaposition.  Pottery Barn Kids has a really sweet collection of classic Christmas fun that is perfect for family celebrations, especially those that involve the littles.  I used those round gold ornaments for place settings (go snag some! they are on sale, and also are super cute hung on the wall with small pieces of art or handwritten sayings!), and paired our wedding china with the plaid melamine plates.  I also love how the red plaid goes so perfectly with the vintage wood candlesticks, and the table runner dresses up our hand me down table and makes it much more festive.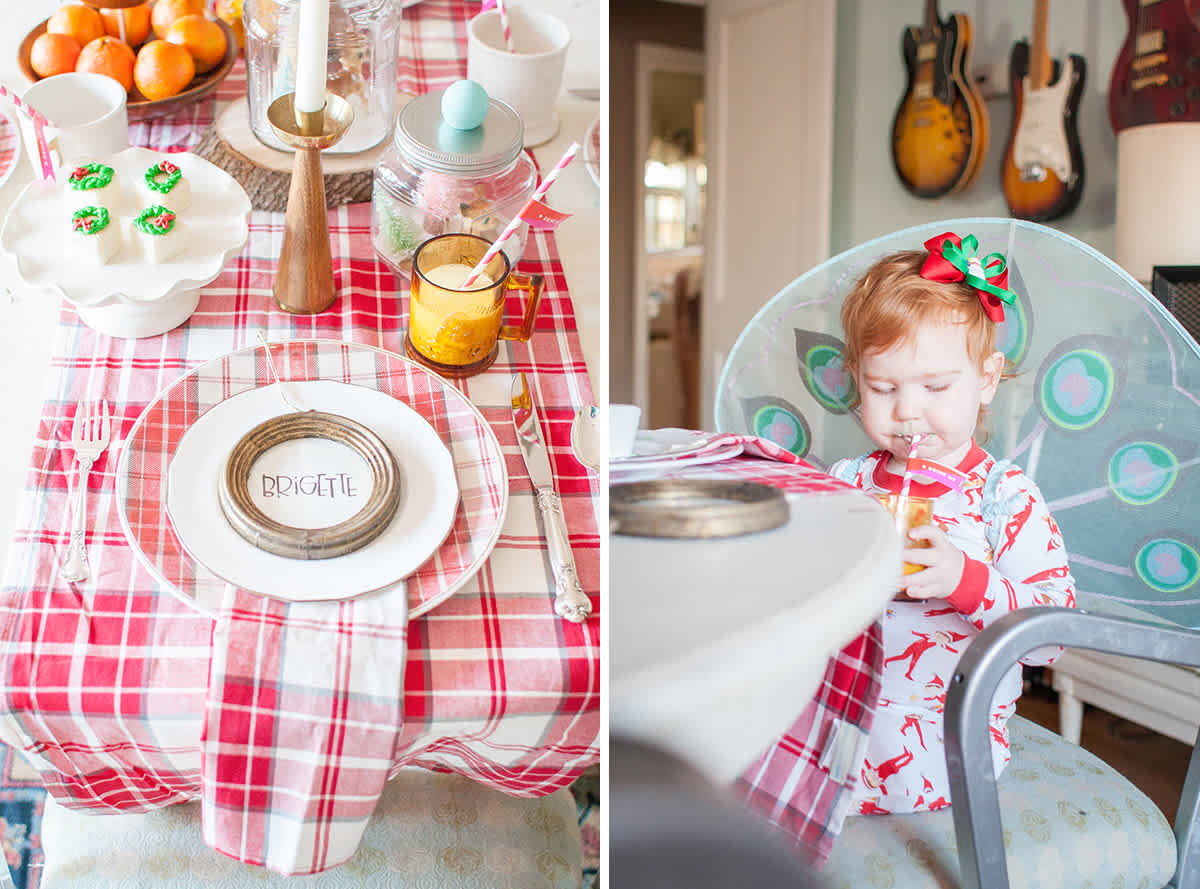 The girls wore their super sweet elf pj's (similar here) and I let them wear these wings and this little peacock tail from some of their dress up clothes (I love Pottery Barn Kids' dress up collection - it's so beautiful, and the girls love theirs!), which always makes things more magical.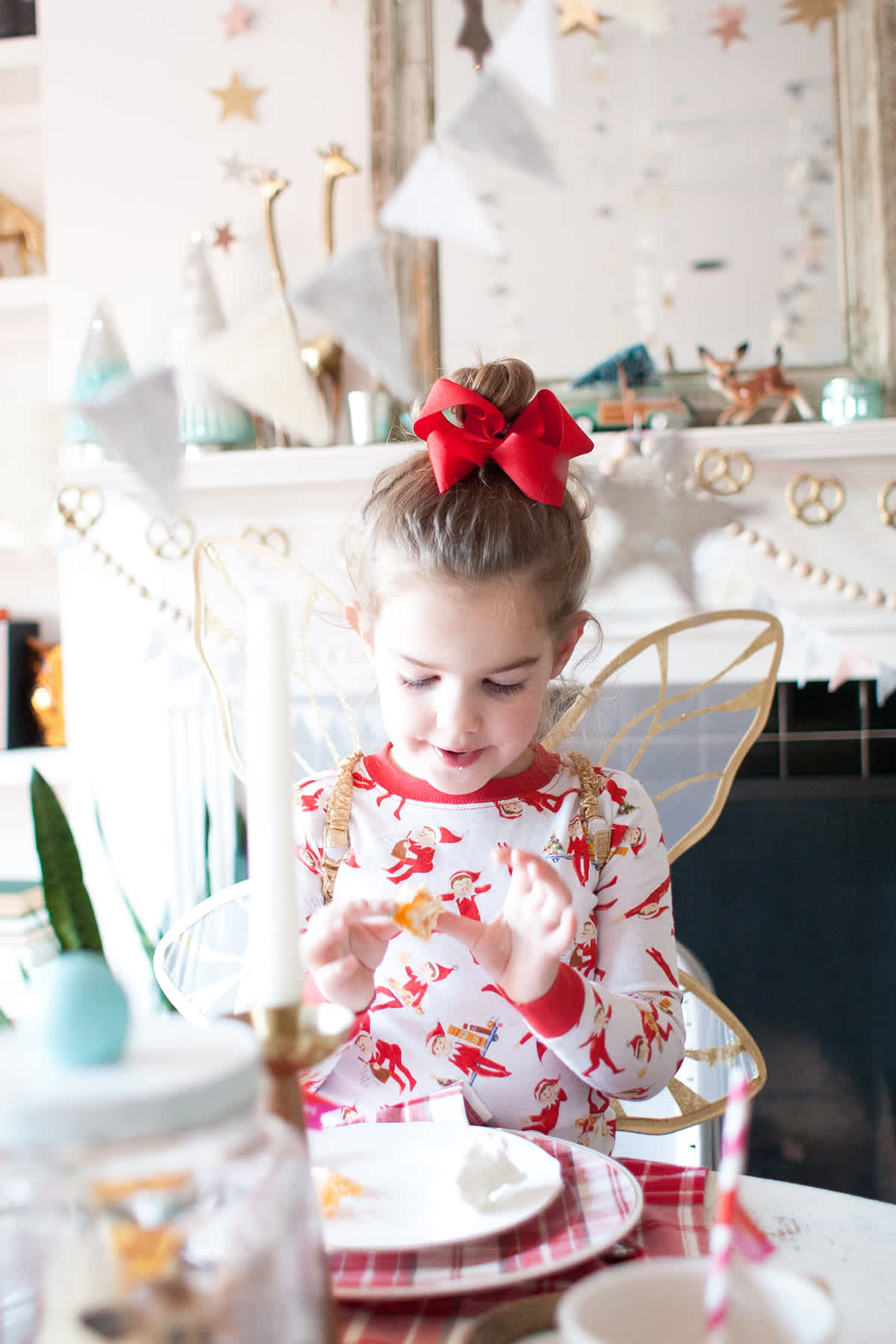 I told Chip that Vivi is pulling a Brad-Pitt-from-Meet-Joe-Black lately, as she has been eating in most of her photo cameos.  But honestly, when you look so adorable doing it, why not just make it a thing?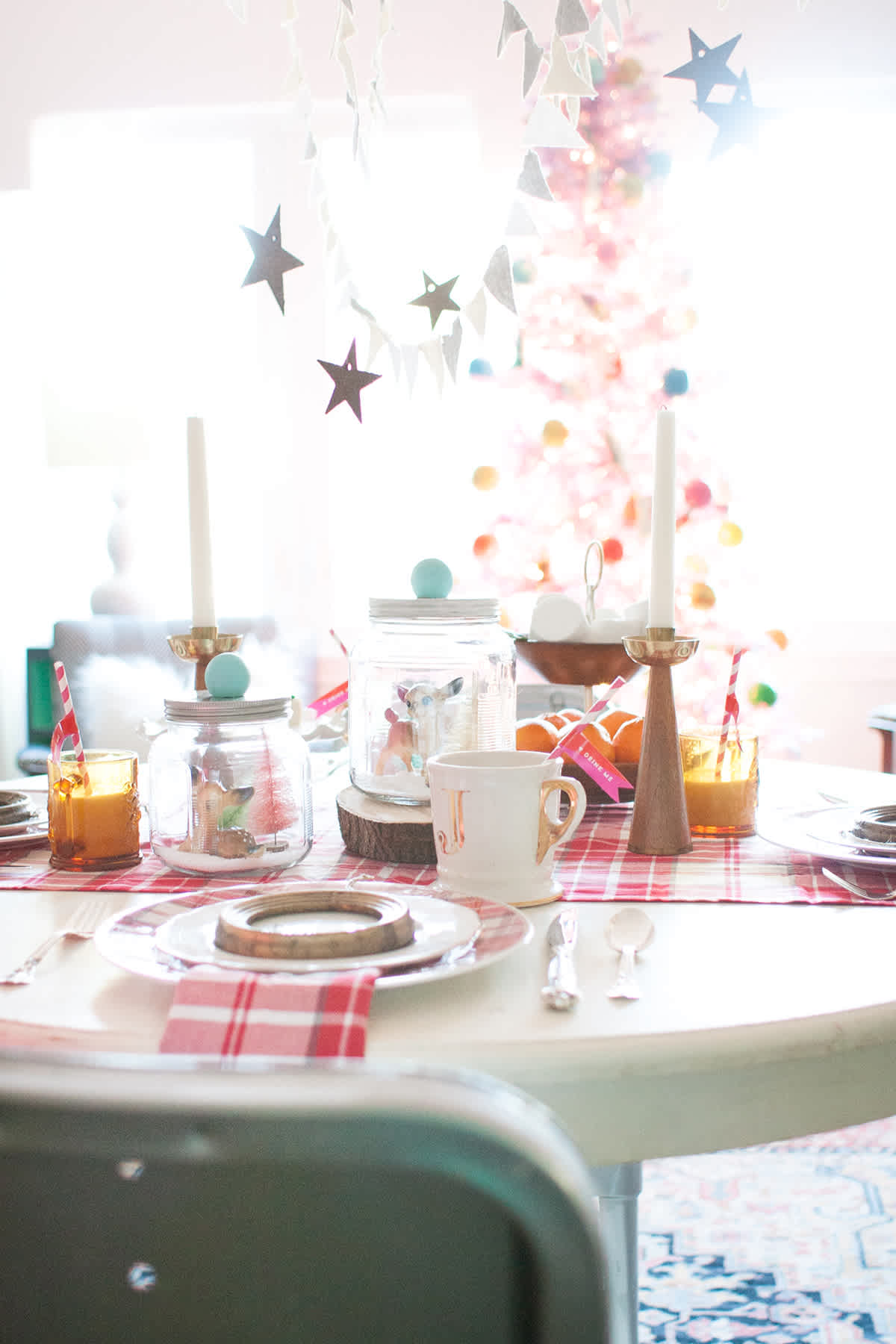 For the table centerpiece, I used some vintage glass jars with little vintage deer I bought from Etsy, some bottlebrush trees, and some salt sprinkled in for "snow."  The girls love these little displays.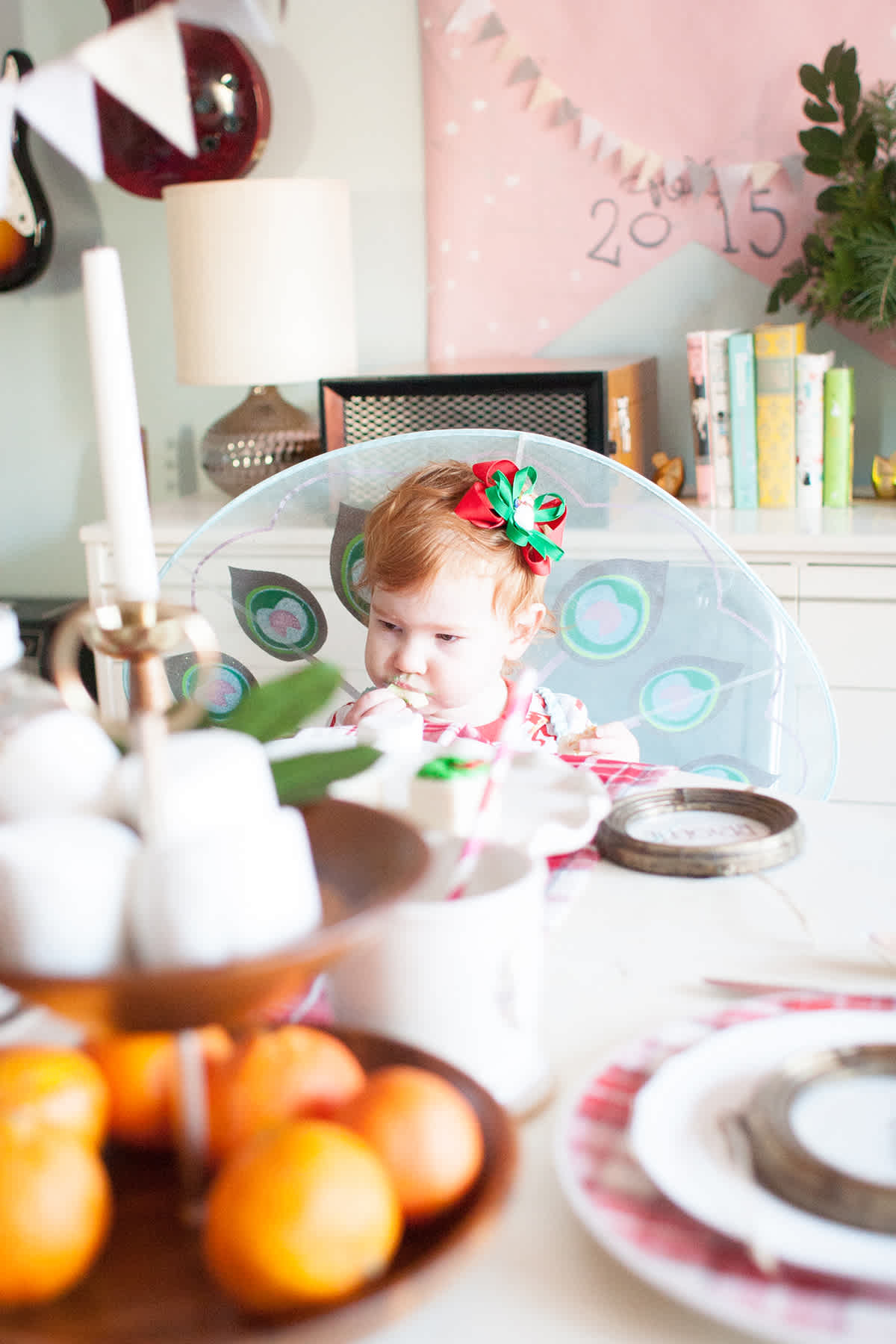 This whole event was also really special because our table is normally in the kitchen.  We converted the dining room into Brigette's nursery, so we don't really have a dedicated dining room anymore.  Having dinner in front of the Christmas tree with the music playing on the record player was such a treat.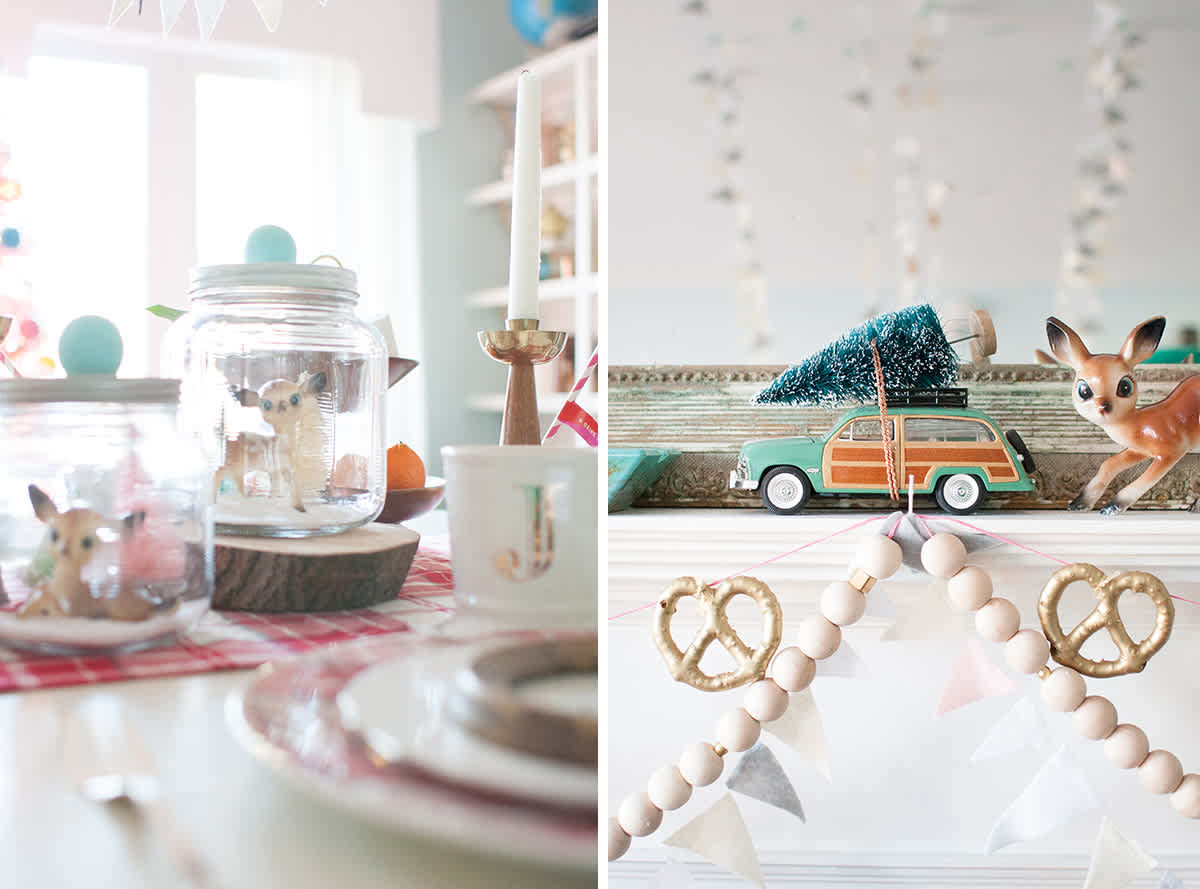 For the mantel, I made some garlands from scrap felt triangles, wood beads, and pretzels spray painted gold, and also hung more garland and glittery stars from the ceiling with wash tape.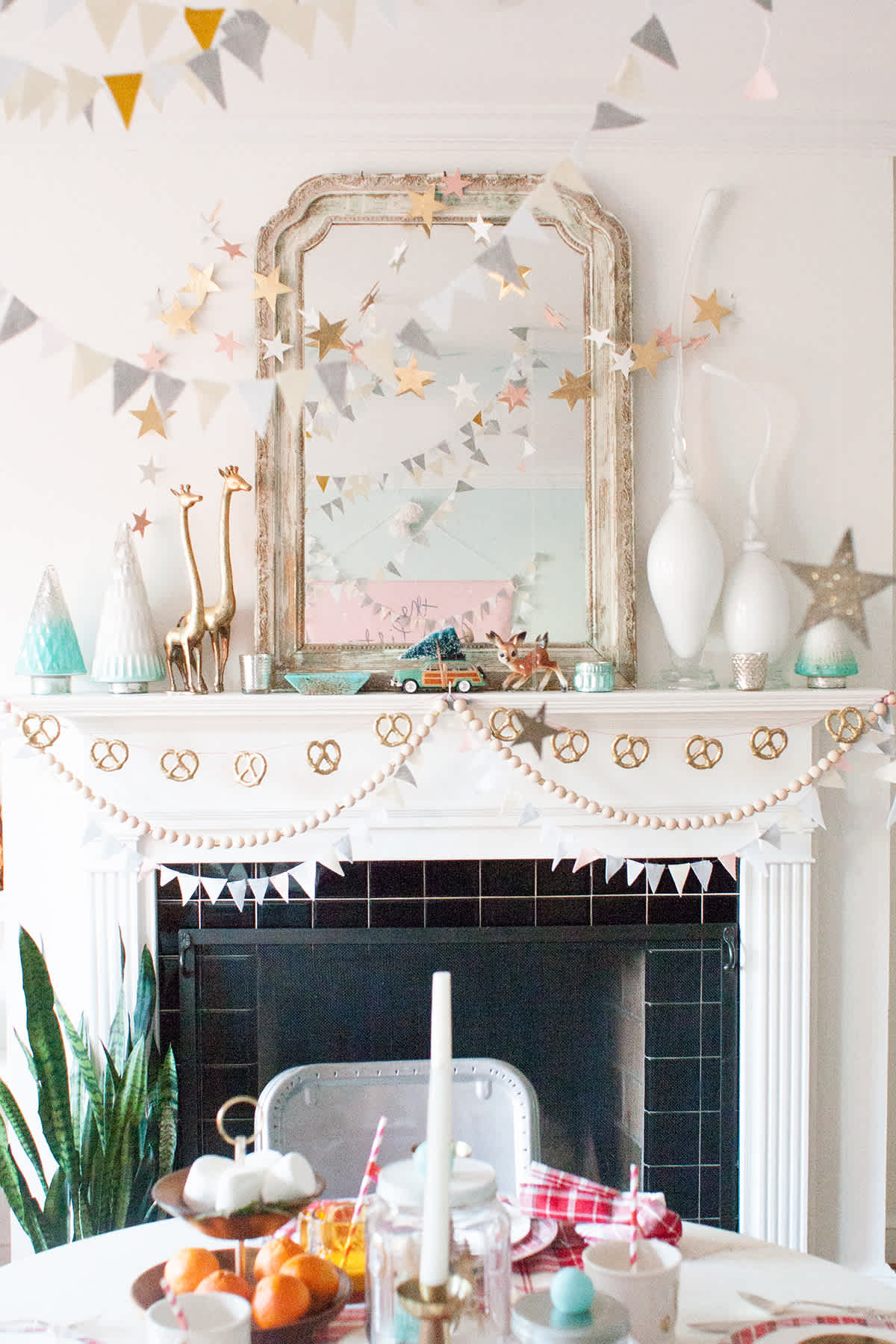 I love how the pretzels look, and the neutral shades of the garlands really make the red plaid pop.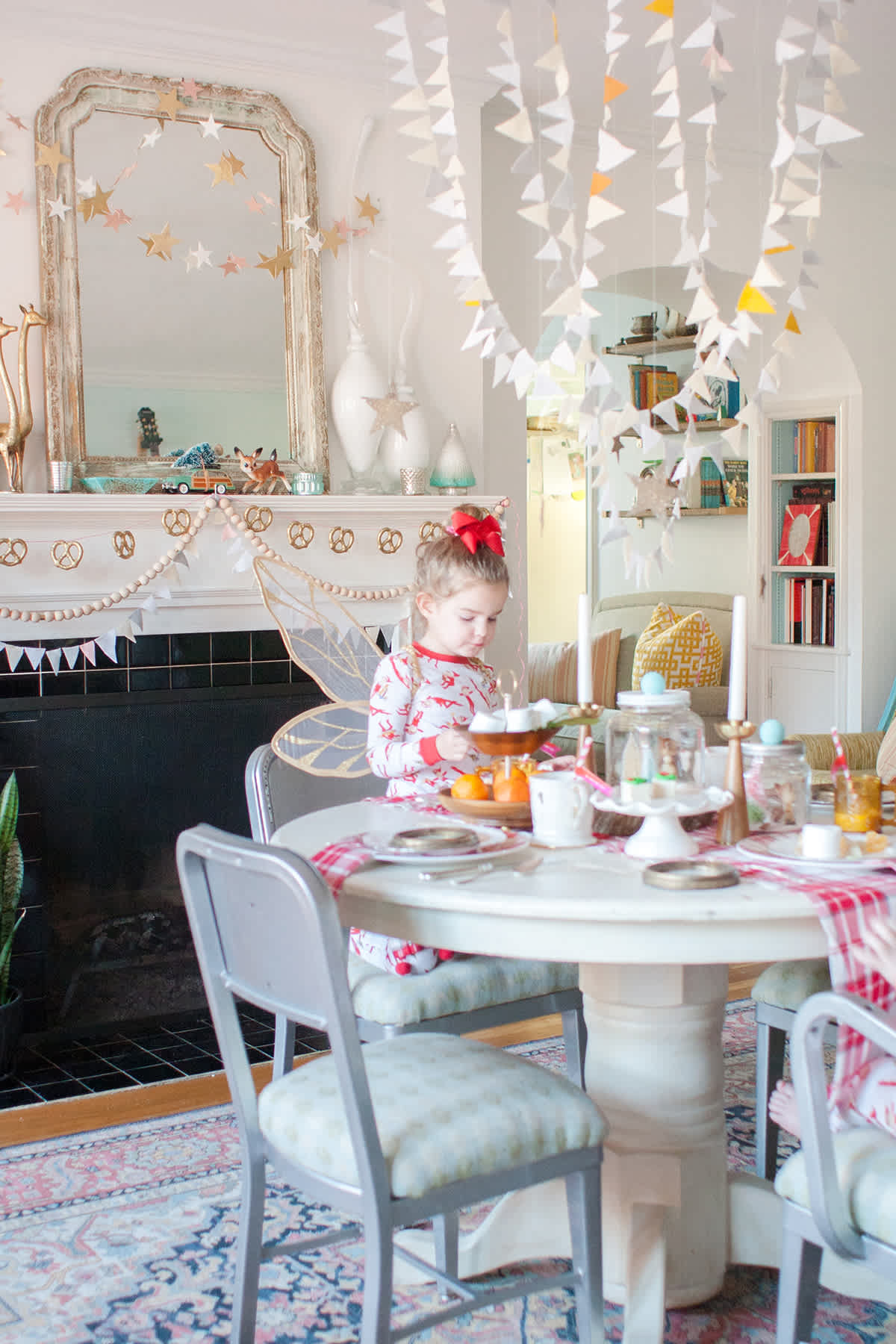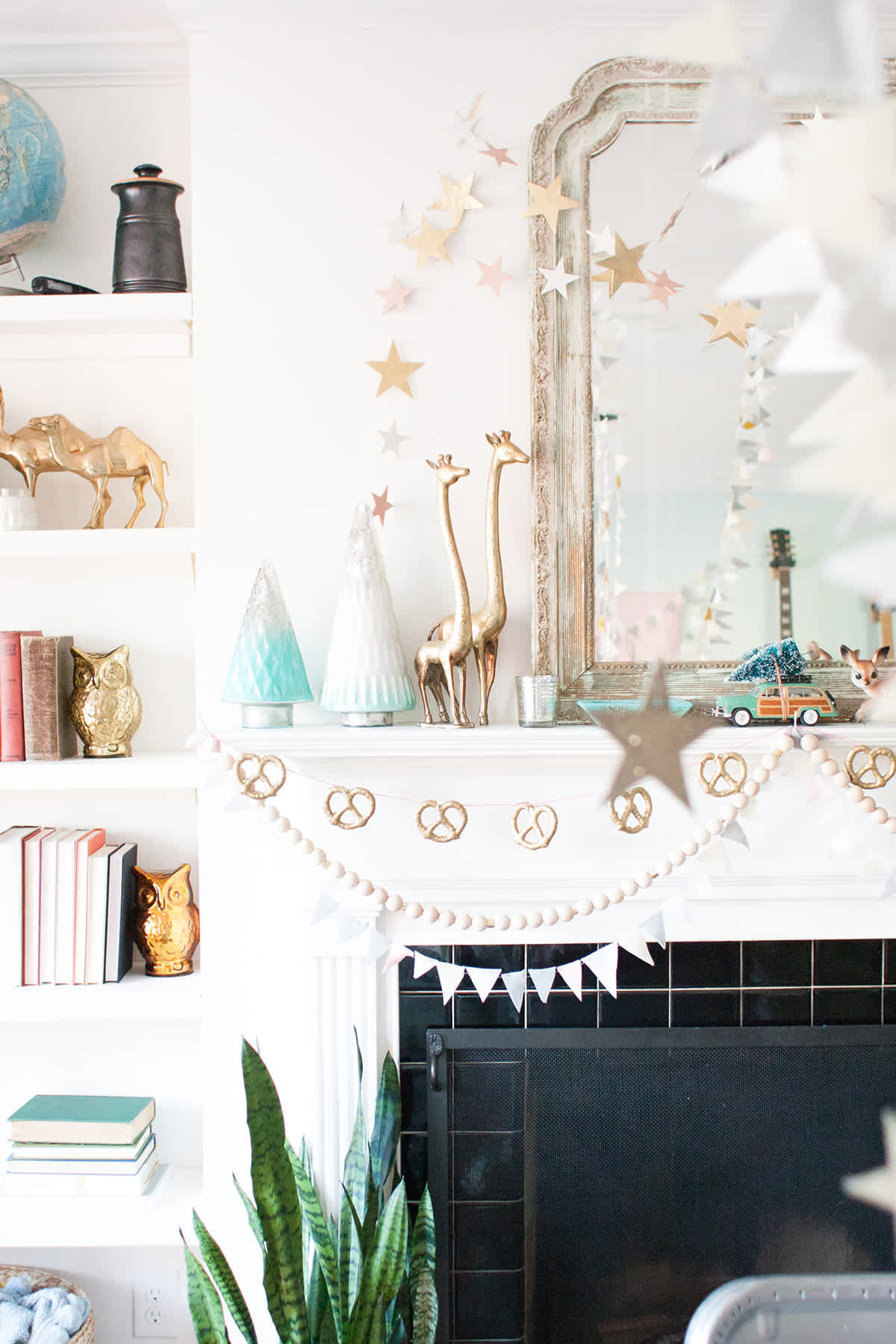 So, we have our list done, and I'm looking forward to all that 2015 has in store for our family.  It's going to be a good year, I think.  What are some Christmas traditions that you love?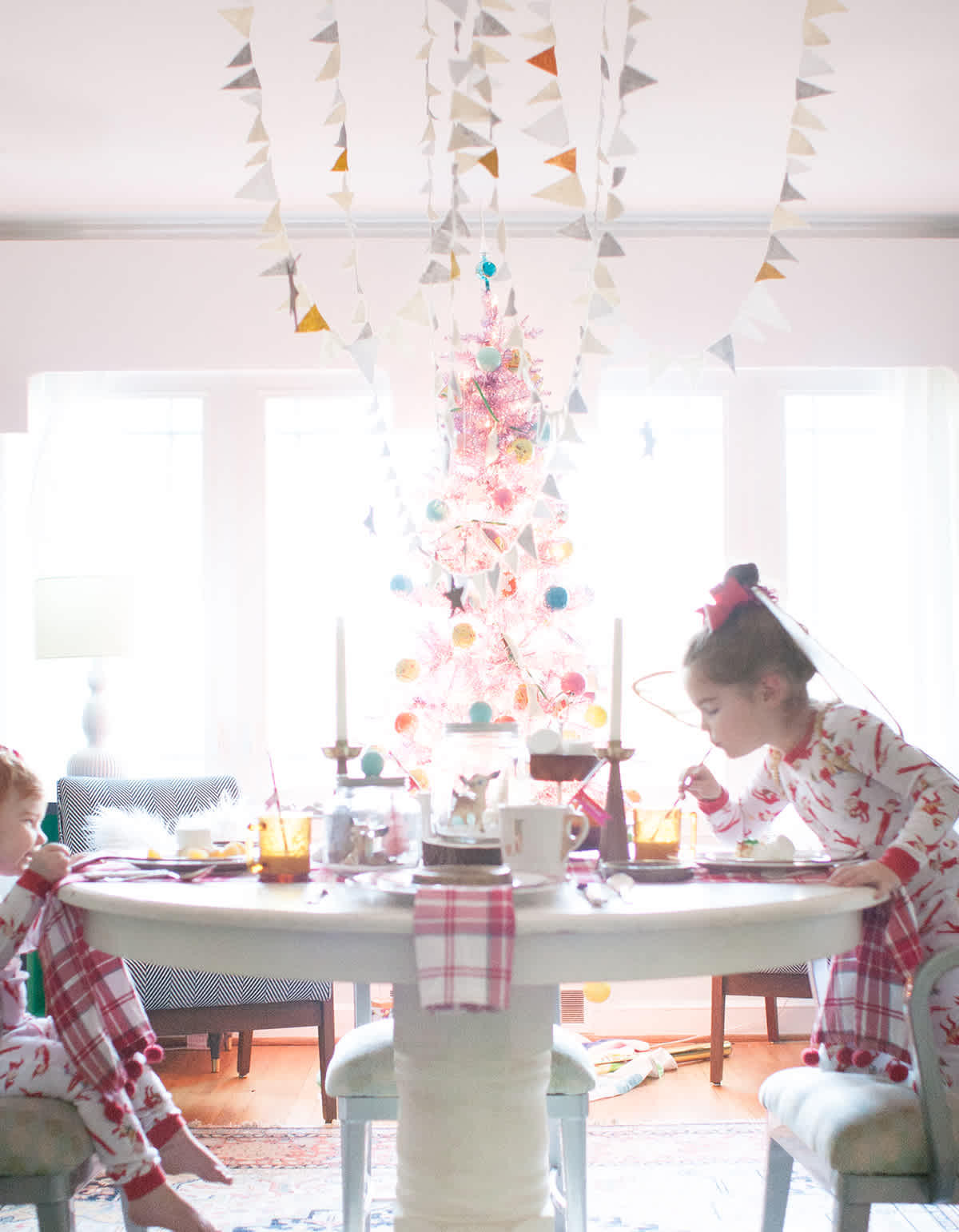 Find links to all some of the items featured above (plus a few favorites) here:

Thank you so much to Pottery Barn Kids, who sponsored this post, and provided most of the Pottery Barn Kids items in the photos.  I love working with sponsors who provide the opportunity to create memories and inspired content, and appreciate so much your support of this blog and the sponsors who allow me to keep creating in this space.