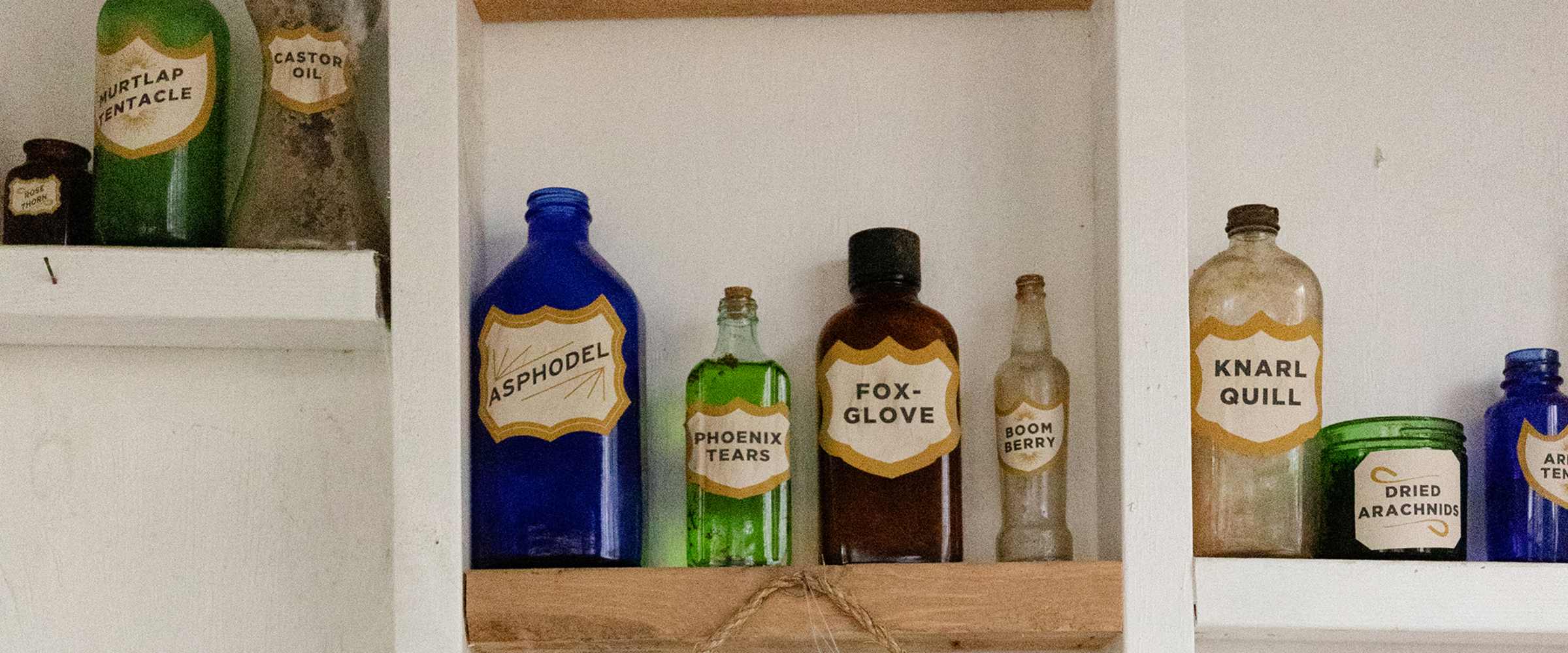 A Harry Potter Feast for Halloween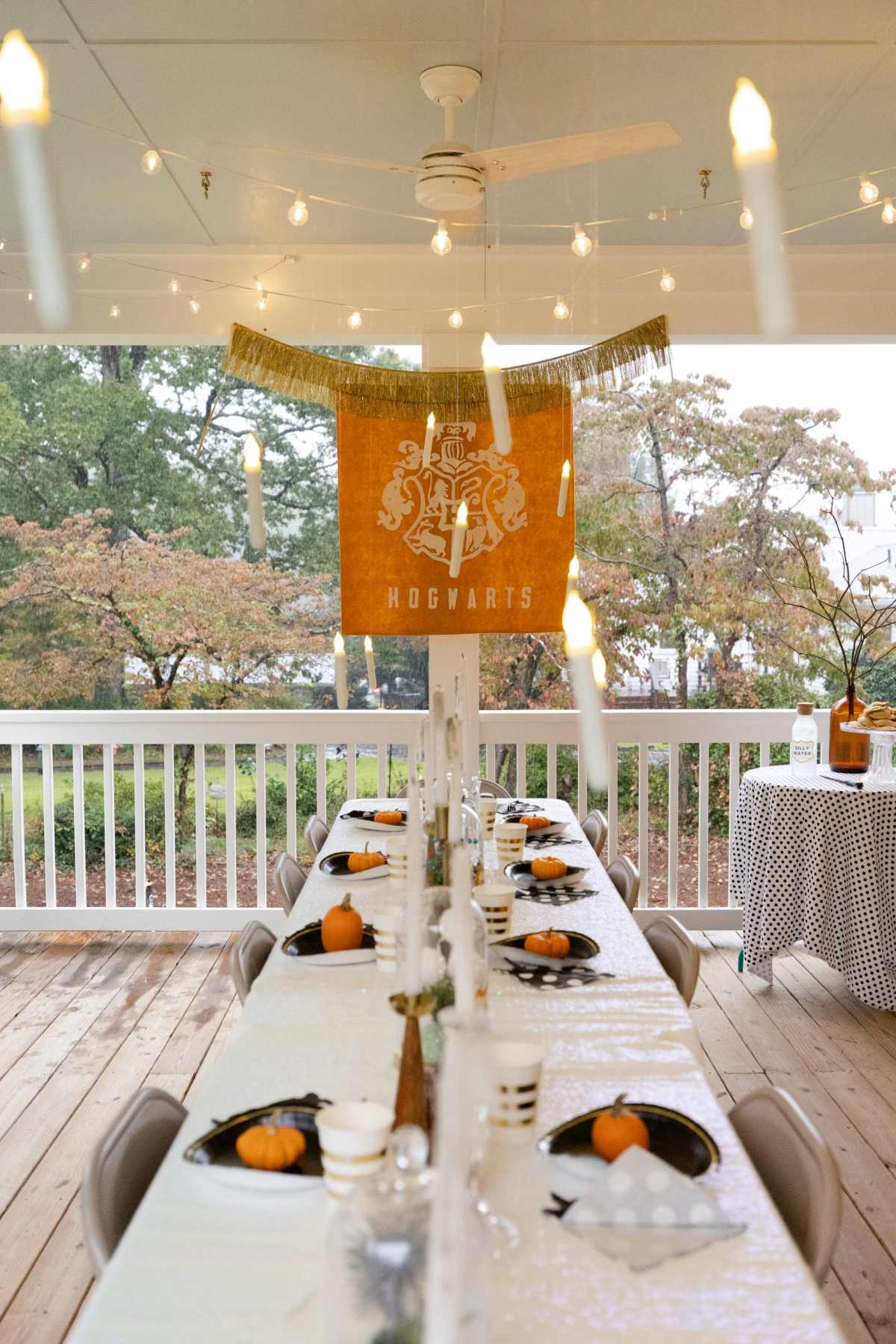 I have wanted to do a Harry Potter feast for a few years now (see Brigie's Harry Potter birthday party here!), but the timing has never been right. Since we are now back in our home, and 2020 has been such a crazy year, it felt like the right time to have a little celebration in the middle of all the upheaval. I'm not really a big spooky Halloween person, but Harry Potter is something I can get behind, and I was excited to create an experience that would be fun for a small group of friends and our girls! (*** All photos by Sara Harper!)
(Pictured above: floating candles hung with fishing wire, cafe lights, sparkly tablecloth)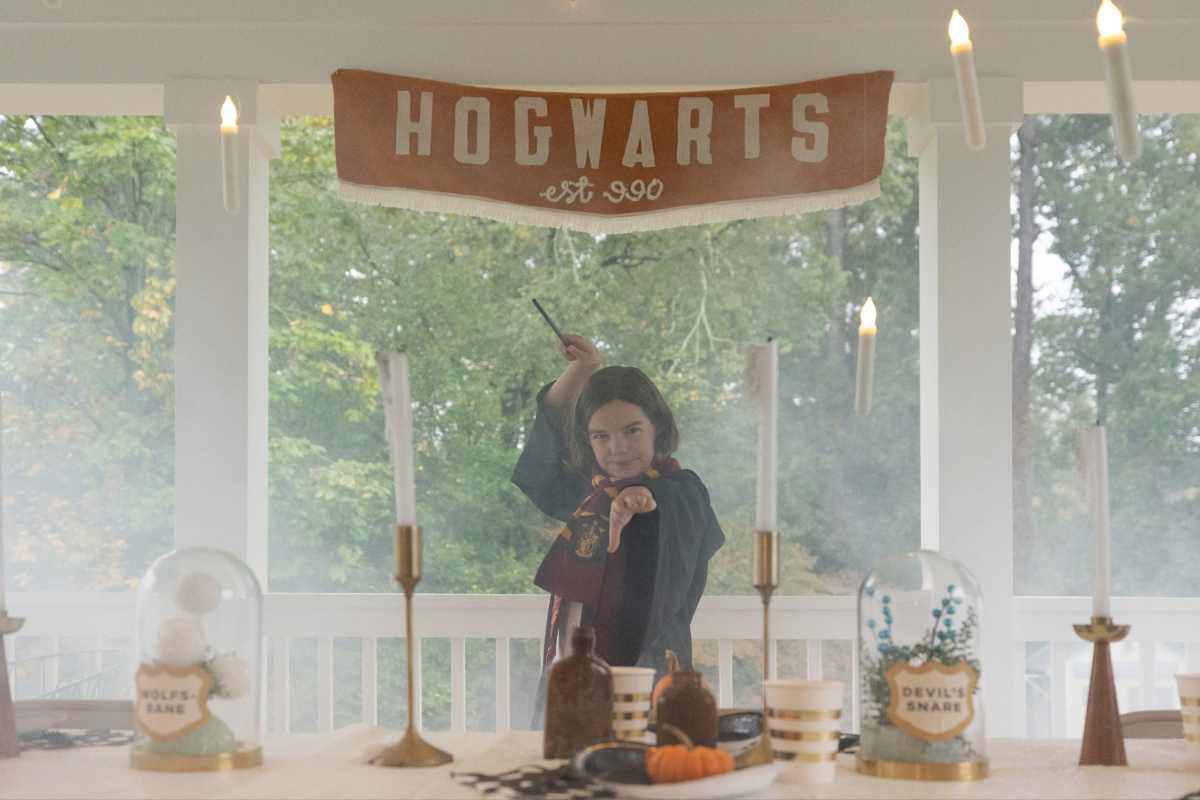 Our original plan was to have this feast under the pergola in the yard, so the kids could run around, but true to 2020 fashion, it rained (and when I say it rained, I mean it POURED) all day the day of our party, so we used one of our superpowers that has been well honed by 2020, and that is PIVOTING. Chip made a last minute dash to the store to pick up some folding tables and chairs (something we have been wanting to get for awhile, anyway!), and we set up the party on the back porches.
(pictured above: glass cloches, labels printed onto adhesive paper and cut out, similar brass candlesticks)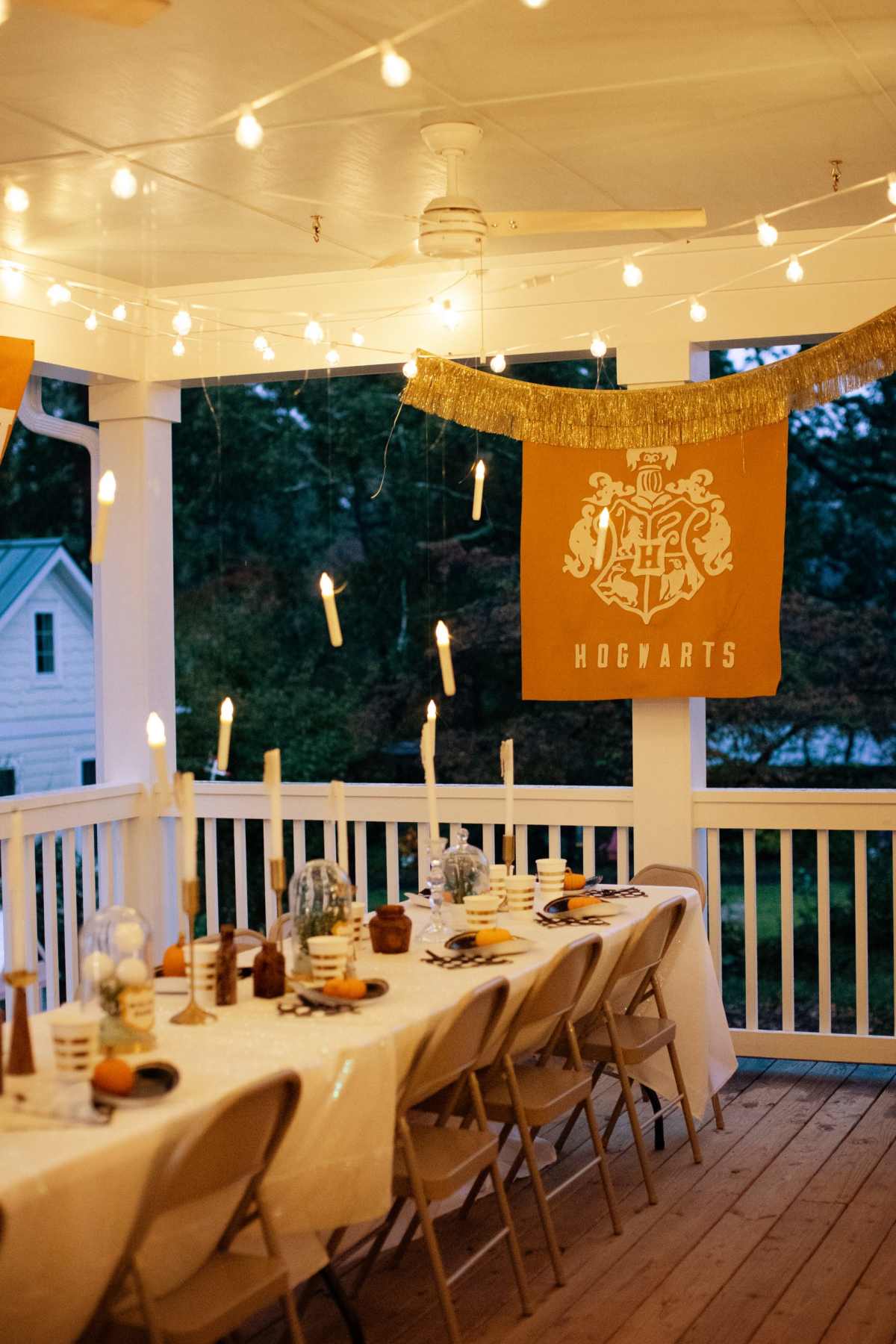 It ended up being perfectly magical, as the overcast, rainy evening made everything feel super moody, and we were able to hang the floating candles rom the cafe lights.
(pictured above: felt banner using this felt and this pattern, gold tinsel garland)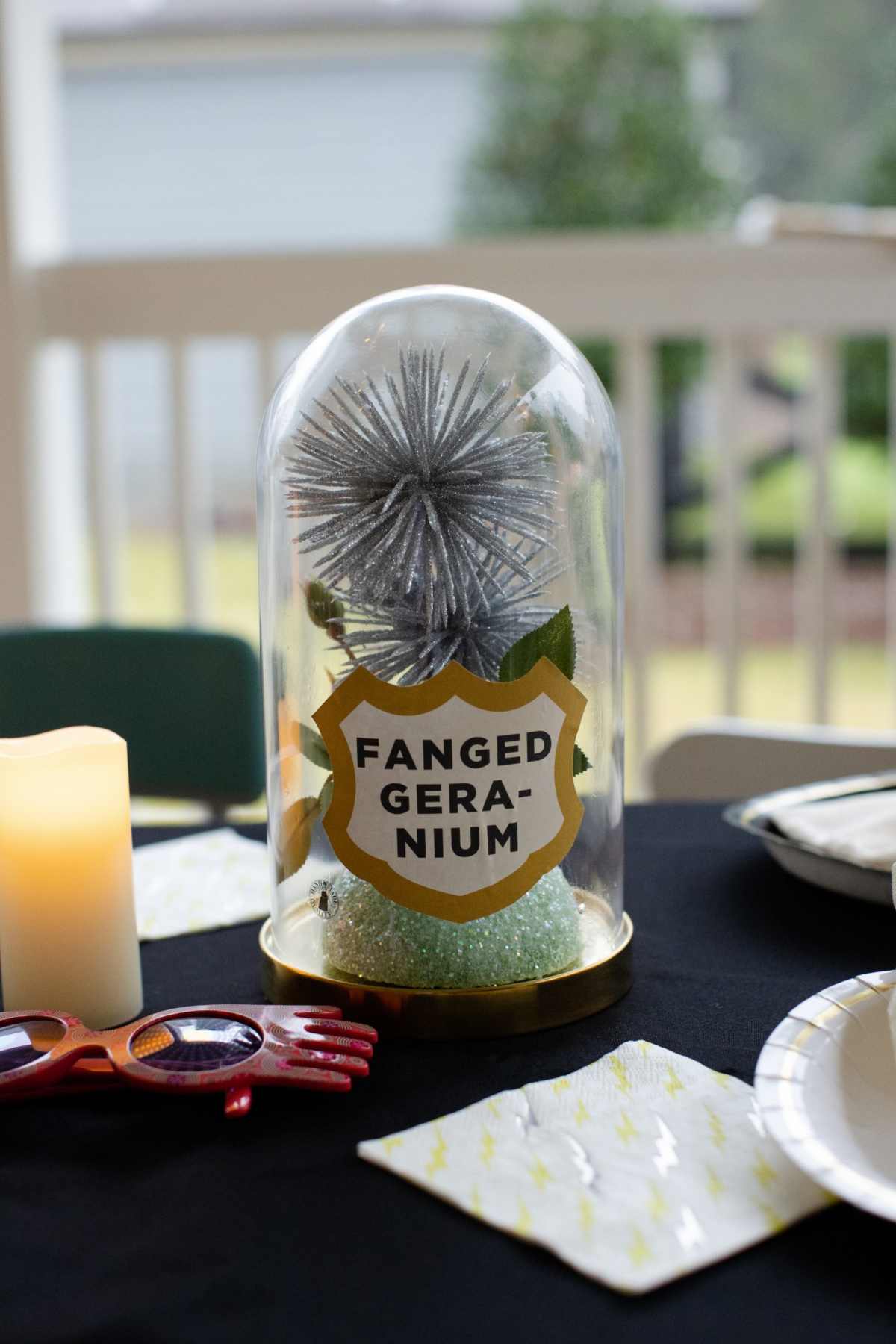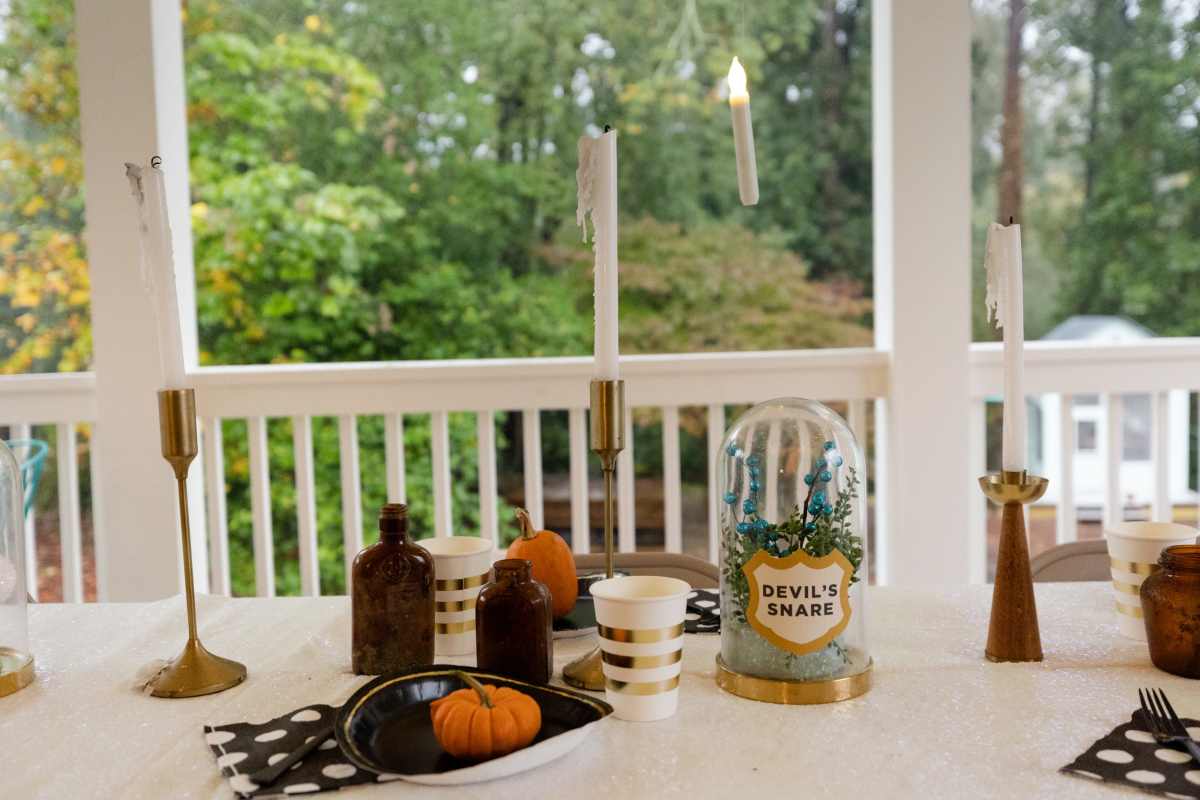 Because we plan to do this every year, I had fun creating some pieces we will keep and then build onto every fall. For centerpieces, I made these little terrarium like things from cloches I found at IKEA. I found glittery fake greenery at Hobby Lobby, stuck them in floral foam, and added labels to the cloches to make them feel like pieces from Professor Sprout's Herbology collection.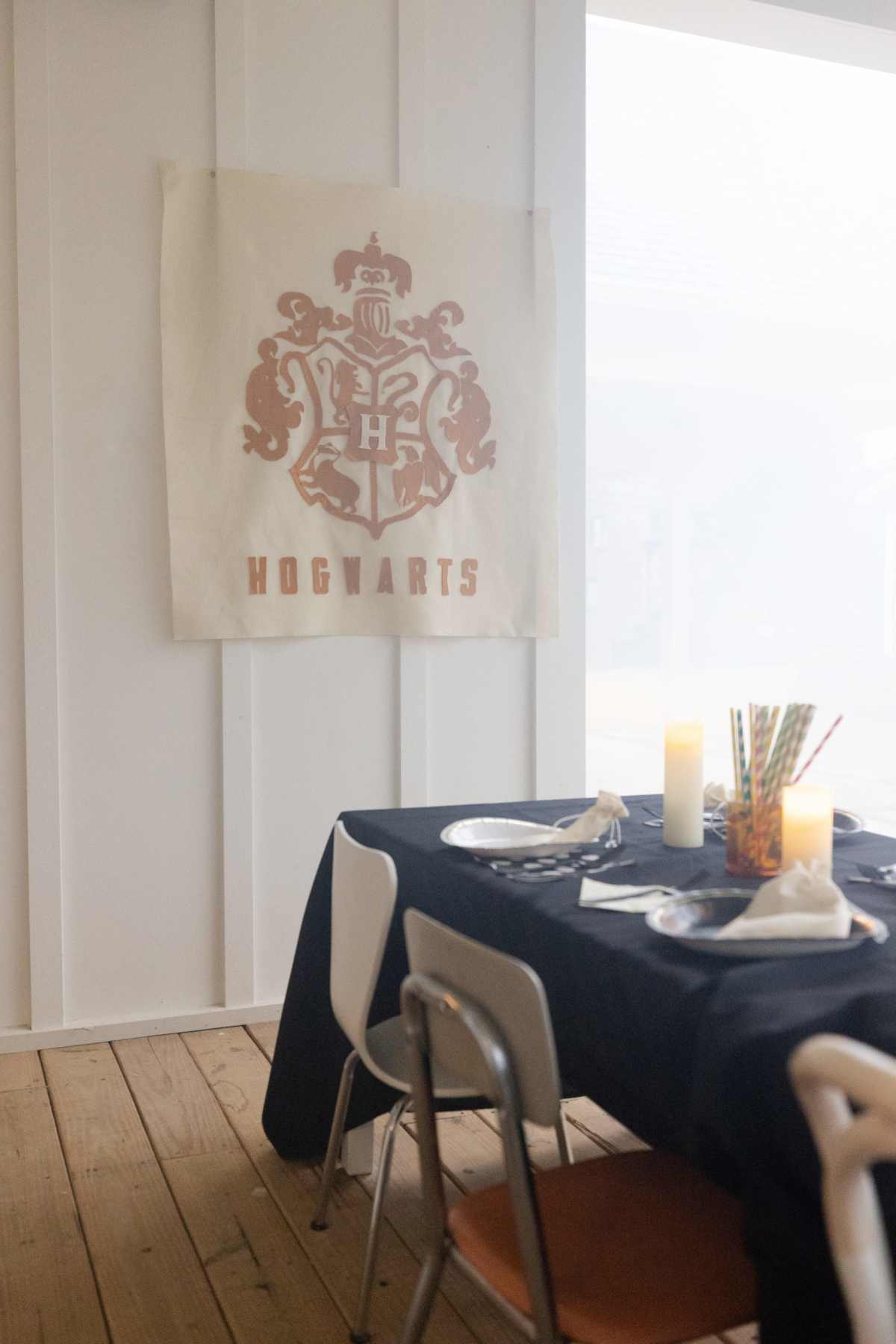 I also made these crest flags as focal points, and I love how they turned out! I created a dropbox folder full of these files, so that you can do some of these projects if you wish. There is a file that you can print, and it has all the pieces. Just print them on paper, cut them out, trace them onto felt (I'd recommend tracing them backwards so that your marker won't show on the final piece), cut out the felt pieces, place them on the felt background and hot glue them together. If you have a pair of super sharp scissors, it's a really fun and satisfying project! I also have a pdf in the folder that shows how it looks assembled, so that you can put it all together just right!
Everyone went ALL IN on costumes, which made the night even more fun - it was honestly amazing. Brigie was Ginny (although in Hufflepuff robes - she is a proud Hufflepuff), Vivi was Hermione, and Ellie was Luna. Marjorie was Hedwig, Chip was Professor Lockhart, and I was Mrs. Weasley (Vivi has finished through book 4, so they don't know about a lot of fun characters yet so they wanted me to be her! It makes a lot of sense, though, since she fancies him).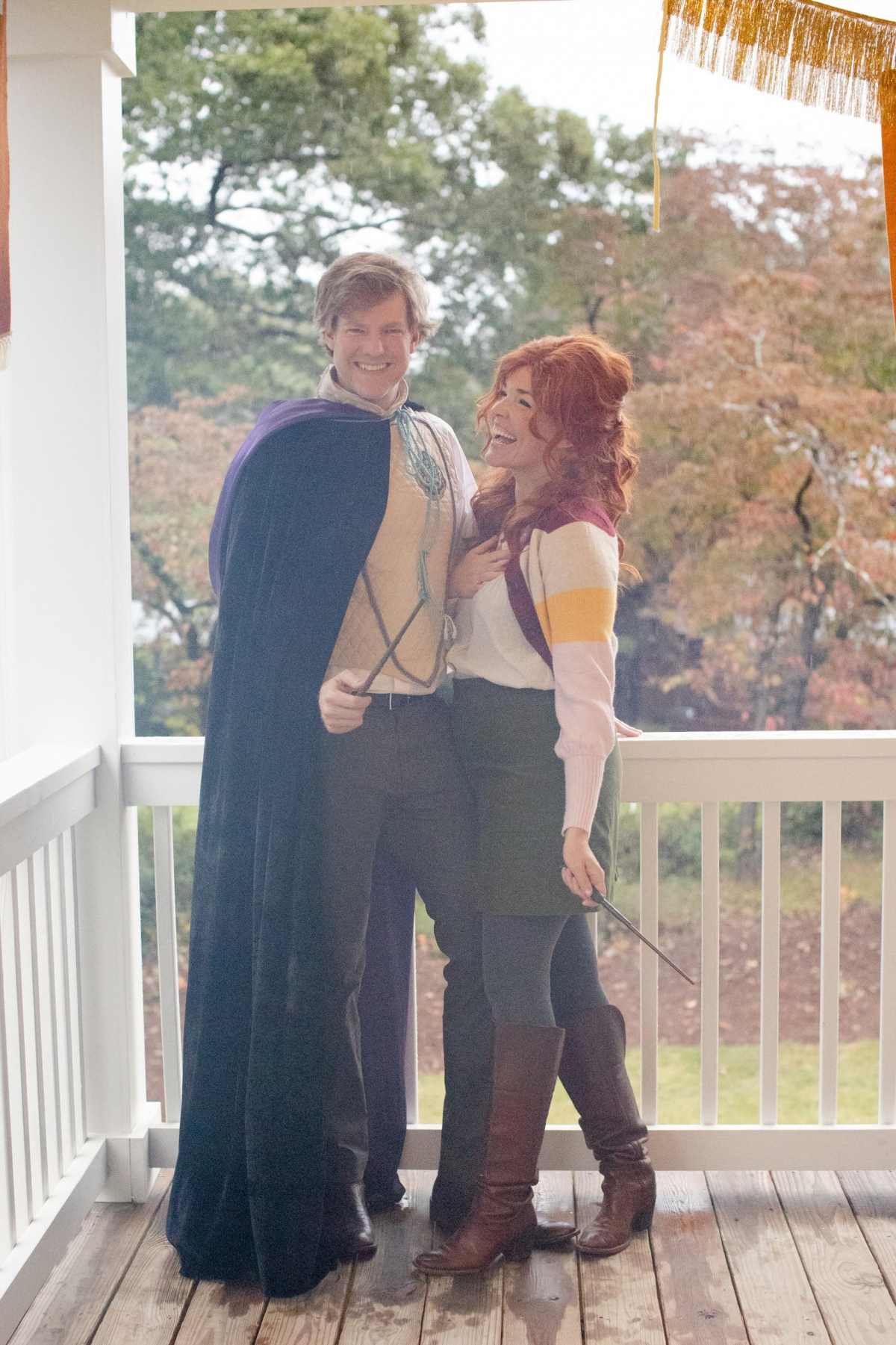 I mean, Lockhart is pretty dreamy, am I right?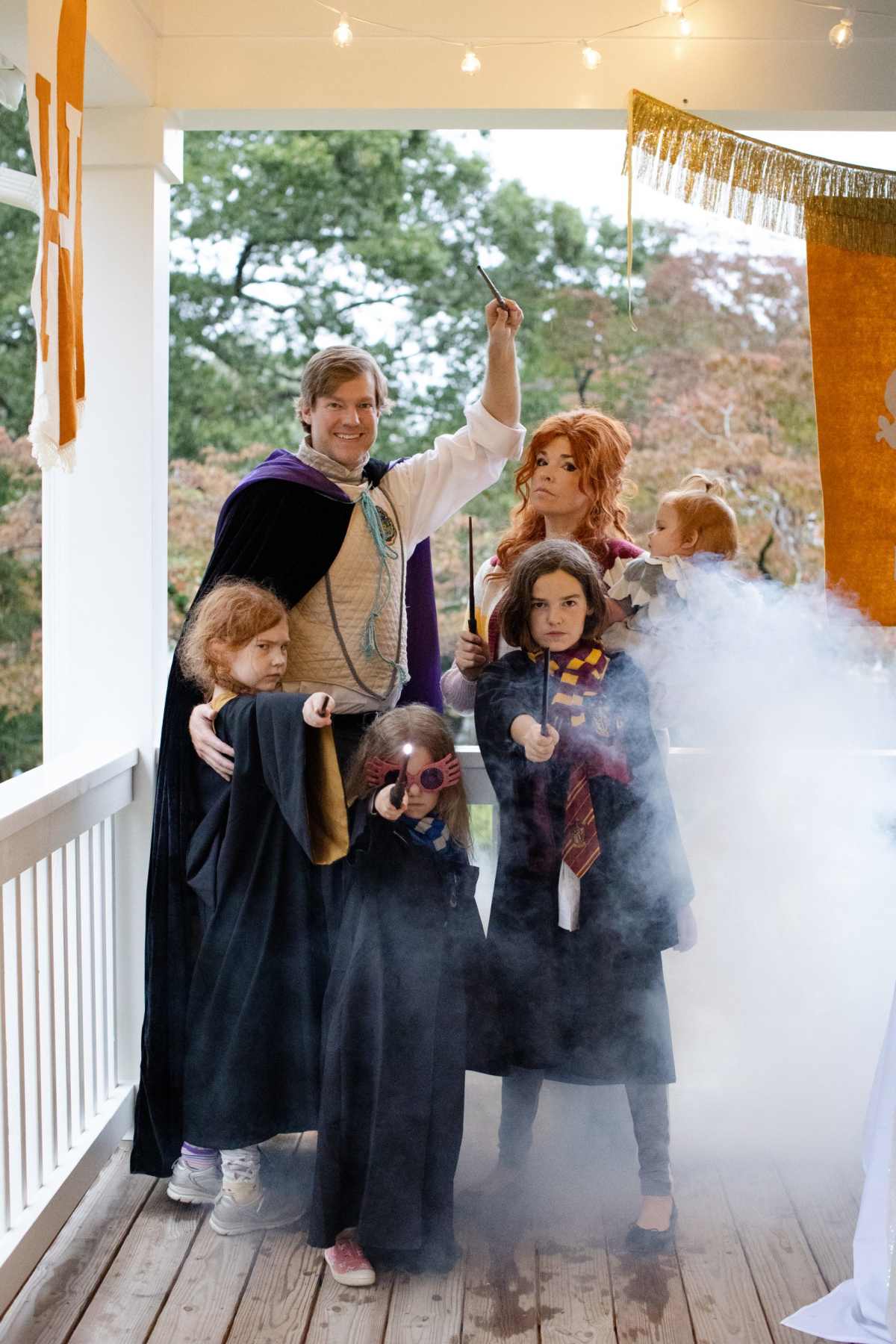 It was also kind of fun being a redhead for the night, and matching my two ginger daughters.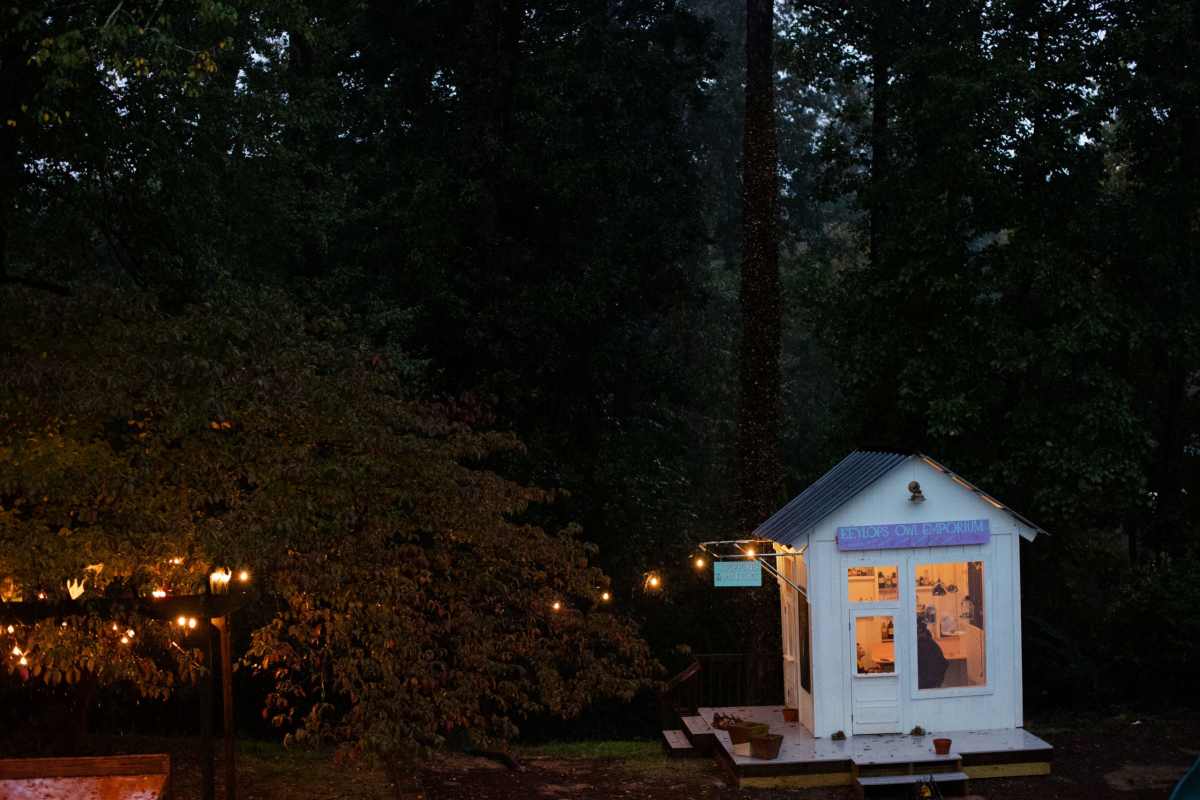 Once everyone arrived, the kids were escorted one by one through the dark and the rain to Eeylops Owl Emporium to purchase a magical pet. (They had a small bag of chocolate coins - galleons - at their place setting to make this purchase!)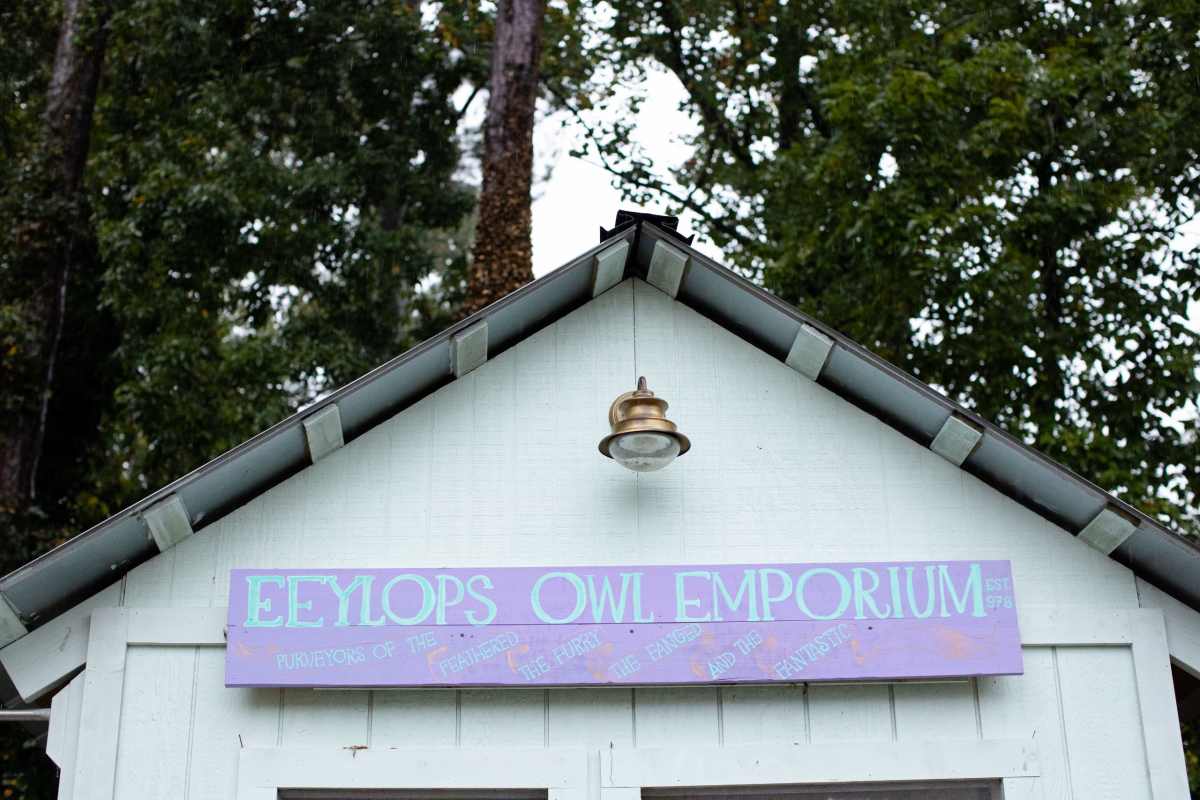 One of my very imaginative friends was waiting for them in the shop. She asked them some questions, had them close their eyes, and a magical pet would choose them based on their answers. The kids pretty much loved it.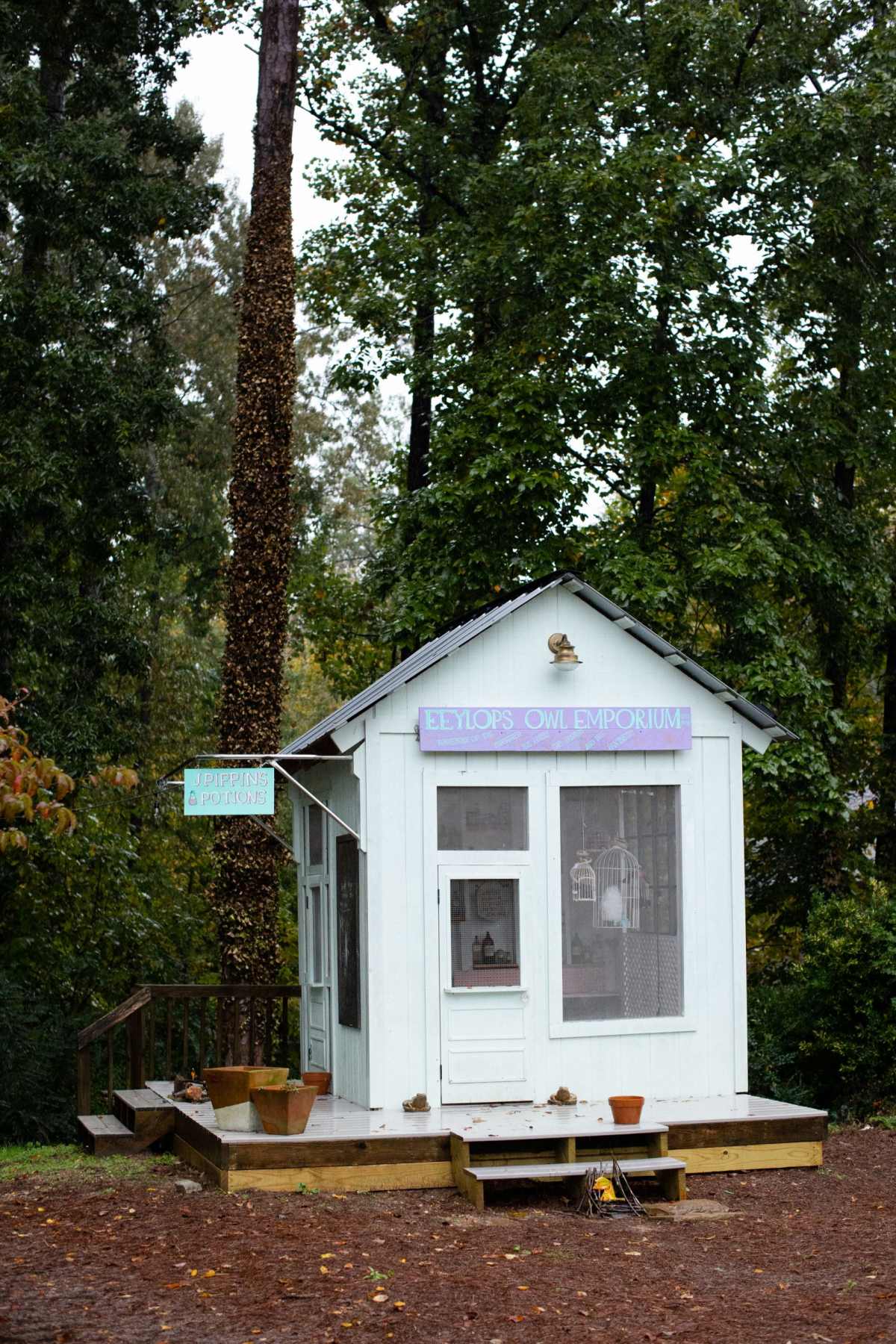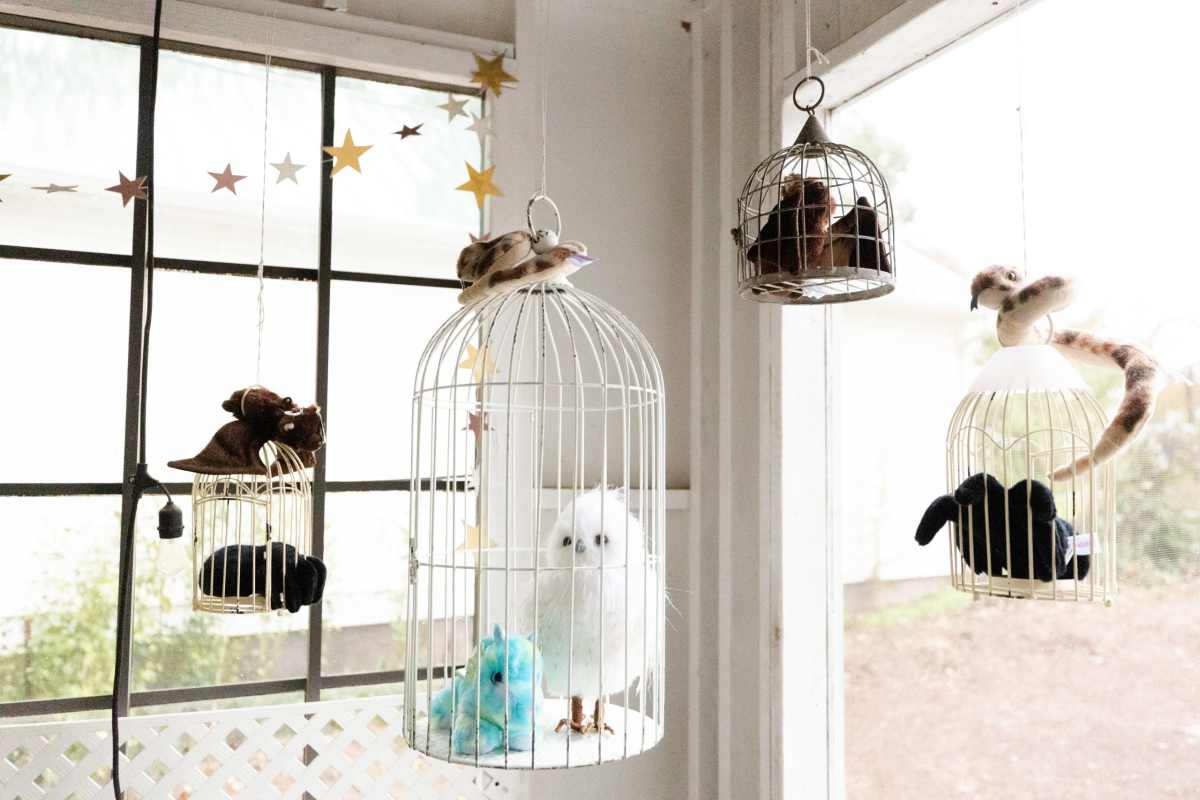 I found all the birdcages at Hobby Lobby - they happened to be half off when I went!
(pictured above: baby dragon, baby tarantula, baby snake, baby bat, also we had kittens, and toads)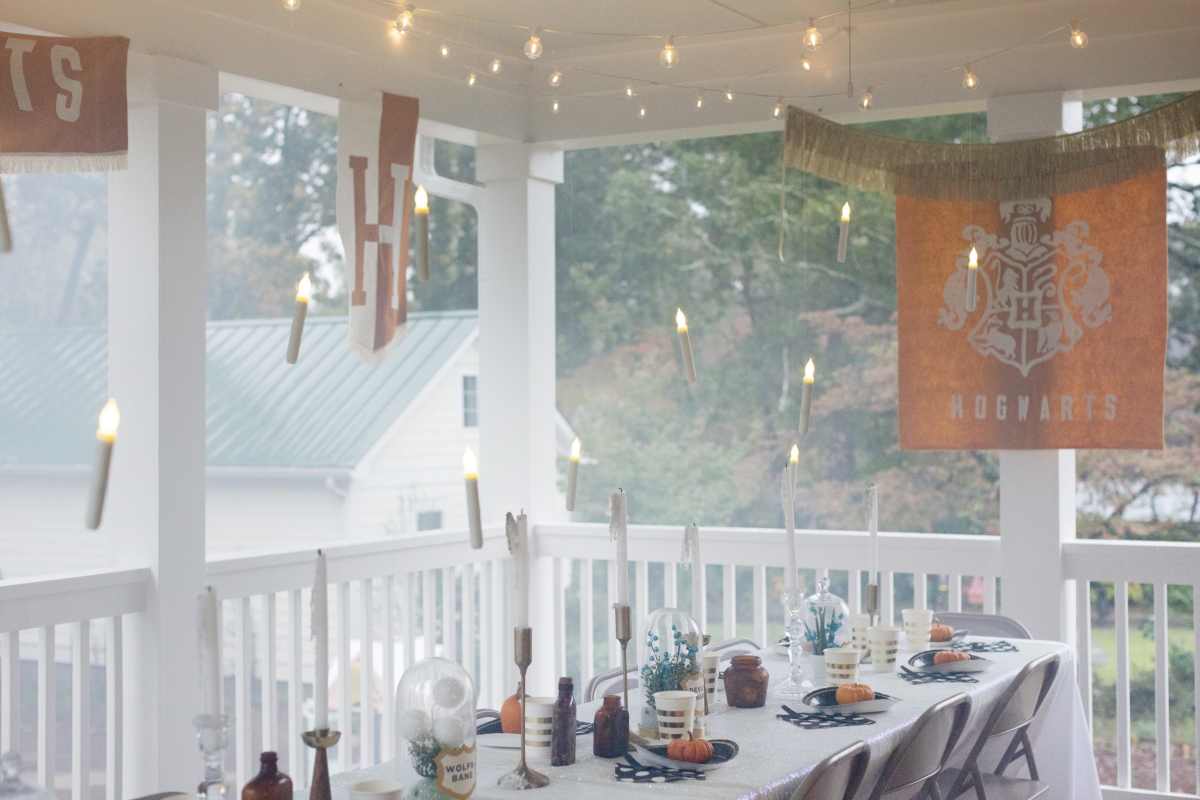 For the feast, we had "Beef Chippington" (Chip's much simpler take on Beef Wellington - he wrapped a tenderloin in puff pastry, and it was SO GOOD), one of my friends made cheesy cauliflower and applesauce (British recipes), chips (i.e. fries), scones, treacle tart, pumpkin pasties (loved these - I used this recipe and it was so easy with store bought crust!), and cauldron cakes (dark chocolate cupcakes with marshmallow buttercream frosting).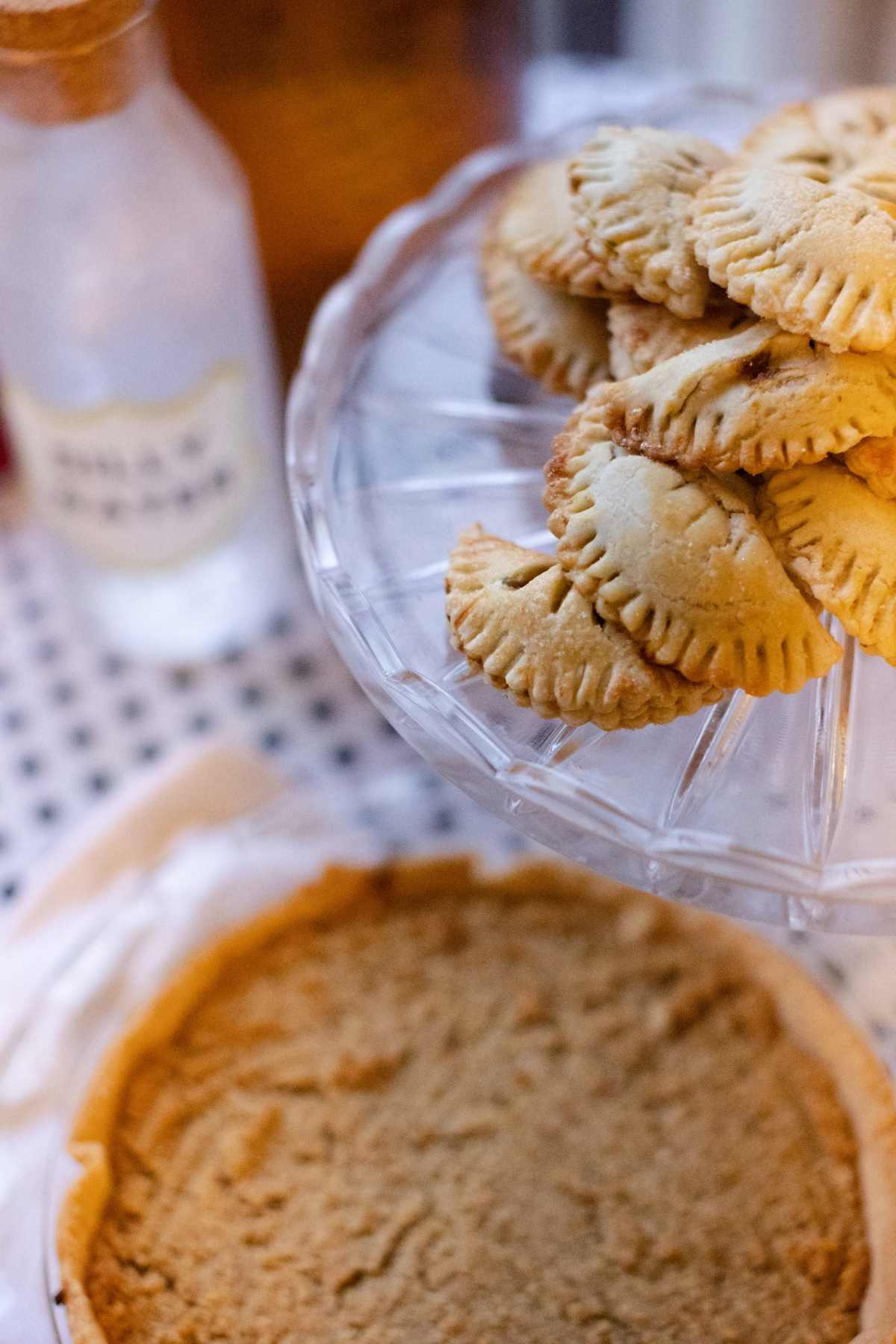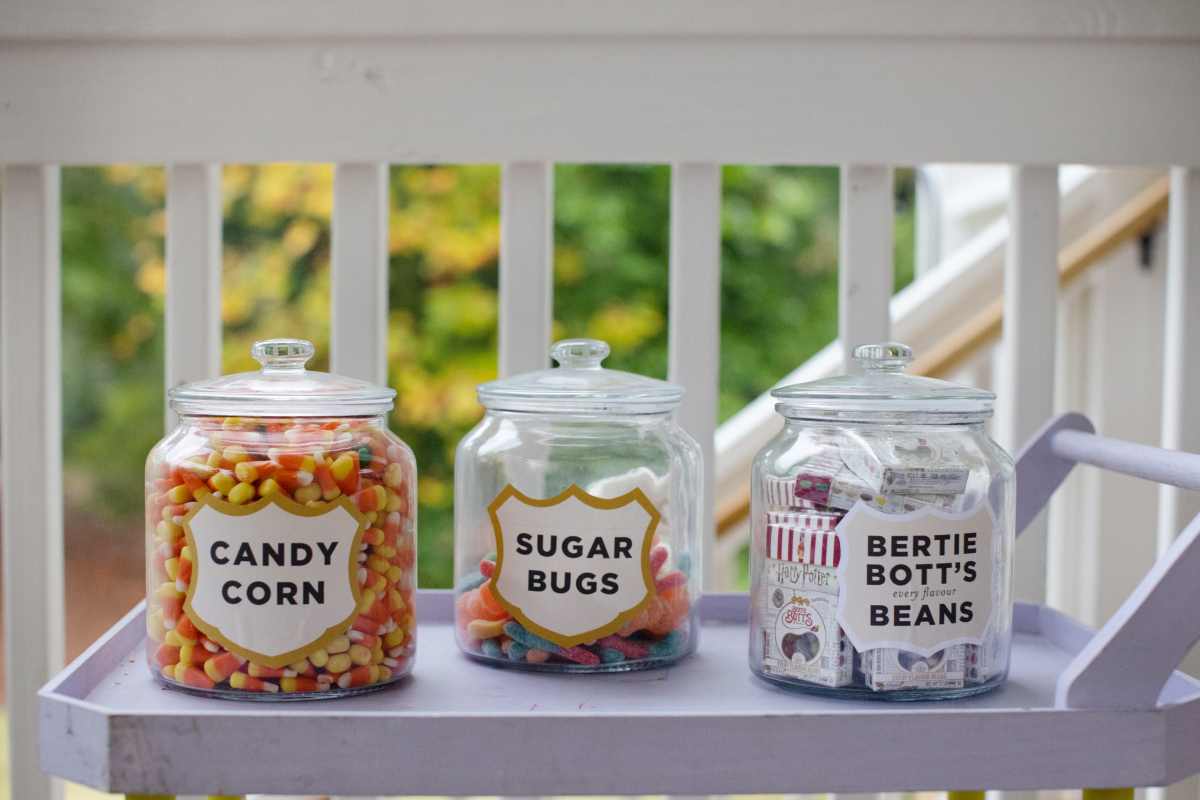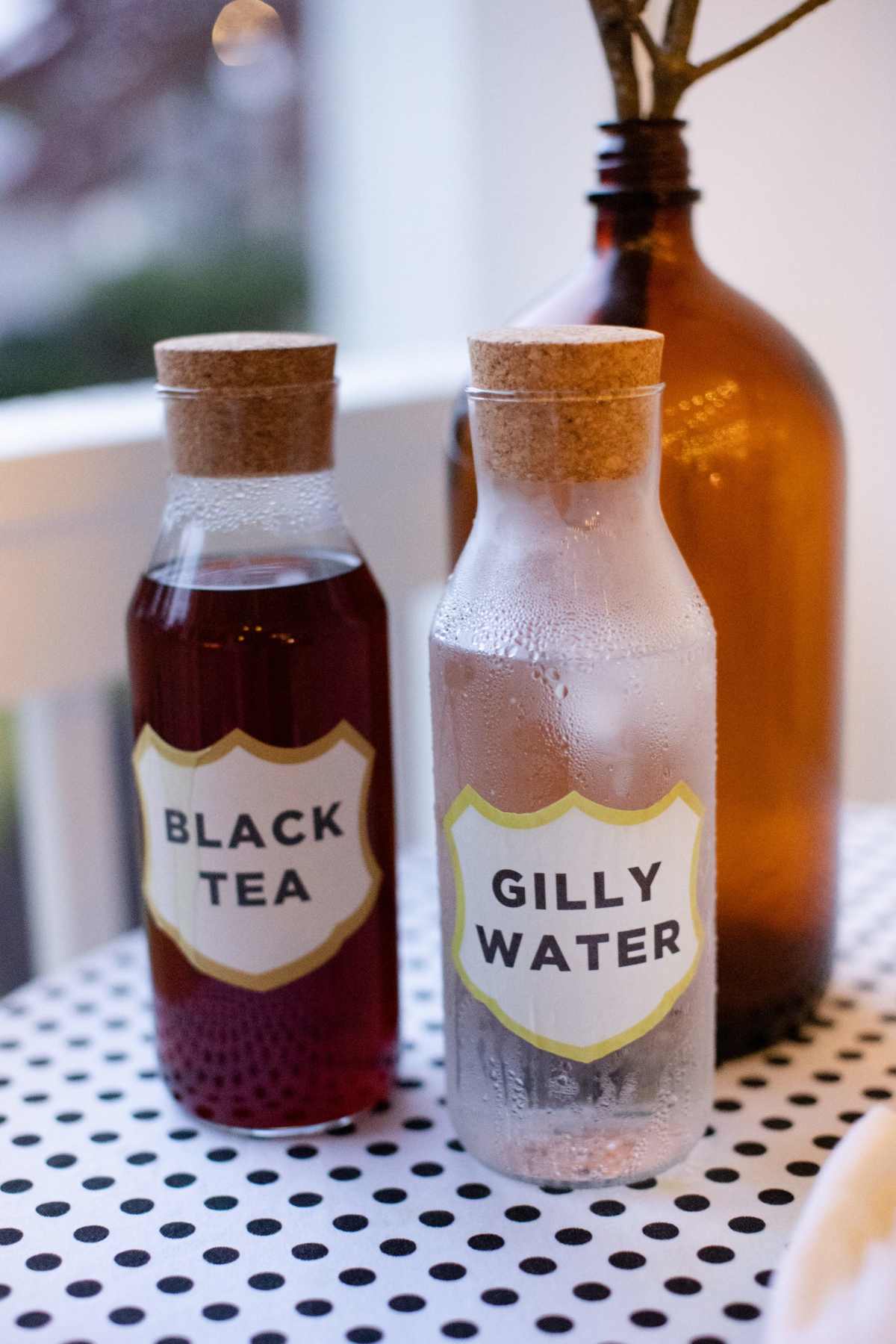 I also uploaded these drink labels in the dropbox folder! Just print them on some adhesive paper and cut them out. I used these inexpensive pitchers from IKEA that look kind of potion like - and they peel off really easily, too, so you won't ruin them if you plan to use them for other things.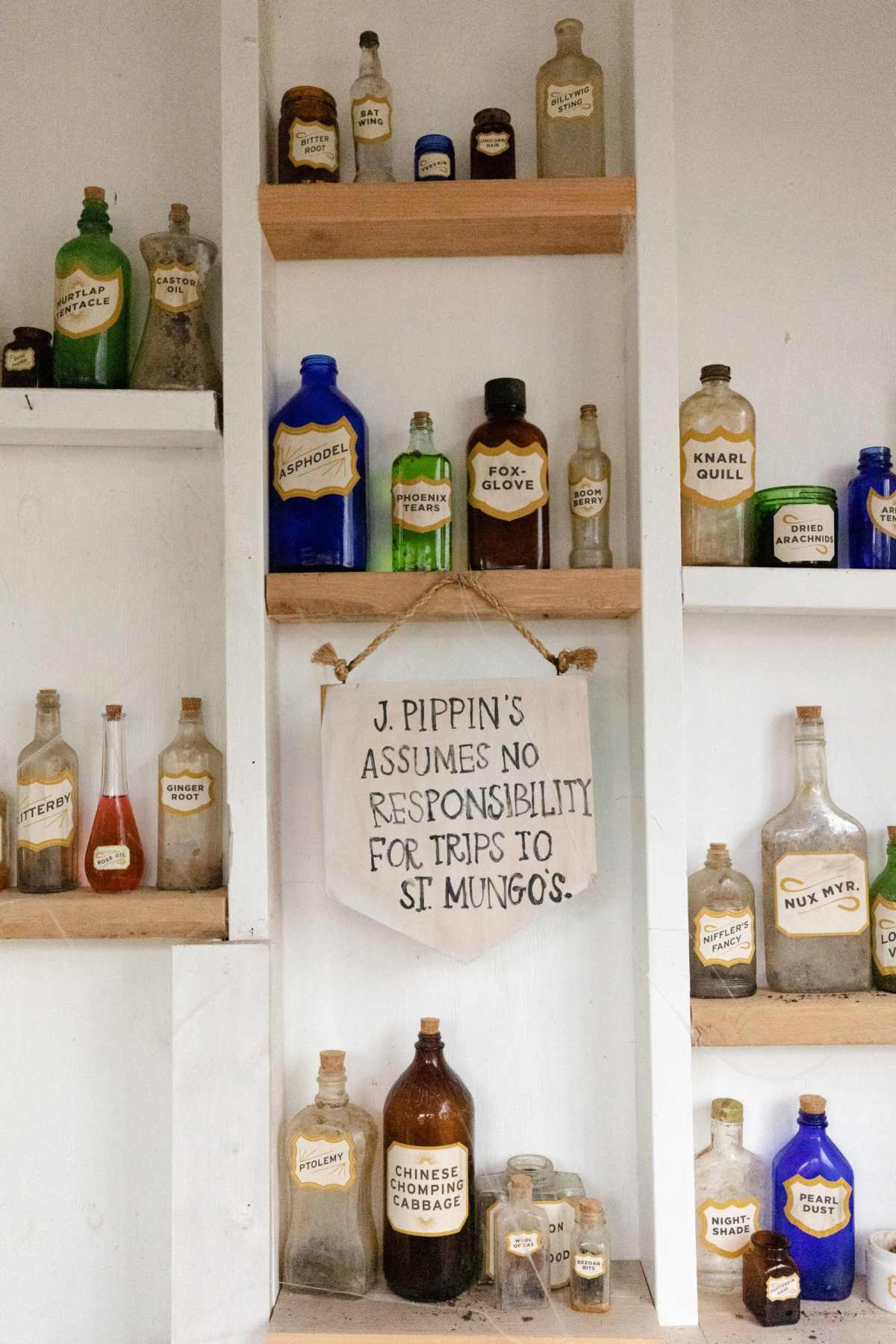 After the feast, the kids had a mini potions lesson with Professor Snape (one of the dads dressed like Snape, and it was awesome!). They went below the deck into Snape's dungeon, and he did a good job of being very stern and grumpy. He had a potion recipe (I have it posted here with instructions!) and escorted a couple of kids into the playhouse where the potions were stored, and they had to find the ingredients among all the bottles.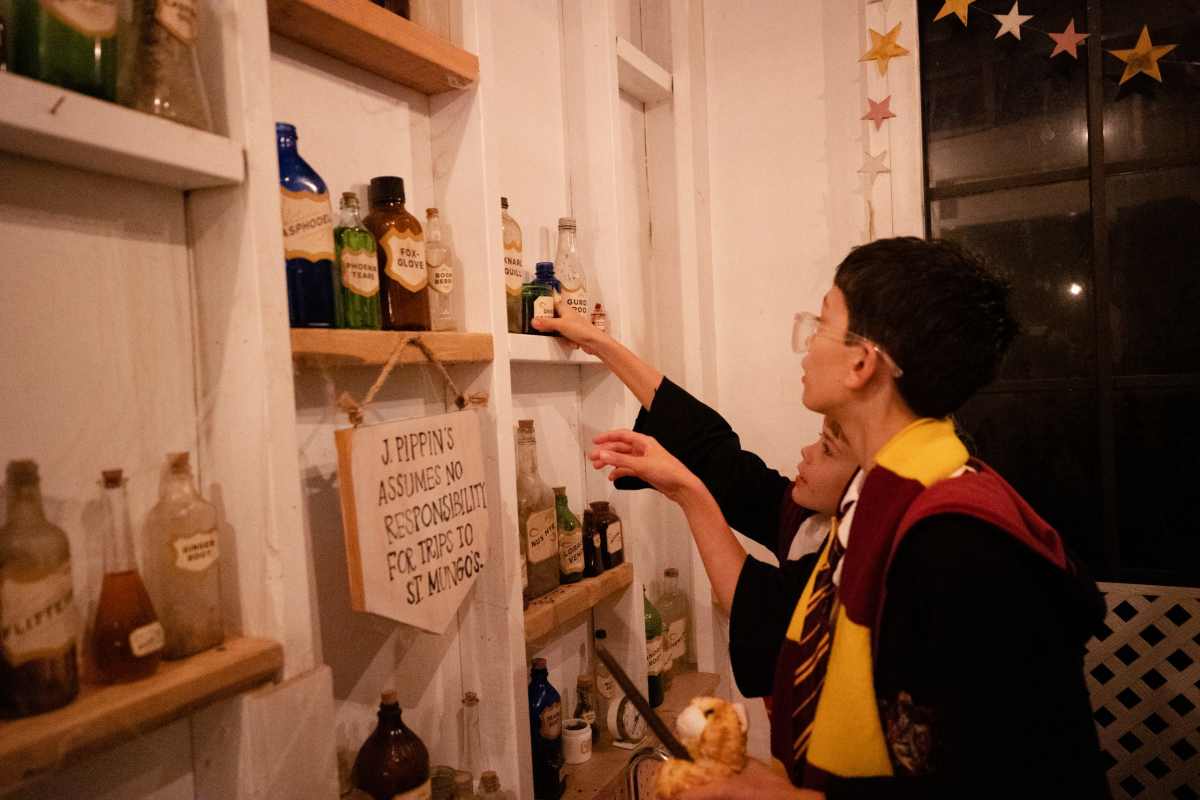 It was very fun, and they all wanted to know where I managed to find dragon blood! I have all of the labels here, too, so you can print them yourself. All of these bottles are very old from the farm, but you can use condiment bottles, baby food jars, or buy some small glass bottles from a craft store or Amazon.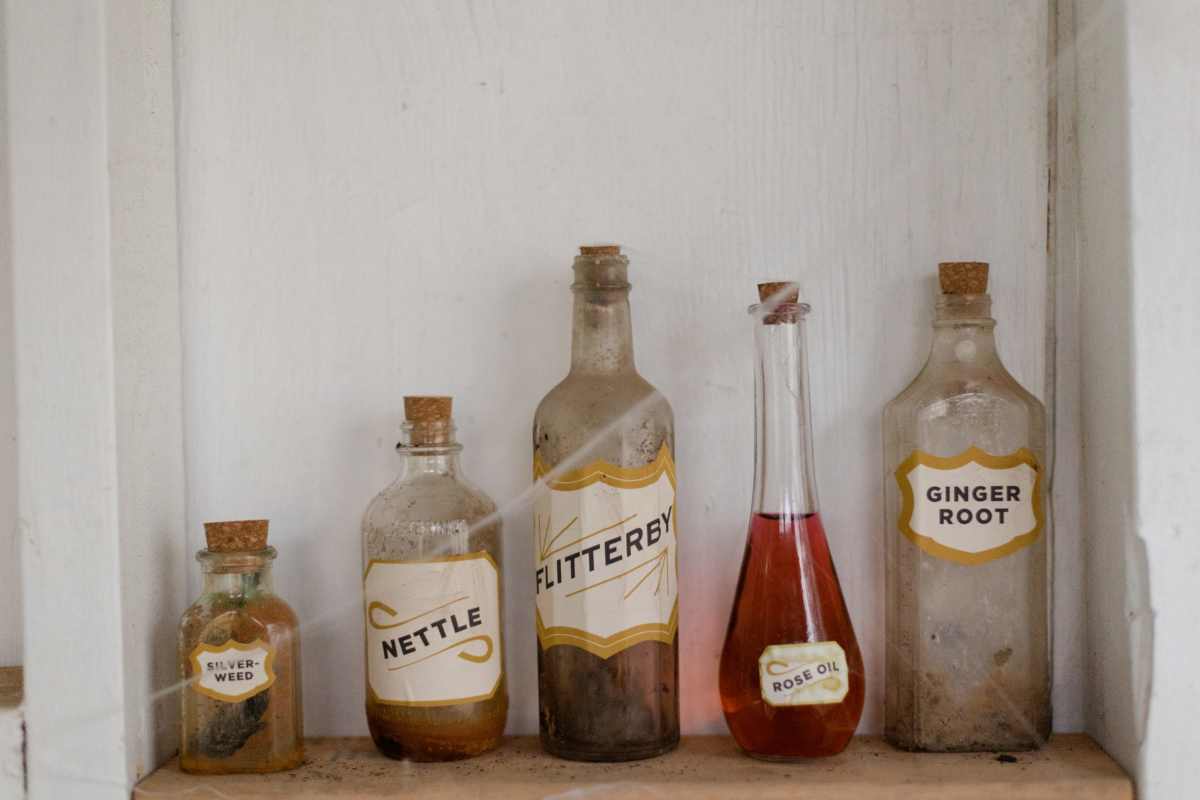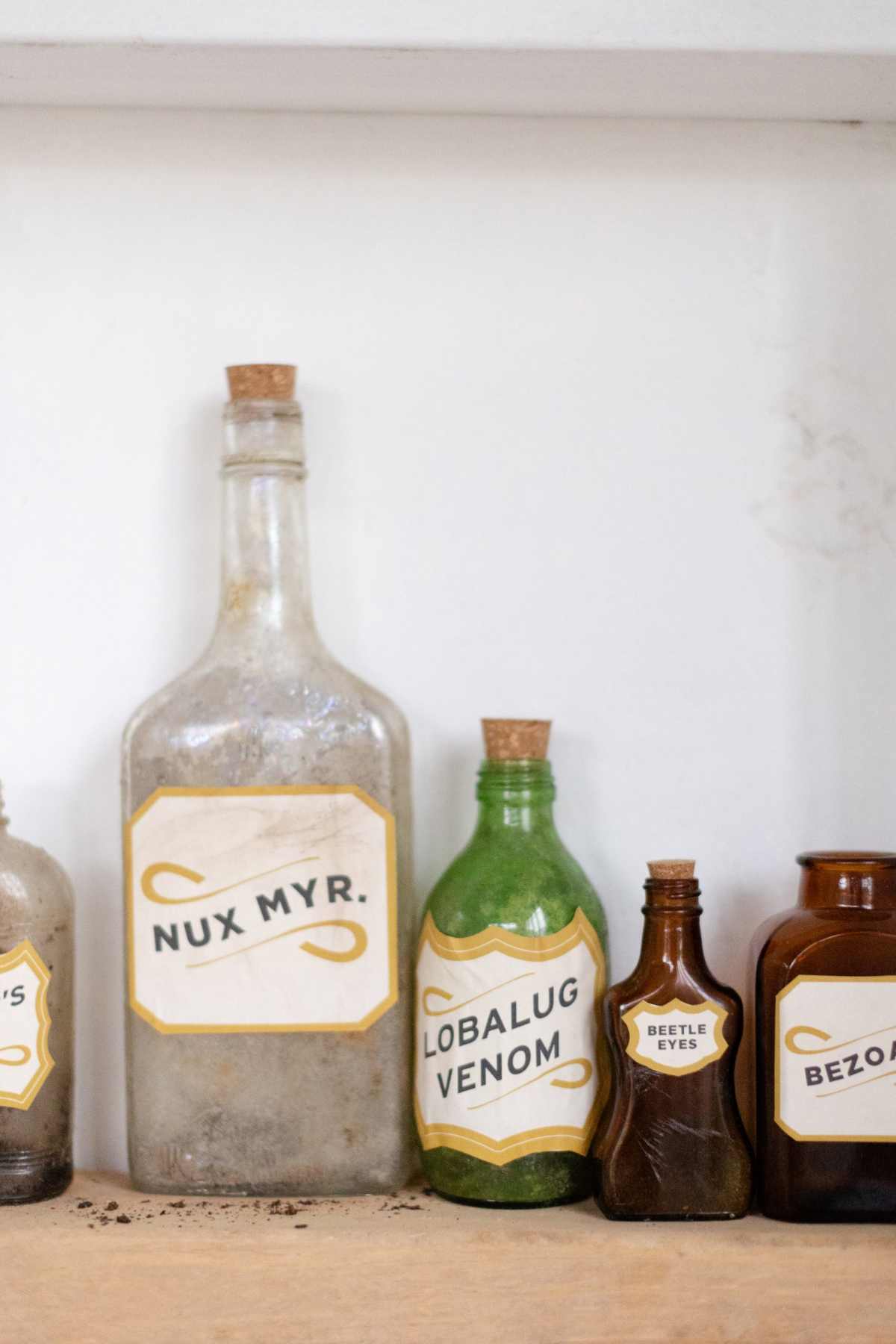 The kids took turns mixing the ingredients, and in the end it all bubbled over!! Check out the recipe here if you want to try it! (It's messy, but they loved it!)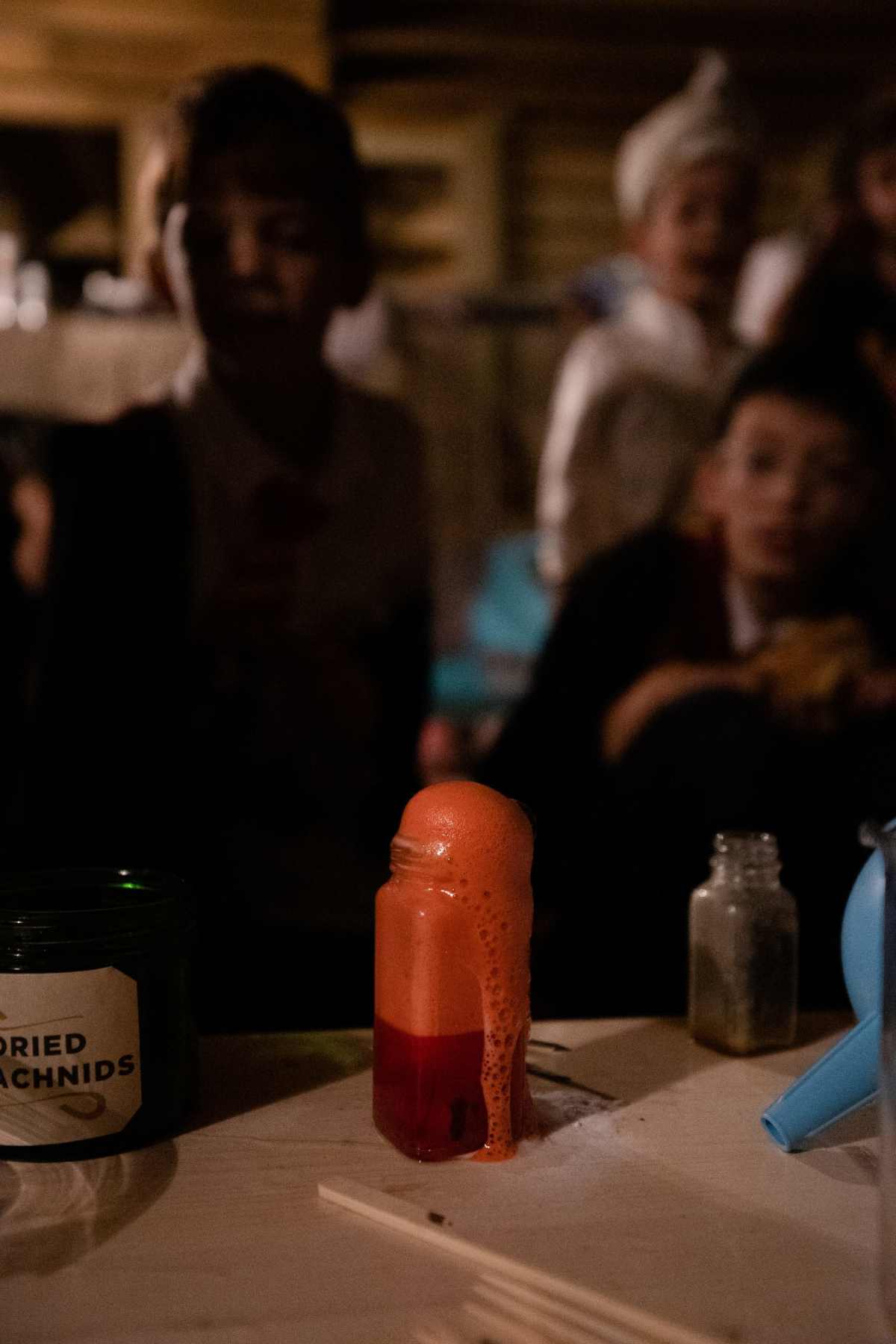 It was SUCH a fun night, and all the kids loved it - it was especially fun because the adults were so into it! I tried to add all of the things I used/did to this folder so you can make these things, too if you want! Please let me know if you have questions.